David Gorden from Schiralli Agencies did the Scotch Tasting!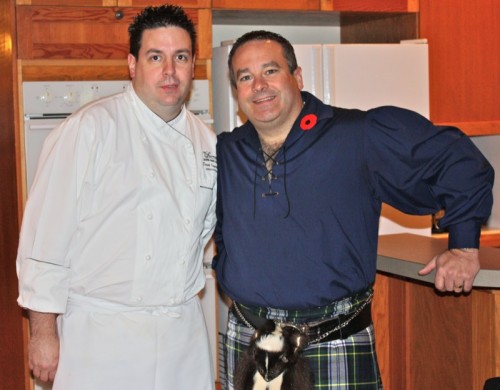 As most participant of the Christmas in November event are women, the JPL team has done some work on their program to attract more men. Personally, I think the food and the accommodations are a deal, without a session. So, gentlemen, this is a conference for you if you don't want to attend a thing. Come along, enjoy the scenery, go to the sessions that interest you, or just do some major communing with nature and meet us at the table at meal times and at the bar after dinner every night. This is definitely a place for men, too. And, to that end, I decided to attend this session to write about it so that all of the men who didn't bother to come will get a little window into what they are really missing, as well as the fact that I really wanted to spend more time with Executive Chef Derek Ingraham. I was impressed with his warmth and openness the first evening and knew there would be plenty I could learn from him.
I arrived at the nick of time fresh off the gold cart with apple cider on my breath from Michael Smith's session, but there was plenty of room in the great room space of the spacious Gardner's Cottage. I found a little table with a plug in and a seat n the front as if I had called ahead! While there was still some idle chatter, I asked for a picture of our two presenters.
Schiralli Agencies is featuring Auchentoshan Classic, Glen Garioch Founder's Reserve and Bowmore Legend malts. With 20 years culinary experience under his belt at the age of 37, Derek Ingraham is one of the youngest Executive Chefs within Fairmont Hotels & Resorts. Derek's vast experience ranges from menu development and cost controls to colleague training and recruitment. He is talented, passionate, and highly driven with a heartfelt dedication to ensuring his team thrive. And, most importantly he is passionate about using local produce, evident in the beautiful pieces of Spring Creek Ranch beef. I am not a Scotch drinker at all, but Vanja loves his single malts. Are you reading this Vanja? Let's see if I took good enough notes for you!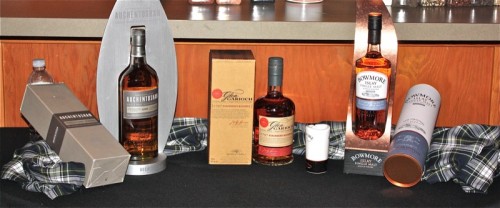 But, first, wouldn't you ask this man if you could get a closer look at his "skunk"? I did, and he posed unabashedly so that I could capture the perfect pic. Can you see Beavie's shock? Beavie was about that close to this skunk, too. Let's just say that while David Gordon from Schiralli Agencies in Edmonton has his skunk, I have my Beaver! Oddly enough, he is actually looking for a tail. I think that would definitely complete his outfit. He explained that a colleague has a different animal as aptly positioned in front of his kilt, and that he had a tail when he turned around. Now, that would be FUN! Maybe I am a Scotch drinker!
But, before we get to that, over to the island to start with the beef. I am all for that, too!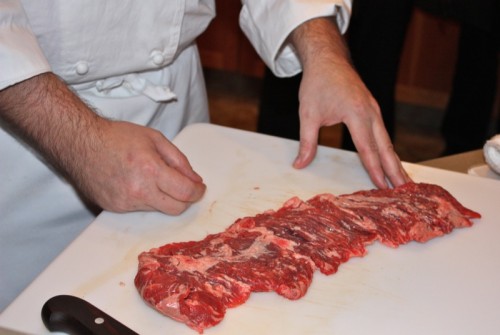 In the words of Derek Ingraham while preparing the Skirt Steak:

These are cuts of beef people don't usually use: brisket and skirt steak
The Skirt Steak is down on the stomach in the animal; these are typically very tough cuts of meat, but the tougher the cut, the better the flavour
Everyone is crazy about tenderloin as being the prime cut of beef, but it has the least flavour of any cut; that is why is is historically served with a rich sauce or some veal jus (Valerie: this was new information to me, and I am so into knowing that!)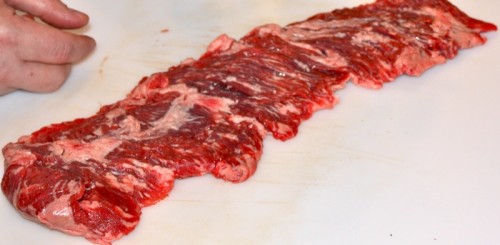 These tougher cuts must be cooked slow and low to melt the fat (Valerie, see the chart below for the brisket); the lower and slower, the better
You must slice against the grain to have a tender cut of meat
Cut the skirt steak into pieces, first
Dry Rub
Use ingredients that your palate enjoys in your dry rub; get to know flavour and the kinds of ingredients in a dry rub, then make it to suit your taste buds
Taste buds are like finger prints; there are no two the same
Use really good ingredients in your dry rub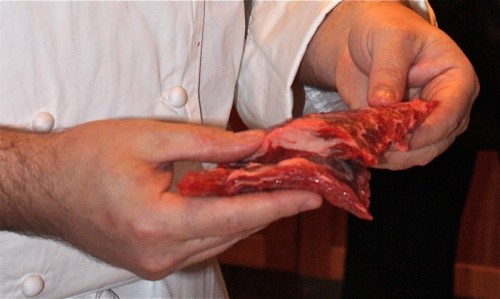 (The smoked sea salt he really likes to use was passed around so we could all bury our noses in it, and it was smoky and I want my own!)
Use a bigger salt with a tougher cut of meat: kosher salt is good
Course ingredients in your rub as they help to break down the tendons
The following are the foundation ingredients of a dry rub:

Smoked paprika
Chili
Dried oregano
Cumin
Brown Sugar
Dried rubs are good for 6-8 months made with dried herbs
Mix all ingredients together, and lay out just enough for a couple of the steaks on cutting board
Rub meat right into it; keep your meat the same direction as tendons and place on BBQ the same way so when you go to cut you are actually cutting against the grain (as you can sometimes no longer see it once it is cooked)
Let meat sit in fridge for 3-4 hours; the moisture in the fridge liquefies the spices and herbs and then the dry rub marinates well
If you marinate it longer, it will not make a difference
In the words of Derek Ingraham while preparing the Brisket:
This cut again is best cooked, low and slow: the one on the barbecue that you will be tasting later has been out there 12 hours at about 200º F
You can cook it at 225ºF up to 20 hours"¦ etc"¦ (Valerie: see the chart under the recipe, below)
Tenderloin is the least flavourful though it is the most tender; thus the sauces that always pair with it
I use (the following) in my marinade:

Big Rock Beer: Cleopatra (made in Calgary) or a Guiness
brown sugar
shallots
parsley
garlic
peppercorns, and
Canadian Whiskey

Every 3-4 hours flip the marinating brisket and leave it for 24 hours in a wet marinade for a big piece of meat
Finish it with a barbecue sauce of your choice: buying a bottled sauce that is basic and cheap and take it home and add brown sugar and onions and herbs and spices or whatever to it (Valerie: I add chipotle and horseradish to Cattle Boys sauce when I don't have time to make my own)
Isn't this a beautiful brisket? I cannot wait to get one from Spring Creek Ranch, myself!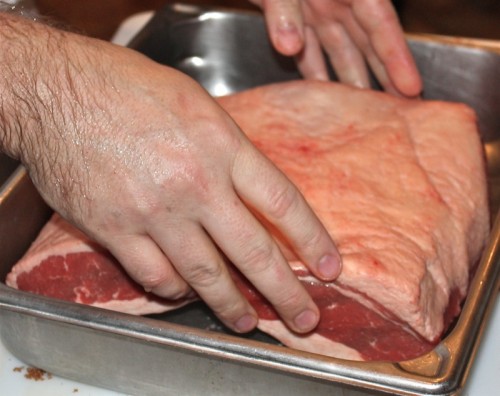 It was nice to see the Chef so confidently prepare this marinade. He had a variety of salts and peppers and herbs and spices for us to explore. I thought I had seen everything available in this part of the world, but not at all. I found this long pepper at an open air market in Aix en Provence a couple of years ago and the gal I bought it from told me it was from Indonesia. It is like a small long pine cone shape and not so peppery, but definitely a very unique flavour. I found another wonderful pepper, too, you can see later on.
Above, is the beer the Chef used, and to the right, more skirt steak.
David Gordon introduces scotch in his own words while Chef Ingraham goes outside to barbecue the skirt steak:
Now it was Scotch Whiskey that was originally made by barley
Whiska Beefa (made by Angus) 5 gal in a wooden tank and Johnny Walker would sell it to his consumers; he wasn't the maker of the Scotch, but the seller
The demand grew: How can we produce more? 5 gal doesn't go very far…
Gent was in Northern Ireland using a constant still producing wood grain alcohol (making a few hundred gallons of it) and put Angus's Whiska Beefa in there: that was the birth of blended whiskey and became Johnny Walker Red Label
85% of all Scotches are blended
15% are single malts
almost all malts are named after the family of the family of the blenders: Chivas were grocers; Justin and Brooks were grocers, etc
Single malt means from one single distillery: no grain spirit added: pure Scotch Whiskey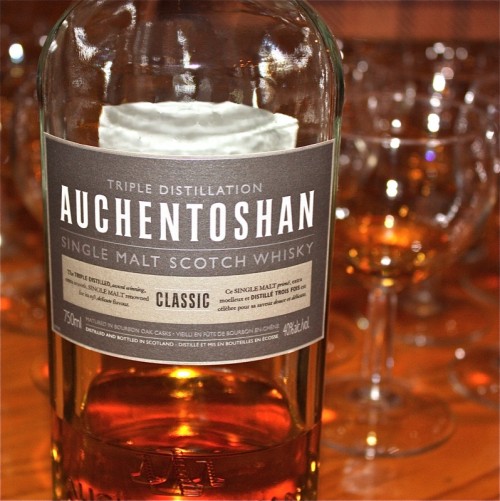 Scotch Tasting in the words of David Gordon
there are three regions in Scotland and we are tasting a scotch (low price range about $35.00 a bottle today)
Regions and Tastes

1.    Lowlands (below Glasgow and Edenborough): Sample One: Auchentoshan, Single Malt Scotch Whiskey
There are regios in the lowlands, and one Single Malt Scotch for each of those regions (one for each) and never shall the two meet; you drink the one from your region, and that is that
Auchentoshan is Triple Distilled so it has more elegance: similar to Irish Whiskeys; the other Scotch whiskeys are only double distilled, anymore
There is no peat, (burning peatmoss"¦.which has a musty dusty flavour) in this Scotch; they just don't use it when they make their scotch in this region
(The glasses have all been passed, and he hold his up and says:)

We can look at the colour and the legs and the whatever, but Pfff! (Valerie: in other words, that is irrelevant in the scheme of things)

The colour takes a bit of play: the colour usually tells you what barrel it was aged in; it can age in bourbon or sherry: bourbon has more vanillas and softer flavours; sherry is darker and carries citrus flavours
Younger whiskeys show off the region more
Spirit has to age for a minimum of three years before it is considered Scotch: up to that it is called a British Spirit
Scottish Raw Spirit has just recently began to sell this British Spirit, just recently bottled: it tastes very raw"¦. not aged yet, only casked for a few months
Whiskey gets all of its colour and a lot of its flavour and character from its barrel
96 distilleries in Scotland all produce one spirit but that one spirit has many expressions: it is the age and barrel that make the difference
The water opens it up and softens it and sticks itself to the alcohol flavour and helps you to get the flavour of the whiskey
(He had us just drop in a drop or two of water, literally, not much, but it enhanced the flavour immensely)
I drink my younger scotches (and scotch is an oil based product) with a few drops of water; the fatty acids cling to the water and the flavour opens up once the drops are added to a young scotch
Ice is a NO NO as the fatty acids will stick to the cubes and the flavour is gone with the cubes
People drink scotch for flavour
When adding water, add bottled or distilled water to omit the florides etc"¦ I make a couple of trays of ice cubes for home with bottled or distilled water… but do not put them in your scotch!!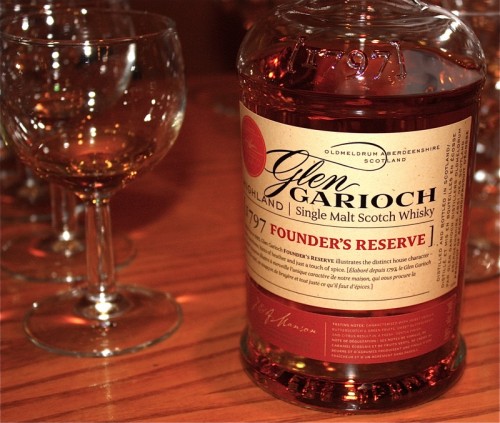 2.    The Highlands: anything above Glasgow and Edinborough: Sample Two: Glengary Founder's Reserve Single Malt Scotch (this is a very small batch distillation; done only 30 times a year)
This region is covered in heather and the water runs down through the roots of the heather and the flavour of the heather is definitely in the roots of the heather which, in turn, becomes a part of the flavour of the scotch from this region
now that I introduced you how to taste the scotch, I will not take as long with these other two tastings; taste it with and without the drops of water
Can you tell the difference (Valerie: I could definitely tell the difference of the scotch with and without the water, but I was the only one with my first sample still not picked up by the server, and I compared the two. Honestly, where was the heather, and the difference, for that matter? It was there, but so very subtle, I could only determine there was a little difference. I couldn't even identify which was which, yet… but the difference was very subtle to my palate)
hint of smoke as they introduce peats into the production of it in this region
hint of toast, more floral notes
fruitiness like a Christmas pudding: pour this over your Christmas pudding when you light it up! (Valerie: It did smell like it would be incredible on a pudding!)
heather, honey and a bit of spiciness
Cast strength whiskey (not diluted for bottling) is 40- 50% out of the cask
non-chill filter (big distilleries filter their whiskeys to filter out the fatty acids to avoid clouding over) but non-chill filters will cloud over when cold, as a good Scotch should
when it gets cold the fatty acids will start to congeal; the fatty acids are where the flavour is ( a lot are filtering them out to keep it clear, and to take some of the powerful flavours away some may not care for)
the makers collect barley and they need it to germinate to naturally crack open so they stop the germination process and heat it up and dry it to get it to crack open naturally; burning a nice wood fire with wet moist granulated peat which creates a huge plumb of moist dense fog or smoke which starts a kilning process ( a room the size of a school gym) and it sits there in this dense smog up to 48 hours: we can control the peatiness by how much peat we put on the fire
Highlands throw peat on for 4-5 hours off for 10 hours and again on for 4-5 hours and off for ten
Then, they boil it; suck the water off, boil it, suck the water off, boil it, suck the water off, and give the cows the porridge left over
Leaving liquid that needs to be distilled
99% of all scotch is now double distilled "" only the first sample triple distills (Irish double distills, now, too)
It runs through the stills and we capture it and age it
78% alcohol gets captured for barrels (the head and the heals keep going until"¦.they become part of the 78% capturing process"¦ some run through 14 times before capturing, but eventually we get it all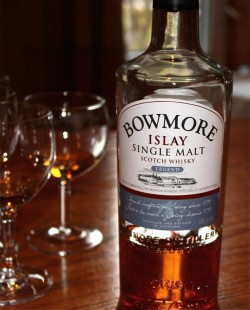 3.    Islay Island: Sample Three: Bowmore Islay Single Malt Scotch
Islay region is the region that produces the granddaddy of all scotches
Salty and a sea
there is enough peat on that island to support the whiskey industry for another 50 thousand years
until the 50's, it was the only thing used to heat the houses there and still today, several are heated by the peat on the island
it is south of the Hebridean Islands
there are 9 distilleries on the island and all are private
the island is 32 kilometres around
population is 800 and Tourism and World Fly fishing Championship are their two main industries, besides making single malt scotch
1994 Morris and Bowmore was bought by Japan; the VIP was visiting and the water in his five star hotel came out brown (water there runs through peat bogs)
Big bold and smoky scotch"" you can really taste the smoke "" most character, most fluctuation in flavours of all scotch; it is the granddaddy of scotch due to that
Tide is in 7 months a year on the island and the sea water seeps into the vault and empowers the flavours
Bowmore 12 is best selling of all
Bowmore 25 is award winning; the family won the best brown spirit for years and now it is called the Bowmore award, though they are no longer able to enter
As it ages, it evaporates, that is why it is so expensive:

Angel share 750 literes went in 300- 400 left
2% evaporates every year and goes to the angels
260 million bottles or litres of whiskey evaporate every year

So, whiskey is the life's blood of Scotland
Scotish Toast:

Salengeva
Salongevar – response
Amanda, the JPL hotel manager added, in a perfect broague, that when she was young, a friend used to say: "I'm thirsty, not dirty!" It was very funny as it had to do with the meaning of the original toast. I did ask how to spell it. I cannot find it anywhere, or a translation for it, either. If anyone could hep with this, it would be appreciated: what does the toast mean?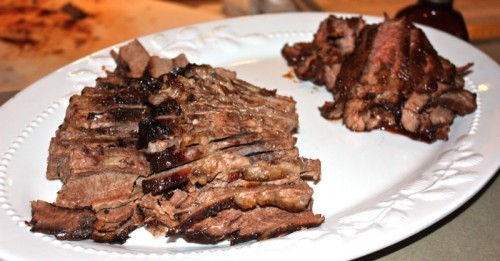 Chef is back! I really wanted to go out and visit with him the entire time he was cooking the meat, but decided to gather this information for Vanja. I have no idea how he cooked it. But, whatever he did, it was the best beef I have eaten in my entire life. I was actually dreaming about it for two days. I know I rarely eat meat, which could be why. But this was so tender and absolutely delicious. There is no other word. Well, succulent. Delicious. Scrumptious. YUM! The skirt steak was my favourite, but the brisket was brilliant, as well.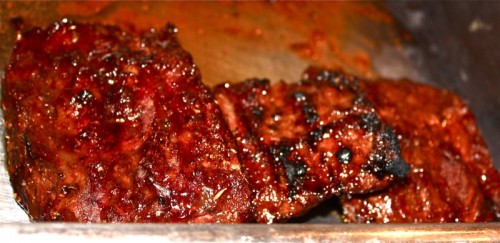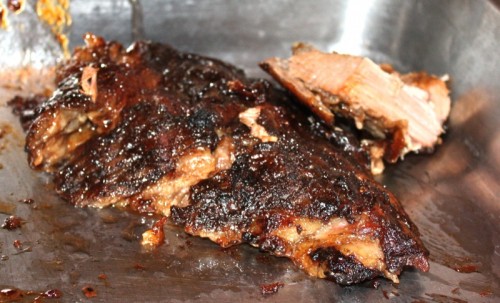 Chef is reminding us to let the meat rest, and to cut it against the grain.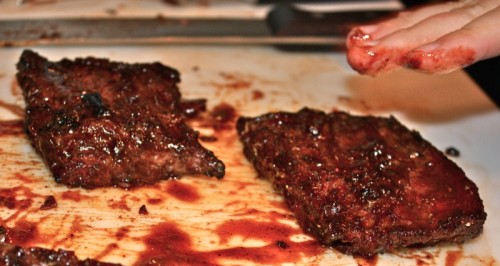 Has anyone used the pepper below? I have never heard of it, but I salivated when sniffing it!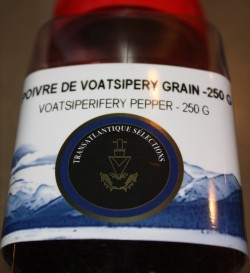 Below, to the right (and the pink piece on the left) is the skirt steak. The brown piece is the brisket. Oooooozing with flavour. Both of them. Michael Smith, look what Chef Ingraham has done! He has a story to tell that you might be interested in hearing. He is a very gifted Chef.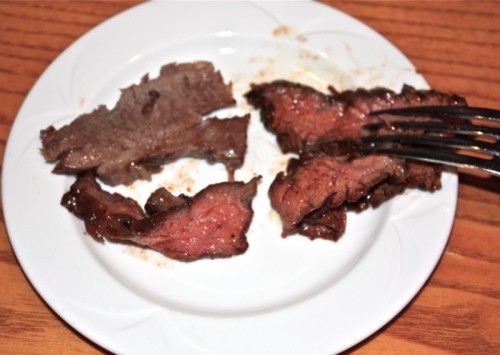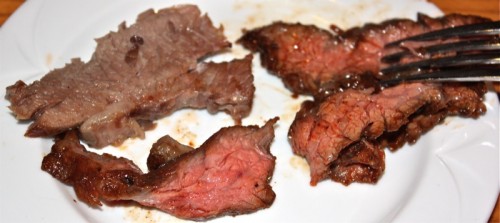 And, with juices dripping from my fingers and still chewing on a morsel, I ran out to catch the waiting shuttle back to the main lodge.
Not too many questions. I got it. I will be making this soon. And, I will teach Vanja… do you want to learn how to do this all by yourself, Vanja? You are the BEST Chef SOUS, ever!!! I am happy enough with that, for sure! XO
Derek Ingraham's Dark Beer Spring Creek Ranch Brisket Marinade Recipe
Ingredients for the Marinade:
one ounce Guinness Stout Beer (room temp.)
2 garlic cloves
one ounce of soy sauce
1 tablespoon vidalia onion, minced
1 teaspoon shallots
1 teaspoon Worcestershire Sauce
1 teaspoon Dijon mustard
1/4 teaspoon fresh tarragon
1/4 teaspoon fresh parsley
1/8 teaspoon black pepper
1/8 teaspoon salt
Instructions for the Marinade:
Finely chop garlic, shallot, and onion; set aside in a small bowl
Finely chop parsley and tarragon and add to the above bowl
Add the remaining ingredients; mix well to combine and rest for 30 minutes to blend the flavours
Marinate the brisket for 12 hours or overnight
Cook according to chart, below
Temperatures for a whole Spring Creek Ranch Brisket:
225°F for up to 20 hours
250°F for up to 16 hours
275°F for up to 12 hours
300°F for up to 8 hours
Derek Ingraham's Spring Creek Ranch Barbeque Skirt Steak with a Dry Rub Marinade Recipe

Ingredients for the Dry Rub:
4 tablespoons sweet paprika
2 tablespoons ground cumin
2 tablespoons dark brown sugar
4 tablespoons kosher or sea salt or 2 tablespoons salt
2 tablespoons chili powder
1 tablespoon granulated sugar
1 tablespoon ground black pepper
1 tablespoon ground white pepper
1 tablespoon dried oregano
1 tablespoon cayenne pepper
Instructions for the Dry Rub:
Combine all ingredients in a bowl; sprinkle heavily on meat (rub the meat right into it as described with photos, above)
Refrigerate meat in a zip lock bag of tightly sealed container for 2 to 8 hours
Barbecue meat with your favourite barbecue sauce
Tips for the Dry Rub:
Use 1 to 2 tablespoons of dry rub per pound of meat
Rubs can be mixed and stored in an air tight container for up to three months, or in the freezer for up to six months
Keep a record of what you add to your rub for future reference (if you really like it, it's nice to know what you actually put into it!)
When mixing and storing rubs, date the container
Do not reuse remaining rubs that have been in contact with raw meat