A Pie Making Bee with Christan: a stranger no longer whom I met at the market!
It's not baked because we froze them all. But, isn't she cute? May I introduce to you, Christan, my new baking friend?
We will provide delectable, mouthwatering photos of flaky warm from the oven apple pies when we do our Pastry Tasting. That is currently booked for the last Friday of November. If you are interested in coming, you had better let me know! We will be comparing my pastry with my self-rendered leaf lard, Kevin's pastry that I made with his self-rendered leaf lard, and pastry that I made with Tenderflake pastry lard. Won't that be fun? As I said in the pastry making post, the self-rendered lard pastry certainly smelled meaty while the Tenderflake had a sweet non-descript flavourless aroma.
Christan arrived ready to bake: apron, knives, and miracle apple pie making tool… her apple slicer-peeler! I have seen these everywhere, but was not smitten. Contrary to what some may think (due to my consistent proclamation of undying love for my Thermomix) I am not a huge gadget person. I have effortlessly resisted buying myself one of these. How silly! I can peel an apple in 30 seconds. It takes me 5 minutes to peel 5 apples for a pie. Why would I ever want one of these.
Oh, my darlings… let me tell you the whys. We peeled and sliced, together, 33 apples in about 20 minutes: effortlessly! I am smitten. Smitten. That is all I am going to say. I do not usually make 7 pies at once, anyway. This was enough (barely) for 5 apple pies. We made it work. We could have had more. More! Yes, we could have had 7 or 8 apples in each pie. Wouldn't that be fun?
Christan is not a run of the mill young woman. First of all, I didn't know her at all before she accepted my invitation to cook together. That takes courage. Second of all, she was brimming with confidence. It was quite unexpected and really gratifying for me to bake with such a young gal so completely in charge of what she was doing. Talk about role reversal! I loved it, and learned a great deal. Don't get me wrong. I know how to bake a mean apple pie, but so does Christan, and I got an entire evening to learn from her. Lucky me!
When I told her I usually put 5 to 6 apples in a pie, she winced and said that she usually put 8. Eight! How could one even fit 8 sliced apples in a pie? Well, pull up a chair and you will learn how!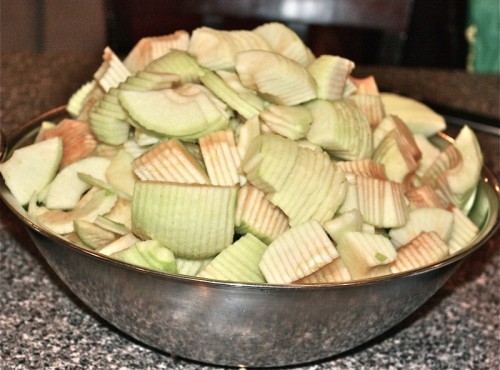 Above are the apples we peeled. She actually used her gadget and I then double checked all cores and peelings to ensure there was nothing forbidden getting into our pies! Yes, they are starting to turn brown, but just for a minute. Christan needed a larger bowl and we found her one (below). Time to add the sugar. I had less that half of a bag of brown sugar and she was fairly sure it would be enough. I was very sure we would need more. We didn't. In goes the sugar, little by little, as she tosses the apples to mix it in.
The last little bit is going in How did she determine the right amount of sugar for all those apples? Don't you worry! She has her way, and was a very good teacher, too!
It depends upon how tart the apples are: taste them.
Now, add sugar, not too much, and taste them again; they should not taste sweet, nor tart
More sugar; taste again
How do they taste, she asked? "A little too sweet at the front and a little too tart at the end." Up went her eyebrows. On went her smile. Sparkle in her eye: "Perfect. Then we have enough. I hate sickeningly sweet pies." She had me convinced!
"These apples are really juicy!" How can you tell? "I can feel it! Look!" I was very surprised by the amount of liquid in the bottom of that bowl already. Well, I was very surprised by her entire process. I make mine completely differently.
I cut my apples directly into the pie after dusting the bottoms with a sprinkle of sugar to keep the bottom crust crisp. The sugar and flour are sprinkled on top of each and tossed in, right inside of the pie shell. I usually only make two or three pies at once. Christan makes a lot. Every time.
She told me that her dad loves to cook and learned how to make a great crust from a friend who made the best crusts, and learned to make the best filling from another who made the best fillings. You got it! He makes the best pies.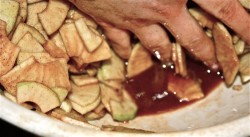 Christan was really thrilled when her father taught her how to make the traditional family pies. From father to daughter, the tradition was passed along… until, she is now asked to make them for every family occasion. It has become her job. Clearly, she is good at it. How lucky am I to learn from her. Everything she is doing makes perfect sense, but is frighteningly different that how I make mine. I even use white sugar. But, who could argue with brown. I am curious!
And, cinnamon? Be prepared to use half a package! I am much more stingy with my cinnamon. Not because it is expensive (thought it is) or I am cheap (I am not), but because I find a couple of teaspoons a pie to be flavourful enough. I am sure there are a couple of tablespoons, or more, in each of her pies. Our pies. I am curious. Is this much cinnamon really necessary. She was very definite. "More! More!"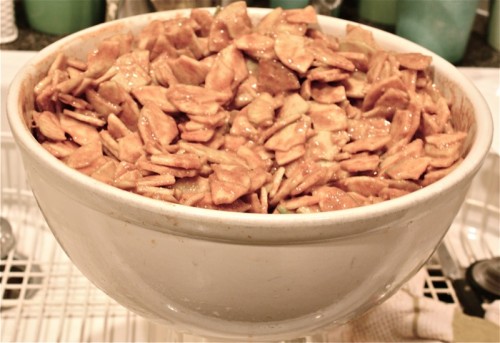 The filling is ready. Whew! It didn't take long. After the sugar and cinnamon, in went a considerable amount of flour. How much? "It depends upon how moist the apples are and these are really moist. I will need a lot of flour." She used enough to rid herself of the pool at the bottom of the bowl. It seemed like a full proof process to me.
After a little discussion about how I made the pastries, we sniffed them, and then got rolling. I always use a pastry cloth and a sleeve on my pastries and my shortbread. It is just easier for me. She usually uses brown paper from bags. Makes sense, too.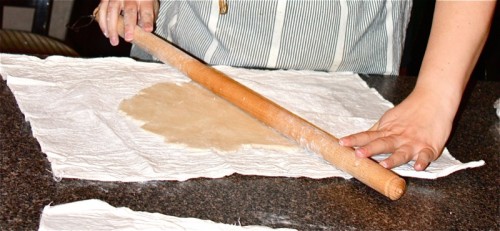 She forgot her rolling pin, and I only had one decent one. (It is not the one above.) We shared, rolling out each chilled disc to 1/4 inch thick, keeping a good dusting of flour (but not too much) under the pastry so it would life off the cloth easily.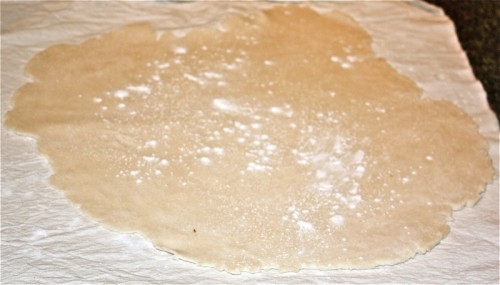 Good thing my daughter had dropped over all the pie plates or I would have been in trouble! Beavie was excited. The pie making bee was moving along so fast, his little head was spinning! Do you see the apple peel bracelet he is wearing?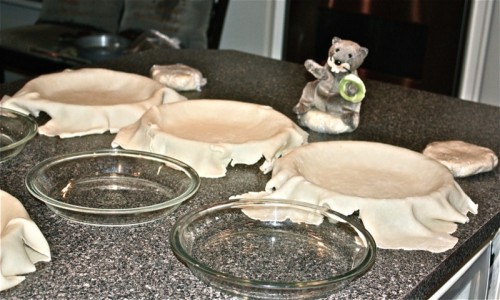 He loves getting in pictures! We were making an apple pie with each kind of pastry and a Saskatoon pie with each kind of pastry and then two extra apple pies with Tenderflake pastry: one for Christan and one for me.
We have all of the pies filled, almost, below. Beavie is ecstatic. I have rarely seen him laughing so hard. What was so funny?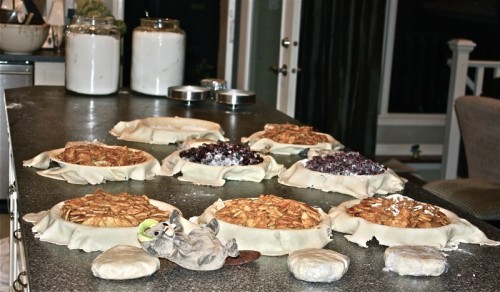 Christan even had to have words with him. He was completely interfering with our process.
Whew! Almost done! Look at that sweet smile. I really had a great time!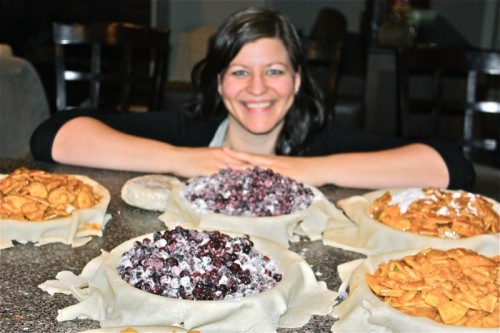 Beavie was out with it as soon as we finished crimping the first pie: we had forgotten to add the butter! Yikes! The Tenderflake pie had no butter added. Oh, well. At least it was the only one! Actually, I think Christan's pie missed the butter, too! So, this is how I add the butter: six teaspoons or so under the top shell. This is also how I sometimes move the top pastry over tot he pie. Usually I roll out both discs and use the best one for the top. Doing it this way, that is not an option. Lucky for us that all the pastry was really nice.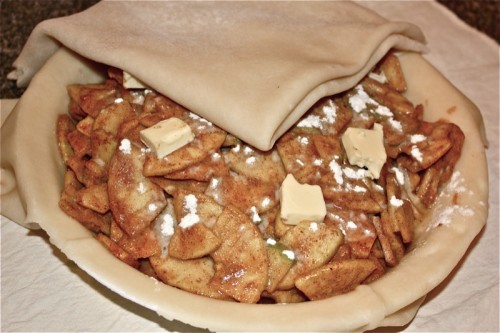 Christan also crimps very differently than I do. She brushes the bottom pastry with water, lays over the top (Here she rolled the pastry onto her rolling pin and unrolled it over the pie which is the second method I use, too), and then she starts crimping. The water glues both sheets together.
She actually doesn't cut her overlapping pastry until she has completely finished her gentle crimping. See how she does that below? Above her crimping, I do cut off the extra overlapping and discard it, then fold up the extra to make a more pronounced decorative pinched crimp.
Christan has another trick up her sleeve! She cuts the pastry and rolls it back to make a decorative steam vent in her crust. Gorgeous! Isn't that fun?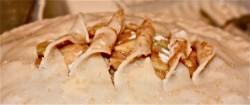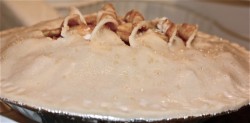 Below, my butter added to the left, and to the right, hers. We found we did almost every single thing differently.
Here is my crimping. Once the ridge of pastry is folded back on top of the edge of the pie plate, I use the thumb and forefinger of both hands to pinch the crimp into the edge in the upright position as seen below.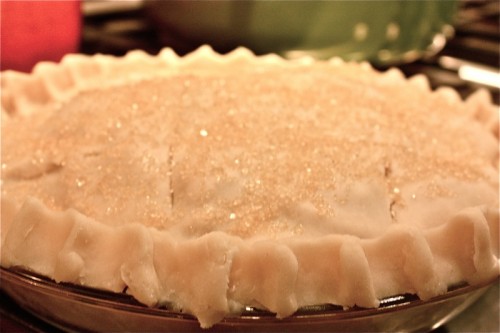 Mom taught me how to crimp, and her mother, and hers… and back and back and back. I am partial to my crimping. It is part of who we are… the rest, I am open to. I am eager to taste our results. We dusted the top with sugar for that lovely pastry crunch and decorative sparkle. She used less. I used more.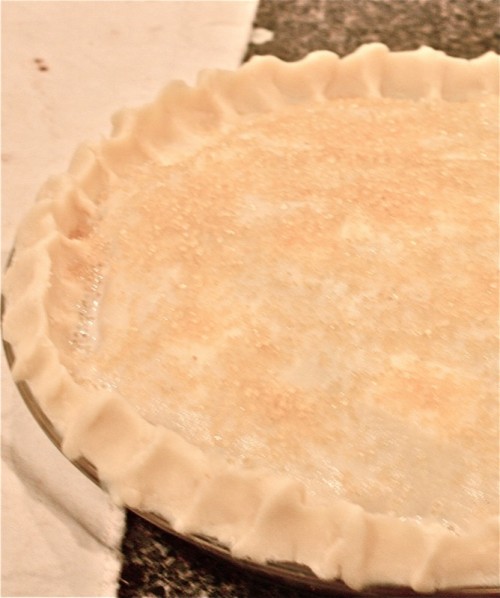 Christan with her own pie. She will come to the tasting, too, at the end of November. But, for now, she has her apple pie, and I, mine. We also made Saskatoon pies!
Thank you for such a wonderfully fun evening, Christan, and a great learning experience. If anyone locally is interested in learning how to make pies from Christan, let me know. I haven't spoken to her about this, but I just got a good idea.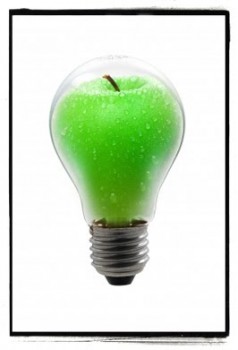 She is a great teacher, and I feel a cooking class coming on!
Beavie might not be invited, though!