Side by side tasting is revealing, yet complicated!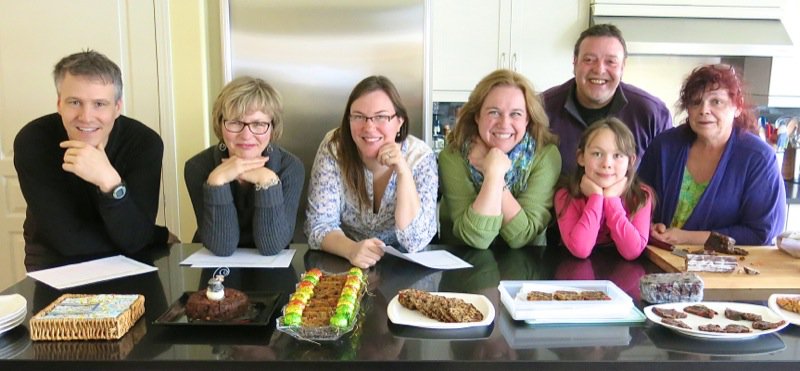 What a joy it was to have traditional fruit cake lovers over for a local Slow Food Edmonton Tasting in January. I want to do this a couple of more times, until I complete the development of my fruit cake recipe to incorporate all of the positive aspects from what I learn during these tastings. I am very happy with my own traditional Canadian fruit cake recipe, yet it is still evolving as there isn't enough colour in it yet, and I do prefer it without nuts. Light fruitcake must have nuts, in my opinion, but I may prefer dark without nuts. I will test that theory next year when I add more colourful fruit, and do half with nuts and half without. I also need to resolve the texture issue as mine slices perfectly when frozen, but tends to crumble as it is so moist when at room temperature. Yet, if sliced when frozen, the slice will hold its shape when eating. Odd, eh?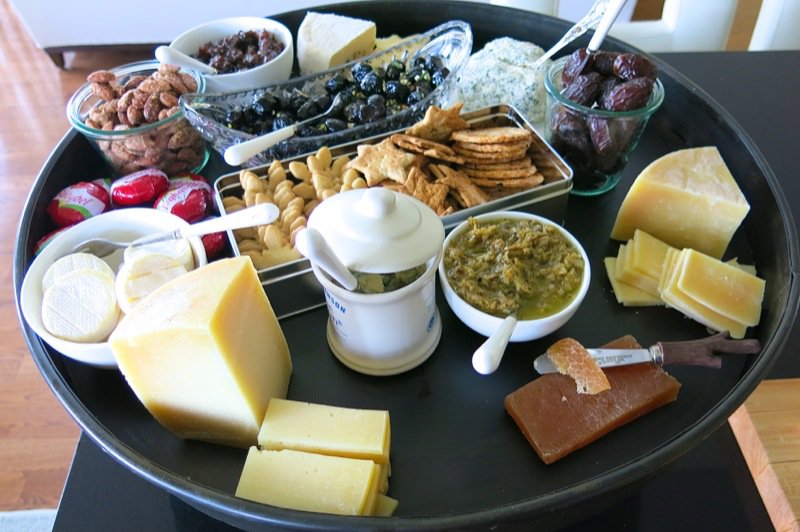 I do love entertaining, but haven't done any for ever so long. Been rather reclusive this past year, and what a pleasure it was to fill a tray with some of my homemade cheeses and other concoctions for my guests to dive into before the official tasting. I stepped down from my position as Vice President of Slow Food Edmonton after several years in that role. It was time for a change and I am delighted to announce a series of Slow Food Edmonton Tastings that I will be hosting at my home this next year.
Take a look at the schedule and plug the dates into your calendar. If you want to participate, the instructions are here and each event will only succeed if we get a variety of participants interested in tasting delicious local food and heritage recipes. I am very excited about these events.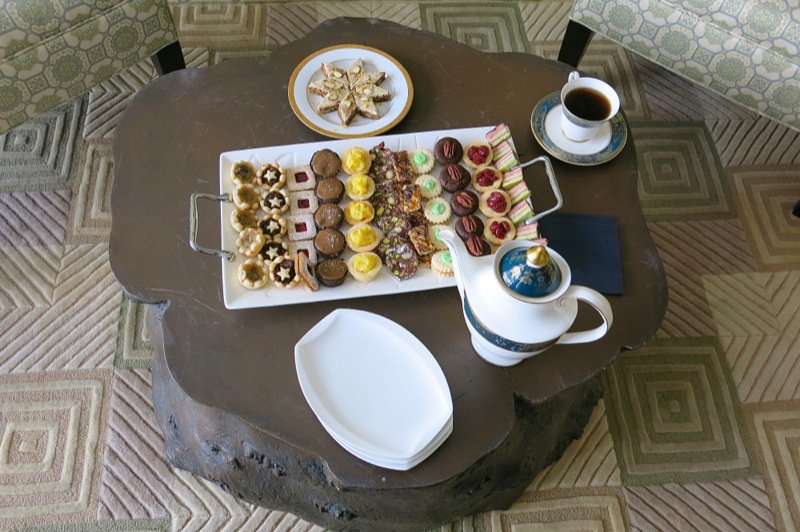 I was delighted to serve the end of my Traditional Christmas Cookies and Tarts, as well – but embarrassed when I tasted my Lebkuchen to find it as hard as a rock! It was plated too long. The ones in my tin are still moist and delicious. (red face)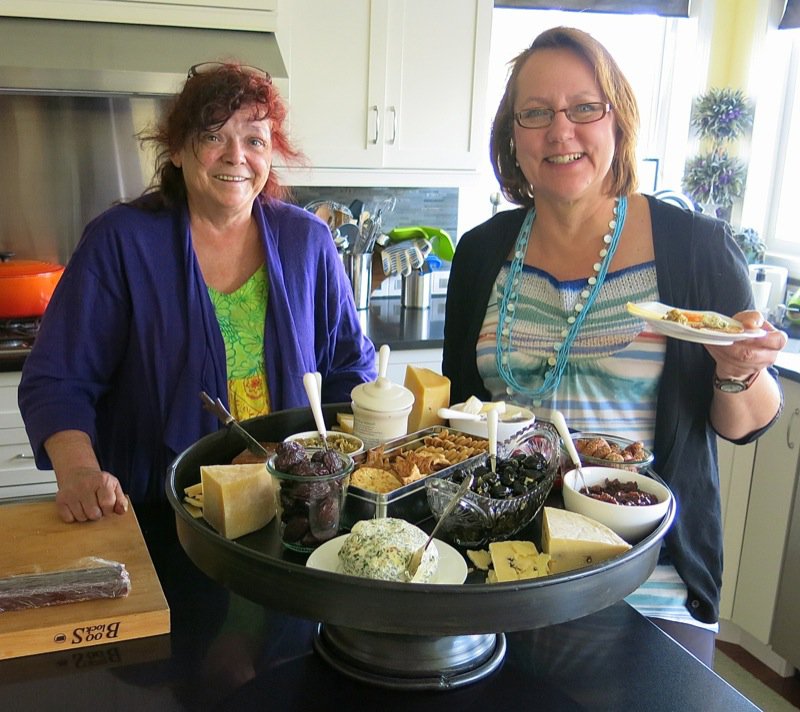 I invited Brendi and Margaret to come early, for tea. Margaret is a local food blogger at Kitchen Frau and we read and comment upon one another's cooking experience, yet have never met. Brendi is a regular reader who has rarely missed a post. He reflective comments are so revealing and enjoyable that I simply had to meet her when I found out she was living nearby, as well. There wasn't enough time…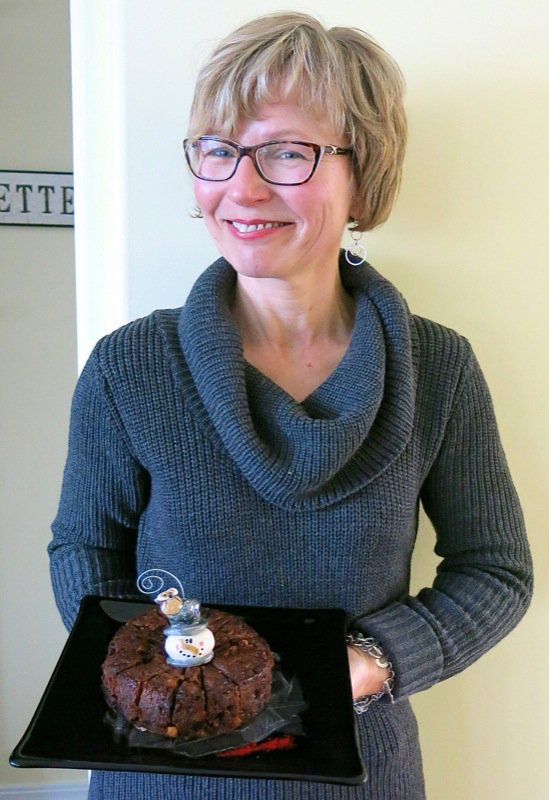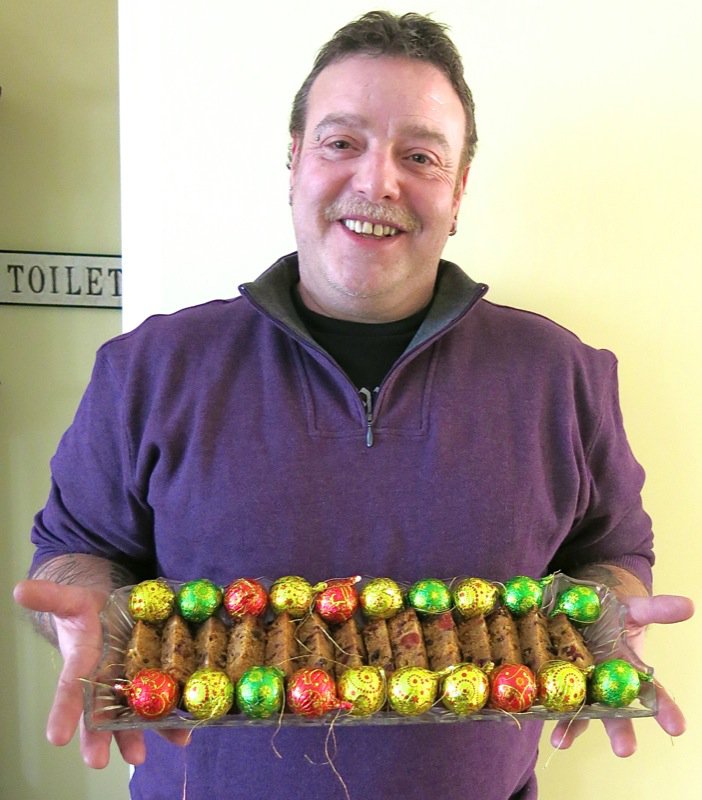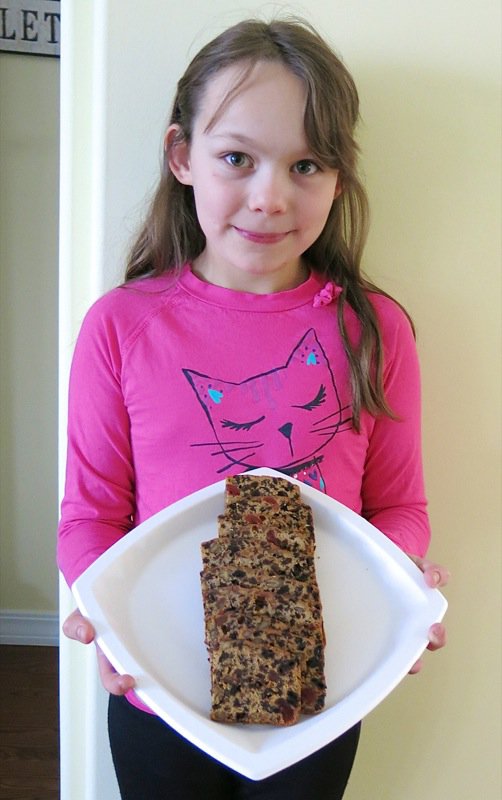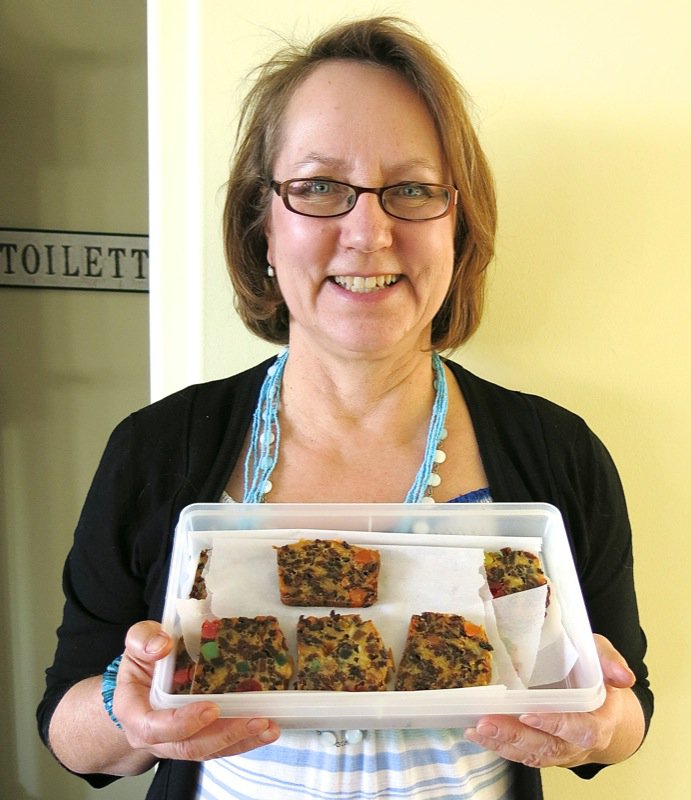 I had never met Brendi (a taster) or Margaret (a fruit cake baker), yet I had a cyber relationship with each. However, Ingrid, Stuart, Katherine, Margaret (again) and Katherine's mother, Patricia, were all people I had never met before. Each came with the warmest of enthusiasm and the most gorgeous Traditional Canadian Christmas Fruit Cakes to share.
We visited, got to know one another a little, and then I explained the tasting process, and the room was silent for quite some time. Tasting tomatoes is very different. The room is noisy with chatter and sharing of taste, flavour and palate opinions. I hadn't realized how personal this would be, but as soon as it started, it was apparent.
Don't put your names on the paper. Be as honest as you can about your tasting experience and we will not do a debriefing at the end of this today. I yet had to figure out how to do that when people are presenting such an intimate sharing of their family culture with such loving pride.
First, every cake was delicious, yet all were not "fruit cakes" to me. A fruit cake, from my experience and knowledge base, is to be moist, more fruit than cake, very dark, if it is a dark cake, with a mix of traditional seasonal spices (cinnamon, nutmeg, cloves, etc.) and must include an alcoholic component. It may or may not include nuts.
It will be interesting to see how others interpret what a fruit cake is and it was very revealing to me to taste each of these side by side. After the third one, or by the third one, my palate and nose was dead. I had to go back and forth many, many times and in differing orders to try to get a sense of the nose, flavour, texture, and overall appeal of each. It was really difficult. I believe I was even beading a bit on my forehead. Seriously. And, tasting sweet food is even more difficult than savory, for me, anyway – as the "full factor" kicked in and though I tasted small bites of each, was having difficulty discerning the nuances within.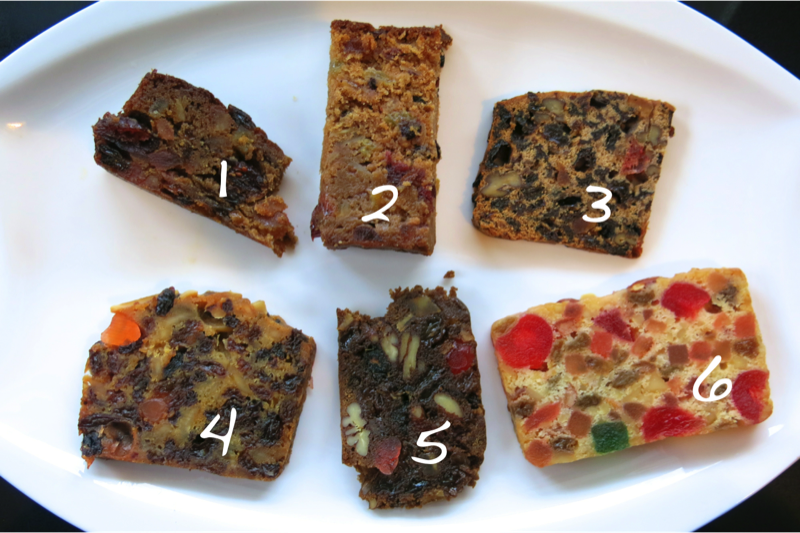 As I hadn't sliced my cake in advance, it crumbled as it was very warm. That was embarrassing to me, and affected my focus, at first… yet, it was authentic and something in my recipe that I am determined to tweak. Just looking at each sample above, it is evident how different they are. Immediately, I was drawn to the light one. It was gorgeous. To me, that is exactly how a light fruitcake should look: studded with jewel-toned fruit with little cake. That is my goal for my dark cake, too. I will definitely leave my fruit pieces larger, next year. Mine is sample 5, above. It looks nothing like the photo below that I took when I wrote about making this cake and my family expectation for a fruit cake. If I was having these feeling, I can only imagine the feelings of the other participants, yet each was truly scrumptious.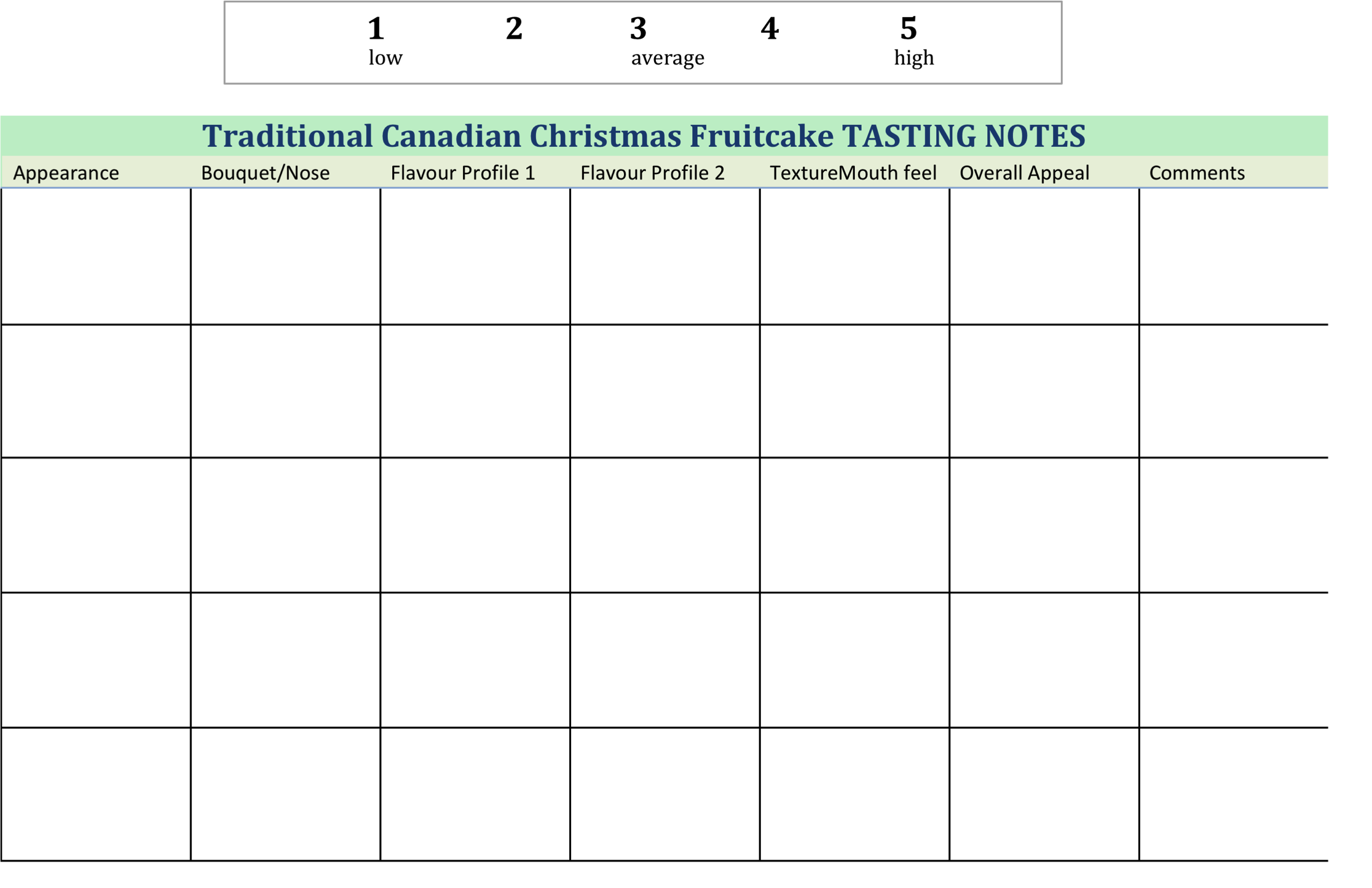 I also included a tasting wheel for a focus on vocabulary and taste possibilities which I will add to the end of this post. Below is a compilation of all of the impressions from each taster within each category. A ? mark indicates that there was no number assigned by a person for that specific category. The total at the end only means this: This cake was had the "best over all impression" within the small group of tasters at the event this day. The results could be completely different another day with another group of tasters as one's palate is very personal.
1

4,3,4,3,4,3

4,4 = 29

3,3,5,3,4,4

5, 5 = 32

3,4,5,1,4,4

4,4 = 29

3,4,5,1,4,4

4,4 = 29

3,5,4,3,4.5

4,4,4 = 36

?,5,?,?,4,4,

,? ,?

155

2

5,2,3,2,3,4

4,3 =26

4,4,4,2,3,3

4,4 = 28

3,3,3.5,1,3

4,4,4 = 25.5

3,3,3.5,1,3,

4,4,4 = 25.5

3,3,4,2,3

3,4,3 = 21

?,4,? ,?,4,4

,? ,?

126

3

5,3,3,2,3,4

3,4 = 27

4,4,3,2,3,4

4,5 = 29

3,3,3,1,2.5,

5,4,3 = 24.5

3,3,3,1,2.5,

5,4,3 = 24.5

3,3,3,1,3

4,3,4 = 24

?,3,? ,?,5,4

,? ,?

129

4

5,5,5,3,2,5

4,4 = 33

4,4,3,2,3,4

3,4 = 31

3,4,3,2,2,4

2,3 = 23

3,4,3,2,2,4

2,3 = 23

3,5,4,2,2

3,4,4 = 27

?,4,? ,?,5,4

,? ,?

129

5

5,4,4,4,4,4

4,4 = 33

4,3,3,4,4,3

?,5 = 26 +?

4,4,4,3,3,3

4,3 =28

4,4,4,3,3,3

4,3 = 28

4,4,4,3,3.5

4,4,4 = 30.5

?,4,? ,?,4,4

,? ,?

145.5+?

6

5,5,5,5,2,5

?,5 = 32+?

4,3,4,1,3,4

5,4 = 28

5,4,4,4,3,4

4,5 = 33

5,4,4,4,3,4

4,5 = 33

5,5,4,4,3

3,4,5 = 33

?,4,? ,?,5,5

,? ,?

159+?
According to our tasting on this day, the light fruit cake made by Patricia was the slam dunk overall favourite. Ingrid's fruit cake made in her vintage fruit cake pans (image at the end of this post) was second. Mine was a distant third and the other three very close.
I have scribed the comments made by the taste testers below. If the words are repeated, it is because more than one person said the same thing. The comments are in note form.
I was surprised at how little fragrance or "nose" that most of these cakes had in the open air on a plate. Opening the wrapper or the container holding one of these perfumed concoctions, the musky, earthy, fruity aroma licks all the way back onto my palate and has me salivating before I can even remove the cake. Yet, very few had much of a nose in the open air.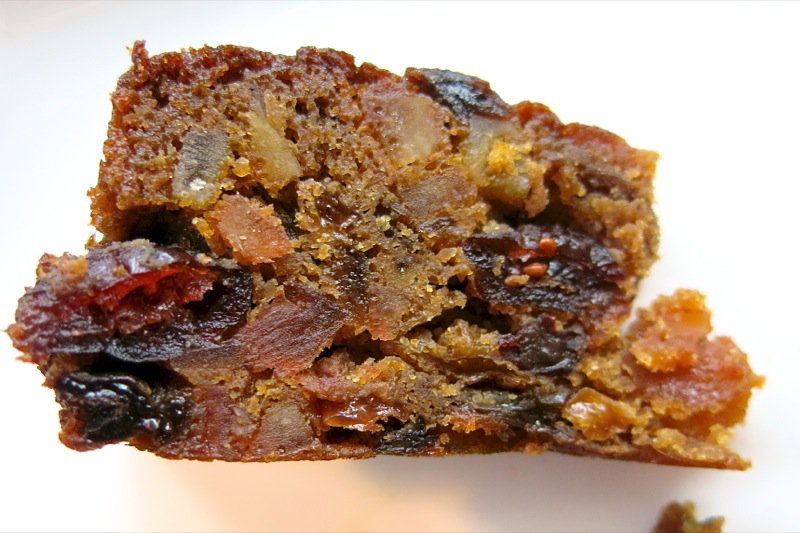 Comments for Cake #1
No spice or alcohol detected by the nose; mild spice flavour; dense, moist and chewy, pungent and moist; caramel colour with a nice balance of fruit and cake; looks moist; fruity with brandy notes; citrus, apple and brandy flavour; nuts are a well balanced texture contrast; moist cake: something is a bit stringy, not sure if it is coconut or nuts; lovely classic fruitcake: well balanced and flavourful, dark moist dense, raisins; earthy, citrus, floral, black dark finish; varied texture; yum; dark caramel with floral notes; bitter finish; fruity ginger; fruity earthy, sticky moist with lots of fruit and nuts; like the large pieces; earthy flavour; no spice on the nose; fruity, moist and surprised so little spice on the nose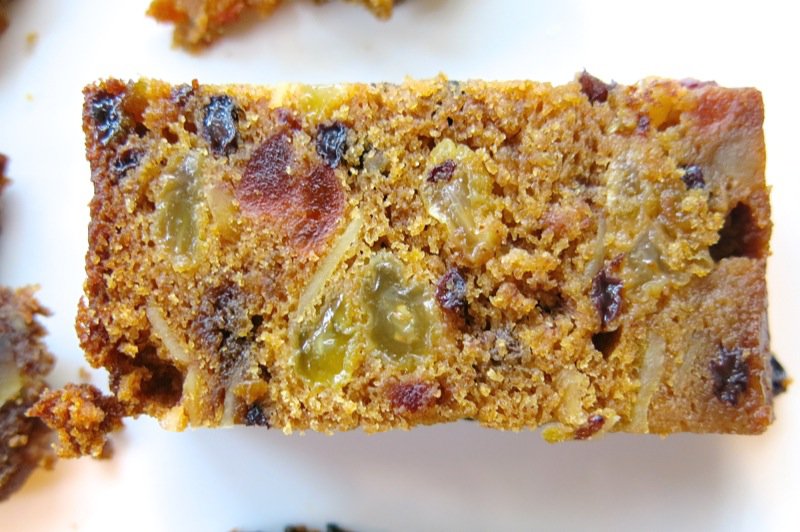 Comments for Cake #2
Subtle, intriguing; raisins stand out well; dry and moist combination; cake with fruit looks lighter in texture; nuts and fruit visible, tastes like a spice cake instead of a fruit cake or like a raisin bread; the fruit is the accent to the cake but not main element; hint of yeast, dry and not moist; like a spice cake with fruit and nuts; lighter cake, less moist but spicy cake with an alcohol burn at the finish; light and dry, pungent, oxidized; apple fruit, chemical, dry, earthy; alcohol evident, hot pungent caramel molasses taste; crumbly, sparse in fruit, more of a cakey texture, top is moist with crumbly bottom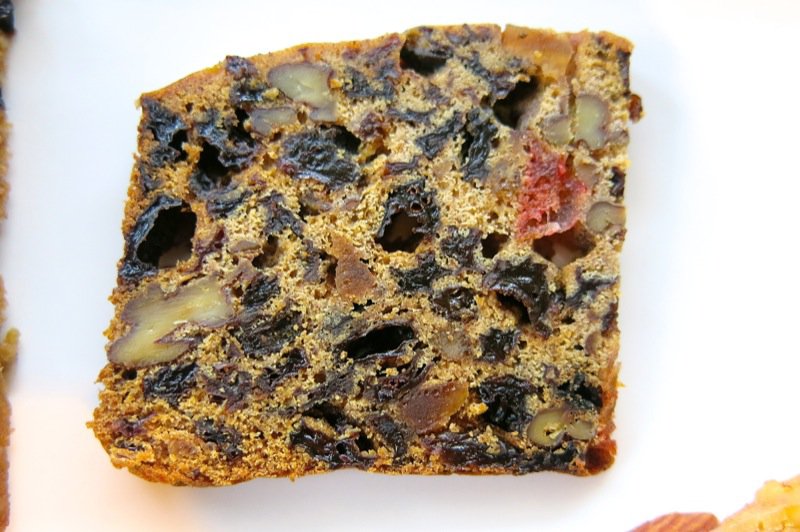 Comments for Cake #3
Light, love contrast of nuts to the fruit; dense, but a bit dry; cake with fruit is lighter in texture, nuts and fruit visible with some holes in the cake; spicy and a little tart, nice with currants and spice; nuts are dry; not as dry as it looked; nice balance of fruit and nuts; no fruit colour; light, cakey, fruity, spice after taste, more like a cake than fruit cake; citrus, alcohol, dry, darker and fruity; fruity with a chemical after taste; dry, fruity, floral; fruity, woody with coffee notes and orange blossom; cake dry but fruit is moist; studded with fruit and nuts; fruit flavour limited, less fruit, drier cake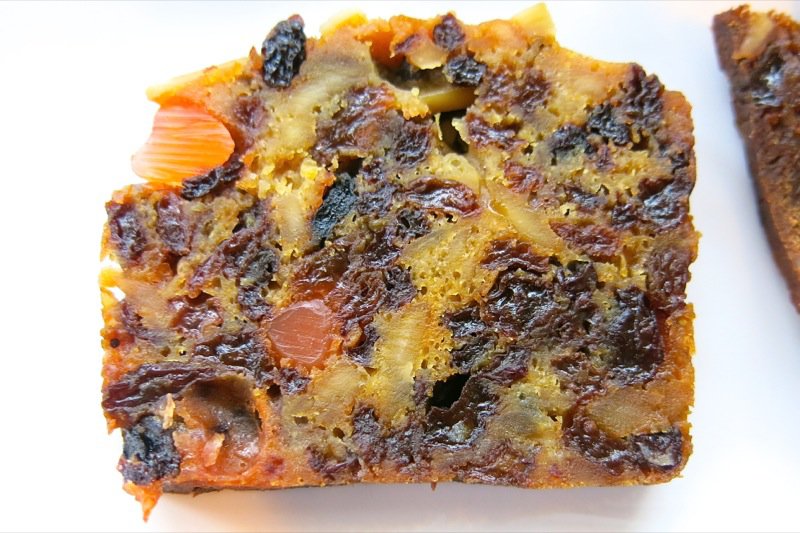 Comments for Cake #4
Delicate, dense, moist and slightly chewy; moist, nutty, jewel-like fruit; candy like sweet and moist; a hint of bitterness from zest or peel, nutty flavour with alcohol notes; moist with nutty texture and dark gum base; candy sweet burn, citrus, colourful and sweet; fruity, oxidized, pungent with chemical notes; most fruity and very moist; fruity with caramel; fruity and very moist and juicy; very moist, not enough cake; fruity, gum drops, spicy with a hint of liquor, moist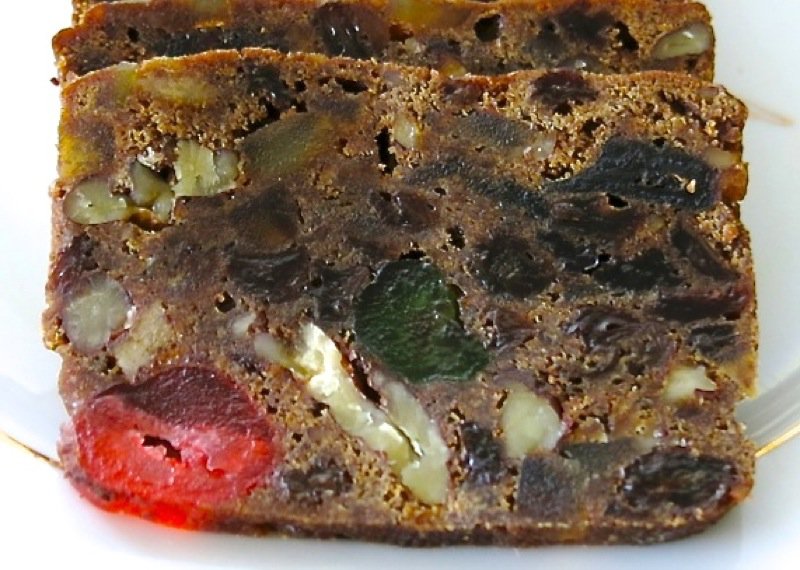 Comments for Cake #5
Bourbon is a wonderful counterpoint, dense and moist; pudding-like, looks very moist, alcohol notes, no spice noticeable; bourbon prominant, figgy pudding flavour, moist and nutty; moist and fruity, very dark and sweet; dark fruit, oxidized, pungent with chemical notes; most fruity with nuts; fruity with caramel, earthy and pungent; fruity and moist; fruity and very moist with strong alcohol flavour; fruity and moist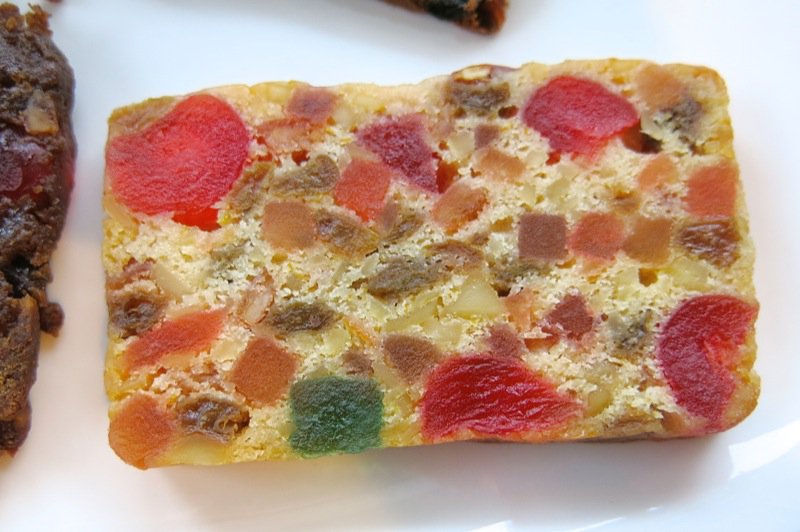 Comments for Cake #6
Wonderful light fruitcake; ruby golden light fruit cake; not much scent; some orange and sugar notes; sweet, fruity with almond orange notes; moist with candied fruit texture; little toothsome element from nuts; pretty, fruity jewels, no nose, but moist, sweet, and so colourful; colourful; light fruity floral notes, moist and crunchy; fruity, little smell, caramel, moist; white, fruity, cherry-nutty flavour; moist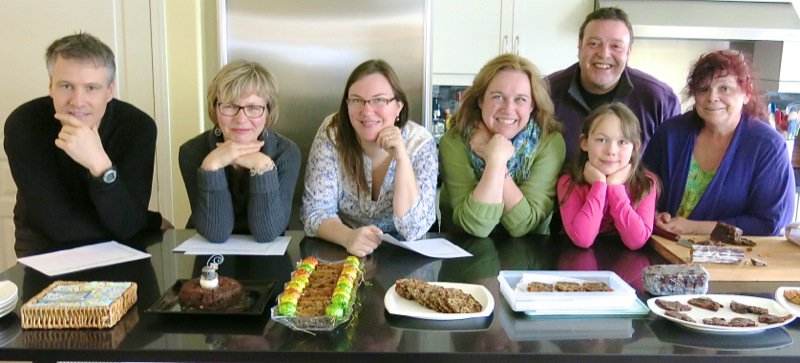 Margaret and I are missing from the above photo. I am taking the photo and Margaret had to leave early, but picked up her tastes later in the day: Jens (Slow Food Edmonton Communications and the only person I knew before the tasting), Ingrid, Leisel (who brought mincemeat and gorgeous mincemeat tarts, also shown at the end of the post), Patricia and her daughter Katherine, Stuart, and Brendi.
This is before we started the tasting.
I learned so much from this tasting which I have noted for my next year recipe. If you would like the recipes for any of these cakes, please let me know in the comment section below, and I will send them to you. The most enjoyable aspect of this tasting was meeting each of these wonderful people and sharing a taste of a traditional heritage family recipe with each one. I was remiss as I didn't ask each the story behind the recipe. Next time. And I certainly hope this crowd will regroup for another tasting. Already, they have expressed an interest in getting together to swap sour dough starter samples. I think I will put the bug in Slow Food Edmonton's leader, Chad Moss, to run with that idea.
Thank you so much, each and every one, for this incredible opportunity and experience! The winning recipe follows!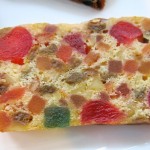 Patricia's Orange Almond Light Fruitcake


Inspired by Light Orange Almond Fruitcake from The Canadian Living Christmas Book 1993; Modifications by James Bullock.
Cook Time
2
hours
30
minutes
Total Time
3
days
2
hours
30
minutes
Ingredients
3

cups

or 750 mL or 420g good quality mixed candied fruit

2

cups

or 500 mL or 300g golden raisins

1 1/2

cups

or 375 mL or 315g) halved candied cherries

1 1/2

cups

or 375 mL or 295g coarsely chopped candied pineapple

1

cup

or 250 mL or 140g candied citron peel

1/2

cup

or 125 mL white rum

2

cups

or 500 mL or 290g all-purpose flour

2

teaspoons

or 10 mL baking powder

1/2

teaspoon

or 2.5 mL or 5g salt

1/2

cup

or 125 mL or 114 g) salted butter

, softened

1

cup

or 250 mL or 200g granulated sugar

3

large eggs

1

tablespoon

or 15 mL finely grated orange zest

1

teaspoon

or 5 mL almond extract

1/2

cup

/ 125 mL Grand Marnier orange liqueur

1 1/2

cups

or 375 mL or 200g) chopped slivered

(or blanched) almonds

1/4

cup

or 65 mL Grand Marnier orange liqueur
Instructions
Combine first 5 ingredients in extra large bowl; dd rum and toss until coated

Cover for 2 to 3 days in a cool place

Line two 9 x 5-inch (2 litre) loaf pans with 3 layers of parchment paper

Whisk together flour, baking powder and salt in medium bowl; set aside

Cream butter and sugar together until light, then eat in eggs, one at a time; stir in orange rind and almond extract

Add 1/3 of flour mixture to egg mixture stirring to combine; add 1/4 cup Grand Marnier until combined

Repeat with another 1/3 flour mixture, 1/4 cup Grand Marnier and remaining flour mixture, stirring each just until combined

Stir almonds into fruit mixture; gently fold batter into dried fruit mixture

Divide and press into prepared pans

Preheat oven to 250°F or 120°C

Set a shallow baking dish filled half way with boiling water on lower oven rack; place loaf pans on centre rack

Bake for about 2 1/2 hours, or until wooden pick inserted in centre comes out clean. (You may need to cover the cakes with foil for the last half hour if beginning to crack or browning too quickly.)

Remove pans to wire racks and brush with remaining 1/4 cup of Grand Marnier; cool completely

Remove from pans; discard parchment paper

Wrap cakes in cheesecloth that has been drizzled with a small amount of Grand Marnier or brandy

Wrap in foil, seal in freezer bags and store in cool place for up to 1 month or freeze for up to 1 year
Recipe Notes
Slices best when cold.
Below are the gorgeous Mince Tarts that Leisel brought. We compared her mince meat made with butter instead of suet to mine made with green tomatoes. Both were markedly different, yet clearly mincemeat. Mine was much lighter and hers was heavier, but in a good way. Aren't they sweet? Her pastry was also delicious. I got to keep the leftovers. Lucky moi!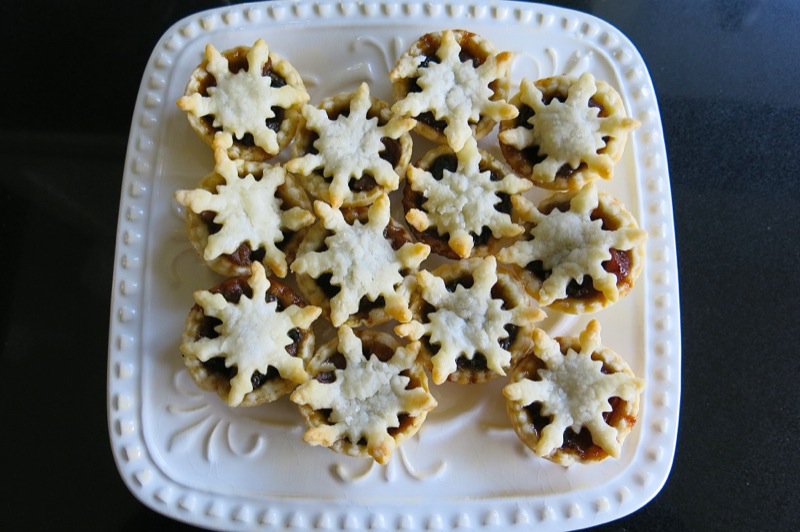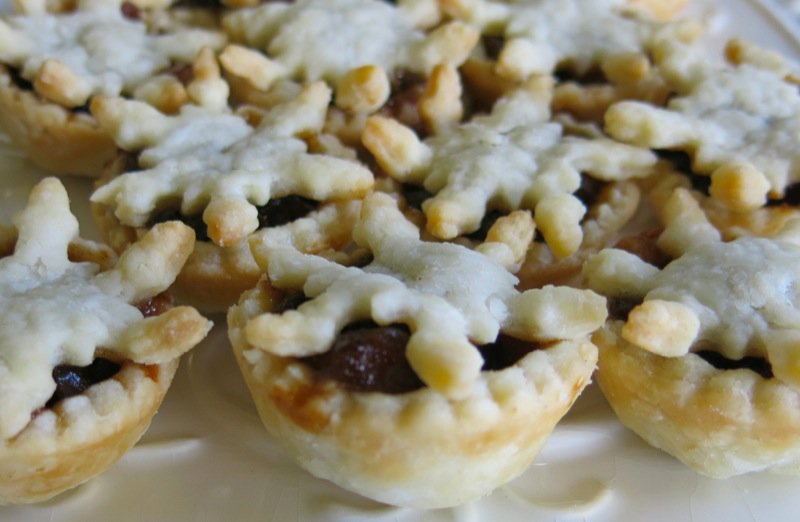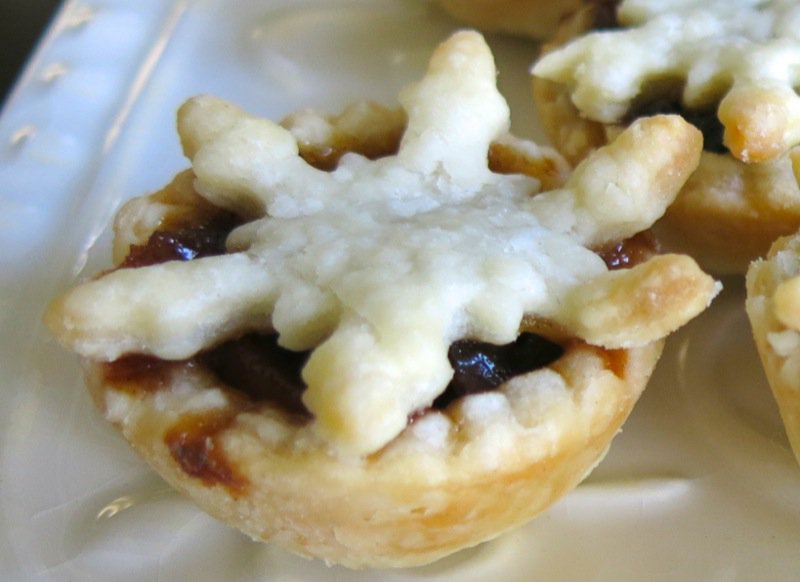 Ingrid's vintage Christmas Cake pans follow.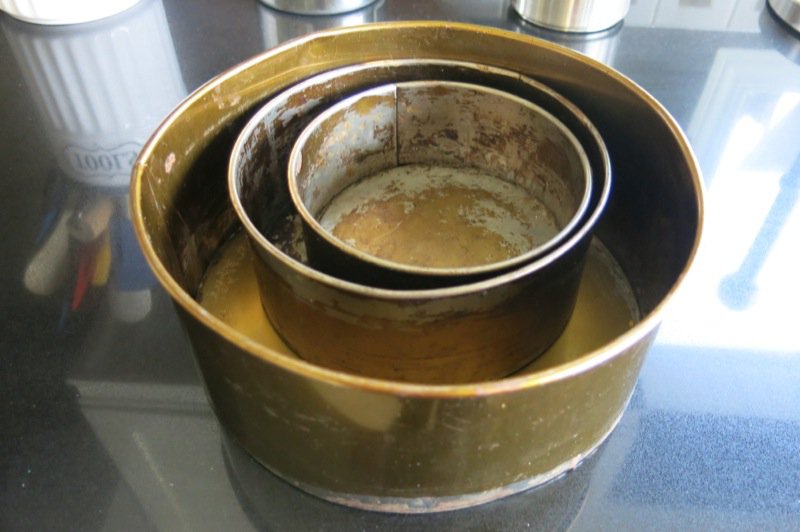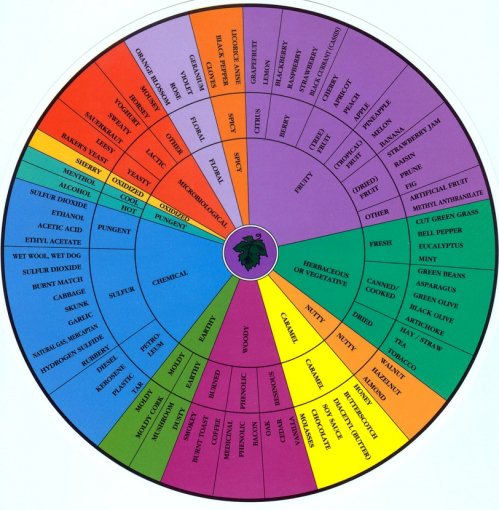 Above is the wheel we used. Below is another good one.