Old Strathcona Farmer's Market Open December 23rd: Last Day Before Christmas!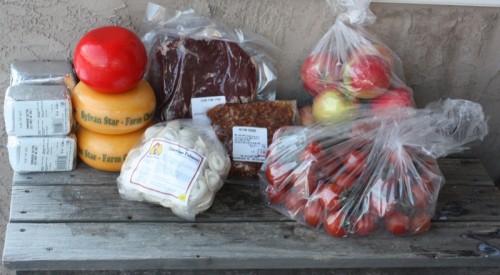 City Market, I have not forsaken thee. I do miss some of my favourite producers that cannot be found at OSFM in the winter from City Market. One cannot beat buy groceries from the hand of a farmer or his help in the fresh outdoors. Sigh! But, how fortunate are we in this winter climate of ours to have this fantastic indoor market all year round! It is even open at 8 am in the summer and I can often be found there getting some of that wonderful Edgar asparagus (sans line up) at 8 am, then heading down to the City Market in the summer. Not only for the asparagus, though. There are other very important products offered here that are not offered at the City Market. Farmer's Markets are exclusive. I don't like that, as a consumer. I want it to be how it used to be. All farmers in the area just pull up and sell what they have to sell. More about that later.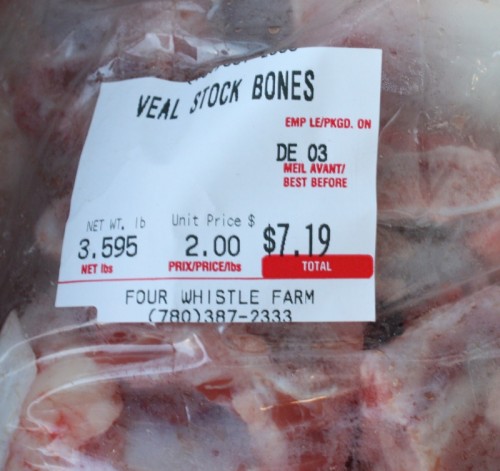 One of my newest and most exciting finds was veal bones at Four Whistle Farms. I almost feel I should keep this a secret as they are not always available. I searched everywhere for so many years, I gave up. Then. there they were. So many gorgeous veal bones. The young man behind the counter thought I was a bit nuts for sure. I was so excited to find them. He was very polite, though. But, I saw the twinkle in his eye and his wary raised brow! These are fantastic. I was so proud of my fist veal jus and cannot wait to make more! I like to cook them fresh, not frozen.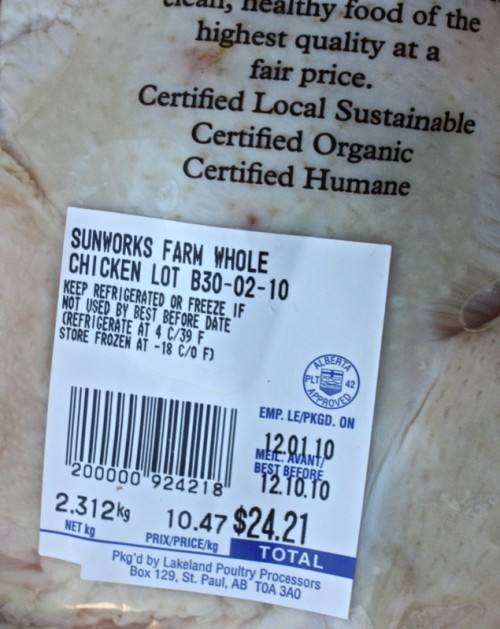 Sunworks Farms Chicken and eggs are always in my fridge and freezer. In the summer, I did discover a very good egg from another vendor, but can't recall their name (which I feel badly about!!); however, I was most often getting my eggs here, anyway. Their roasting chickens are superb! Second to none. Expensive, but I find that the meat is "meatier" and more substantial. Certainly, there is NO comparison in flavour to one of these birds and one from Lilydale. When I was ranting on about this in my post about Chicken Paprikash, Kevin Kossowan had a very interesting comment that he added which is definitely worth repeating here: I'm becoming a huge believer in eating less meat quantity with higher quality. Good chicken is SO good. Bad chicken is SO bad. I had a couple Sunworks chickens this fall, and they were both excellent. I have a spreadsheet of this season's meat cost by animal, and poultry comes in at the top with beef. Chicken being the most expensive protein per lb was counter intuitive as I don't think we perceive it as the most valuable when we use it. The winner for domesticated meats: pork, by nearly half the price/lb of other meats. I was so surprised by his finding!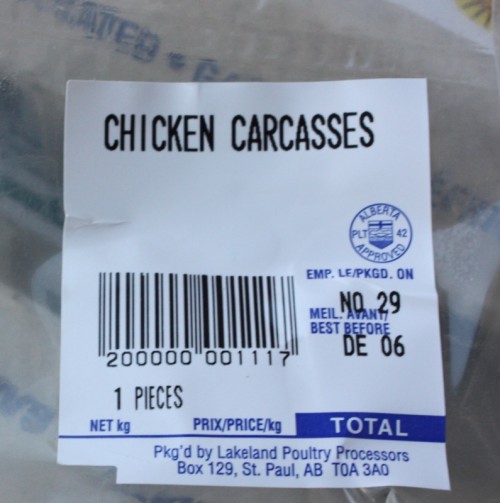 Sorry the price isn't on here. It is about three dollars. One really great buy at the Sunworks Farm booth is their carcasses. I had searched high and low for bones and carcasses that would make a tasty chicken soup like I had when I visited Vanja's parents. This is definitely it. I make a batch almost every Sunday. I also buy their legs and thighs for Chicken Paprikash which apparently I never make often enough!
Now, let's take a look at the introductory photograph, again.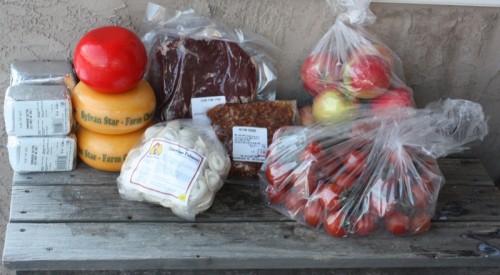 Sylvan Star Cheese is at OSFM every other week this year, and for the Christmas season produce small Edam's (the red ball, above) and Baby Gouda's (the yellow discs, above). I cannot imagine my cheese platter without this Christmas specials! Last year was the first time I discovered them, and they are here to stay! Sylvan Star also makes their own butter: cultured butter! So delicious! There are four pounds of it in the above photo, too, to let you know about it, but it is not sold at the market. I got mine at the Dairy Farm Fieldtrip. You can ask the gentleman at their booth where you can get it in the city.
First Nature Farms cannot be overlooked if you like bison or good beef! Jerry Kitt is an incredibly interesting farmer who will guide you through his products and always has something interesting to show you! This trip I bought Bison Flank Steak (or skirt steak) to compare the cooking of it to the cooking of its beef counter part.
And while we are talking meat, let me not forget Irvine's Farm Fresh Berkshire Boar!!! Oh, Mama! Is that good meat!!! I just did a pork belly (yet to post) that was TO-DIE-FOR and am buying an entire pig to roast for the Edmonton Slow Food Winter Solstice Vanja and I are hosting January 8th. If you want to come, sign up for your membership!
Gull Valley Tomatoes are second to none! Unless I grow my own, this is all we eat. When they close for the winter, we go without until they return. Why? They are the only tomatoes I have found that taste like tomatoes. Do a taste test! Compare them to any other tomato. You will see!
Vanja is crazy over Pink Lady apples. They come out in October every year, and are well worth the wait. I love them, too. I am in big trouble if I don't come home with a large bag of them from Steve and Dan's BC Fresh Fruit. They also have the best dried apples I have ever come across and I have a bag on hand at all times as they are excellent with the Sylvan Star Medium Gouda. What a pairing!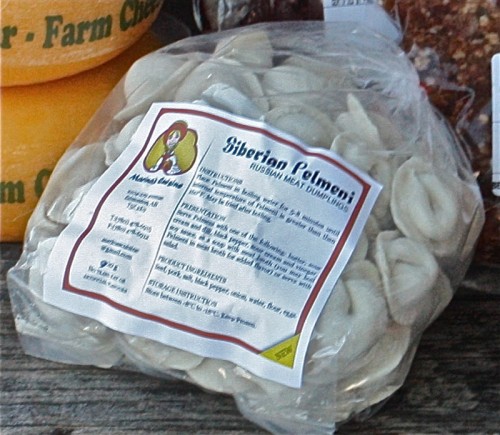 The last bag on the bench above is a treat, really, as I always make everything we eat from scratch. I tested one of these little Siberian Pelmeni and knew I had to learn how to make them myself. Until then, at twelve dollars a bag, I buy them as they are definitely a taste of Easter Europe and the meat filled bites are too yummy to pass up. Also, all ingredients are real food! I cannot read the name of the booth, but it is the Russian Booth that sells the sour cabbage and the wonderful multi-layered cakes. I tried to blow up the image to read her business name, but cannot. Maybe you can!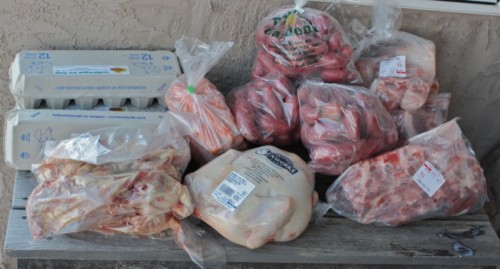 Morinville Greenhouses is another favourite. This time, I bought no fresh herbs from his booth, but I usually do. He is the best place for spring herbs, large rosemary shrubs, and anything of this nature. The bagged basil is gorgeous and he has a fridge filled with tender greens similar to what I saw at the Ferry Market in San Francisco!
The only item that I haven't raved about, yet, that is in the above photo, are the red banana potatoes at Riverbend Gardens. They are second to none. The only other potato I buy that I love just as much is Greens Eggs & Ham's almond potatoes. I have to get over to Avenue Market on Thursday nights yet, as I am short of their lovely produce, and miss it, dearly! There are other City Market vendors there as well as some new ones I have been eager to meet!
I have paid my ten dollars deposit to Sunworks for my Christmas Turkey and will be there standing in the long line on Thursday morning with everyone else. Then I will buy everything I can that you have read about here today, plus my favourite Nantes Carrots! They have a juicer in their booth now, and I cannot wait to try to make some carrot sorbet with my Thermomix! I know, it sounds crazy, but I read it in NoMa's new cook book at NoMa was just voted the best new restaurant for 2010, so it is probably worth a go!
There are so many other wonderful vendors at the market, too!
Merry Christmas to everyone! When you are out doing your last minute shopping for the weekend, remember your farmers, and get out to the markets.
Love, Valerie