And, a favourite of Vanja's as he says: "It smells like home!"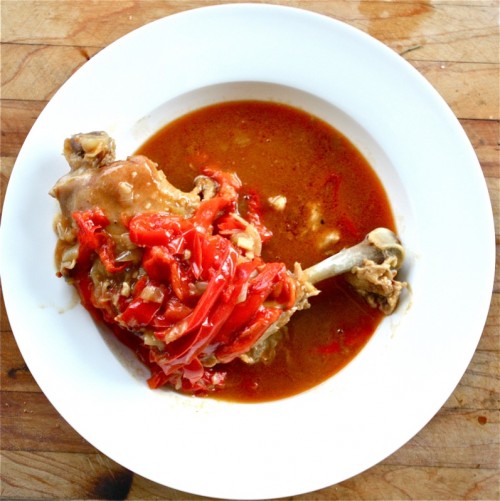 Simple, easy, deeply rich in flavour, good old fashioned comfort in a bowl… perfect with mashed potatoes and a salad. But the chicken and the paprika make all the difference.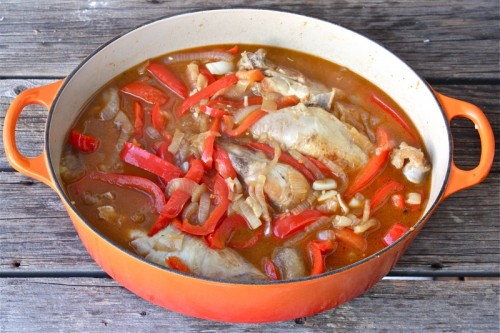 If you have never had a free range farm raised or an organic chicken, get thee to the market this week, and buy one. Christmas, or no Christmas. Treat yourself. (Old Strathcona Farmer's Market is open regular hours on Thursday of this week, and not Christmas day!) There is NO comparison. Zero comparison between a mega-store chicken and a chicken you buy from a farmer at the market. I know they cost more. But what price is your health worth? And the flavour… ooooh, MAMA!
I buy the Sunworks legs and thighs for this dish. Three packages with two in each package. Not cheap. Worth every penny. This is not only for the "rich". I am not rich. It is a lifestyle choice. Brown the chicken in oil. Slice the onions and the peppers and add the onions to the oil the chicken was cooked in. Sautéthe onions until translucent and all the bits from the chicken are picked up with them from the bottom of the pan. Then, add the peppers.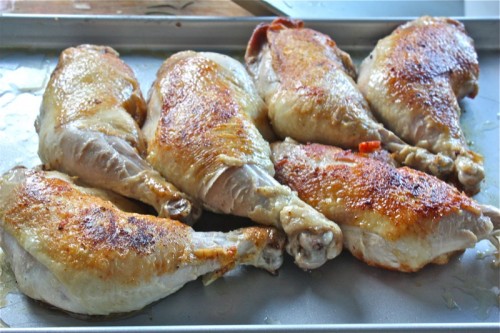 Sautéfor a couple of minutes, until just starting to soften, then add the garlic. Fry for about thirty seconds and add the paprika, seasonings, stock and chicken back to the pot.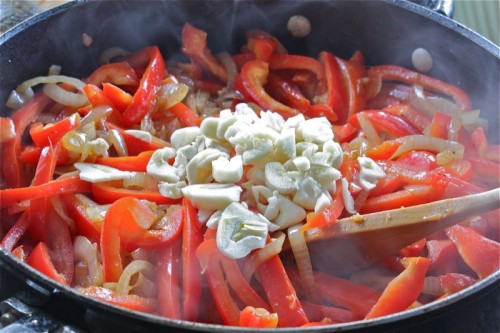 In this case, I changed the pot. It was not going to be big enough. I added some homemade chicken stock. Some really, really good stock. I debated. Should I, or shouldn't I? Because, adding water works, too. You don't need too much, either. But, I wanted to go for the flavour bomb. In went the stock. Normally, 1/3 of this amount is perfect. I wanted it soupy today. I just felt like I wanted a lot of sauce.
This is the paprika I brought back from Belgrade with me in the brown paper bag from my favourite spice store in Vanja's brother's neighbourhood (scroll to the bottom of the link, if you go to it). You must use really, really good paprika.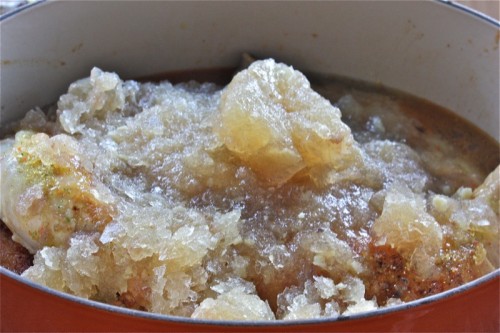 Everything is melted and melded together.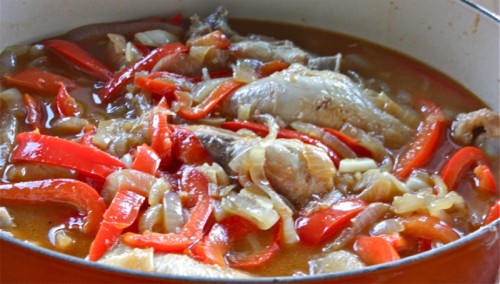 Time to reduce the sauce.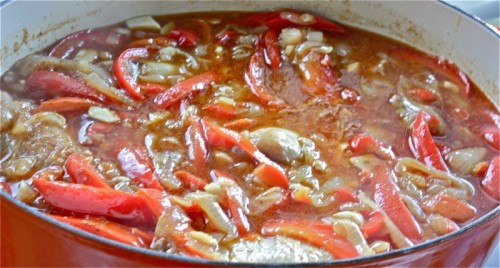 And now, time to thicken it. I find this is a very easy way to do it. I make the flour-water mixture and pour it into the pot in a sieve immersed in the sauce. That way, I avoid getting any lumps!
After the sauce thickens and cooks to the desired amount, serve over your favourite starch. Today, I just served a piece in a bowl with a crust of invisible bread. It was there… but, it was not as pretty as the chicken.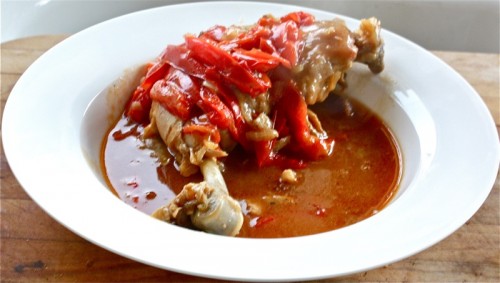 This is very easy and so simple and so delicious. Try it! Or, if you have a recipe for Chicken Paprikash, tell me about yours!
Chicken Paprikash Recipe
Ingredients:
6 legs and thighs
2 tablespoons of oil
3 large onions, sliced
6 red peppers, sliced
1 bulb of garlic, chopped
2 tablespoons of sweet paprika
salt and pepper (1 tablespoon salt and 1 teaspoon pepper, or to taste)
2 cups of chicken stock or water
1/4 cup flour mixed with 3/4 cups water
Instructions:
Wash and dry chicken pieces
Heat oil in skillet and brown chicken pieces; set aside
Sautéonions in the same pan the chicken was browned in, scraping up all the tasty bits, until translucent (3-5 minutes)
Add peppers to the same pan; sautéuntil just starting to soften (1-2 minutes)
Add garlic; sautéfor 30 seconds; add stock or water immediately
Move to a larger pan, if necessary
Add chicken pieces back to the pot; season with salt, pepper and paprika
Simmer for 1/2 hour with lid off
Mix 1/4 cup flour with 3/4 cups water in a jar with a lid; shake well
Pour over sauce in pan through a strainer to avoid lumps; stir well to combine
Simmer until sauce thickens (about 5 minutes) stirring occasionally
Serve immediately