July 14, 2012: Zone Three Garden
Raspberries are the rubies of the garden. The first gorgeous, tart and sassy, sparkling, faceted jewels were ready to be plucked today. I had a raspberry party! The first fresh raspberry delicacy that I always make (ever since last year) is the French Raspberry Tart. Oooo-La-la. If there is a special occasion, nothing is better than the miniature version.
I am out picking every early morning – around 6 am, usually for three weeks. Some summers I have harvested a bucket a day from my humble urban patch. This looks like another bumper crop! I get so many that immediately after picking, I save a few for the day, and then freeze the rest on a parchment covered cookie sheet and bag this in freezer bags the next day. There are a lot of gorgeous recipes I make with the frozen berries and my favourite summer frozen raspberry recipe is my Raspberry Ice-Cream!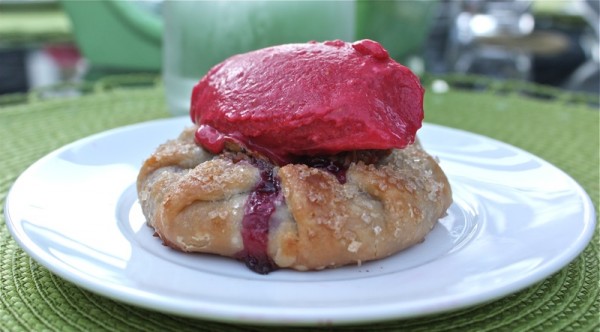 The yellow ones are not ripe yet…. soon…Boyne are my favourite variety. Yours?