When traveling, a visit to a local outdoor Farmer's Market is as important as a visit to world renown local landmarks or art galleries.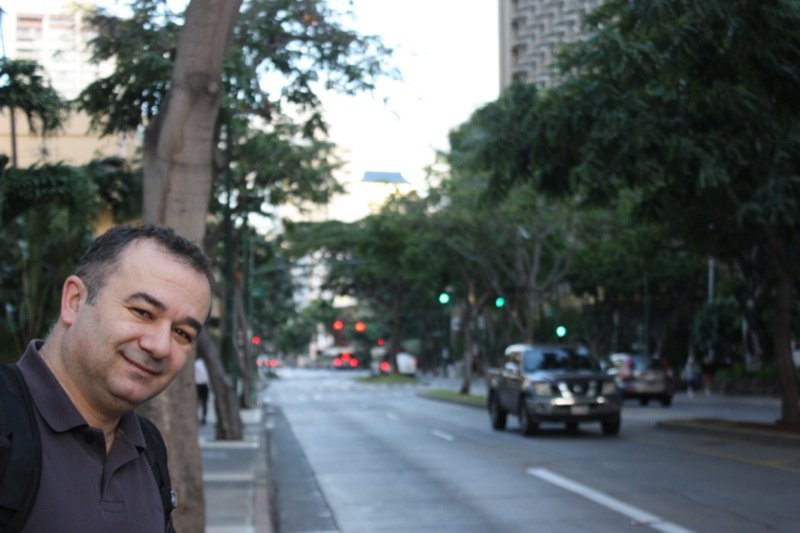 We took the bus to the KCC Farmers Market Honolulu and it is very easy to do that from anywhere along Waikiki Beach. The market was teeming with families, couples and singles shopping, eating and working much before 8 in the morning!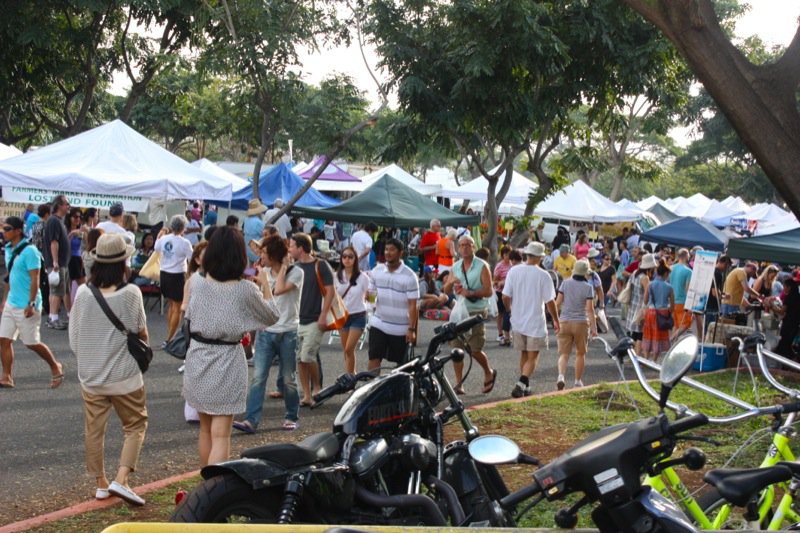 Nothing speaks louder about pop culture and the current culinary prowess of an area. Our first morning in Honolulu was spent at the largest outdoor Farmer's Market in Honolulu; I was vibrating the entire morning. This market is only open from 7:30 am to 11 am, and going early is important to get the vibe of the local culture.
At the sound of the horn? That would be the conch shell at this market!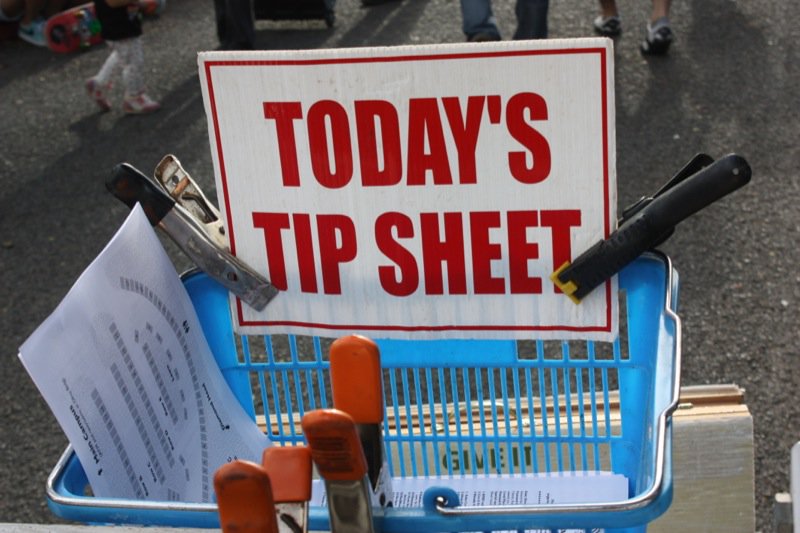 Hawaiian Coffee
I thought Kona Coffee would be reasonably priced in Oahu. Nope. I should have bought it anyway, as it is rare and delicious. There were about four regional coffee vendors at the market. I only tried one, but that coffee was unforgettable. I still regret nor bringing home a bag.
My first sightings: fresh produce and sweet corn cut for sale; at home, we sell it husk on, tassel and all.
There was a brisk business at the coffee booth above. There are more eating booths than produce booths which was the most immediate difference I noted upon the first couple minutes of arrival. Multitudes of people squatted along every millimeter of any curb or grassy area savoring the aromatic early morning market fare. First, I had to get a coffee, and Vanja lined up for that while I investigated what was at the end of the long line just upon entering.
It was fresh grilled corn. I had never seen such a line up for fresh corn on a stick! Not even dipped in butter! When in Rome, do as the Romans do. Yes, I lined up. Gotta taste the esteemed local fare!
The family of three in front of me was sharing the most lush papaya I had ever laid my eyes upon. They were in season, and everywhere. YUM!
Ka'u Coffee
The "award winning" sign did influence my choice. And the line. The market coffees are about the same price as our specialty coffees in Edmonton. This was another surprise, as coffee beans are grown here. Why could I not buy the coffee at a better price? A cup of coffee at the market was $2.00, the same as in Edmonton. No complaints there. It was the beans that were pricy. I crave another cup.
Vanja returned with my coffee and took my place in the corn line. Oh, my, was the coffee delicious. On Oahu, a half a pound of Kona Coffee was 21 dollars. never found it cheaper.
Na'ona Fresh Roasted Corn
The place billowing with smoke and a long twisty line up at 7:45 in the morning. Yup.
The corn was delicious, but not worthy of such a huge line up: lesson learned. Locals love their corn for breakfast! The following week, I returned on my own to the market, later in the day. It was saturated by tourists and there was no line up at the corn. I surmised that it is a local lust. And was truly surprised there wasn't a tub of butter to dip it in. Maybe there was, and Vanja just didn't opt for it.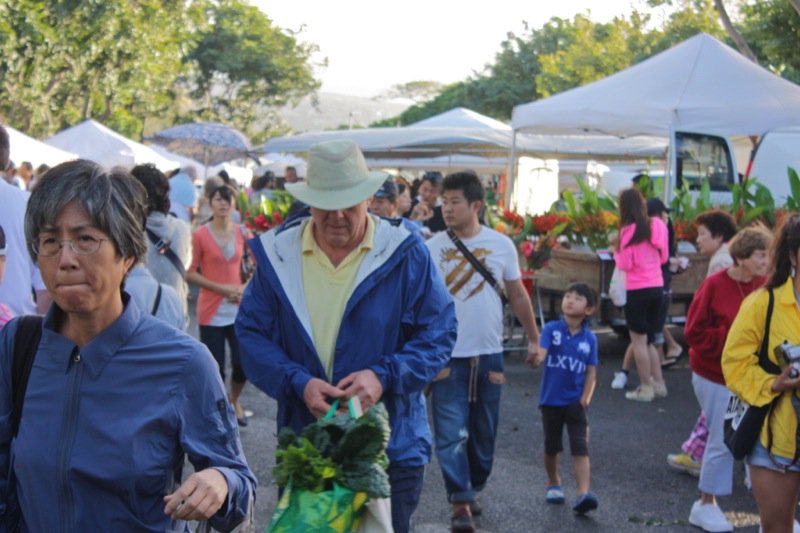 Produce
There was some. Not much compared to most markets I have been to.
'Nalo Farms
Most markets we visit throughout our travels are focused on regional and local products and produce. This market was a food fest! There are some producers that are there every week, but some are there bi-weekly, or once a month. However, most of the eateries are there every week. Big surprise. As I came to understand the local food culture through our short 10 day visit, it was apparent that a focus on buying local and using local produce at home is still in the infant stages here. There are some movers and shakers in the area working fervently at this, like the Oahu Slow Food community. Chef Allan Wong has established strong relationships with local farmers and his menus are annotated with where his food comes from on the island. One of the revered producers of greens, micro-greens and simply beautiful produce is 'Nalo Farms. I longed to have a kitchen for cooking as I ogled their incredible fare. The quality and variety was second to none!
Packaged and Preserved Goods
I found prices at the market very similar to our farmer's markets in Edmonton. Most vendors were plying tastes to all passers by. Read the labels. Some were really healthy, but most were filled with preservatives. That was a surprise!
The packaging of the taro pancake mix was nice and I was drawn to it. The snack food to the right, and below had so many preservatives in them, I was really surprised. You could sample any of them. Everyone I tasted was a bland little puff with a very subtle sweet or salty something. I didn't get it.
My sister is crazy over kettle corn. I brought a bag back for her. I bought a smaller one to try. Nothing like the kettle corn at our market where it is made in a massive copper vat on the spot while you wait. I am not a kettle popcorn gal, but this was not good. The special little cheesecakes, below, were delicious. I was eager to try the exotic fruit flavours. Humph! Once again, disappointment. They were exactly that: flavoured. No real fruit in them. I can make cheesecake this good at home. It is hard to find them this good commercially, but I would not send one home to Canada. They do that, a lot.
Local Honolulu Snack
First day in Honolulu, I had no frame of reference for the fusion cuisine and just photographed anything novel. These kinds of rolls, usually with spam instead of tofu, were sold everywhere throughout the island, usually right beside the cash register, for a quick snack. I was able to eat a "homemade" Spam Musubi with spam on the Hole in the Wall Foodie Tour and it was surprisingly delicious. The teriyaki sauce the spam was dipped in and the texture of the rice coupled with the flavour of the nori wrap completely transformed the spam for me. Chocolate bar or Masubi? I was impressed that these are a sought after snack and they are a healthy substantial choice.
Asparagus? Love it! So, what is this? This product is actually one of the many farmed at Kahuku Farms which I learned later. This is farmed in salt water beds and is vibrant, crunchy, juicy and salty, yet not overpoweringly salty. Fresh sea asparagus would be a stunning compliment to any salad, sans salt. The nutritive value, the crunch and the salt would add value to almost any salad, sandwich or appetizer that is fresh. I bought a basket of the fresh asparagus for 4 dollars and it lasts perfectly for over a week and is still very useable after two weeks. I loved the pickled asparagus, and Vanja thought the pesto was delicious (not pictured): pesto also went into the market bag! The fresh samples were served with salmon and the packaged breakfast looked delicious to me, but there is only so much food one can eat.
Hawai'ian Sweet Bread
If anyone reading this post has a lovely recipe for this homemade bread, please let me know! The Kalua Pork Manapua I made with a Hawaiian sweet bread recipe (upon returning home) was yummy, but was nothing like the bread in the Manapua we ate at the Royal Kitchen in China Town.
Neither of us bought or ate any of this during our stay. I wanted to! The guava bread was definitely calling my name! Portuguese sweet breads are the influence behind this Hawaiian staple. We found every kind of baking as colourful. Guava cakes and cookies were as pink!
At this booth, there was a happy swarm of people around the Liliko'i Butter and Jelly. "Taste?" Oh, my! I recognized that flavour! YUM! "What flavour is this?" It was passion fruit. I am crazy over passion fruit. It took me a nanosecond to learn that the word Liliko'i meant passion fruit. The butter was very sweet, but deadly delicious. One jar went into my bag. I wanted more. I could imagine filling my shortbread tart shells with this exotic little luxury for tea and competing with my homemade lemon curd! Their jelly was very similar, just not as rich. I learned they offer farm tours and decided immediately that this farm was on our holiday itinerary.
At their farm, you can tour throughout their orchards on the back of a wagon, pick the fruit in season and sample what they grow. I was excited, but worried it may be difficult to find. Not so. It was right along the main road on the Wind Ward Coast toward the northern end just down the road from the Kahuku area food trucks and where we ate our scampi from Giovanni's famous shrimp truck. Easy to find, but closed. Ah! Only open Friday, Saturday, Sunday and Monday. We went on Tuesday. When I returned to the market the following Saturday by myself, five more jars of this butter found their way into my take home bag.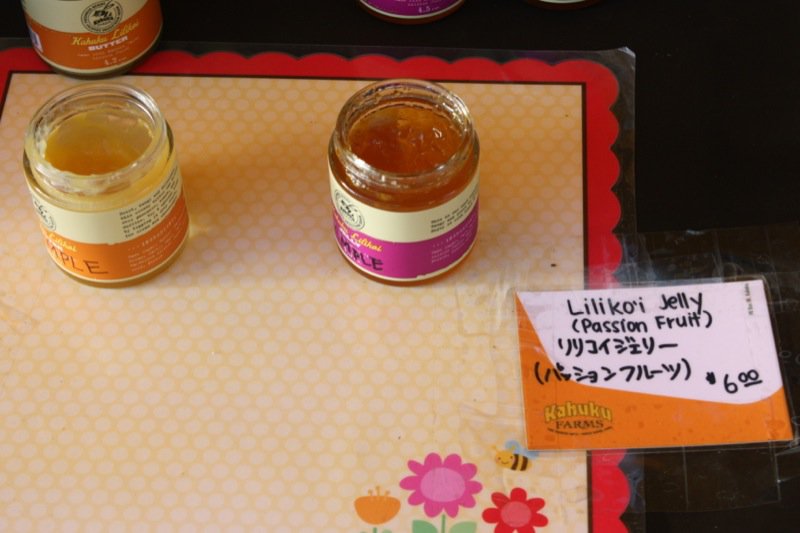 Mixes are big here. I would have brought packages home! Mango scones? YUMMERS. Sad news: there were a lot of preservatives and those unrecognizable and difficult to pronounce words in the package ingredients list. Sad! One does not expect these kind of additives when purchasing food from a Farmer's Market. Read the ingredient list when shopping anywhere in Hawaii. We noticed this a lot around the Island. To keep up with tourist demand of island homemade favourites, the original food recipe goes to the manufacturer and comes back filled with manufactured "preservatives". Such a shame! The Haupia served at Luau's on the Island is most likely made from the massive mixes for this that are sold at the local Costco. That was a disappointment. Another example of this was the famous Chocolate Haupia at Ted's on Sunset beach: the ingredient list is a chemical wonderland.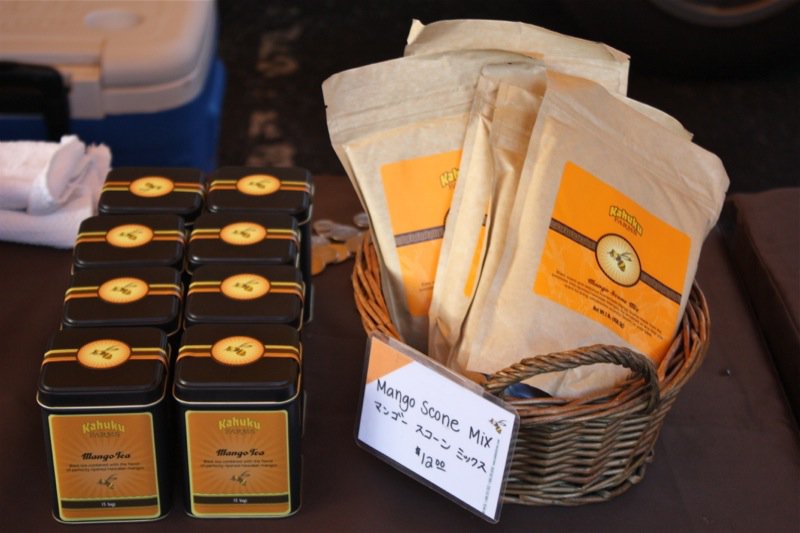 Farm to Table

This was a popular stand as the booth makes everything from scratch, even uses "fresh mozzarella hand stretched by the company" to top the "slice of the day". I have a shot of a slice from each Saturday I was there. People were very generous when they saw my eager camera! The Farm to Table movement is very new to the islands, but has arrived!
The Hawaiian Pineapple Company
This was my favourite booth. The pineapple they grow is different than the one on the Dole Plantation. Below is one of the owners and his daughter (son in the background). They worked to develop their own varietal of Pineapple and that is the one this company grows and sells. It is completely Hawaiian. I appreciated this when on Oahu, as products sold under the Dole name in many of the local ABC stores and other places are from the Phillipines, Thailand, and other Asian countries. I was blown away by this. Everything from this company is local and there are no preservatives in anything. The fresh pineapple is addictive. No acidic bite or sore mouth after eating it, and their dried pineapple is one of the best products EVER. They charge too much for it locally, though. If I travel all the way there, I want to get a better price than five dollars for a tiny packet of this really rare addictive and very nutritious product. I still bought as much as I could lay my hands on. The first day, only 2 packages. The last day came back for 10, but they had sold out (and it was only ten am); however, they did find 4 packages for me from another order. I am still appreciative. This is a must stop shop if in Honolulu. Buy the dried pineapple. You will not regret it, even if it is expensive.
Vanja spied the juice at their booth before I did. This is another MUST. What is it? Fresh pinapple juice, squeezed on the spot: to-die-for. I thought this price was very fair. Obviously, the dried pineapple is more labour intensive. We shared this juice. I will never forget the bright sweet exotic welcome as it quenched my thirst on this gorgeous morning at the market. It is not the kind of juice you drink to quench your thirst, either, thought it works. The texture and flavour beckons attention and whatever you are doing waits as you savor your sip.
I had $6.00 and I wanted to taste these. I knew they would be extraordinary. But, there is something called restraint, and though Vanja would probably tell you I don't use very much of it when at any open air market, I am telling you that I do. I know I cannot have everything. I probably could have. But, I have to respect myself in the morning.
Honolulu Street Food: Confusin' Fusion!

People come here to eat. I didn't spy any pull carts or anyone with more than a small sac over an arm. There were no fresh eggs or frozen meat that I spied. There was an amount of vegetable produce. The market was also very shy on exotic fruits. Maybe it was the season. Street Food is what you will find here, and talk about fusion! This was the most confusin' fusion cuisine I have come across. The Musubi, earlier, is an excellent example of this. Tofu or Spam wrapped in Japanese Nori similar to a traditional Japanese sushi roll, but different. And the food is almost always cooked to order. On the spot. What you see is what you get. Choices are plated in front of each booth, described in English. Most booths have FAR too many choices. By the time I read them all, I was overwhelmed without any appetite or any idea of what to pick. The locals don't have that problem. They know what they want, make a beeline for it, ask for it to be made "their way", and voilà!
The sausage was a huge attraction. Impossible to get near to both times I was there. Vanja would have loved one on a bun. Most were eating them on a stick, but they were sold many different ways. The Portugese sausage made on the Island was delicious. The ONO pops were a fun booth I almost missed, and it wasn't there the following week. Ono means "delicious" in Hawaiian. My "new friend" in the booth has his Slow Food T-Shirt on. Much too busy to talk, but the pops he makes from scratch and they were deadly delicious. He also sells his own homemade Slow Food type of Li Hing Mui Powder. It was $2.50 a bag. It was our first day. I had no idea what it was. Tastes weren't available. I was sure disappointed he wasn't there my second week round. Would have definitely picked up a bag.
There was one entire row of the market, both sides, that were just booth after booth after booth of street food with a multitude of choices showcased in front of each.
All that choice, and Vanja's pick? Below. He raved about the Portuguese Sausage. There was no place to buy it on its own. Apparently the eggs were good, too, but I tasted the "French Toast" and it was so dry and bland I almost choked on it. I felt so sad as Vanja deserved better!
I have never seen fresh abalone. I have seen the opalescent shell. I have seen them dried in massive Chinatown apothecary jars. The aroma was subtle. A little "shell fishy" but vague. Abalone is not a sustainable shell fish. That did not deter the length of this line up. It was never ending. They have been identified as one of the many classes of organisms threatened with extinction due to the acidification of oceans from anthropogenic carbon dioxide, as reduced pH erodes their shells. Some predict extinction within 200 years. Sad.
The market is a thriving Saturday morning family activity. The locals are definitely up early!
The Fried Green Tomato booth was popular and I didn't get to taste these, either! Red tomatoes? I saw cherry tomatoes at one booth only. I did notice the shortage of tomatoes at the market as tomatoes are my favourite food.
Taro root is a staple in every local household. Babies are fed poi and they grow to love it. It is known as a "super food" on the island and is added to many common foods to increase nutritive value and flavour. I tasted poi. It was a dull grey mauvey purple with a bland taste and pasty texture. Not off putting, but not desirable.
The Pig and The Lady
I wore my Slow Food Edmonton T-shirt to the market my second Saturday there. Talk about a way to meet people! I was stopped a few times with a handshake, "Hi, I am a member from Texas!" "Hey. I am a member from Florida! Have you been to Terra Madre in Italy?" It felt like home. A young fellow stopped me and introduced himself as a member from Slow Food Oahu. I forget his name. Shame on me! But, I have his photo, below. I wish we could have spoken more. He works at The Pig and The Lady, and this booth was recommended to us more than a few times when asking where the best food was.
Talk about variety! I needed a tour guide to get through the menus hung on the line above the booth! Just look at the depth and breadth of this offering. Unlike any other booth, there was a seating area! My "new Slow Food Oahu friend" is below, just to the right of the cute little pig.
The Purple Potato Hawaiian Super Food
If I hadn't gone on the Hole in the Wall Foodie Tour, I would not have understood half of this food. I certainly didn't the first time 'round. I have never been able to get to a market twice in our travels, so this was a cherished opportunity. I was able to understand so much more about what I was seeing: like this purple potato in everything. They are stuffed in a malasada-like doughnut, below. There were purple fries and purple potato cakes.
They look like this in their raw state and have come from China, now esteemed on the island for their delicious, nutritious and economical value: another "super food".
Vanja loves them!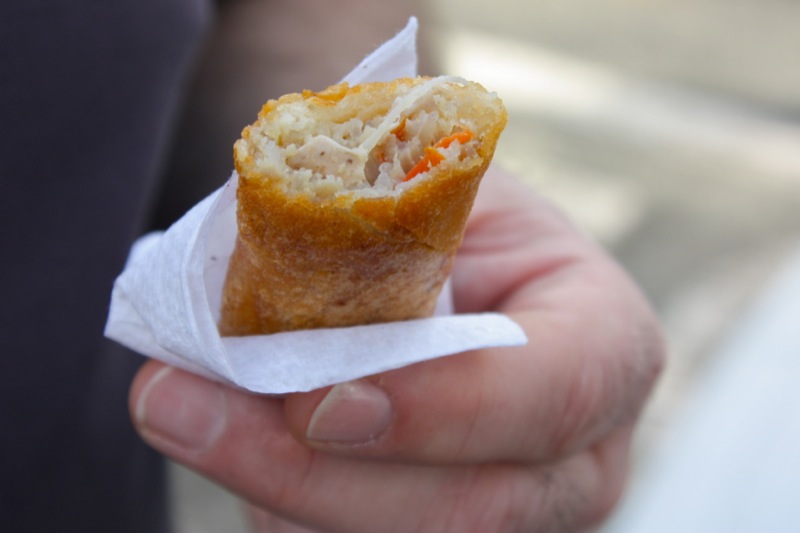 Elaine Wilson owner and developed of Food You Can Cook as well as personal chef at Allium Foodworks came to mind at this stop. Elaine's local spice mixes are second to none, yet she cannot make food on site at our local market using her spices to draw people in. Fortunately, she is doing very well, anyway. (Just take a whiff of any of her spices and you will be won over!) It just won't fly with our provincial Health code. The gal at this market had it goin' on! Her spices were flying off the table as she cooked a small variety of plates to order at the table for sale, and offered free samples of the dishes she was cooking so people watching could taste. (If you are from Alberta, be sure to stop by the City Market to pick up some of Elaine's product. She has made our city proud through her innovative work.)
Young Coconut Water and Meat
"Look! Look! Fresh Coconut!" This time, we were both excited. Usually, it is just me.
"Five dollars each: drink the coconut water, return it, and the fellow will cut it for you and remove the flesh for you to eat." Explained the gal, above.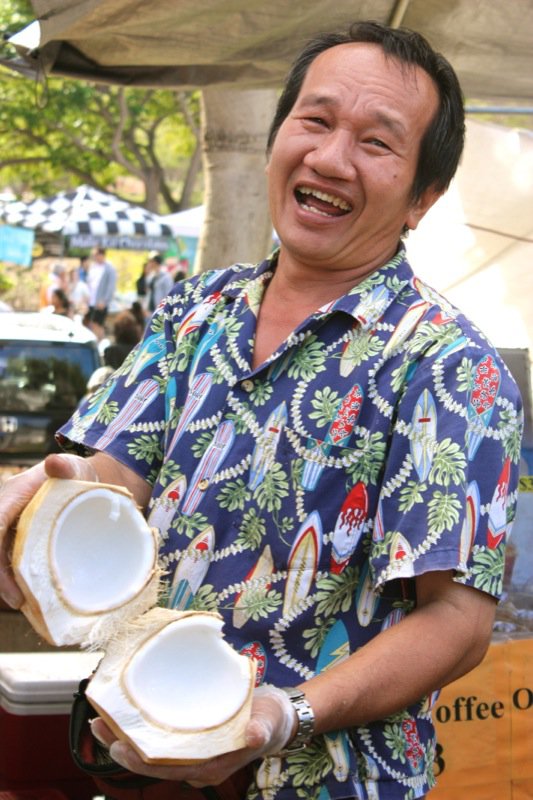 This happy man was adept. With a flash of an eye, he had the coconut ready for you to drink.
Look at this miracle of nature. I wasn't expecting much. I have had coconut water before, but not like this! It was a bit tangy, or off, I think. Maybe too young? There was a lot of water in this little nut! We were both looking for somewhere to pour it. We had tasted it. Fine. We wanted to get at this creamy young flesh!
Humm… this is a flavour you need to grow up with to appreciate, me thinks. Another one of those kind of experiences. The texture was not crisp or limp. It just… was. The flavour was not the flavour of coconut as I know it. It was bland and a bit sour. Maybe too young? Maybe my palate was too immature.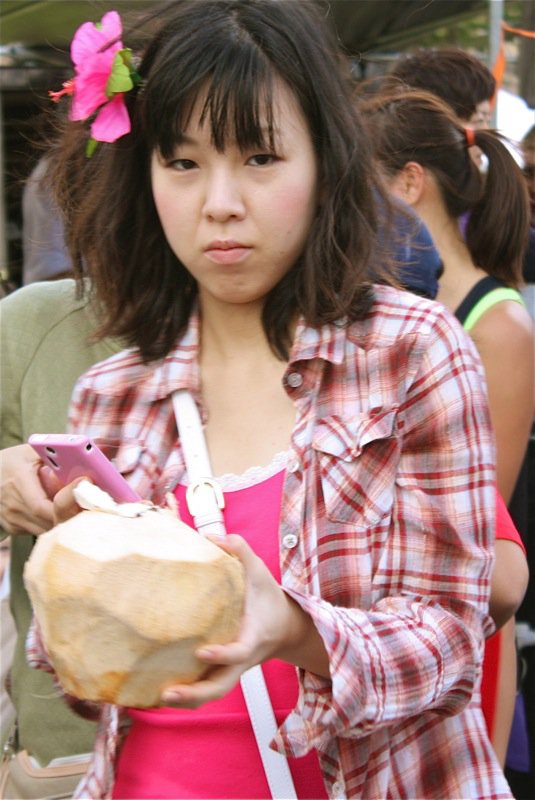 Many young gals had flowers in their hair. Older ones too. I was really surprised to find that most people living in Hawaii dress like Hawaiians. If they work for a tour company, they will be wearing a Hawaiian shirt that is of a specific colour and design for that company. If not, they will have flowers and pretty colours and are wonderful to watch. Below, is another example of a really great local business that uses too many preservatives in their product.
Hawaiian Fruit Juices and Shave Ice

There were several drink booths: exotic fruits, flavours and mixtures. Smart, as it is usually very hot at the market. Today was not so hot, however, I would have liked to have sampled some of these "foreign to me" multitude of flavours. I didn't see any drink booth that offered samples. I did hear people say this one, below, had great fresh ginger drinks.

Our summer sno-cone is nothing like the Hawaiian Shave Ice. Shave ice is a foundation food. It has a history and a story and a following. As told to me by Keira. Her Japanese grandmother worked on a plantation as a child around 1920. Many immigrated to work on the sugar or pineapple plantations at that time. Ice was brought in by the ships for the rich plantation owners. In Japan, shave ice is called Kakigori and dates back to the Heian period from 794 to 1185 A.D. During that time the ice was brought down from the mountains in the winter and stored in a cave called 'Himuro' in Japanese and means 'Ice room'. Ice was rare and shave ice was a luxury, a treat reserved for royalty only. The plantation workers showed the plantation owners how to shave the ice to create the incredible texture of shave ice. It is not a ground ice, like the sno-cone. For many years, it was sold to the workers on Sundays. Plain is still her grandmother's favourite treat as the cold ice and the light texture are exactly how she remembers it as a child. Now, this is served with ice cream, beans, corn, condensed milk and all sorts of flavoured syrups all over the islands. Blue Lotus's main specialty, however, was fresh clams. Oh, my they smelled yummy!
The first Saturday, we had our pineapple juice when I spied the option for Calamansi juice: $3.00. The second Saturday I paid that for a taste. What a disappointment. They didn't use fresh fruit at all. I had been told my Keira, a local and a guide at our Hole in the Wall Honolulu Foodie tour, that most of the exotic fruit juices sold everywhere on the island are made with flavoured syrups, not fresh fruit. You have to see the fruit, she said, or you can be sure it is made with a sugar syrup. That is what everyone uses. And it was the case here, though the photo threw me off of my game. Truly a disappointment.
Rare Hawaiian Chocolate
Gorgeous hand grown hand made chocolate is available at this market. They also sell at specialty shops, but for much more money. There were no tastes available.
The Only Cheese Maker in Hawaii
The first week we were by, the two young gals, below, were at the booth. As we were on Cheesepalooza Challenge Six during our visit, I was very curious about this artisan company. They are the only one on any of the islands. They sell fresh cheeses and lovely butter and flavoured butters. The also sell one firm cheese which would be the young asiago like pepato that I bought half of for $17.00 and brought back home. I would have bought a wheel, but they didn't have one. If I had known, I would have ordered one for the following week. I brought it home for our next Cheesepalooza Tasting as we had all just finished making Asiago Pepato!
Hawaiian Honey is HOT!
Until you have experienced a honey tasting, or stopped by a booth like any of these, you may not know the difference in the depth and breadth of honey flavours. There are no artificial additives (or there should not be), yet each honey is so distinctively different. A honey tasting is the quintessential tool for enabling understanding of "terrior". The bees in one area glean their pollen from the plants of the area and their honey tastes of that specific "terrior". It is as local as you get when tasting "terrior" and so fantastic in the true sense of the word. I collect honey when I travel. I collect salts. I collect various "tastes of the terriors" that I travel through. These are easy to pack and very rare and special. I invested in a considerable amount of time tasting these honeys. Some were like nothing I had every experienced. The one that made the greatest impression on me was actually from the big island, and that is the one I brought home. It was from the Teddy Bear booth. They only offer one size, unless you want to pay 40 dollars for a massive jar. It was a macadamia nut honey from the macadamia nut pollen: very robust! I cannot wait to find a way to showcase this rare and special flavour.
The very bottle of honey I bought is below.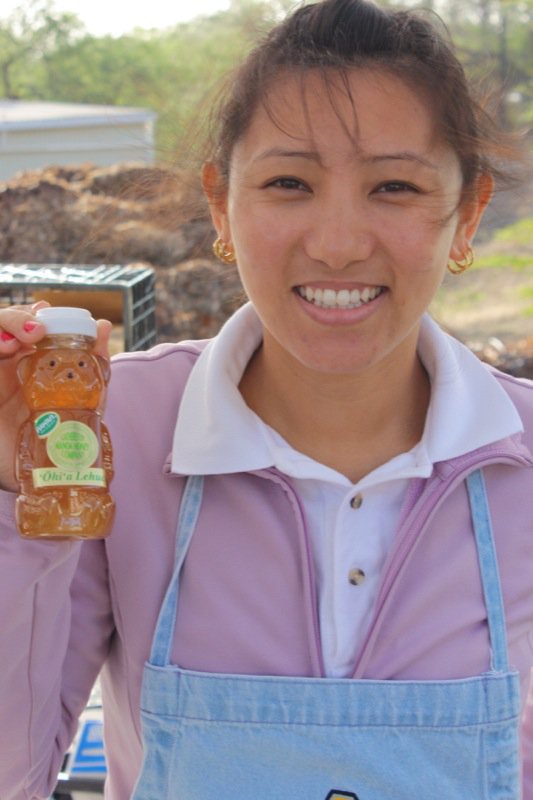 Flowers and Plants of Hawaii at the Market
Exotic flowers were everywhere. Simply divine. Last day, there were fruit trees for sale at the market. Just imagine….
Hawaiian Sea Salt
I have collect salts when I travel for the last 15 years. I adore black and alaean Hawaiian Salts…. and here they were!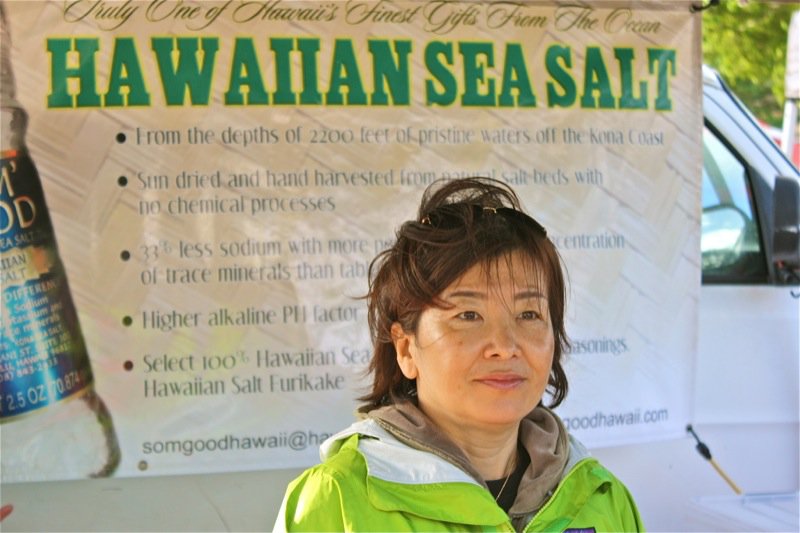 The gal below was so passionate about her business, she is the main reason I returned the following Saturday. I had decided to write an article about Hawaiian Salts and wanted to get her information to interview her in greater depth. She was not there the second week. I bought the two salts in her hands for 6 dollars each. I also came back for more, more, more! Ah!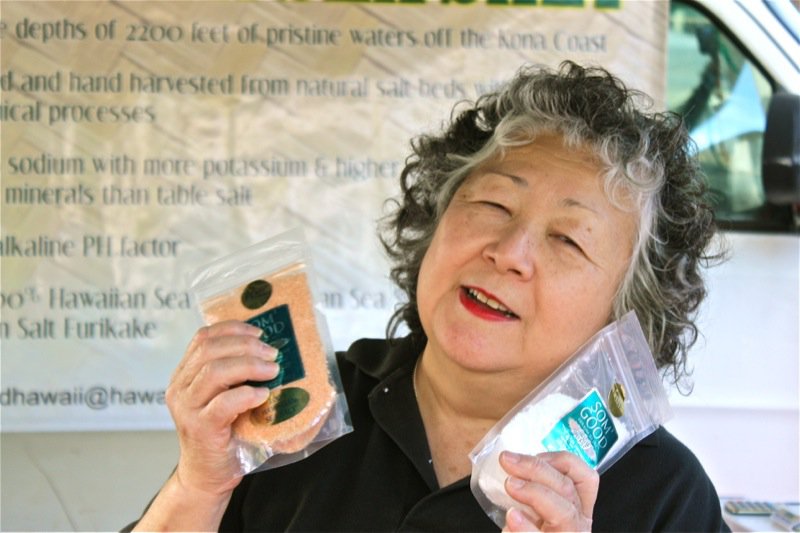 There was another salt producer at the market the second week. Much more laid back. Not nearly as engaging and his salts were triple the cost. A smaller bag for $12.00. I left his booth three times. Finally, I returned to buy his plain salt to compare to hers.