Ultimate Crunchy Crust with White Fluffy Puffy Interior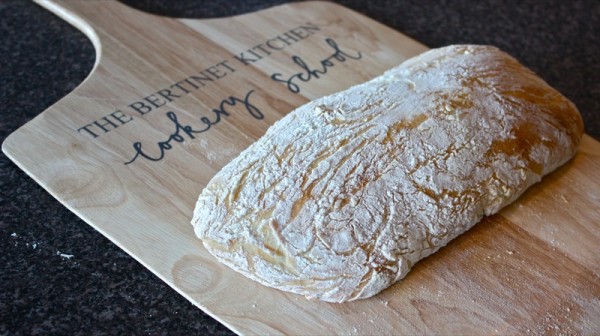 Par-bake it, wrap it, and freeze it: 12 minutes at 400°F = Bread Heaven!
Richard Bertinet is an incredible Baker. He is a passionate and tenacious teacher. I am working to challenge myself to get through all of the bread recipes I have on my "to make" list after attending his Cookery School in Bath UK last March. Ciabatta bread was first on the list after my basic white bread. He uses the French technique to work the dough… not the "traditional British method of kneading with flour everywhere" that we have all been taught in North America.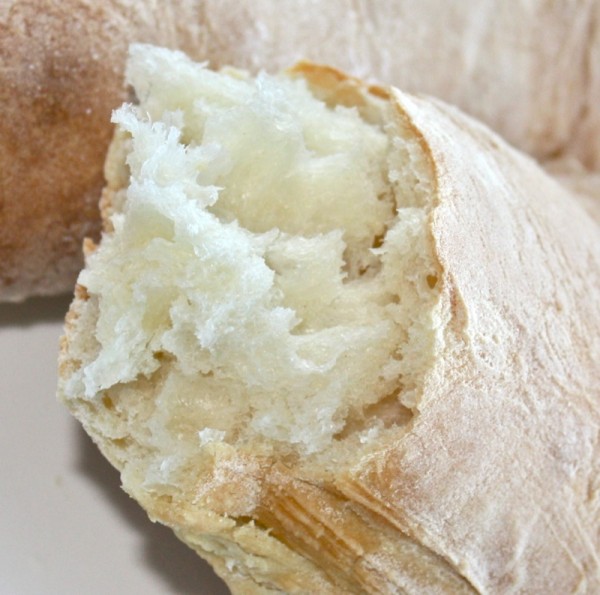 In any case, I wanted to get into Sour Dough breads, and this ciabatta bread is a very good place to start, as this bread uses a very simple recipe for the ferment and is relatively easy to make with exceptional results. It absolutely elevated the Smoky Chili Soup I served it with earlier in the week, and as I have several now, par baked, it is a treat to take one out of the oven, throw a few ice cubes in it with the bread, and the crunchy crust is unbelievable with the puffy pillowy interior. Really a lovely rustic "pull apart" and "dunking into yummy things" bread…. and in just 12 minutes at 400°F from frozen! That is spectacular, no?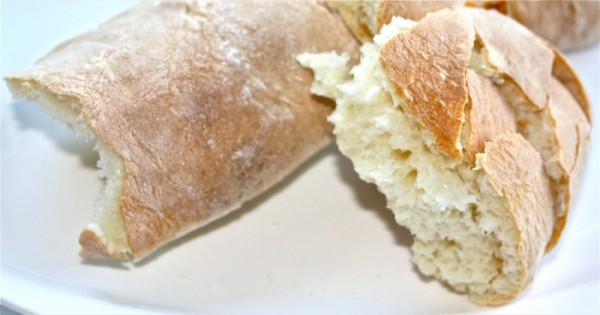 Look at that yeasty goodness!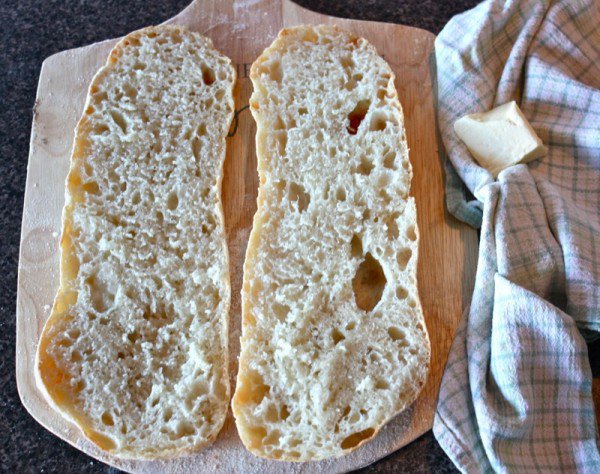 Ciabatta Bread: What is it really?
You can identify ciabatta by its shape which is that of a worn or flattened slipper: "ciabatta" literally means "slipper". The bread features a crisp crust surrounding an interior that has a soft texture and an open crumb with a flavour that is slightly sweet/sour. It requires the preparation of a starter which must be allowed to rise overnight. The remaining ingredients are then mixed with the starter and allowed to rise for several more hours. The bread has a high liquid content that makes the dough difficult to manage, but is necessary to achieve the correct results.
Ciabatta Bread: The Starter
This is how the starter looks that is required to make the ciabatta bread after it has rested 24 hours.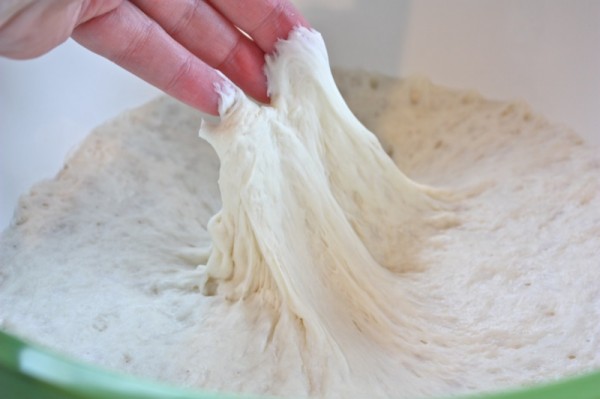 Ciabatta Bread: Making the Dough
I confess, I used my Thermomix to knead the dough as I have one and it is perfect for this. But, I did one batch by hand, too. I always do that first to ensure I know where I am going with the dough, what it feels like, and what it "should' feel like when it is ready to proof. You can see, in the third photo below, the high moisture content in the ciabatta bread dough. And below that, after it had proofed for the required amount of time, the texture of the ciabatta bread dough again.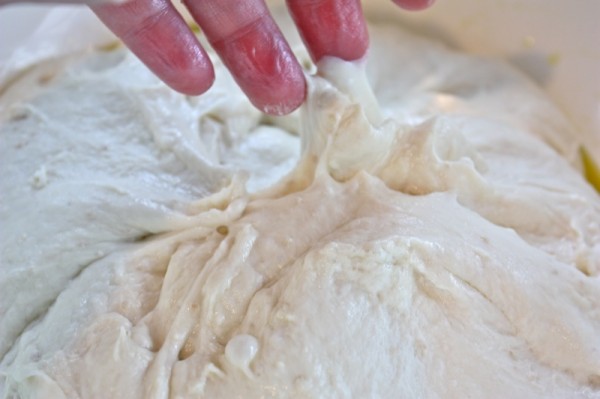 Out onto a very floury counter it goes which is very different that most of the other bread recipes I work with. Then, the top of this dough is also generously sprinkled with flour.
Ciabatta Bread: Shaping the Dough or Making the Slipper
It is carefully stretched out into a rectangle, then cut into four (more of less) even pieces.
Working with one piece, one end is folded over the strip one third of the way, and the other side is folded back over it. Pinch the edges together to seal, then starting at the top, using your fingers, push into the dough all they way down to work out any air bubbles.
Take that piece of dough and now fold it in half and lay it on a well floured cloth to proof again.
When I preheat my oven to 475°F, I place a jelly roll pan upside down on a rack to slide my bread onto so that the bottom crust can get as crusty as possible. Gently pull each end of the bread when placing it on the paddle to shift into the hot oven. Don't forget to turn the oven down to 435°F right after you slide the bread into it! I have 3-5 ice cubes ready to throw into the bottom of the hot oven at the same time as I slide it in as that steam will delay the crust forming on the bread and enable it to be much crunchier.
Ciabatta Bread: Baking the Dough
Ciabatta Bread: The Interior
I was so delighted! With this loaf, and with the ones I par-baked and froze. Vanja is a European man and cannot eat a meal without bread. Paninis with this ciabatta bread are a favourite of his.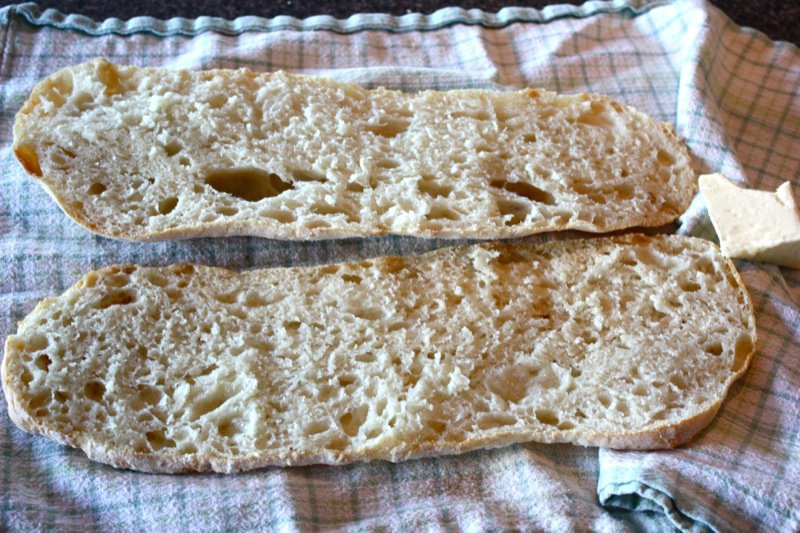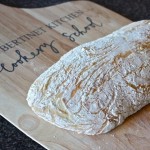 Ciabatta Bread: Richard Bertinet's Recipe


After attending Richard Bertinet's Bread Making Class in Bath, UK, I was hooked. This is a brilliant and rather easy recipe. Best part: par baked loaves that are outstanding when baked later!
Prep Time
1
hour
30
minutes
Total Time
1
hour
50
minutes
Ingredients
Ingredients for the Ferment (to be prepared 24 hours in advance):
350

g

or 12 1/2 ounces or 2 2/3 cup white bread flour

190

g

or 7 fluid ounces water

2.5

g

or 1/2 teaspoon fresh yeast
Ingredients for the Dough:
450

g

or one pound Italian bread flour

(I used unbleached white)

20

g

or 1/3 ounce fresh yeast

(same measurement for dry, but not instant)

340

g

or 13 fluid ounces water

75

g

or 5 tablespoons olive or avocado oil

1

tablespoon

good quality fine grain salt

oil for oiling

flour for dusting
Instructions
Instructions for the Ferment:
Mix all ingredients together in a mixer, or by hand, for about 5 minutes until you have a rough dough

Place in bowl covered loosely with plastic wrap and a lint free dishtowel

Rest in a draft free place 17 - 24 hours
Instructions for making the dough:
Put flour in a mixing bowl; rub in yeast with finger tips as if you were making a crumble

Scoop the ferment into the bowl; add water, oil, and salt, mixing well until combined

Transfer to counter work surface with the help of the rounder end of your scraper or "D-shaped" bread making spatula

Work the dough as demonstrated in the Sweet Dough video, below

Mold dough into a ball; lightly oil a bowl with EVOO or avocado oil and place back in cleaned bowl, covered with a lint free towel

Rest in warm place for 90 minutes, or until bubbly and light

Flour work surface generously with white flour or cornmeal; with the help of the rounded end of your scraper, turn dough out onto counter in one piece

Flour the top; press dough lightly and gently, dimpling it gently with your fingers

Divide into four equal strips; fold each strip into three: fold one part of one strip over the middle third of the dough gently pressing to seal; bring the other side back over that middle third gently pressing to seal

Finally, fold in half lengthwise, and seal edges

Preheat oven to 475°F with cookie sheet or upside down jelly roll pan on oven rack to be heated to bake bread on

Place pieces of dough onto well floured lint free dishtowels; cover and proof for 45 minutes

Flour a wooden peel; pick up one ciabatta at a time, turn it over and stretch it lengthwise a little at the same time, and lay it on the peel

Spray inside of oven with water, or throw 5-6 ice cubes in bottom of oven; quickly slide ciabatta dough onto "baking stone" tray

Turn oven down to 435°F and set timer for 20 minutes: if you are par-baking the bread, set the timer for 15 minutes, cool loaves completely, wrap well, and freeze (Bake from frozen for 12 minutes at 400°F)
Instructions for making the dough in the Thermomix:
Scale the flour and yeast into the TM bowl, and combine for 10 second at speed 4

Add the ferment; scale in the water, oil, and salt and mix to combine for 30 second at speed 4-5

Knead for 3 minutes; follow the instructions above from #5 onward
Recipe Notes
Plain ciabatta is as common in Italian supermarkets as white sandwich bread is in the United States. Other ingredients are often baked into ciabatta such as chopped olives or sun-dried tomatoes. Ciabatta is often served with soups and salads and is excellent for sandwiches, grilling, or for dipping into olive oil.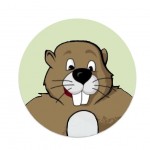 Subscribe to A Canadian Foodie so you don't miss a post! (top right