At home with my Brioche Lesson from Le Cordon Bleu in Paris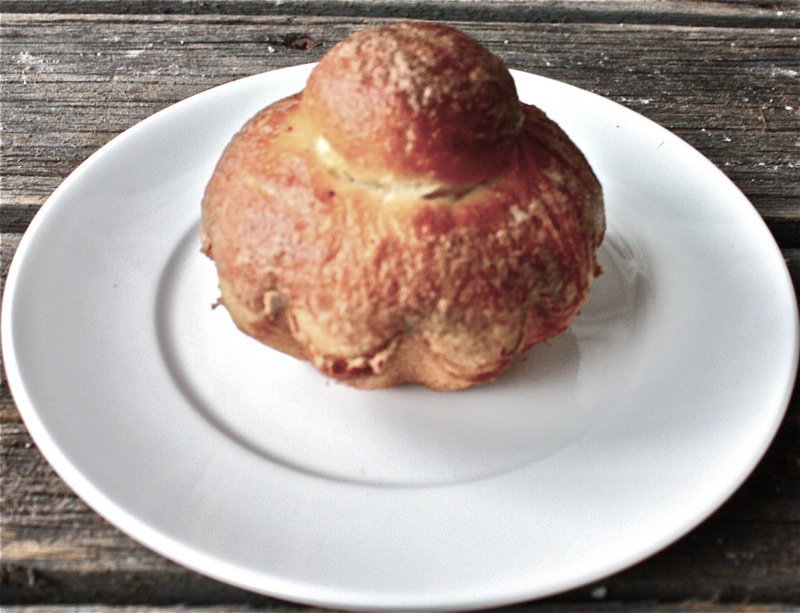 Everything in the TM bowl, the dough was fantastic to work with; the hardest part was ensuring the little head on top was done properly and would sit straight up. No guarantees… they are all in my little pans purchased from Dehillerin in Paris. Rising, for the second time, in their cute little shapes. and voilà ! They still look perfect and are ready for the oven!

But I know better. They all looked this perfect in Paris, this past summer, at my bread making Atellier at Le Cordon Bleu. Yet, only the teacher's came out of the oven "with its head on straight"!
I held my breath, and every one of mine was manifique! I was overjoyed. Look at that colour!
Pretty good crumb, too.
So, let's revisit my lesson at Le Cordon Bleu in July of 2010. Chef Walters had saved some dough from a previous class and had it brought out of the fridge at the end of the day when we were asking questions. We were small and efficient class, so had some extra time. Lucky us!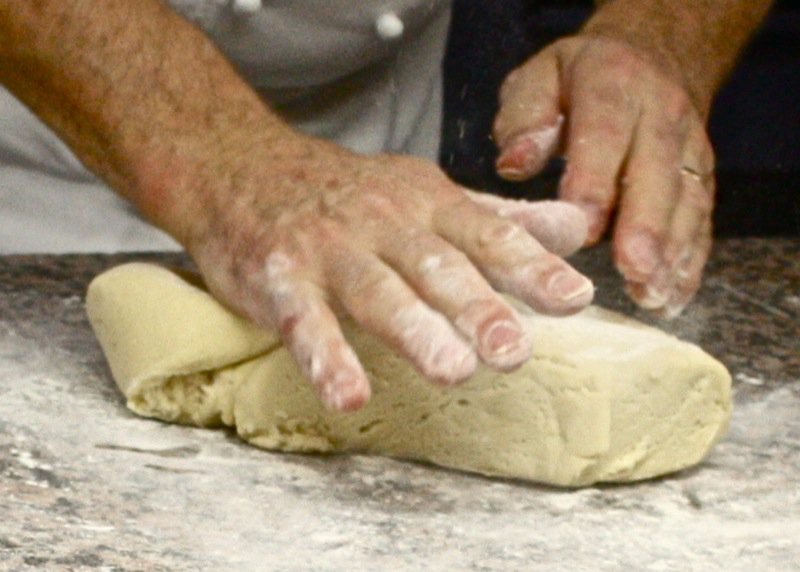 He started to work the dough, but it was too cold, so he just cut it into individual portions. Most only took one. Everyone was offered more. I took three.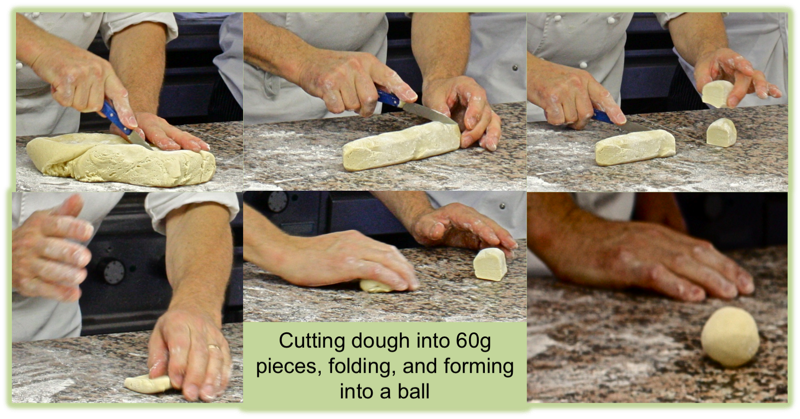 He had us warm the dough in our hand and go through the (by now memorized) way to fold the dough like an envelope after flattening it; then roll it into a ball with your hand cupped. Now, the tricky part: making the adorable little head. At this class, so few were successful, as you will see. Thus, my proud smile and wagging tail at the beginning of this post when I so proudly presenting my own homemade brioche: head standing tall!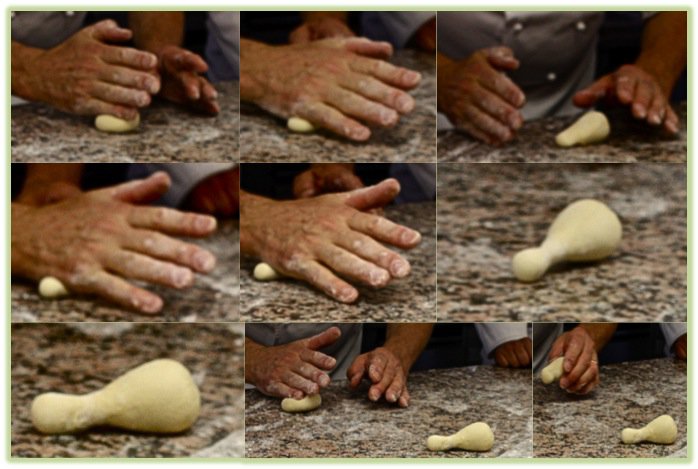 You can see how Chef Walters uses his baby finger to etch out about 1/4 to 1/3 of the dough ball. Then, continuing to use the side of his hand with gently and even pressure, he forms what looks like a bowling pin. He did it over and over exactly the same way.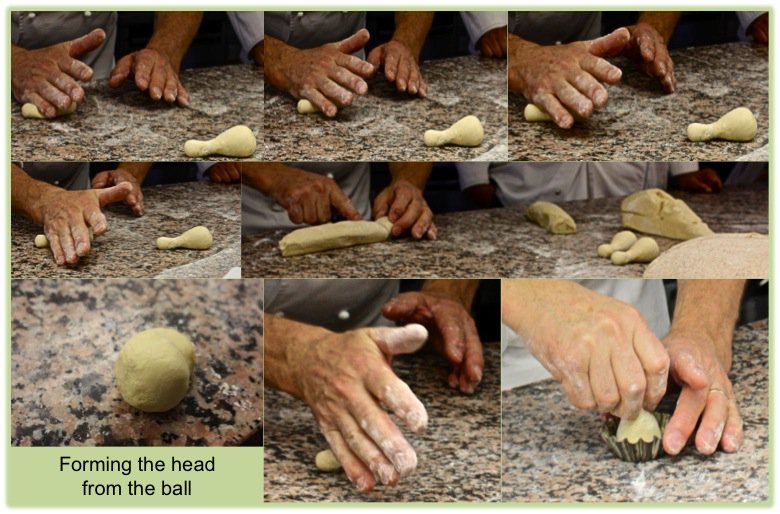 But, before we had at it, he showed us how to tuck in the head to get it to stand up straight. You can see above that he has plopped the dough into the form and then uses his forefinger to nestle the head into the ball, upright.
Below, he has completed one side.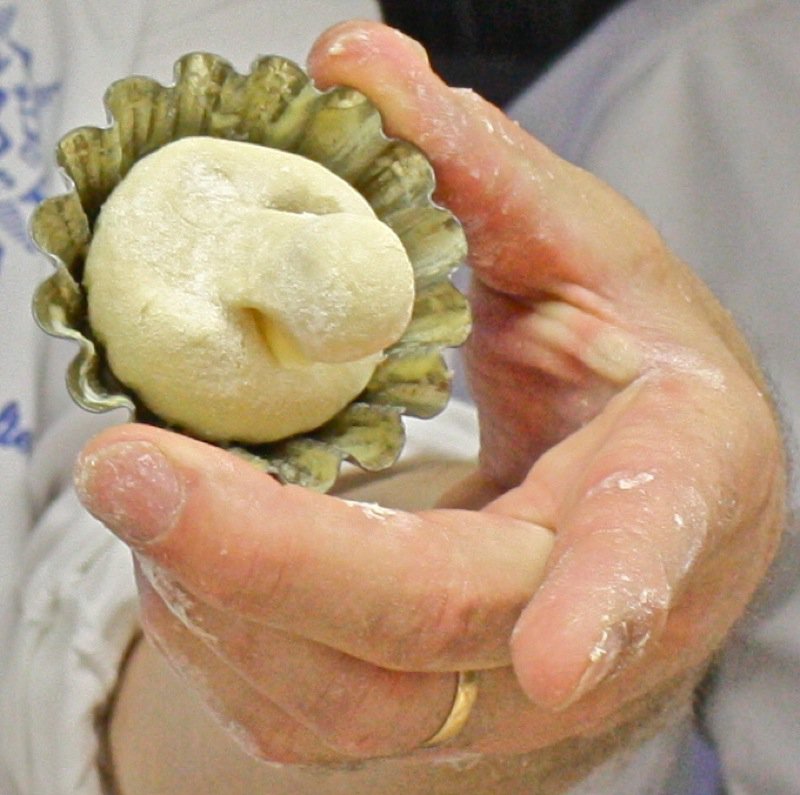 In slow motion, he will do the other side.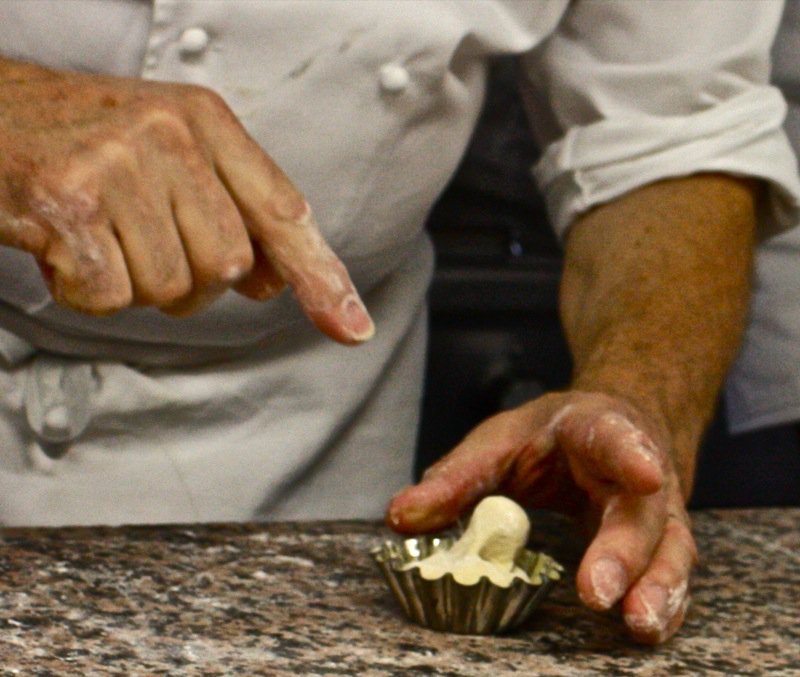 Do you see how he aims at a 45 degree angle and pushes the space in under the head. He repeats this all around the head and then it sits on top, happily.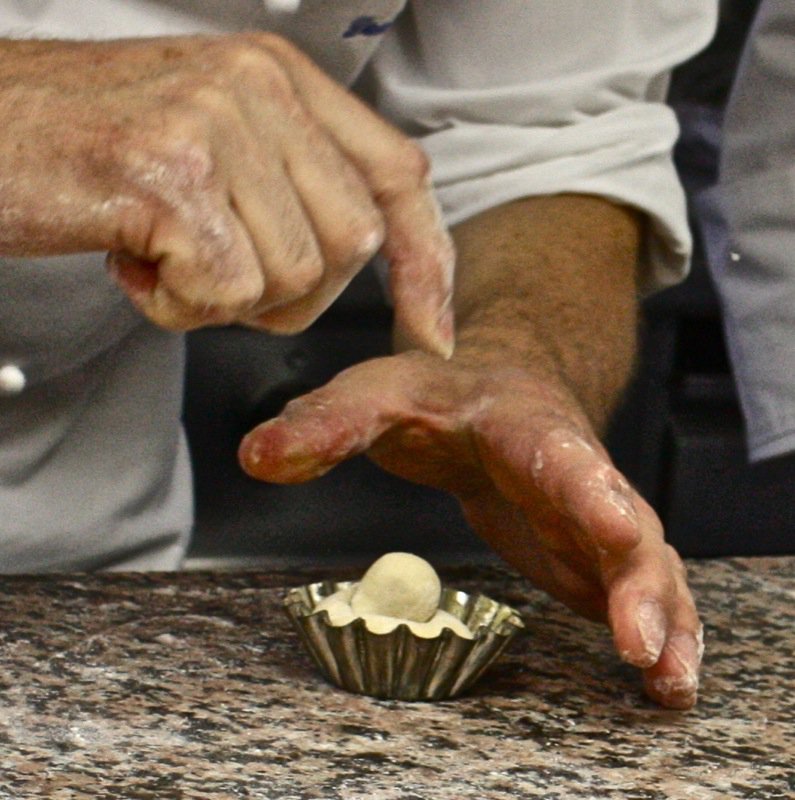 You will see it nestled in position, below, right.
This is Chef Walter's brioche, above. Mine are below… well, his is, too.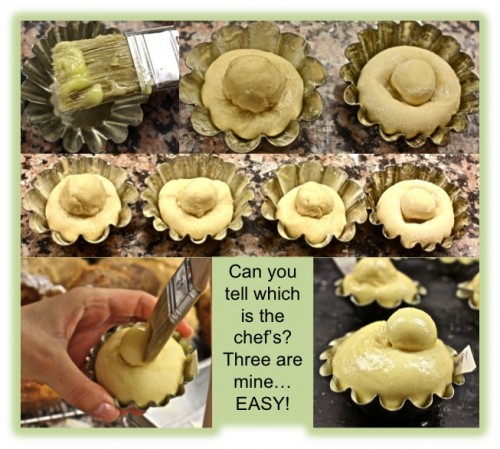 Seeing the student brioche forms, and comparing it to my own pan, had me really astounded at how well he had taught us. I was afraid when I began. Not afraid to fail, just afraid I would not learn how to do it better… and then maybe be too discouraged to want to make them again.
This is the Chef's. He said it was "OK". He wasn't happy. I thought it was a masterpiece… but, I do understand. Richard Bertinet's brioche that he demonstrated for us leaned over when baked. I love the charm in that, too.
He was very happy with the crumb in these, and that might help you to understand why I was so pleased with the crumb in mine! Below are my oven ready brioche… just for a little last minute comparison!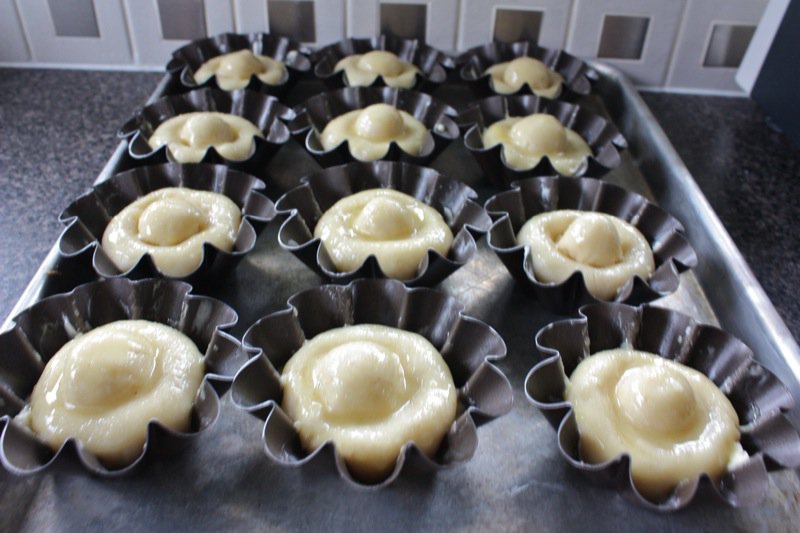 I cannot wait to make them again. I have, actually, a few times, since this… and I am thrilled at how easy they are to make, now that I know how!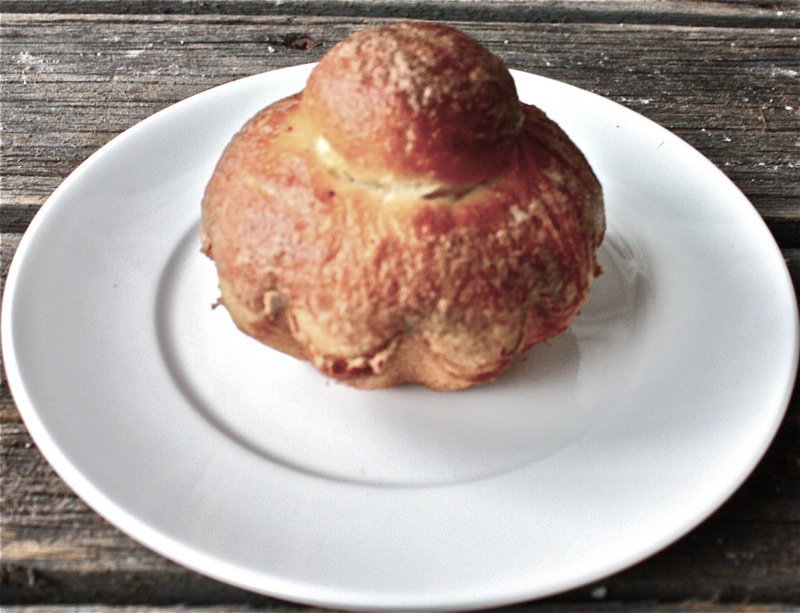 Richard Bertinet's Brioche Recipe (from Crust) adapted for the Thermomix (by moi, above)
Ingredients:
500g white bread flour
50g sugar
15g fresh yeast
10g salt
350g egg (@6 large eggs)
250g unsalted, cold butter
egg wash: 1 egg beaten with a pinch of salt prepped one hour before it is needed
Instructions for the Thermomix:
Weight the butter, and cut the butter into small cubes
Lightly grease the brioche tins (or muffin tins) with butter
Scale flour, sugar, yeast and salt into TM bowl; combine for 5 seconds at speed 4-5
Scale in the yeast; combine for 5 seconds at speed 4-5
Scale in the eggs; combine for 30 seconds at speed 4-5 using the spatula through the hole in the lid to keep the dough close to the blade
Knead the dough for 5 minutes on the interval speed
After 2 minutes of kneading, add the butter through the hole in the lid during the next 30 seconds; continue to knead until the time is up
Very lightly dust the work surface with flour; empty the dough completely from the TM bowl onto the lightly floured surface; form into a ball
Place ball into a lightly floured bowl, cover with a cloth and rest the dough for two hours
Turn the dough out onto a lightly floured surface with a scraper (see my Bertinet post for how to do this) and fold; reform into a ball
Replace into the lightly floured bowl and let it rest over night (or 12 to 14 more hours) in a cool place 10-12°F (not a fridge)… (I confess. I did not do this part. I went straight to #14, but resting the dough for this length of time develops the flavour profile and the texture)
Preheat the oven to 400°F
Remove the dough from the cool place to a room temperature space for an hour
Place dough on lightly floured surface and divide into fifteen 70 gram portions; follow the instructions in the photos above to form into a brioche
Place into buttered tins; cover and rise for 2 1/2 more hours
Prepare egg wash an hour before needed: cover each with egg wash and bake for 10 to 15 minutes until dark golden
Remove from tin and place on wire rack to cool
Christian Stinner's Thermomix Brioche Recipe (as adapted from the Australian Thermomix Cookbook)

Ingredients:
150g sugar
440g milk, warm
10g yeast
5g salt
80g soft unsalted butter
650g flour
1 egg
Instructions for the Thermomix:
Scale sugar into the TM bowl; pulverize 3 seconds at speed 9
Scale milk, yeast, salt, butter, flour and egg into the TM bowl; mix to combine 10 seconds at speed 7
Set dial to closed lid position and knead for 3 minutes at interval speed
Remove dough to a lightly floured bowl covered with a tea towel; proof until double in size (about 60 minutes)
When risen, heat oven to 200°C or 400°F
Place dough in a buttered bread or brioche tin(s) or weigh dough into 50-60g portions and form into individual brioche (as pictured above)
Let rise again to nearly double in size; brush with an egg wash and sprinkle with sugar, etc, if desired
Bake in hot oven until golden brown and sounding hollow when tapped; about 20-25 minutes for whole brioche and 15-20 minutes for individual ones
Thermomix Brioche Recipe for large "one loaf" brioche form (which is the one I used the second time and it was also fantastic, but a very sticky dough)

Ingredients:
215g flour
6g salt
10g dry yeast
3 eggs
25g castor sugar
40mls milk
135g soft unsalted butter
Instructions for the Thermomix:
Place milk in TM bowl and heat on 37°C for 3 minutes on speed 1
Add all other ingredients and mix on speed 5 for 5 seconds
Turn lid to "closed lid position"; set time for 5 minutes and speed on Interval seeting: knead for 5 minutes
Place mixture in a lightly floured bowl and rise to double in size
When risen, heat oven to 220°C or 425°F
Place dough in a buttered bread or brioche tin forming the little bobble on top per instructions in photos; rise to nearly double in size
Brush with an egg wash and sprinkle with sugar, etc, if desired
Bake in hot oven until golden brown and sounding hollow when tapped; about 20-25 minutes for whole brioche and 15-20 minutes for individual ones
Note: This is a very sticky dough and would be very difficult to form individual brioche with, but it makes an incredibly rich and delicious brioche!
Tip: Sprinkle with Demerara sugar, or dried fruit and nuts before baking
And, in case you think I showed you the only one that turned out…. no, no… no. They all did!