A clean tasting firm fish with a delicate flavor
While vising the Okanagan last summer, we loaded a huge cooler full of the most gorgeous varieties of fresh fish from Codfather's in Kelowna. John is a supplier of fish in that community second to none. On the website, there is information about where each fish is from, the sustainable fishing practice, and the alternate names of the fish. It has been such a pleasure to enjoy wild, delectible, clean and sustainably harvested fish on a regular basis this year. Living in the Canadian prairies, on the East side of the mountains, there is no easy access to Ocean fish. In Alberta, there is an abundance of really delicious fresh water fish, but it is very difficult to acquire unless you fish. There is one person at the Old Strathcona Farmer's Market selling fresh water Alberta fish with gorgeous fresh fish, but an unpredictable supply. We have three fish stores in the city. The fish is always frozen at the fish stores and the supply is sporadic. I revel in the gift of fresh water Alberta Fish and what a market ready niche this is for someone looking for a business idea. Rockfish aka Pacific Red Snapper was one of our special finds the day we visited John's store.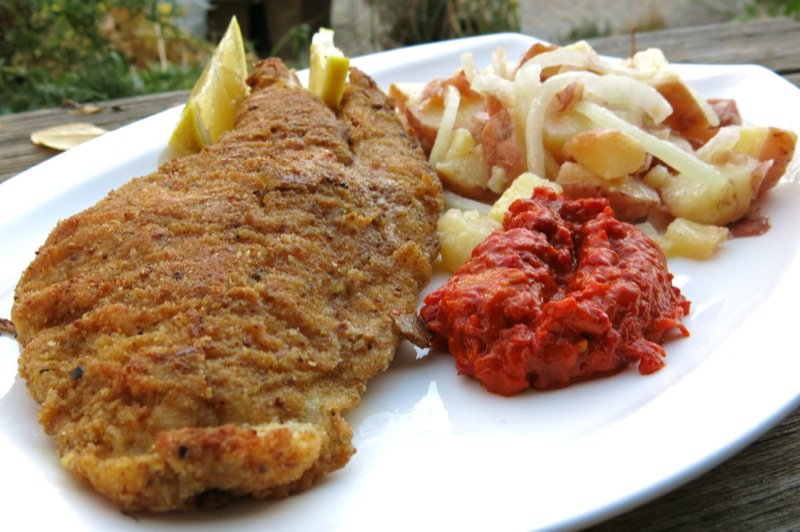 Fish is a delicacy on the Alberta prairies to one who doesn't fish. This West coast rockfish is an incredible find. Though it is called and most often labeled Pacific Red Snapper, it is not a Red Snapper. The authentic Red Snapper is found only in the Atlantic Ocean near Mexico, and is apparently a King of Fish with a sought after texture and flavour. I didn't ask which variety of rockfish this was when purchased, and will now never know, but I will be back. I bought 8 fillets thinking that would be enough for 4. I thawed all 8. One fillet was ample and almost too much, per person. Pacific Red Snapper is a firm fleshed, very clean tasting fish with a delicate flavour. One fillet is a substantial serving and surprisingly satisfying. The texture of the white translucent meat was denser than expected which was very appealing. Look at how gorgeous this delicacy is, below.
Clearly, there are a multitude of possibilities when preparing fish and if one lived on an island, or near the coast, I am certain that there would be a wide repertoire of preparations in the recipe box. However, for my family, it would be almost blasphemous to smother a fish in sauce or prepare it any other way than fried. That is an ultimate pleasure. Usually, simply dredged in seasoned flour and fried in butter. It takes only a couple of minutes per side. Seeing the size of these lovely fillets, I decided to lightly bread them.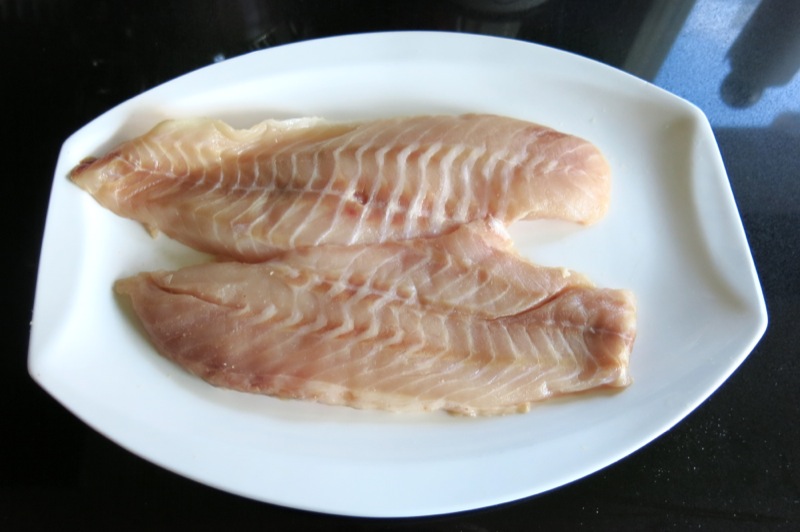 Flour, egg, and an Italian bread crumb mixture I prepare myself with ground stale bread, salt, pepper, a minute bit of oregano and basil… you cannot taste it on anything, but it adds a little somethin' somethin' to the mix.
Voilà. I purposely chose not to use panko or any thick breading technique. I just wanted to add a little crunch and some nice seasoning to the fish.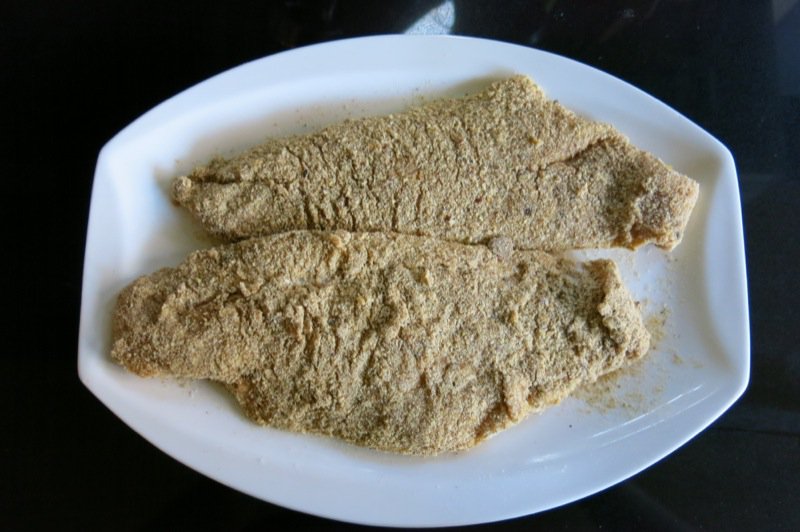 When frying foods on a nice day, I always opt for the barbeque. No muss, fuss, splatter. I used olive oil as it can handle the high heat, and butter for flavour over medium high heat and fried each fillet about 2 minutes per side. Just until golden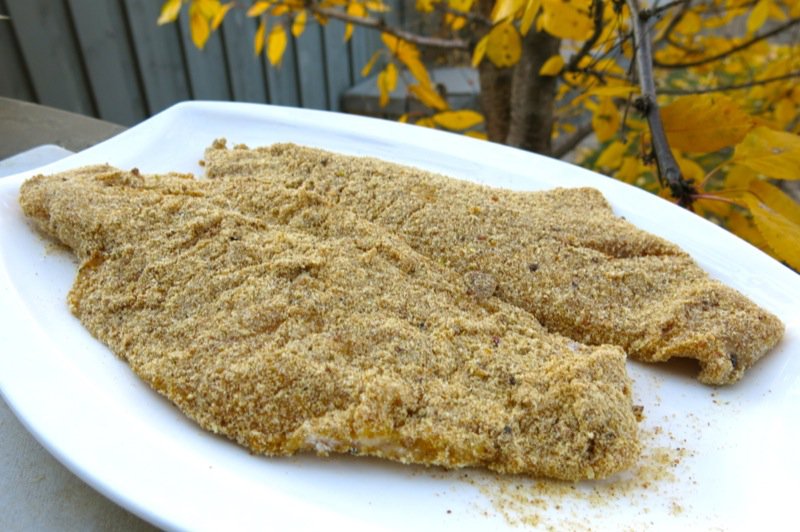 Why Pacific Red Snapper instead of Rockfish? Someone was savvy when giving this fish its nickname. I would not have gravitated to a fish called Rockfish, no matter how clean it looked. However, I would take the advice of my fishmonger. I get it. Pacific Red Snapper sells a lot more fish than "Rockfish" would. I just wish that the other name, the real name, was also on the label with the correct varietal of rockfish. There are a surprising number of varieties of rockfish with a surprising difference in flavour and texture. I enjoyed this one so much I wish I knew what kind it was. Pacific Red Snapper works for the sale, and I don't know the history behind how the Rockfish really got this nickname, but am keen to learn more.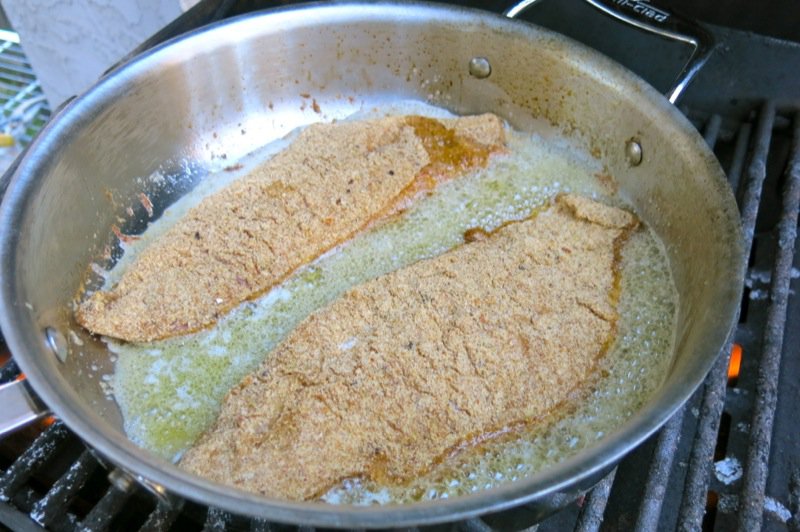 This was Vanja's welcome home meal. He had been away for a month on "our" holiday to see his parents in Europe and brought back some Ajvar for me from his mom. There is nothing like Pava's ajvar. The peppers grown in the former Yugoslavia are more dense, meatier and embody a depth of flavour I have been completely unable to find anywhere in the marketplace here. Of course, I make ajvar and it is delicious, but nothing like Pava's. And, it is incredible with fried fish. The other signature side with a fish meal in the Balkans is this simple potato salad: boiled, cooled, sliced with onion, olive oil, vinegar, salt and pepper. It is really delicious. Simple sublimity on a plate.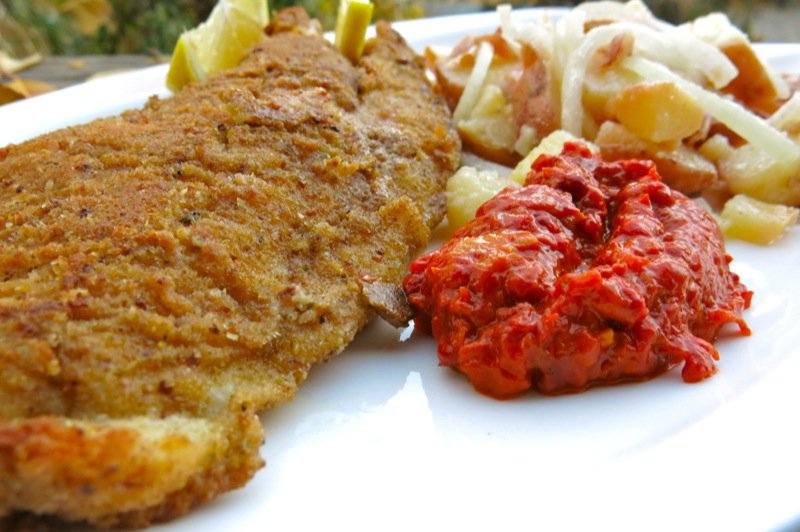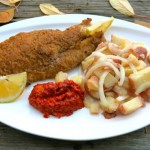 Canadian Pacific Red Snapper is a name used for several varieties of Rockfish. Ask your fishmonger what kind of rockfish when you purchase and do a little research to learn about each one you try. This is a firm, clean, delicately flavoured fish that holds up to the light battering very well. One fillet is ample per person.
Ingredients
For 4 fillets:
4

fresh fillets of sustainably fished rockfish

1/2

cup

flour

2

eggs

, well beaten and seasoned with 1/4 teaspoon of salt and some freshly ground pepper

1

cup

of Italian breadcumbs

, or homemade Italian bread crumbs

1/4

cup

oil

1/4

cup

butter
Instructions
Dredge each fillet, to cover completely in flour, egg, and breadcrumb mixture

Fry 2 at a time in 2 tablespoons of oil, and 2 tablespoons of butter, 2 minutes per side, or until golden brown at medium high heat

Add remaining fat to the hot pan before frying the other 2 fillets

Serve immediately with a slice of lemon