At the hands of a Chic Italian Mama, Nadia!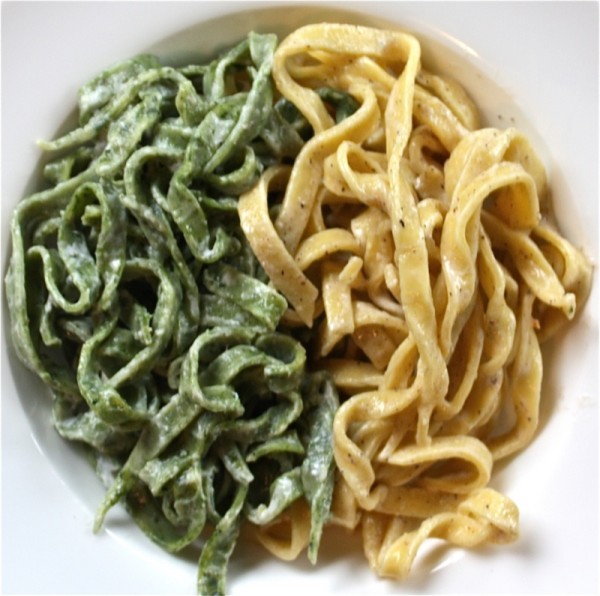 Why was Eat Alberta so successful? Because we listed everything we wanted to do and learn and taste and see and hear ourselves, and then went about and planned an event that met those needs. So, had I made my own pasta before? Not really. My grandmother taught me many years ago, and my more recent attempts gave me evidence that I needed some serious tutoring. However, I didn't get to "attend" Eat Alberta as a participant, so this was still on my list of "things to learn" and lucky for me, Nadia invited me over to teach me how!
Now, who is Nadia? That in itself is whole other story, but in brief: she reads my blog. Isn't that fantastic! Those of us with blogs all have stats and we know we have readers. We even know how long the average reader spends on our site. And now and then, a reader will comment. Now that is a real reward as the entire purpose of blogging, to me, is the interaction. That is what makes this writing forum different than any other. Nadia had never commented, so I didn't know she was a "regular" reader. But, when I started my Taste Tripping business, she signed up immediately. Lucky me!
And that is the beauty of the importance of food and the interchange of it within our lives. I have taught her and now she is teaching me! And what a thrill it was to make my own incredibly delicious pasta! Yippee!!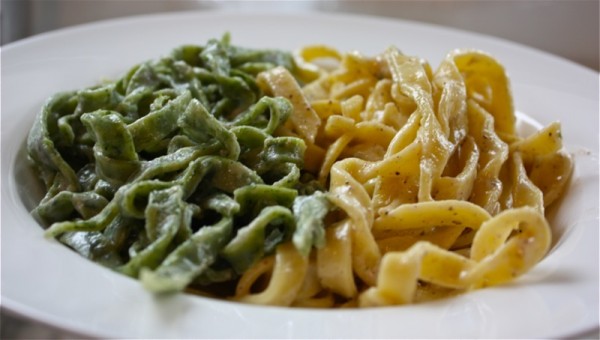 The enthusiasm that resounded through the halls of Eat Alberta was not lost on me. I knew pasta is make with only eggs and flour. I just hadn't experienced the thrill of accomplishing the right texture. Until now.
Did you see how vibrant the egg yolks are? Yup. Nadia even has an aunt who has her own chickens. This gal is connected, let me tell you! And, the spinach was added to the exact same recipe as the plain pasta recipe. It was chopped and completely wrung out first. Nadia has done this with butternut squash and many other vegetables. Next, she is going to try sweet potatoes. Or was that for her gnocchi? Hmmm…
The eggs are beaten and then the flour is just slowly incorporated into them, bit by bit, maintaining the edges so they don't pool out. She uses two cups of plain old white flour, three eggs and a pinch of salt with a dash of olive oil. The recipe follows.
I was already tickled. Look at both doughs above. And then, each was formed into a disc and rested. An hour is best. We cut the discs to roll the pasta through the machine.
Nadia flattened each portion and ever so lightly floured it, then folded it, placing it in the machine with the widest opening, and simply cranked it out.
Our dough needed no more flour. If it needs it, use it. You definitely do not want any dough in your machine. (Nor do you ever want the machine to get wet. Use a clean pastry brush to brush out the flour bits to "clean" it, and then put it away again until next time.)
The folding of the "virgin" dough happens three to four times at the widest setting. Try to fold it so the edges meet.
Then, start moving the machine up one notch at a time and put the dough through each level one time. No need to go to the very thinnest level unless you like it like that. Nadia finishes her pasta on the notch before the end and that was perfect for me, too.
The rolled pasta has to dry enough to not stick to the machine when it is cut. Not too long. Usually, one you are done rolling them all, the first is ready to be cut.
Again, the lightest sprinkling of flour to ensure they do not stick together is needed and they are laid to rest until cooking time. If you are drying this pasta, you may wish to hand it on a hanger or over a broom and then roll it to keep it until used while flexible enough to roll. Store in a well sealed dark and dry place. It is best cooked an hour or few after making it: sometime the same day.
The spinach pasta had greater mass due to the extra ingredient. It was so gorgeous – and healthy!
Yes, Nadia tucked a generous amount of pasta into some containers for me to take home and prepare for dinner that evening. I followed her advice and added only cream to the strained pasta and heated it until it thickened a bit with some salt and pepper and a bit of freshly ground nutmeg. And so many think that eating healthy fresh local food is expensive. Pennies. And bliss.
Of course, I had to have a little of each. We all did. The spinach was my favourite. It did not taste anything of spinach, but the texture was more tender, though the toothsome plain pasta was also appealing to me.
Thank you, Nadia!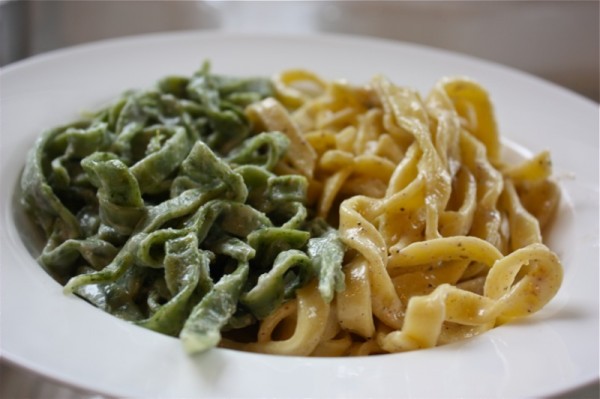 Fresh Pasta Recipe
Ingredients:
2 cups flour
3 eggs
scant teaspoon of salt
scant tablespoon of olive oil
Instructions:
Place flour in a mound on the counter making a well in the middle
Crack the eggs into the well, adding the salt and the oil
Beat the eggs to combine and then work in the flour from the sides until you need to start kneading the dough
The dough will be a very stiff dough; knead until elastic
Wrap in plastic and rest for an hour
Unwrap and cut into manageable pieces to roll through the pasta maker
Taking one piece at a time, flatten it and lightly dust it with flour, fold and place through largest opening on pasta maker
Repeat 3 to 4 times
Move the notch on the pasta maker and pass the dough through each notch until desired thickness is achieved, resting each piece on a lightly floured cloth
Cut pasta as desired, lightly flour and dry, or….
Salt a pot of boiling water and plop pasta into it and maintain a medium or low rolling boil, with lid off, until el dente
Strain, and sauce as desired
Note:
Never rinse pasta with cold water
Nadia doesn't use 00 flour: "It never used to exist. i think it is a fairly new thing in Italy. We use what is cheapest, Valerie!" (love that!)