Another dish for Ragan and Jason's Brunch and Gift Opening they day after their Wedding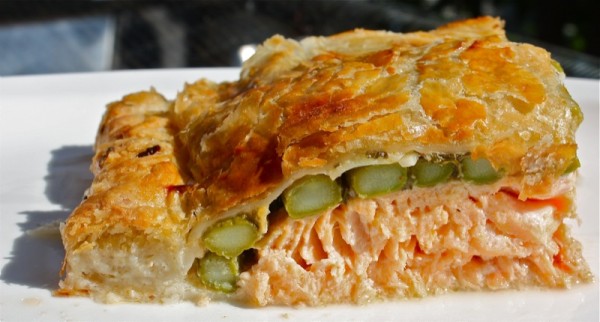 Day five of rain in Edmonton, today. Mosquitoes are dancing about the grasses during the periodic reprieves thirsting for their next victim. There are clouds of them everywhere. But, last week, it was hot-hot-hot and so sunny that the photo above is almost an x-ray! It is not photo shopped! This is another dish I prepared for the day after the wedding gift opening brunch. Salmon for breakfast? my mom asked. No. Salmon for brunch, I answered her. Perfect for brunch, I thought. Not local. But, Canadian. Mara Jernigan, our national slow food convivium leader would say, "Valerie, don't go there. Local is local." And I would then say, "…and a wedding is a wedding." There is nothing like Atlantic Salmon. I have done a complete salmon tasting finding every kind I could find, and at that time there were seven of them, cooked them all the same, and then tasted: the Atlantic was it. By a long shot. And, the bride loves salmon. So, salmon was on the menu!
I got the idea from Laura Caulder, but did mine differently: with the Lemon Dill Garlic Sauce. Yum. Puff pastry sheets rolled bound together to fit the tray.
A beautiful fillet of salmon perched on top.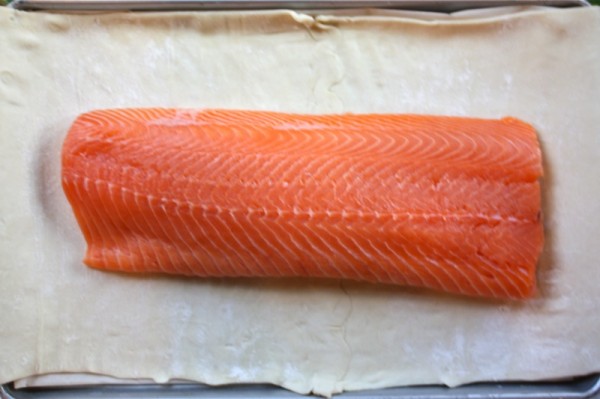 Laura cut off the tips of the asparagus and served them along side this dish. I "should have" done that, and will, next time. You don't notice them there. Also, then, the pencils can be aligned without overlap, perfectly.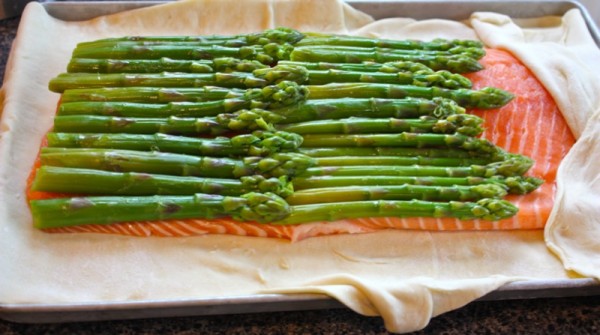 I blanched mine. Again, I would not do that next time, but must say that the dish was still delicious and the asparagus did not appear over cooked. However, do not blanche the asparagus pencils. Do layer them atop the fillet.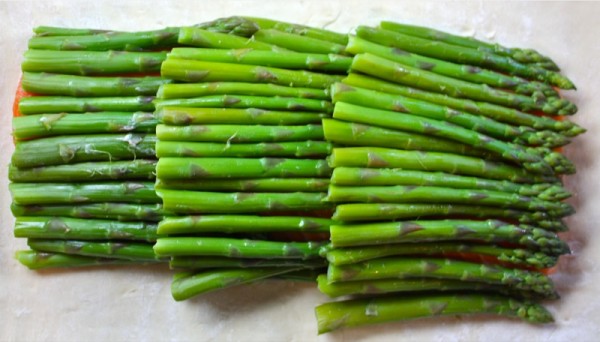 Prepare the top pastry.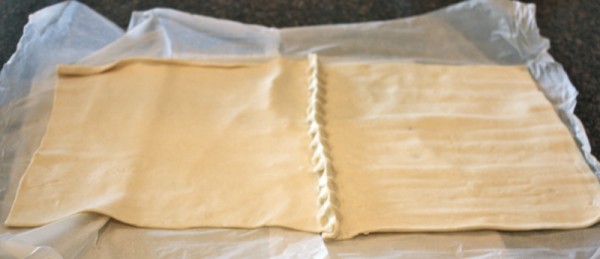 Oh-oh. Something is missing here. Can you see what I forgot?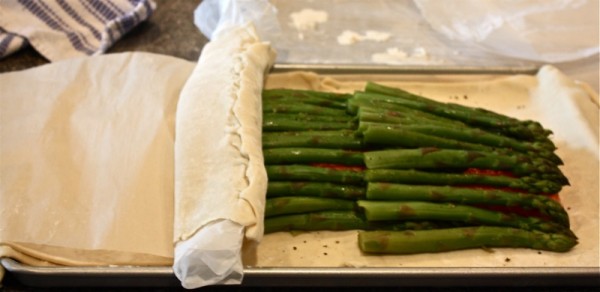 Yup! Do not forget the sauce. Slather is everywhere, thickly, over the asparagus.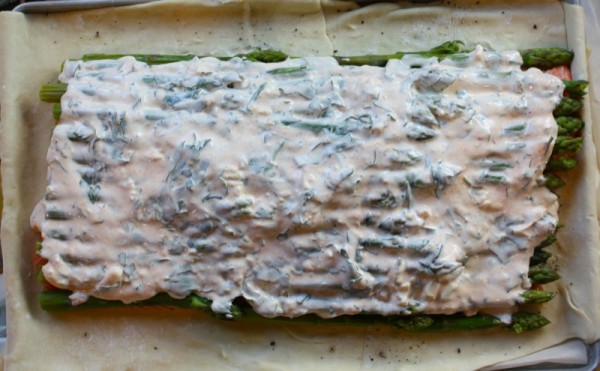 Then roll the top pastry over it, folding back the sides to push the pencils up and onto the fillet and secure the top pastry with the bottom using a bit of egg as glue.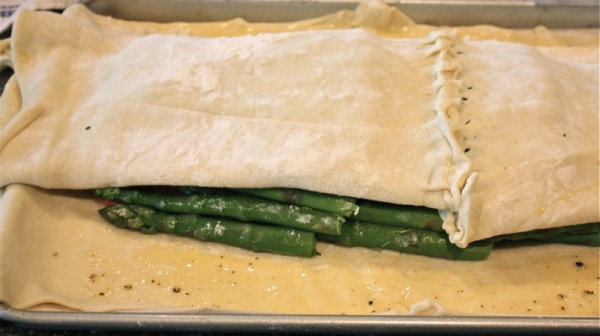 Do you see how the top pastry is pushed back into the fillet to hold the asparagus firmly in place in the first photo below. The, the bottom pastry is folded over and rolled or fluted.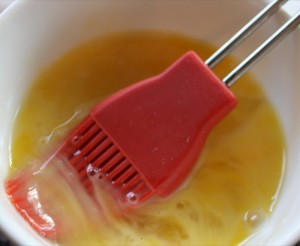 I did a rustic rolled edge, then brushed the entire croûte with the egg wash.

Believe it or not, at this point, I froze it. Out of desperation… and a belief that it would actually bake beautifully after it thawed. I was right. Now, I wouldn't do a side by side comparison, as I know it would be better baked and eaten fresh. Everything is. However, I was very, very pleased with the result!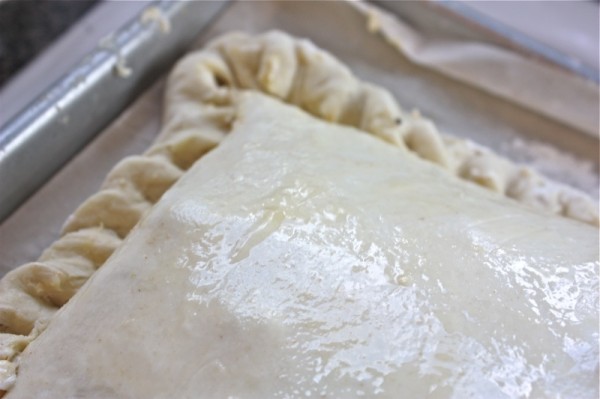 It is just unfortunate that I made two of these and had much to much food at this brunch. Everything would and could keep, but this; however, the guests were all too willing to take packages of this home with them!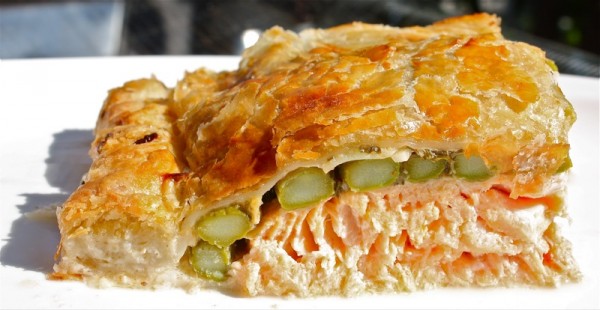 Salmon en Croute with Lemon Garlic Cream and Asparagus Recipe
Ingredients for the Salmon:
1 salmon filet, about 1-1/2 pounds/750 g (mine was much bigger)
1 pound asparagus, trimmed, tips removed (I used more)
1 egg for the egg wash
Lemon Garlic Cream (recipe follows)
1 pound sheet puff pastry (2 sheets) (I used double)
Salt and pepper
Ingredients for the Lemon Garlic Cream Sauce:
1 1/2 cups real (homemade) mayonnaise
zest of one lemon
juice of one lemon (approximately 4 tablespoons)
1/4 cup fresh flat leafed parsley leaves, finely shredded
2-3 large cloves of garlic, minced
1 teaspoon of salt
Instructions for the Lemon Garlic Cream Sauce:
Mix all ingredients together; set aside
Instructions for the Salmon:
Skin and bone the salmon and set aside; pre-heat oven to 450°F\230°C
Save the asparagus tips to poach or steam for garnishing the plate when serving
Ensure all asparagus "pencils are the same length
Roll out the puff pastry, and bind the sheets together, as necessary
Lay the puff on a damp baking sheet with the long edge facing you; place the salmon on the pastry; season with salt and pepper
Lay the raw stems of asparagus on top of the salmon, horizontally, like pencils, end to end, until the salmon is completely covered
Spread the Lemon Garlic Cream over the asparagus, generously
Prepare the top pastry, sealing two sheets together as necessary
Brush the margins of the bottom puff surrounding the fish with the egg wash; lay the top pastry over the salmon and press the edges close to the salmon to seal, pushing the asparagus snuggly in place close to the salmon
Fold the bottom pastry over the top pastry, first painted with the egg wash for glue, and crimp or roll the edges or ress with the tines of a fork
Make two or three slits in the top to allow steam to escape; brush all over with the egg-wash glaze and bake until puffed up and golden brown, about 20 minutes for this size, and 30 minutes for the size I made
While baking, poach the tips, cool in an ice bath, and then garnish on each serving plate a top an extra dollop of the sauce
Remove from the oven and let cool five minutes before slicing to serve; this dish is also good at room temperature