Algarve Portuguese Shellfish Stew: My Favourite Special Occasion Recipe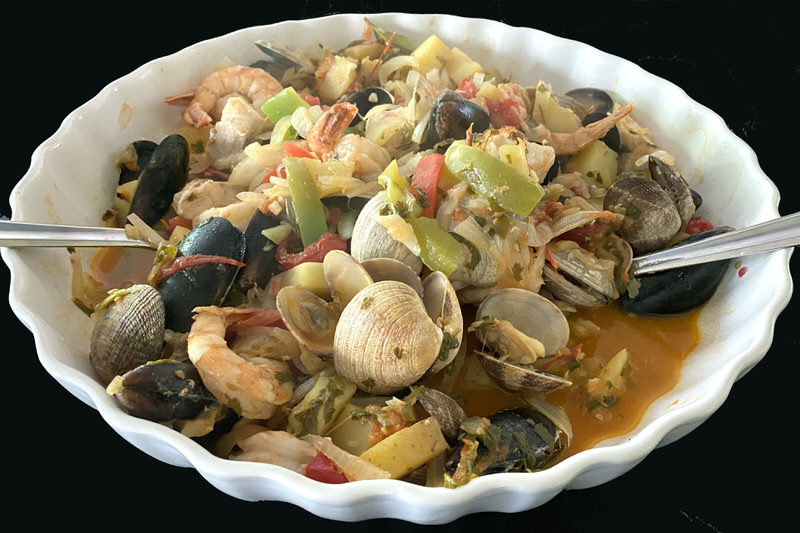 What a reprieve from the "Stay-at-Home" Blues! This gorgeous Algarve Portuguese Shellfish Stew with fragrant shellfish with a broth sings of seaside pleasures. Thank you, Elza Pereira for sharing your traditional family recipe with me! It is one I know, but not by this name. I have been searching for this recipe for a very, very long time. I have a memory of this dish. This taste. An ocean breeze and crystal blue waters accompanied by a shiver of magic. That sensation one has where you know you will remember this moment forever.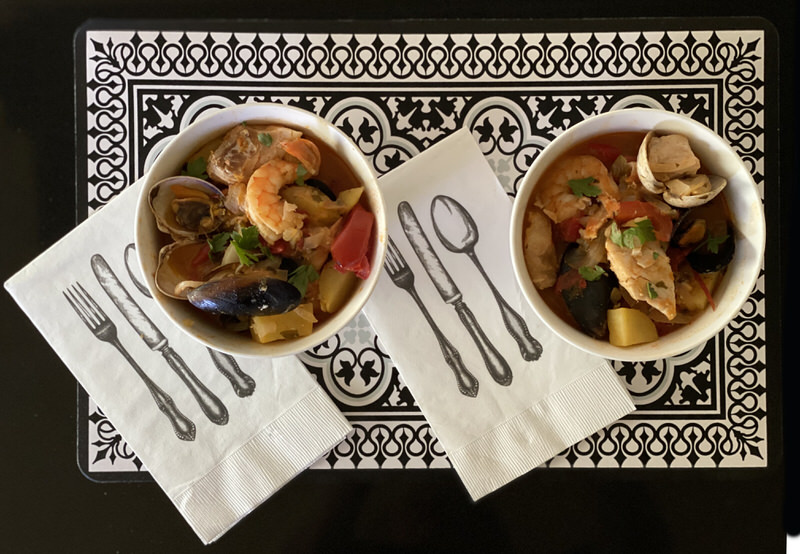 The quest for the recipe for "my shellfish stew" was one I took on when I returned home after that summer. I happened upon the dish again, in a little town, up a windy road, again near the sea on another European holiday. I could see what was in it: mussels, clams, shrimp and fish. The broth was tomato-based, but not a whisper of that "fishy flavour" I associate with a bouillabaisse. I don't care for that.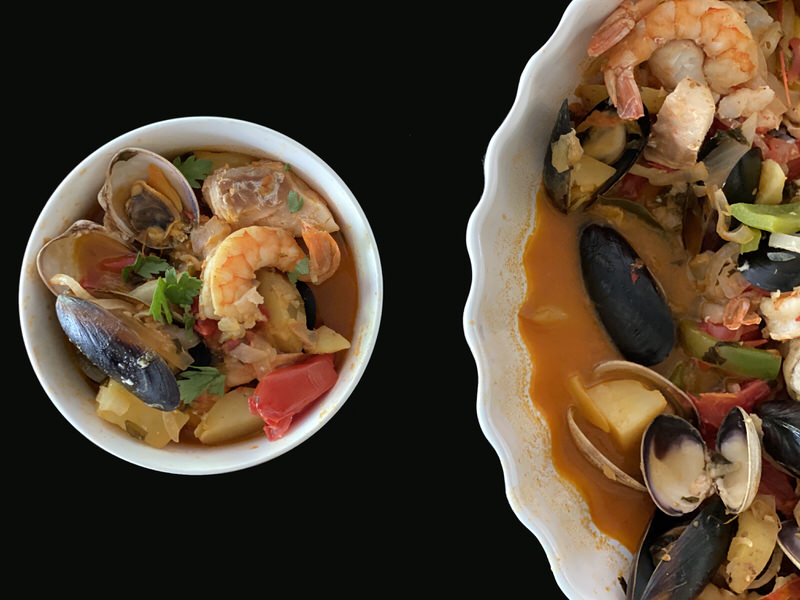 I had come to believe that "my shellfish stew" was called Cioppino, but when I sipped the broth from this Algarve Portuguese Shellfish Stew, I knew this was "my shellfish stew". The power of my taste memory transported me right back to that tranquil, breezy warm and unforgettable European seaside. The flavours and bounty in this dish, for me, are irresistible. Weak-kneed and trembling, I had a quiet little celebration all by myself at my kitchen counter, spoon in hand, as I had realized my quest and came face to taste with my chimera. Elza, this, too, will become one of my traditional family recipes.
Algarve Portuguese Shellfish Stew: Mise en Place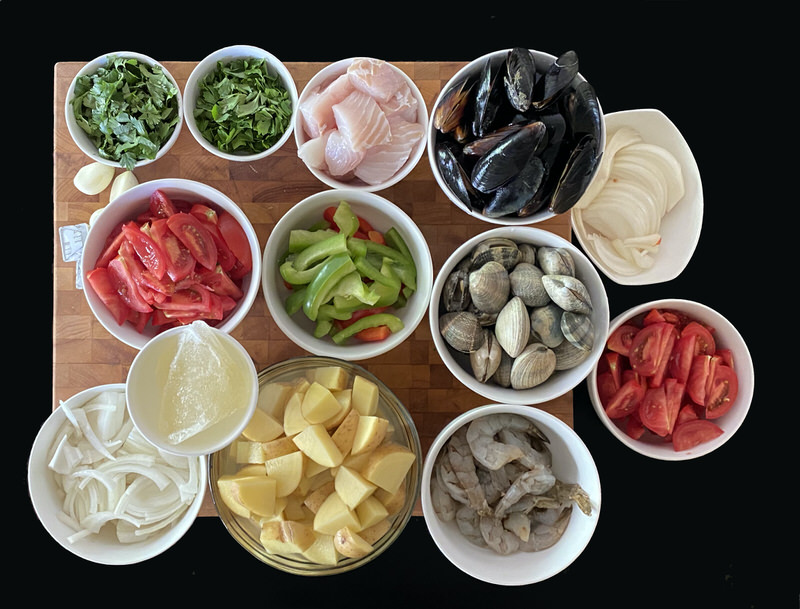 The recipe on Cookidoo® calls for 1000 grams of fish and 400 grams of shellfish, but at my ask and with Elza's guidance, I came to understand those 1400 grams could be any combination you like. She uses monkfish, mussels, clams and shrimp, but about 1000 grams of the monkfish. I used an equal portion of mussels, clams, shrimp and halibut. Monkfish I will try when I can find it, next time. (400 grams of each) and this amount worked perfectly for me. Elza and I have been presenting "Virtual Cooking Classes" since March 11, 2020, called Cooking with Valza. This was her recipe this week from our Cookidoo® recipe platform here.
Algarve Portuguese Shellfish Stew: Filling the Varoma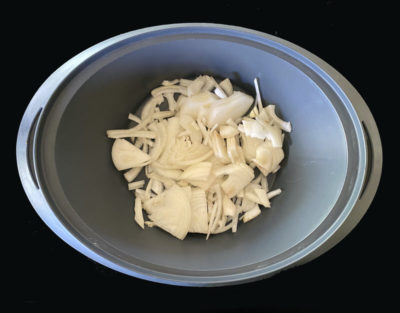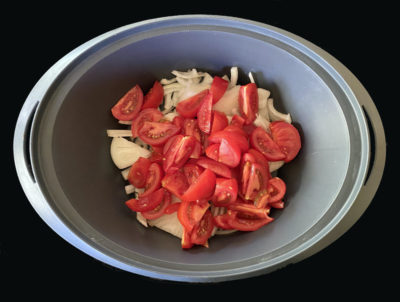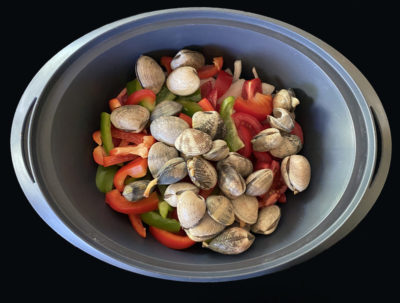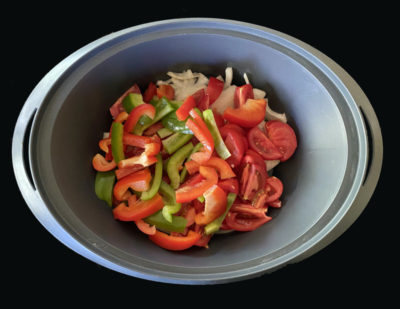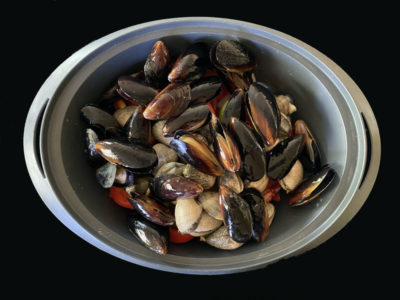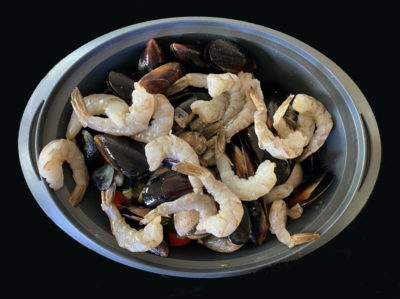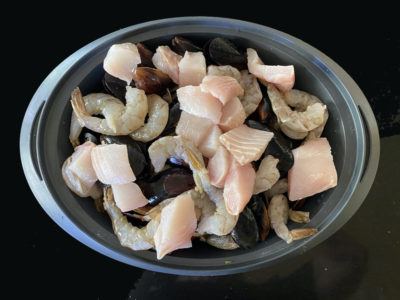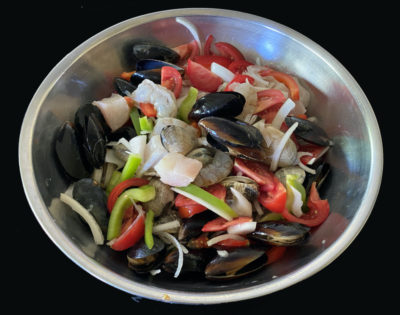 Each of the ingredients above is placed into the Varoma, by weight, as in the recipe. As I added 200 grams extra, it was so full and I worried about even steaming, so I "poured" the ingredients into a big bowl, tossed them and returned them to the varoma. Perfect.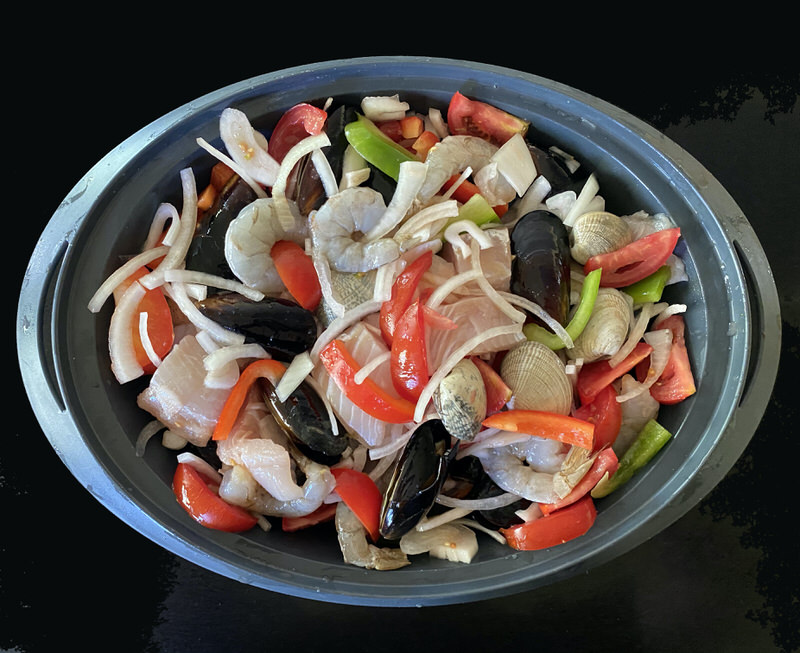 Ready to steam more evenly.
Algarve Portuguese Shellfish Stew: Preparing the Broth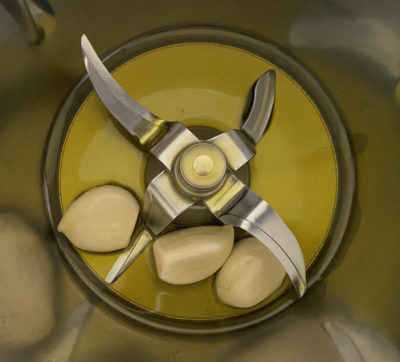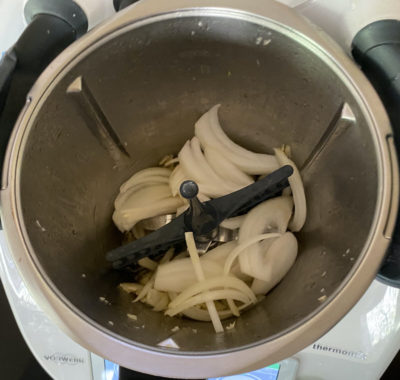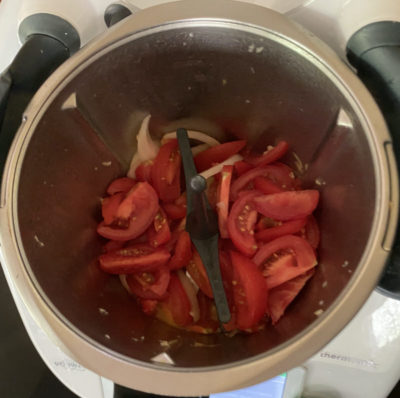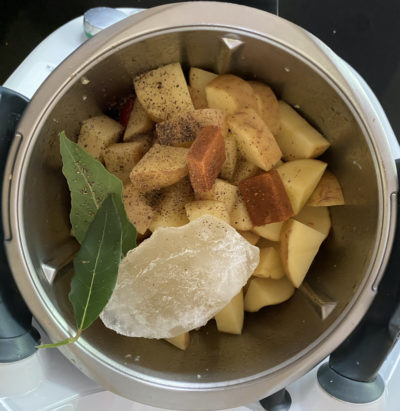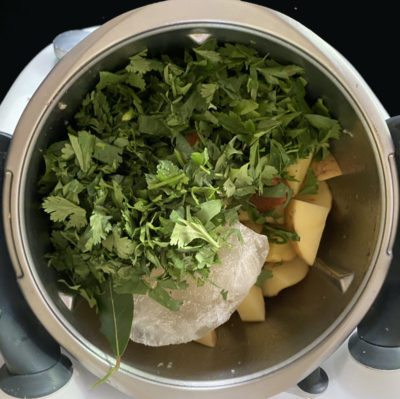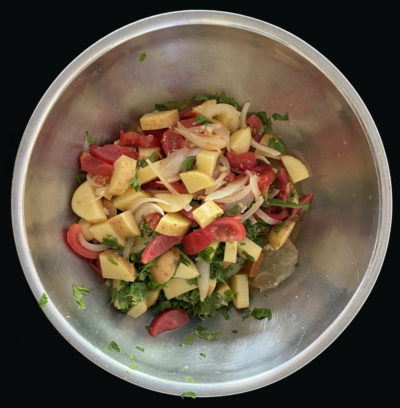 Now for the broth. Same thing, almost. First, the garlic is chopped and sautéd. Then the butterfly whisk is inserted. That was a surprise for me. The sliced onions were sautéd with the whisk in place. As were the tomatoes, that followed. After the aromatics were prepared, the potatoes, wine, seafood bouillon cubes, bay leaves, cilantro and parsley were all weighed into the bowl. Again, I had the same worry. The bowl was very full and though it was going to cook for 35 minutes with a very soft stir, I wanted the ingredients more evenly dispersed, so I "dumped" the ingredients into the big bowl, tossed them, and put them back into the mixing bowl, evenly distributed, for cooking. Filled with anticipation, I waited.
Algarve Portuguese Shellfish Stew: Cooking and Steaming and Waiting and Dreaming!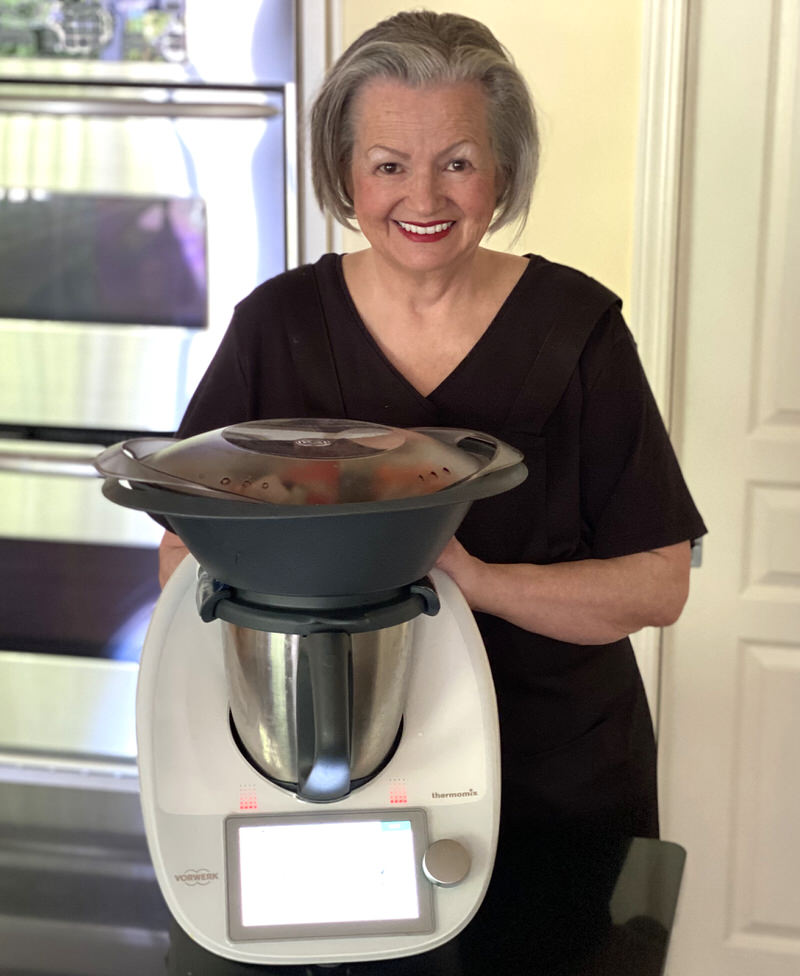 And while I was filled with such anticipation I thought I would have my photo taken. I knew something magical was about to happen. However, I did not expect the flavours to be "mine".
Algarve Portuguese Shellfish Stew: Presenting the Shellfish Stew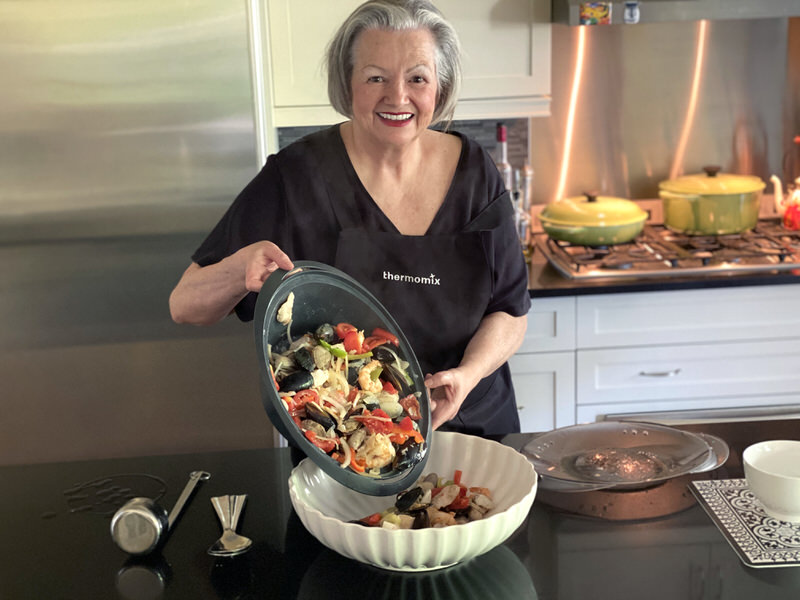 The method of the recipe, you saw, is fascinating. Half of the tomatoes in the broth, and a half in the Varoma. The shellfish, fish and vegetables were steamed to perfection.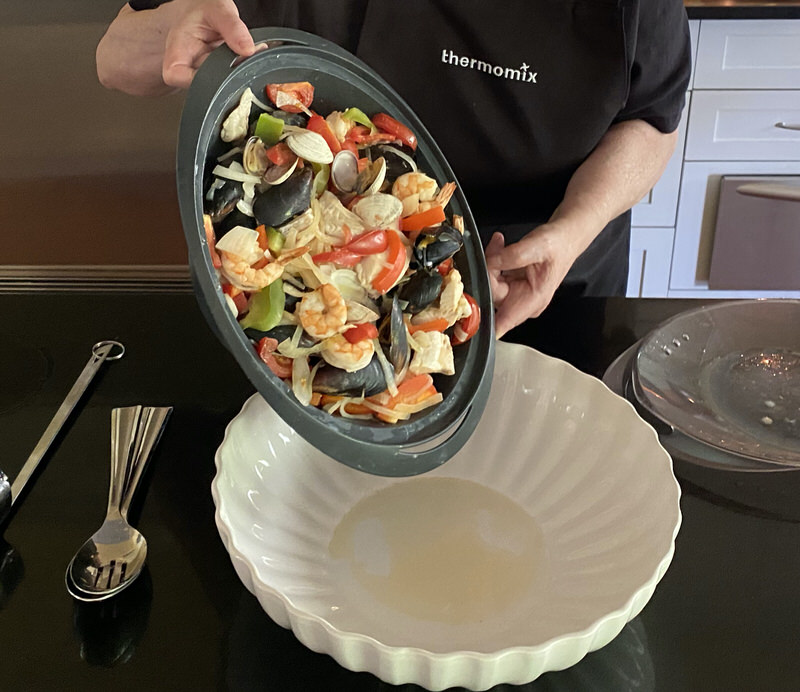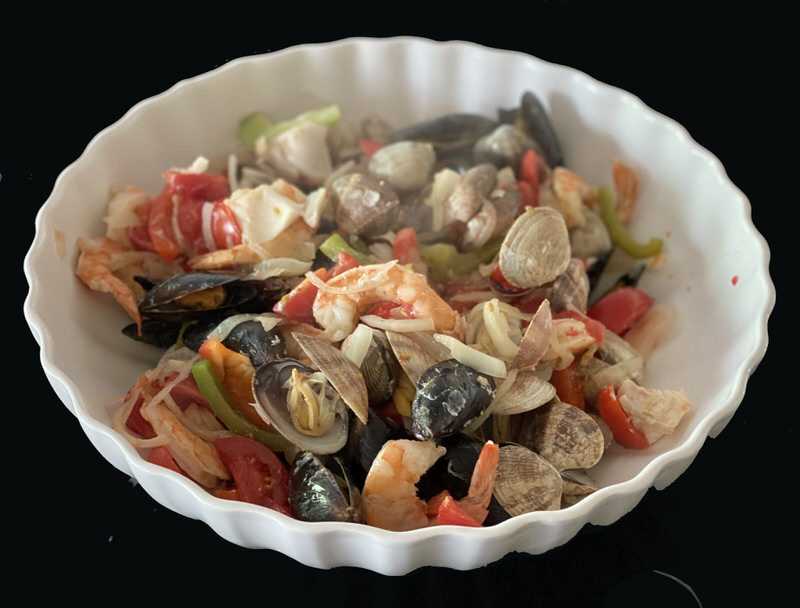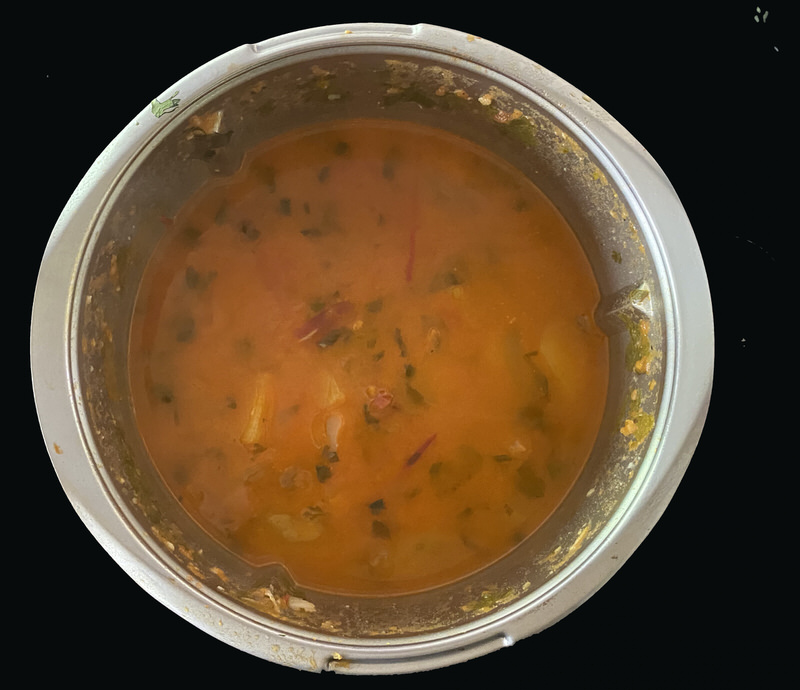 Time to take a look at the broth. The tomatoes and onions have melted into submission with an irresistible aroma demanding my attention, but I did not yet obey.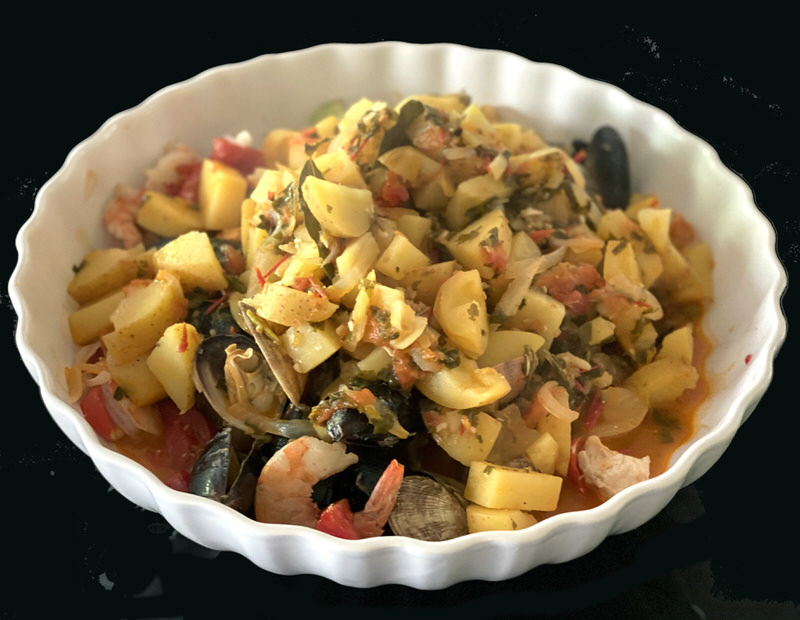 Over the seafood went the broth filled with pillowy potatoes I found to be golden nuggets of flavour and with a welcoming textural contrast. I tossed these two elements of the stew together and voilá!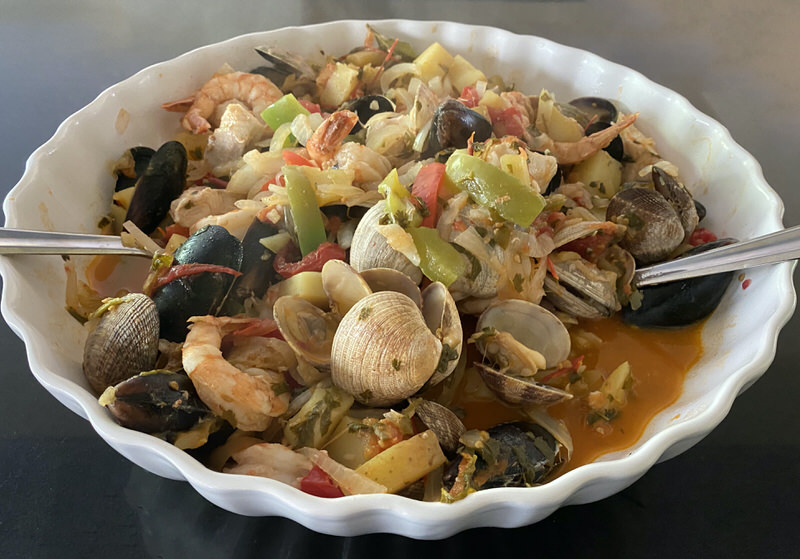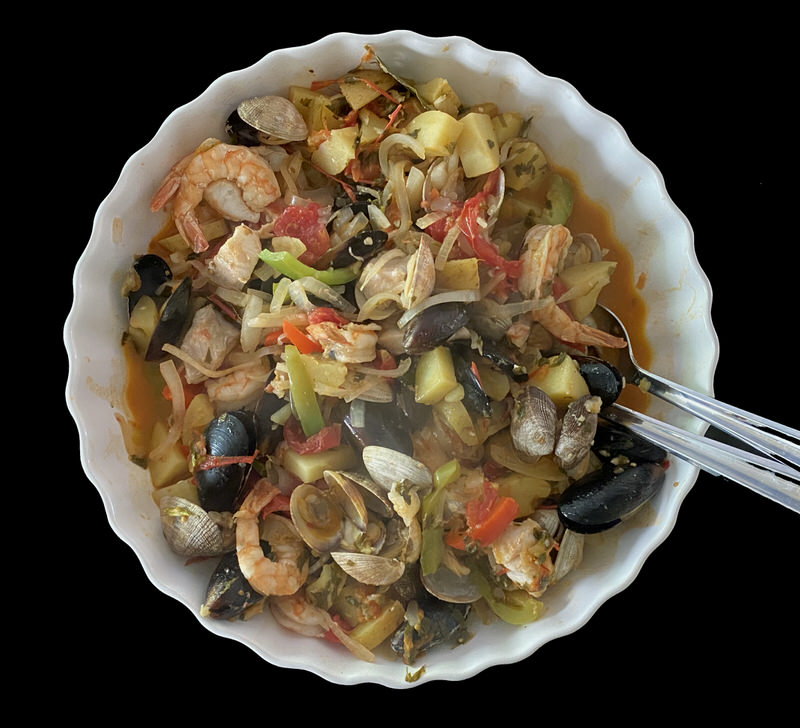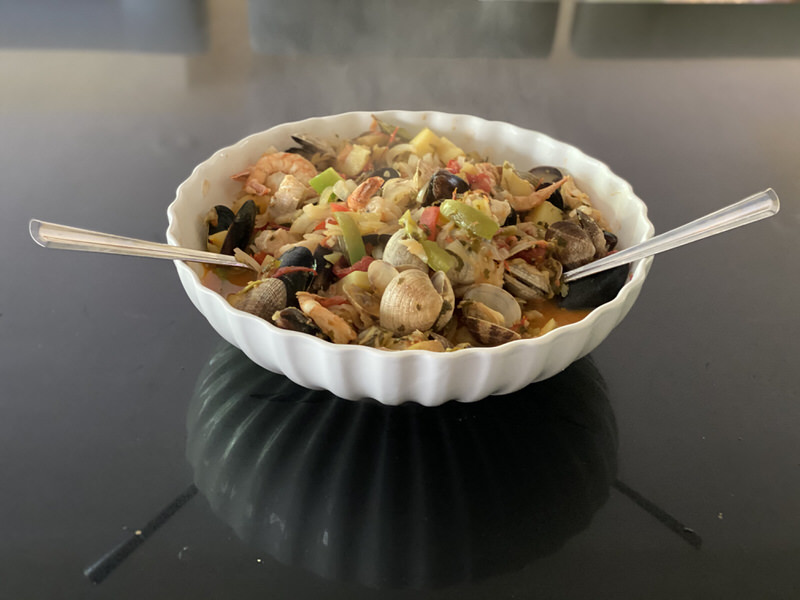 If I had the talent to paint the masterpiece, I would, but eating it is so much more pleasurable.
Algarve Portuguese Shellfish Stew: Serving the Shellfish Stew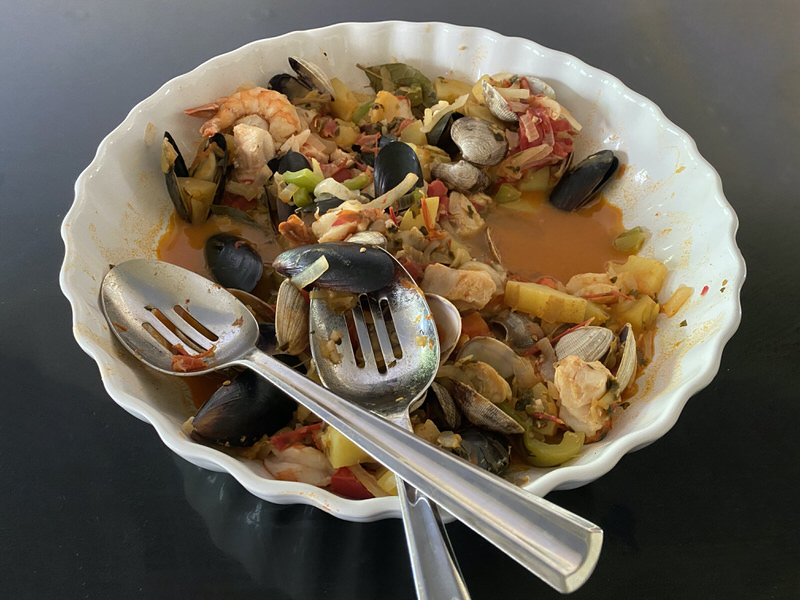 I would suggest pulling up chairs around a circular table with crusty bread and crisp white wine. If you know one another well, delve in, together. But, I have never known anyone that well (not even my own children) so fill your bowls and slurp the broth, crack the shells, mop the broth with the bread and do it until your eyes roll back, you are content and you have that feeling you knew you would have again, one day.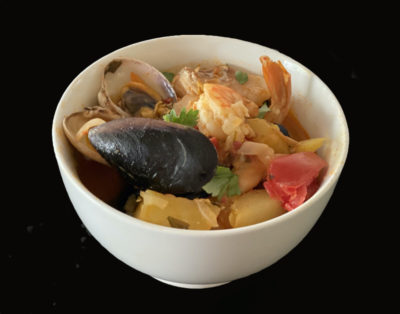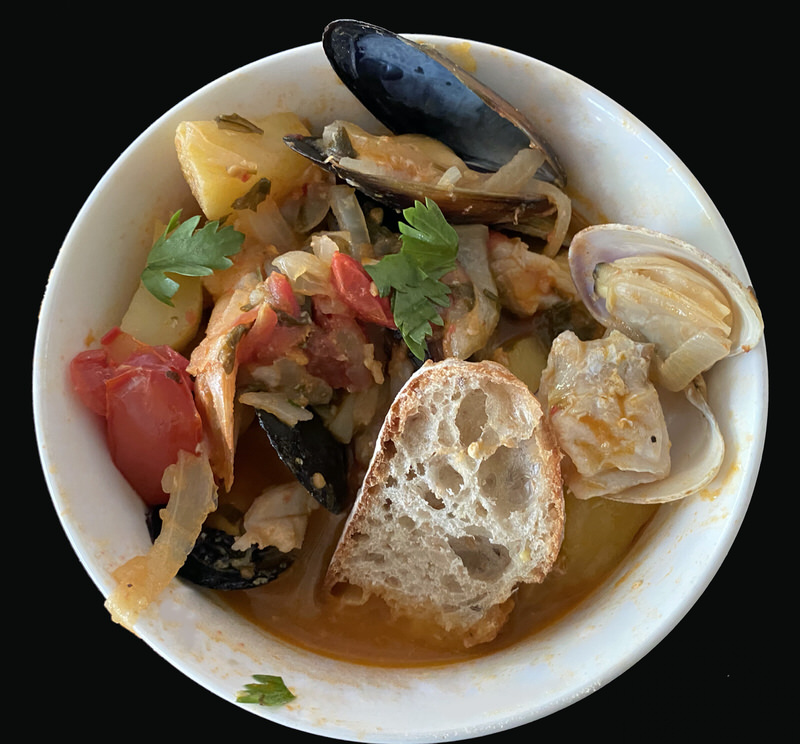 That feeling that all is right with the world. That good food, good friends, a close family and a moment just like this, can happen again. It just did.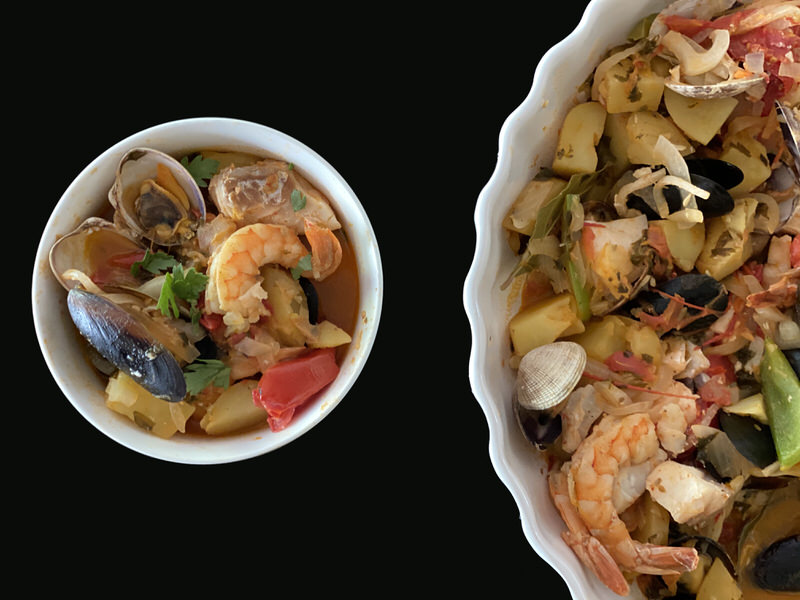 Now, go, buy the ingredients at
your local Portuguese grocer
, and have this experience yourself, then tell me all about it. I love to hear your stories and especially love to hear that my stories motivate you to cook at home for you and your family!
(Please find the Seafood Bouillon cube packaging image below the recipe)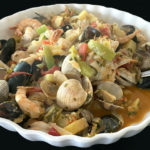 Algarve Portuguese Shellfish Stew
Ingredients
Ingredients
400

grams

littleneck clams

400

grams

black mussels

400

grams

raw shrimp, good-sized, after shelled and deveined

400

grams

solid white fish, like halibut or monkfish

in large bite-sized portions

450

grams

onion, sliced

two portions: 300 grams, 150 grams

80

grams

red pepper, sliced

80

grams

green pepper, sliced

800

grams

vine-ripened tomatoes, in wedges

two portions, 400 grams each

3

cloves

garlic, good-sized

50

grams

extra virgin olive oil

700

grams

firm, yellow, waxy potato, thickly sliced

in bite-sized chunks

2

Knorr's Seafood bouillon cubes

100

grams

white wine

150

grams

water or fish stock

1-3

bay leaves

(I used 3 fresh)

10

grams

fresh cilantro, chopped

woody stems removed

10

grams

fresh flat-leafed parsley, chopped

woody stems removed

freshly ground black pepper, to taste
Instructions
Advance Preparation (if using fresh shells)
Place a container on the Thermomix® lid, weigh clams, cover with water and add a teaspoon of salt tea. Soak about 2 hours to release the sand. Drain with the help of Varoma and set aside (**if using frozen shellfish, thaw overnight in fridge and this process is not necessary)
Instructions
Place the shellfish and fish, 300 grams of onion, peppers, 400 grams of tomatoes and set aside clams in the Varoma, season with salt and set aside. (My Varoma was packed full so I  "dumped" all into a big bowl, tossed to combine and returned to Varoma)

Place the garlic and oil in mixing bowl and chop for 5 seconds on speed 5, then sauté for 3 minutes at 120 ° C  on speed soft

Insert the butterfly whisk and add 150 grams of onion and sauté for 3 minutes at 120 ° C  on speed soft

Add 400 grams of tomatoes and sauté for 3 minutes at 120 ° C  on speed soft

Remove the butterfly whisk and add the potatoes, stock cubes, wine, water, bay leaf, pepper, cilantro, parsley into mixing bowl (I"dumped" all into a big bowl, tossed to combine and returned to mixing bowl)

Place the Varoma into position on top of the lid and cook for 35 min at 120 ° C on speed soft

Remove and place Varoma contents into large serving bowl, pour broth over and serve immediately with a crusty loaf
Recipe Notes
NOTES:
What kind of Shellfish and fish?
*1000 grams of assorted fish is an assortment "to taste"; the clams are traditional, and then a combination of mussels, shrimp and firm fish is up to your palette (Elza uses Monkfish)
(Valerie used 400 grams of black mussels, 400 grams of fresh shelled shrimp and 400 grams of halibut)
Fresh or Frozen fish:
**It is recommended that the fish is fresh, of course, as it is so easily accessible in Portugal and clearly this is a dish that celebrates the bounty of the ocean; however, in Canada, Elza will use frozen fish as the fresh fish is not so accessible on the Alberta prairies and because when it is, it is very expensive.
Where to Buy Ingredients:
In major cities, you will find a Portuguese Bakery or Grocery store. In Edmonton, the Portuguese Bakery at 5304 118 Ave NW will have everything you need:
Frozen littleneck clams
Frozen black mussels
Frozen raw shrimp
Assortment of fish
Fish stock cubes (Knorr's shellfish stock cubes and Knorr's fish stock cubes)