Simple Unsweetened Preserves: A gift from Katherine and Corey!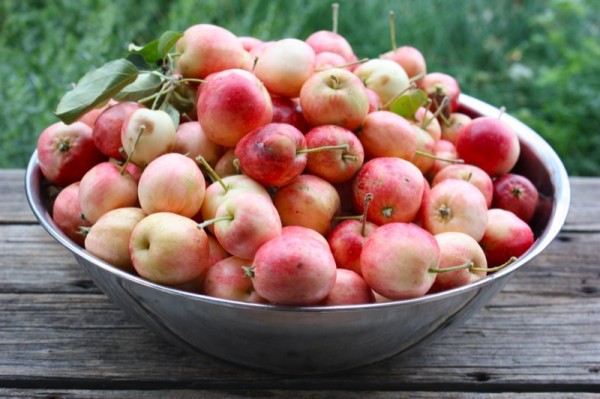 Vanja and I met Corey and Katherine last year at the Dairy Farm Fieldtrip and this year, they bought the most beautiful house on the most beautiful city lot! We were thrilled for them, and thrilled to see their lovely home – and came home laden with crab apples and Nanking cherries to preserve. I decided to make a very simple sugarless apple sauce to use in baking during the Winter in place of oil.
It was a simple as it looks. Simpler, actually. I washed and quartered all apples, then did not even cover them with water, but simmered them in some until the apples made their own juices and became mushy by cooking at a low simmering boil.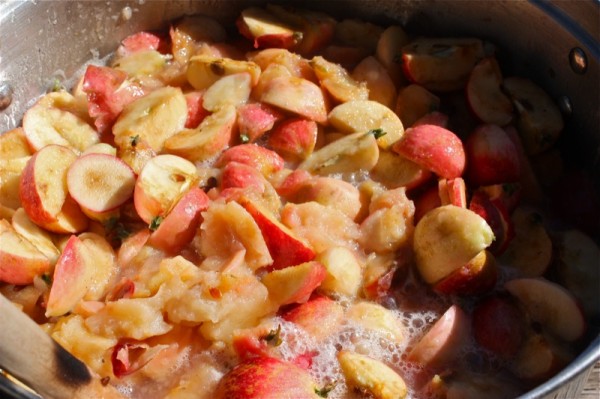 I cooled the mass, then put it through the meat grinder. Yes, the meat grinder! It is amazing how well that worked to grind the seeds and stems and cores. Really. There is a bit of a texture to the sauce, but it is soft.
I sterlized the jars and boiled the tin rubber lined lids; filled the jars, ensure the rims were clean and placed a tin lid on each and then twisted on the ring part of the lid until just tight.
In the water bath for 15 minutes for each 1/2 pint, five minutes to set in the water, and then out to cool And, yes, I shared with Corey and Katherine, though I am sure they are wondering what in the word to do with unsweetened crab applesauce! Hopefully, I will post something yummy on a frosty cold day in the brittle middle of January!