Saffron Glazed Carrots add a colourful personality to Larissa's Festive Holiday Meal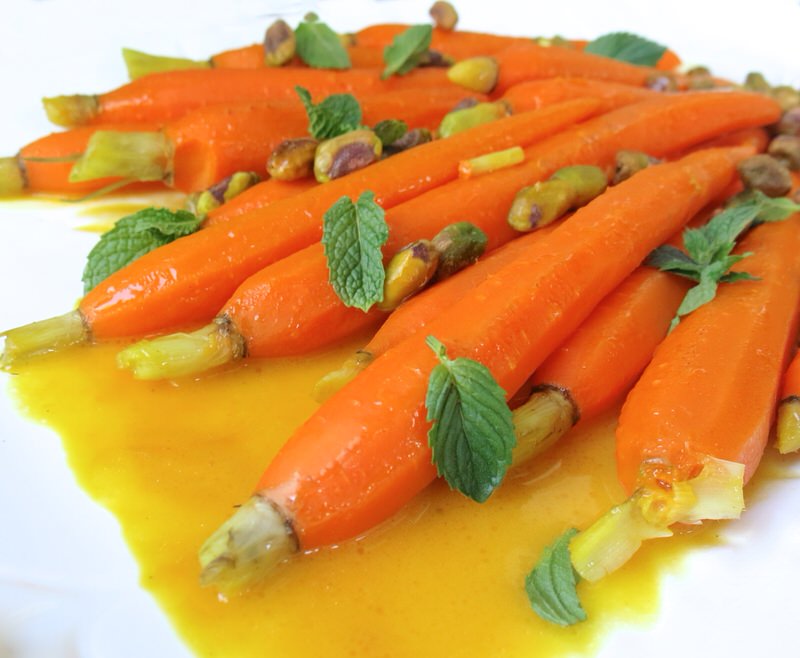 So pretty. And, more delicious than you would expect.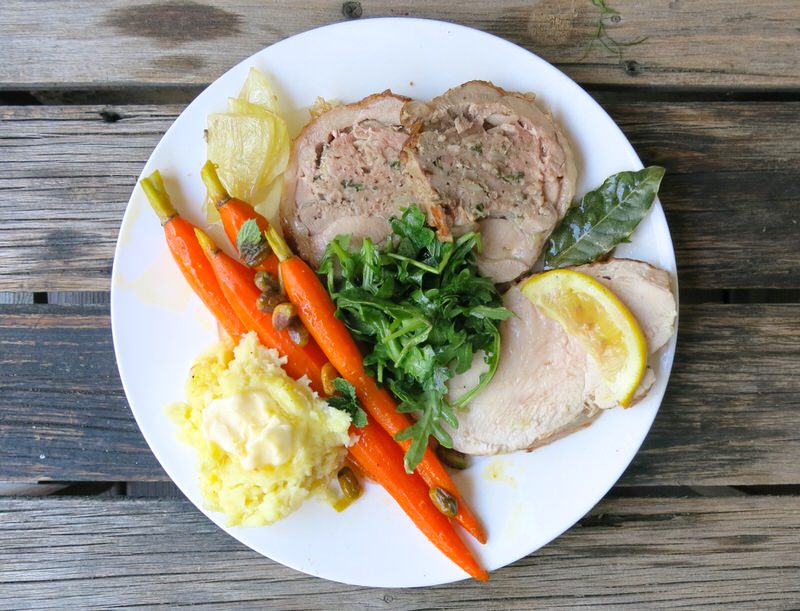 As a child, coined boiled carrots were a staple. I loved them. Loved them raw from the bag, cooked, roasted. Loved them any way I could get them. As an adult, I enjoy them raw and roasted. I tend to find them too sweet in soups or on their own as a cooked vegetable.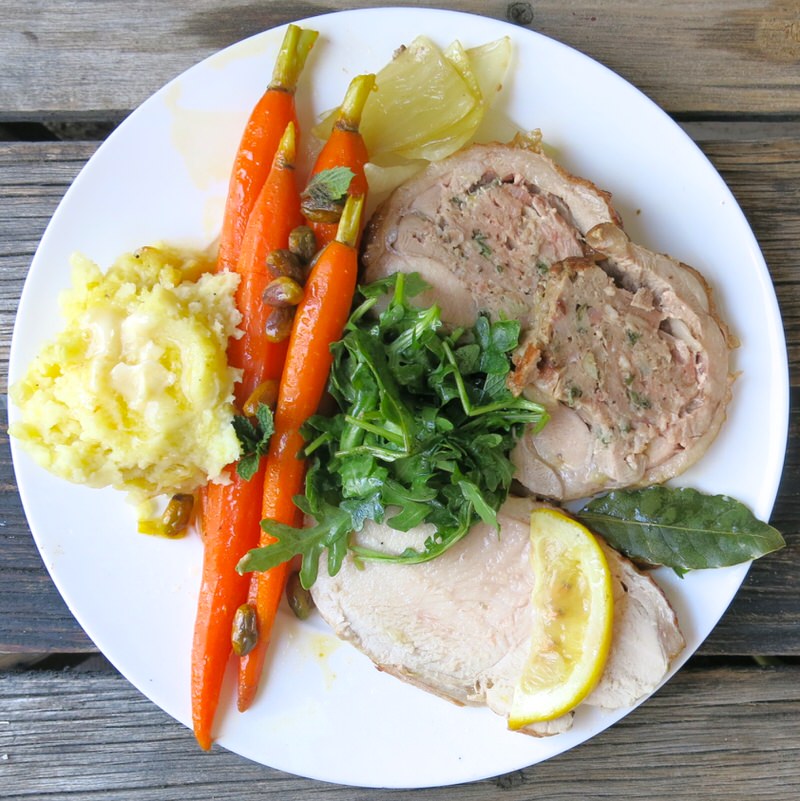 This recipe ensures the carrots are cooked to perfection. A toothsome bite with a lovely glaze that presents the subtle savoury warmth of the elusive saffron. Coupled with salty crunchy pistashios and a zing of mint, well… this is a side dish fit for a Festive Holiday Meal… or company dinner any time of the year!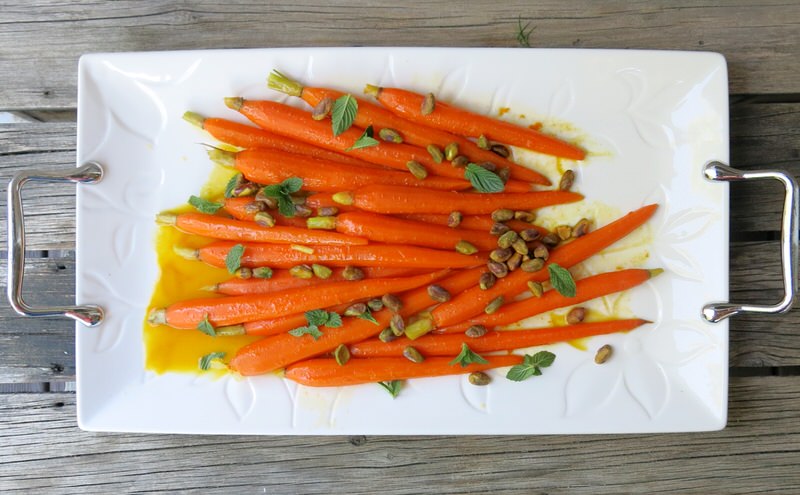 Though Larissa insists it isn't necessary to use the carrots with the greens attached, they are just so pretty. The flavour is just that much earthier and they are dressed up just that wee bit more for the party, me thinks. But, she is right in that the recipe would be great with other carrots. She uses the miniature small ones.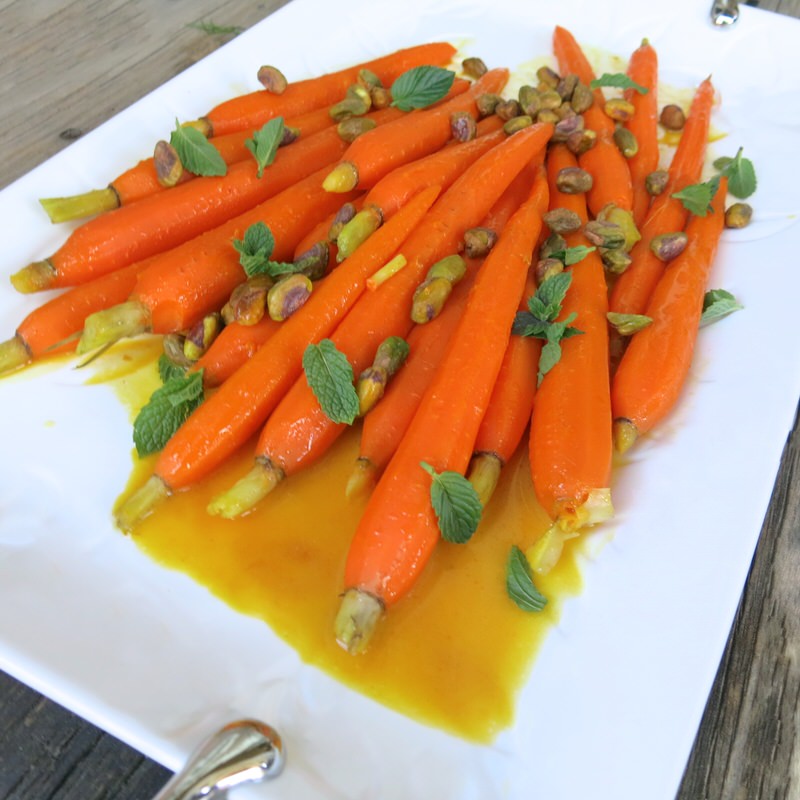 My gal pals and I have been celebrating growing old together for over 30 years. One of us hosts a dinner and makes the main. The rest of us each bring part of the meal. I am almost always on dessert duty as no one really likes baking cakes anymore. But, I do take on appetizer duty now and then. Never do the salads or the sides as I just don't have a repertoire of creative side dish recipes and salads I never use a recipe for. Almost never. However, now I have this gorgous and delicious recipe in my "potluck dinner" tool box. I would take the carrots to the host's home, cooked, and finish the glaze there. Can't wait!
Saffron Glazed Carrots: Introducing Larissa Trifonova Prouse
The introduction of Larissa can be found here, in the first of this 5 post Festive Holiday Meal Series. Her husband, Tish was the catalyst for our meeting, and is currently an Edmonton City Council Candidate for Ward 6 Alderman. Check out his platform and site, here.

Recipes for Larissa's Festive Holiday Meal that are posted as part of this series:
Seasonal Green Vegetable is added (asparagus for Easter, zucchini or broccoli at Thanksgiving, brussels sprouts at Christmas)
Saffron Glazed Carrots: Cooking in the Kitchen with… YOU!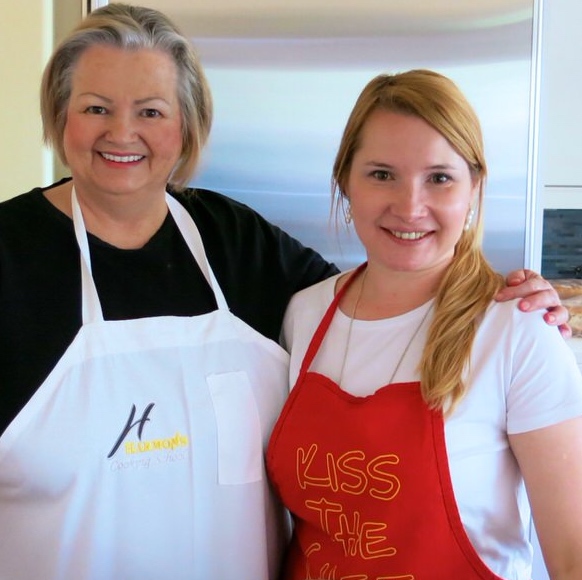 Some women like to shop or go to the spa. I love to cook in my kitchen with a friend – or someone learned who has a recipe to share, and a story to tell. Essentially, I want to glean heritage and traditional recipes – the best of the best – from our oldies and goldies that have so much experience in their heads. I want to cook with our babas and nonnas and grandmas and grandpas and learn to make what they are known for, or famous for, and share it with my readers. This is not exclusive to our elders, but definitely with them in mind. Of course, many, many younger folk, like me, for example, have much to share, as well.
#ACFValerieCookingwithYOU!
Larissa participating in this project. Her vast holiday meal is an incredible homage to her love of her new country, Canada. Make her recipes. You will love each one.
If you would like to, please let me know!
Saffron Glazed Carrots: Mis en Place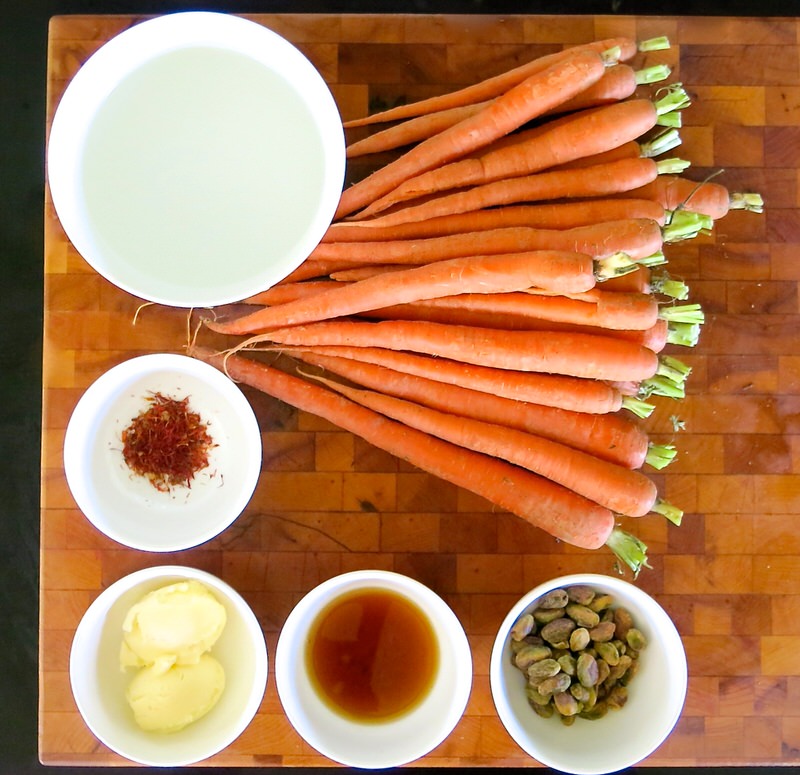 Simple ingredients. Mint is missing as it was growing in the garden and I didn't pick it until I needed it.
Saffron Glazed Carrots: Oh, So Carefully Cooking the Carrots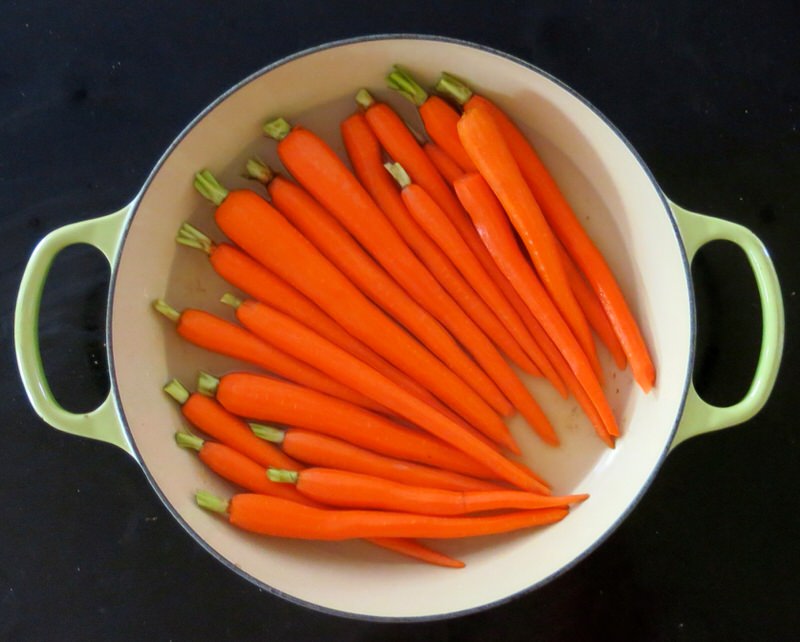 Buying such pur-dy carrots is not a cheap endeavour, but I was determined.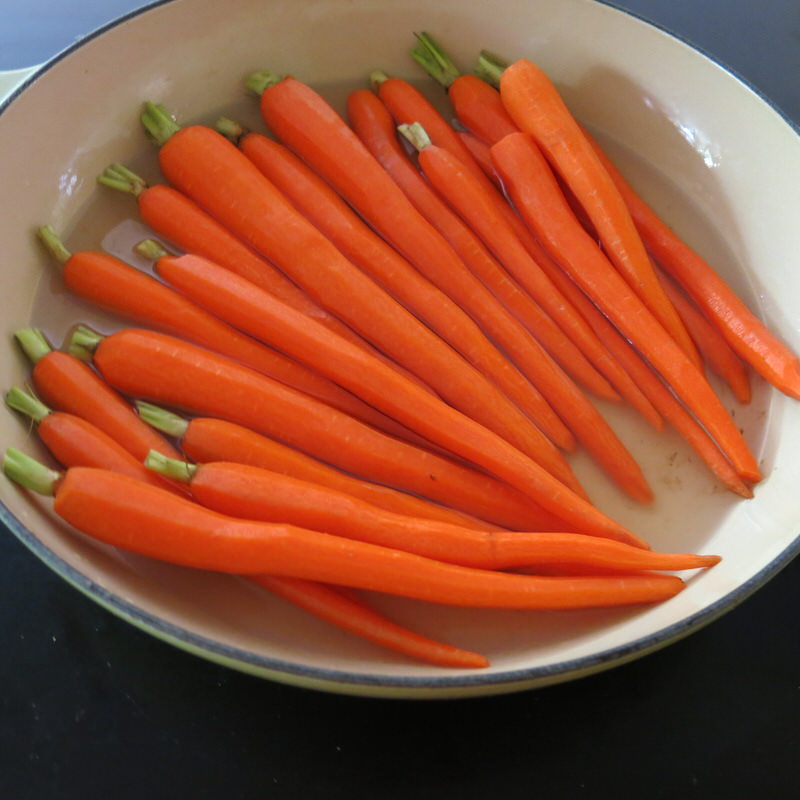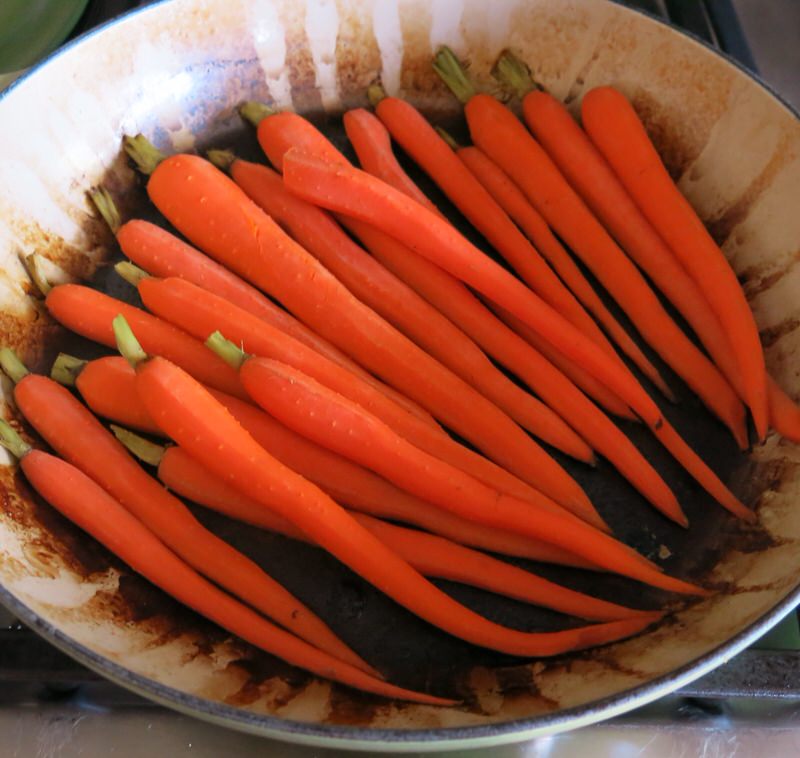 And isn't it always the way? The simplest recipe and I didn't set the timer? I recall thinking, "Oh, somebody's cooking something that smells yummy." and a little later thinking, "Oh, somebody's not going to be happy tonight. They've burned their dinner." It wasn't until the smoke detector went off that I recalled, "Hmmm. I was cooking carrots!" Oh, dear!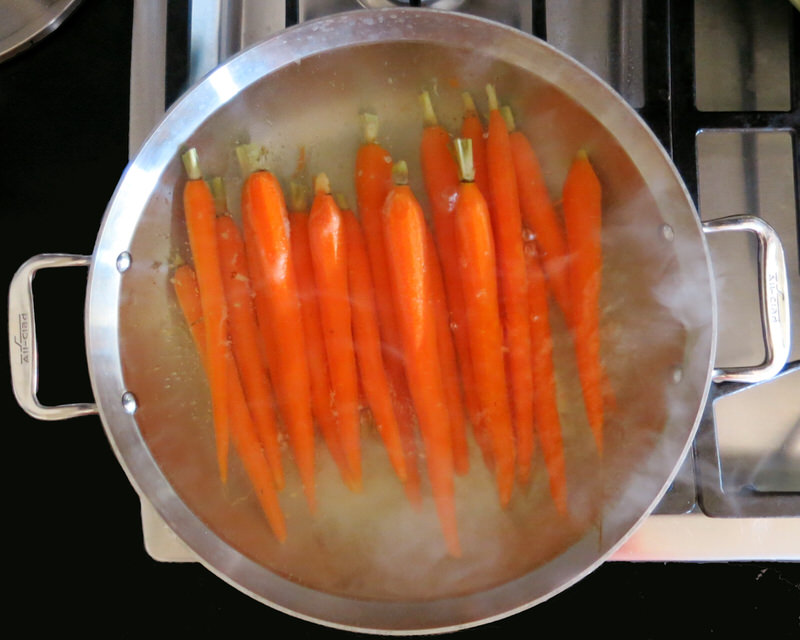 Out to the store to find a new bunch and these were so lovely, I could not complain about the price. Simmer for 6-8 minutes, depending upon the size and breadth of the carrots.
Saffron Glazed Carrots: Gazing the Carrots with Saffron and Butter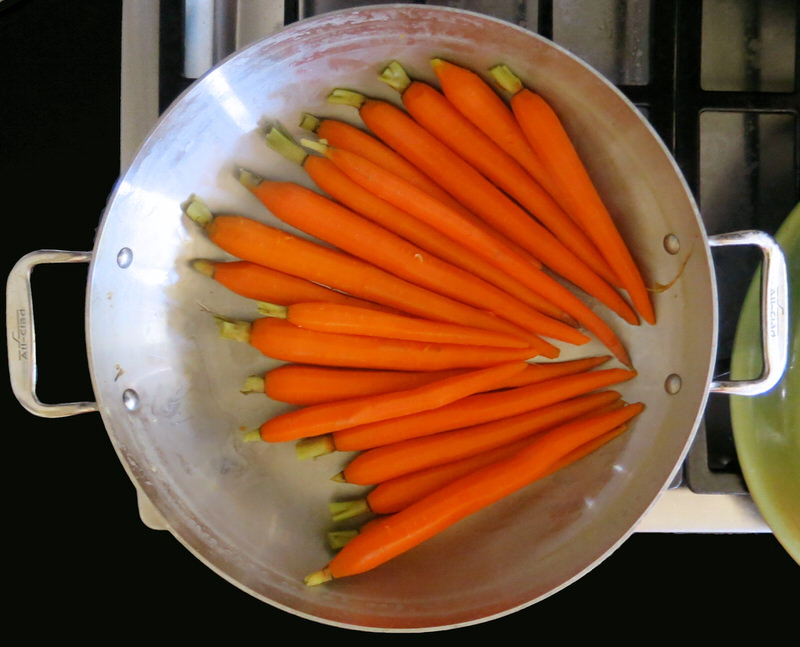 Attend to the recipe. (See evidence above)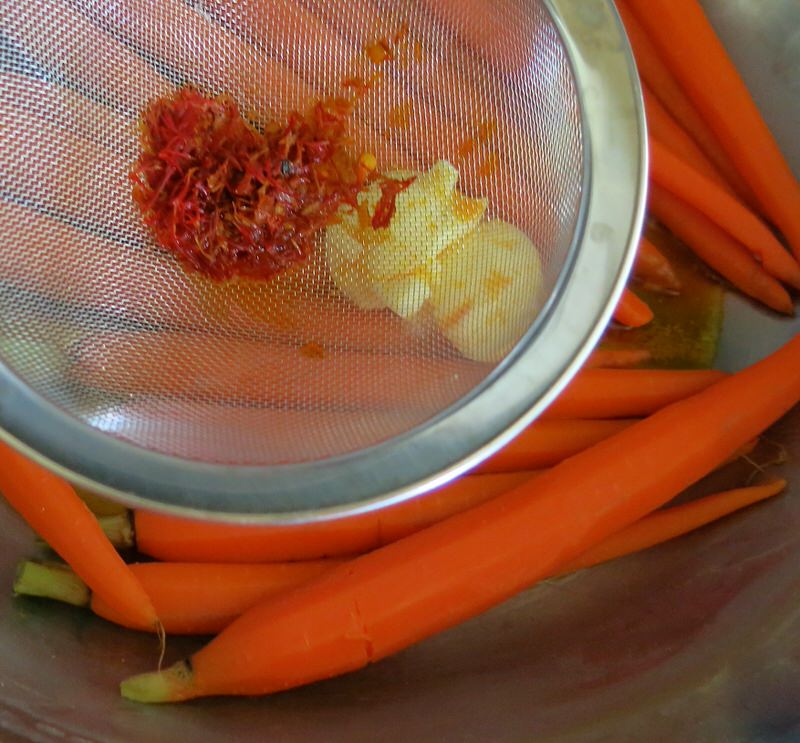 Mix safron with reserved carrot broth and soak a bit.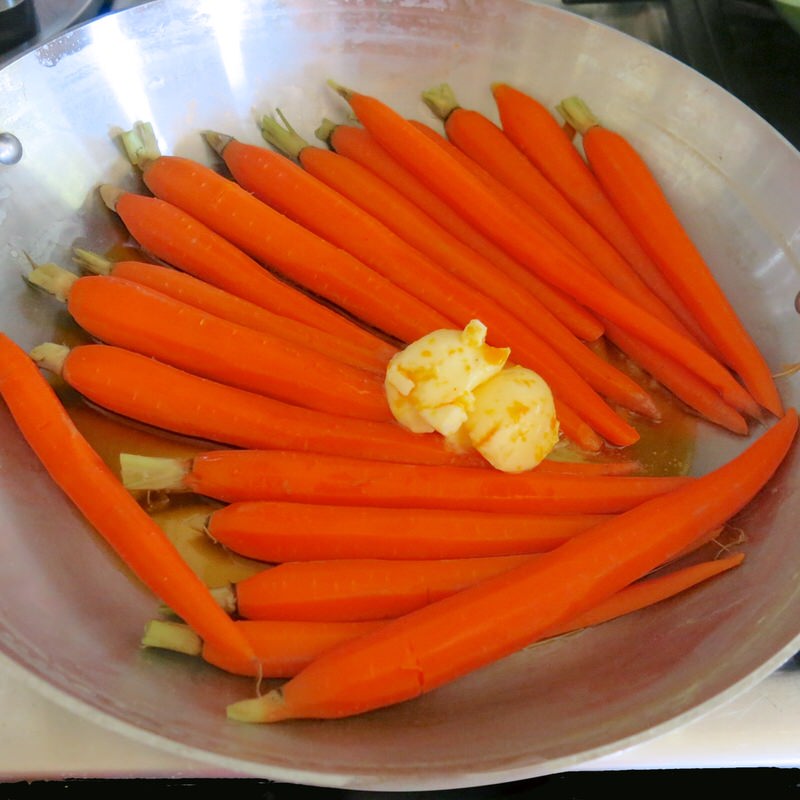 Then glaze in the saffron infused broth with butter for 2 minutes and be prepared for a little treat.
Saffron Glazed Carrots: Serving the Carrots Garnished with Pistachios and Mint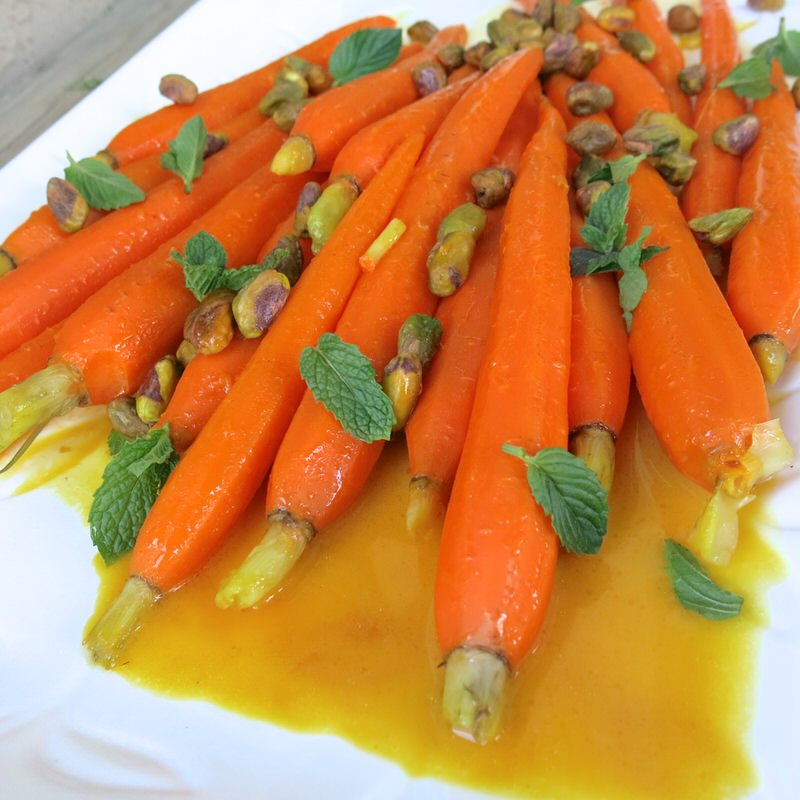 All dressed up for the party. Who would say no to these? (Send me their number!)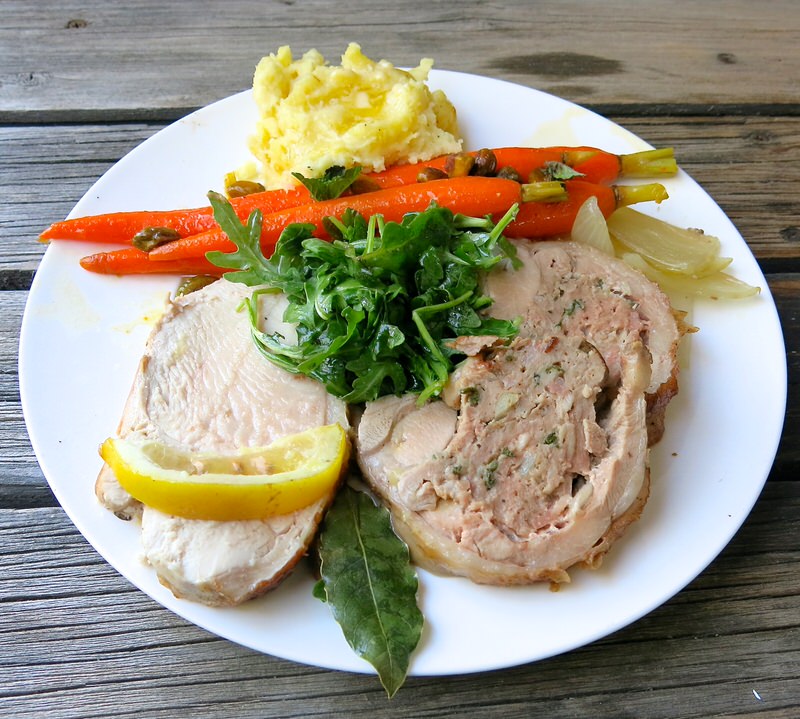 The Horseradish Mashed Potatoes are every bit as much of a hit as these Saffron Glazed Carrots. Each part of Larissa's Festive Holiday Meal holds its own, yet compliments the others. Do you have a similar side you love? Share it with me and of course, should you make any of these dishes, or the entire meal, you bet Larissa and I definitely want to hear about it!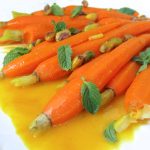 Saffron Glazed Carrots with Pistachios and Mint
This is the side (one of 5 recipes) for Larissa Prouse's Festive Holiday Meal; delicious, nutritious and just an all round crowd pleaser!

Ingredients
Ingredients
2

bunches of carrots

greens attached

1 ½

cups

water

salt and pepper

to taste

large pinch saffron

2

tablespoons

unsalted butter

1 ½

tablespoon

red wine vinegar

¼

cup

shelled pistachios

toasted, chopped

1

tablespoon

mint

chopped
Instructions
Instructions
Trim carrots, leaving some greens attached; peel and trim so they are all a similar length

Cut thicker carrots in half lengthwise; place in large sauté pan with water salt and pepper

Cover; bring to a boil and reduce heat to simmer 6-8 minutes, or until el dente

Remove; cool reserving ¼ cup cooking liquid

Add saffron to ¼ cup cooking liquid

Place cooled carrots, saffron water, butter and vinegar into sauté pan; cover and bring to simmer over medium heat

Remove and reduce heat and cook for 2 minutes until sauce is reduced and carrots are glazed

Transfer to serving platter; drizzle sauce and garnish with pistachios and mint