A Canadian Foodie Original and family favourite for over 30 years

It was 1986. I had purchased my first house from a parent of one of the students in my grade one classroom in 1986. How I loved that house. I was so proud of myself. 32 years old. Mom of two little gals, 6 and 8, and working as the sole supporter of our little family. And I bought a house. A really nice house. Second owner. It was immaculate. 1400 square foot bungalow. Living room, dining room, family room, three bedrooms and two bathrooms with a completely finished 1400 square foot basement that included 2 more family rooms, a sewing room, dry storage and another full bathroom. Yes, I did believe in God and went to church every single Sunday.

My neighbours were absolutely wonderful. One one side, an emergency room doctor with his young family. On the other, a business man with his young family. Both Browns. True story. I was living up to the Brown's not the Jone's in my first neighbourhood. It was the same up and down and across the street. They were a friendly, young and growing lot. Cindy, the doctor's wife, got the idea of a Progressive Dinner my first Christmas in the neighbourhood. We did it a few times, but the first year, I was the first house: The Appetizer House. By now, I knew what an appetizer was, and loved them all. Shortly before Cindy's brilliant party idea, Marilyn Dale, the librarian from LaPerle School where I was working, had brought a Sesame Chicken Dish to a staff luncheon. I went nuts over it. Made it at least once a week for the next 5 years. Laura Froese invited us all over to her house that same year for a cocktail party and served an unforgettable Garlic Asian Meatball with a dipping sauce. That was going on my menu for this party, but the dipping sauce? No. I wanted something with a little more zip. I had created the perfect sauce to accompany Marilyn's Sesame Chicken and now was the time.

Mis en place. This was my first ACF Original recipe. (A Canadian Foodie) I started with the red currant profile as it leant itself perfectly to a crusty cheesy chicken dish. I wasn't even close to a recipe developer, but I knew flavour, texture and was most definitely a risk taker. Before Indian food even graced the face of the Canadian prairies (we are talking 1986, remember), I found that ginger and garlic worked very well together. The sesame chicken needed acid. Throw in some orange and the zest, of course. My homemade red currant jelly provided the tart sweetness, but there was no body or depth. A tomato base and aromatics were needed. Chili Sauce. In it went. Back and forth and forth and back. A little of this, more of that. And this it was. And that it is.

The shape and size of the ginger, garlic and zest must (must) be the same for texture, flavour and appearance purposes. I added the orange juice, as well.

Melted all together and cooked until the consistency was a thick sauce perfect for accompanying meat and dipping into. It is a bold sauce. Not a quiet little accompaniment. It definitely holds its own.

I could not imagine the Sesame Chicken with out it. How did I ever eat that chicken without this sauce? The memory no longer existed. And what sauce did Laura use to accompany her meatballs? No recall. I even changed the meatball recipe. Somewhat.

The sauce breaths a whole new life into the meaty morsel. Vanja doesn't care for the sauce. I don't care that Vanja doesn't care for the sauce. It has too many poignant memories and ignites too many delicious desires for me to not make this year. (Of course, I am much happier when Vanja does like my recipe ideas, but have learned to not expect that reward. )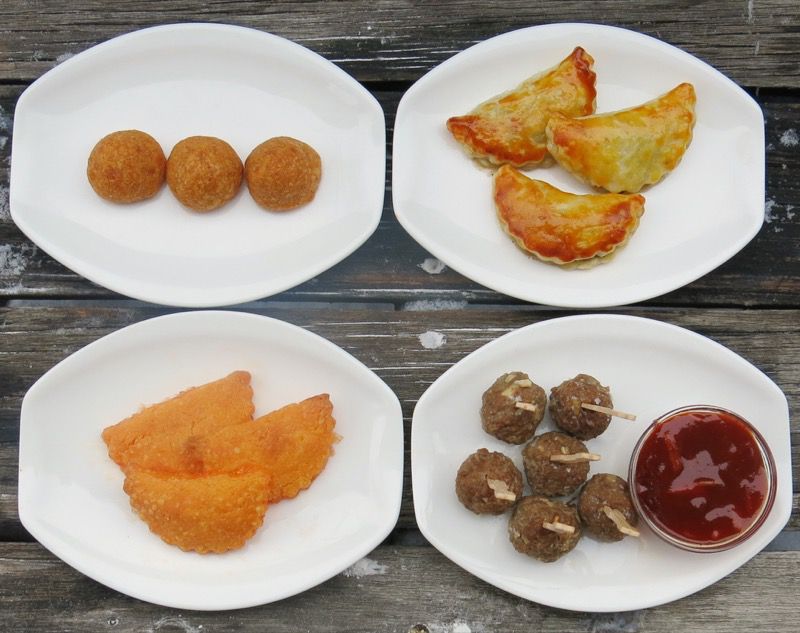 To understand the deviance, one must understand the original sauce, I suppose. Famous as it is delicious and traditionally served with non-white meats, particularly game, as the pairing compliments and tames the wilderness on the plate. Red Current Sauce, the jelly infused with rosemary and wine or port, was the standard sauce served with meats. History claims that this fruit-based sauce," usually used on non-white meats such as venison, ham, and lamb" was created in Hanover, Germany sometime in the late 19th century named after the Duke of Cumberland, and is simply a more complex version of the simpler redcurrant sauce.
The common ingredients include red currants or cowberries, port or wine, mustard, pepper, orange, ginger, and vinegar.
My deviant version has no alcohol which is a must. It contains as much garlic as ginger and the chili tomato base shares the stage with classic red currant orange traditional foundation. And, oooooh, though Cumberland Sauce, in its own right, can be so decadent and delicious, I promise you that this deviant little ditty will pucker your pecker as it offers up a passionate panache and will plant a wicked smile on your face. How did I come to create this flavour combination? The story is above.
Great ideas often come unexpectedly. Deviant Cumberland Sauce has been a staple at our home for almost 30 years. It is classic (at our house) served with Oven Roasted Parmasen Sesame Chicken, meatballs, and would make a great meatloaf topping, too. If you try it, please let me know! And, if you have a little deviant somethin' somethin' that would be a great story to tell here, please do!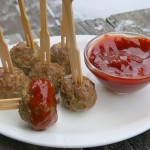 Deviant Cumberland Sauce


This is an ACF original recipe that is absolutely delicious for meatball dunking, served with pork or oven roasted chicken.
Ingredients
450

mL

Heinz or homemade chile sauce

350

mL

homemade red current jelly

One orange

, thinly peeled with peeler (sans pith), peel finely julienned

Juice of one orange

6

large cloves of garlic

, finely julienned

Thumb sized knob of fresh ginger

(same amount as garlic), peeled, and finely julienned
Instructions
Combine all ingredients and bring to a boil; simmer for about 15 minutes, or until all ingredients are incorporated and mixture thickens

Place in jar and refrigerate

Keeps for months in the fridge and is a great condiment with oven roasted chicken as well as Asian Garlic Meatballs