Canadian Living's Homemade Pepper Salsa ("Peppy Salsa") : Delicious, nutritious and economical!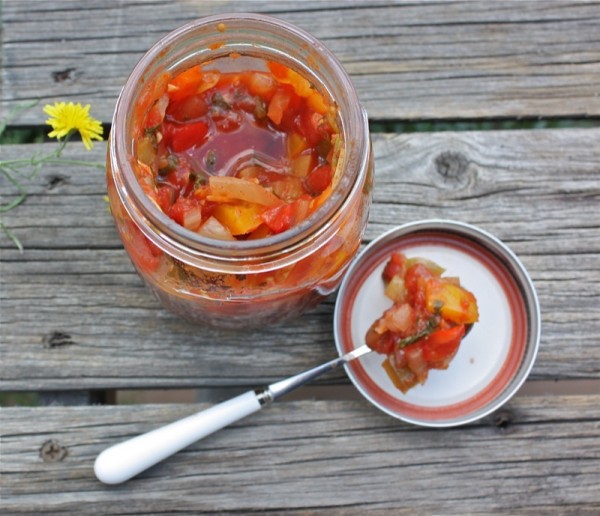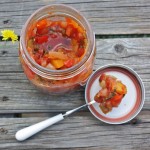 Homemade Salsa: A Rainbow in a Jar!


This is an adaptation of Canadian Living's Peppy Salsa and they best preserved homemade salsa I have ever tasted. This batch is 5 times the original recipe and makes 55 cups of salsa.
Ingredients
40

oz

(1134 g) jalapeno peppers (I used 8 and would use 10 next time)

40

cups

(9.5 L) coarsely chopped, peeled tomatoes (about 1 box); juice strained from tomatoes (we made sauce from the juice)

15

cups

(3.5 L) chopped seeded, Anaheim, Cubanelle peppers, or sweet banana peppers (we used Sweet Banana)

10

cups

(2.4 L) chopped onions (5 1/2 large white onions)

10

cups

cider vinegar

(we used 4 cups; last year 6 and it was too acidic)

5

cups

(1.25 L) chopped sweet red peppers

5

cups

(1.25 L) chopped yellow peppers

20

garlic cloves

, minced (10 large purple cloves; use 20 large next year)

6

cans

(5-1/2 oz/156 mL) tomato paste

2/3

cup

(150 mL) granulated sugar

1/3

cup

(75 mL) salt (we added 2 more tablespoons)

6

tbsp

(45 mL) paprika

4

tbsp

(24 mL) dried oregano

1 1/4

cup

(300 mL) chopped fresh coriander (we used 4 bunches; next year 6?)
Instructions
Wearing rubber gloves, seed, core and finely chop jalapeno peppers to make 5 cups

Start the water bath so it will be ready when you are

In large heavy non-aluminum pot, combine jalapenos, tomatoes, Cubanelle peppers, onions, vinegar, red and yellow peppers, garlic, tomato paste, sugar, salt, paprika and oregano; bring to boil, stirring often

Reduce heat to medium-low; simmer, stirring often; once bubbles appear simmer-boil for 30 minutes, testing texture (ours was ready after barely 20 minutes of boiling)

Stir cilantro (coriander) into salsa; start canning

Using funnel and ladle, fill hot 2-cup (500 mL) canning jars, leaving 1/2-inch (1 cm) head space; cover with prepared lids

Use a strainer to capture cups of salsa; top each jar with juice (otherwise, you will have too much juice in the jar)

Screw on bands until resistance is met; increase to fingertip tight only

Boil jars in boiling water canner for 20 minutes; transfer jars to rack

Let cool for 24 hours checking that lids curve downward; refrigerate any that do not and use within 3 weeks

Refrigerate after opening

You will have a good litre and a half or two of sauce left: makes and excellent base for a vichyssois
Recipe Notes
Cider Vinegars: These differ from gentle fruity vinegars to sharply acidic; we prefer the gentler appley ones so make sure you taste first
August 29 and 30 2016: used only 9 cups of the banana peppers and more of the yellow and red; yield was 45 cups which was odd
We strained tomatoes first
I am really hooked on this homemade salsa. Really. It is just so nutritious and after making it myself, I know exactly what is in it and how good it is for me. That has clearly affected my taste experience as when I serve it to others beaming with pride, they just look at me and say, "It's good. It's salsa, for goodness sake. How good can it be? What more do you want me to say?"
No more, really. But I will say more. I love it. I love it. Just look at how gorgeous it is. And there is no oil or sugar to speak of. It is so incredibly good for me! Vanja loves it too, so we are in the money with this little recipe for homemade salsa. Thank you Italian Centre Shop for bringing in such an incredible variety of peppers every fall! (just add the sweet Italian pepperoncini to your fall shipment and I'll be really dancing!)
Above is enough for two huge batches of this homemade salsa. Below is what is left over after the first batch is all chopped and ready to go. There are enough peeled tomatoes for both batches there.
So may people do not know how easy it is to peel these: boiling water, dunked into the hot bath for a short 30 seconds, maybe just 20 if the tomato is ripe, and out into ice water immediately. The skin slides off. Nadia made a batch later without peeling her tomatoes and the colour of the salsa was much more vibrant. The texture was still lovely. There is a thought for next year! It could only be more nutritious with the skin left on, correct?
Thank goodness for Nadia and Carmella! What would I ever have done without them? They are two whirl winds in the kitchen. Friends from birth and a gift to work with. They had all this chopped and diced in no time. Really. I barely looked up, and they were done.
What to put it in? Hadn't thought of that. Well, I had, but I was wrong. Thankfully, Nadia brought her canner, too, so mine was used as the cooking pot!
There was so much sauce. Too much. Wayyy too much. But, the gals just tasted and tested the vegetables and told me they were ready "now", so off the stove top they came and we just strained and drained and filled the sterilized jars. I hardly put any liquid in mine. Nadia added more to hers, and hot peppers on the bottom which she later said really did not affect the heat in the jar. That was unfortunate. Had we known, we could have added more peppers to the latter half and mixed them in before filling the jars.
Next time, I will double the jalapenos. The recipe called for 1100 grams. I added three. I will add 6 next time and think that will be perfect for our palate. We do have a winning homemade salsa recipe here. We are definitely pepper fanatics in this house and the flavours here are light and bright and lively with a fresh crunch. Love it!