The Black Bing Cherries this year were BIG and FAT and LUSH; I had to preserve that!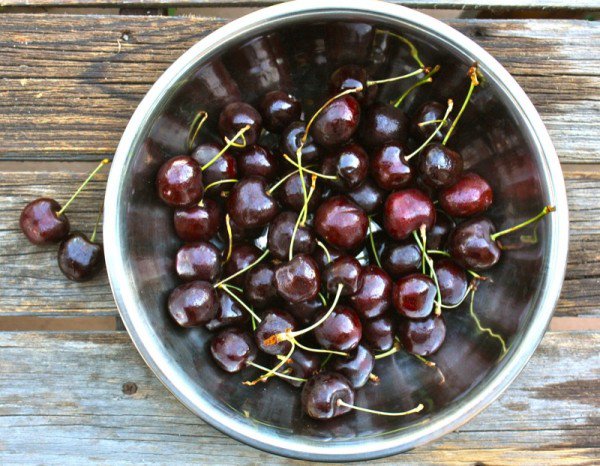 Did anyone else notice the lovely cherries at the market this year? Black, and hard and sweet. Deadly delicious. I could not get enough of them, so decided I must preserve some! I have never done this before. Cherries like this are definitely best fresh, but… I decided to try.
How can anything preserved be as good as that? I find preserved apricots are as good or better than fresh… but, not cherries. Not yet, anyway. We shall see. I read and thought and had done a lot with sour cherries this year, so decided to just do a few jars with a hint of cognac in them… to try.
And now, we wait. And we shall see. Closer to Christmas. I promise to keep you informed!
This recipe is delicious. The cherries are still very firm in texture, delicious, boozy, but not overly so. Will definitely make again.
Black Bing Cherries with Cognac
Ingredients for 2 pint sized jars:
1 cup granulated sugar
2 cups water
6 1/2 cups cherries with pits and stems intact (5 cups of cherries if you remove stems but leave pits intact, 7 1/2 cups of unpitted cherries if you wish to pit and stem them before preserving)
3 tbsp Cognac per pint jar
Instructions:
Prepare the water bath in the canner so that it is hot and ready when you are
Place a stainless steel or heavy pot over medium-high heat; add sugar and water to the pot and stir to dissolve the sugar
Bring the syrup to a boil and add all of the cherries immediately
Return to a boil while stirring constantly; reduce the heat and allow to remain at a gentle boil for 2 minutes
Turn off the heat
Using a slotted spoon and a wide-mouthed funnel, transfer the hot cherries from the hot syrup into the jars, leaving 1/2 of an inch of head space
Add the Cognac to each jar, then spoon or ladle the hot cherry syrup into the jar, maintaining the 1/2 of an inch of head space
Insert a skewer down the insides of the jar to remove air bubbles; add more cherry syrup to keep that 1/2 of an inch of head space
Wipe the rims of the jars, center the lids on the jars and screw down the rings until finger-tip tight
Process them in a boiling water bath for 10 minutes to make them shelf stable for a year
Do not tilt the jars (it interferes with the natural formation of a vacuum which is one of the things that keeps the food safe and shelf-stable)
Cool, undisturbed, for 24 hours; as the jars cool, you will hear a popping sound: that is the sound of the lids sealing.
Check the jars after 24 hours; if any of them have not sealed, simply store in the refrigerator
Wipe the jars clean and label them before storing in a cool, dry place