Open a jar of this umami packed garden glory!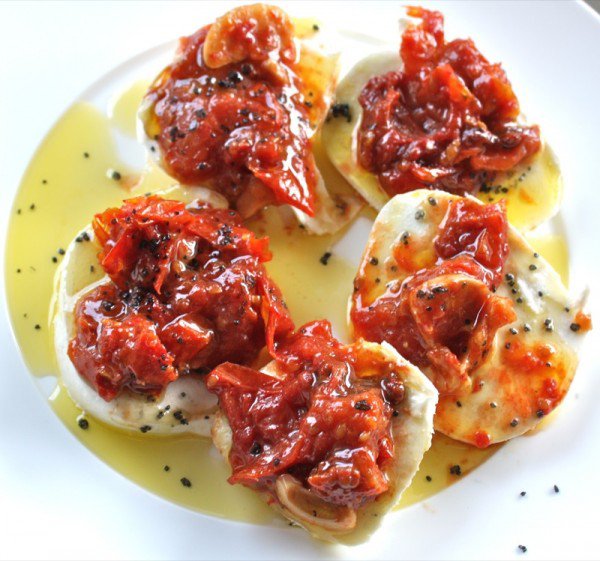 Last year was the first year Vanja "made me" stop buying "fresh" tomatoes from the supermarket during the Winter. "They don't even taste anything like a tomato. I am not eating these. Stop buying them." And, he was right, of course. I was even buying them from Old Strathcona Farmer's Market, but not from Gull Valley Farms because they don't grow tomatoes indoors in the winter. I asked them why this fall. Their answer: "They don't taste good."
"I want winter salads. I crave them in the winter." was Vanja's plea. What is a "winter salad"? Canned vegetables preserved from the garden to be eaten in the cold weather. His mother has an entire library of preserves she makes for the winter.
As I always grow far more tomatoes than we can ever eat fresh (except for this past summer, of course), I started oven roasting them and preserving them for the winter. So easy.
And, when I opened a jar of my oven roasted tomatoes for the Slow Food Edmonton Solstice Supper a week ago, I couldn't wait for my lunch the next day: slices of fresh, young, Bocconcini generously slathered with thick spoonfuls of this intensely delicious "winter salad". I was in heaven.
It is the BEST THIS I HAVE EVER ATE!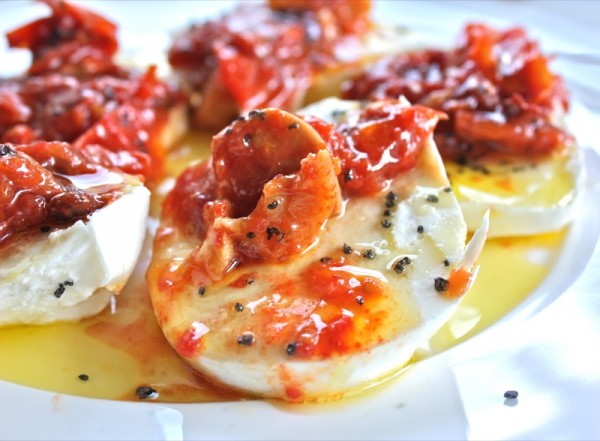 So, when Val from More Than Burnt Toast initiated a little bit of fun with inviting her readers to share "The Best Thing You Ever Ate (recently)" I was in! I usually never participate in this kind of sharing as I just cannot make the deadlines. I have to many in my "real life", and deadlines in my hobby life are just too much to bare – but this one was a pleasure!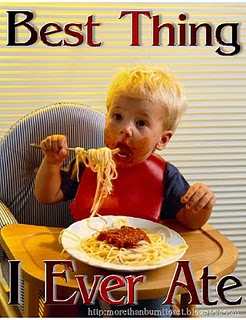 Resurrect your best dish or dishes and submit them to More Than Burnt Toast at bestdisheverate(AT)gmail(DOT)com by midnight February 15th. Your dish can be anything from a cocktail to dessert The only requirement is that it is one of the "Best Things You Ever Ate" (recently)!!!!! You can send in a dish that you have previously posted as well but you will need to repost it with a link back to this challenge. Please use the Avatar "The Best Thing I Ever Ate" above, if you wish, along with a little story about why this is the best thing you have ever eaten (recently) and link back to http://morethanburnttoast.blogspot.com/. I will round-up all of your outstanding dishes the last week in February.
Look at that succulent tomato flesh sprinkled with Black Hawaiian salt. I cannot get enough of this dish. Often, I serve bite sized baby Bocconcini in it for parties and it is not just me raving. My school staff was crazy over it last year.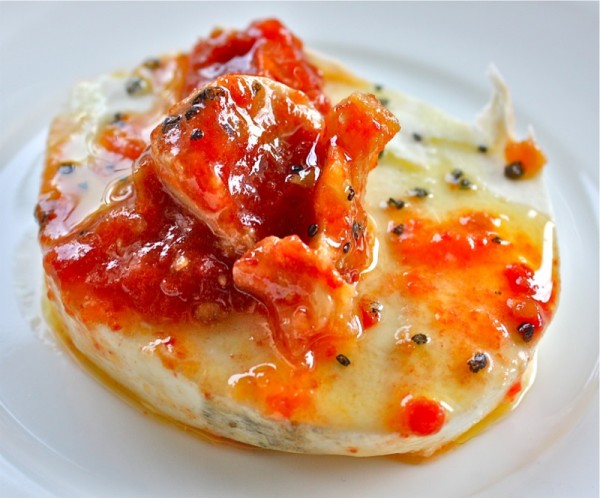 One slice is plenty as an appetizer, or as "we say now", and "amuse bouche". Does this little bite ever get your palate excited!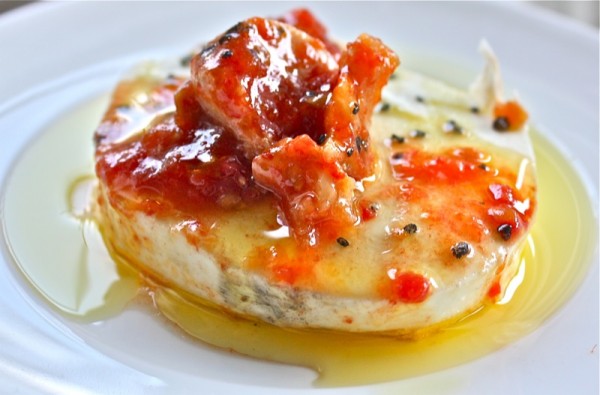 Sundried tomatoes are intense and these oven roasted tomatoes resemble that intensity with a completely different texture. Slow roasted in the oven with a lot of fresh garlic, Maldon Sea Salt and really good Olive oil is all it takes. My oven can be set at 170°F, so I actually "roast" them at this very, very low temperature for about 24 hours. I do several casserole dishes at a time to maximize the oven use over such a long period, and definitely turn the tomatoes a few times during the roasting… and the result is dish lickin' good. I do not let a drop of the ruby juices linger in the dish.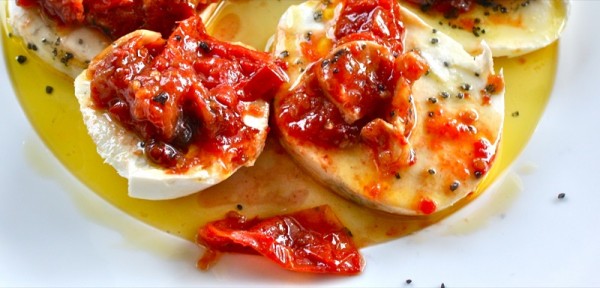 I have drizzled a little more fruity olive oil on this serving. It is very intense and this offers a lovely contrast to the depth of garlicy tomato incredibleness.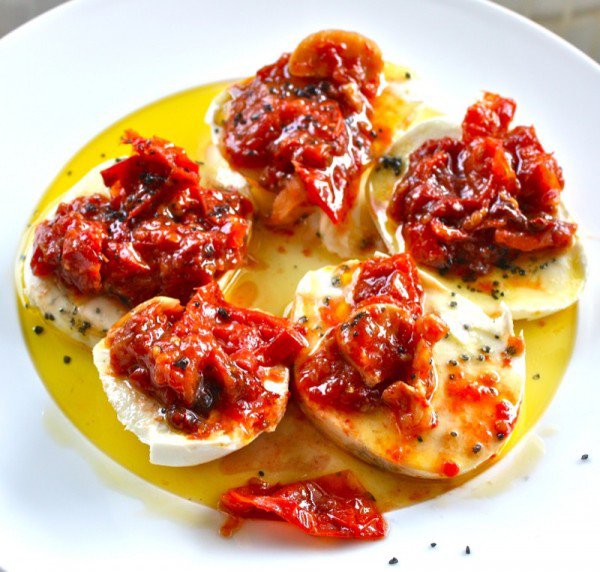 I peer into the jar, deciding, should I, or shouldn't I?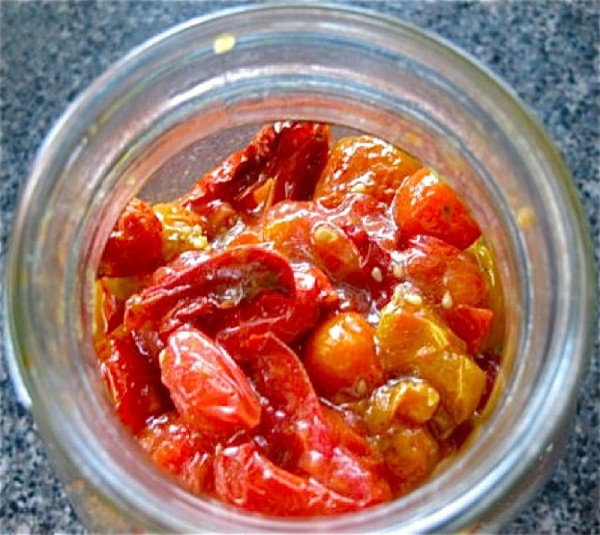 And decide I have had enough for this day.
Sometimes simple is best. This is absolutely THE BEST THING I EVER ATE in a very long time.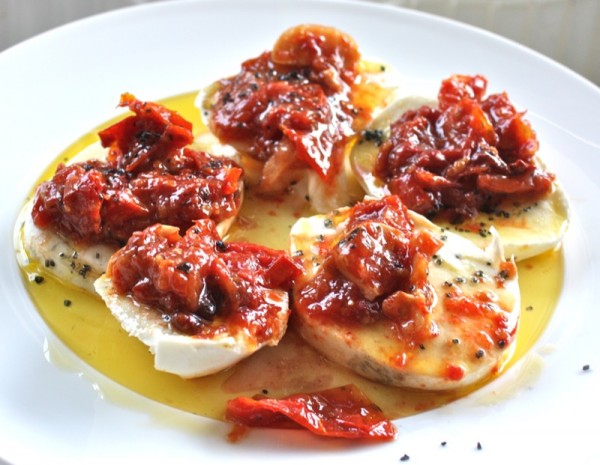 What is the best thing you have eaten lately? Think about it… then post it, and link to Val's site with it in time for the round up! Or, at the very least – tell me about it! It is such fun to think about what it would be!