Get thee out and downtown this week!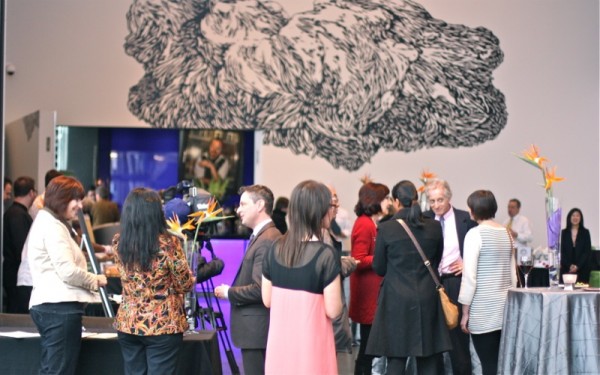 Edmonton's Downtown Business association has decided to focus on Downtown Dining Week as its premier event and after sampling some of the wares that will be offered by the participating restaurants, I can, without hesitation, urge you to make a concerted effort to participate in this incredible opportunity.
The media launch at our AGA was first class! For some reason, immediately upon arriving, Vanja and I happened upon Nathin Bye's simply irresistible cheery smile. Or….
…was it his simply irresistible ribs from Irving's Farm Fresh. His smoky brown beans and the tender falling off the bone ribs were luscious and addictive. unforgettable, actually. The shrimp dish from Wildflower Grill's sister restaurant, Lazia was equally as unforgettable, but for very different reasons. This was the closest I have ever some to imagining how garden slugs must feel in the mouth. Coupled with the deeply complex delicious intoxicating umami Asian flavours, the mouth feel of this house made rice noodle was… addictive. The slippery fat ooey gooey chewiness was such fun to eat!
The allure of any good food is the company. I was delighted to see my favourite Kitchen Magpie and her husband!
As was Kevin Kossowan and then some of my favourite Chefs were in the house! Chef Andrew Cowan and Chef Paul Shufelt presented two amazing dishes from their downtown restaurants, Hundred Bar Kitchen and Lux Steakhouse and Bar. The fish tacos were a welcome foil to the first dishes sampled: fresh, fragrant, light and lively! YUM. Lux's Lobster Mac 'n Cheese was inhaled. Have you ever had it? If not, you must. This is the most delicious macaroni and cheese I have eaten (sorry, mom)! There is some magic in that dish that I have to figure out.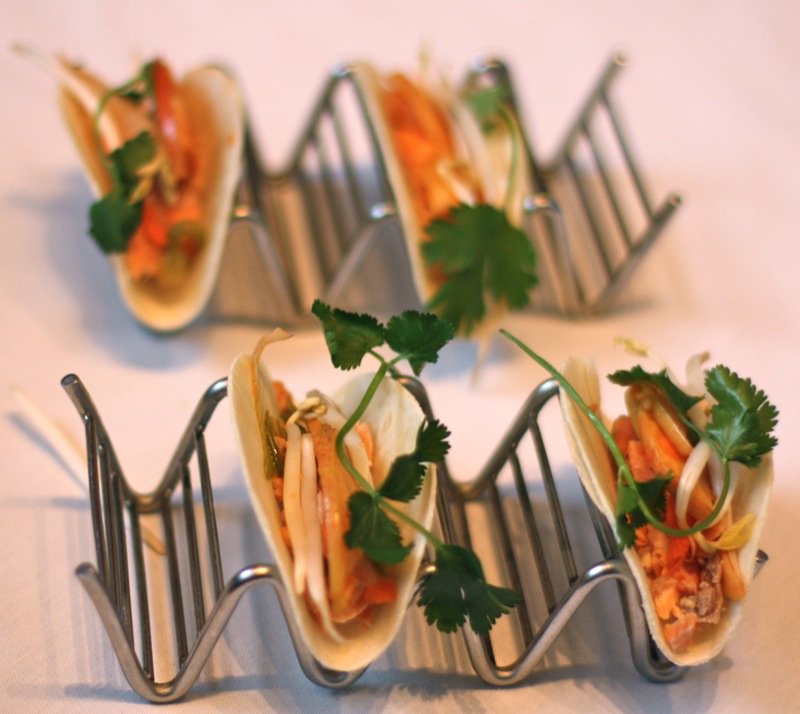 Chef David Omar with Zinc made his very first pyrogy in honor of this event. I have never had a light pyrogy, but his was just lovely and the chêvre filling paired with the salmon tar tar was unexpected and somehow an Albertan play on the traditional Russian blini with caviar.
The Westin's dish was simple. Tasty. Simple. It is refreshing to have a very simple plate to rest upon the palate amid such a tasting, yet it certainly didn't inspire a visit there. The Watermelon Soup from The Creperie was really tasty. I am a soup aficionado, so went a little ga-ga over this soup. The watermelon really was not clearly identifiable, but offered a puzzlingly delicious je ne sais quoi that was truly compelling. It could have done with out the fishy garnish in the middle.
Now, let me mention Cocoa's Restaurant at Edmonton's Downtown Delta Centre Suite Hotel. They offered pulled pork with slaw on a bun. The buns did not look housemade, but who can resist pulled pork? I asked for a little on a plate with a bit of slaw for the full taste experience. Wowsers! This moist unctuous pulled pork with the crispy creamy slaw was way past a home run! Talk about a power play. YUMMERS! The problem, for me, was that the pork came from a major meat packing plant in Red Deer. No thought put into where the food comes from that is put on the plate at this locale.
I enjoyed seeing Chef Hans Kuhnel testing Chef Omar's concoction. That is part of the pleasure of these kind of events. The community comes together. There is collaboration and an intimate small town vibe that evolves when events like this rear their heads and lure us to participate in the opportunity to make our city the kind of place we love living in. I am totally in. Three lunch dates and two dinner dates booked at downtown participating restaurants this coming week.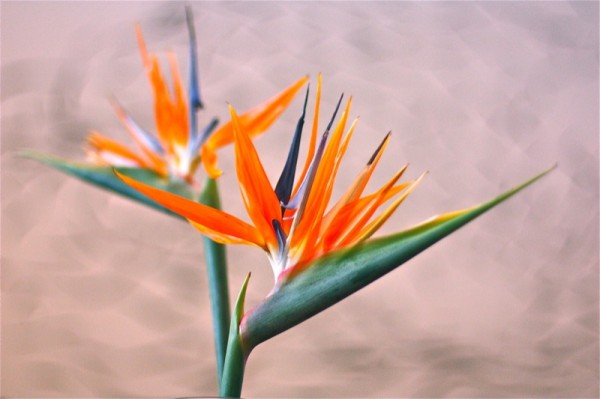 But – ah, the but… it is my personal goal to work one baby step after another at getting some of these eateries to look closely at where they are getting their food and elevating the importance of purchasing local ingredients from our community farmers and producers.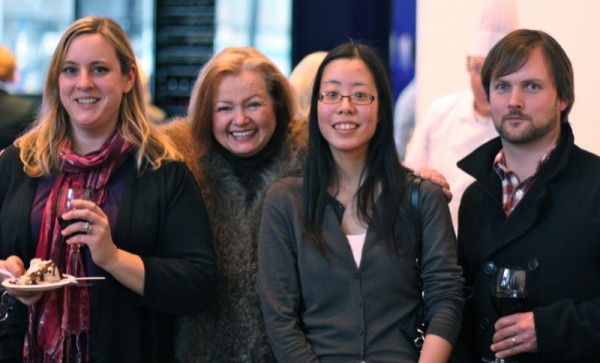 Viva La Downtown Dining Week 2012! Here we come!