Developed by the ancestors of those who built our railroad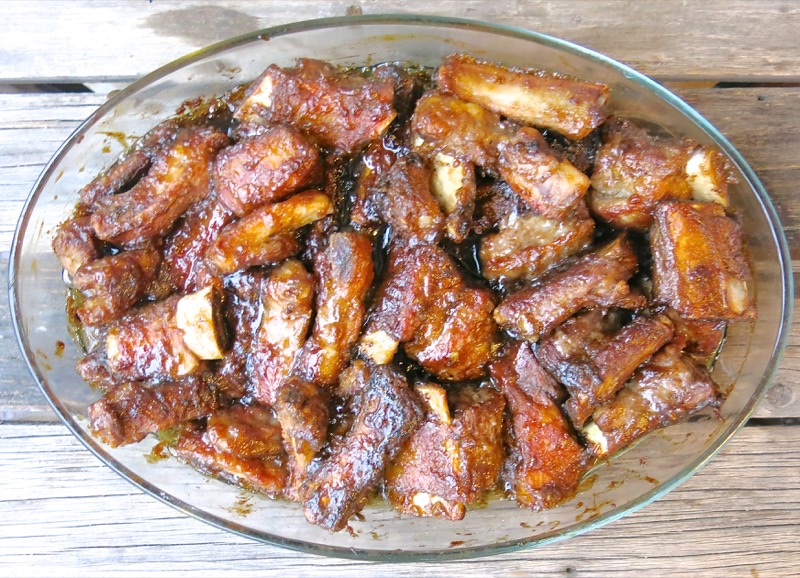 MMMMmmmm! Don't these Sweet and Sour Spare Ribs look finger lickin' good? Have you ever made them? Did your mom every make them when you were a child (you can only answer this if you are in your golden years!)? This was a staple recipe in our house when I grew up, but I haven't made it for years and years and years. I can still hear the excitement and anticipation in my dad's voice when he came home to the smell of these ribs baking in the oven. But, the ribs were the little button ribs, in those days. That was just how it was, then. This Canadian Chinese recipe for Sweet and Sour Spare Ribs was developed by the ancestors of the Chinese who build our Canadian railway from east to west. When the Canadian appeal of the traditional sweet dipping sauce was discovered, a recipe for ribs morphed into sweet and sour ribs by Chinese Restaurant owners; their traditional recipes were tweaked considerably to appeal to our palate and a whole new cuisine was born: Canadian Chinese Food. You will not find the old "Traditional Chinese (Canadian) Recipes" we have grown up with on the Canadian prairies, and from coast to coast, anywhere in China. Sweet and Sour Ribs is definitely a foreign food to our Chinese visitors. It is difficult for most to find a restaurant that serves food they would authenticate as true Chinese.
Sweet and Sour Ribs: Browning the Ribs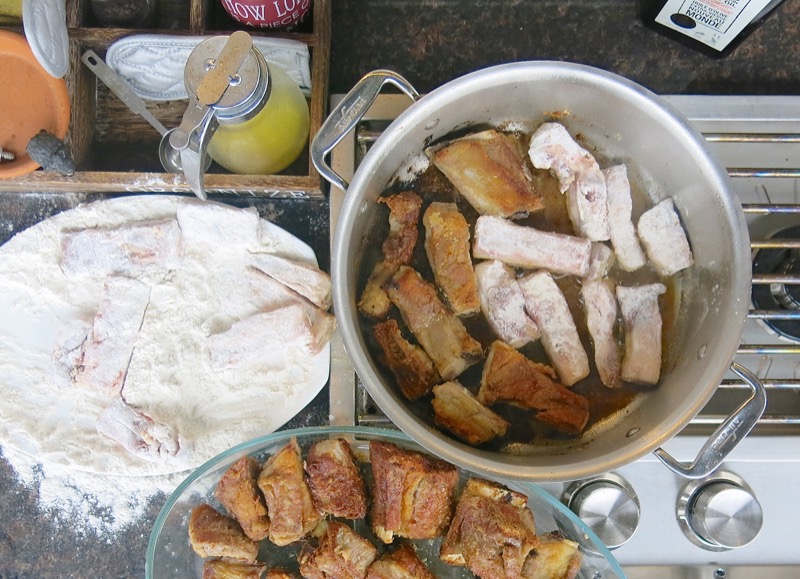 I am so fortunate to have my outdoor kitchen! Making these Sweet and Sour Spare Ribs is as simple as ABC or 123, but it can be very messy to brown the ribs. I just step outside for these messy bits! A little time consuming, but I get so excited with the process and the art of browning to perfection that I actually get lost in time. I don't find it laborious at all. Ribs washed and patted dry, butter and oil on medium-high, seasoned flour: it's that simple. Turn, turn, turn. Many of our favourite Chinese oldies: that giant heavy deep fried egg roll with plum sauce, the chowmeins and chop sueys as served only in Canada, chicken balls, almond chicken, cashew chicken are most definitely Canadian-Chinese. Yet, this is the authentic Chinese food of my childhood. The old Club Cafe in Red Deer was the place to go for a Chinese feast. It was a given that sweet and sour ribs would be the first dish dad ordered. The ribs were golden and gooey in those days, just like mine. Not the artificial bright cherry red translucent sauce that this "new era" sweet and sour ribs float in. A simple sweet and sour sauce: vinegar, sugar and water. That's it. Pineapple was added sometime after, on occasion.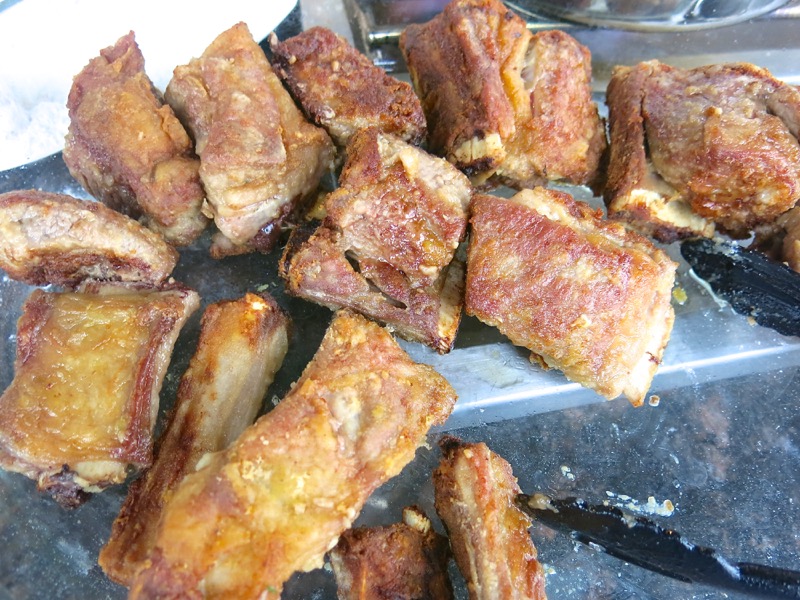 We buy our pork from Nature's Green Acres. Some years a whole Tamworth pig, some years a half, but good "know-your-farmer pork" is the best base for any sweet and sour pork rib recipe. Just look at those succulent golden crispy ribs! How could anyone see frying up a batch of these as work? It is such a pleasure.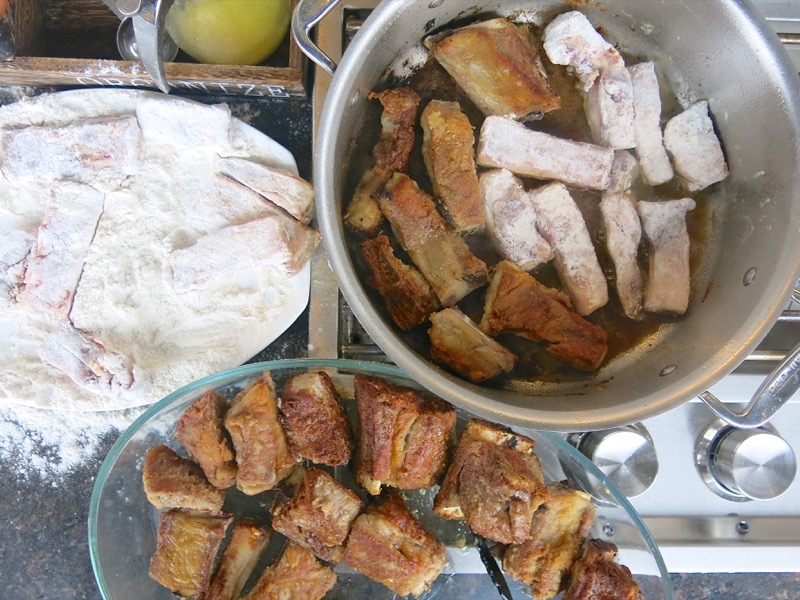 In the Canadian prairie homes of my childhood this was a staple recipe. Definitely a treat. Most often the meal consisted of a tossed green salad, white rice with soya sauce on the side and these ribs. Fancying it up some would mean toasting sesame seeds to top it off with. Yet, often enough, there was an entire Chinese menu when the ribs were made: stir fried vegetables, a stir fried rice, a chowmein dish, and maybe more. Homemade Canadian Chinese food was considered a rare treat. I recall coming home one day to the house filled with smoke smelling like an old greasy spoon. Mom was experimenting with making battered deep fried shrimp. Deep frying anything was scary to any prairie housewife, so she was really going out on a limb for dad. Deep fried battered shrimp was his ultimate Chinese food treat. She did onion rings at the same time. Not sure why. Maybe just killing two deep fried birds with one stone? Both were absolutely delicious. She never made either one again. The house smelled for days.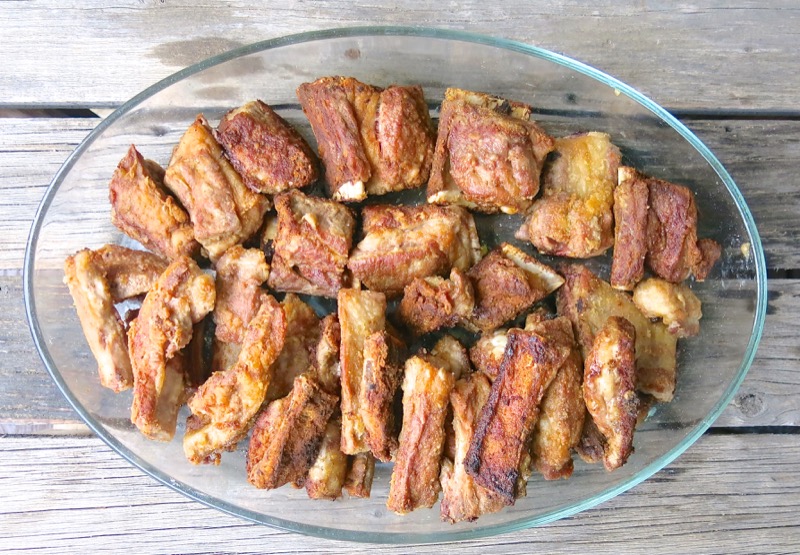 Done. I am excited. It didn't take long to brown these ribs. The look divine. It has been so long since I have made or tasted this dish that I am salivating at the thought and finding it difficult to contain my excitement. This is our Sunday dinner. Mom, Ragan and Vanja will be so surprised. The flood of memories and sensations pulsing through my brain motivate and inspire as I begin to prepare the Sweet and Sour Spare Ribs sauce.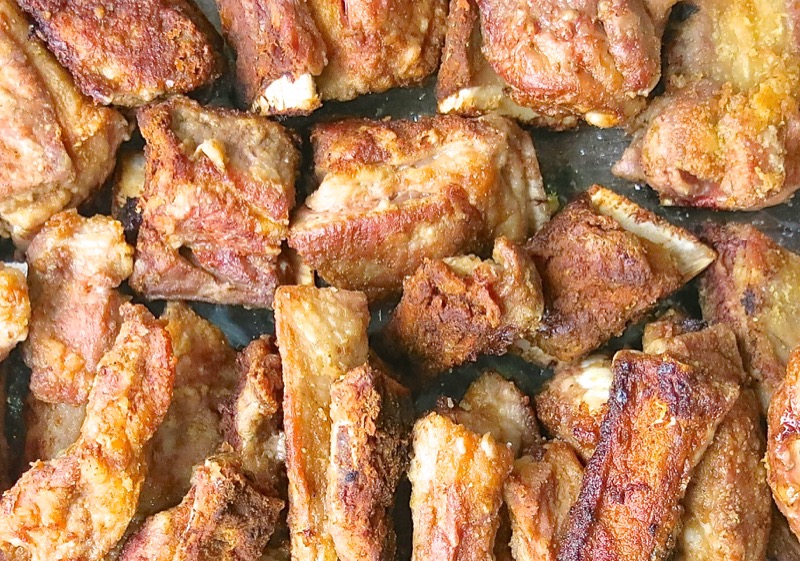 Of course, heading out for Chinese food "back in the day" was also a very special treat. It was an event. A special occasion. One would go to the restaurant owned by a friend, or friend of a friend. Not just anyone. The owner would greet us and treat us like royalty. Every customer was treated that way. Toasted sesame seeds and soya sauce were on the table with a plate and small bowl on the side. That was my favourite appetizer! We put the toasted seeds on the plate and the sauce in the little bowl, dipped our forks in the sauce and then in the toasted seeds which would cling to the sauce on the fork. MMMMmmmm. I didn't care if I got any food. These toasted seeds were so addictive. Working at getting the most seeds on the least sauce was the challenge. Chewing every single seed was the next challenge. There was so much flavour in every seed. Dangers of double dipping was an unheard of issue. We all double dipped our forks in that sauce bowl.
Sweet and Sour Ribs: Making the Simple Sweet and Sour Sauce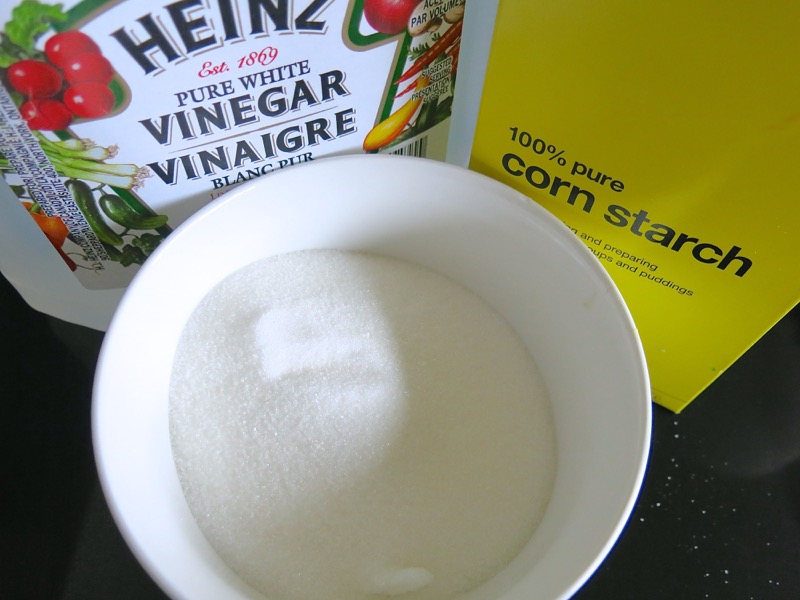 Vinegar, sugar, water and cornstarch are the ingredients for this famous recipe. Oh, now people add soya, and ketchup or other special flavour enhancers, but not then. This was fancy enough,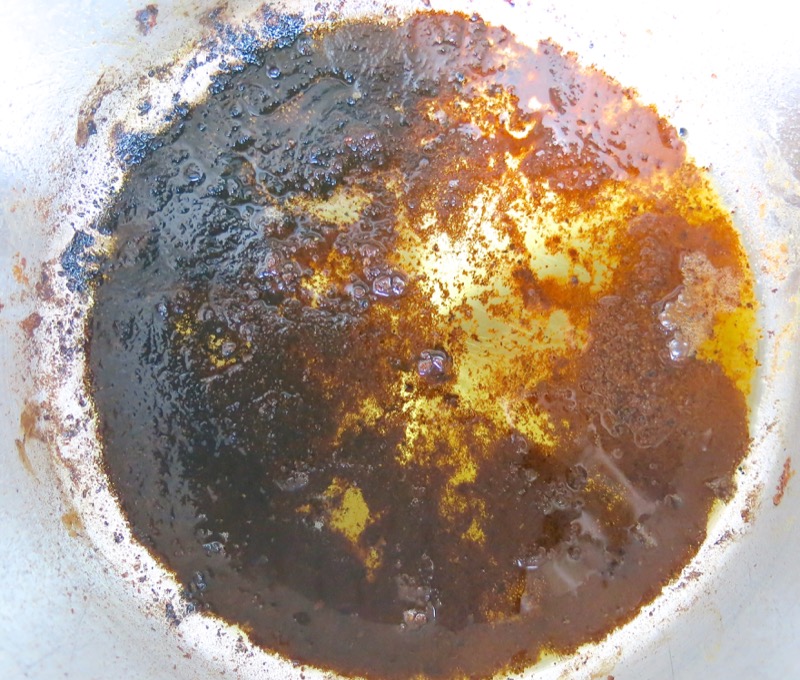 The best flavour enhancer being the drippings in bottom of the pot. We always start there. Add the sugar, water, vinegar and cornstarch: stir, stir, stir.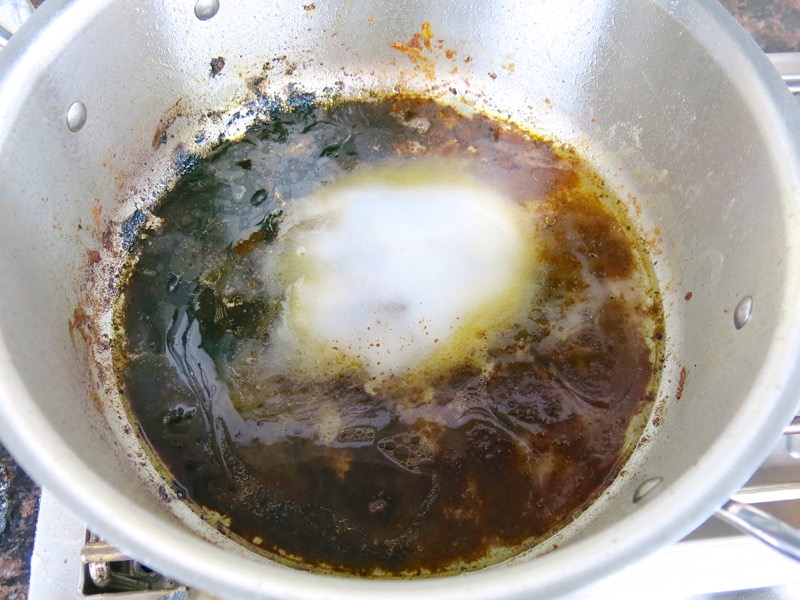 I do believe I doubled the recipe for this batch.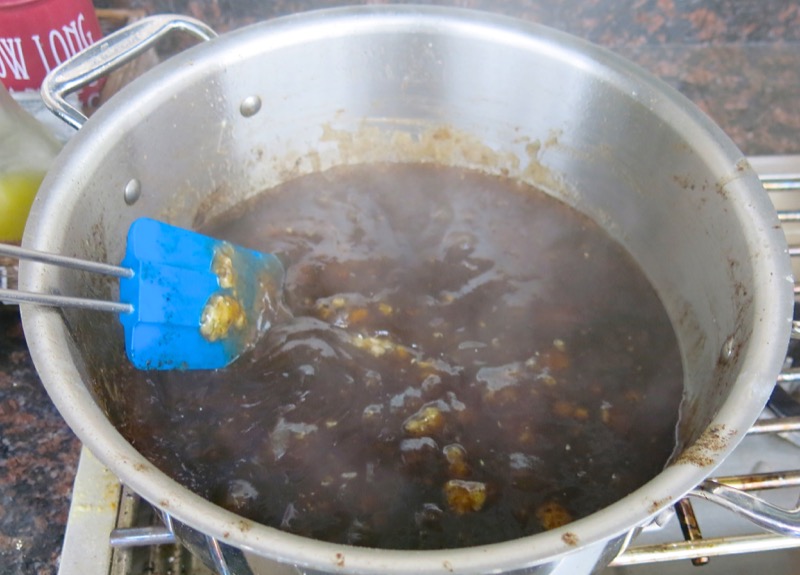 Season with salt and pepper.
Sweet and Sour Ribs: Putting it all Together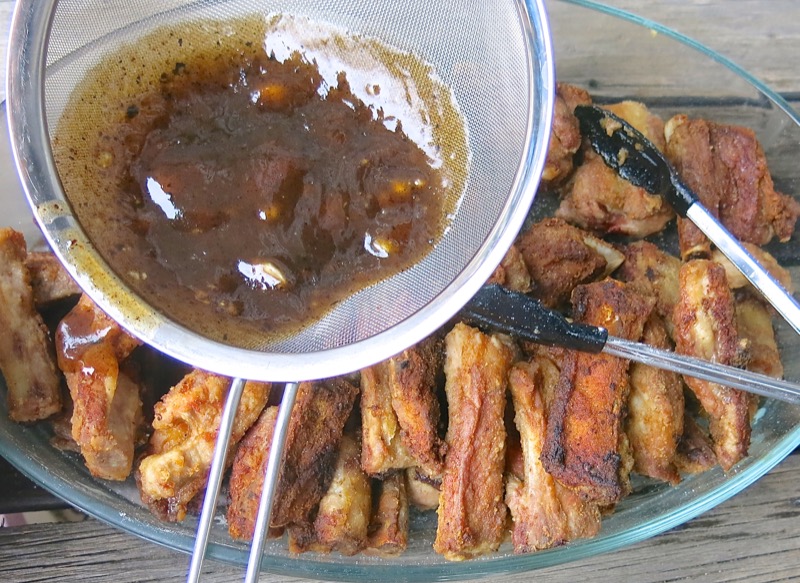 To be sure there are no cornstarch lumps, I always strain the sauce through a sieve over the ribs.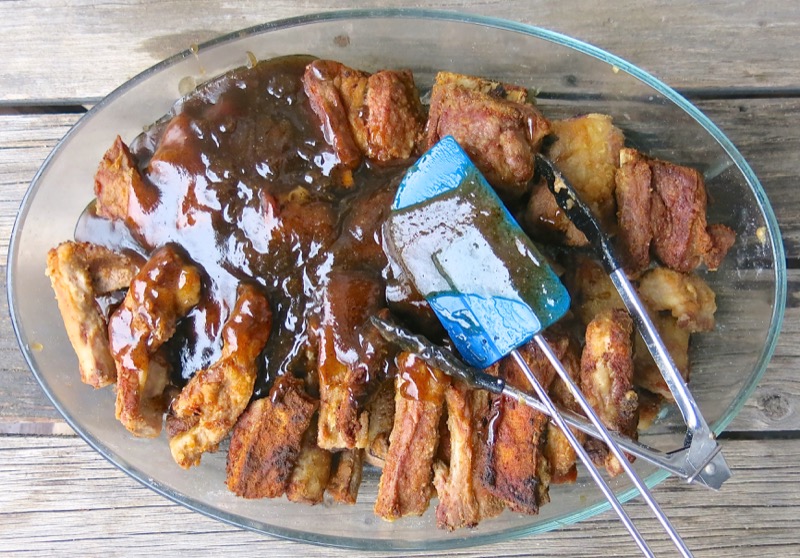 Toss them all well in the sauce…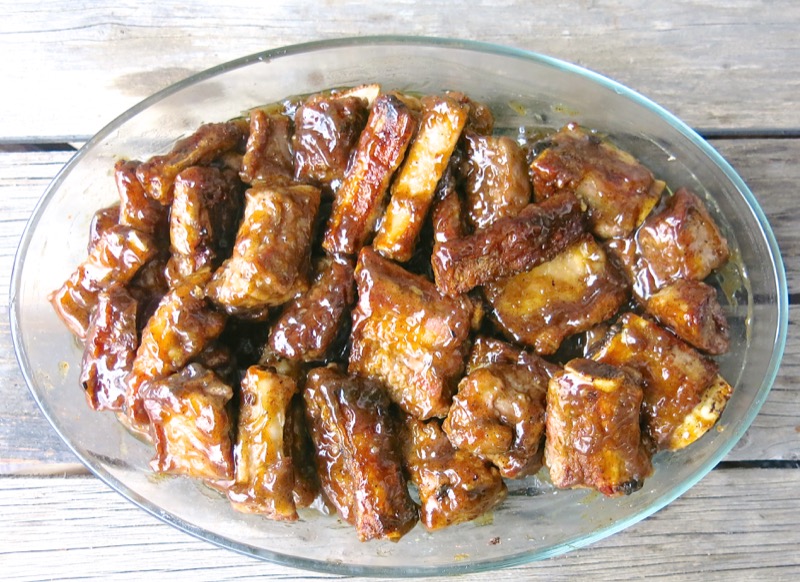 (Now that's a money shot for Canadian Chinese Sweet and Sour Spare Ribs!)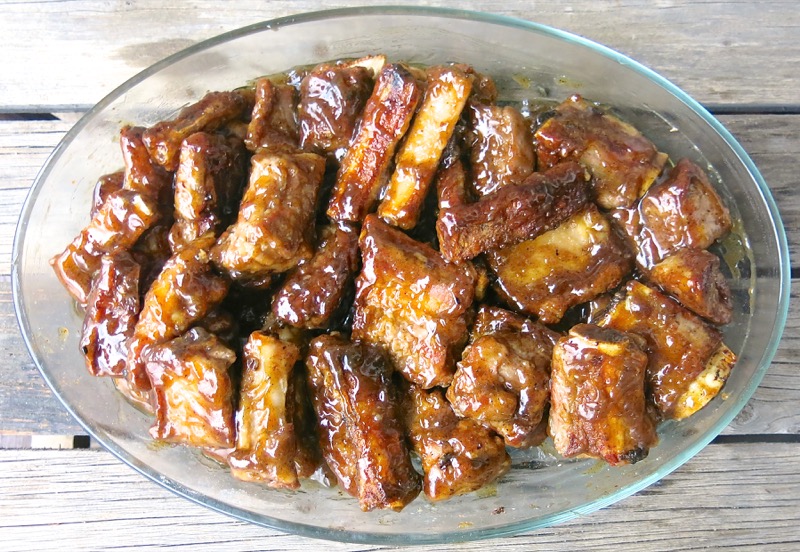 … until completely smothered.
Sweet and Sour Ribs: Baked Ribs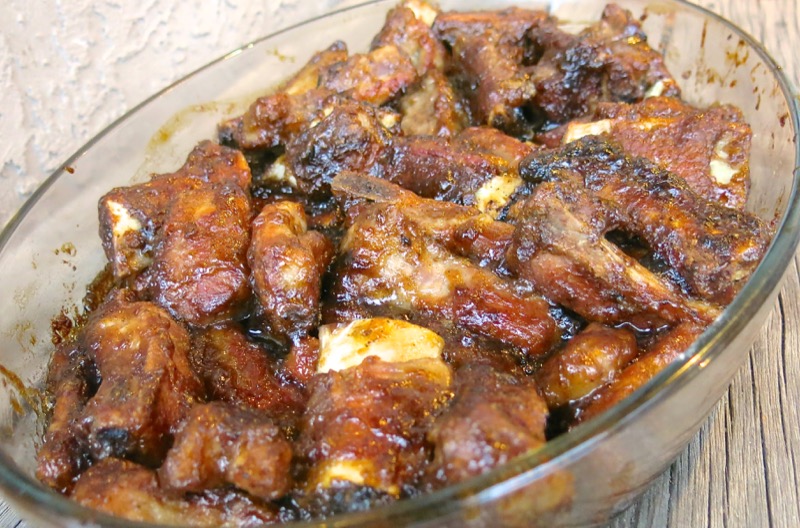 Then bake for 30-40 minutes just before serving until bubbly, hot, sticky and ooey gooey. Serve over a bed of rice with extra sauce and a tossed salad on the side. If you want to go truly retro, offer up Kraft Thousand Island Dressing with the salad. Anyone with me on this? Let's hear your memories of homemade sweet and sour ribs!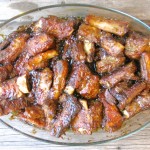 Traditional Canadian Sweet and Sour Ribs


This is a traditional Canadian Chinese recipe for Sweet and Sour Ribs that was made in home kitchens all over the Canadian prairies from the 1950's to 1970'. It is finger licken' good and easy as pie to make!
Total Time
1
hour
20
minutes
Ingredients
Ingredients for the ribs:
1

k ribs

, individually sliced, washed and patted dry

1-2

cups

flour

, seasoned with salt and pepper (1/2 teaspoon salt, freshly ground black pepper)

1/4

cup

butter

, used in smaller portions

1/4

cup

oil

, used in smaller portions
Ingredients for the Sauce:
1

cup

vinegar

1

cup

sugar

1

cup

water

3

tablespoons

cornstarch
Instructions
Instructions for the ribs:
Divide ribs into 4 batches; flour 1/4 of the ribs thoroughly

Heat 1 tablespoon of butter and 1 tablespoon of oil in heavy saucepan, medium to medium high heat; brown ribs on each side, about 2-3 minutes per side

Set aside on paper towel, as each batch is done; repeat 4 times until all ribs are golden

Place ribs in casserole dish; set aside
Instructions for the sauce:
Pre-heat oven to 350F

Drain fat from pan, retaining all brown bits; mix corn starch with the sugar and stir into brown bits

Add water and vinegar; season with salt and pepper

Cook for 4-6 minutes until bubbly and thick; pour over ribs in casserole dish, tossing until completely covered

Bake for 30-40 minutes until hot and bubbly, serve immediately
Recipe Notes
Ribs can be prepared and smothered in sauce a day in advance; bake 40 minutes before mealtime (if cold from fridge) and serve immediately