Edmonton Chefs and Farmers Wow all at Slow Food Canada Gala: Our Edmonton Terrior at its Ultimate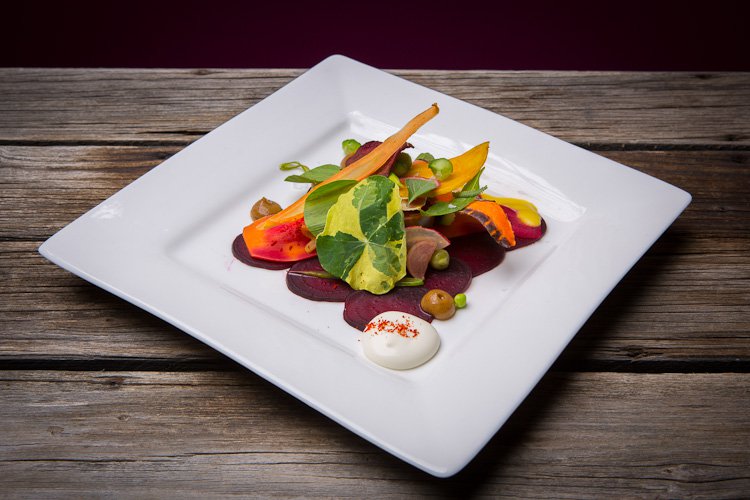 A work of art for the eye and the palate by Chef Nate Box of Elm Café.
Gussied up, most donned their garden boots arriving at Prairie Bistro inside the world class Enjoy Centre May 5th, 2012, expecting the unexpected. However, noone expected to be wowed and wooed by the impeccable precision, artfully sumptuous plates, and depth and variety of flavour, texture, and colour that each savored throughout the evening.
Slow Food Edmonton hosted the Slow Food Canada annual conference this year and the fundraising gala's purpose was twofold: to raise funds for Slow Food Canada and to showcase the food of our Northern Alberta heritage. The crowd was motivated to rise and offer a heartfelt standing ovation to the group of 16 Chefs that made this happen. And, I am motivated again, as I announce that Slow Food Edmonton raised $8 275 dollars for Slow Food Canada!
Chef Blair Lebsack and Chef Paul Shufelt spearheaded the lead of nine teams of chefs that each prepared one of the eight tasting courses. There was an amuse bouche at the beginning and roasted marshmallows at the end of the evening making it more like a ten course pleasure with an unforgettable basket of Red Fife bread on each table. Red Fife wheat is a food of our locality and a Slow Food Presidia food, so an essential component of the evening's celebration. And, with the cold pressed Canola Oils provided by the Canola Oil Producer's association, the perfect accompaniment. (The full menu appears at the bottom of the post.)
This meal was 99% local: not only grown and produced here, but food native to the area coupled with a deep history of tradition. The food came from small artisanal farmers and producers who are careful stewards of the land they farm and work toward sustainability for our future. Many of the farmers were our invited guests at the gala.
Greeted at the door with a glass of sparkling honey mead, guests were enveloped by the living garden within the Enjoy Center and the stage was set as a sense of wonder and awe was expressed by many: "Where are we?" "What is this place?" "I have never seen anything like it!"
At the beginning of the program I wrote: "This evening, we come together over a table laden with local fare. The conviviality and memories created over a table of good food and drink linger, just as great taste lingers on one's tongue. The collective breaking of bread invites friendships and opens dialogue. We are grateful for this opportunity to celebrate the bounty of our outstanding local producers and engage in the pleasures of our evening with one another. Tonight, let's reflect upon the importance of nurturing our local artisan food producers, farmers and ranchers, thoughtful stewards of our land. It is our hope this experience will peak your curiosity and inspire you to think differently about the food you put on your table. We are an organization always in need of people interested in working together toward the enjoyment and pleasures of good food."
Do you see the swag bags on each chair? Yes, there was swag, too.
The plating was part of the entertainment. Plating 200 plates and getting them out in a timely fashion is no easy feat, but our chefs made it look easy: talk about kitchen ballet! The rhythm and movement of this team while plating was mesmerizing. Each course under the command of a different director, yet each performance was carried out in perfect synchronicity.
We were fortunate to have the program brought to life by my favourite TV new personality and a lover of local food, Jennifer Crosby, from Global TV.
Sinclair Philip, below, is Slow Food Canada's International Counselor, a founding member of Slow Food Canada and a co-owner of the world famous Sooke Harbor House in Sooke on Vancuver Island.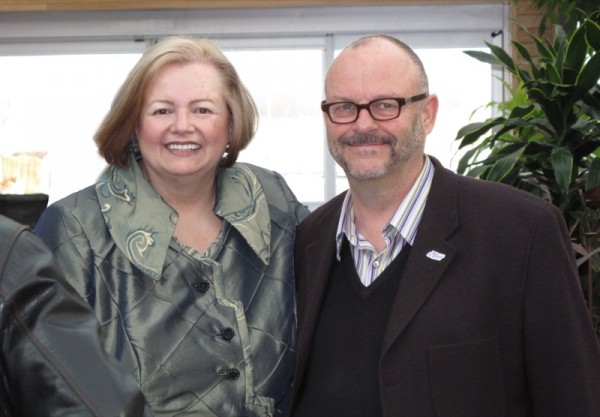 – Amuse-Bouche –
Featured Chef: Shaun Hicks, Prairie Bistro in the Enjoy Centre
Edmonton native and NAIT-trained chef Shaun Hicks has worked in the kitchens of the Sugar Bowl, Hardware Grill, Culina and Union Bank Inn as well as Jasper Park Lodge and Calgary's Muse Restaurant with good friend Cam Dobranski.
"I want to cook technically great food with passion, positivity and heart on all levels," says Shawn.
Featured Suppliers: Gull Valley, Mighty Trio Organics, Coal Lake Honey
Description: This course features a simple tomato salad using an array of Gull Valley heirloom tomatoes, cold pressed canola oil and a light dressing made in-house from rose hip concentrate and local honey.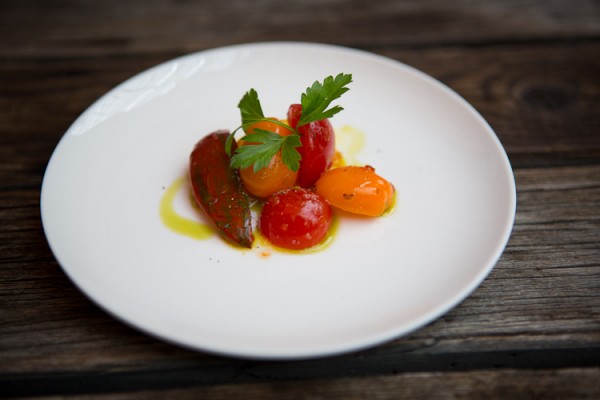 Tomatoes are a perfect food. They are my favourite food. I am obsessed with growing them, preserving them, cooking with them, and tasting them. Tomatoes grow prolifically in Edmonton during our short growing season and Gull Valley Greenhouses produce tomatoes that taste like tomatoes at their farm.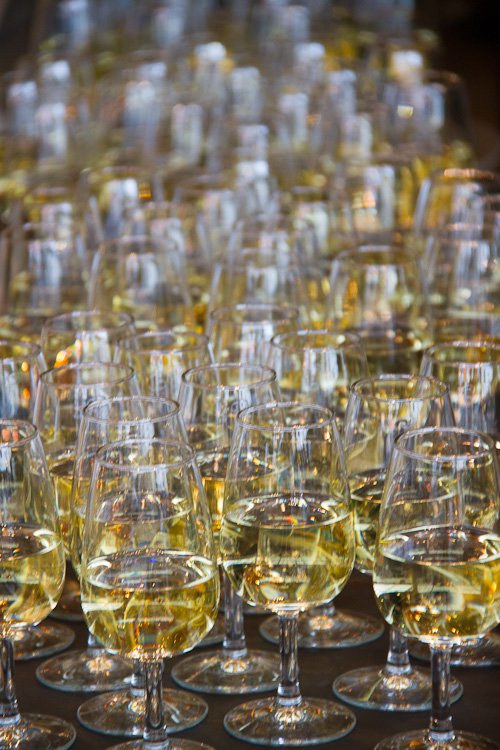 Each of the eight courses were pared with local wines and beers and the multi-talented bartenders were getting ready for course one. Elder Leonard Saddleback from Samson Cree First Nation offered the Blessing on the food accompanied by our special guest, Paolo Di Croche, the Secretary General from Slow Food International in Italy. Slow Food values the contributions of our aboriginal brethren and works fervently to develop close a respectful relationship with them to learn more about our culinary food heritage. Below is a photo of Leonard and his lovely wife, Julie.
– Canola Oil Tasting –
The Canola Producers Commission has provided Highwood Crossing, Vibrant, and Mighty Trio artisan canola oils for tasting during your meal that are each made from cold pressed non-GMO Canola seeds. Trade the oil on your table with another to be sure you experience each one!
Developing one's sense of taste through education and understanding one's palate is a basic tenet of Slow Food, so we were delighted to have the opportunity to provide a side by side tasting of three exceptional Alberta Canola oils. One guest laughingly suggested that we should have also offered a standard, the "regular" canola oil to taste as well.
Canola Oil is a very important Alberta product, a food of our locality, and most would not think to use it like we do Olive Oil as these cold pressed artisanal oils are fairly new products. I do believe we will find many embracing these oils in their home kitchens after this tasting.
After the Amuse Bouche, the Gold Forest Grains flax seed topped Red Fife bread made the perfect "next course" as everyone engaged in the Canola Oil tasting. The Slow Food Presidia, established by the Slow Food Foundation for Bio Diversity, takes active steps to bring foods threatened with extinction back to the marketplace. These include establishing quality, authenticity, and production standards; marketing and promotion; and promoting local consumption. Red Fife wheat is Canada's first Presidia product.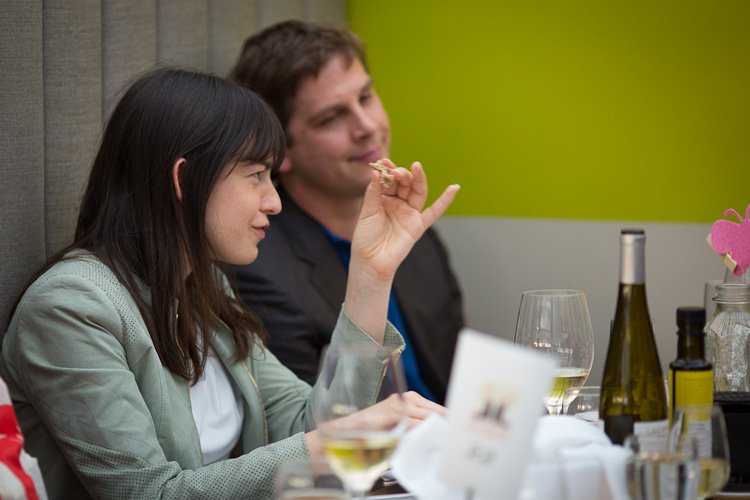 – Bread Tasting-
Featured Chefs: Chad Moss and Jeff Johnson, New Level Bakery
Chad Moss's education and work has taken him all over the globe in the pursuit of flavour and skill. His associates know him as an exceptionally discerning and meticulous individual, unwaveringly committed to the quality and integrity of the ingredients he uses and the food he presents. Traditional foods and techniques are Jeff Johnson's compelling interest. His main objective is to use these techniques to draw the greatest flavour and texture from the simplest expression of food. Together they operate New Level Bakery.
Featured Suppliers: Ehnes Organic Seed Cleaning; John Schneider, Gold Forest Grains; and Tony Marshall, Highwood Crossing
Description: This course features bread made from Red Fife Wheat, Gold Forest Grains, and Highwood Crossing grains. The traditionally-made sourdough bread features Slow Food Presidia product Red Fife whole wheat flour. The old world baking traditions of simple ingredients, water, salt and grain flours, pre-fermentations, and extended time draw out both the flavour and nutrition in the breads.
Chef Blair Lebsack selected the teams of chefs very carefully with Chef Paul Shufelt. Shaun Hicks was selected as the chef from the Prairie Bistro, dedicated to using prairie food. Chef Chad Moss, above, has been a long time Slow Food member, as has Blair, and was an obvious choice for the bread making with the new venture he and Jeff just started. Chefs Brad and Brad, who created the first course are also Slow Food Edmonton members, and past Terra Madre delegates, as is Blair. Chef Shane Chartrand prepared the aboriginal course and has been a local food hero for quite sometime as he translates the food of his Cree heritage. Chef Daniel Costa showcases his Italian heritage with resounding finesse at restaurant. Chef Nate Box was a long time Slow Food member and is a staunch supporter of local artisanal farmers and food producers. Chef Tracy Zizek is also a long time Slow Food member and Terra Madre delegate. Though Chef Cam Dobranski didn't help to prepare a dish, he drove from Calgary to participate in the plating and work of the event as did producer and farmer Jeff Senger. Clearly, this team of chefs is one that is committed to using fresh. local ingredients from small artisanal farmers and producers. They are each local food heroes as they do this and because of the incredible spirit of collaboration exhibited on this evening. The relationships they have developed with one another and with their farmers and producers was evident by the respect displayed toward one another during their "kitchen ballet' and exhibited on the plate by their food.
Every chef completely volunteered all of their time to this event. Two donated their plates. Whenever I recall the food of the evening, I find myself on my feet, clapping and clapping with my grin wrapped around my ears!
Our incredible volunteer force, above, is what made this evening possible through their amazing problems solving skills and "can do anything" positive attitudes led by my dear friend and quintessential volunteer: Super Su Dennis.
Pure Artists is an Edmonton-based performance group that allows young artists to develop their art form while giving back to their community. Along with having a musical dream, all Pure Artists must continuously demonstrate self-respect through a healthy and clean lifestyle, respect for family, for friends, for school and for their community. The ultimate goal of Pure Artists is to establish a new benchmark for the stars of tomorrow, one that creates exceptional role models for those who follow! Below is Payton Klassen, 15; Daylin Jorgensen, 14, is shown later and Hailey Mills,14, and Brendan Guy, 13, also performed.
The introductory "Be Our Guest" song ignited a youthful sparkle and each performance by each of these young artists was as delicious as the food.

There were many, many sponsors that made this evening happen and one of them is Photographer Jim Whitesell. He has taken the photographs for this post with a few of mine added in. These photographs cannot be used by anyone except Slow Food Edmonton and myself for this purpose. If you are interested in using any of these photos you will have to contact Jim. These photographs have provided us with the opportunity to harvest the memories from the evening and preserve them in true Northern Alberta fashion.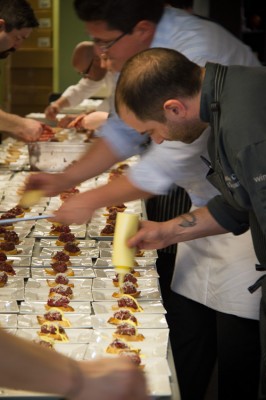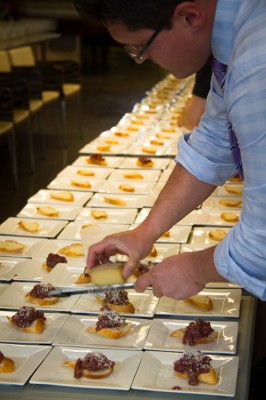 The front of house staff were outstanding. Each course arrived at every table without any noticeable wait time in between and served with a twinkle.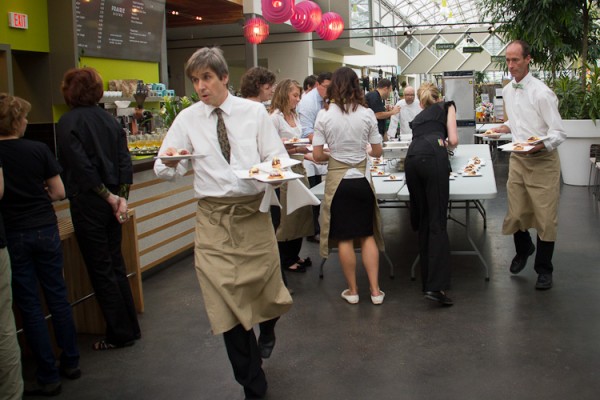 – Course One: Beef Plate –
Featured Chefs: Brad Lazarenko, Culina; Brad Smoliak, Kitchen
Brad Lazarenko is the brilliant mind behind Culina, Culina-Highlands, the Muttart Conservatory Cafeteria, and the Bibo wine bars. Recently, he branched out to supply the Edmonton Police Service with healthy comfort food at the police headquarters cafeteria. Brad Smoliak is a local chef, caterer, and food product innovator. His long history in the Edmonton food scene included co-owner of the Hardware Grill, and the Royal Mayfair Golf & Country Club, and Brad cooked for Queen Elizabeth II during her visit in 2005. Brad has created new products and recipes for clients across North America, including the Little Potato Company, Kitchen Partners and Nestlé. His latest venture is Kitchen, offering private parties, corporate gigs and cooking classes.
Featured Suppliers: Pine Terra Farms Beef (Onoway) from Sangudo Meats
Description: This course features beef tartare made from hand chopped beef. This organic, grass-fed cattle from Pine Terra Farm was locally butchered by Sangudo Meats.
Jeff Senger of Sangudo Meats is a Terra Madre delegate selected for this year.
I love steak tartar. I have it whenever and where ever I can, so was delighted to find it on the menu. The lovely light grass fed beef made all the difference.
Beans? Alberta is a huge producer of pulses and they begged showcasing. This dish was a star as the flavour combination was so unexpected and addictive. I certainly hope to see Chef Paul Shufelt and Chef Tony Lee put this on the menu at Lux Steakhouse and Bar. The thought of not being able to eat it again is more than I can bear. Paul has promised me a special step by step photo essay opportunity in their kitchen to capture the "how to make this" on my own and for my readers.
– Course Two: Grains and Pulses Plate –
Featured Chefs: Paul Shufelt and Tony Le, Lux Steakhouse
Paul Shufelt, corporate chef, Century Hospitality Group, trained at NAIT, worked in Switzerland, and has been cooking for 18 years. His passion is contemporary comfort food, based on the foundation of classical French cooking. Tony Le executive Chef, Lux Steakhouse, grew up in Edmonton and has been cooking since he was sixteen. He is a NAIT-trained chef and wine lover who has achieved the Wine Spirit Education Trust (WSET) Level Two designation.
Featured Suppliers: Gold Forest Grains supplied the spelt. Chad Moss provided the locally foraged morels. The prosciutto was supplied by Valbella Meats (Canmore). The Great Northern white bean was supplied by the Columbia Seed Company (Vauxhall) through Live Local Alberta.
Description: This course features Gold Forest Grains spelt spätzle, locally foraged morel mushrooms, Valbella Meats prosciutto, Great Northern white bean, spring pea purée.
When Shane and I first discussed his course about a year ago now, he mentioned simulating the sacredness of the sweet grass experience by calling it to mind through burning of herbs on embers at each table just before his plate was served. The idea incubated and when I discovered the mini hibachis, I was hooked. I bought 44 for the evening with my personal money. I do not regret it for a second. However, I may if I can't resell them!
I provided the foraged high bush cranberries to Shane which contributed to the brilliant red tones in the pemmican. I was crazy over it. I also heard many people say that he had elevated the humble Pike fish to a whole other level. Chef Chartrand has also promised me with a step by step photo essay opportunity in his kitchen to learn and write about how to make pemmican!
– Course Three: Great Northern Pike Plate –
Featured Chef: Shane Chartrand, Murrietta's Bar & Grill
Shane Chartrand is a member of the Canadian Federation of Chefs. He was born as a member of the Enoch Cree Nation, and grew up outside of Red Deer, Alberta on a large acreage. His culinary career began at the age of thirteen when he began as a dishwasher at the family-run Pines Restaurant. He has participated in food competitions, written a food column, and appeared on television food shows. Trained at NAIT and with the International Sommeliers Guild, he brings a Northern Alberta perspective to his food that is profoundly ours. "œCooking is something I have done my whole life, and I believe I was born to love it!"
Featured Suppliers: Valbella Meats, Alberta Slave Lake Northern Pike, High Bush Cranberries foraged by Kevin Kossowan
Description: This course features Northern Pike with burnt sage, fried pemmican and wild high bush cranberries.
The mystical sweet burning of sage and rosemary added an unexpected ambiance that ushered in a hush over the room as we took it all in.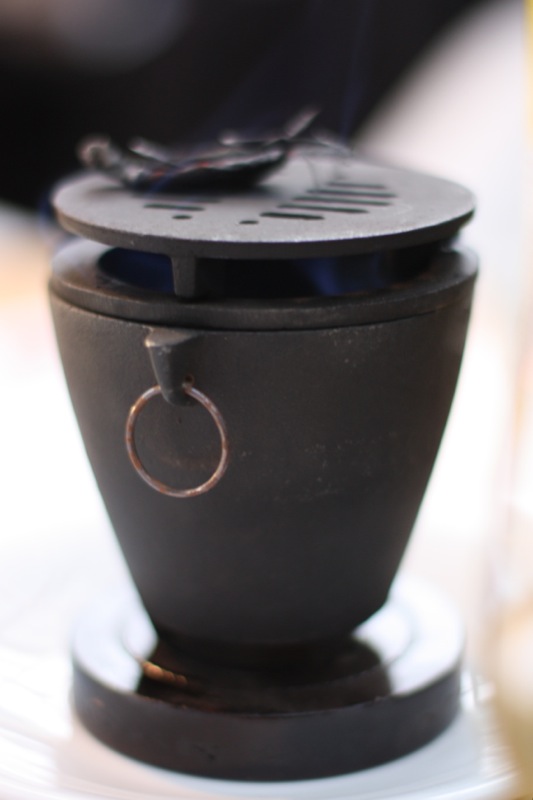 Elder Leonard Saddleback appreciated his extra serving of pemmican brought to him by Chef Chartrand.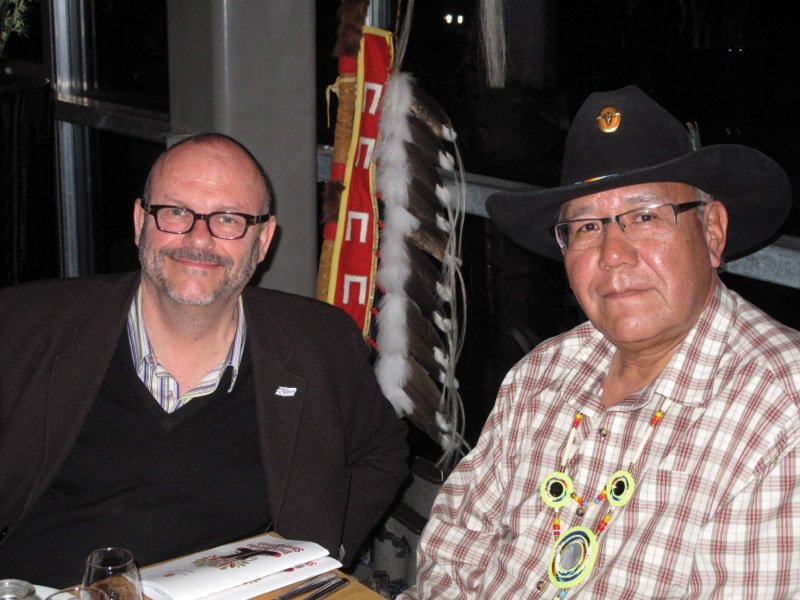 The Tamworth pig is a Slow Food Canada Ark food. The Ark of Taste is an international catalog of foods that are threatened by industrial agriculture, standardization of global food markets, and environmental degradation. In order to bring these foods back to commercial viability, the Ark of Taste encourages consumer demand. The Tamworth pig, the Great Plains Bison and the Saskatoon berry are Ark products featured on our Gala menu.
– Course Four: Tamworth Pork Plate –
Featured Chefs: Daniel Costa and Ben Chalmers with Corso 32
Daniel Costa owns Corso 32, which features simple food inspired by his Italian roots. Growing up in an Italian home he was constantly surrounded by great food. His father, Mario, was born in a small town named San Pietro Al Tanagro in Campania, Italy. He came to Canada when he was 18 and brought his family's cooking methods with him. He enrolled in culinary school at 19. He worked under Chef Drew Noble who opened his eyes to creativity. Later, he worked under Chef Peter Jackson at Jack's Grill where he learned classic technique. The turning point of his young career was cooking in Italy where he learned the art of simplicity which he now celebrates daily at Corso 32.
Featured Suppliers: Al Foreman of Ponoka, Danny and Shannon Ruzicka of Viking
Description: This is inspired by Bologna in Emilia-Romagna. The entire Tamworth was used to create this handmade pasta dish. The broth was made from pork bones and parmigiano. A light grating of Parmigiano Reggiano and spring chive finishes the dish.
The mood changed as the sun went down and we were draped in a prairie mood lighting that only Prairie Bistro could imagine.
The vegetable plate was the pièce de résistance of the evening. What can one do with simple root vegetables? Ask Nate Box. Every Chef in attendance that evening had something to say about the precision and thought invested in this plate and every diner was moved – yes, moved – by the flavour, texture and visual appeal of this masterpiece. I wish that each Chef could have tasted it. I have no doubt that they did taste many of the dishes. But this one had to be eaten to be tasted.
Featured Chef: Nate Box, Elm Café
Nate Box is the chef and owner of Elm Café& Catering and will be the first to tell you to "œdo more with less". Born and raised in Edmonton, Nate loves his hometown and focuses on building community both in and out of the food scene. Whether it's brown-bag lunches or private receptions, Nate and his team at Elm Caféstrive towards simplicity, quality, and accessibility.
Featured Suppliers: Morinville Greenhouse and West Country Herbs, Gull Valley Greenhouse, Sparrow's Nest Organics, Peas on Earth, August Organics, and Doef's Greenhouse
Description: Eat more vegetables! This dish features multiple preparations of beet, radish, carrot, pea, onion, and tomato, showcasing some of our region's finest vegetable and herb producers. By focusing on flavour and technique you will find that vegetables aren't simply an accompaniment to a dish, but the star.
The main course is next: the Great North Bison raised in its natural fashion by Jerry Kitt and prepared by Chef Blair Lebsack with his NAIT team. This was truly head to tail eating.
– Course Six: The Great Plains Bison Plate –
Featured Chef: Blair Lebsack, Nigel Webber, Allan Suddaby, NAIT Culinary Arts
Blair volunteers much of his time to helping with local food initiatives and enjoys visiting farms to see the food first hand. Blair has prepared Alberta-themed dinners at Spago in Beverly Hills, showcased local cuisine for Endless Feast, a television program that aired on PBS, and created Rge Rd, cooking pop-up dinners in farmer's fields and other novel locations. Edmontonian Nigel Webber built an impressive track record as an international award-winning chef. Nigel began his culinary apprenticeship under Austrian-trained chef Erwin Blumert and graduated from the NAIT apprentice-cooking program with top honours. Since then, he has amassed an award-winning resuméof experiences, which he brings to his position as a chef instructor at NAIT. Allan Suddaby has worked at popular Edmonton restaurants like Dadeo and Jack's Grill. He studied culinary arts at NAIT, and has staged at restaurants in Calgary and Semmering, Austria. He is a gardener, brewer, charcutier, and an active member of the Slow Food movement. He has a blog called Button Soup, where he writes about his unique food ideas. Allan now works for Nomad Mobile Diner, a food truck that specializes in comfort staples like barbecue and sausages.
Featured Suppliers: Gerry Kitt, First Nature Farms, Goodfare, Alberta
Description: This dish features a head-to-tail tasting of First Nature Farms Great Plains Bison, with a potato and wild onion purée, wild mushrooms, and a Saskatoon wine gastrique.
The use of the entire animal was a thoughtful process. You can see the mixture of "Bison bits" coupled with a loin or roast piece. You can see the wrapped rolls in a photo above. Every dish at this meal was outstanding. The "bison bits" side was so tasty that I could not stop "tasting" them, and I do not eat meat: the mother of umami!
Chef Hicks lovely and lively cheese board is next. The small dots on the plates above are the preserved Evan's Cherries that Amy Beaith and I made for Chef Shaun from last years OFRE cherries in Amy's deep freeze. We were tickled to compliment his work. The board was the perfect combination of sweet and savory after the bison. And he was the only chef that used rhubarb!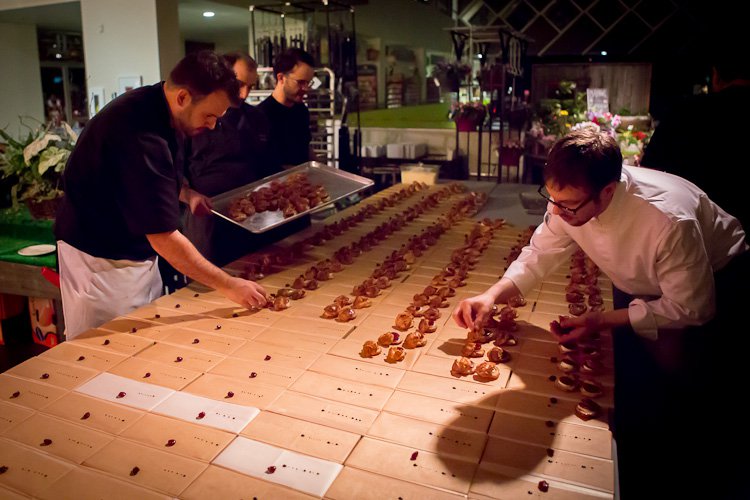 – Course Seven: Cheese Board –
Featured Chef: Shaun Hicks, Prairie Bistro
Featured Suppliers: The Cheesiry and Happy Days
Description: This dish features gougerés made with Rustico and Happy Days Chèvre with raspberry gelée and a tart rhubarb coulis.
Chef Tracy has started a new trend: dessert served in a canning jar! Absolutely perfect to represent the nature of our Northern food community as preservation is an important aspect of our yearly food supply. It was not only adorable, but delicious and light. Except for the cookie which was a decadent delicacy that will be long remembered.
– Course Eight: Saskatoon Berry Dessert Plate –
Featured Chefs: Tracy Zizek, CaféDe Ville; Will Kotowicz, Duchess Bakeshop
Red Seal Tracy Zizek is the executive chef and co-owner of Caféde Ville. She is one of the hosts of the national conference farm tour and the current co-chair of Slow Food Edmonton's Indulgence event that has raised over $26,000 for NAIT Culinary Alumni over the past decade. Will Kotowicz is a creative young chef currently honing his pastry skills at the Duchess Bakeshop. He has worked at Edmonton landmarks like The Marc and designed a dish for Indulgence: A Canadian Epic of Food and Wine.
Featured Suppliers: Mo-na Foods: Saskatoons, Coal Lake Honey, Full Course Strategies, Fair Winds Farms Goat Milk and Morinville Eggs, Rhubarb and Kittling Ridge Ice Wine were supplied from the chef's kitchen
Description: This course features Zuppa Inglese of honeyed Saskatoon's goat milk custard, rhubarb and ice wine preserve, streusel topping and spiced shortbread cookie.
The quintessential end of a prairie feast has to be a marshmallow roast. The marshmallow is definitely not a food of our culture, but eating by an open fire is a part of our culture. A marshmallow roast is a contribution to our food culture that came from the industrialization of food production, but the NAIT homemade 'mallows were such a treat. What a perfect way to end this evening. Roasting 'mallows with friends around a little fire.
We never did get to the coffee. There was no room and somehow, coffee after a fireside finale didn't even enter my mind.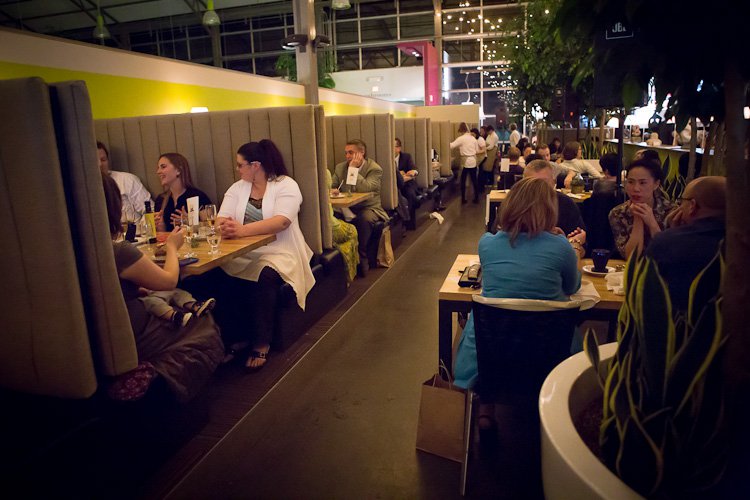 – Program –
Welcome
His Worship Mayor Nolan Crouse
Julianna Mimande
Elder Leonard Saddleback From Samson First Nation
Canola Tasting: Simone Demers-Collins
Beef: Brad Lazerenko and Brad Smoliak
Nature's Green Acres Presentation
Musical Interludes throughout the evening by PureArtists
Pulses and Grains: Paul Shufelt and Tony Le
Gold Forest Grains Presentation
Great Northern Pike: Shane Chartrand
Tamworth Pork: Daniel Costa and Ben Chalmers
Vegetables: Nate Box
Great Plains Bison: Blair Lebsack, Nigel Webber, Allan Suddaby
Featured Speaker: Carlo Petrini
Cheese Board: Shaun Hicks
Cheesiry Presentation
Finale: Saskatoon Berry Dessert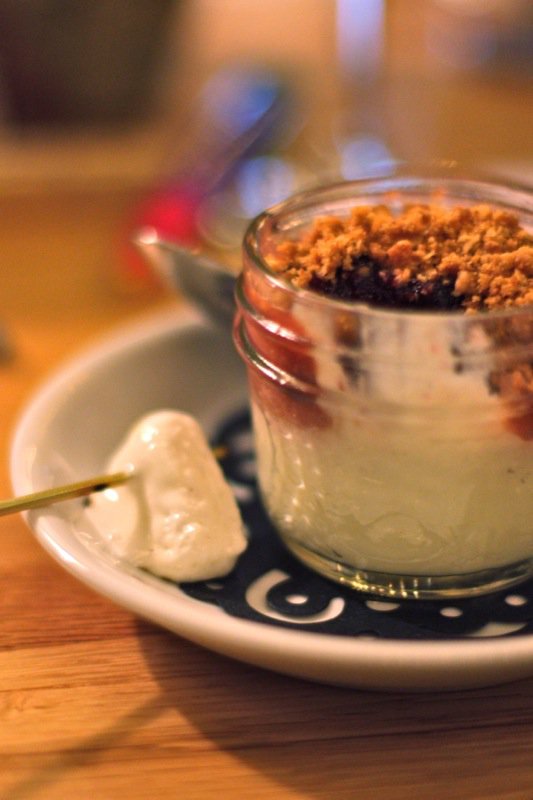 ADVERTISEMENT
Anyone interested in purchasing one (or hopefully a FEW) of the adorable very carefully cleaned mini-hibachis for 20 dollars a piece, please let me know. This is cheaper than I paid for them!