Taste Tripping Alba Barolo Tour: Stop One
Heading to Terra Madre 2014 in October this year was the realization of a dream that reared its head in 2008 when I first joined Slow Food. Being in Piemonte during the Alba White Truffle Festival was another. I had come so close a few other visits to Italy, and now was the time. Particularly as the vineyard landscape of Langhe-Roero and Monferrato has just become a UNESCO World Heritage site recognized "as a cultural landscape, created out of the combined action of nature and people." Taste Tripping Tours, Travel and Cooking Classes organized and sold a small one day "Let's Play Hookey" package tour to delegates attending Terra Madre. All agreed that this leg of the tour was a 10 out of 10.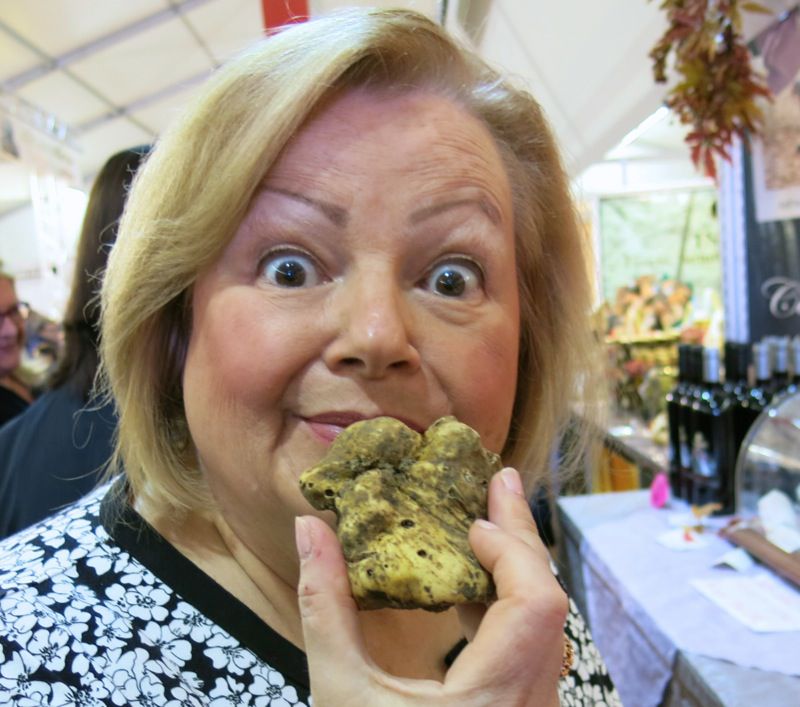 The Alba White Truffle Festival has been on my bucket list, but I have not been in the area on a weekend, until now. There are many events, and an entire program that take place throughout the area from mid October to mid November each year, but the Alba White Truffle Market is only open on the weekends from 9 am to 8pm. The festival includes a "by invitation only" truffle auction, The White Truffle Market and a truffle fair. The Market is the very heart of the fair dedicated to Alba white tuber. Visitors will be able to find only the certified trifola, or Alba white truffle at the market which is an initiative aimed to protect the Tuber Magnatum Pico brand.
In 1996, a National Study Centre of Truffles was created to research and expand "the truffle-related culture". A study of truffle aromas, preservation techniques, truffle-based enogastronomic experiences, and tasting seminars emerged. More than a hundred sensory analysis judges work on the market and in special certification commissions in order to assure the total quality of the product. The Alba White Truffle market is the only one to be guaranteed, with a careful evaluation of the health and variety of each specimen marketed.
There is an entry fee of €2,50 and dogs are admitted for free! This first stop on our itinerary was the impetus for the tour. When in Piemonte during the fall, one must do all things truffle. When staying with Martina in Bologna a couple of years ago, she had said, "The heady aroma of the white truffle greets you upon entering the market! It is everywhere." I must.
And the decision to go only to the Market was not made lightly. I hope to be back. The number of festival events happening on this one day alone throughout the city was mind boggling, yet I welcome addressing that mind boggling experience head on with a longer stay in the area.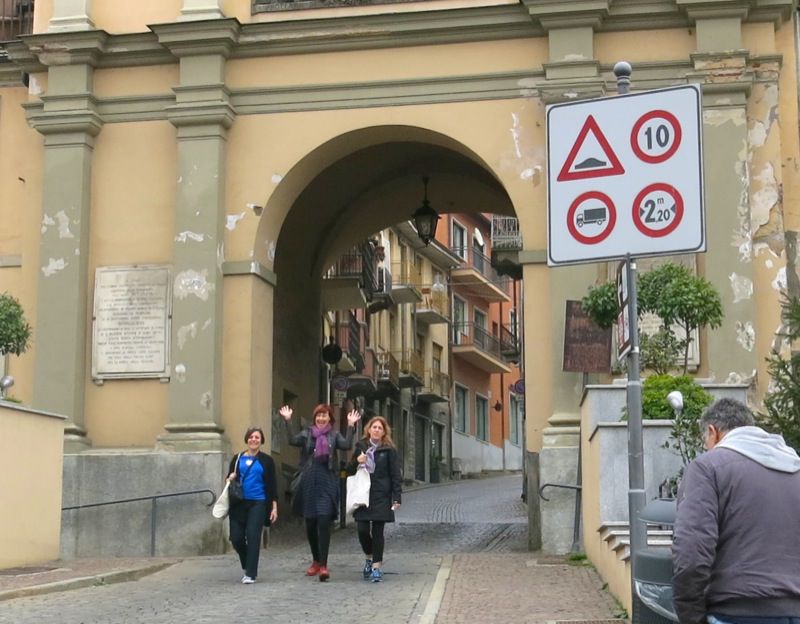 Voula, Laura and Janet are looking very perky as they enjoyed a morning coffee before pick up.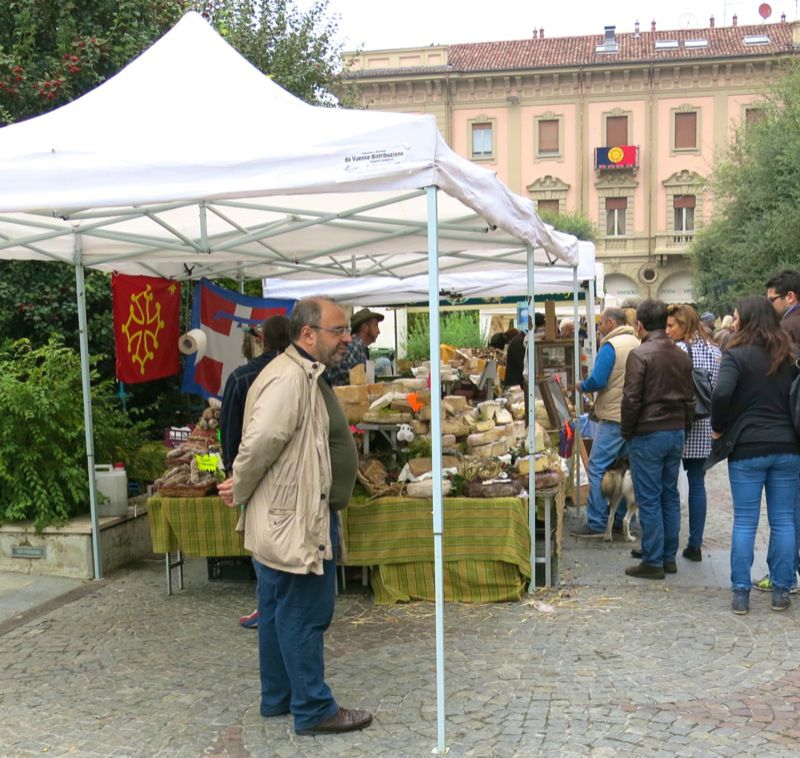 Our driver, Sabino, dropped us at the Alba Market in the old town pointing, he said, "Truffle Market – there." I knew, within seconds it was not the Alba White Truffle Market. There was no heady aroma saturating my senses. Yet, what a market! We are in Italy, no?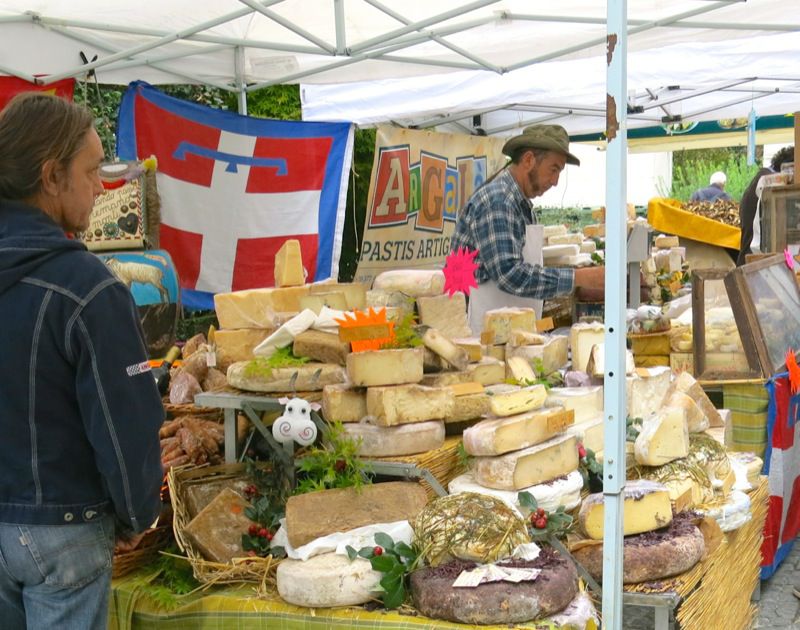 Artisan cheeses had me salivating before walking 10 meters.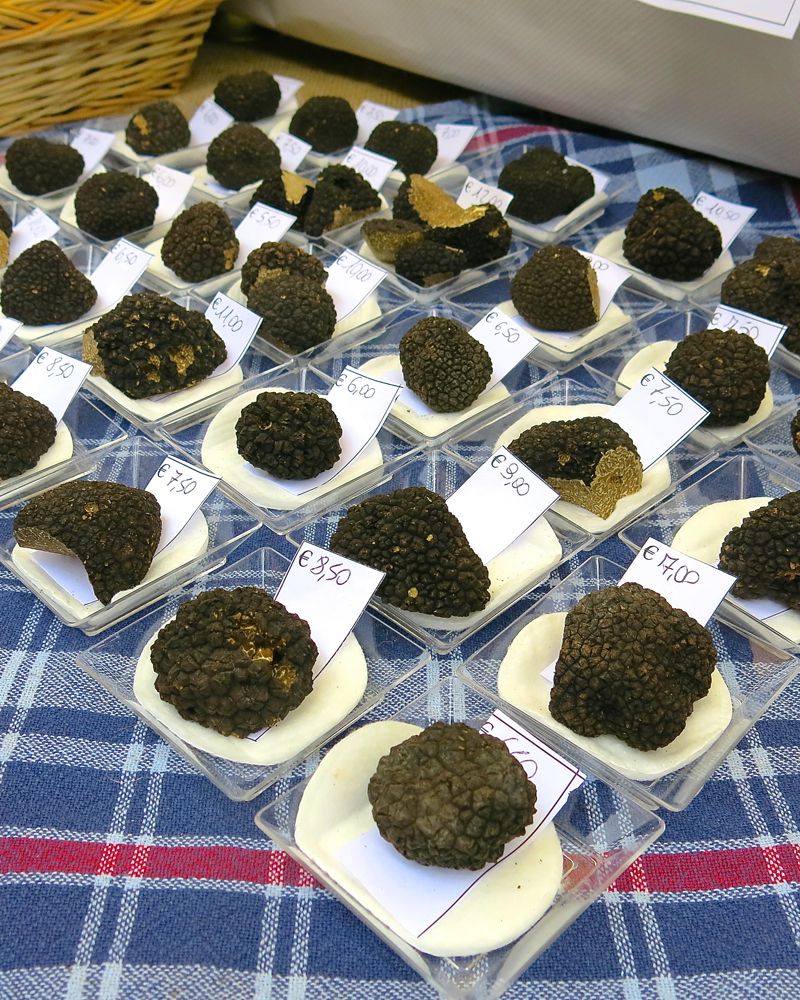 And there are truffles! Black summer truffles… small, but mighty, this market.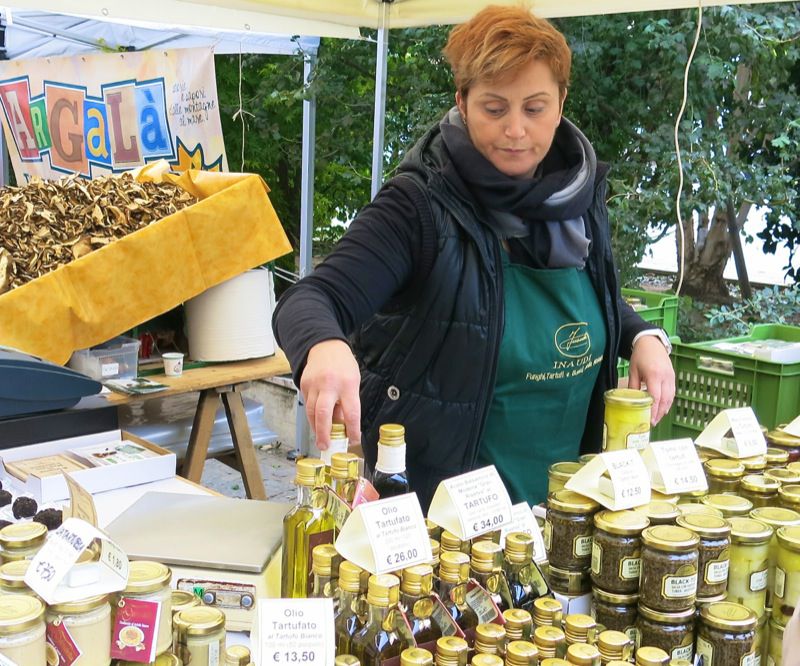 Excuse me, please? Do you speak English? White Truffle Market? Ah, grazie! (Two hundred meters down that street, and turn right.)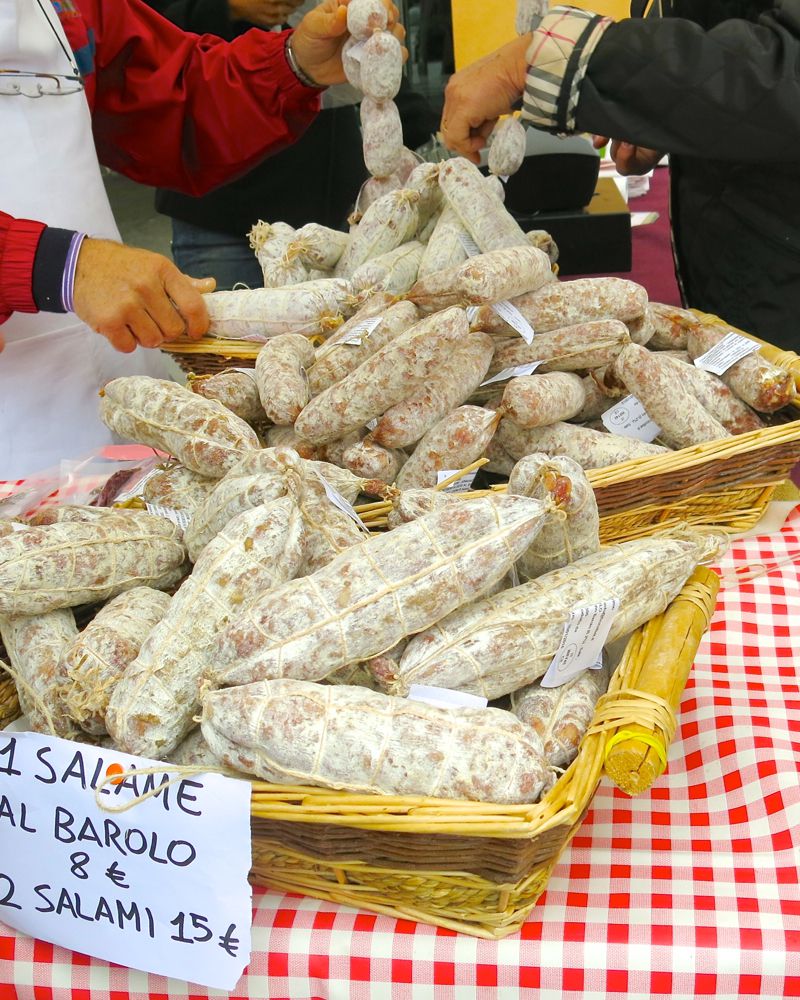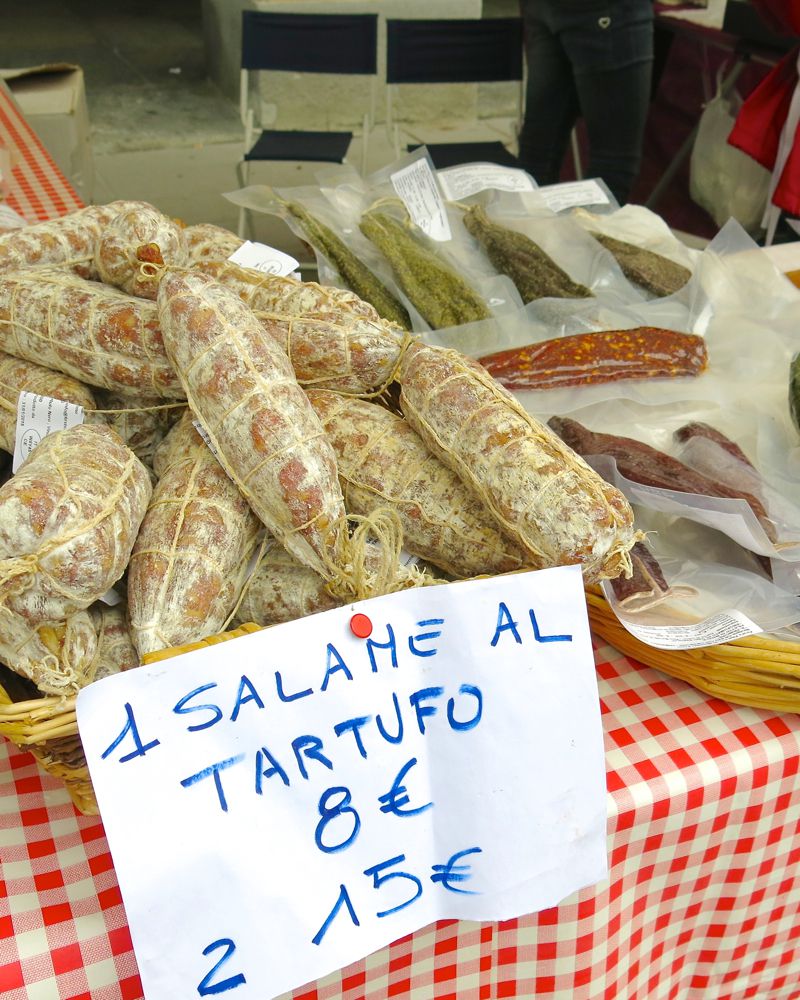 The Salami with Tartufo was an "in your face" taste experience. I am sure there was meat there, but didn't taste it. Only truffle. It was tasty, but just too much. Next, I wanted to sample the Barolo salame, and the cheeses…. and…. but, we should get to the Truffle Market and then come back, ….if there time. We had 2 hours allotted.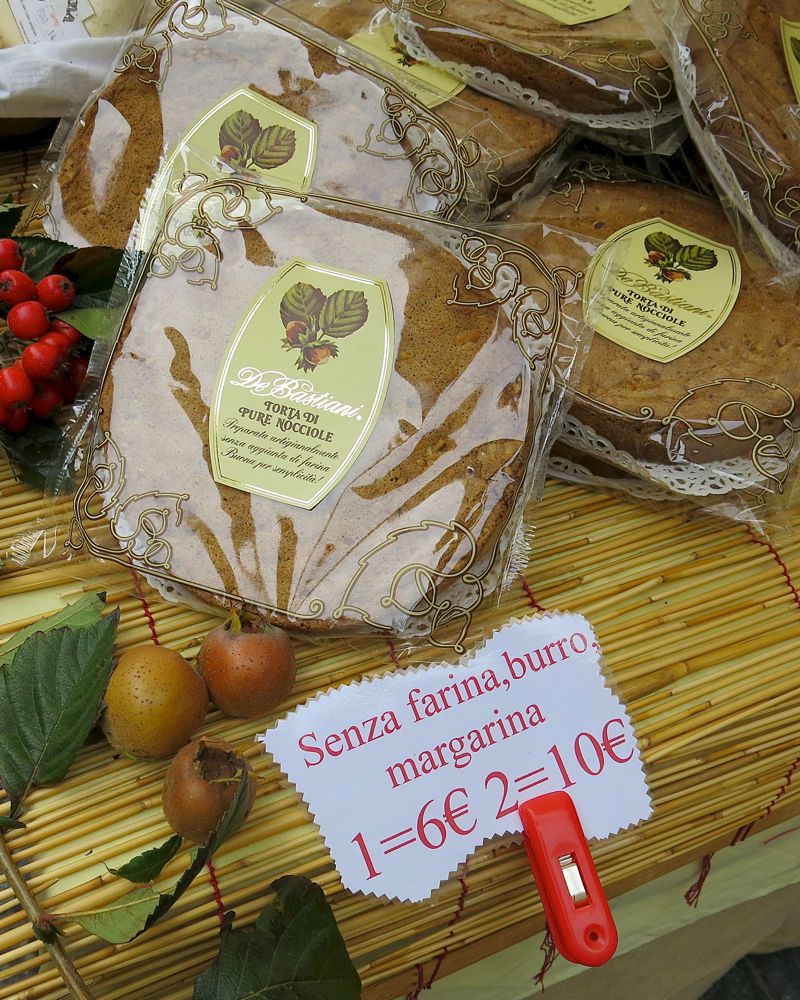 This was the day I learned about the Torta di Nocciole, a famous regional cake: no flour, no butter. Hazelnuts, eggs and sugar. Oh, my goodness. Oh, my gracious. This moist, almost meringue-like or marzipan-(hazelnut, not almond) -like concoction was instantly addictive. It is similar to the Algarvian Cake from Portugal, except with hazelnuts. There are flour and butter versions, and by the end of the day, I had sampled them all. None left me with anything close to the longing this kind did. I must learn to make it.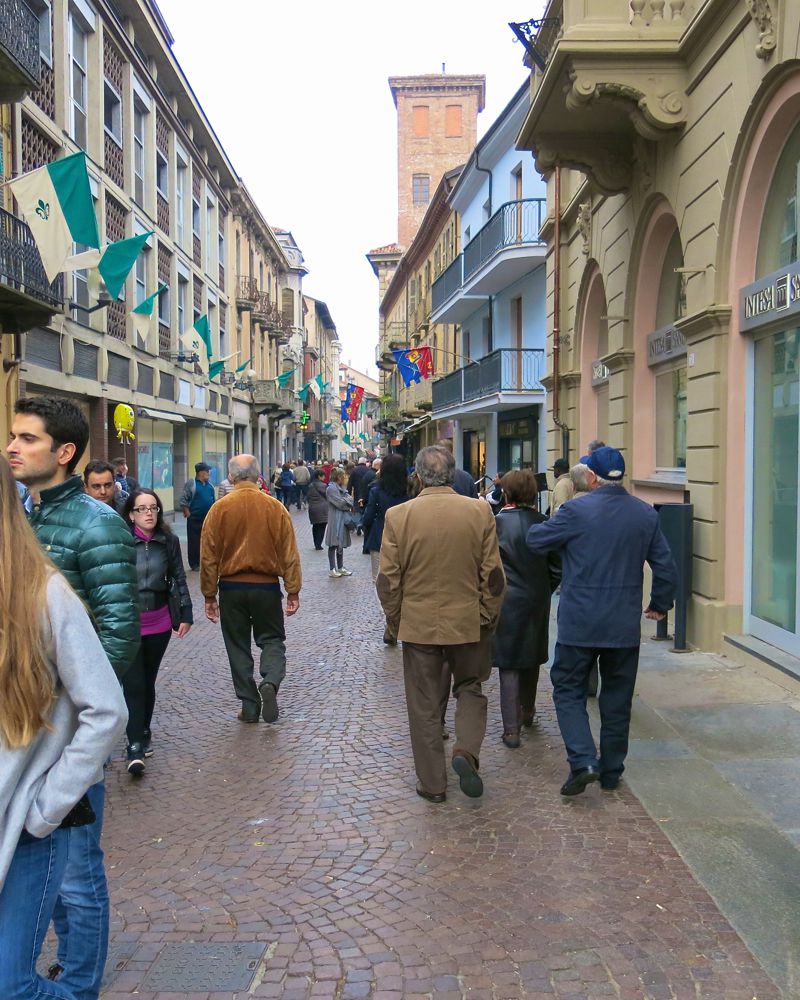 Two hundred meters this direction. My first day in the countryside after four days at Salone del Gusto found me invigorated: fingers and toes wiggling and me tingling all over! So many distractions: the clothes in the window, people, espresso! "Oh, look! A kitchenware shop!" Yet, saved "for later". The Truffle Market must come first.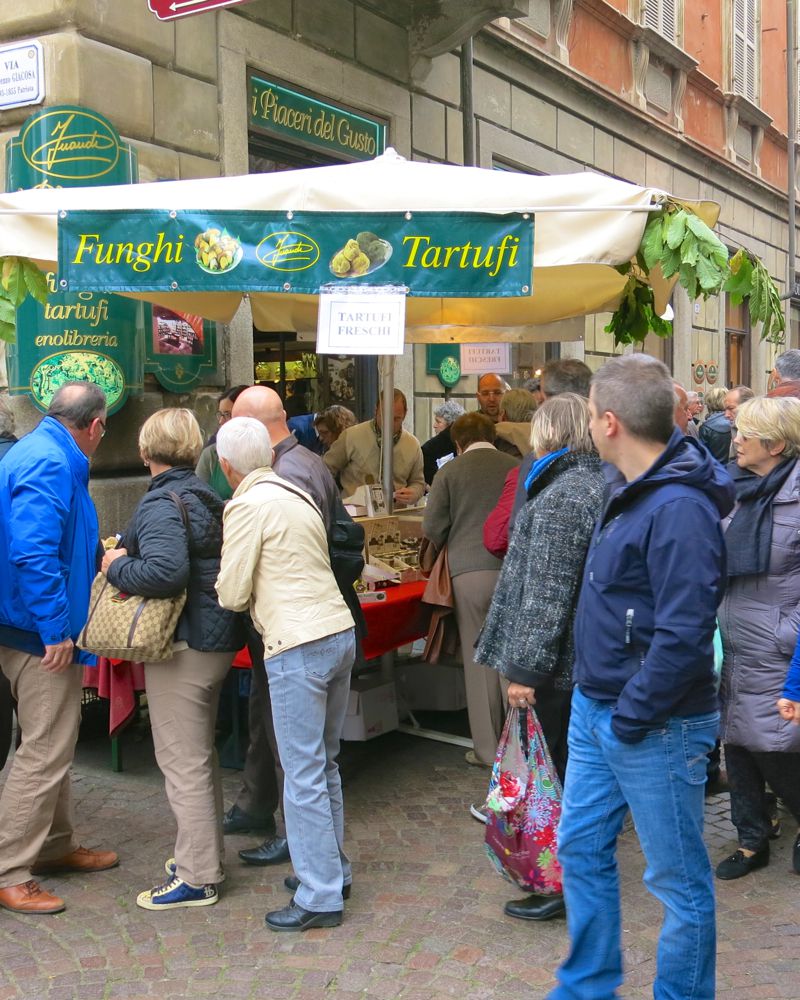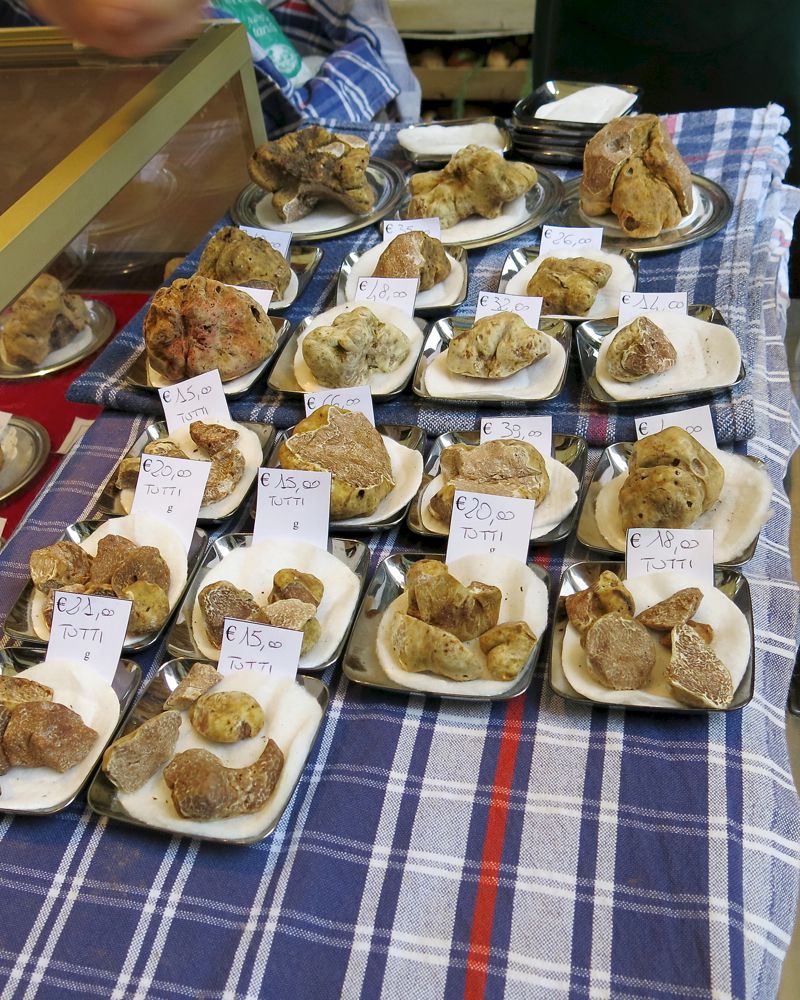 There were Truffle Hunters selling their wares at booths enroute. Hmmm? "Quanto?" Well. I could ask "How much?" but couldn't understand the answer.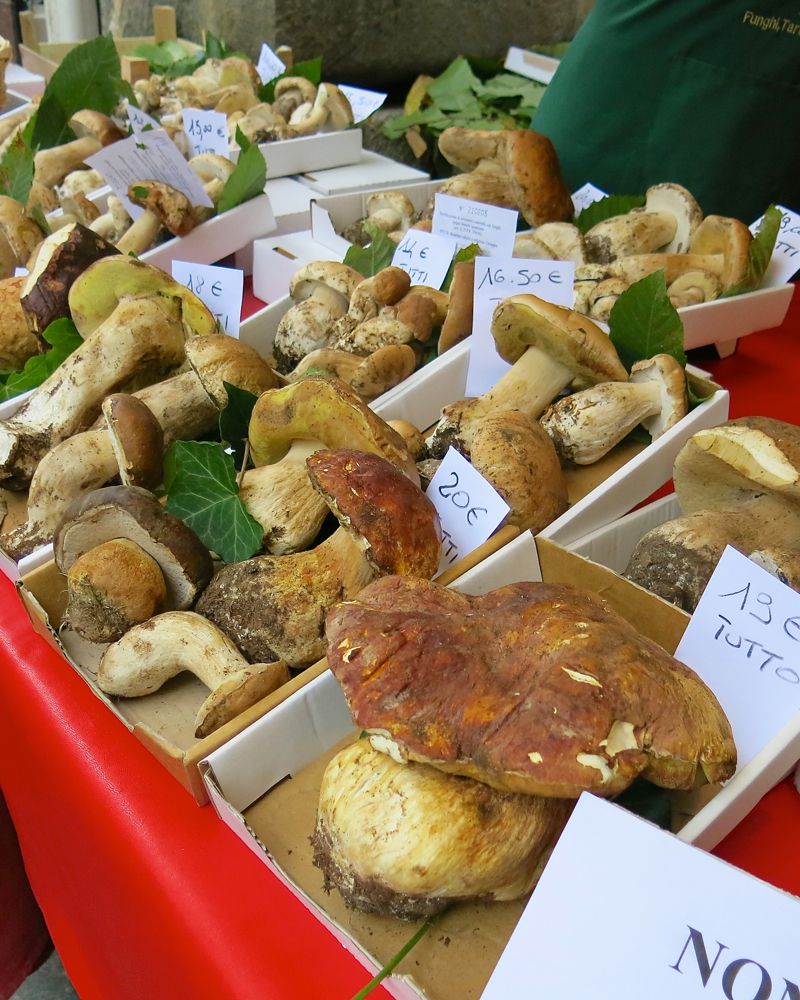 The melange of fresh Porchini dusted in earthy hues instigated visions of Toadstool Imps slicing and dicing these perfumed parasols into bubbling brown butter. Only momentarily. To the Truffle Market….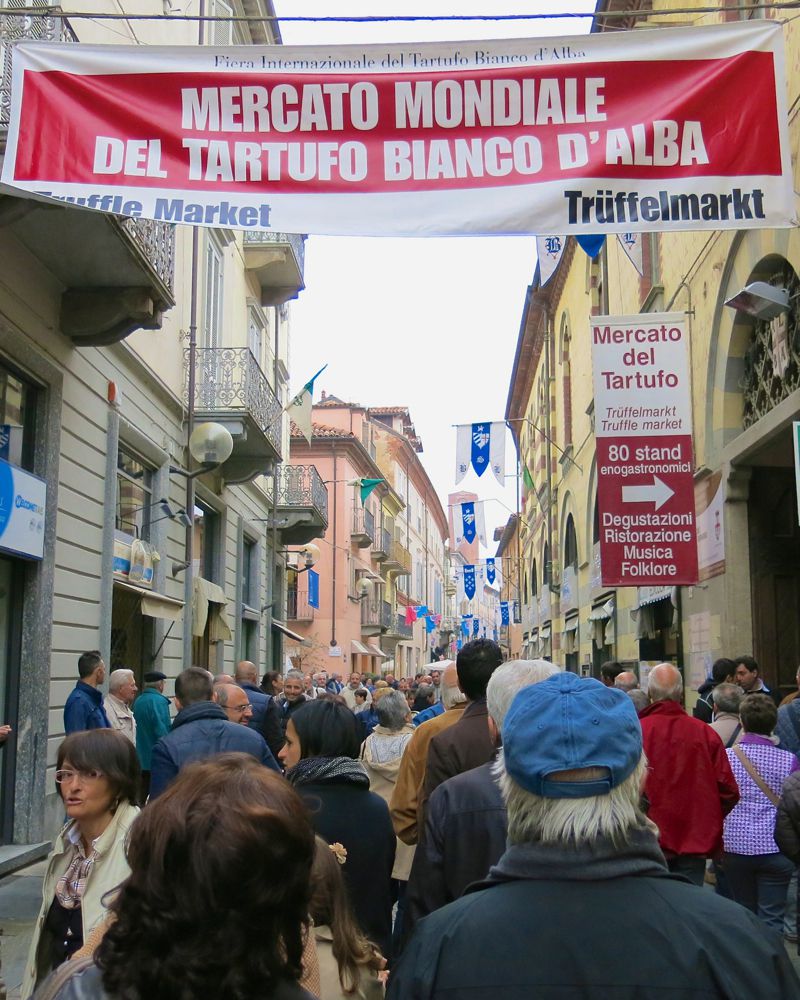 The crowd thickened as the banner appeared above an oversized ornate wooden gothic-like door opening into a hallway. I had forever imagined the Truffle Market to be outdoors.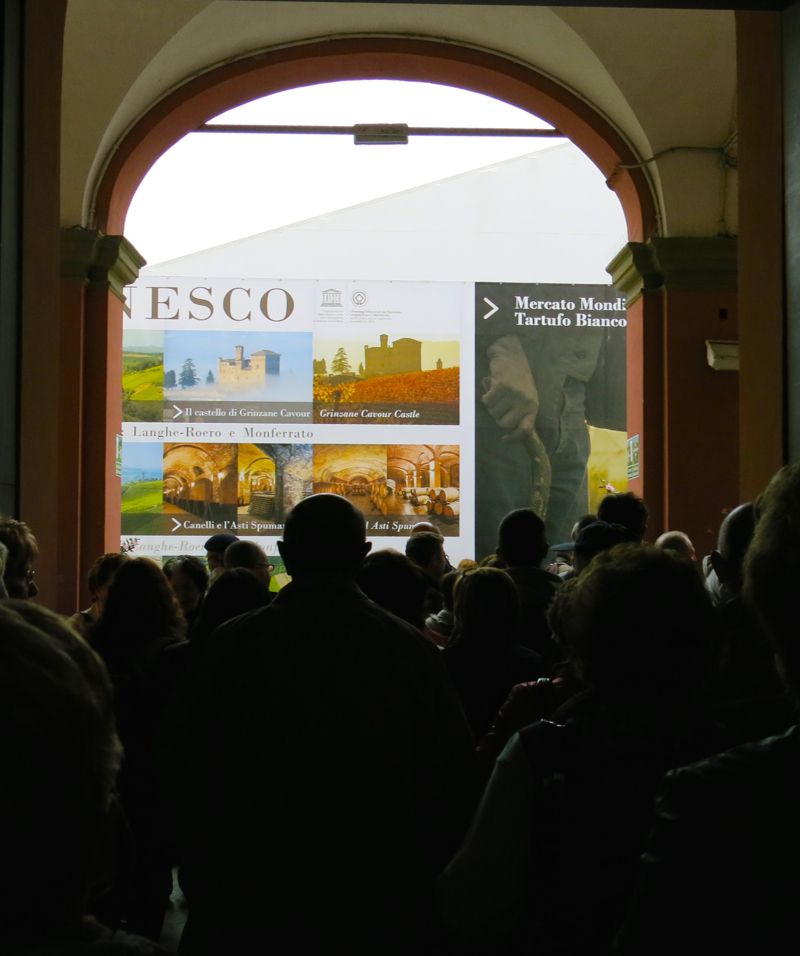 There it was: a heady boisterous aroma. Weighting through the air, greeting all arriving through the arched hall. This was not a delicate, subtle greeting. This was the Alba White Truffle Festival sensory explosion: Baptism by atmospheric immersion into the Church of the White Alba Truffle. I believe! Oh, I believe!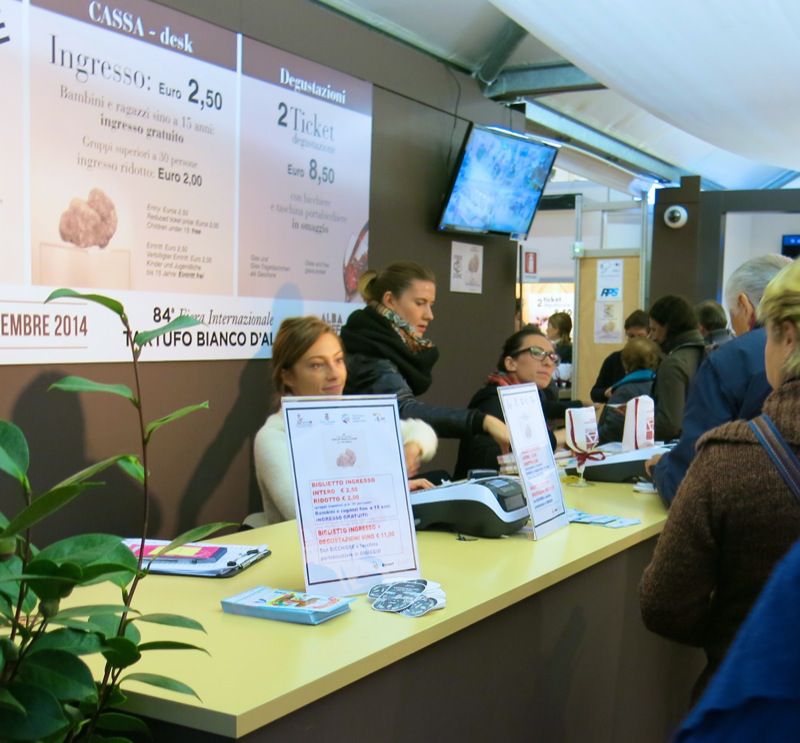 Booklets, information, €2,50 entry fee, or a very reasonable €8,50 entry which included a wine glass, a neck-pouch to hold it, and as much wine sampling as one could muster within the confines of the event. That €8,50 would be the best deal I witnessed this entire trip to Italy.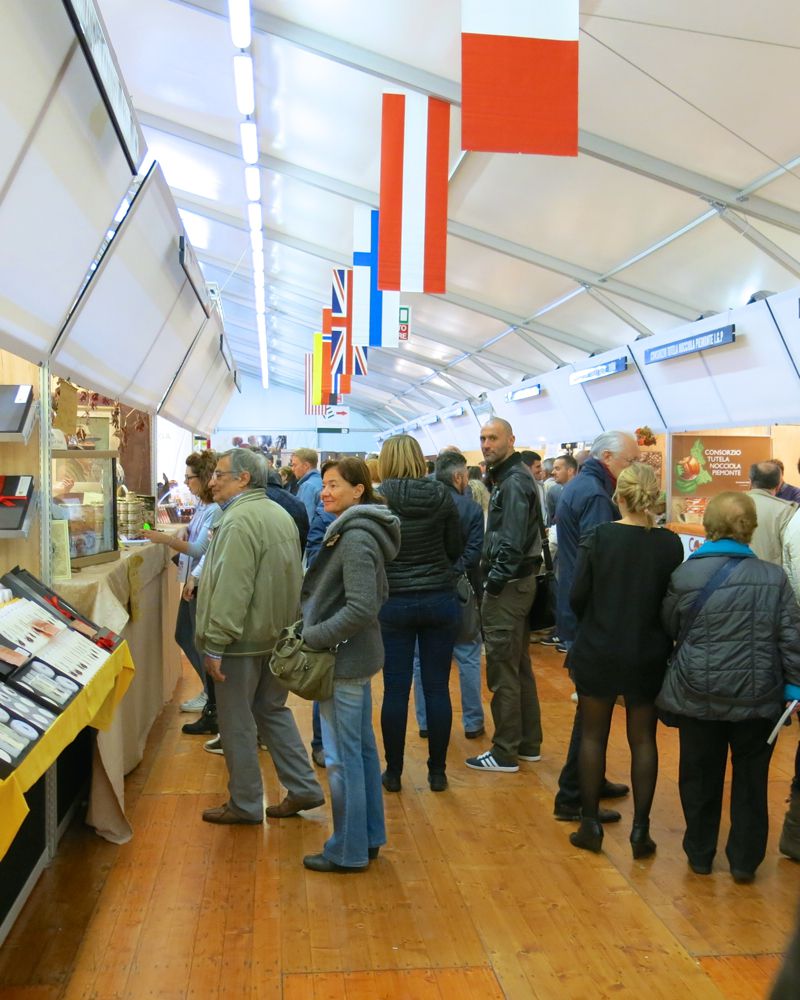 The aroma hung heavily in the air; pushing, as if in slow motion, through the thick heady nose, each breath seducing culinary fantasy, the Truffle Market unfolded before me.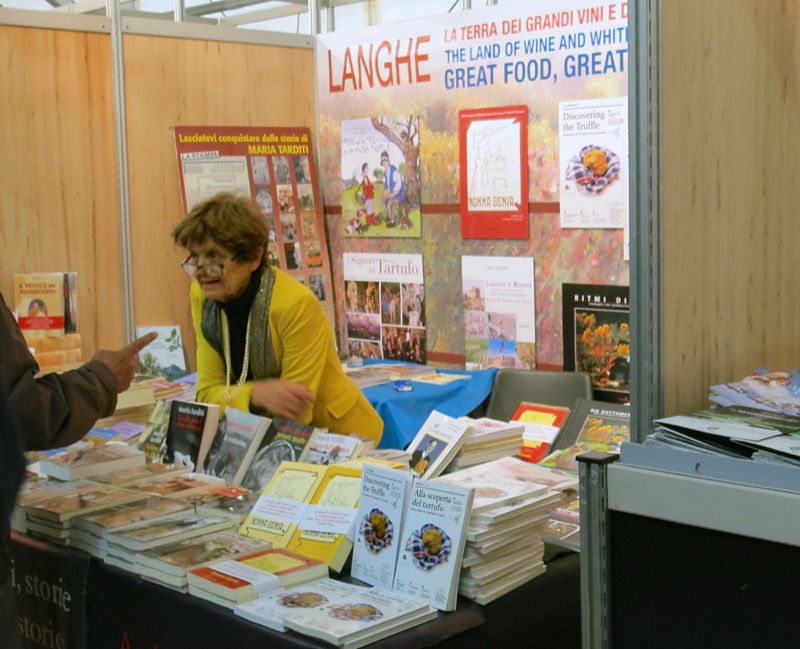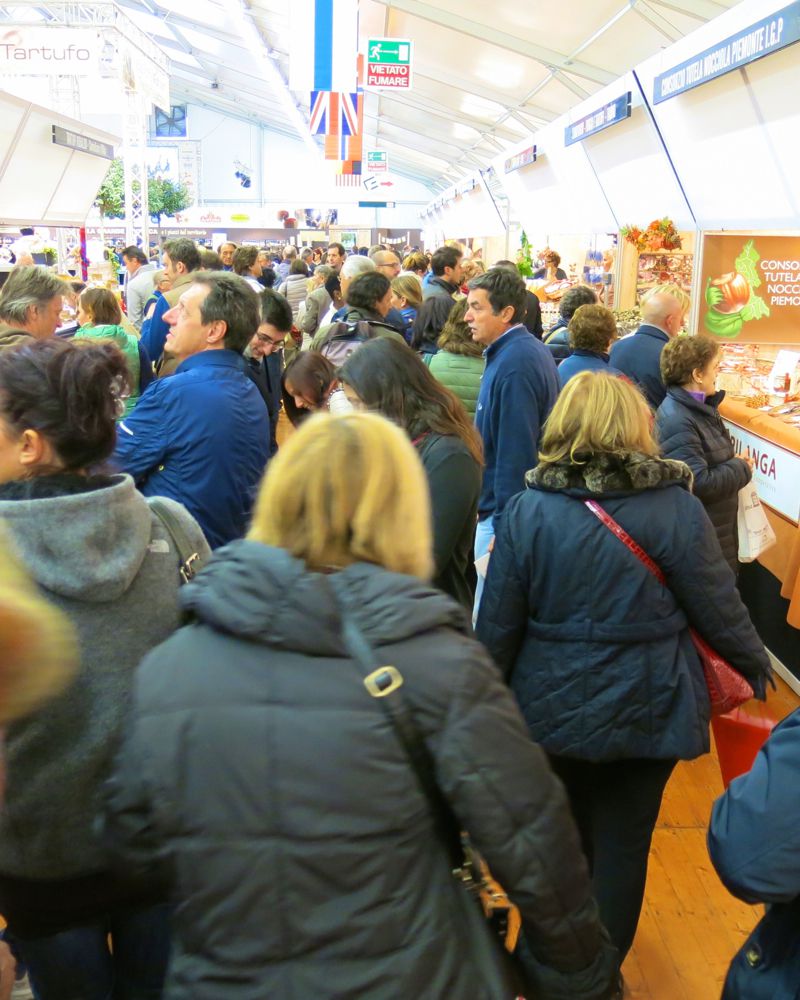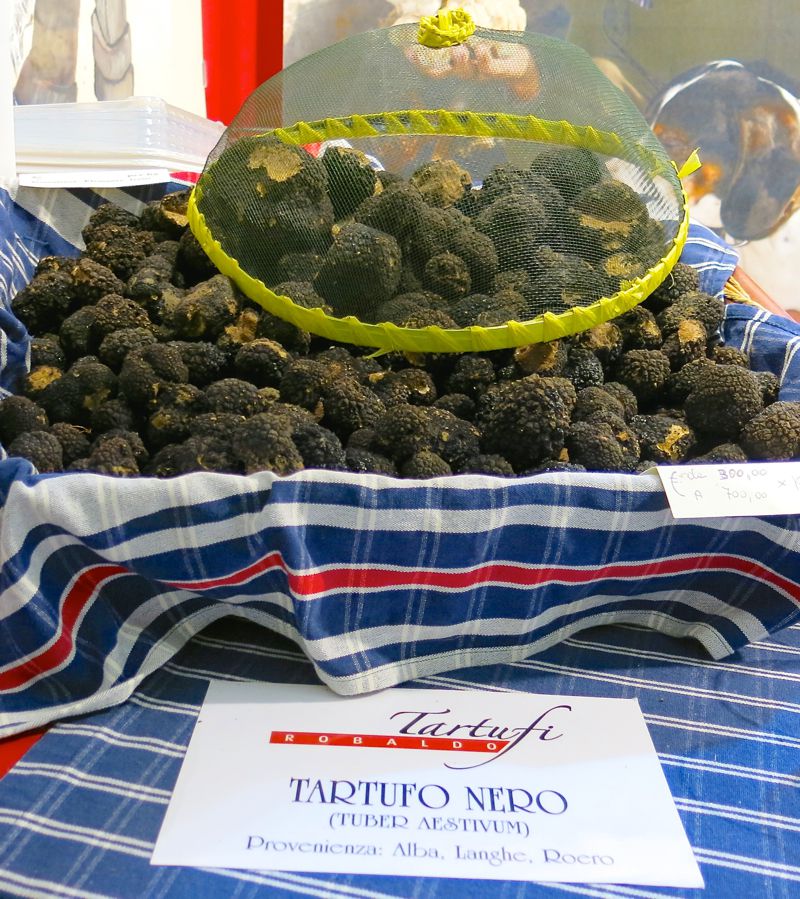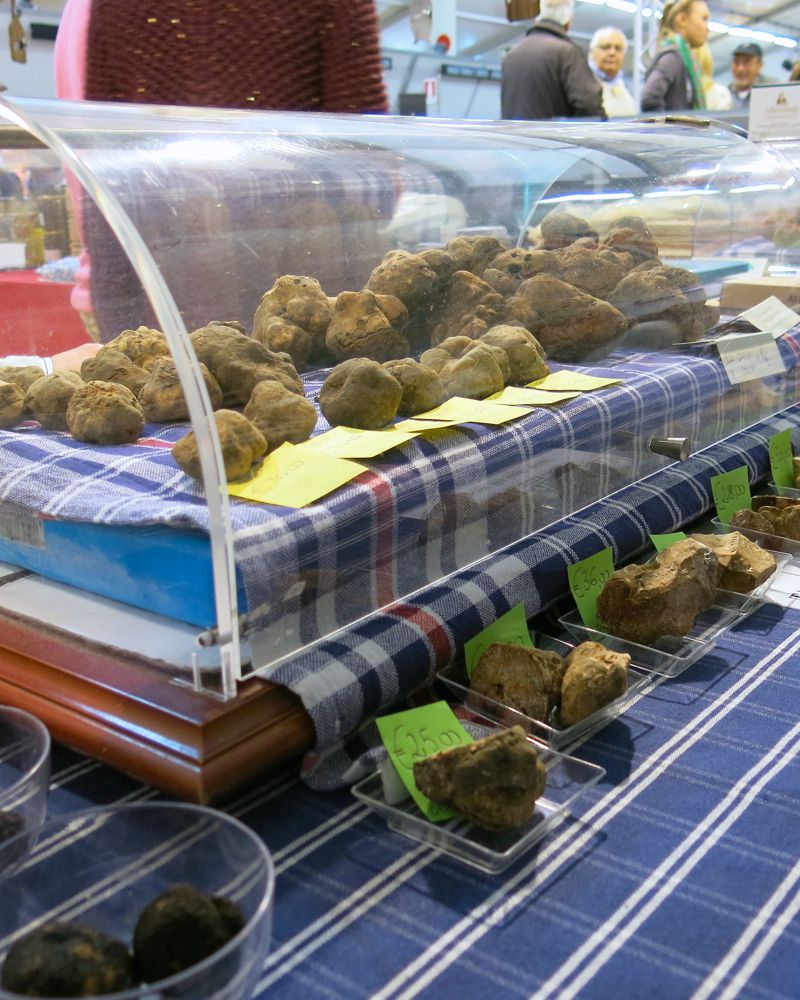 Books, information, people… and all things truffle: white and black.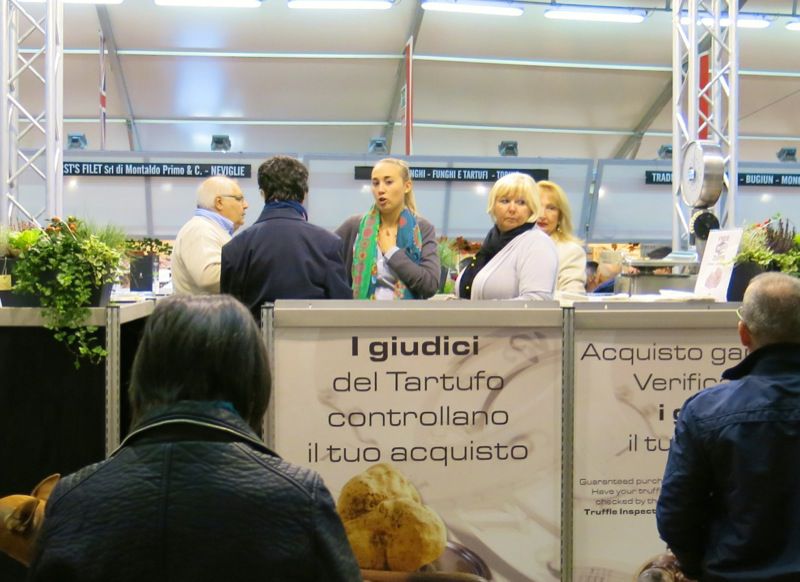 Every truffle on sale at the market has been reviewed by a special commission before opening and deemed authentic and of the highest quality and sold directly by trustworthy vendors and local truffle hunters. This group of experts, and judges above, are available throughout the day for consultation of any kind. The Consumer Help Desk is available for consultation throughout the week, Monday to Friday (9am-1pm | 2pm-6pm) at National Truffle Study Centre Association in Piazza Risorgimento 2, Alba. A calendar of all events is on the website each year. This includes tastings and truffle education for children. I found out, only later, that I could have had my truffle inspected and rated by the judges in the booth, above. However, as more than a hundred sensory analysis judges work on the market to assure the quality of the product, I was guaranteed that my truffle had undergone a careful evaluation of its health and its variety had been authenticated.
Vanja and I spend a day truffle hunting with Guillio in 2011 in Tuscany. It was an unforgettable sensory experience, yet clearly a simulated one, though he would not admit it. No matter. I would highly recommend this experience. A truffle hunter will never take you where he finds his truffles, yet to be fully submerged in such an experience is unforgettable and the perfect precursor to this day. The video, above, takes you from the hunt, to the truffle auction to the truffle market. At the "by invitation only" auction held annually at the UNESCO Heritage Castello di Grinzane, visited by our tour later in the afternoon.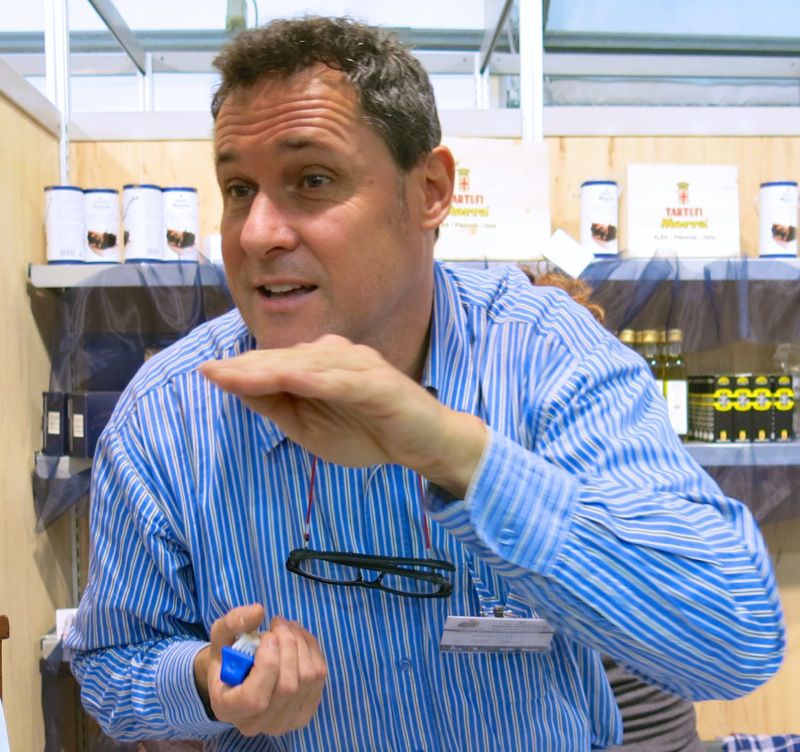 The Tartufi Morra Booth had the biggest line-up. We had discovered truffles at 5 Euro per gram, three Euro per gram, and two Euro per gram throughout the market. Two Euro per gram was most common, and that was the price here for the small size, 50 cents more for the next, and so on. Think about it. An average serving of shaved truffle per person is 10 grams: that is 20 Euros per person vendor price (opposed to the 4.50 Euro per gram at our evening restaurant), or approximately 30 Canadian dollars for the truffle portion of the dish, only.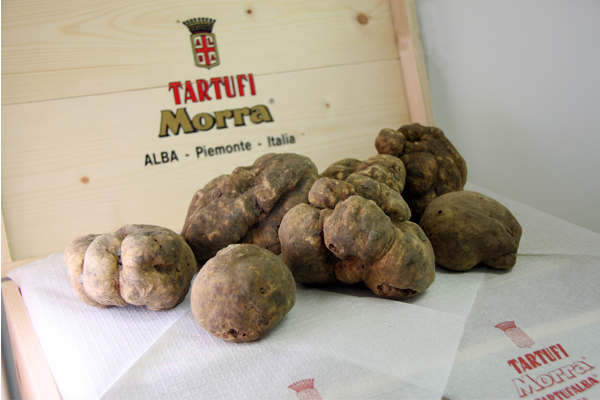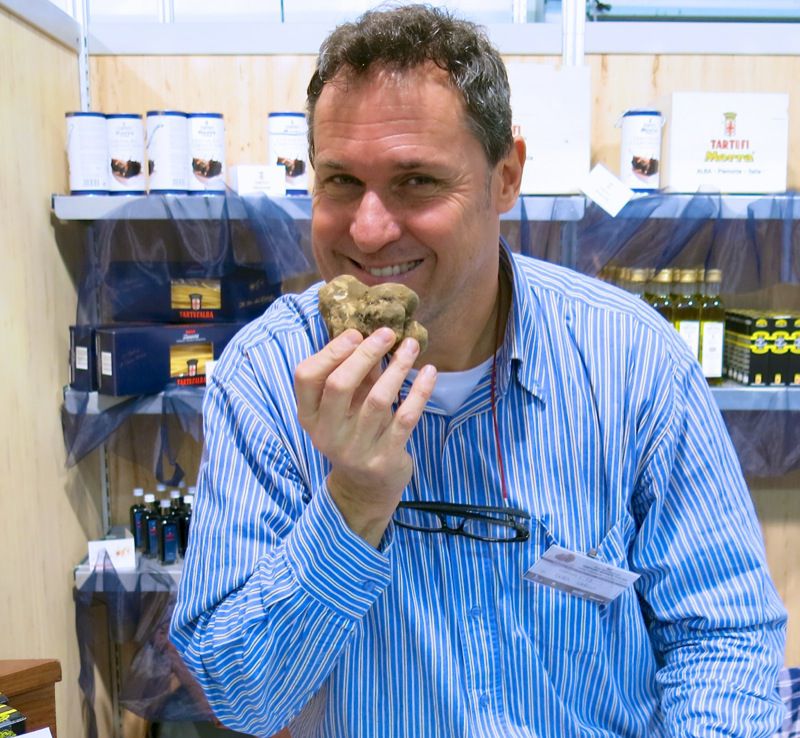 Sadly, our sales person was not a Truffle Hunter, but he held an incredible knowledge and nose. Which one is best? And each has its own aromatic character. I thought this one. So did he. This one, it was.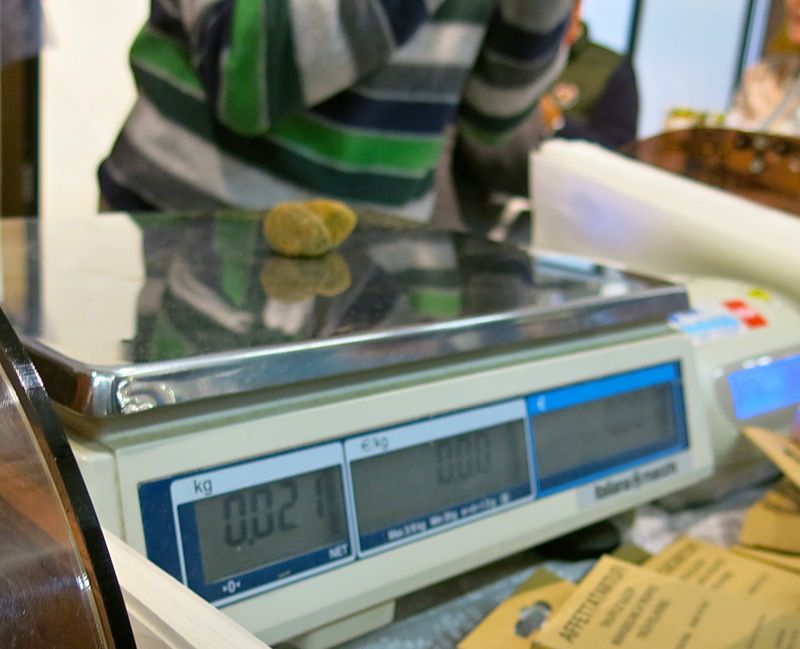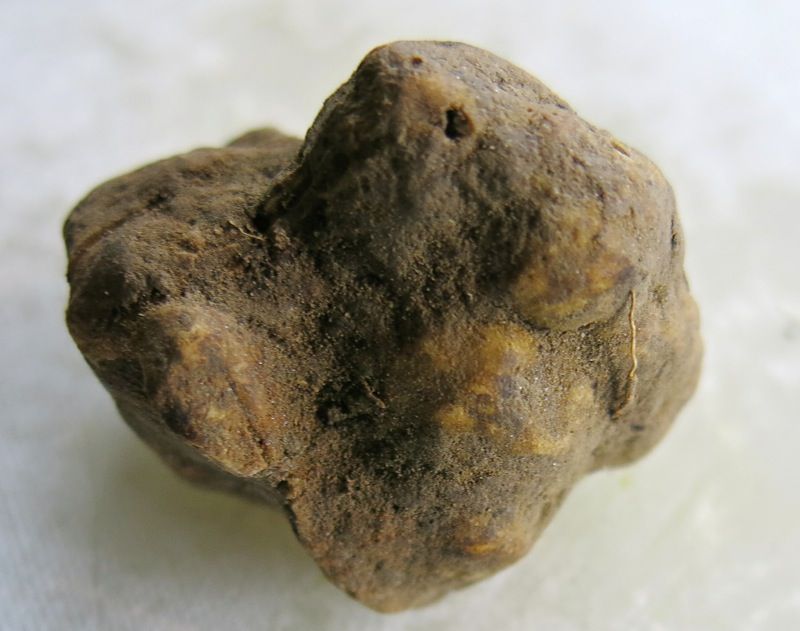 I was giggling and jiggling – enveloped in pure rapture. An authentic aromatic white Alba truffle in my bag. Blood pulsed through my arm bag holding arm at double speed. Oooo, mama! What a day!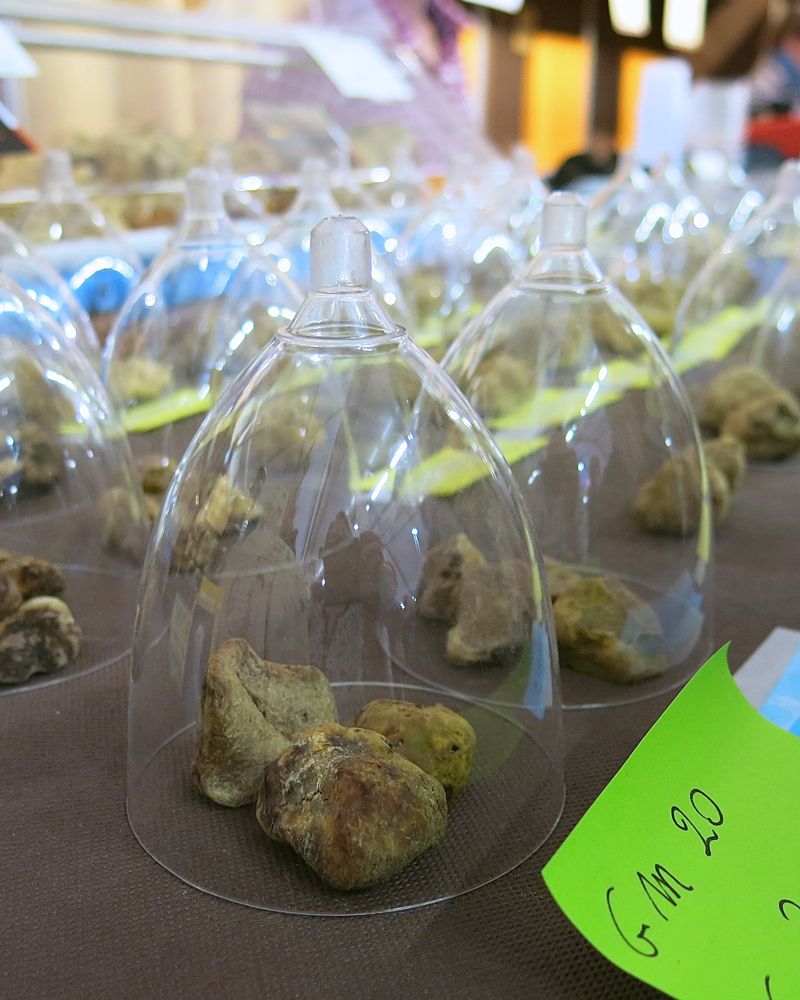 To be educated in this tuber would be as intense as becoming a Sommelier. I graduated from the school that adheres to the age old adage adapted to: "Drink the wine you like. Eat the truffle that smells good to you." Yet, I always want to learn more.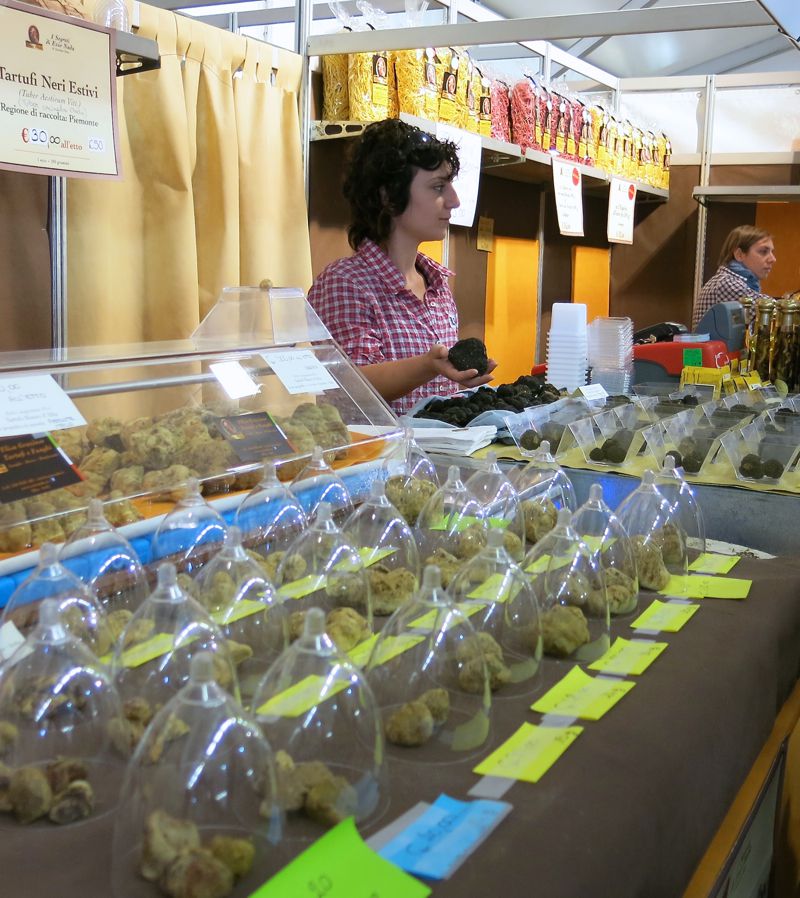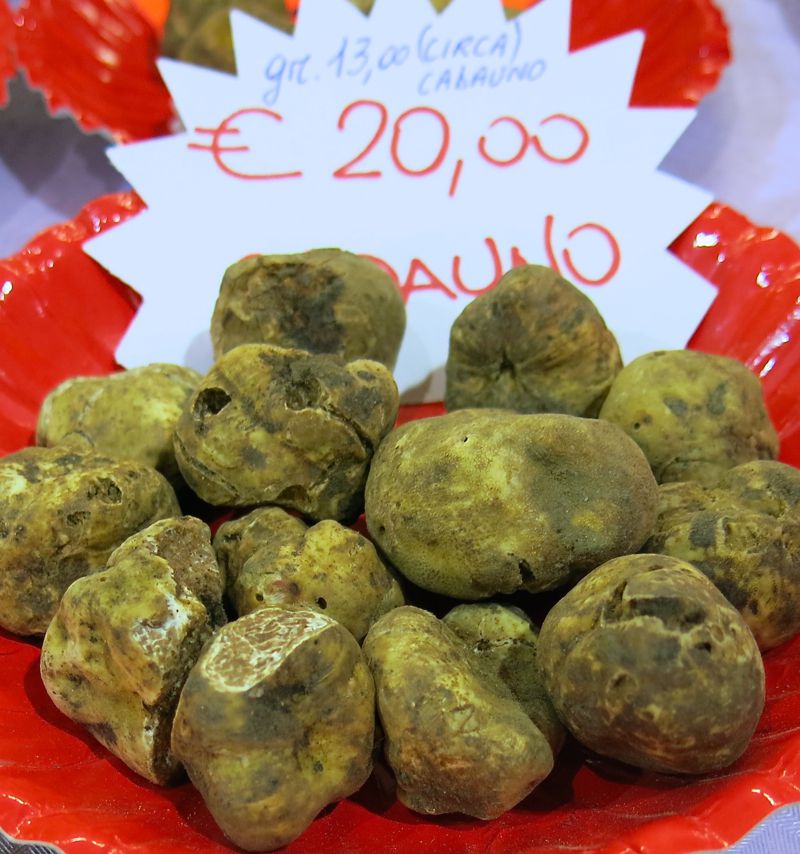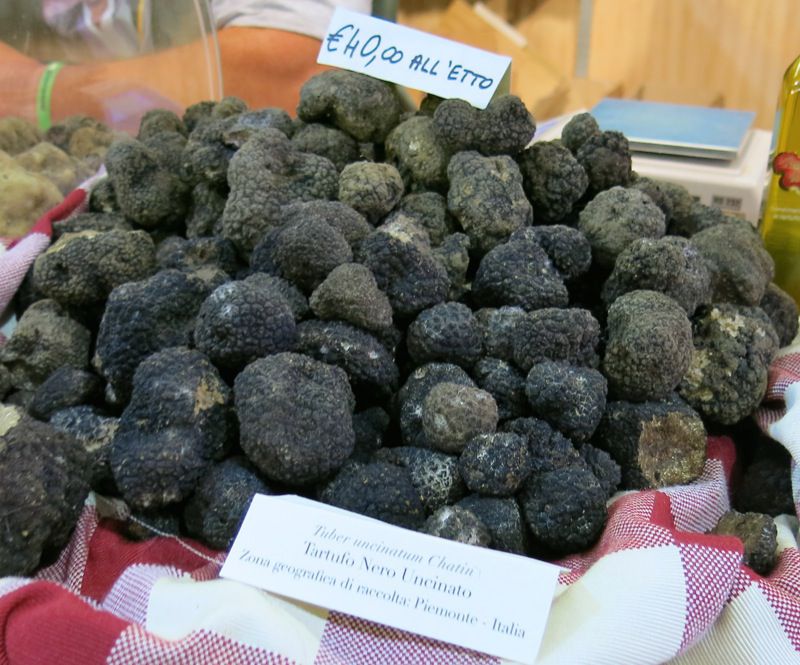 The Black Summer and Autumn Truffles were also sold here. Above, is the Black Autumn Truffle.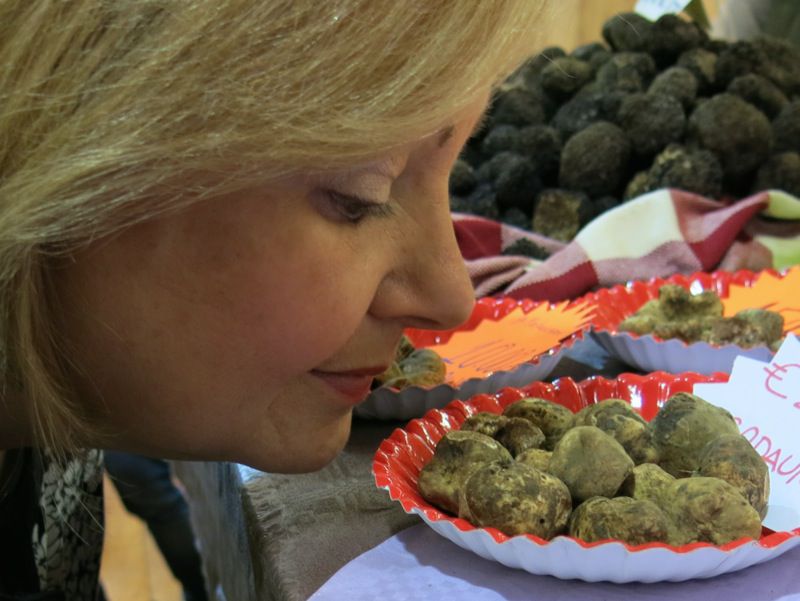 The truffle strums on ones umami taste buds directly through the nose.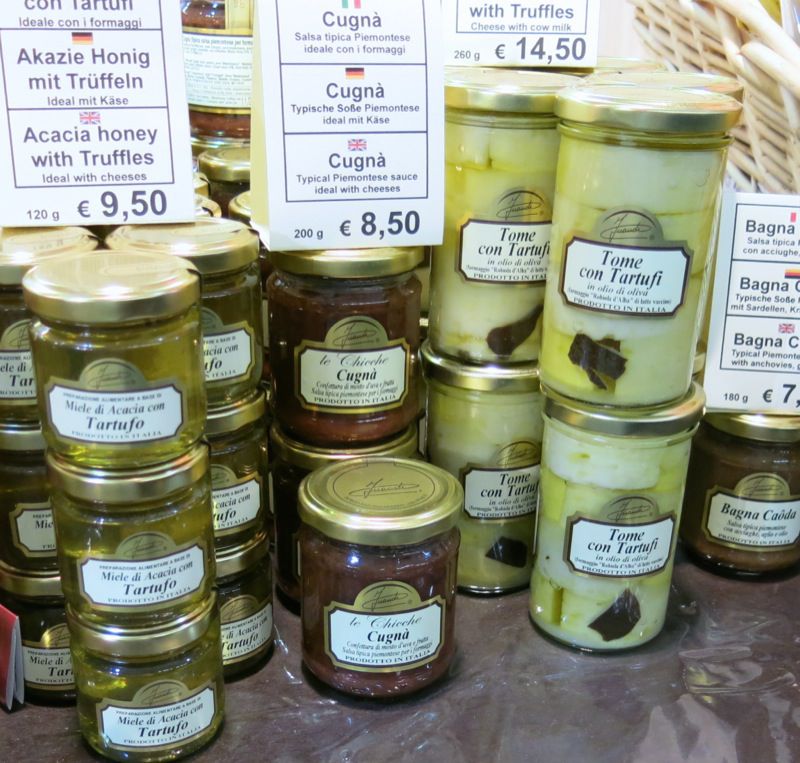 The honeys sold here are not synthetic. There were no truffle oils at this market as truffle tasting oils are created through synthetic processes as are some honeys. Everything inside of this market is guaranteed legitimately truffle flavoured. Voula loved the tome cheese in oil flavoured with truffle. It was chewy and aromatic and addictive, but there was so much. So much. I still have truffle honey at home from my last trip and adore it on vanilla ice cream.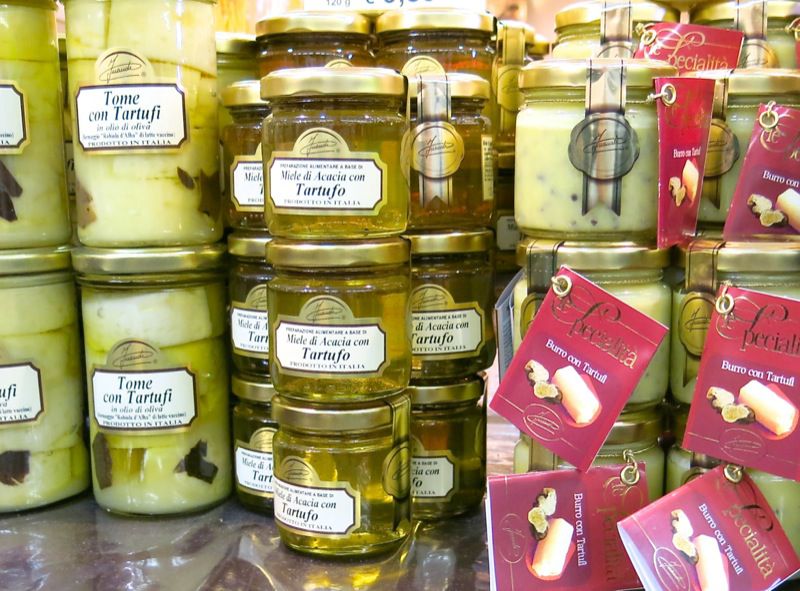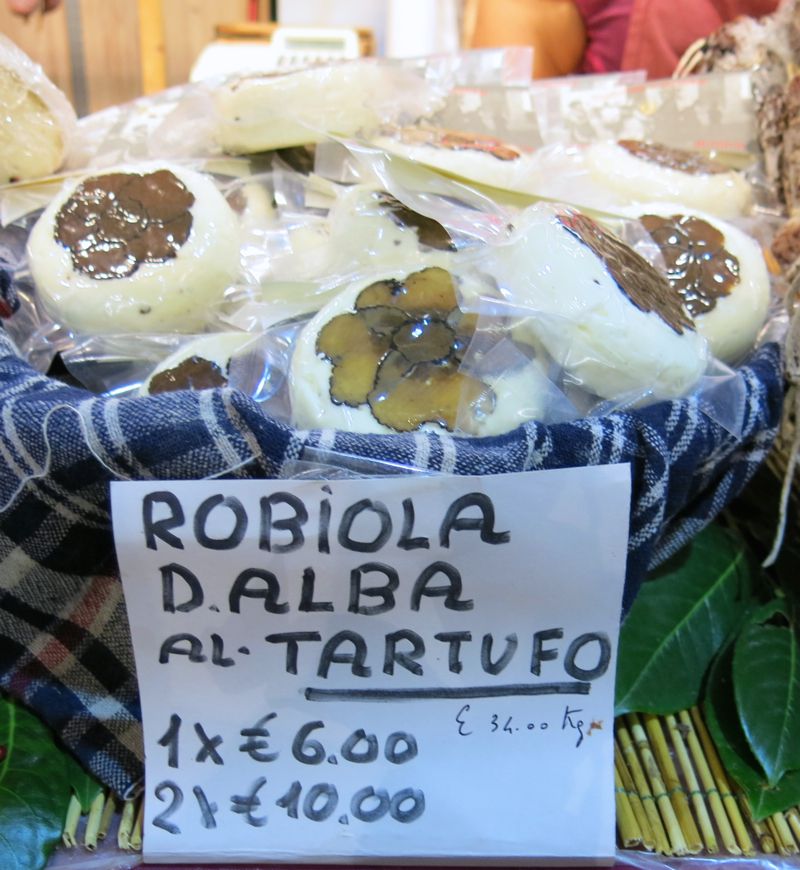 I did not stop with the truffle. The cheese above was a velvety concoction permeated with the musky incisive scent of white truffle and completely irresistible. Mary and I tasted, looked at one another, and without cue, in unison, eyeballs rolled into the back our heads, then hypnotically each pulled out money to buy. Oh, my. Trembling still, I also bought Truffled butter.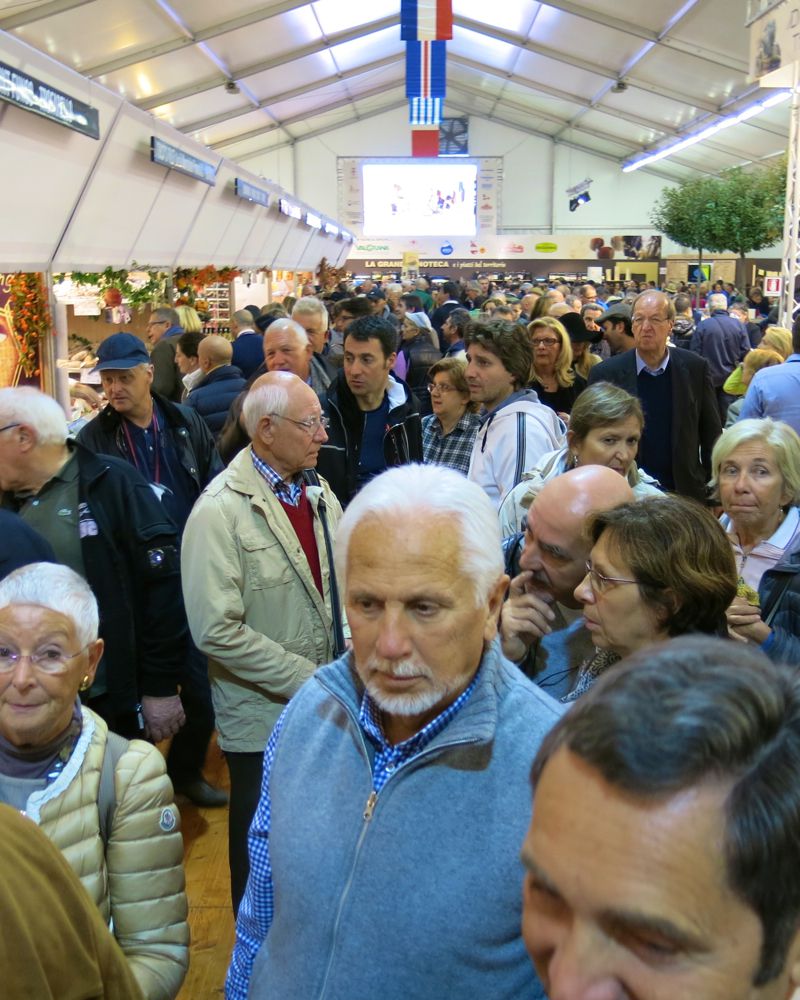 Throngs. "Be no later than 10am" was clever advise as just before noon the mob was morphing into a life of its own.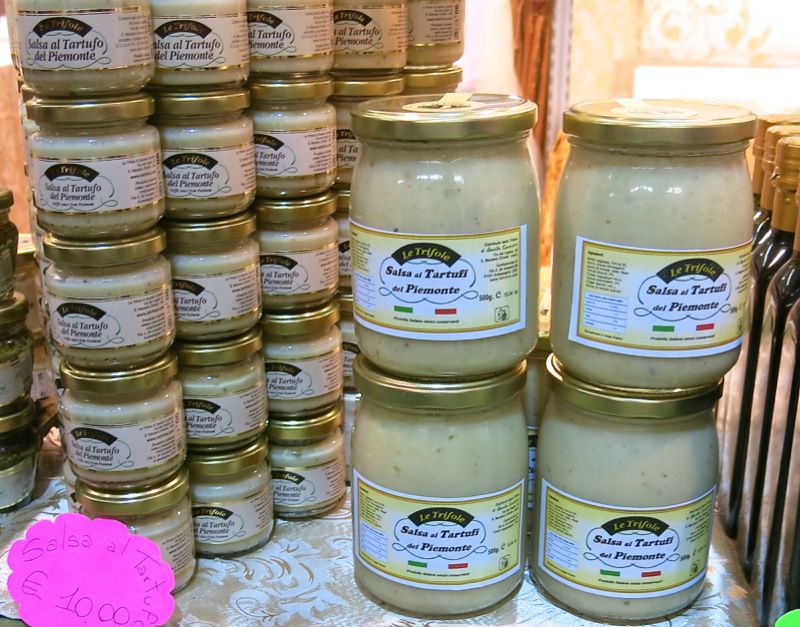 One can never taste enough truffle products. I cannot begin to imagine how self indulgent I would be if I lived nearby. I would find myself in church every Sunday during the festival offering repentance.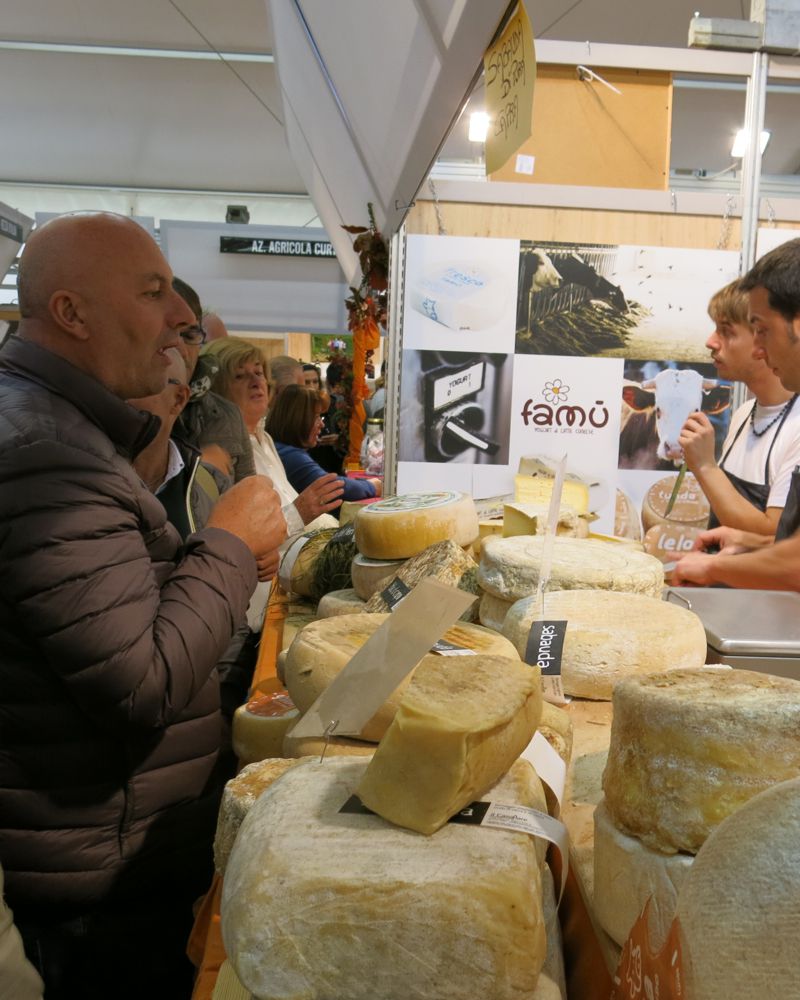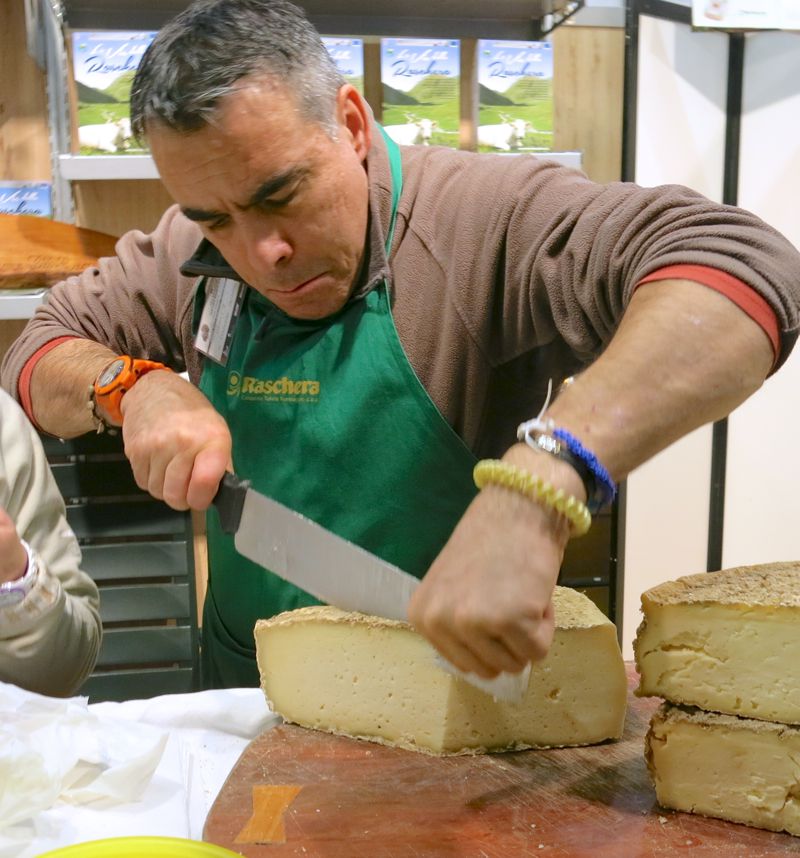 The passion of the people was compelling.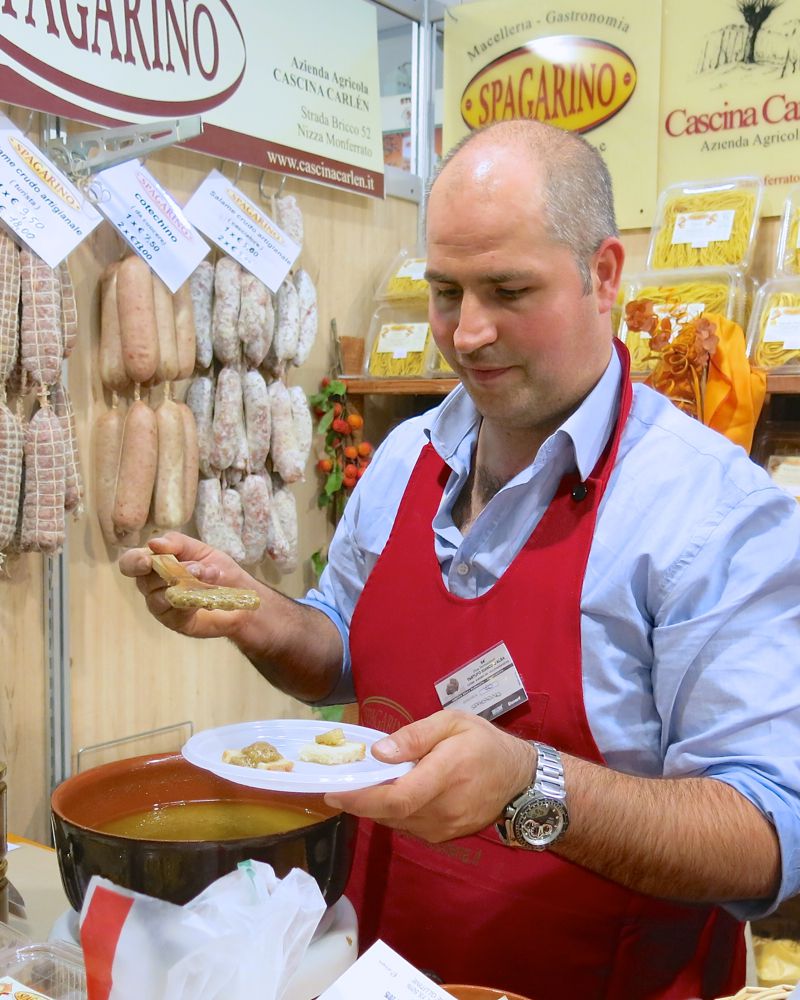 Ah! Bagna Cauda, a Piemontese culinary classic and something I had never tasted. This version is preserved. Small respected authentic Italian businesses use no preservatives and the bottled and canned food is clearly labeled and surprisingly free of the gobbly-gook North American preserved foods contain.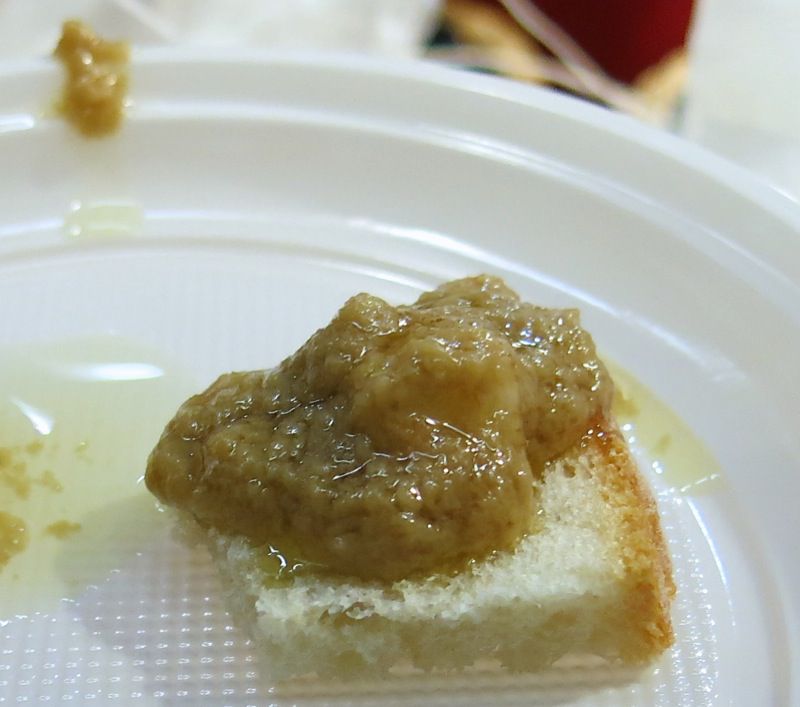 Typically, Piemonte is a butter region, not an olive oil region. The classic Bagna Cauda contains no olive oil. This one does, and asks for more to be added to this intense batch. It was very tasty, and I was particularly thrilled with my first "real life" sighting and tasting of a cardoon! A piece of one was nestled into the slice of bread blanketed with the sauce. Celery-like was my response, but this was certainly not a clean tasting.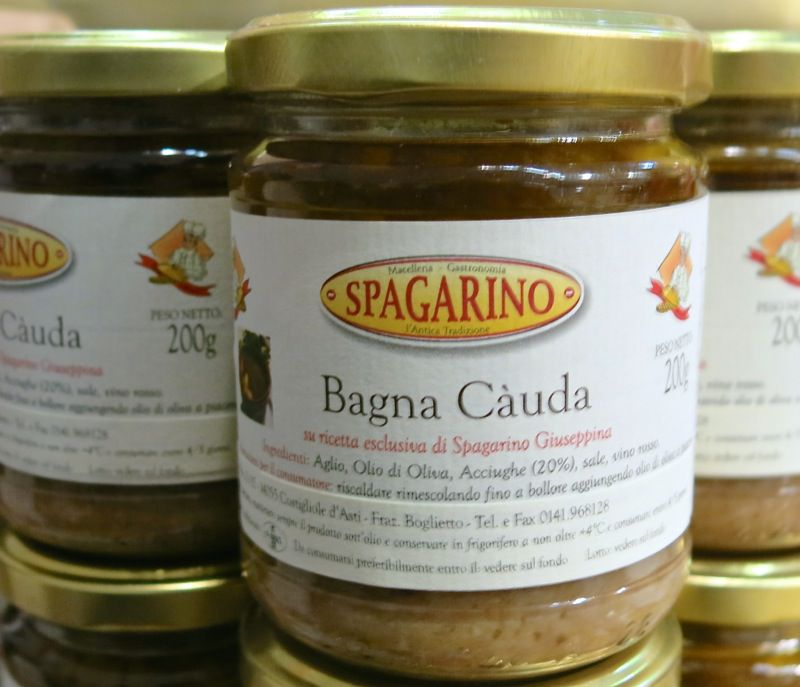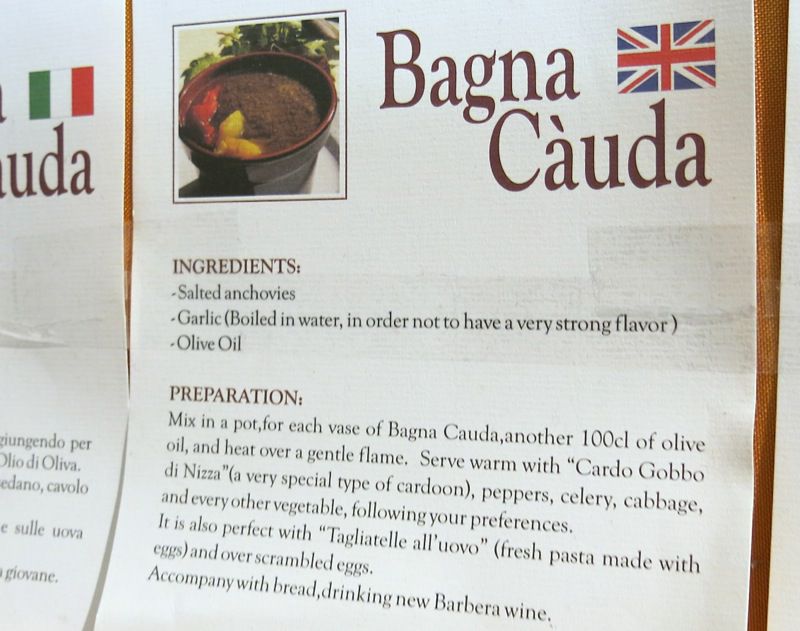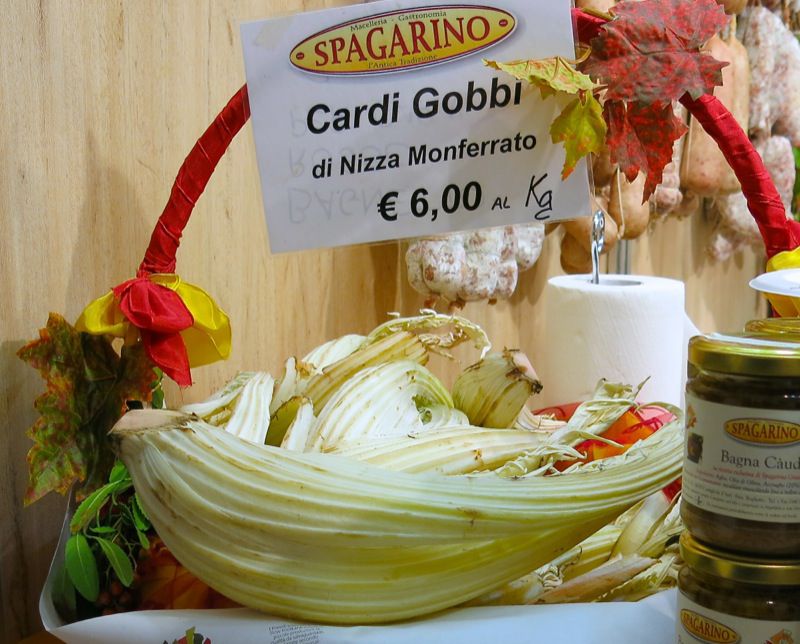 The cardoon is above.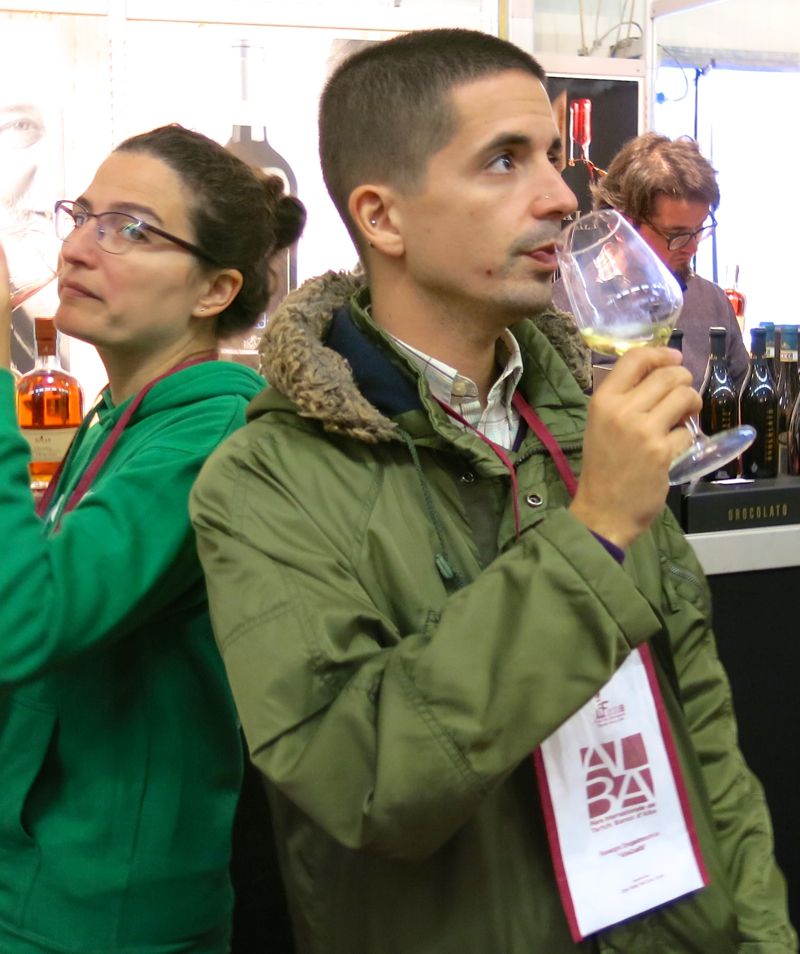 I have not focused on the plentiful offerings of grappas, liqueurs, and wines at this market carefully designed to accompany the food offerings, but they were seemlessly integrated throughout, and epicurious patrons could clearly spend a rosy cheeked day tasting and imbibing.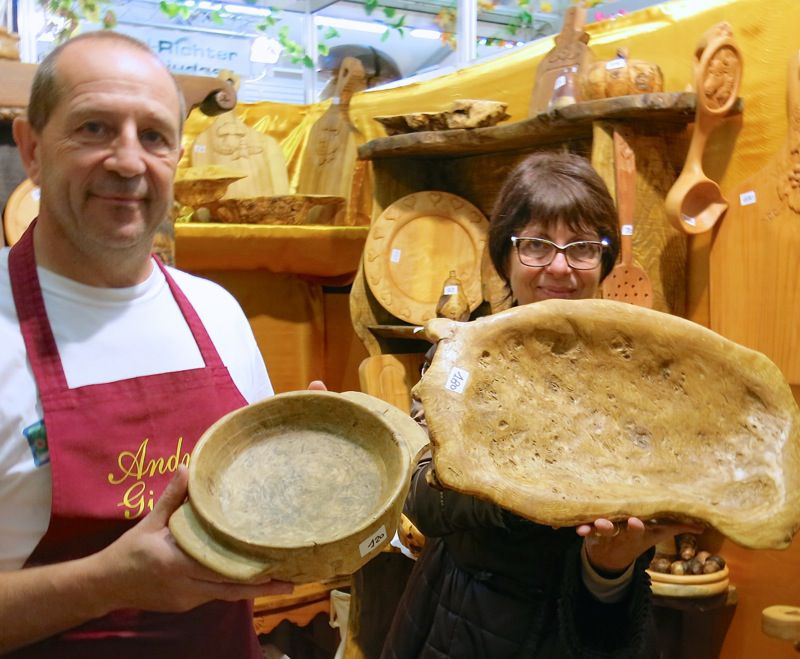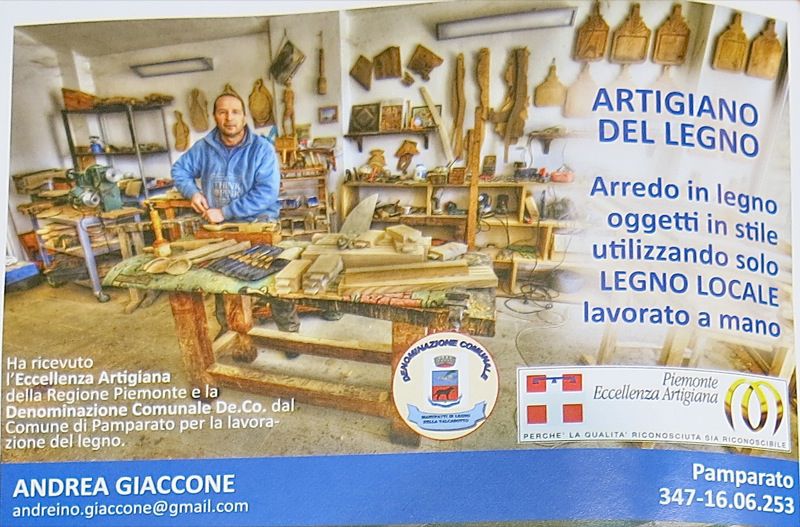 Had I been touring with Vanja in a car, one of these heavy, rustic and thoroughly unique pieces would have found its way into my luggage.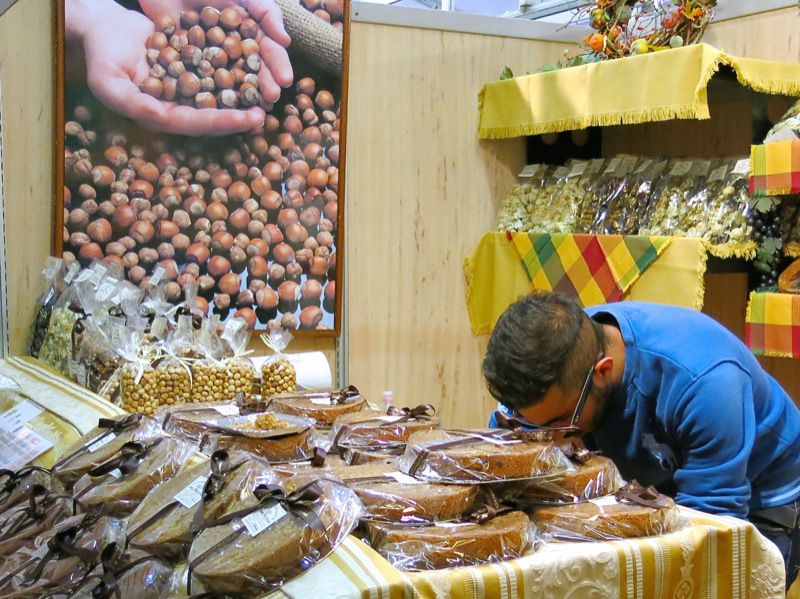 I came to this market with an unexpected new knowing of the Piemonte IGP hazelnut. My tasting at Salone del Gusto was unforgettable. The manner of roasting is part of the sentiment. How can I get this home? I cannot possibly eat the entire cake before I go home – can I? I still regret not buying this cake. It was the best I sampled anywhere… and the name of the company was too blurry to read.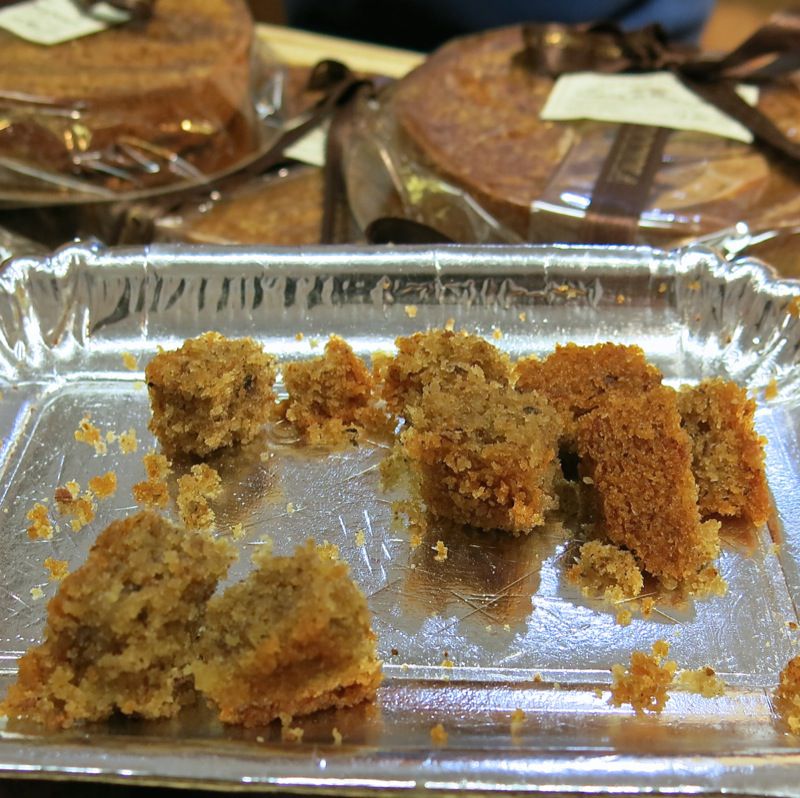 This Torta di Nocciole rocked my socks: moist and a little chewy accompanied with the bold rejoicing of "in your face" hazelnut.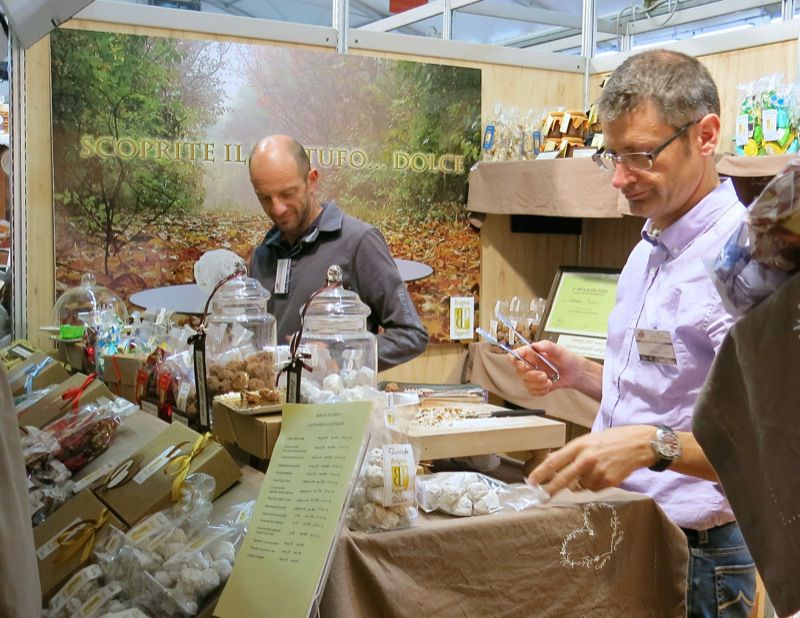 Next door, confections. I usually do not stop, but the white snowball looking hazelnut truffles were calling my name. Bergese Paganelli is a small artisan confiserie focused on the creation of delicious hazelnut and chocolate products. It is close to the city of Cuneo near the French border. Only the finest hazelnuts from southern Piedmont and exquisite chocolate are used as main ingredients for their tartufi dolce which I purchased after tasting, with reckless abandon.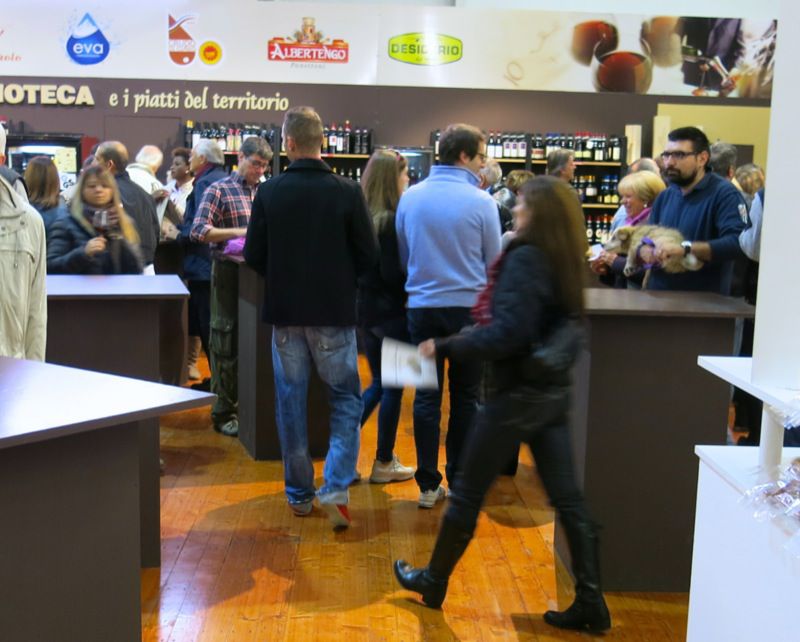 An Enoteca is the ever present necessary companion to any Italian festival. When Eric bumped into us and shared a photo on his cel phone of his truffled egg feast, we had to partake! Two fried eggs with an astoundingly plentiful amount of the infamous White Alba Truffle and a glass of bold red wine. Well, at 28 Euros, the erotic exotic shavings lavished over the orange yolks must be generous.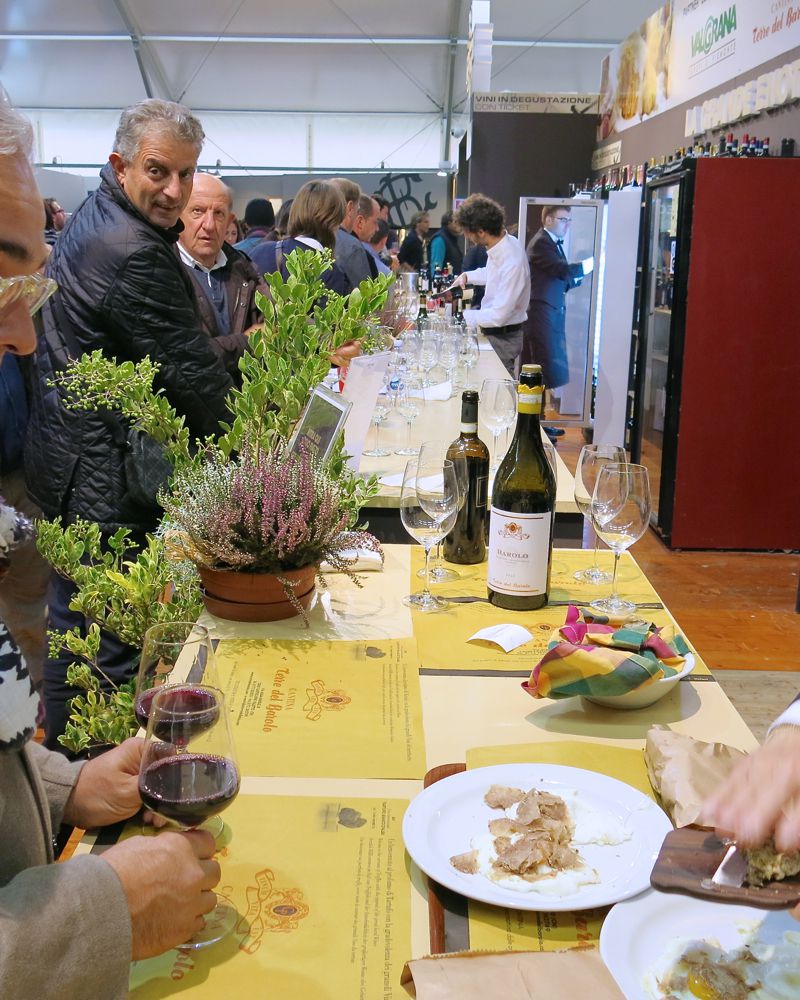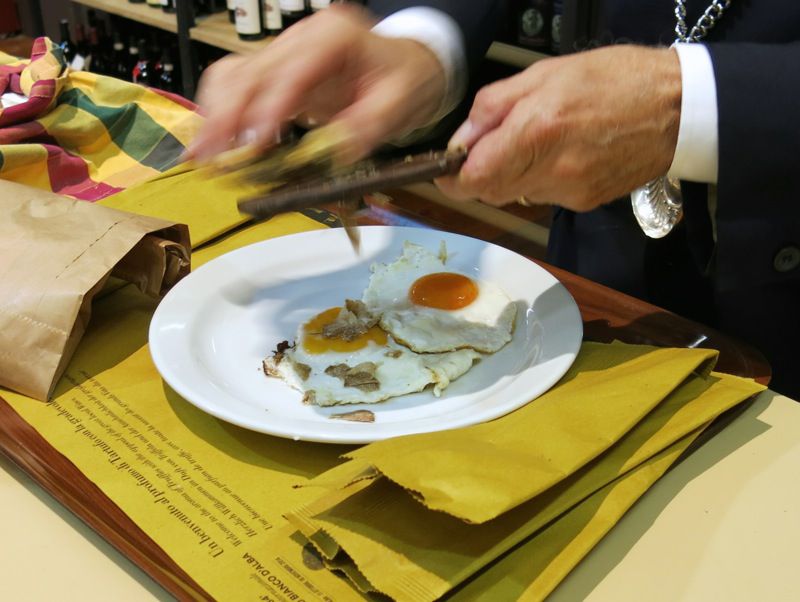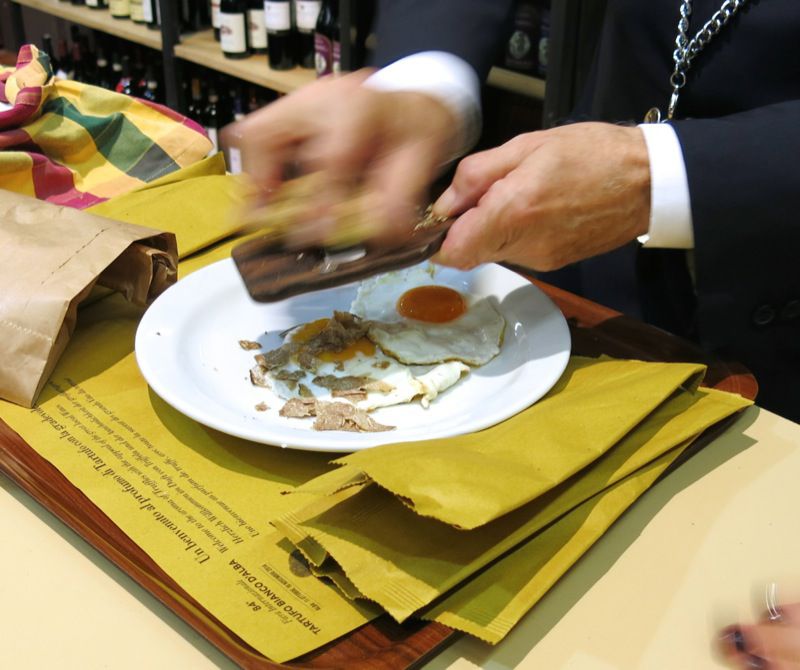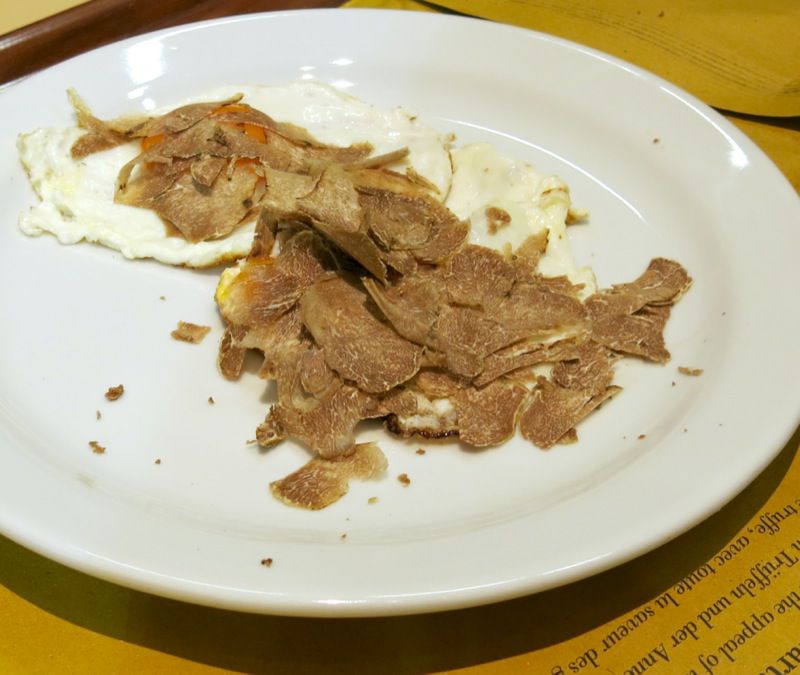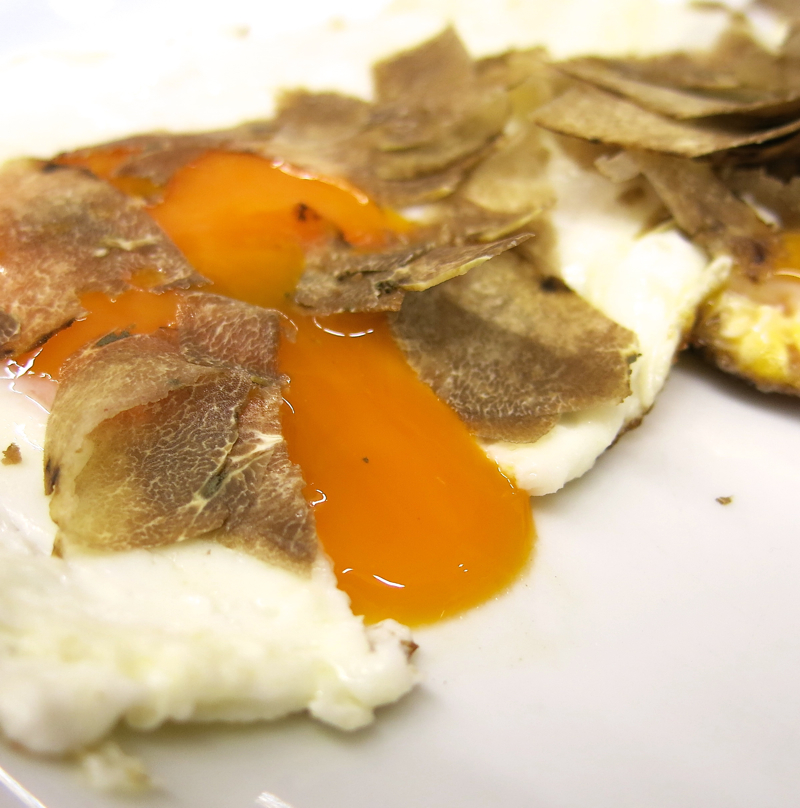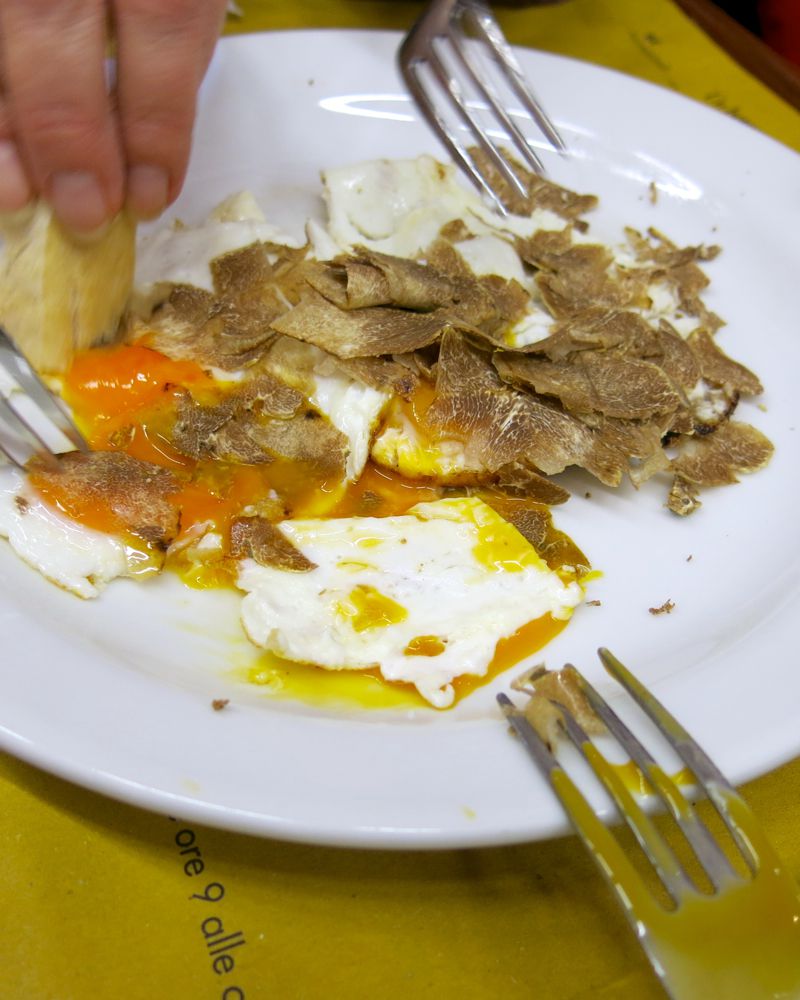 Pure ethereal pleasure.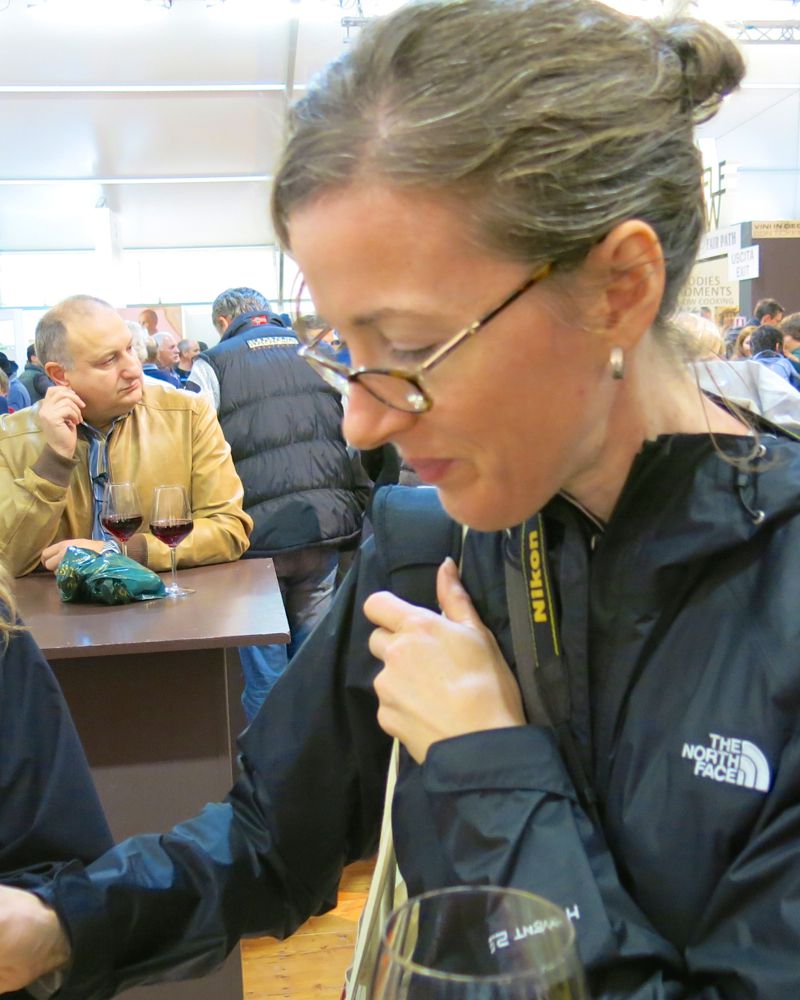 Miss Mary was my partner for this leg of the tour and the shared experience was rich. Her input and companionship was a very important part of my Alba White Truffle Market pleasure.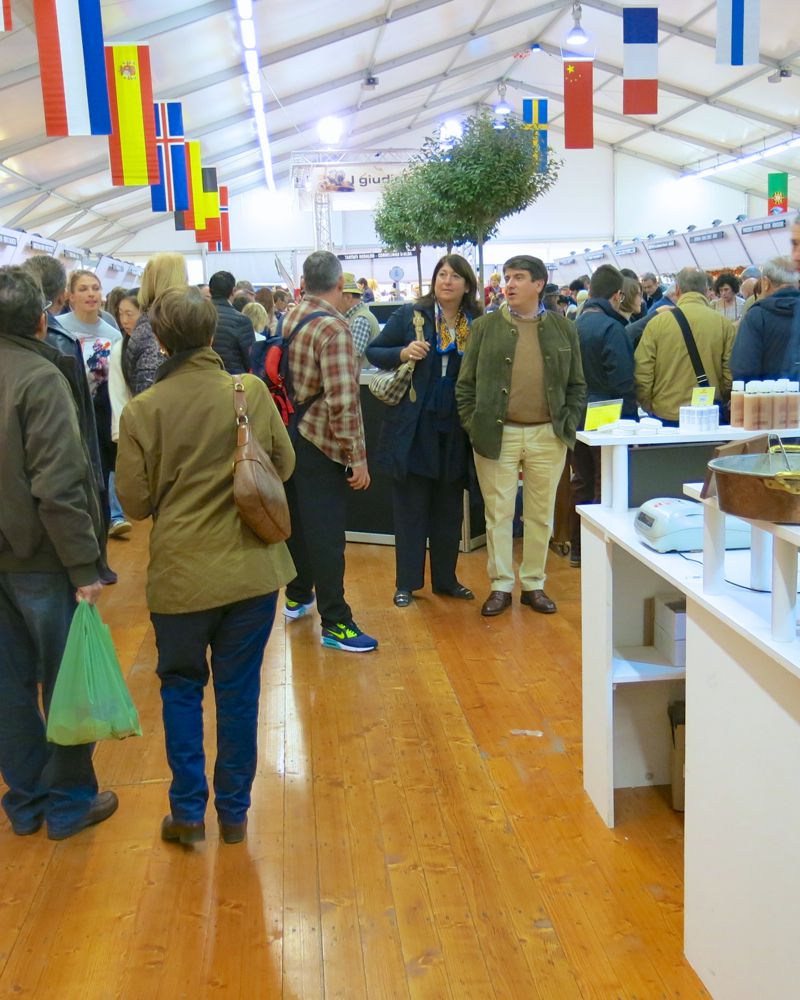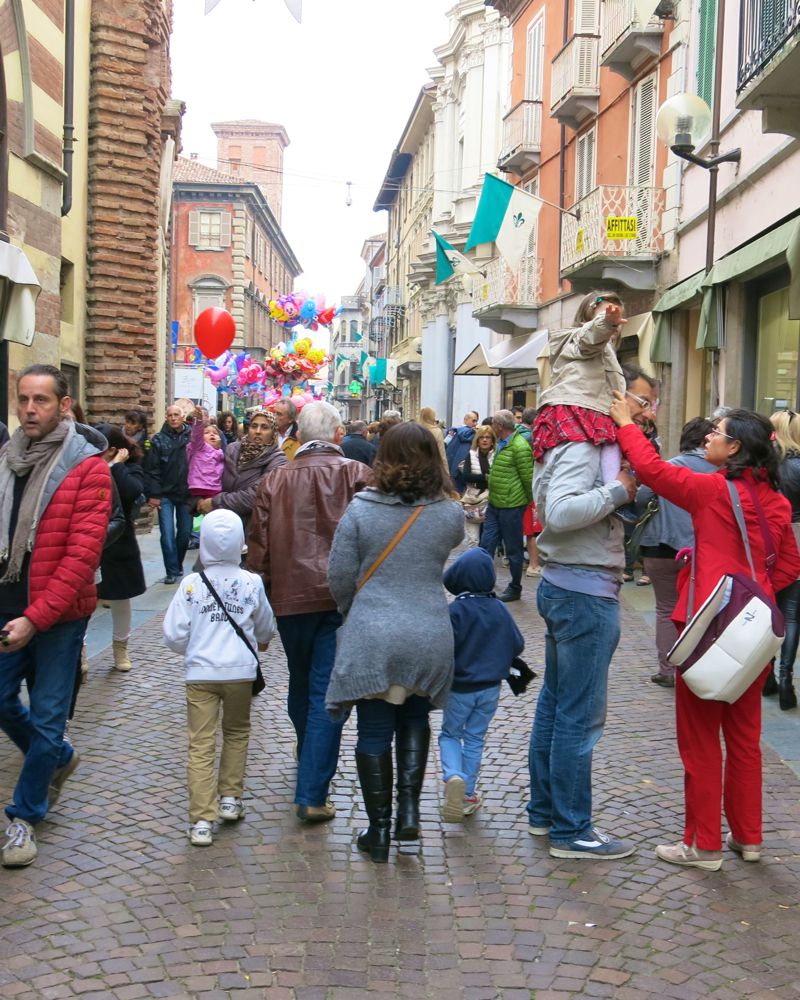 Five minutes to meet up time. Where had the time gone? Two hours was enough, but three hours in the area would be perfect. There were a couple of shops I would have liked the opportunity to step into, and even linger in.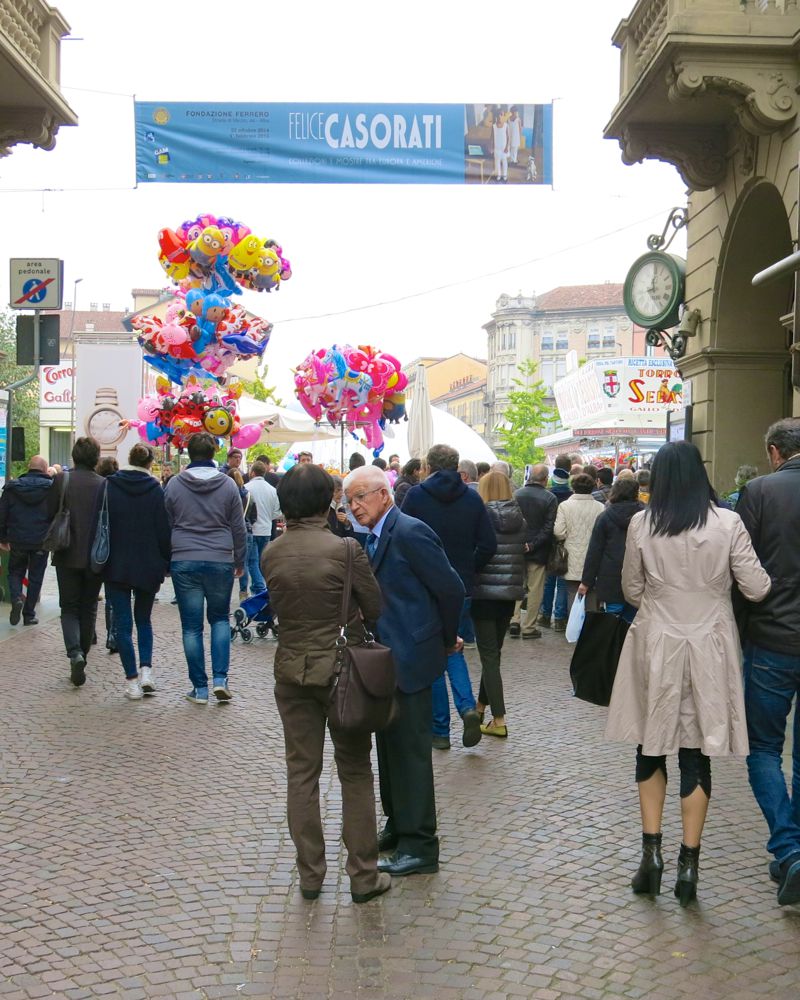 Rapid backtracking through the cobble stoned streets, past the first little market. No time for that now. And to the car. Next stop: The Torone Factory.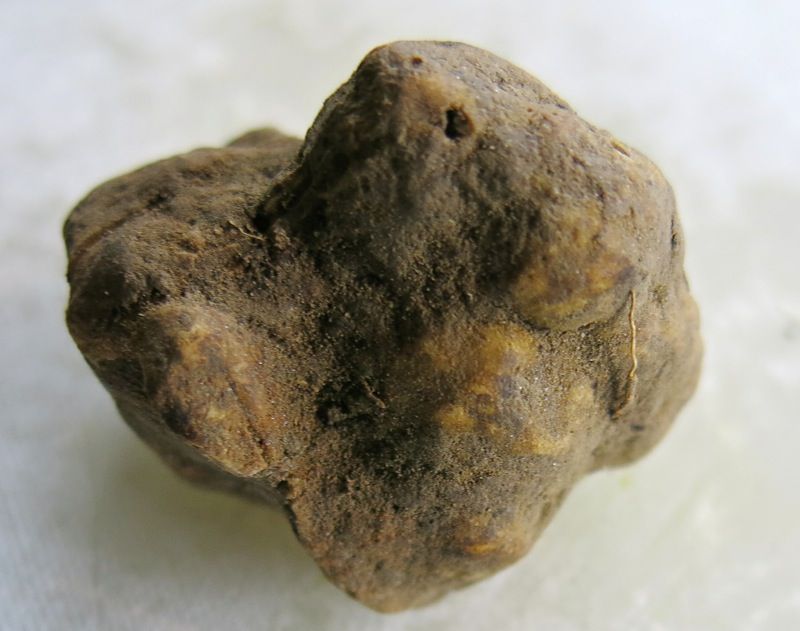 Deeply satisfied with our morning escapade, we sank into the luxury of our car, chiming, "On, Sabino!" And off we went.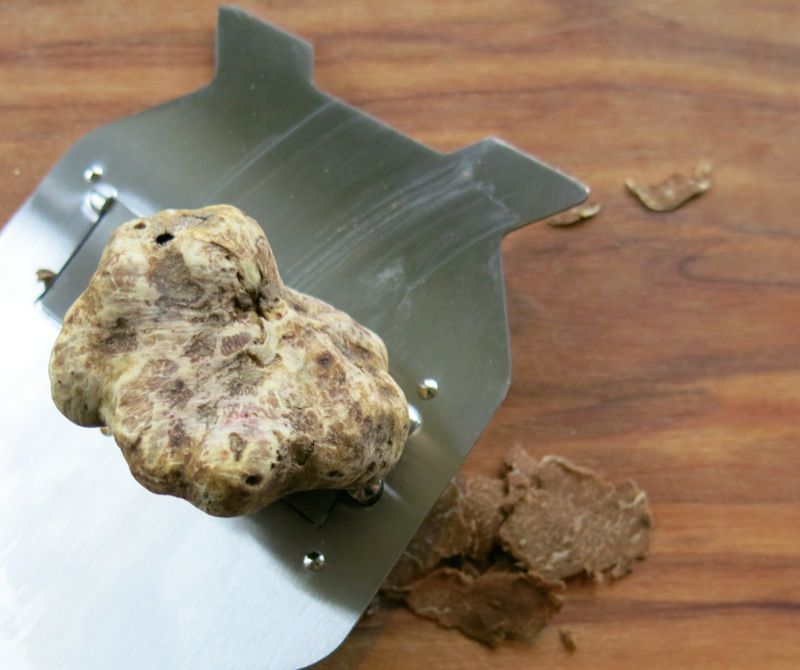 Home with my White Alba Truffle that must be eaten to realize its full potential. Spherical in shape, often slightly flattened and irregular, the Alba White Truffle has a pale yellow or ochreish outer layer known as the peridium, or protective layer that encloses a mass of spores. The fleshy spore bearing inner mass, or gleba, is veined by white, branches that vary in colour from milk white to dark pink to brown hues. They also vary a great deal in size. They are collected from late summer, throughout autumn to early winter.
I was instructed to store my truffle wrapped in a paper towel in the refrigerator (3-6°C) inside a sealed glass container. A fresh truffle can be kept for around a week, but not knowing when the truffle was found that is purchased, it should be consumed as soon as possible.
White truffle should always be eaten raw, never cooked.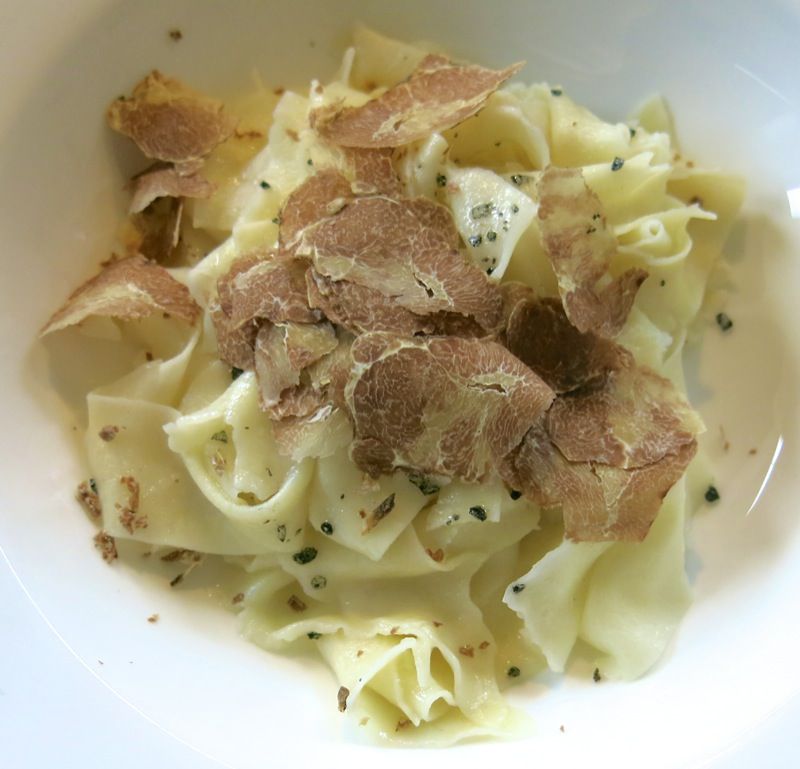 Homemade pasta smothered in unsalted butter and seasoned with black finishing salt were laced with supple shreds of the enigmatic White Alba Truffle. What a joy to partake in this pleasure with my family and share my window into the Alba White Truffle Festival and an intimate taste of it with them.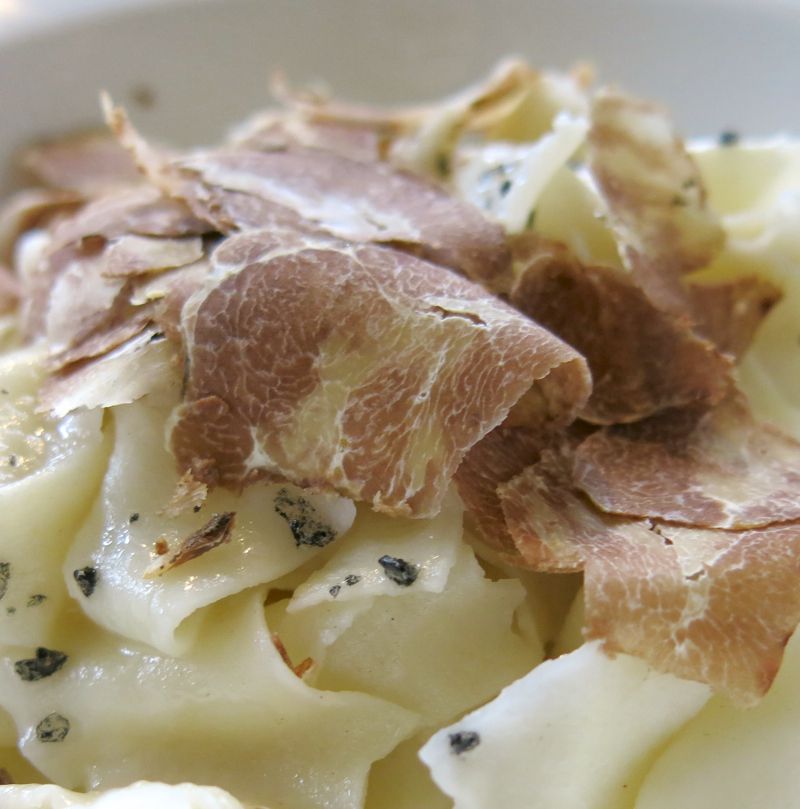 Special thanks to my friend Martina Kuhnert from Golosa Italia and Culinary Tours for her support and advice.