Tribute to the Legalization of Home Brewing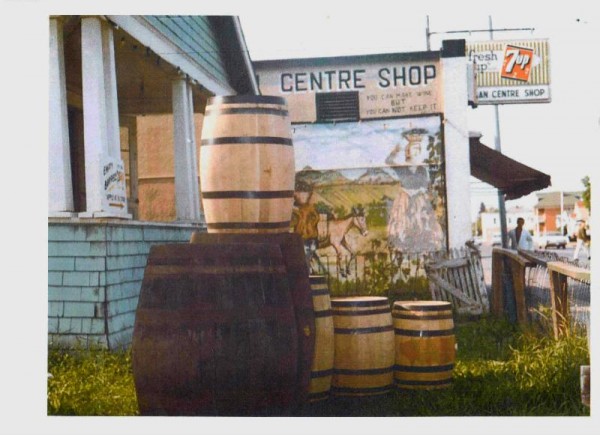 How could an Italian immigrant call Canada home without a place to make his own wine?
This photo was taken 50 years ago and depicts a mural hung by Teresa's father, Franco Spinelli, an Edmonton Hero, in his campaign to lift a Provincial ban on homemade wine. The barrels out front of the store add a little tongue in cheek humor to his effort! Now, 50 years later, store in that same location, Frank sits with his ever watchful eye and big heart embodied in his sculpture in the park facing the store and on Friday, July 6th, 2012, his daughter, Teresa will commemorate this memory by unveiling a 63 foot square mosaic made of thousands of bits of glass by Artist Theodora Harasymiw. Two months and twelve thousand 'tesserae', tiny tiles made of glass and porcelain, peppered with gold, later, Theodora produced three ten foot tall voluptuous Tuscan beauties carrying a bounty of harvested grapes, olive oil and wheat. Erin Pankratz-Smith-the artist behind Edmonton International Airport's famous mosaic-also worked on the project.
Talk about a Canadian success story! As I raise my inner Canadian Flag today, it is these stories of Canadian settlement that move me to stand straighter and cause my heart to pound prouder. The story of the Spinelli family has been told many times, but there are little episodes that have yet to be recorded, and like any childhood favourite tale, begs retelling over and over. This is a story that makes me proud to be a part of this city and the cultural mosaic within it.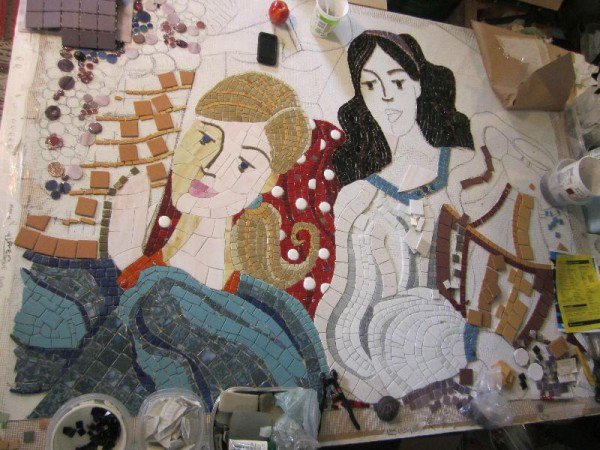 Teresa's dad used to order wine making grapes from California in the early days during prohibition and deliver them to his customer's homes at midnight, passing them through their basement windows to avoid getting caught. Teresa has a list of names and fines that she plans to enter into the archives of people fined one and two hundred dollars at that time for having a glass of wine on their home table. One could buy a beautiful dress, a pair of leather shoes and purse to match for half that amount of money then. In 1964, Franco Spinelli worked very closely with Premier Preston Manning and was instrumental in changing the laws of prohibition.
"Of course! [we sill make wine ourselves]" Teresa exclaims, as the family continues this legacy using her father's wine making equipment "changed over several times during the years". "and we still bring in the wine grapes from California": the Zinfandels, Cabernet Sauvignon, Merlot, "all the popular varieties."
What a remarkable family history and story woven into the tiles in this mosaic to be unveiled for public viewing Friday.
The art of Mosaic is 4,000 years old. In this case, the design was projected onto a life size template. Each small tile was hand cut and mortared onto a fibreglass mesh to create a variety of colour combinations and textures. The finished whole is cut into sections for transportation and mounting, piece by jigsaw-style piece. Grouting takes two days. Theadora's affectionately titles: 'The Italian Job" will be named by public competition. Entry rules and prizes will be announced at the unveiling this Friday.
I will be their to hoist my metaphoric glass to this new phase in this Canadian family story. Teresa is not only the keeper of the memories, and the family name, but the keeper of the spirit that her father brought with him to Canada so many years ago. You cannot step into either one of her stores in this city and not feel the warmth of that spirit. Cin-cin!
PS In honour of Canada Day 2012, Canada.me is giving away 145 @Canadian.me identities for life. Enter the contest!