Canadian Aboriginal Food Series: Untamed Gourmet, on APTN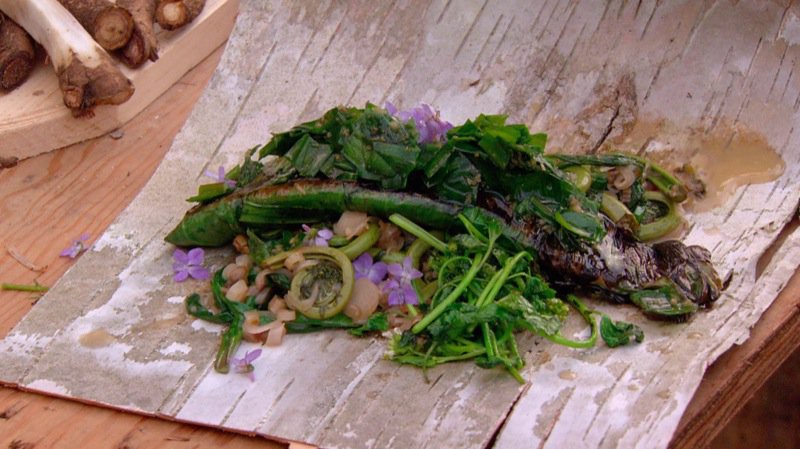 My focus on developing clarity upon defining Canadian food and developing a repertoire of Canadian heritage recipes and food experience has led me to and through many nooks and crannies the past few years. I have also met some knowledgeable people. I would add Ian Toews to this list, though I have only spoken to him on the phone. He is an explorer possessing an avid interest in history, love of nature and travel with a passion for art. The acquisition of knowledge in each of these areas has taken his life a variety of directions and he has been brave enough and curious enough to follow each quest.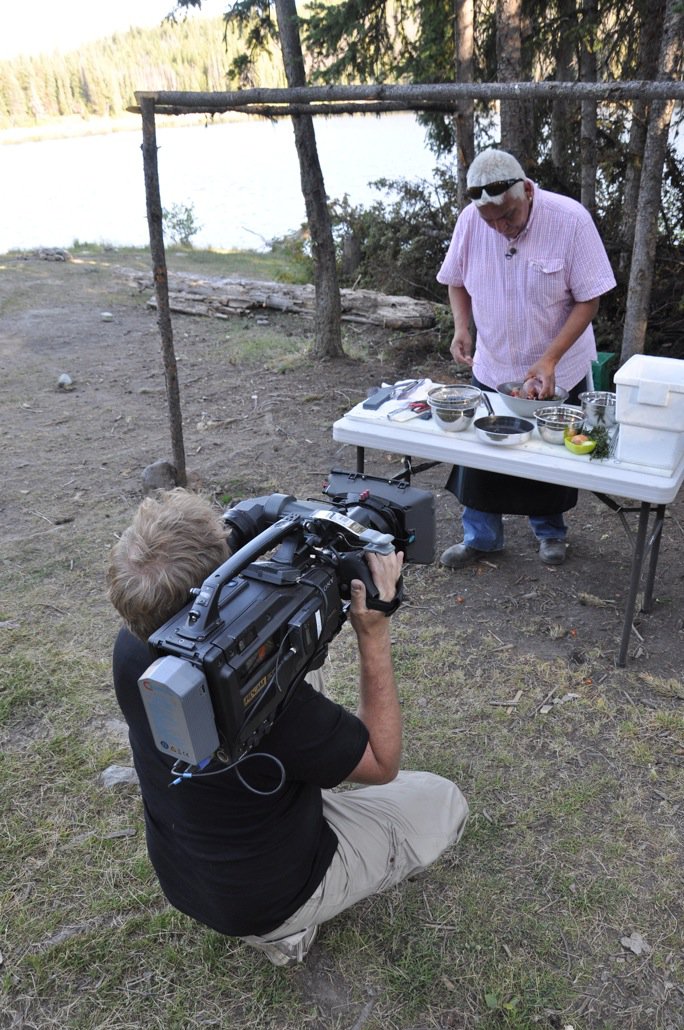 "I guess with those interests, I could have been a writer, or a teacher, but I just love making documentaries and I have never wavered from it. I don't do [the work] for the wrong reason. It is fun and evolving. I want a certain subtlety, yet don't want to force ideas even though sometimes we want to get an idea across… I love it. And, hopefully I synthesize what I see, accurately."
During a coffee break, while working on his Gemini award winning Landscape as Muse documentary series, Cary Ciesielski, then working on sound, planted the idea for this series. (Ciesielski is co-creator and has directed 5 episodes of "his series idea".) Landscape as Muse showcases artists as they paint in nature and develops the relationship that evolves between the artist and the landscape. "Hey, we watch artists make art in nature, why don't we do a series on chefs making art in nature?" Through that initial seed, the Canadian Aboriginal Food Series: Untamed Gourmet evolved.
It was an exciting concept and as Ian and his team researched ideas for the series, it became apparent that the first people were making food in nature long before any chef and that the relationship of our aboriginal people and their food had to be somehow honored through this series. "It was a natural connection: their knowledge, history and contributions are recognized…. Almost every guide is an aboriginal from that territory and we learn about their tribe, the traditional territory, some traditions and history."
Why a chef with an aboriginal guide? Did you consider just learning from the non-chef aboriginal food creator? Ian explained that the series was also about making connections from the aboriginal knowledge toward the development of a mainstream hybrid cuisine and was working to capture the evolution of a symbiotic relationship within each episode between the aboriginal guide and the chef. Each person and culture is somewhat different. Dolly and Annie Watts prepare food primarily for feasts and that episode evolved organically as they prepared their feast in a park-like area; some of the invited guests arrived while others who were not, wandered in, or were waved over to join in the food. "That was a little snap shot about how welcoming their culture is for us."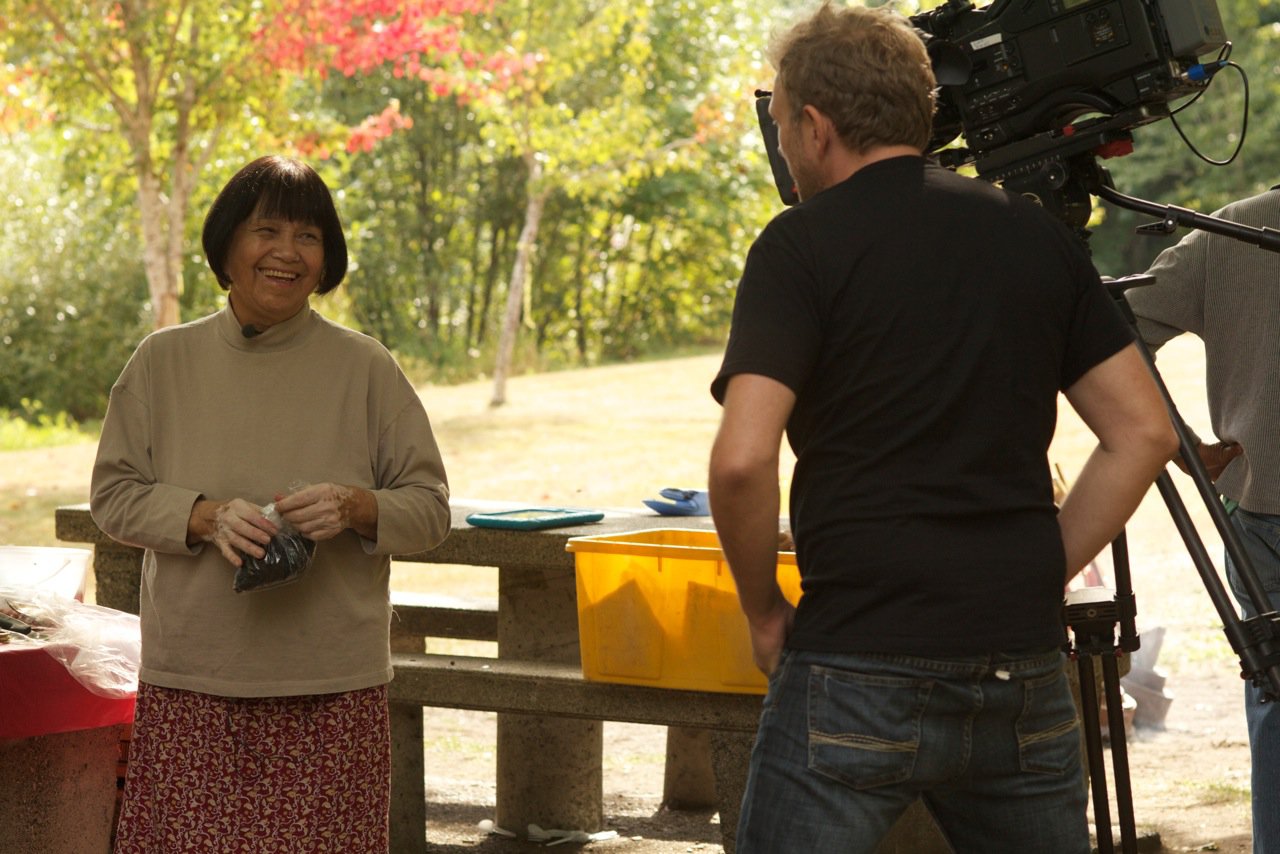 "There was that [symbiotic relationship] in PEI, as well, with Judy Clark as the Mi'kMaq guide, and Illona Daniel, the chef, as they worked together. They gathered lobster and muscles and clams, then dug a pit together, making a traditional Mi'kMaq fire pit covered with eelgrass. Judy's direction was followed and Illona's razor sharp knowledge and formal training was a partner in the process. Illona knew that at 25 minutes the shell fish would be steamed to perfection, and it was." In reality, "…if there were 100 people on the shore participating in a celebration, you might over cook the meal and no one would really care; that was a nice marriage of knowledge in this episode as well as the underlying story of the friendship that developed between the two gals: an inter-generational friendship of 2 woman with 2 varying cultural backgrounds."
Story telling is the pleasure and passion for Ian. Finding someone to buy his ideas is the hard part. After a year and a half pitching the first series, the Aboriginal Peoples Television Network (APTN) picked it up and licensed the first season. They eventually licensed the second season.
At this point, having not yet watched even one episode of either series, I asked why there appeared to be more of an aboriginal focus on season two; Ian answered: "The themes are the same in the two seasons: aboriginal people foraging and guiding us on the land. Season two has some aboriginal chefs which didn't happen in season one. Celebrated aboriginal actress Tantoo Cardinal narrates both seasons."
Asked what he understood to be aboriginal cuisine after working through both seasons acquiring such varied experiences. "I have worked with aboriginal people for years. Their tradition and history is passed down orally. I've been up on trap lines, up in the bush, and in the sub arctic. They eat a lot of meat. The Gwich'in people up North eat a lot of the Porcupine Cariboo. The Blackfoot and the Sioux lived off the buffalo. Did you know that in their heyday, running and exerting so much physical effort, they would consume 4-5 pounds of meat a day?" After another reflective pause, "Our Qu'appelle Valley chef in first season was preparing a mule deer. He was Cree raised just North of Regina and traditionally trained. He was cooking out on the prairie on an open fire and it was very clear to us that aboriginal cuisine has evolved." His focus for this meal was very personal and had to do with his own past. When the Europeans settled in Canada, the way of life for most aboriginal people no longer existed. In the early 1900's, due to the extirpation of the bison, plains first nations were having a difficult time getting food, so received ration packages from the government: flour, salt, 100 pounds of potatoes. European food. So, this colonial food became the aboriginal food at that time and this chef used lard and potatoes to prepare his meal, explaining the influence that history has had upon the cuisine of his culture.
Ian is a modern day explorer. He is not a cartographer, yet he is charting information vastly unknown to most Canadian people and it is important work. These stories are fundamental to our Canadian culinary identity and need to be told and shared. Great explorers of our past were commissioned by leaders of the wealthiest kingdoms to map new territory to be proudly claimed or acquired, usually through war. Modern day explorers, like Ian Toews, need this same kind of support to tell these present day stories and to preserve this knowledge from the past.
APTN has not picked up Season Three. There are still many stories to tell and Ian's team has a plan, yet this is the state of television in Canada. There is hardly any time slotted for documentaries. "We have a great concept that we have worked on for years; we have interest and followers, but where can we get a broadcaster?"
Asking what would be a possibility for season three, Ian had me on the edge of my seat when he shared his discovery of a very common local Cree dish in the Saskatchewan River Delta: smoked muskrat. I want to know more about this Canadian Aboriginal story. It needs to be told and shared. I believe it is stories exactly like this that bring clarity to the answer of that question: "What is Canadian food?"
Full Disclosure: Photos are provided to me from 291 Film Company; I am not compensated for my reviews or my interest in this series. This is completely my own opinion and my own initiative. I am very interested in this work and in learning more about Canadian aboriginal cuisine.