An absolute basic recipe and so easy peasy: no more excuses!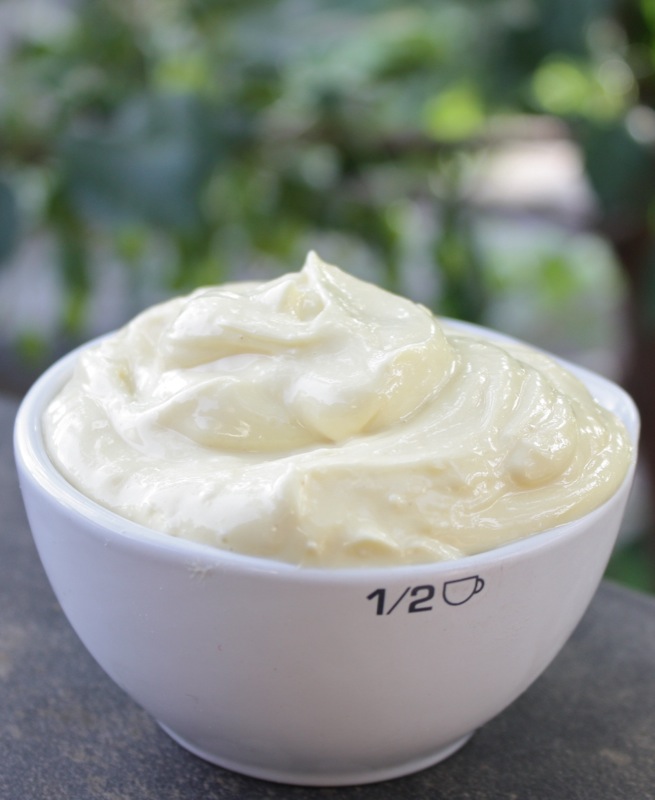 Vanja's brother would whir up a batch every time we were in Belgrade to take to their mother in Bijeljina. He would be in the kitchen for 5 minutes and he was done. I really paid no attention. If he could do it, I could do it. Wrong.
It is that easy. But, there are tools that make it that easy. I learned the hard way that a good hand blender is the only tool that will work for me. I must have gone through dozens of eggs and litres of oil, determined to do this myself. I read. I researched. I used a blender, a food processor, a whisk. I called his brother. I did everything he said, kind of. He said I needed a hand blender. I didn't want another kitchen gadget just for making mayonnaise. I got a lot of oily soupy separations. I know. Weebee-geebies!
I spied a hand blender on an incredible sale. I could justify this cost for one purpose. Success. The very first time. And every time after that. Why had I been so stubborn?
This is an essential basic skill in the kitchen and puts the power of what you eat in your own hands, where it belongs. I didn't realize how much mayonnaise our home went through until I started making it myself. When you make it, you notice.
And, when you make it, you see what is in it and that alone will compel you to use less. However, if you have great free range organic eggs, and non GMO canola, you are at least eating clean fat. (double grin and double chin)
Homemade Mayonnaise and Aioli Recipe
Ingredients:
a hand blender (essential)
2 organic free range eggs (or why bother?)
2 tablespoons of freshly squeezed lemon juice, or to taste (usually 1/2 lemon renders 2 tablespoons of juice)
a dollop of Dijon mustard, to taste (or my favourite: Alberta Prairie Grown grainy Brassica Mustard without flavours added)
1 teaspoon of salt; start with less, to taste
fill the container that comes with the hand blender to the top line with a non GMO canola oil (Mighty Trio Organics)
(garlic cloves to taste, if making aioli)
Instructions:
Place all ingredients into the container that comes with the hand blender
Plug in the hand blender; do not turn it on
Place it into the container, firmly resting on the bottom of it; turn it on, and do not move it for 30 seconds or more
Then, start very slowly lifting it up and down about 1/2 an inch from the bottom of the container;

never

lift it up to the top of the liquid
As you see the mayonnaise start to form, move the hand mixer accordingly; up only to below where the mayonnaise is forming and then back to the bottom
Use this up and down motion as you watch the oil emulsify and keep working it in this fashion until it thickens and looks finished (there is no oil anywhere on the surface or the sides)
Lift the hand blender out, use a spatula to return all of the mayonnaise possible back into the container off of the end of it
Place in a tightly sealed container and use as needed for up to 10 days
Note: Adding the garlic makes an aioli; folding herbs and spices into this is fun, but blending tarragon and garlic into it, or other such flavour combinations creates a very colourful and flavourful spread!