A request from the bride and the groom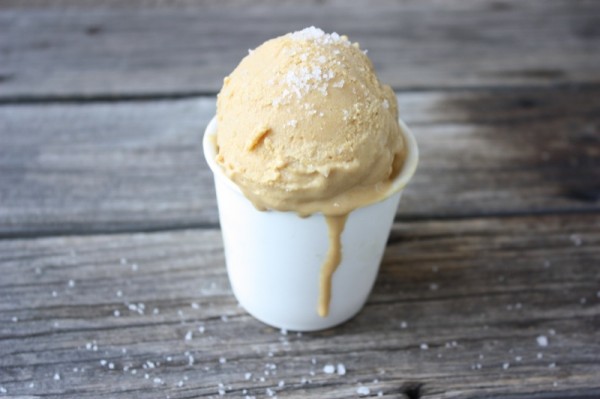 Preparing for Lauren and Aaron's Wedding Meet-The-Groom Brunch Reception, I read a lot of caramel ice cream recipes and a lot of comments about those recipes. I had made David Lebovitz's Salted Butter Caramel Ice Cream before, and didn't want to use the butter or the praline. I wanted to develop a recipe that would align with my vanilla custard ice cream recipe as it is such a gorgeous custard that creates the most luscious milky-creamy texture. This is what I came up with. It is a completely original recipe. I could bury my face in the bowl and blow bubbles in it, if it wasn't frozen. It is just that yummy.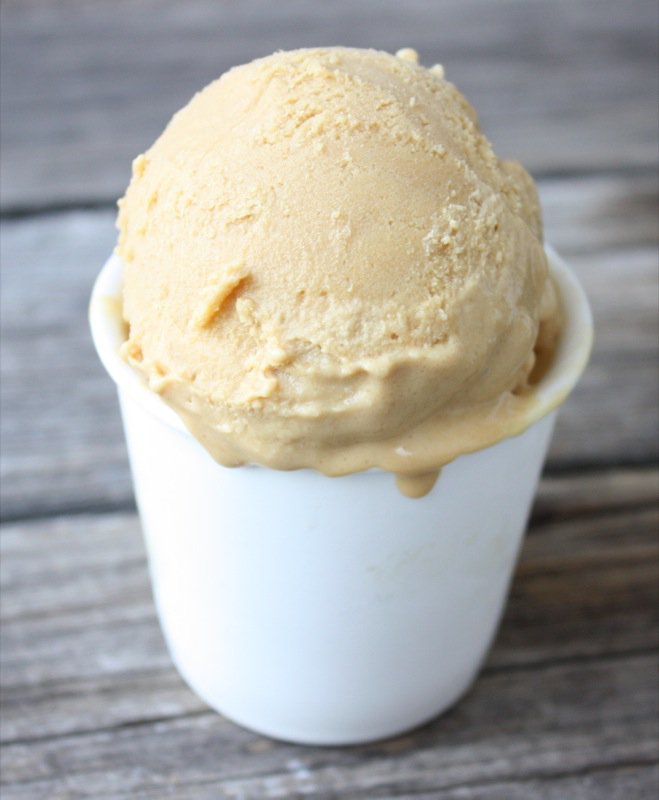 The addition of the crunchy hand-mined fleur de sel on the top elevates the taste over the top of any salted caramel ice cream bar! As well as the silken creamy texture, it held the freeze well. It did melt faster than the vanilla, but was able to hold a nice ball shape when serving. The addition of the salted caramel sauce was too decadent for words. No need for words when savoring this luxurious, velvet-sweet-salty-sumptuous reprieve amid a hot summer day. M-m-m-m-m….
The recipe is not hard. However, having the wonderful All-Clad frying pan does make a difference as making the caramel is so easy with this pan. I have had considerable difficulty making it with other pans over the years, but persevered. With the All-Clad pan, the heat on medium low, and my attention focused, it was easy peasy. It did take a little time to melt the caramel that seizes when you add the cream. That is just what happens. Patience and belief that it will melt into the caramel bring success.
I had no intention of making a caramel sauce, but had it on hand as I needed it for something else. Double the pleasure, but completely unnecessary! However, it does add a delightful, ultra sticky, hard-crunchy-chewy textural contrast that is not soon to be forgotten.
Salted Caramel Ice Cream
Ingredients:
3 cups sugar, divided
4 cups heavy cream, divided (room temperature)
2 teaspoon flaky sea salt, such as Maldon
1 teaspoon pure vanilla extract
4 cups whole milk
12 large eggs
Instructions for Caramel:
Heat 2 ½ cups sugar in a dry 10-inch heavy skillet over medium heat, pressing and moving with a heat proof spatula to heat sugar evenly, until it starts to melt, then stop stirring and cook, swirling skillet occasionally so sugar melts evenly, until it is dark amber (DO not stir melted sugar in with dry sugar; you will have a big mess)
Add 3 cups room temperature cream (mixture will spatter), one cup at a time and cook, stirring, until all of caramel has dissolved. the add the next cup until all are incorporated and the caramel lumps have dissolved
Transfer to a bowl and stir in sea salt and vanilla; cool to room temperature
Instructions for Custard using the Thermomix:
Scale the 4 cups of milk, remaining cup of cream, and remaining ½ cup sugar into the TM bowl: time to 10 minutes, temperature to 90 C and speed 2-3
Cool for 15 minutes until 50C or less
Set time for 15 minutes, temperature to 90C and speed to 3-4; when temperature reaches 50 C and not over, start adding egg yolks, one at a time (should have them all in within 2 minutes)
Cook until custard coats back of spoon (do not let boil)
Pour custard through a fine-mesh sieve into a large bowl filled with the cooled caramel; stir to combine
Chill custard until very cold (6 hours or overnight)
Freeze custard in ice cream maker (it will still be quite soft), then transfer to an airtight container and put in freezer to firm up; two shallow containers will help it to freeze better, or turn down the temperature of the freezer
Note: this will fill a 2 litre ice cream maker very full, but it will still work
The bride and groom have requested a brunch similar to the gift opening her sister enjoyed almost this same time last year. And, as there is more time, I am planning to make an ice bowl filled with a variety of homemade ice cream balls as part of the dessert buffet. This presentation of homemade ice cream is a long standing family tradition that I am so eager to put together for this gathering of our close family of friends.