My first Mary Karlin cheese recipe from Chapter 2!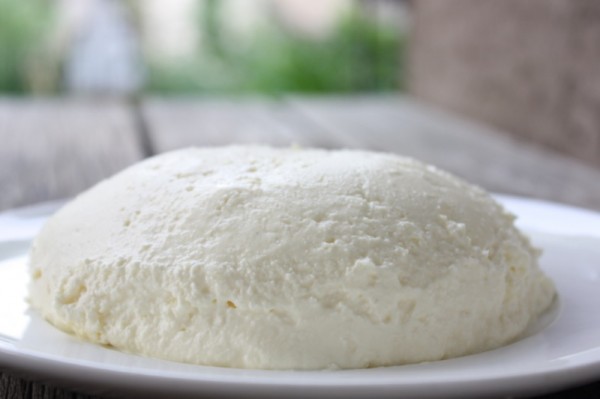 Mascarpone is one of my favourite ingredients. I make a killer Tiramisu. So simple. So delicious. The quality of the cheese makes a significant difference to the taste, flavour, texture and loft of the Tiramisu. Igor has been my hands down favourite for the last few years, since the local Italian store started to carry a variety. I bought them all, tasted each and used all. Igor was the best. My Mascarpone is not yet an "Igor", but it is delicious and very close in flavour. I have some. I tasted each side by side. The Igor has a much smoother texture and is still more dense. I will learn.
This Mascarpone has a lemon scent that is too discernible for my liking. I have never tasted lemon in any of the Mascarpones I love, and don't want to taste it in my homemade cheese, so I am still on the quest to make this they way I like it. It needs to be a little more compact, which I think means the curds need to be much smaller, and it needs to be a little sweeter. It was very good, and was very yellow, as the photos show, at some points of the process. Not sure why the colour changed. Ideas?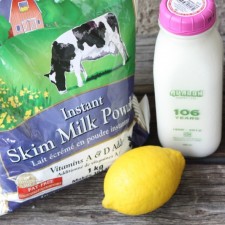 Three simple ingredients: heavy cream, powdered skim milk and a lemon. The above pillow of addictive heavy full-on stand-up or go-home instant gratification was created with those three simple ingredients. One thing is certain: when you are only using three ingredients, they need to be the very best you can lay your hands on. I will try this again with the Vital Greens 52% cream. This time, I wanted to try it with the Avalon at 32% butter fat.I followed Mary Karlin's recipe to a "T" with one major exception. I made the entire recipe in my Thermomix. Oh, yes I can! And I did!
It is very important to bring the milk to 80ºC very, very slowly. Mary suggests 40 minutes. I am able to control this, and stir at the same time with my Thermomix. Forty minutes of stirring and heating is a long time doing it the old fashioned way, but important. The longer it takes to heat the milk, the better the curd.
In Ian's own words: "You want to bring the milk to temperature slowly so that it is an even temperature. If you bring the temperature too fast you will run the risk of scalding the milk or creating hot spots in the milk which can destabilize
the casein
(milk proteins) and not give you good curd . Some of my most spectacular failures in cheese making have been when I rushed the warming of the milk."
After a night in the fridge, I was shocked at how firm and dense the cheese was. Yet, there was also a loose portion that was quite wet. It must have been incorporated back into the cheese when I squeezed the curds in the bag, as there was practically no whey and the pressed cheese did have a lovely texture.
I had a recipe ear marked from Dorie Greenspan's Around My French Table that I planned to adapt to use with this Mascarpone cheese. And, as I only needed half of the amount of cheese for one roulade, I made two: black currant and raspberry.
I cannot wait to make variations of this recipe with different creams and using other recipes. Reading the reflections of all participating that choose to make Mascarpone as an alternate recipe during the first month of Cheesepalooza Challenges will be revealing, as will seeing how each participant uses their cheeses in their home kitchens! I cannot wait for Cheesepalooza to begin!
Note: I printed this recipe, but did not print Mary Karlin's instructions. I printed the ones I developed adapting her recipe for making this cheese in the Thermomix.
Mascarpone Cheese
Recipe revised from Mary Karlin's Artisan Cheese Making at Home
Mary says the yield is 12 ounces (340 grams) of Mascarpone; I got 250 grams
Ingredients:
2 cups heavy cream
½ cup powdered skim milk
juice of one lemon
Instructions for the Thermomix:
Read through the recipe, and get your mis en place
Scale powdered milk and cream into TM bowl; set time for 10 minutes, temperature 37C, speed 2
Set time for 10 minutes, temperature 50C, speed 2
Set time for 10 minutes, temperature 60C, speed 2
Set time for 5 minutes, temperature 70C, speed 2
Set time for 5 minutes, temperature 80C, speed 2
Pour into the Thermo-bowl bowl; slowly squeeze juice from ½ lemon into the cream mixture (about 2 tablespoons)
Use a metal spoon, and continue to stir constantly; do not use a whisk as that will inhibit curd formation
The cream will coat the spoon and you should start to see some flecks of solids in the cream
Add the remaining juice from the lemon into the cream and continue to stir consistently to incorporate
Cover and cool in fridge for 8 hours, or overnight
Line a colander or sieve with dry butter muslin inside of a bowl
When the cream is firm to the touch, transfer to this colander
Draw the ends of the cloth together and twist into a ball, squeezing out the excess moisture; this will make the cream thick*
Eat immediately, or refrigerate as this cheese has a short two day shelf life
Note: *I did get a small amount of lovely, thick cream oozing from the bag, but not much at all.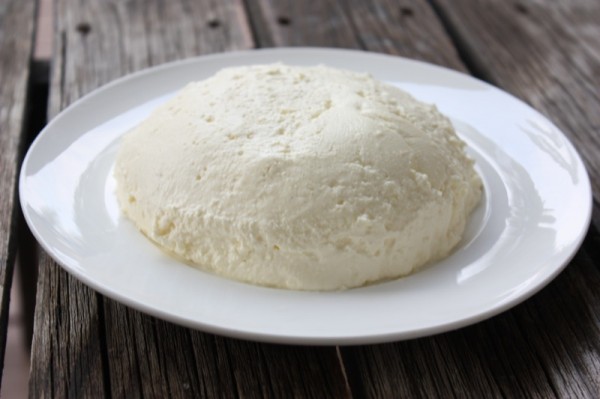 Tasting Notes:
Appearance:

buttery colour while making it, but after setting overnight a rich cream colour with a looser curd (relatively speaking)

; soft cheese, but holds its shape
Nose:

a scent of fresh or lemon citrus notes

; I found this cheese too lemony for my "desired" mascarpone

Overall Taste:

rich luscious

and mild
Sweet to Salty:

more sweet than salty, but not as sweet as most commercial Mascarpones, at all




Mild to Robust to Stinky:

Very mild cheese

Mouth Feel: (gritty, sandy, chewy, greasy, gummy, etc.)

:

creamy and not at all gritty or sandy, but not as tight a curd or as firm a cheese as I had hoped for; unctuous