Miniature Mincemeat Tarts are a must on the Canadian Christmas Goodie Platter!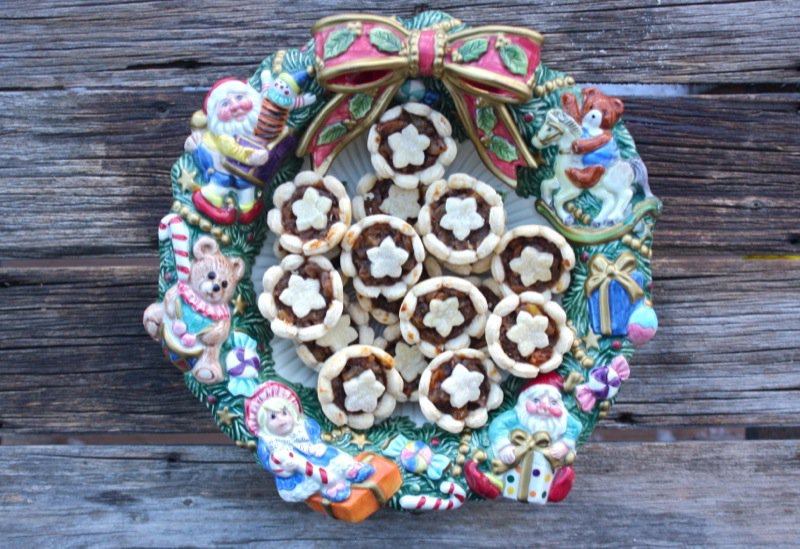 Curled up in the old brown sofa in the basement of the house in Red Deer that I grew up in, I recall my homemade flannel red pajamas with white and red strips and a bowl of half melted vanilla ice cream pooling around one of mom's warm, spicy, and and very Traditional Mincemeat Tarts. Clean little bare toes tucked under my bottom and half under the couch cushion, a little ice cream on the spoon and a little steamy mincemeat with some shards of pastry: ummmm-mmm! I would savor the tingly cold melting into the aromatic warm meaty fruit and crunch the flaky pastry. Slurping a drip off of my chin, TV on, yet I was not watching. A hot mincemeat tart with vanilla ice cream was the ultimate delight only possible once a year, and commanded full concentration. Living at home as a child, this exotic bite of Christmas magic was my gift of gold, frankincense and myrrh. Yet, I have never made mincemeat and I cannot remember when I last made these tarts. Too long ago.
Delicious with mincemeat ice cream, too. Yet, homemade vanilla holds that classic taste memory and reveals time and place for me. I never make anything the size we used to make it, yet mincemeat tarts would definitely be a dessert I would consider making in the regular muffin pan: less pastry, more filling. YUM.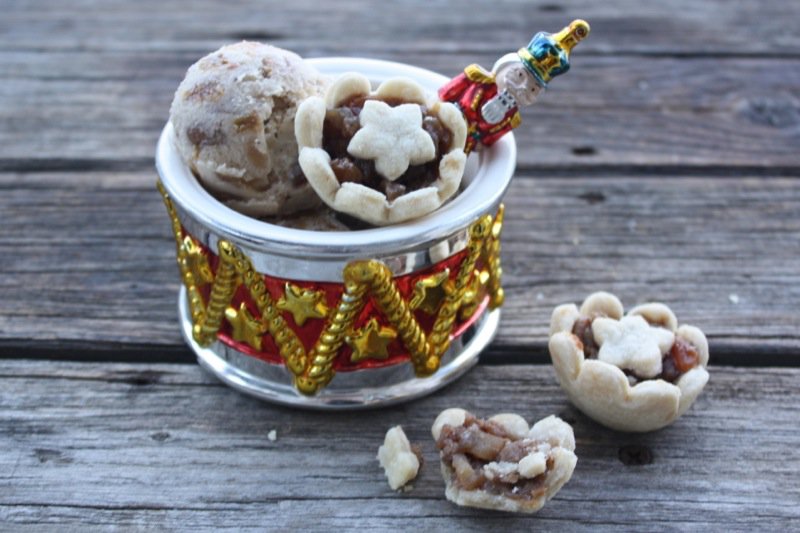 Mom made traditional Christmas steamed pudding with suet. I liked it, but very little with her special sauce as it was so rich and dense. She also made her own mincemeat. Everyone did. Today, hardly anyone I know likes it. I love it. I love the memories of it. I love its aroma and mouth feel. I love its place in our family generational table and it is past time to include it in our yearly repertoire. It just is. Even if I am the only one who cares. Grandma Maude loved them, too. Christmas on the prairies was not Christmas without mincemeat when I was a child. Few have even tasted it these days.
The mincemeat ice cream is my nod to my past. This is mincemeat that the entire family loves after Christmas dinner with what has now become our traditional Christmas dessert. Due, simply, to popular demand: Sticky Toffee Pudding with Caramel Sauce and Mincemeat Ice Cream. (The photo opened this post.) The mincemeat I make for the ice cream doesn't contain suet: apples, raisins, toasted pecans and those gold, frankincense and myrrh spices. The recipe for the ice cream takes only three cups. The rest I used this year to make these adorable little Christmas mincemeat tarts!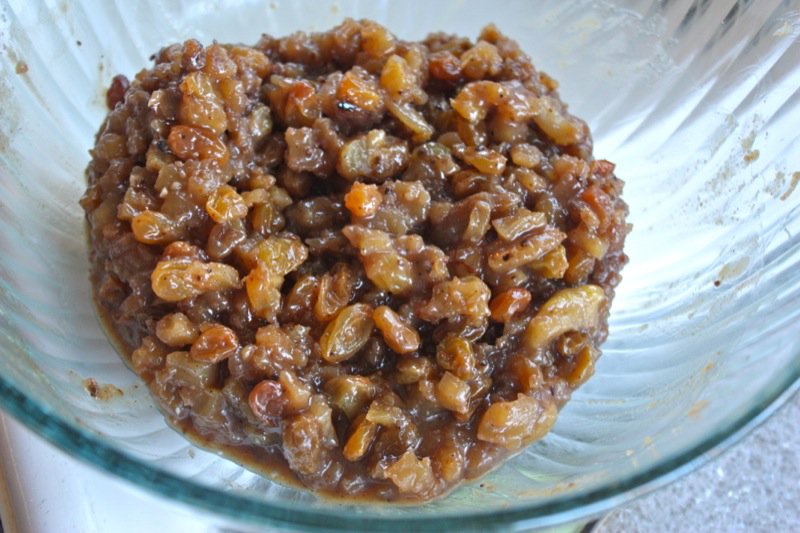 I almost always have discs of bagged and well wrapped frozen homemade pastry in the freezer. This is pie country, after all! One disc makes 24 small tarts.
Nudge each tenderly out of the pan while hot. Otherwise, they tend to stick. Use a knife carefully. See?
And this year I sat in my new grey and pink plaid pajamas that my daughter picked out for me. Blanket over my cold legs and feet, small bowl in hand with a scoop of ice cream and a couple of hot mincemeat tarts. Oh, my. I didn't eat all the pastry. I had rolled it a little too thick this year, but this little indulgent moment met with the memories from my past as I licked the back of the sticky spoon. Glimmers of big old Christmas tree lights reflecting upon layers and layers of carefully laid silver tinsel appeared in the water colour wash that flooded through my tasting experience. Was that laughter from my little sister's bedroom? Do I hear the murmer of mom and dad plotting surprises for Christmas morning? I think I do. There is a lot of love worked into one little tart: an entire lifetime of memories.
From our house to yours, this season, with love.
Mincemeat Tarts
Ingredients for the filling:
Ingredients for the crust:
Instructions:
Pre-heat oven to 350°F
Roll out the tart pastry exactly as instructed for the Butter Tarts
Use a flower shaped cookie cutter to create a lovely tart edge; tuck each tart cutting into the miniature tin to create the shell (never butter or flour tins when making pastry shells)
Fill each shell with mincemeat
Top each with a little pastry cut out star shape; these will not rise
Bake for 20 minutes, or until golden brown; remove immediately from pan using a knife to lift each hot tart
Carefully place hot tarts on a rack to cool; store in tightly sealed container in the freezer until ready to use
A little photo of the Canadian Freezer again this year! It comes in very handy with all of the baking we do!