A lovely light roll with homemade Mascarpone cheese and home grown black currants!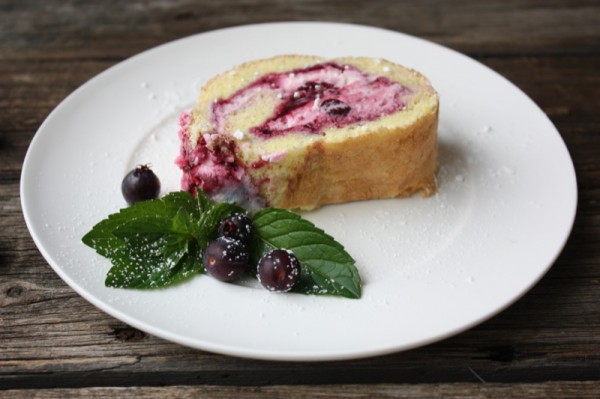 After making homemade Mascarpone cheese as a precursor to Cheesepalooza, I wanted to use it in a light summer dessert to welcome Vanja home. I had just made the black currant coulis for Lauren and Aaron's Wedding Brunch and a roulade seemed like the perfect solution. Knowing Vanja loves Mascarpone and creamy fruity desserts and that Grandma Maude used to make "jelly rolls" all of the time I decided that "now was the time". I have never made one.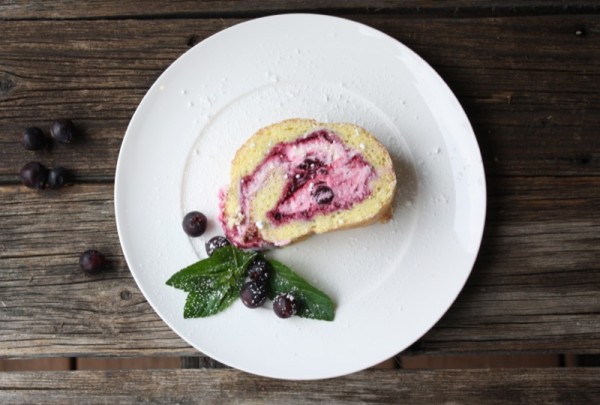 I never liked Grandma's. She would bake the flat cake in a gigantic edged cookie pan that just fit into her wood burning oven, turning it a couple of times as it baked. Then she would flip it on a huge red striped tea towel dusted with icing sugar on her kitchen cupboard just under the window by the stairs to the attic. She would roll it up with the flick of her wrist until it cooled completely. My mom never made cakes like that. Later in the day, Grandma Maude would get out a massive jar of homemade jam or jelly (whatever she had lots of) and spread it over the entire cake. It would take almost the entire jar of preserves! She would roll it back up again in the same tea towel and slide it onto a long board and put it up on a shelf. The anticipation was hard to describe. I kept hoping I would like it. Every time. At supper time, or tea time, or whenever she wanted to eat some, out it would come. Her eyes would sparkle. If we had company, she would dust it with icing sugar, but she usually didn't. The cake would be dry, sometimes with orange zest in it, and the filling was too sweet. It was just plain old jam!
Everything Grandma Maude made was delicious, except her jelly rolls. How she loved homemade jams and jellies. I remember many times watching her make batches of raspberry or strawberry jam in her sweltering hot kitchen, a few hairs hanging onto the sweat beads rolling down her forehead and onto her flushed face. She didn't mind. She was in her glory. "Taste" She would hold out a big spoon heaped and dripping with the sweet fruity concoction for me to taste. I would wrinkle my nose and shake my head and into her mouth it would go. The entire thing. Smacking her lips with delight and anticipation, she would continue to work away until every last jar was filled. There was usually just enough left to go into a little saucer and she would have that lapped up in no time. Homemade was the key. Hers was the best. Jams and jellies on bread, muffins, biscuits and buns. Maybe coming from a family with 12 brothers and sisters, as she did, this was the only sweet treat they got? It is such a pleasure to have these memories of my grandma. To recall the value and pride she placed on growing her own food, preserving it for the year, and revelling in it when she ate it!
Instead of jelly, I made a sheet of black currant coulis with gelatin in it, so there is a layer of gelée sitting on top of the cake in honor of Grandma Maude. Not nearly as sweet, but I grew my own berries and shared in that same pleasure of producing and preserving homemade food from my garden for my family. The layer of homemade Mascarpone cheese mixed with whipped cream follows and was not easy to spread over the cold gelée. You can tell by the colour of the cream mixture. I dotted a generous cup full of simple syrup soaked black currants over the cake just before I rolled it up. The process was intense. Not difficult, but it wasn't possible for me to photograph the spreading and the rolling. It is very pretty even though the gelée ran into the cream; it's a lovely mid-afternoon treat. Even better for breakfast as it isn't very sweet, at all!
The only other part of the process that I could not photograph was the gelée. I did try. But it was either too black or too shiny or the photos were too shaky. Then, when I inverted it onto the cake and peeled the plastic wrap off of the back, I forgot to get a photo. It did work very well, with the exception of the spreading. I have adjusted the recipe to add more gelatin to solve this problem.
I was so fortunate to have Grandma Maude to can fruit with and cook with on many occasions through my young adult life. How I wish I could sit with her now and share a cup of tea and a slice of this black currant roulade. She would have loved Vanja. And he liked the roulade, too! I even made a raspberry one, but that is in the freezer waiting for another day.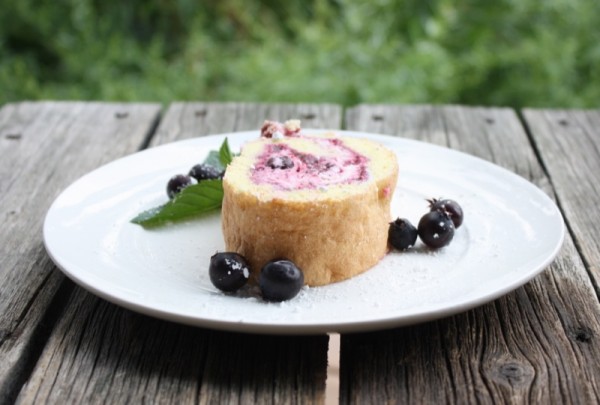 Black Currant Mascarpone Roulade
Ingredients for the Black Currant Gelée
2 cups black currant coulis
¼ cup boiling water
2 pkg Knox gelatin
Ingredients for the Berries:
1 cups water
1 cup sugar
1 cup frozen black currants
Ingredients for the Roulade:
½ cup cake flour
¼ cup corn starch
6 large eggs, separated (room temperature)
2/3 cup sugar
Ingredients for the Mascarpone Cream filling:
1/2 cup mascarpone
1/3 cup confectioner's or icing sugar
3/4 cup cold heavy cream
Instructions for the Black Currant Gelée layer:
Prepare jelly roll pan with plastic wrap covering the bottom and sides securely to avoid leakage
Prepare space in the fridge that is level to place this pan; set in fridge to chill
Measure 2 cups of black currant coulis
Put ¼ cup of it in a small bowl; sprinkle with gelatin, stir to combine, and rest 5 minutes
Pour ¼ boiling water over gelatin and stir well, until combined (about 2 minutes; it take a good lot of stirring to combine well)
Warm the remaining coulis slightly, so that it is tempid or even a little warmer
Combine this mixture with the remaining black currant coulis; stir well
Remove jelly roll pan from fridge, pour mixture onto it, spreading to cover entire surface evenly
Refrigerate in level position 4-6 hours, or overnight
When ready to use, invert over flat cake and peel off the plastic wrap
Instructions for the Berries:
Place water and sugar into small sauce pan and bring to boil, until sugar dissolves
Add black currants and immediately remove from heat, cool to room temperature in sugar syrup
When ready to use, do not discard syrup: add some fresh mint and make a little ice-tea
Pat the berries dry on a towel before using
Instructions for the Roulade:
Preheat over to 400°F with rack centered in it
Line jelly roll pan with parchment (approx. 12×17 inches)
Place clean tea towel and icing sugar with sieve near the oven
Prepare jelly roll pan by lightly securing parchment paper to it with a bit of butter; cut parchment to exact size of the pan, or use a silpat
Sift flour and corn starch onto piece of parchment paper; set aside
Whip whites until opaque and just starting to hold their shape in a large bowl
Slowly, slowly whip in the sugar; when full incorporated, beat medium to high for two more minutes until meringue is firm
Whisk yolks in another bowl for one minute, until smooth and foamy
Whisk ¼ meringue mixture into yolks until completely combined and yolks are lighter in texture
Pour yolk mixture gently into meringue mixture; and folding the parchment into a cone, lightly sprinkle dry ingredients over the yolk mixture
Using a large spatula, gently fold all ingredients together; there is no rush
When all flour is wet, and all is gently combined retaining as much loft as possible (it is fine to still have patches of egg whites not mixed in), turn batter onto prepared pan
Bake 8 to 10 minutes until golden and crusted, spongy to touch (should be evenly puffy)
Transfer pan to cooling rack
Spread out tea towel and dust liberally will icing sugar; invert still warm cake onto dusted towel and peel away parchment immediately
Roll cake up snugly in the towel, lengthwise; cool to room temperature
Make filling while the cake is cooling
Instructions for the Marcarpone Cream Filling:
Drain the berries and place on a tea towel to dry before making the filling; remember to dry the berries
Stir mascarpone and sugar together to combine; set aside (do not whip)
Whip cream until firm peaks form; stir one quarter of the cream into the mascarpone to lighten it
Gently fold the remainder of the cream into the mascarpone mixture
Putting it all together:
Unroll the cake, leaving it on the kitchen towel
Invert the black currant gelée onto the top of the cake; peel away the plastic wrap
Scoop the mascarpone cream ever so gently onto the top of the gelée, spreading with an off set spatula; leave an inch without filling around all edges
Make sure the currants are dry, blot if necessary, and sprinkle over filling
Starting with the long side furthest from you, use the towel as your guide, gently lifting it and roll the cake; finish so that the seam is on the bottom of the cake
Leave the cake in its towel wrapper and refridgerate, on the pan, at least 2 hours before serving; if longer, cover with plastic wrap
Unwrap roulade, trim ends to expose beautiful filling, plate, dust with icing sugar and serve immediately
Note: If not serving immediately, wrap in plastic wrap and freeze; remove from freezer and plate an hour before serving: the roulade is much tastier when served at room temperature