From Mary Karlin's Artisan Cheese Making at Home: For Cheesepalooza Challenge One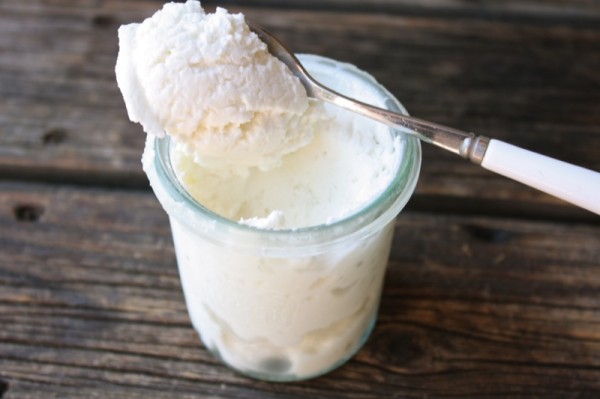 Suffice it to say: I DID IT! I made Whole Milk Ricotta with Citric Acid! I did buy new Citric Acid and followed Mary's instructions to a "T" – at first. I added 1/2 cup of cream, and no more. I added 1 teaspoon of the Citric Acid. Then I do confess, I did add 1/2 a teaspoon more into the milk about 15 minutes into the heating and stirring, and 10 minutes before reaching temperature. I am really glad I did as the ricotta is lovely, tastes really milky and sweet with no hint of lemon or vinegar. It is definitely not "fluffy" and is on the creamy side, even with the extra citric acid, but is really delicious and this is the consistency I really enjoy spreading on toast with a little lovely fruity olive oil and black salt. There was not a hint of the chalkiness I found in the "cream cheese" whole milk ricotta I made by accident when trying this before.
I will not rewrite the recipe, or post. Just leave you with a couple of photos and the tasting notes.
Tasting Notes for Citric Acid Whole Milk:
Appearance: looks like wet or cream y ricotta that I usually buy in the store
Nose (aroma): very subtle sweet milky scent
Overall Taste: difficult to separate the texture from the taste experience – thick luxurious creamy milky flavour, no sensation of richness or fat; very clean flavour
Sweet to Salty: very slight sweetness, not salty
Mild (mellow) to Robust to Pungent (stinky): extremely mild
Mouth Feel: (gritty, sandy, chewy, greasy, gummy, etc.): thick and creamy luxury without the sense of any fat or richness as there is in créme fraÎche, or sour cream or cream cheese, interestingly enough
I really like this recipe and will make it again. However, I really like the control I have become accustomed to with my initial recipe, as well. I had not difficulty making a dry ricotta by adjusting the coagulant (vinegar, or lemon). Hanging it longer will make it dryer, but not "fluffier". That has to be done with the coagulant at the beginning. Lots to think about depending upon how I want to use the cheese.