Another Chef Blair Lebsack and Team Triumph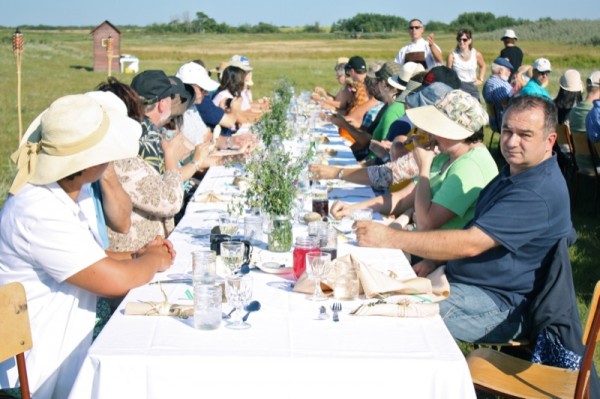 Usually the first time is always the best. No matter what it is. And in a couple of ways, last year's First Annual RR 135 UnTamed Cuisine Dinner was better. Only a couple. Don't ask me how one improves upon perfection. Ask Chef Blair Lebsack. It is his modus operandi. On August 18, 2012, 70 hungry people converged on Danny and Shannon Ruzicka's Nature's Green Acres farm for the ultimate prairie experience. The day commenced at 2:30 with appetizers, a farm tour and a ferrier demonstration by Danny. That is the only aspect that was better last year because we came later this year, and missed it! I am still salivating over the pork belly served last year upon our arrival. The tour was also such fun. But, this year, the day was steamy hot, and we opted to go later.
I heard about the appetizers, however. Waffle and chicken confit with a hot pepper jelly. Steak on somethin' with somethin'. People were raving. We came with our friend, Nicole and arrived around 3:45ish. Blair's parents were the unplanned welcoming committee and we had a nice little chat with them. They hail from the same small Alberta town that my family comes from and one of his aunts is a very close family friend. Yes, it begs saying again: it is a Small, Small World!
Blair is in the brown apron. I am missing one name, so hope he will fill in that for me in the comments section, and then I will add them in. What a team. Chef Ramsey could learn a lot working with this team. They worked their little butttooski's off, and still had fun. Shannon and Danny follow, with the support team bringing up the rear. Another saying that begs repeating: behind every great man is a woman.
We did get a meatball upon arrival. Yummy. And then toured the gorgeous house that Danny and Shannon moved into last November. I met her mom and she has an antique store near Camrose. I must go. Anyone interested? I won't drive that far alone.
It seemed much longer and more winding last year. Vanja and Nicole stayed behind in the shade. I could not wait. What a gorgeous setting. The tables were beautiful and ready. The chefs were cooking up a storm. What a set up compared to last year! Kevin and Blair and Danny built a Cobb Oven on the site and they decked it out with a fancy metal screen and some old tools. CHARM-ING!
This is the place to tell you that this is not just a dinner. This is an experience. It is almost more of an experience for the Untamed Cuisine team. Blair and Caitlin planted the garden, grew the vegetables, killed and butchered the animals for the meal, as well as everything else. Which I might remind you includes building the oven and moving the outhouse over to this space… yes, and digging that hole, too.
The prep was done in the community hall just a jump down the road away, but everything was cooked on site in the wood burning oven, the cob oven, or on the barrel grills.
Can you see the fashion statement the gals are making with their new Untamed Cuisine aprons. As Blair said, he had time to think this year, thus the recycle bins, the hand washing station, and so much more. You will see the gorgeous cob oven below and the decorative fence beside it.
I was impressed watching the team. Blair had the potatoes in a pan too big for the wood fired oven. "Woops! How did that happen? Thought this was the same pan I used last year." It wasn't, and they just solved the problem. In the Cobb Oven it went. The caramelized onions looked divine. The aroma wafting through the air from the beef was dangerous. Caitlin takes such great care of everyone. If she knows you don't drink, you are greeted immediately with an alternative. This gorgeous drink was so tasty. A homemade not sweet and very tasty cold welcome. Napkins tied with twine and a sprig of alfalfa. This is the beautiful fodder for the grass fed animals that I raved about in last year's post. There was honey with the butter. Edible flowers everywhere. Guests seated and the first course about to be served.
So many familiar faces!
The menu is below. I will not be explaining each dish. I will let the photos do the talking… which aren't even close to the tasting experience, sadly. But, I will add that I bought 1/2 a cow, 1/3 a pig and 30 chickens from Shannon and Danny last fall after eating their incredible meat here. (And I don't eat meat, but I tasted it!) I learned two things: we don't eat 30 chickens in a year, and that this is the best beef and pork anywhere. (I love the Berkshire, too, but this is Vanja's preference). They are also raising Tamworth pigs in the bush this year and I cannot wait to taste one of those! (Daniel Costa worked with one at Roots Shoots and Garden Boots in his pasta, and that was divine; I just want to taste it "straight up".)
Every dish was exceptional. Vanja was oohing and having such a wonderful time. It is not easy for me to get him to come with me to any of my "foodie" adventures. He won't miss this. If you have the opportunity to attend one of these meals, you must.
First course, and I have to say something: goat cheese and beets are a perfect pairing. Vanja hates both. I got his. It was that good. I ate two. I was thrilled to see this combination as it is one of my favourites. Now I have to comment on the next plate. It was not only a brilliant combination of fresh farm prairie cuisine, but it was a work of art. Those are bean in a meat fat custard wrapped with ham. Do you see my eyes rolling back in my head? Vanja hates beans. He got my chicken. It was a farm grass fed chicken and continues to bring memories of my childhood at grandma's forward whenever I taste it.
The outhouse was decorated with a picture, a mirror and all the comforts of home. Almost.
Now, I must rave another minute. Basil popsicles. It was over 30ªC. We were hot hot. Completely unexpectedly (because I didn't read the menu) this gorgeous refreshing icy bit of wonder arrived. I know I am going to go crazy trying to recreate this recipe. It was unforgettable.
The communal tables, the conviviality, the air, the grass, the horses, cows and the blue eyed dog all painted a dreamy day.
Blair makes a lovely light gnocchi. I need lessons from him. He sings the praises of a very specific potato and I hope he will add that to the comments section, too, as there is one variety he prefers to use for his gnocchi. I was amazed at how fluffy it looked coming out of the Cobb Oven. Nigel was putting this dish together. Bags and bags of fresh shelled (by Untamed Cuisine) peas were mixed in with a couple of Cow Pies. Yes, That is what the stinging nettle pesto looked like (Nigel's humor) but it was comfort food how I imagine manna from heaven to be
.
"Ladies and Yentilmen!" (phrase coined by Kevin) "The pork belly an loin course is about to be served!"
I believe I did say behind every good man is a woman. And now I will add, it was Caitlin's birthday! And an important one, too. Blair sure knows how to show his gal a great time!
The dessert was the same as last year, but the pastry was different, and the ice cream last year was stinging nettle. This year is was deadly delicious rhubarb. I loved mine, but this one was puckery perfect!. I was so inspired by this dessert, that I made my own last year after the dinner.
The dinner is over. There was a well deserved standing ovation. I felt pumped, and I was only a guest, clapping! It was a lovely moment, standing in the field, celebrating our prairie roots and thanking this team for an exceptional experience. And experience that took weeks, no, months to prepare. We were all moved to stand. And clap and clap.
I assume that this is when the party began. We left. The boards for the dessert went into the Cob Oven for heat, people were standing and talking and having wonderful silly fun!
Unforgettable. Exceptional. Thank you.
Watch Kevin's video of the event here.