Russian Salad: Equal Parts of 5 Simple Ingredients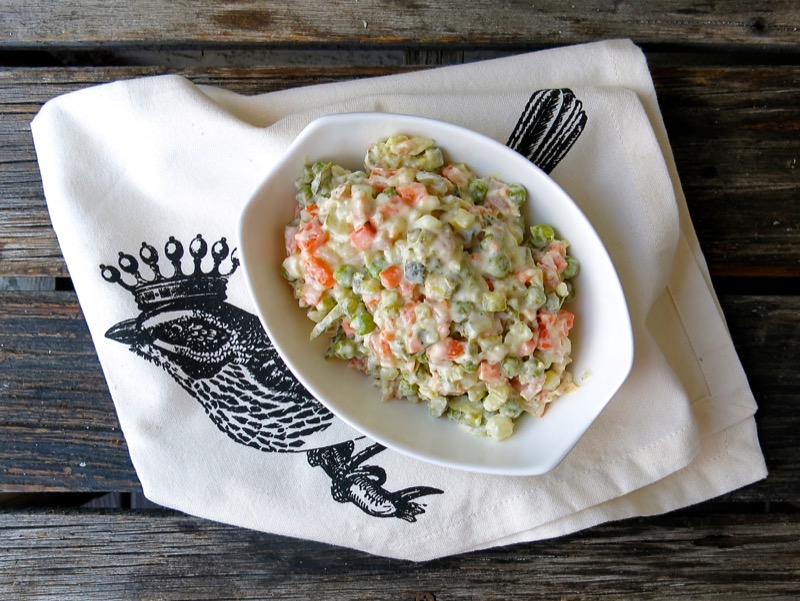 Somehow Russian Salad brings Canadian Potato Salad to mind, yet they are hardly similar. With potatoes and mayonnaise the only two similar ingredients, it must be the heft of the salad. However, Russian Salad is actually a meal in a bowl: vegetables, potatoes and meat; equal amounts of each: carrots, peas, pickles, potaotes and ham. The sour kick the dill pickles bring to the party seals the deal and is likely why this salad is so well loved all over Eastern Europe.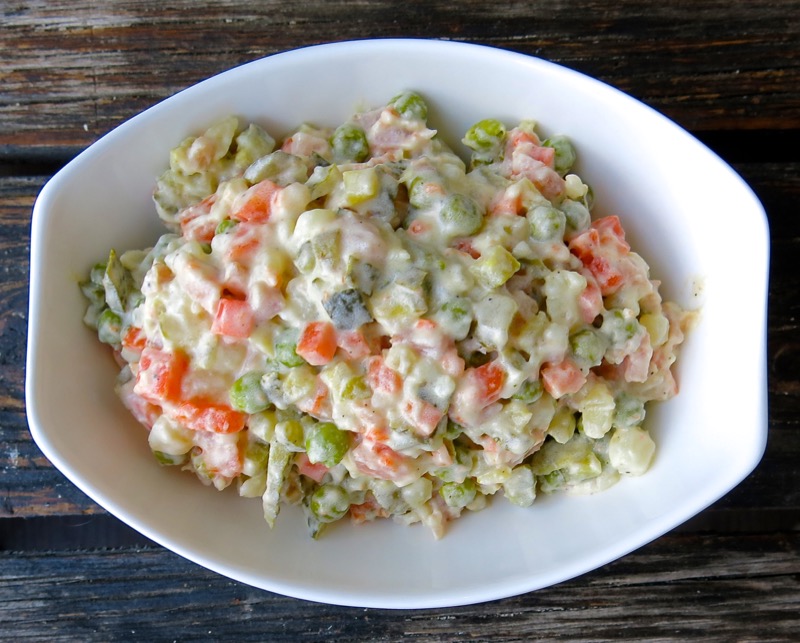 Like Sarma, or sour cabbage rolls, Russian Salad is a special occasion dish served during Winter holidays. It is not a salad that just pops on the weekday family table, or even on the Sunday Supper table unless there is a celebration.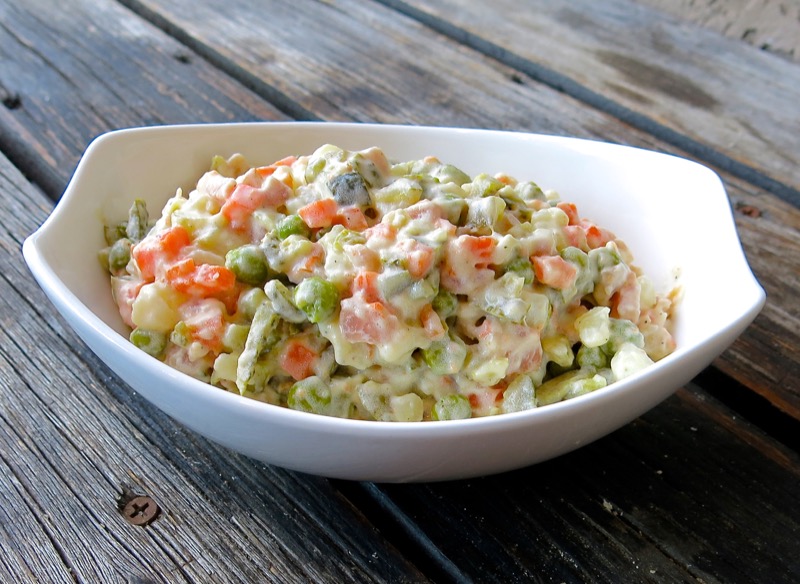 I can never make this salad without thinking of my dear friend, Amina, who taught me how to make it. I had eaten it many times, yet hers was always the best. How can such a simple recipe vary in taste and texture? She told me that the secret of her salad was to cube all ingredients by hand very carefully, very small, and all the same size. She was such a perfectionist. Her dad taught her how to make Russian Salad and he was the person she always thought of when making it. She and her husband, Vanja, came to Canada at the same time and with my husband, twenty years ago. They met on the bus heading for the plane to Canada and became fast friends. Every New Years Eve, together. Many dinners. Cooking together. Some holidays. Five years ago, she passed away, quite suddenly, at 43 years old. Five years. I will not be here for that anniversary this year, so I honour Amina today by sharing this cherished gift from her to me, to you.
Russian Salad: Ingredients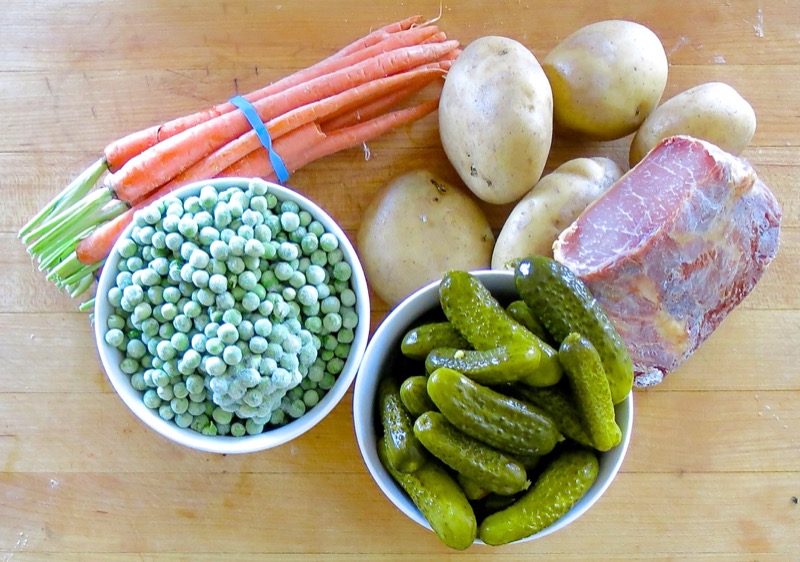 Healthy ingredients. Briney pickles.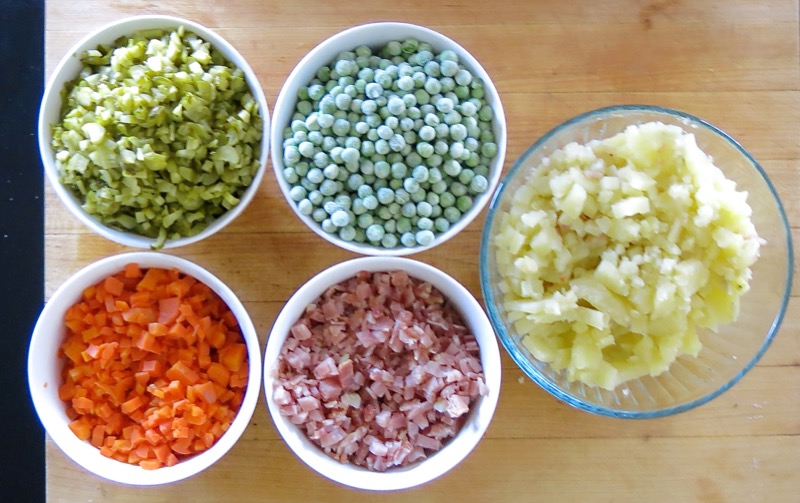 Good music helps to get into the "cubing groove" after cooking the carrots and potatoes. Dicing the pickles while they are cooking gets me started.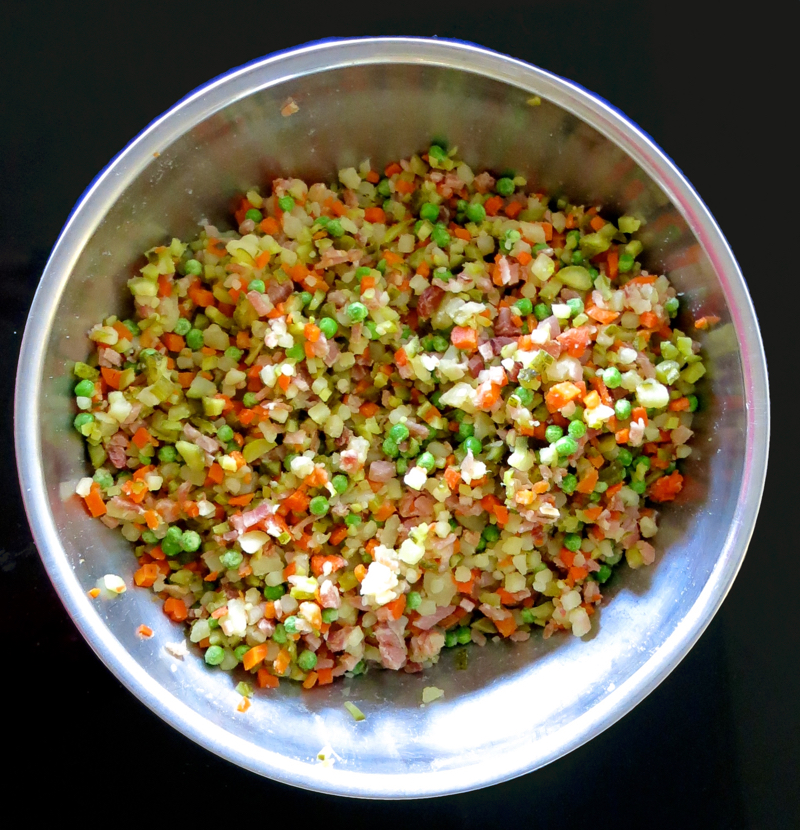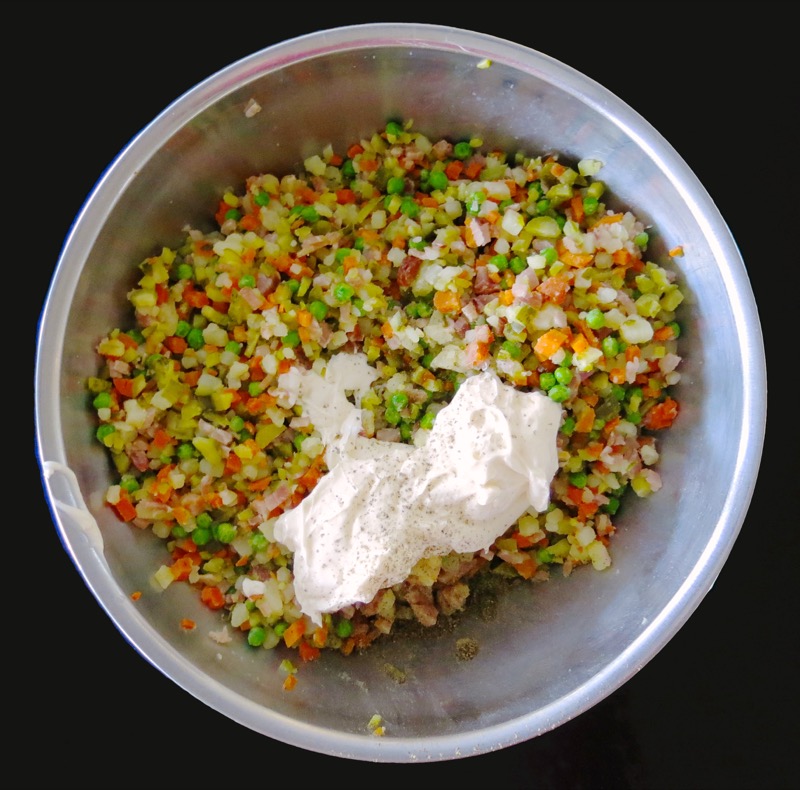 The fatty bit can be daunting to the health conscious. Great mix in a bowl, then in goes a substantial amount of mayonnaise. That is how it is. Yet, with the mixture cubed into such small jewels, I confess that it is delicious churned with thick yogurt. Not the same. Certainly, not the famous Russian Salad, yet close, and one could say: delicious, nutritious and economical. I like that. Tends to go a bit watery and not last as long (only 2-3 days) as Russian Salad which will keep very well for a couple of weeks in the fridge.
Russian Salad: Putting it all Together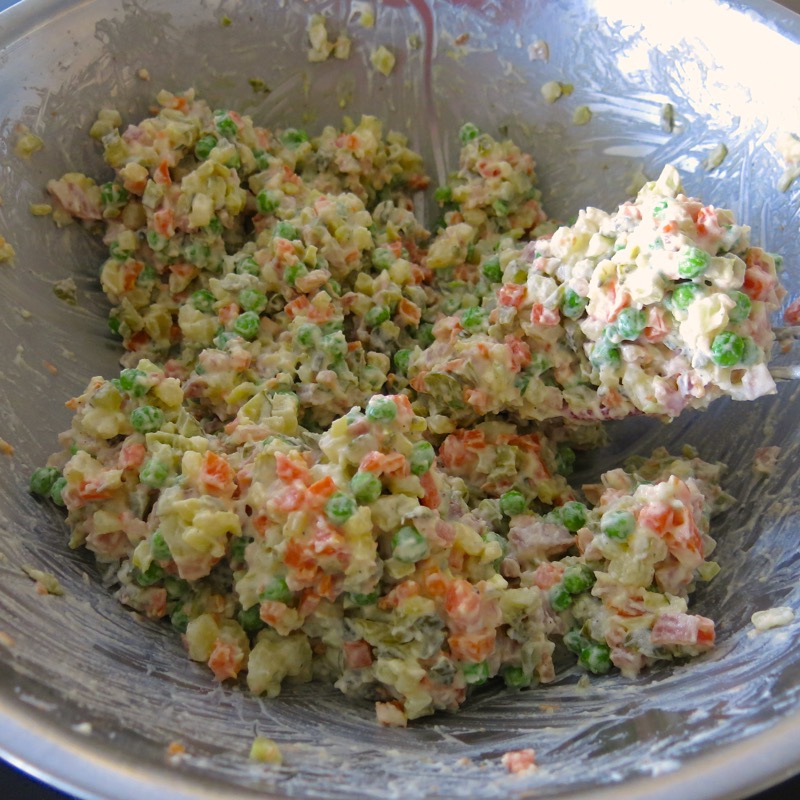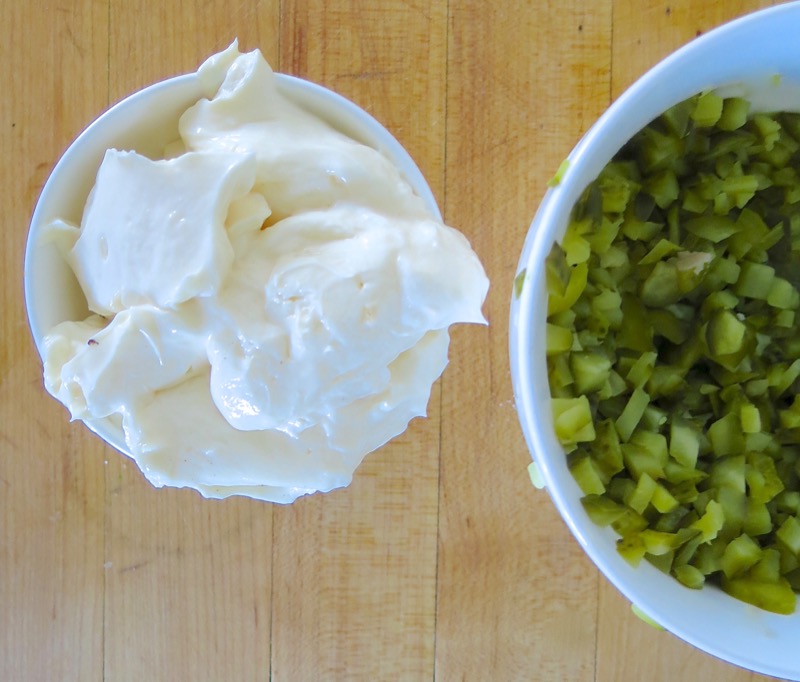 It is key to mix the ingredients with less mayonnaise and only 2 cups of pickles first. Taste. Adjust the seasoning, add more sour and more dressing, as needed. Of course, if you have never tasted it, you will just make it how you like it, yet the salad should have a sour kick. Think balance. The fat and sour balance must be achieved in this salad.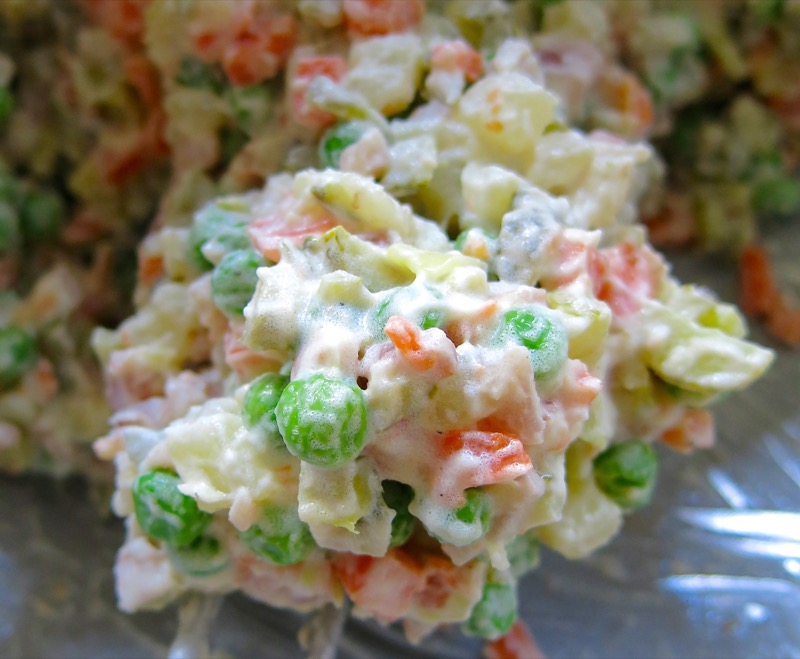 Such pleasure in one bite. The mouth feel of the small equal cubes combined with the sweetness of the ham and carrots, the starchy backdrop of the peas and potatoes and the vibrant sparkle from the sour pickles provides an irresistible and comforting allure. More, please.
Russian Salad: The Celebration is in the Serving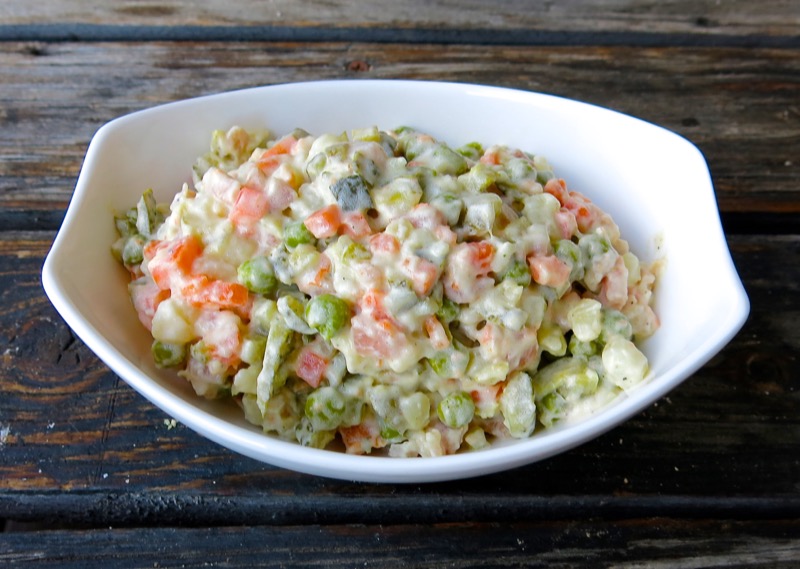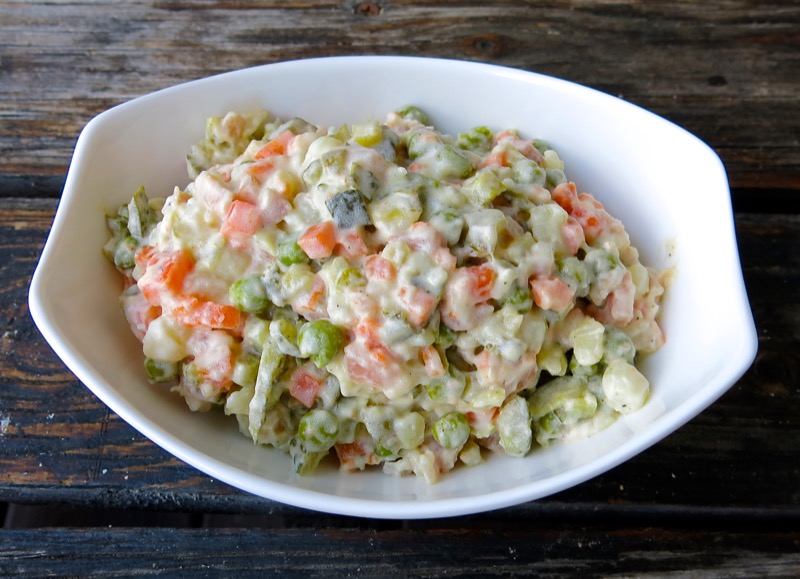 Traditionally, never served on its own, as above, yet it is at our house!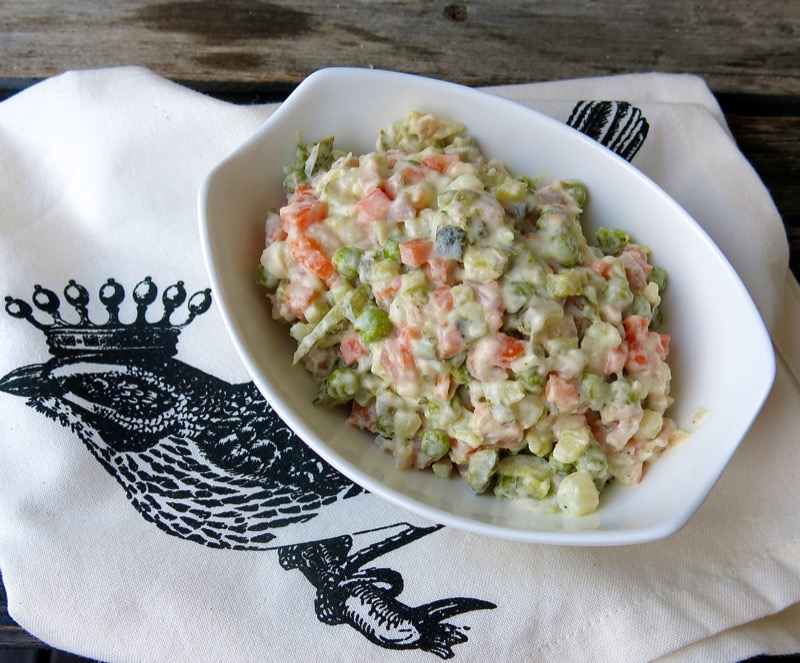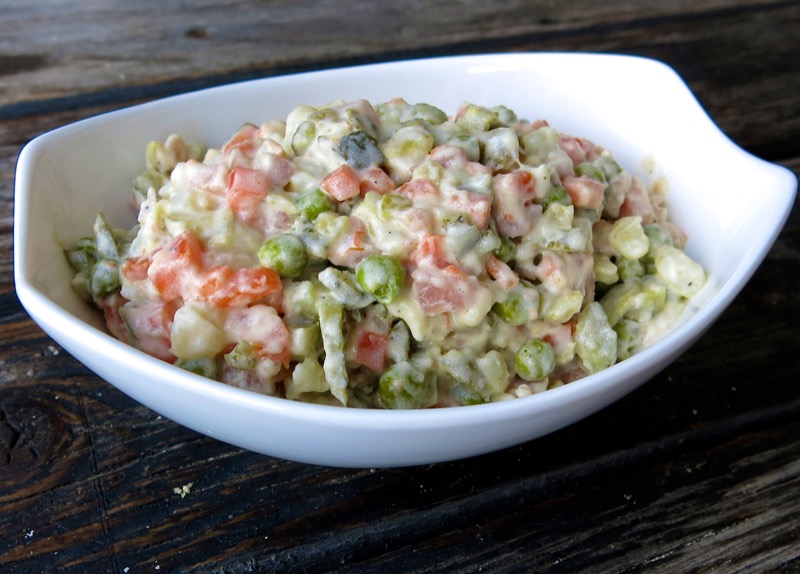 I cannot resist a little bowl for lunch as I think of my friend, Amina. Remembering her short life and vibrant spirit remind me how short life can be and how much she taught me that I love and value.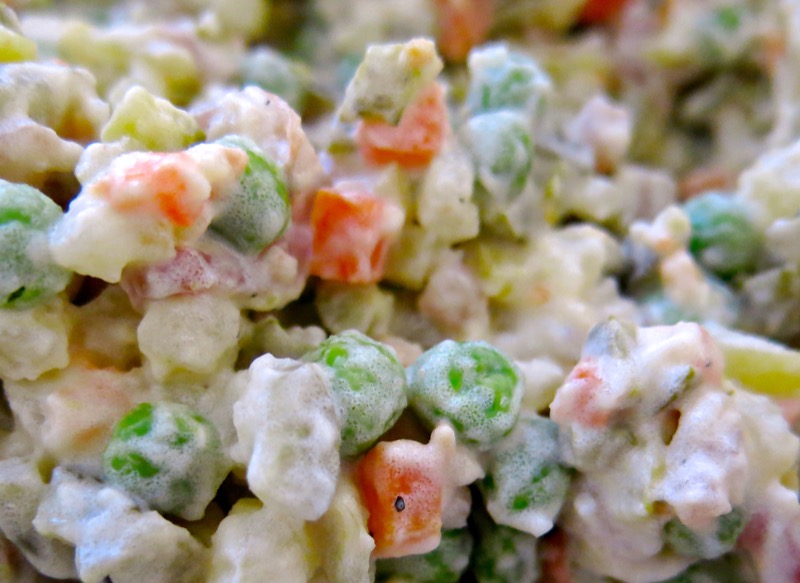 From Amina, to me, to you: Russian Salad, with love.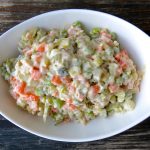 Russian Salad
Total Time
1
hour
30
minutes
Ingredients
Ingredients:
400

grams

or 2 cups ham

, sliced into small cubes

2

cups

dill pickles

, sliced into fine cubes (maybe 1/2 cup more)

2

cups

young sweet peas

, frozen

2

cups

carrots

, steamed until just fork tender, sliced into small cubes

2

cups

golden potatoes

, steamed until just fork tender, sliced into small cubes

400

grams

mayonnaise

(possibly more, to taste)

1

teaspoon

salt

Freshly ground black pepper

, to taste
Instructions
Instructions:
Combine all ingredients, except mayonnaise

Add 300 grams mayonnaise with salt and pepper; taste and adjust each as and if needed

Most times, a little extra pickle is necessary for the sour-savory balance

Chill for a few hours, or overnight, before serving