Crispy German Cucumber Dill Salad Traditionally Served with Fleish Rouladen Meal
Cucumber Dill Salad or Gurkensalat! If you like cucumbers, you will love this salad. It is a crispy, crunchy celebration of Spring in a bowl. Of course, it is made all year round as cucumbers are now accessible to us throughout the year, but the texture and flavours in this dish literally beg to be served the first day of Spring, and again with your first dill fronds and again when you harvest your garden cucumber. It is just delicious.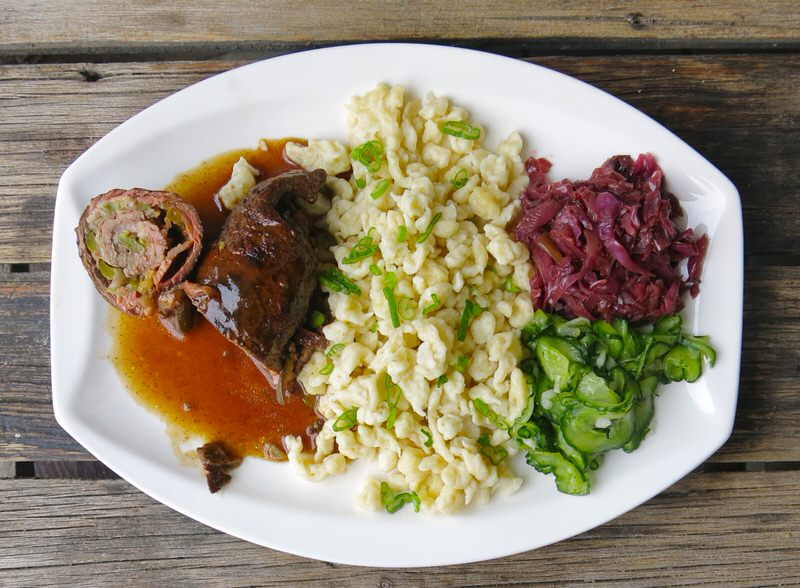 This dish is the instrumental salad for Margaret's traditional Fleisch Rouladen Christmas Eve meal. It is also one of 4 recipes we made together the day Margaret cooked with me as part of Project 2017: "Valerie Cooking in the Kitchen with…" earlier this month. Margaret's site is Kitchen Frau and not to be missed. She has been a favourite read of mine for years. Be sure to stop by, say hi and how much you love her recipes here! Remember our project hashtag please: #ACFValerieCookingwithYOU!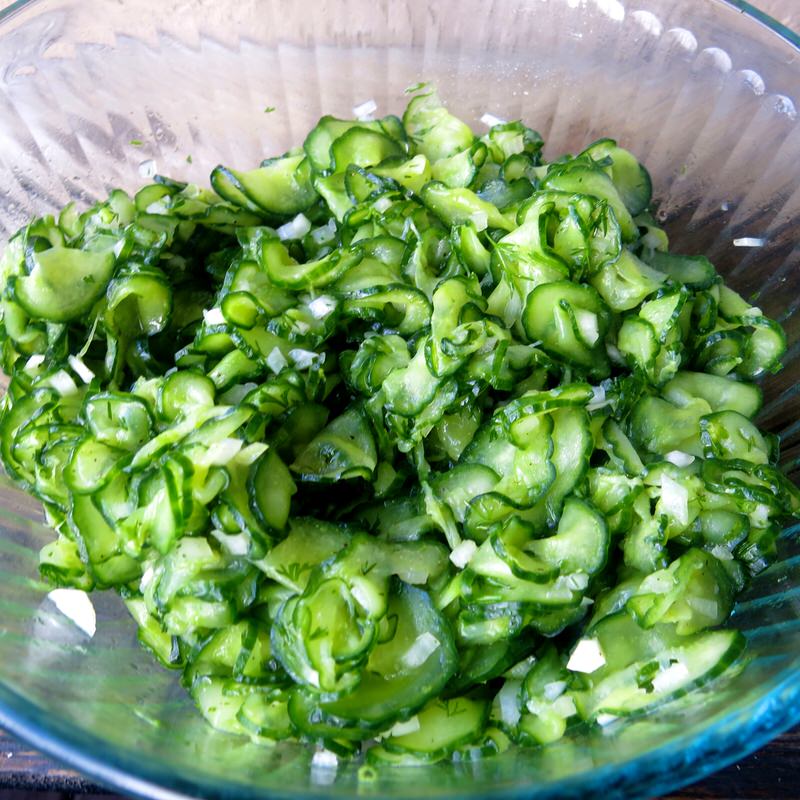 However, I am not sure a regular garden cucumber could be used as they are so juicy. Long English Cucumbers are most definitely the varietal used for this dish.
Cucumber Dill Salad or Gurkensalat: Mis en Place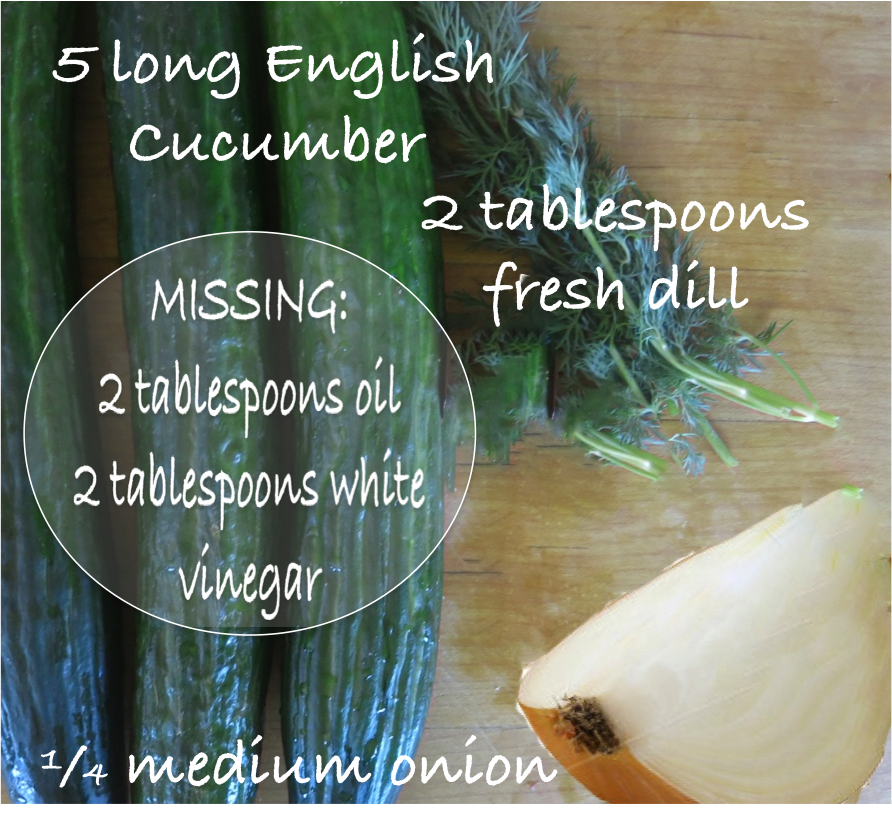 Each of us was in disbelief when Margaret and Raymond arrived with 6 long English cucumbers in tow. "That is WAY too many cucumbers!" we sang in unison! But, we were wrong. We used 5 in this recipe. There are 5 whole Long English Cucumbers in the first image. Yes, there are!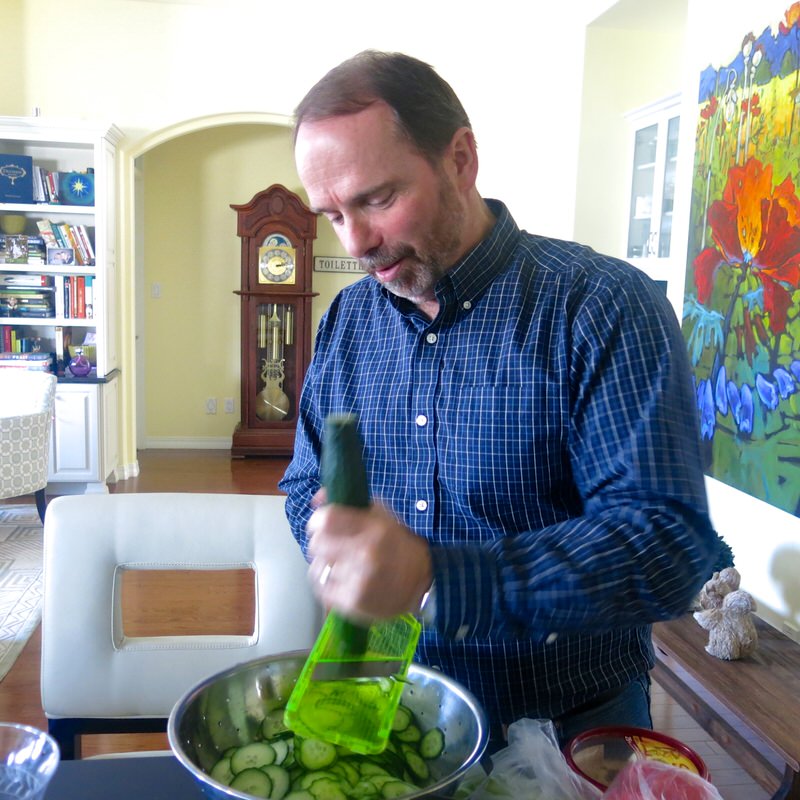 Raymond, Margaret's husband and hard working partner, sliced all of the cucumbers very thinly, as is so important, with a mandoline.
Cucumber Dill Salad or Gurkensalat: Expelling the Liquid from the Cucumbers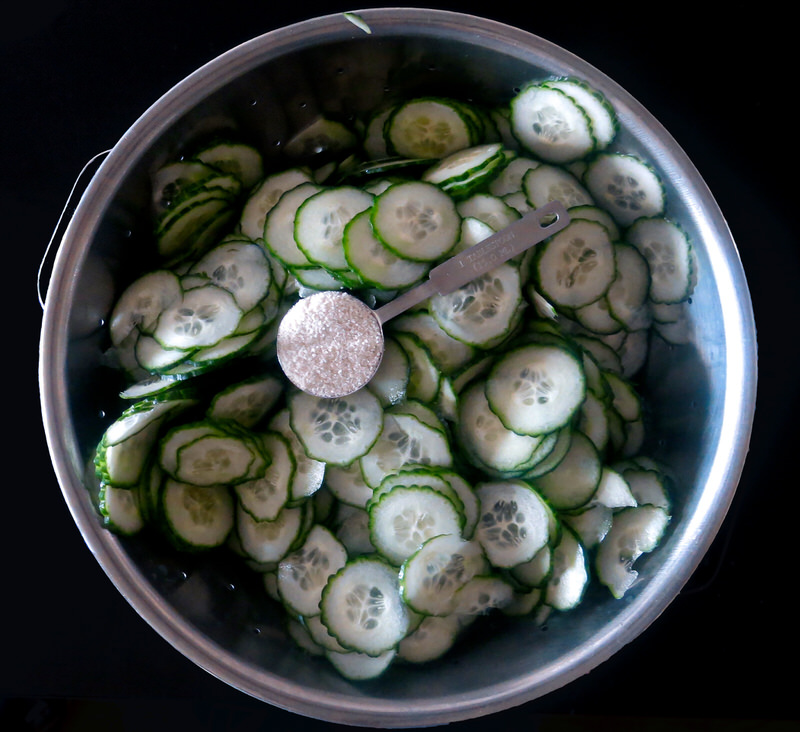 Once sliced, every slice needs to be coated with salt to enable extraction of the liquid within the cucumber.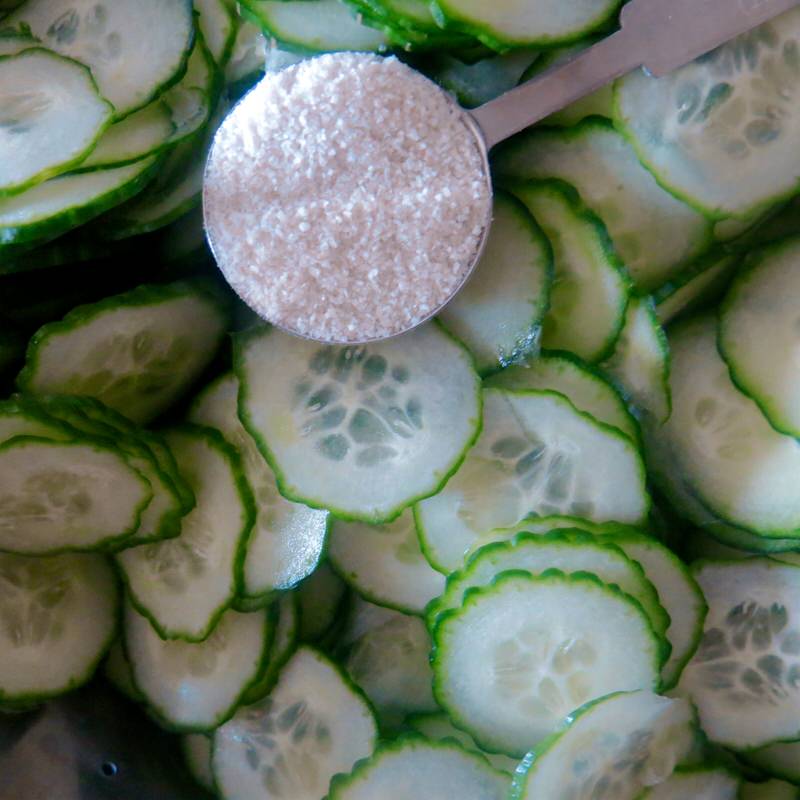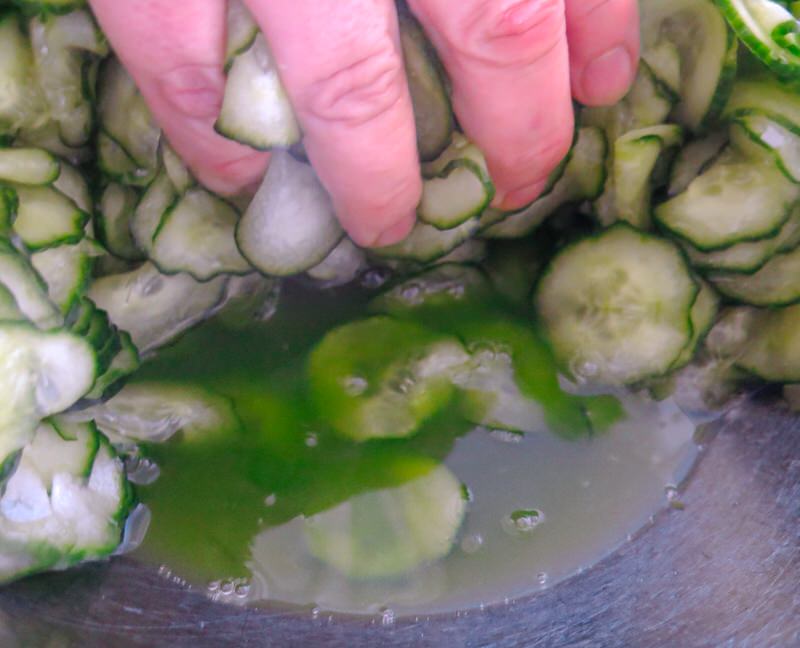 Toss in the salt regularly as the slices rest in it to expel liquid.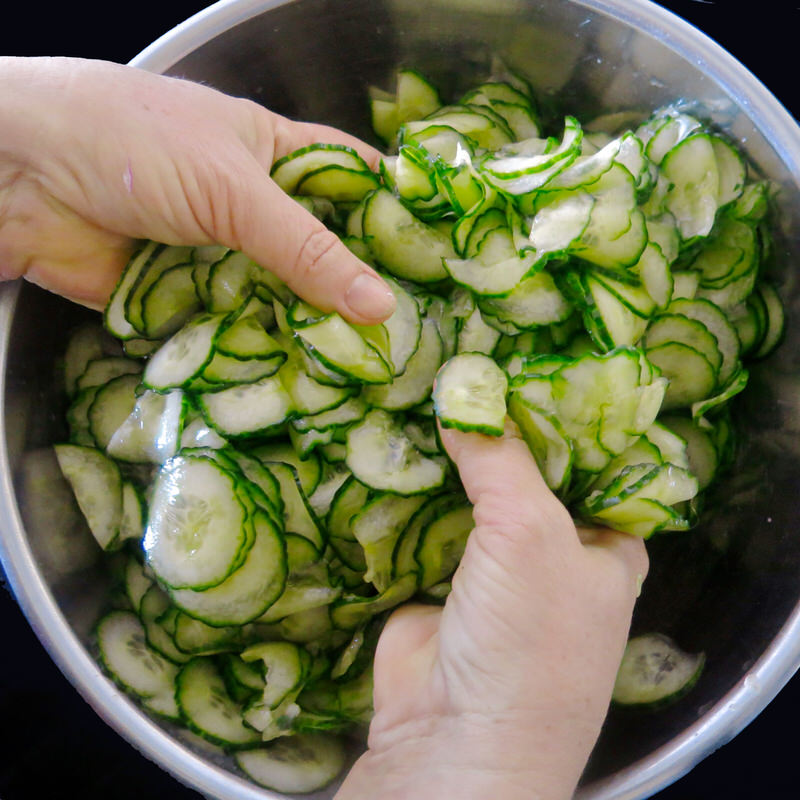 Margaret visited and revisited these tender slices several times ensuring the thin slices separated so each received salt throughout the process while Nicoletta minced the onion and the dill.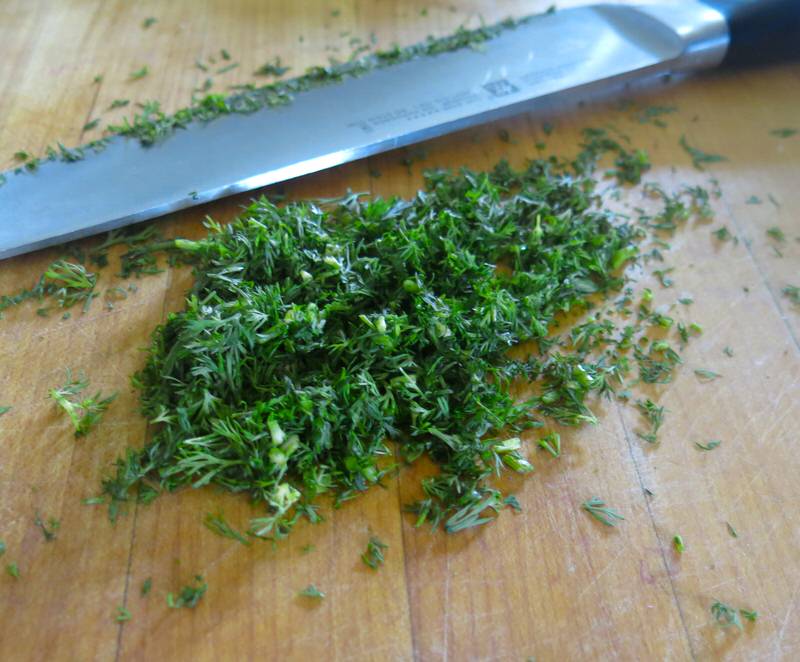 Cucumber Dill Salad or Gurkensalat: Squeezing the Slices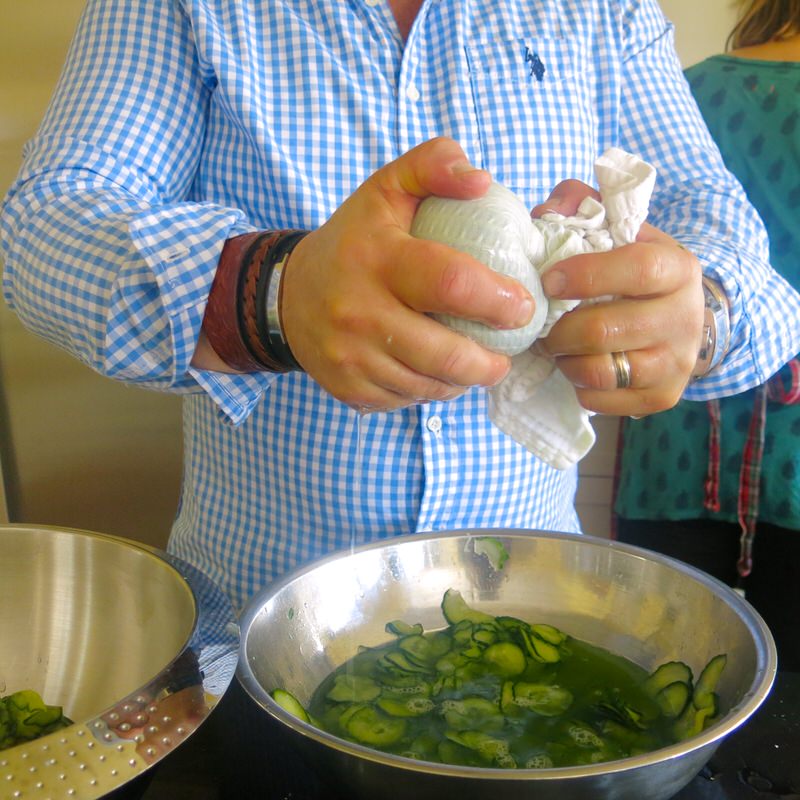 Loreto and Nicoletta from SugarLoveSpices joined us for this day and were essential to the preparation of the side dishes. Look at those muscles!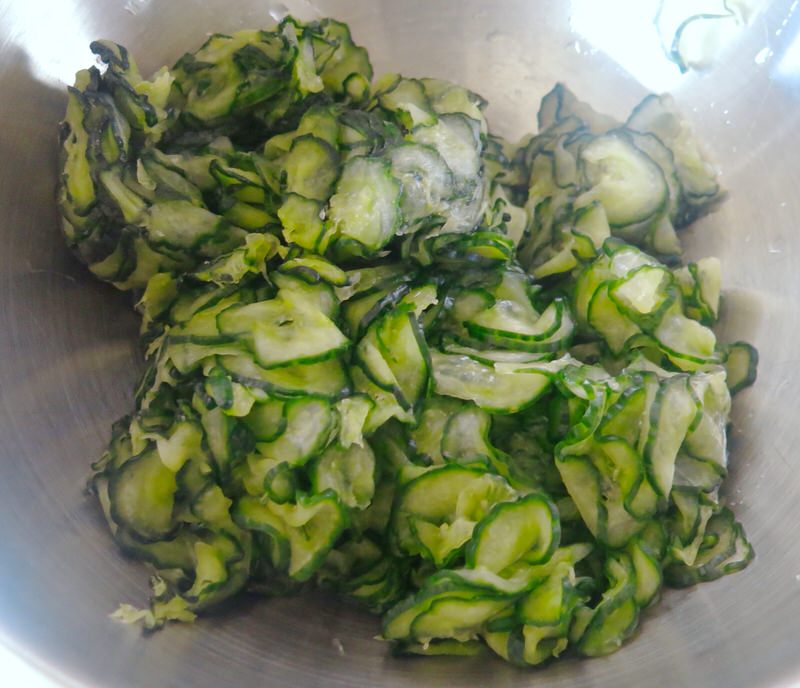 Actually, Loreto squeezed the cucumber exactly as I would have, but I would have had to work much harder at it – yet, it was a bit too much, according to Margaret's "usual" recipe. She squeezed them by hand and later told me when reviewing the recipes, that this one usually has a little liquid at the bottom of the bowl that serves as part of the dressing. I'll have to try that, but loved it this way, in any case.
Cucumber Dill Salad or Gurkensalat: Pickling the Onion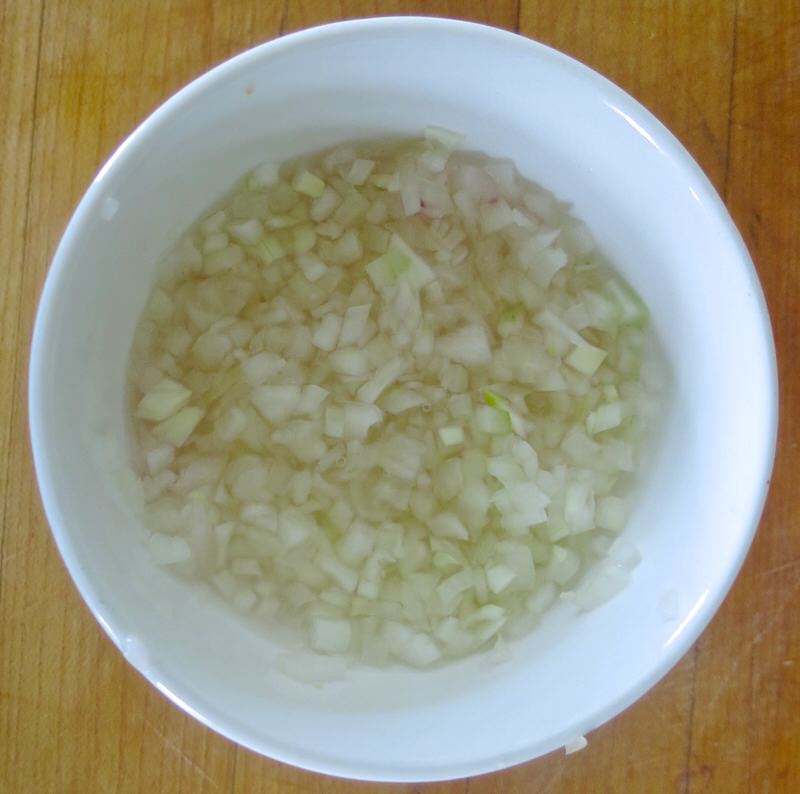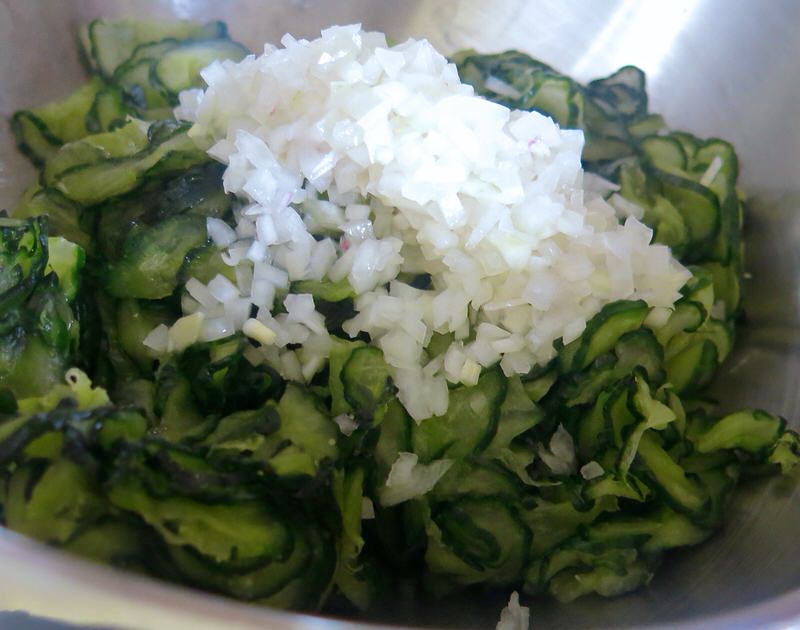 Covering the minced onion with the vinegar and letting it sit pickles them and takes away the sharp bite of the onion. Margaret said her mother prepared her onions like this every time she made a salad. Then, they are added to the mix!
Cucumber Dill Salad or Gurkensalat: Putting it all Together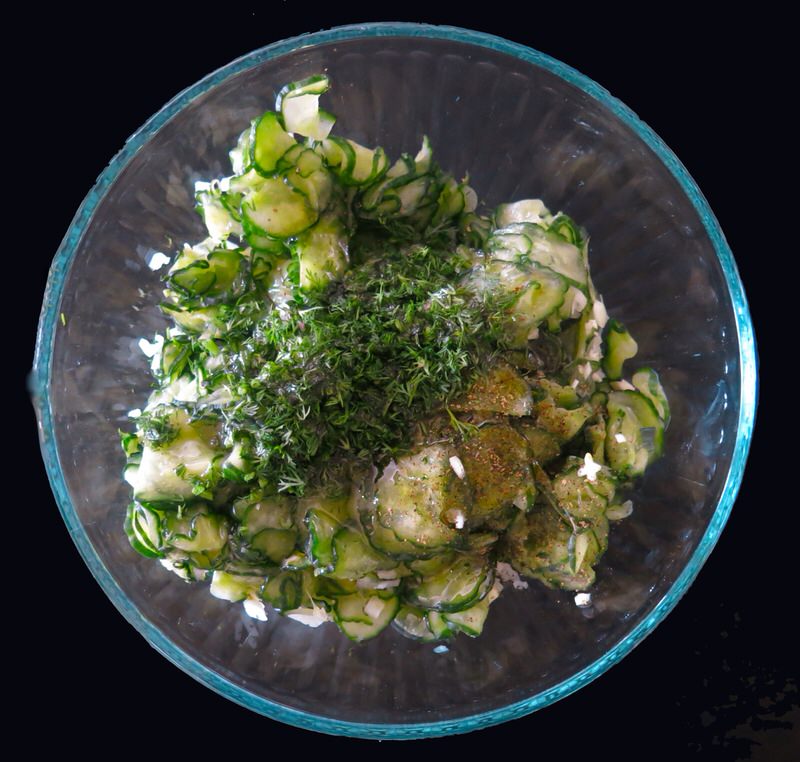 All ingredients are then added to the cucumbers, tossed well, and chilled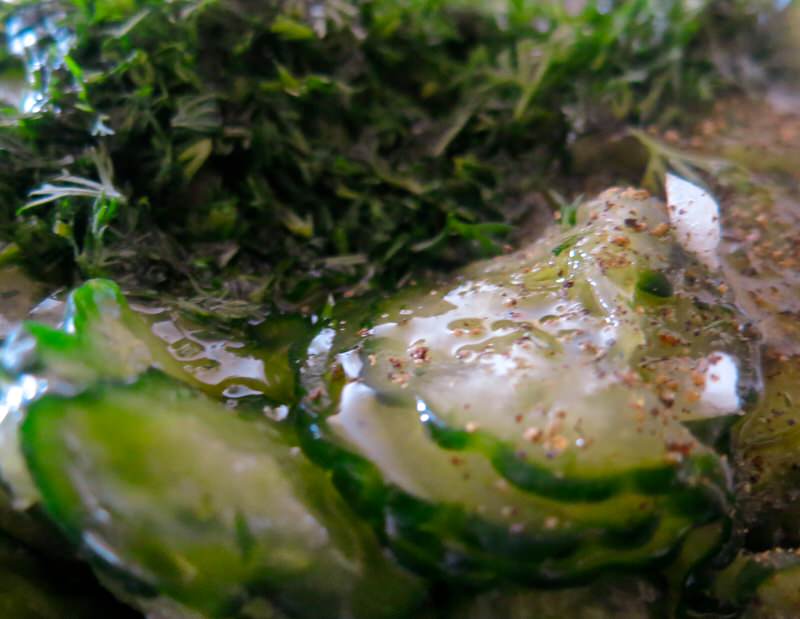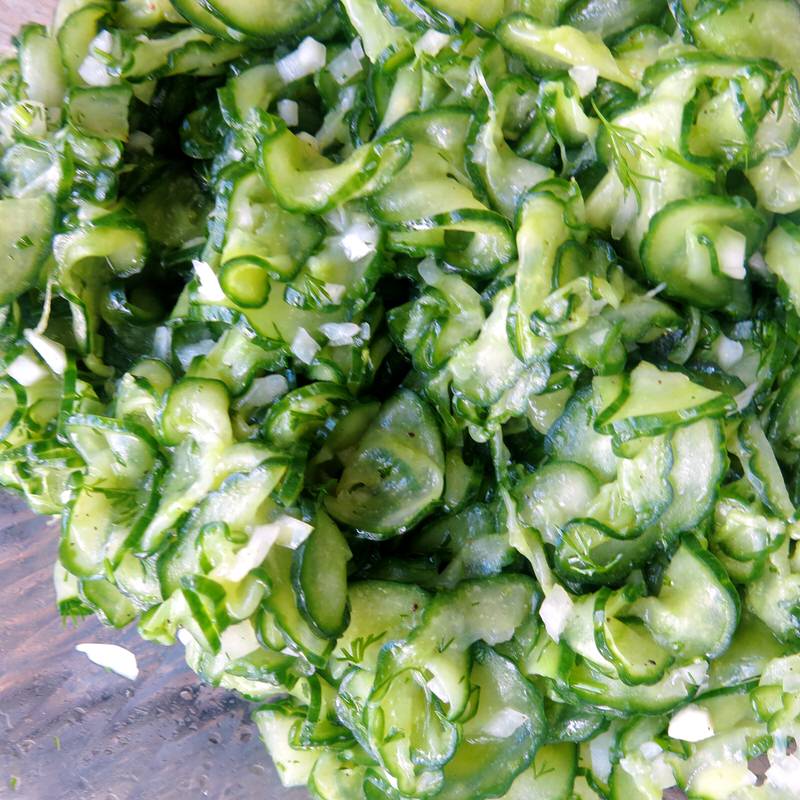 Chilling the salad is important. It makes an incredible difference to the flavour and the texture. This is a salad that needs to be served ice cold.
Cucumber Dill Salad or Gurkensalat: Serving the Salad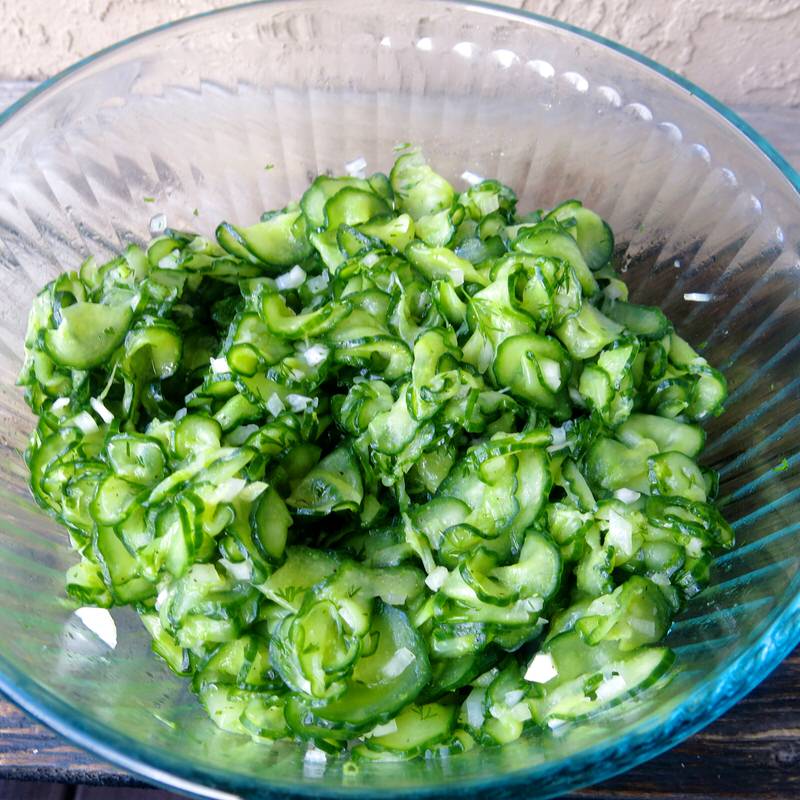 Though traditionally served with the Fleish Rouladen, clearly I have built my case: a great anytime salad! Have you tried it? Do chime in!
Recipes for the complete Bose Johnson Christmas Eve Fleish Rouladen Dinner: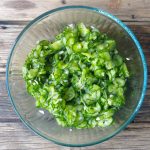 German Cucumber and Dill Salad


Cooking in the Kitchen with Margaret Bose-Johnson: Cooking in the Kitchen with Margaret Bose-Johnson: German Cucumber Dill Salad or Gurkensalat accompanies the traditional Fleisch Rouladen meal. Crunchy fresh!
Total Time
1
hour
30
minutes
Ingredients
5-6

long English Cucumbers

, washed, skin on

2

tablespoons

fresh dill

, finely minced

1/4

cup

white onion

, minced

2

tablespoons

white vinegar

1

tablepoon plus 1/2 teaspoon salt

freshly ground black pepper to taste

2

tablespoons

avocado or grapeseed or flavourless oil

(I used olive oil)
Instructions
Slice Cucumber into very thin slices using a mandoline; place in large bowl

Salt cucumbers with 1 tablespoon good quality salt; combine well to ensure salt fully incorporated

Rest cucumbers for 30 minutes to an hour to extrude juices; toss intermittently with hands to ensure salt continues to be evenly distributed and liquid is expelled

Mince onion; cover with white vinegar and rest for 15 minutes to pickle

Strain cucumber; squeeze cucumber slices in batches inside cloth until almost all liquid is expelled

Add to serving bowl with onion and vinegar, dill and oil; season well with salt, if required and freshly ground black pepper

Toss and serve ice cold; keeps well in fridge for several days