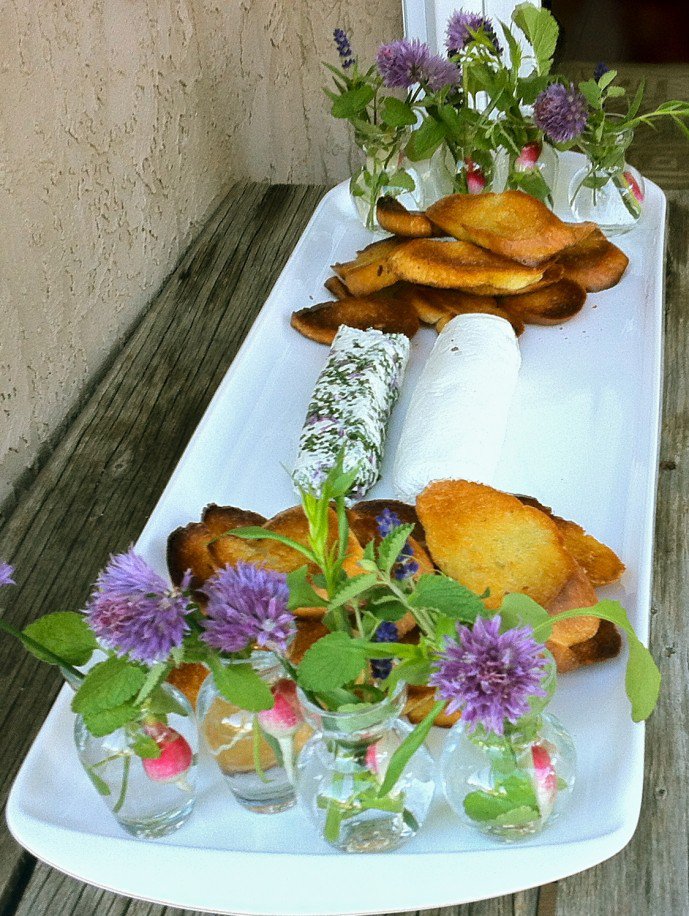 Did you already guess chèvre? It did seem like a logical next step. I hope each of you enjoys making this as much as the four of us did! I had so much fun with rolling the chèvre logs in herbs and serving the plain chèvre with miniature edible bouquets!
Here is my first chèvre making experience at home which was very successful!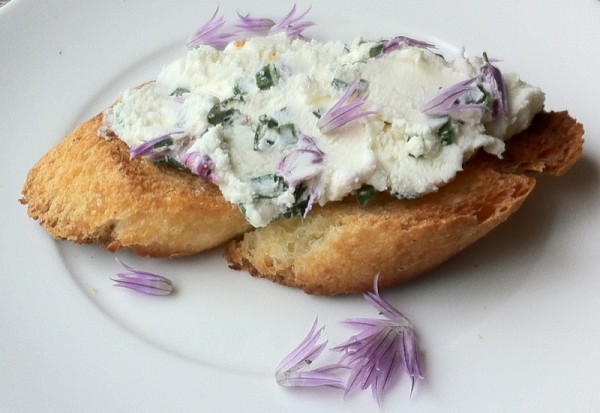 The Task:
If you have made it before, we challenge you to please do it again, "Mary's way", link to your other ricotta cheese making experiences, debriefing them all. If you don't care to do this, just send me the link to your "old" chèvre post with the deets so I can include it in the round up. Hopefully, you will be motivated to attempt some of the alternate cheeses!
Let us know what you think. Which recipe works best for your palate and your locality?
If you have never made it before, you need C20G mesophillic starter for Mary's recipe. This will be a good time for you to order everything you think you may need from the New England Cheese Company where this culture is sold to save on shipping. Mine arrived in 7 days from the date the order went in, and I am across the continent in another country.
Read the recipe a few times, take lots of photos and notes as you go, and write about your experience.
IMPT: If you choose to use a different recipe, or process, please just explain why so we can learn together. Addie and I made chevre together using buttermilk as the culture with a little rennet instead of the C20G, and not because we didn't have it. But, because that is how he knew to make it. I am crazy over that recipe. Addie and I made Mary's recipe when it was plus 30°C outside and each of our chèvres were dry. Addie and Ian think that the incubating temperature overnight was too high and produced a drier product. I think my temperature was where Mary's recipe suggested, and that it just produces a drier chèvre than any of us liked. Ian used a different technique and his was the best of the three chèvres. I believe the one Addie and I made initially would still be better. I am making it again, soon!
Optional Recipes to add value to your first month (only if you choose):
Please send me the same deets when you post an optional recipe as I will also be posting a Challenge Two Optional Recipe Post. I have yet to do that for Challenge One as am still waiting for some information to come in from some of you.
Name
Post URL
Where you are from
Here are a few other recipes in Chapter two we suggest you explore and share through the month, if you want to make more than basic chèvre:
Real Cream Cheese: I will be doing this
Crème Fraîche Cottage Cheese
Queso Fresco
Fromage Blanc
Cabécou is the only one I have done so far, and am wild about it; this is definitely a keeper at our house. I have made it twice already!
Crescenza Ian has made this, and it was a huge hit. I cannot wait to make it. I will definitely be doing this in September
O'Banon Addie and I plan to make this cheese; we have been Tweeting for large Maple Leaves to do it with!
Quark
Please include simple Tasting Notes at the bottom of each post so we can have a frame of reference to understand your cheese a bit better:
Tasting Notes:
Appearance:
Nose (aroma):
Overall Taste:
Sweet to Salty:
Mild (mellow) to Robust to Pungent (stinky):
Mouth Feel: (gritty, sandy, chewy, greasy, gummy, etc.):
Video Preview with Mary
Note: Scroll down to the BOTTOM of this page where you will find the Sample Previews; choose Starting Chèvre
To read about each of our Basic Chèvre Making Experiences:
Local Challenge Two Tasting: SAVE THE DATE
We will be hosting our second Tasting on Friday for all Cheesepalooza Challenge Participants and friends, September 28 from 6 to 8. Please save the date!
Eight of us are also attending Smoky Valley Goat Cheese for a Day of Cheese Making September 9th that we will report back to each of you on! Until then: Let's Make Cheese!