Lip Smackin' Puckery Tart Treat!

Oh, Grandma Maude, how do I miss thee? Let me count the ways… I will start with your rhubarb, but it was my mom who transformed it into a pie or a crisp. No one could grow rhubarb like you.

And no one could make a rhubarb crisp like my mom.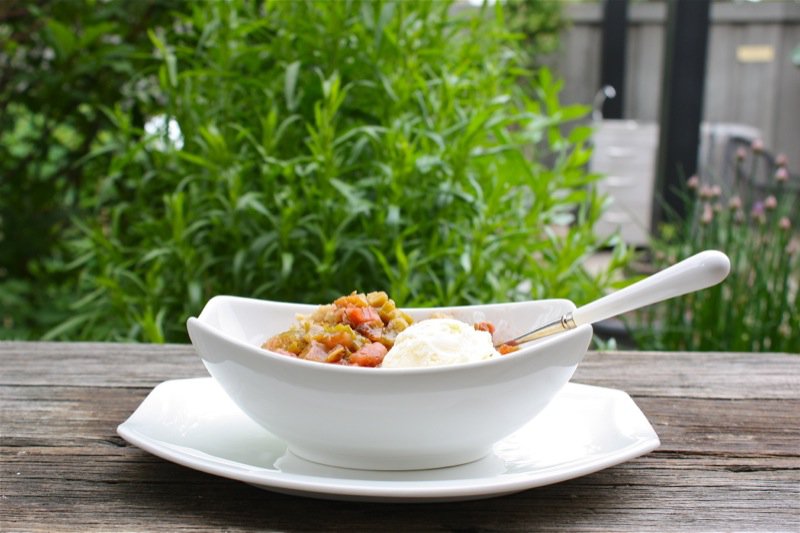 And still, though it is as common a home treat as apple pie inside of homes on the Canadian prairies, I have never eaten a rhubarb crisp made by anyone else (have rarely eaten a homemade apple pie made by anyone else, either, for that matter). There is nothing like the tart addictive vibrancy of this common vegetable stock worked into a warm crisp served with rich creamery vanilla bean ice cream: a sure-fired lip-smackin' puckerlicious tarty treat!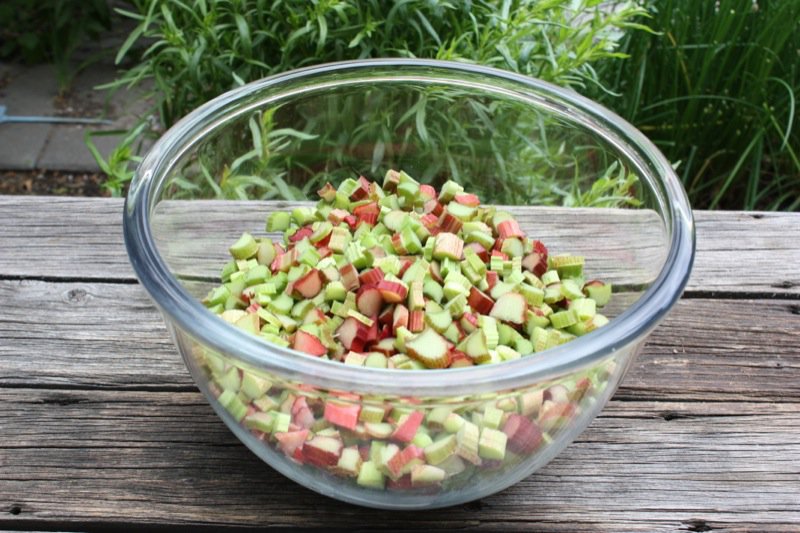 My rhubarb plant is 4 years old, but was clearly planted in the wrong spot in my garden. Moved it this year and hope it will thrive. Thin little spindles and one rhubarb crisp is my entire harvest this season. Anyone have a plant that needs a new home? I have a space for a couple and have some great garden finds to trade.
Spring arrived in one day, this year. I woke up and drove out to The Cheesiry for a Pecorino Making Class on May 4th of this year with the sun rising in the horizon, snow just melted and the landscape, brown and lifeless. The drive home under the last reaches of the golden sun revealed green grass, budding trees and the first shoots of the 'barb heading for air. At grandma's, rhubarb leaves would sometimes reach up and push aside the last bit of melting snow in the far corner of her vast expanse in Clive, Alberta.
Even the chives haven't opened up yet, due to this Spring's cold, foreboding presence. As I write, the thunder rolls, the sky is black, and the day so glum. I used to love these days as they visited the summer season, yet this Spring, a warm day has made the occasional appearance, but all that is growing in my garden is far behind its usual schedule.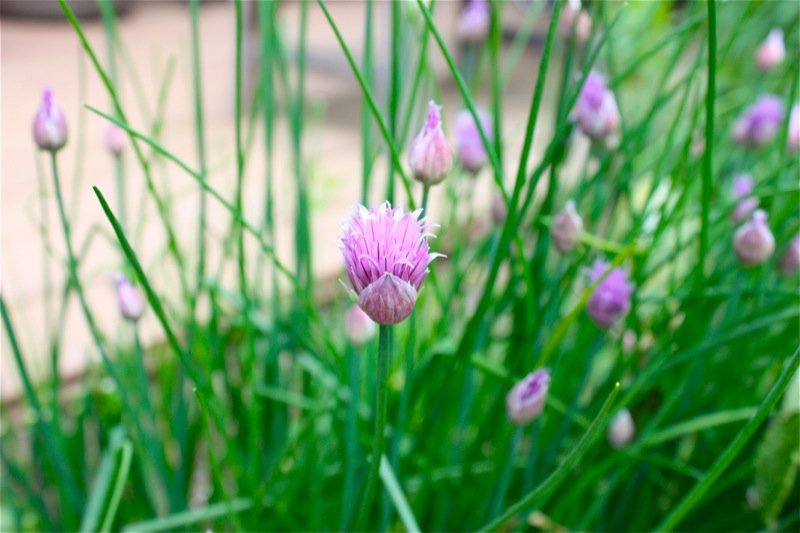 A few weeks after the time rhubarb is usually chopped and in huge bowls in the Spring kitchen, my lone half bowl is still a work of art. After all, I grew it myself, just like Grandma Maude…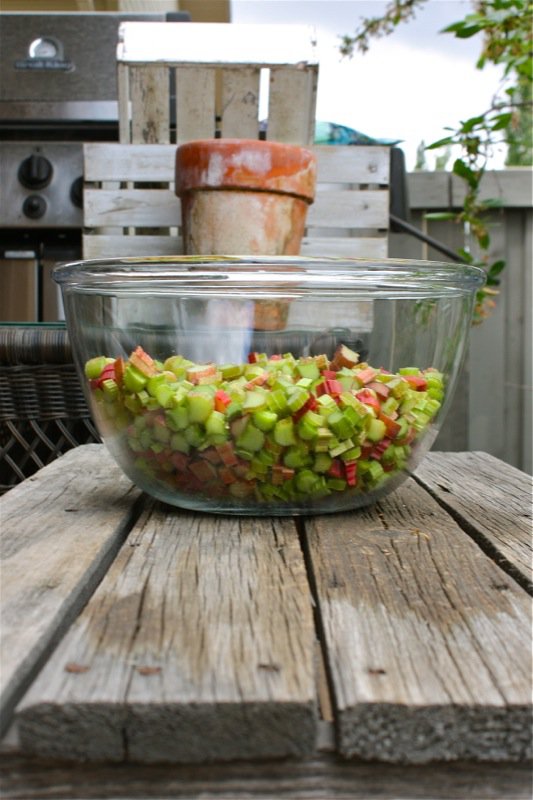 She would be up at dawn and out in the garden in her house dress, if she had company; her nightgown if she didn't. Old white wrinkled shoes waiting at the doorstep to be slipped on. Toes fit perfectly in the well worn furrows inside of each shoe. Dew glistening in the tall grasses, bare bruised and scratched legs beaded with the good morning welcome, she donned her sun hat, tied her basket around her waist and trudged into the richest and blackest of soils.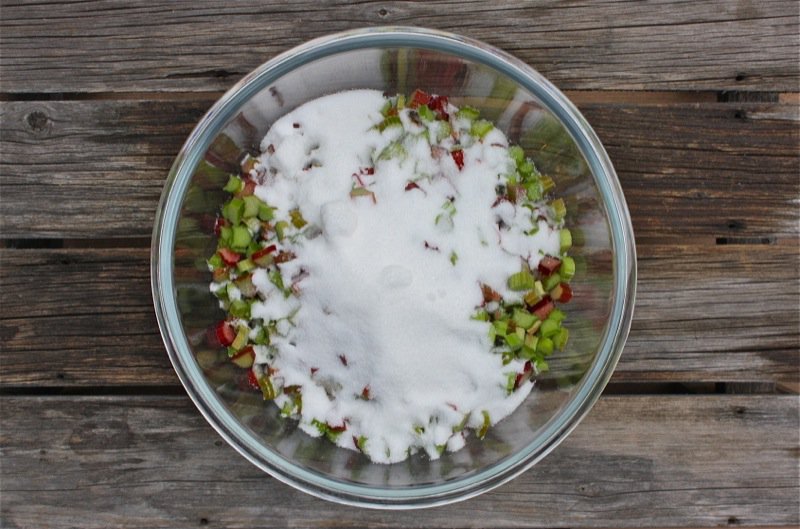 We knew where to find her when we woke up. There may be a big pot of water bubbling on the stove for the morning coffee. The table may already be set for breakfast, the water may be heating for the wringer washer, but grandma was always in the garden. I would scamper out and see what she was up to, but the mosquitoes usually drove me back onto the screened in porch, calling her in. And in she would come. Smelling fresh and of the damp wet Earth, morning harvest in hand, fingers black and stained, that triumphant smile of ultimate satisfaction that one would only recognize through harvesting and preparing food raised from the earth for your own table.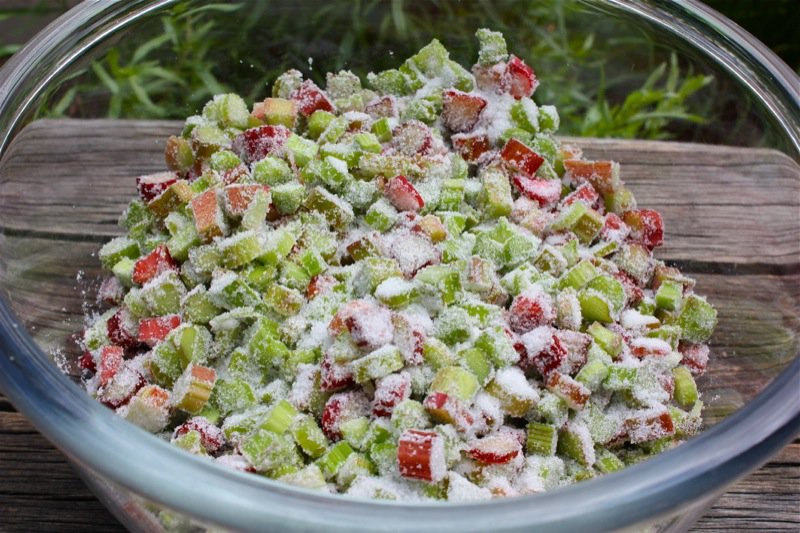 How I miss my grandma. I really, really do. She just always knew. Everything.
Mom never added the lemon, or the cinnamon to her rhubarb crisp, yet it was perfect as it was. I find lemon brightens the rhubarb, but you should never be able to taste it and Vanja loves cinnamon, so I added a little for him. Most of Grandma Maude's rhubarb was made into pies later in the year. She would harvest and freeze it for when she had time. Mom would take the time. Though she worked full time as a bank manager, she continued to manage all of the traditional housewife responsibilities. A homemade dessert for every evening meal was expected because it was always there.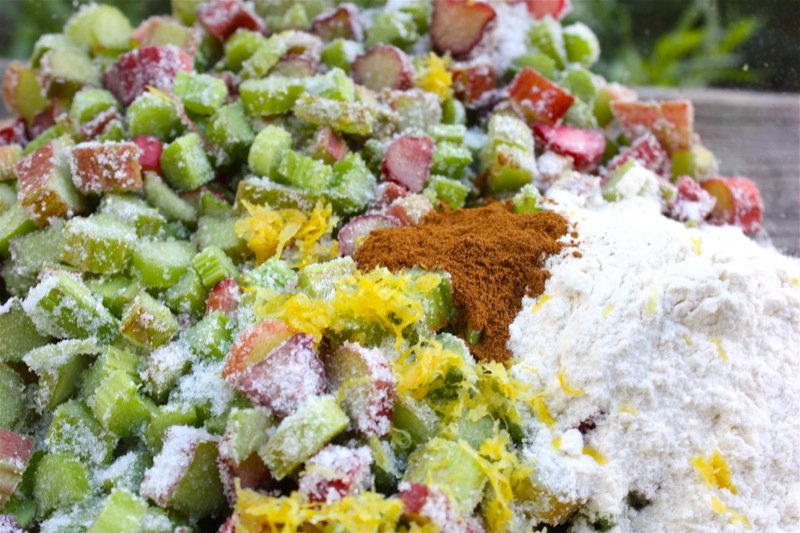 With Winter shifted to Spring, we were filled with keen anticipation of vibrant flavours and colours soon to be visited upon our dinner table. A warm fragrant rhubarb crisp with vanilla ice cream hailed the beginning of the abundance to come. It was one of dad's favourite desserts. Grandma Maude usually made rhubarb and strawberry pie. I never liked it much. Forgive me, grandma? I preferred my mom's rhubarb pies, by far. You were the gardener, she was the cook. Remember?
But, you were much more fun to cook with, grandma. You would let me stick my hands into the sticky dough, lick my fingers, stir, watch the wood burning oven, stoke the flames, and I never had to wait until supper to have a piece. We could be in the middle of anything, and if we heard the rumble of a train on the tracks beside your house, we dropped it all and went running, no matter what was stuck to our fingers, in our hair, or what we wore. Out to the porch we would run, screen door slamming behind, usually a few times…. and we would wave and wave and wave and wave. Finally, the red caboose would go by and the conductor would wave back. Oh, the giggles and the thrill of the, "He saw me! He saw me! He waved back!" We would turn and head into the house and carry on exactly where we had left off .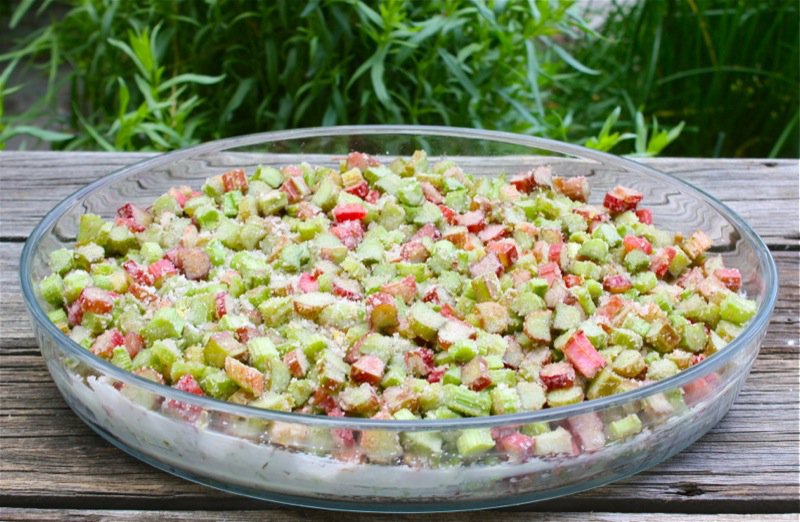 And the food was almost always shared. If the family wasn't there to eat what Grandma Maude harvested, she would cook up a storm and deliver a pie here or there, stopping for coffee and a good dose of town gossip along the way. I loved and dreaded these ventures: loved them if there was a playmate, dreaded them if I had to sit so very still and so very quiet in a musty old farmhouse and listen to the gals cackle and snort.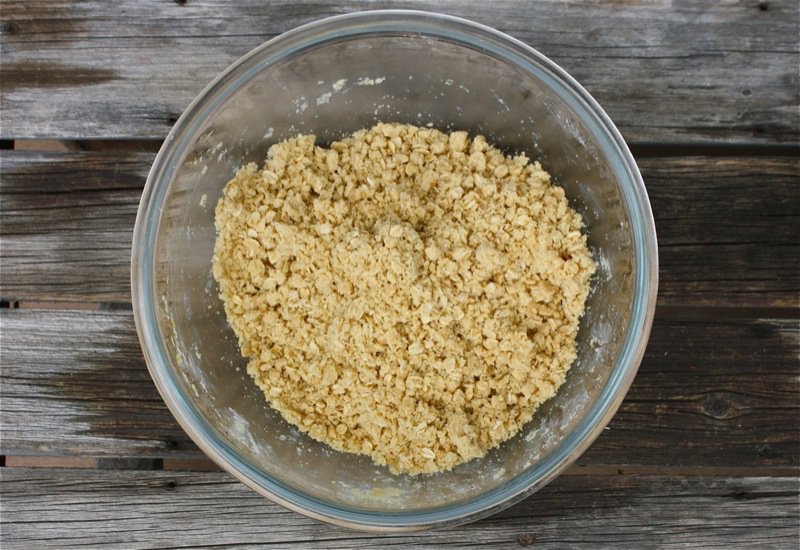 Yet, I looked so forward to those same visits when they happened at grandma's house. I was simply too shy to taste the gifted food, and much too afraid of catching an old lady disease and dying from it, in case she hadn't washed her hands while cooking. My father had warned me about the dangers of not washing one's hands, tirelessly. However, I would love sneaking up to the attic, or the second floor, and open one of the large decorative rod iron grates in the ceiling over the room where the gals were visiting, and pretend I was a spy. I wasn't the least bit interested in their silly old conversations, but shivered with guilt and excitement knowing they didn't know I was just over them, listening to every single meaningless word.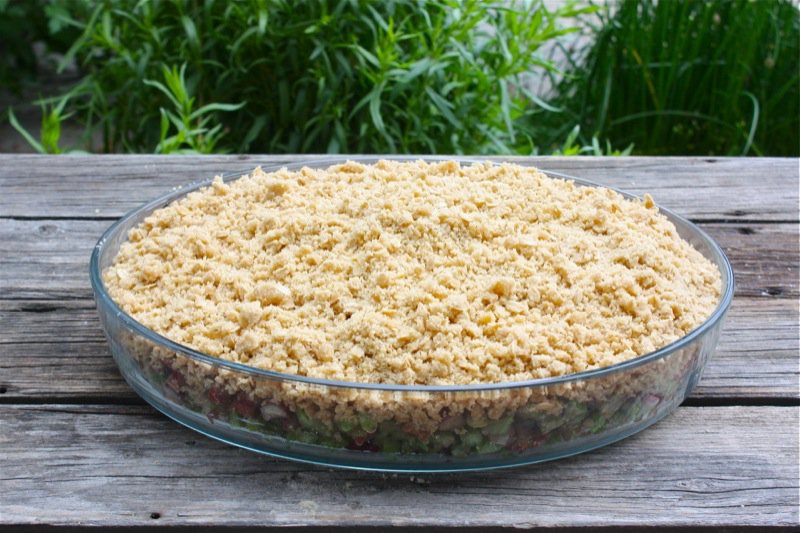 The old chipped rectangular enamel pan bubbled with puddings and desserts baked into it for crowds as grandma pulled it from the wood burning oven. That pan must have been thrown out, or sold at the auction when she had to move to the Senior's home. None of us valued her possessions then, as we do now. Oh, if I could wander through her house in reality, as it lives in my mind, and once again hold and touch those precious old worthless belongings. I do have her flour sifter, her butter churn, and her Chinois with the wooden bit she used to use with it. No one has her cookie cutters, her jars, her cookie tins, aprons or her chipped enamel pan.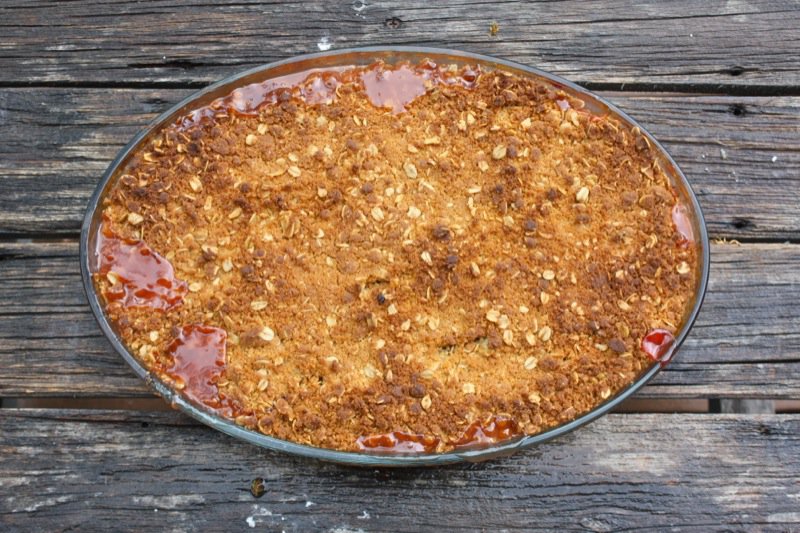 Thank God and Grandma Maude for gardening and teaching by example and for that unconditional love. How many ways to I love thee? Rhubarb Crisp is one. I cannot make it or eat it without thinking of you. You are, somehow, dear grandma, a powerful presence that accompanies my rhubarb crisp.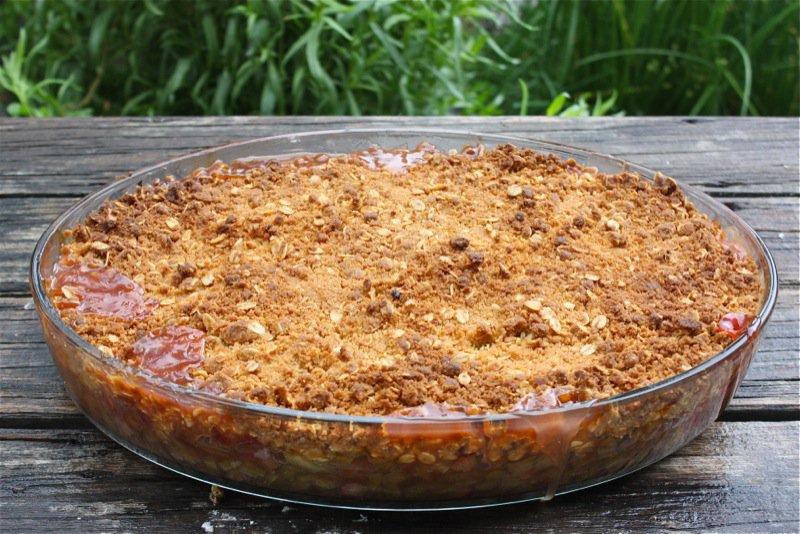 I see you standing there. In the early morning hours, in your loose fitting, button front, house dress, grass laid flat behind you leading from the garden, as you trail into the house, laden with rhubarb, smelling of fresh black earth and dripping with morning dew. You glow with the promise of the season in your arms. And my mother? She would glow with the work that needed to be done. For her, gratification was the fruit of her many labours, and yours.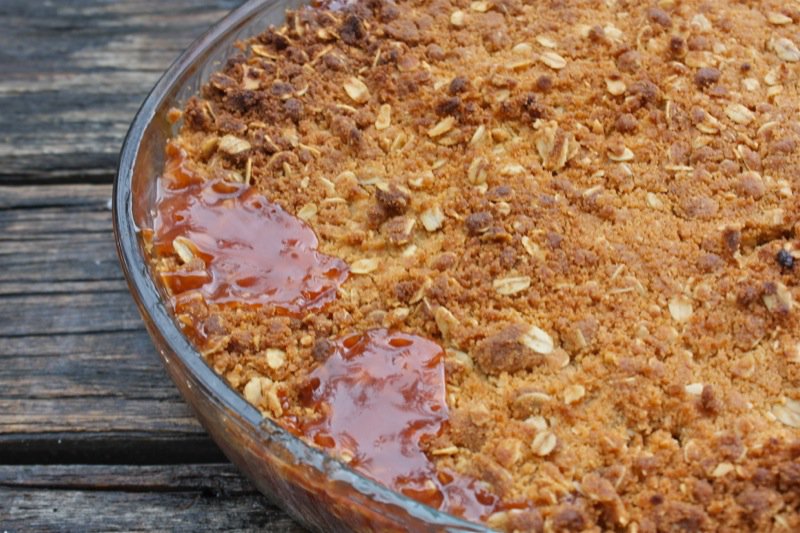 The sense of satisfaction one gets from growing, preparing or preserving and serving one's own food is the ultimate satisfaction I have experienced. Trite, it may seem to others, to my family, it was at the very heart of our home.

This is the ethic I have worked to pass to my own girls.

Can you relate?
Rhubarb Crisp
(I had 10.5 cups, so adjusted the recipe, accordingly)
Ingredients for the Filling:
1-1/2 lb (700 g) rhubarb, trimmed, cut in 1/2-inch dice (about 6 cups)
3/4 cup granulated sugar
1/4 cup all-purpose flour
1/2 tsp ground cinnamon
zest of 1/4 to 1/2 a lemon
butter for the casserole dish
Ingredients for the Topping:
1/2 cup all-purpose flour
3/4 cup packed brown sugar
1 cup rolled oats
1/2 cup butter, melted or room temperature (I prefer room temperature as it is easier to work in)
Instructions for the Filling:
Combine all ingredients, and place into a well buttered 8 inch square casserole
Instructions for the Topping
Preheat oven to 350ºF, lining oven with foil, or place a cookie sheet with parchment under the wrack to catch any boiled over bits
Combine flour, sugar, and butter. Mix well with fork or fingers and sprinkle over rhubarb mixture, leaving cracks for steam to excape
Bake at 350ºF until golden brown, about 40 minutes
Serve warm with vanilla bean ice cream
Wave to my grandma Maude, in her house dress, grinning at you 🙂