Daring Bakers Go Crackers July 2012 with Mighty Trio Organics Canola Oil
In January 2009, I joined Daring Bakers with the best of intentions. I was not able to find the recipe and then didn't manage to get one done. As I follow a few of the apparently 9000 members within their data base and have immensely enjoyed reading about the individual takes on each challenge, I have taken the plunge again and am delighted with our first challenge. Our July 2012 Daring Bakers' Host is Dana McFarland and she challenged us to make homemade crackers! Dana showed us some techniques for making crackers and encouraged to use our creativity to make each cracker our own by using ingredients we love. However, there was a caveat: two different crackers recipes must be prepared using two different methods of forming. I did everything and all done well before the deadline, but then life happened and I didn't get the post up. So, I am posting my cracker recipes separately, for my files and your enjoyment.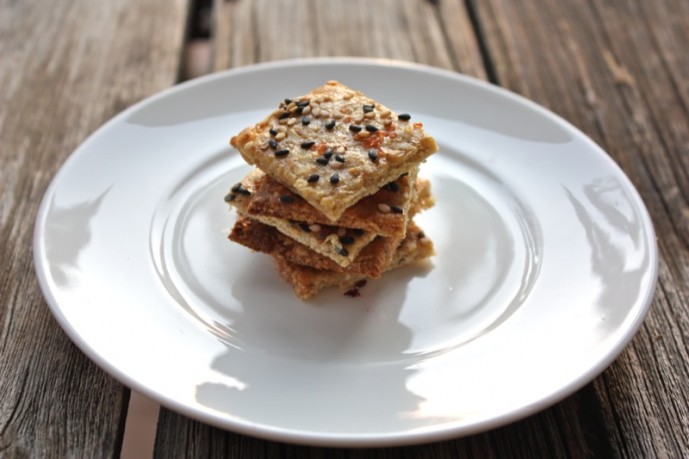 This recipe is really tasty and good for you. It is nothing like my second cracker for this challenge which is a disc of rich and crispy cheesy glory. These crackers actually taste like they are good for you. That may be off putting to some, but I love them and they age well. I still had some in a zip lock bag in the cupboard two months later, and they were still yummy with not a hint of staleness.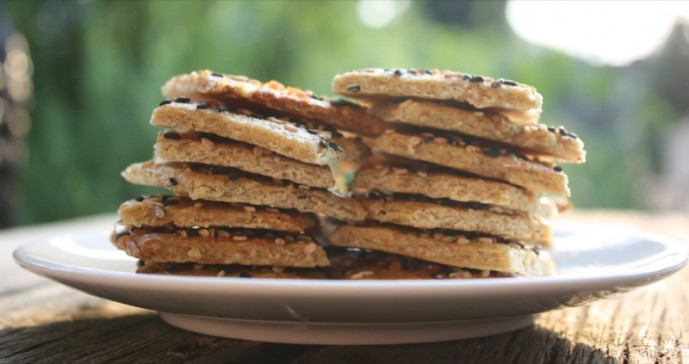 I will add that these are not crispy crackers. You can roll them very thin and get a crispy cracker, but it doesn't taste good. There were meant to be as they look; 1/8th inch thick and more like a substantial biscuit cracker than a thin crisp.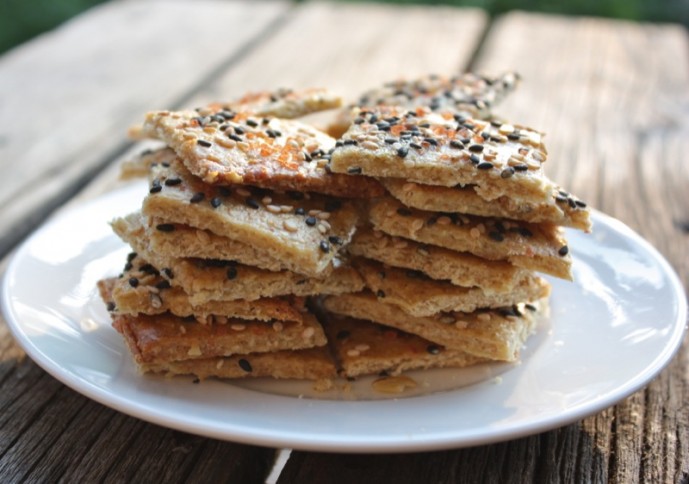 Dana suggested using a pasta maker to roll out the dough for crackers which I thought was brilliant; however, it didn't work for me and if you know me, you know that I tried and tried and tried. The dough just kept crumbling and I tried to use the pasta maker with four different cracker doughs. I was on a mission. If anyone has a tip for me to help me with making that work, I would love to hear it!
I rolled out portions of the dough, portioned the squares and trimmed the edges, using the trimmed dough for the next rolled batch.
There was a suggestion to turn the crackers over and bake a little longer to "crisp them up" which I tried for one tray, and would not recommend it. They lost some toppings and were no tastier. I tried these crackers without salt and with a variety of salts. My favourite was with the two colours of sesame seeds (black and white) and the Hawaiian orange salt shown below. The Hawaiian black salt was just as tasty, but not as "purdy".
Healthy Salt and Seed Crackers
Servings: approximately 140 crackers Ingredients
3 cups (720 ml, 240 gm, 8½ oz) rolled oats
2 cups (480 ml, 280 gm, 10 oz) plain (all-purpose) flour (I will use stone ground next time)
1 cup (240 ml, 80 gm, 2¾ oz) wheat germ
3 tablespoons (45 ml, 40 gm, 1½ oz) sugar
1 teaspoon (5 ml, 6 gm) salt
¾ cup (180 ml) vegetable oil
1 cup (240 ml) water
1 large egg white
cracker topping ideas: sesame seeds, poppy seeds, nigella (onion) seeds, salt
Instructions:
Mix oats, flour, wheat germ, sugar and salt together in a large bowl
Combine water and oil; stir into oat mixture until a dough forms; my dough was very stiff
Form dough into disk, wrap in plastic: set aside in fridge for 20 minutes or up to a day
Preheat oven to moderate 325°F (160°C/gas mark 3)
Divide dough into quarters, working one piece at a time (remaining pieces in the fridge)
On a lightly floured surface, roll dough to 1/16 inch (1½ mm) and transfer to parchment lined baking sheet by carefully wrapping around rolling pin
Brush dough with egg white mixed with a tablespoon of water; sprinkle with seeds and salt of your choice
Cut dough with pizza wheel; bake for 15-18 minutes until brown
Store in an airtight container and eat within two weeks
Note: Crackers that are not crispy once cooled, may be returned to the oven to crisp up
The lovely Cheese Cracker will be up next!