Cheese Crackers: Part 2 of July's Challenge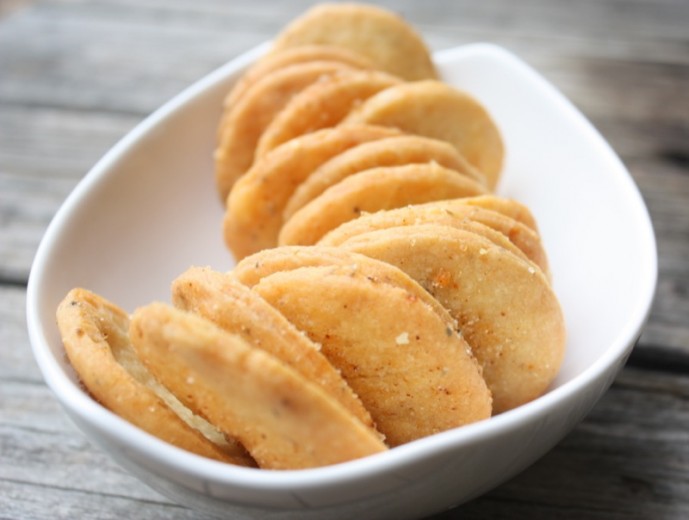 To say that I am all about "homemade" would be an understatement. So, when we were embarking upon Cheesepalooza August 1, having planning meetings and tastings, of course, I had to make crackers to go with the cheese. The fact that the Daring Bakers had announced crackers for the month of July was only a plus. Yet, life happened. The first crackers I made for the two-part challenge were the antithesis of these crackers. They are also delicious but are Healthy. They taste healthy and they are actually good for you. I cannot say the same about these. I can say these are much better for you than any delectable cheese cracker you would buy. They are addictive, yet not the shortbread cheese cracker recipe that I am working toward developing.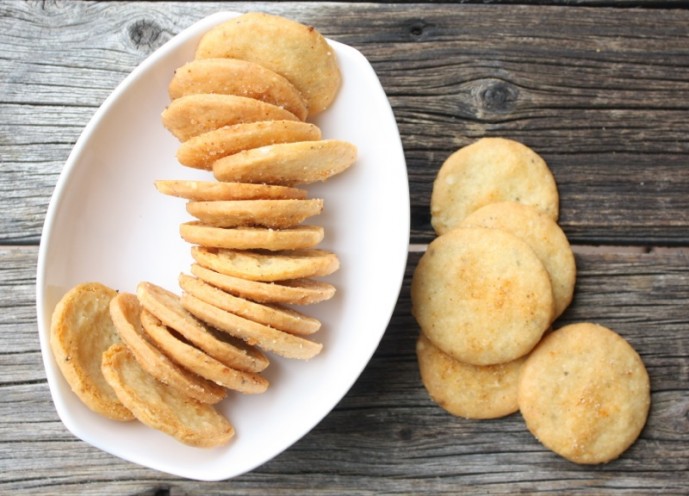 I have been searching for "the cheddar shortbread cracker recipe" that I have experienced at upscale artisanal bakeries, and I just cannot replicate it. Yet.
Cheese Crackers: Cutting the Crackers
This dough was beautiful and easy to work with. The scraps were easily rerolled and cut into crackers. Not paper thin, but you can tell by the photos. The thicker roll on the photo below did not have a cracker feel and was just too dense to be enjoyable. This recipe makes a really professional looking little ditty!
Cheese Crackers: Topping the Crackers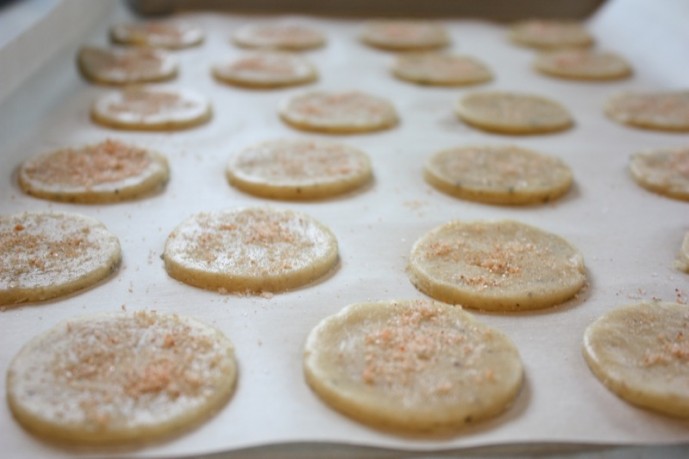 The topping took the cracker to the next level. Don't leave it out.
Cheese Crackers: Baking the Crackers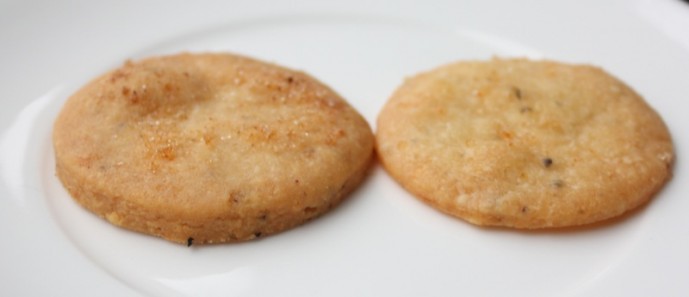 You can see the thicker roll, above, left. This is a recipe that works with a thin roll. The thicker roll is definitely for that elusive shortbread-like cheese cracker.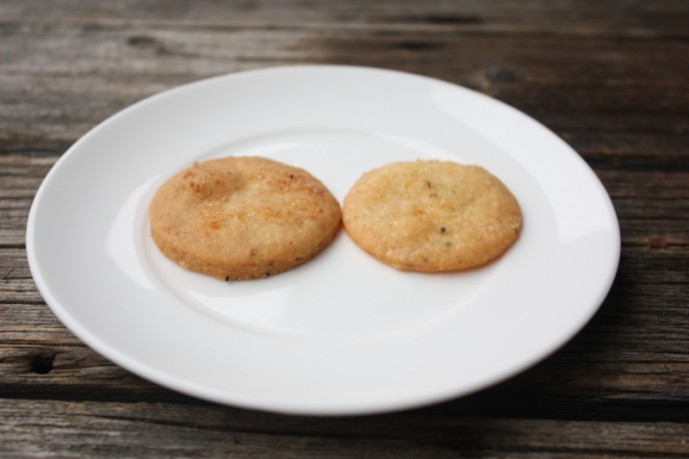 This cracker will add that special little Somethin' Somethin' to your next cheese and charcuterie platter. I need a bigger repertoire of crackers, though. Please hook me up with your very favourite cracker recipe of all time!
Cheese Crackers: Serving the Crackers
As above, nothing fancy needed. They don't need any accompaniment, yet if you are going to the effort of entertaining and need a cracker to go with what you are already creating, why buy them. Complete the full meal deal and make your own. Homemade crackers are special.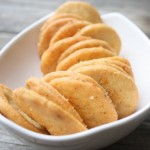 Aged Cheddar Crackers
Aged Cheddar Crackers: an irresistible, light savoury snack. Homemade crackers are special. These are easy to make and always worth the effort when made for family and friends.
Ingredients
Ingredients for Cracker:
1⅔

cups

400 ml, 235 gm, 8¼ oz all-purpose flour

2¼

cups

540 ml, 225 gm, 8 oz grated pepper jack cheese, firmly packed

2

teaspoons

10 ml, 1 gm dried oregano

½

teaspoon

2½ ml, 3 gm salt

½

teaspoon

2½ ml, ½ gm black pepper

½

cup

120 ml, 4 fl oz vegetable oil

½

cup

120 ml, 4 fl oz water
Ingredients for Topping:
¼

teaspoon

1¼ ml, 1/8 gm cayenne

1

teaspoon

5 ml, 3 gm kosher salt

1

teaspoon

5 ml, 5 gm sugar
Instructions
Combine topping ingredients; set aside

Add cheese, flour, oregano, salt and pepper to bowl of food processor; pulse to combine (or do this by hand)

Add oil; pulse until consistency is like wet sand

Add enough water for dough to come together

Form dough into two disks; wrap with cling film, refrigerate for several hours or overnight

Heat oven to moderate 325°F, 160°C, gas mark 3

Working with quarter of dough, use rolling pin or pasta machine to roll dough to 1/8 inch (3 mm) thick (if using pasta machine, ensure dough is well floured)

Cut dough strips into cracker shapes using cookie cutter

Transfer to parchment lined cookies sheet; sprinkle with the spice mixture

Bake for 20-25 minutes until medium golden brown; store in an airtight container

Best eaten within three days (I froze a few bags of them and they also kept in the cupboard, tightly sealed, much longer than three days!)