Chef Sneazewell is Making his Mark in Edmonton this week!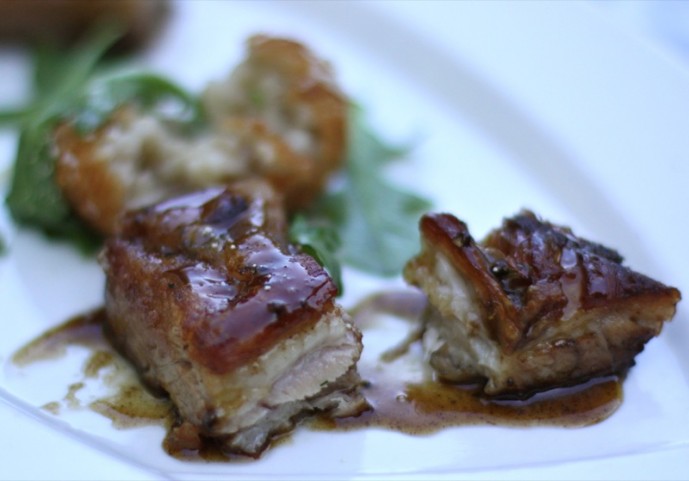 Hey, there's a new chef in town! Alex Sneazwell has been at The Manor Cafe since May and is already knee deep in all things pork! Vanja and I stopped by for lunch today and he prepared his three course Pork Menu that will be featured at the Cafe next week during Passion for Pork Week.
And can Alex cook pork? Oh, yes he can! But, this is not just any old pork. This is the small artisanal farmed pork produced by Jeff Senger and supplied by his business, Sangudo Meats. I happen to be married to the city's uber-most carnivore and pork is at the top of his "meat" list. Pork week? At our house, it is pork week almost every week.
My interest was peaked when I learned that each local restaurant participating is paired with a local producer so if you are a lover of pork, this would be the week to get out and explore the bounty of our local Alberta prairie pork fare.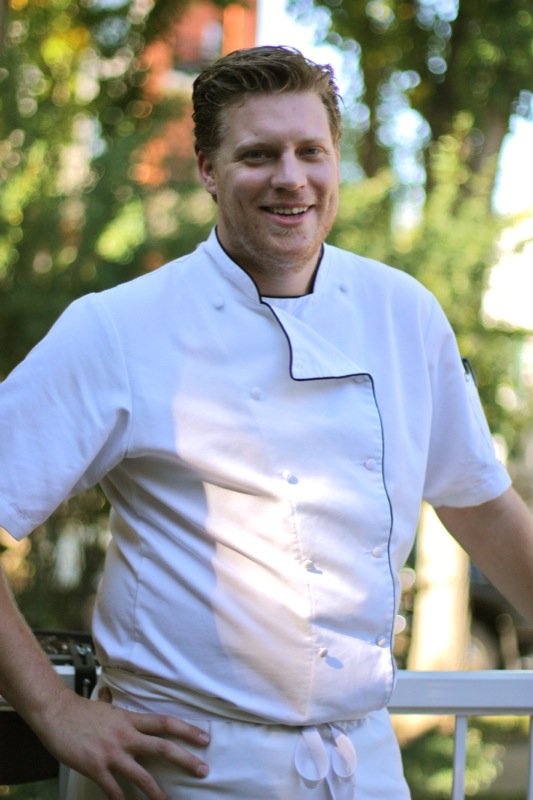 Passion for Pork Restaurant Week is held in four locations in Alberta and BC from Monday, September 10 through to Sunday, September 16, and they are:
Whistler: August 27- September 3, 2012
Edmonton & Vancouver: September 10-16, 2012
Calgary: October 15-21, 2012
Local restaurants participating are:
Now, I cannot eat meat due to digestion issues, so Vanja was my entertainment during this meal. Watching the delight on his face, the fervor with which he approached each course and the satisfaction expressed when the parade of perfectly executed dishes ended, was – well, gratifying hilarity! He would argue that I was the one expressing the greater passion. I certainly dove into each dish with relish, and definitely had a small portion of each, but let's start with the bread.
The Manor Cafe bakes bread every day. This was my first clue that these folks are serious about food. Both of us really appreciate a really good bread and butter with a special meal and this house baked basket of yeasty goodness was a pleasure to unwrap. Served with a flavourful disc of creamy herbed butter, the rye cranberry loaf was a home run.
Crispy Porcini Honey Pork Belly with Mushroom Arancini
The appetizer is a generous portion and enough pork belly for two. This pork belly was memorable. It was cooked to perfection and it is not easy to cook a pork belly properly. The fatty ribbons of gooey goodness were a lip smacking contrast to the crispy crust and tender layers of pork.
The idea of a bite of pork belly was so off putting to me because of "all that fat", until I tried Chef Blair Lebsack's at Nature's Green Acres Farm to Table dinner last year. Alex's porcini honey glaze was delicious though we both prefer savory pork as it is a sweeter meat. We were guessing what price each would be, and we guessed this one at $12:00. Alex has it priced at $11:00. Definitely worth it.
Pig Skin Carbonara.
Hand made pasta tossed with thin strips of braised pork skin, carbonara and whole egg yolk
This is a novel dish. Neither of us had experienced pig skin like this and it is a must! This is the dish that stole the show for me, though I would still want a bite of that belly! Pasta Carbonara is one of my favourites when done properly and Alex's dish was definitely an "out of the box" experience executed to perfection. I felt rather wicked eating the slithers of ooey-gooey pig skin tossed into the pasta. They were past decadent, venturing into the "eat at your own risk" zone. Oh, my, this dish was a concoction of piggy passion. The Hutterite egg yolk saucing the pasta added an unctuous oomph that was completely unnecessary but devilishly good. Vanja is clearly enjoying this dish, but his pièce de resistance is yet to come.
We also guessed the price of this dish between $16 to $17 dollars and were again right on the money. I could not eat the entire dish as it is rich, but a perfect one to share, or if you are like my uber-carnivore: you will have no problem eating it all!

Back to the bread and the service. Our waitress was Josie and she is a jewel of a server. We mentioned how wonderful the bread was and what kinds they made when she brought out the other one for us to sample: the cheese bread. Vanja and I tasted paprika in this bread. I have made a delicious bread with smoked paprika and the colour could have definitely come from that. Neither of us tasted any cheese, but it was a mighty nice loaf. Who can be picky with a lovely fresh house made bread?
Roasted Pork Tenderloin served with potato croquette, chanterelle mushrooms, roasted cauliflower purée and wild blue berry gastrique
Vanja sat up straight in his chair when this dish was served. I had difficulty cutting the meat, but have no idea why as the pork was almost fork tender. Don't use a knife? The gastrique was the perfect compliment as it was a savory rendition of the wild berries and the cauliflower purée was gravy-like genius. The fresh vegetables were cooked to perfection and the potato croquettes were crispy and delicious especially paired with the gastrique or the cauliflower "gravy". To me, there is a visual disconnect with croquettes on such an elegant plate.
We guessed this dish at $28.00 and Alex has priced it at $30.00.
Book your tables now for Passion for Pork week. It will be hard for any of the other restaurants to top what we ate at Manor Cafe. I was astounded at the maturity and ability of this "new to the scene" young and vibrant Edmonton Chef. The Manor Cafe Chef Alex Sneazewell has it goin' on. There is no doubt about that: @sneazwell
Alex and his family spent the weekend out at Senger's farm gathering eggs for breakfast and enjoying some of that all-too-rare rural life. Jeff is a local food hero. He joined us for the panel discussion at Eat Alberta this year and had me on the floor with his humor and over the moon with his very practical approach to living a local and sustainable life. His products are exceptional and it would be a very pleasurable drive to head out to his shop to investigate his fare any day of the week.
Any chef that works to bond with his farmer is high on my list and this is a young man that I am going to be watching closely. I see good things in his future and in the future of Manor Cafe (@manorbistroltd) with him adding his personality to its charming character.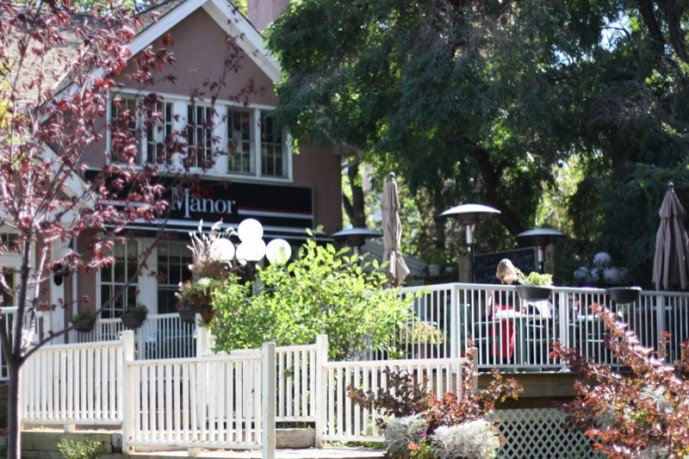 Transparent Disclosure: Vanja and I were guests of Alberta Pork for this lunch, but there was no obligation on my part other than to write and report our meal experience.