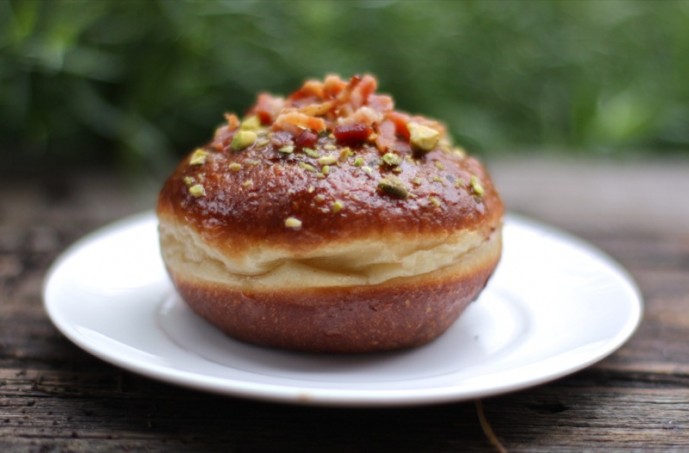 Zoom Jer's Fundraiser for Royale Lepage Shelter Foundation raised $2727 this year! The servers also donated their tip money to the cause! Now, this is what I call community spirit! Century Hospitality Group's chefs lead the pack as far as community spirit goes. This was the first year Vanja and I have attended the Bacon Day Dinner and we will not be missing another. You may recall that I am married to the "Man who Loves Pig". This was a meal he will long remember. And this donut had his eyes rolling in the back of his head. Only a very special artisan Boston Cream will do that to him, so this is a very special donut.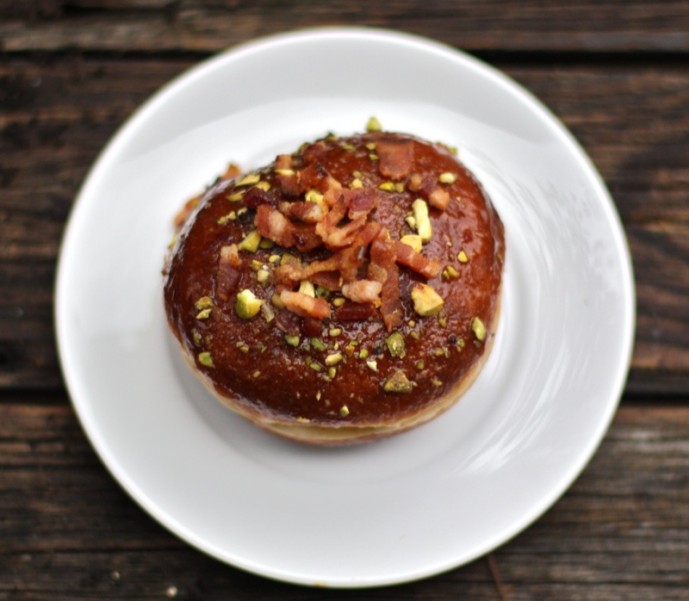 The restaurant was lined in communal tables and we were coincidentally seated with Gen and her husband Eric as well as a couple of other lively bacon loving couples. It was a fun night as we got to know one another over an incredible meal. The food started coming and seemed like it would never stop. Talk about getting more than your money's worth! Served family style, each dish was just plain yummier than the last. From addictive popcorn popped in bacon fat, to an amusingly flavourful Bacon Caesar with a strip of bacon tucking into the drink that was worth the entire price of the ticket on its own, to numerous "out of the box" bacon themed appies to a main course platter that took two men to carry: crispy thin and decadent pork schnitzel and fatty chunks of pork shoulder mounded high. Bacon Mac 'n Cheese, Bacon Creamed Corn, Bacon Brussel Sprouts, two or three salads and more and more and more.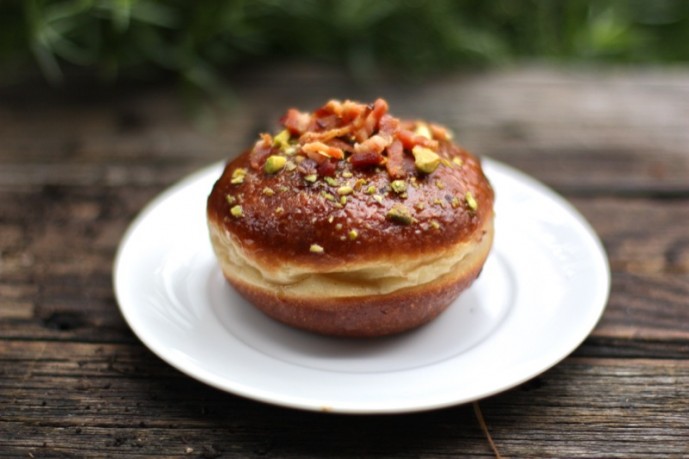 The poker chip on the napkin was there for a purpose. Chef Cowan's decadent double chocolate cookies with a cream filling or Chef Shufelt's yeast risen donuts with bacon, pistachios and a bacon cherry filling. Diners voted by placing their chip in the "appropriate" ice bucket. It is great fun how this staff loves to collaborate and compete. It keeps them all on their toes. This time, there was no contest. I was really surprised that Chef Cowan didn't go crazy with his dessert as he is a head to tail pig guy. He loves his pork and has mastered many mighty tasty piggy bites. But this cookie, though absolutely delicious, (and I do prefer chocolate at the end of a great meal) had not even a hint of bacon in it. Chef Shufelt's donut, however, was a brilliant rendition of a traditional yeast donut with crazy perfect little bacon sprinkles on top. That wasn't the "blow me over" tip of the scale on this one, though. It was the cherry bacon filling. Wowsers! Who'd-a-thunk?
Chef Cowan won. What? Hell-o? Isn't this supposed to be about the bacon? I was flabbergasted! (Bet you haven't heard that word in a long while, eh?) Well, it's all a good friendly competition, so no Bacon Medal around Chef Shufelt's neck for this one. So, this is a little Pindaric Ode to him from me.
There was a night Chef Shufelt made from pork
A bacon donut to delight
And fit on my fork
Unparalled in celestial light
The yeasty freshness of bacon cherry donut height
'Tis not as one hath e'er seen before
So whosoever may say
Choc'late cookie all the way
This cherry bacon donut's numero uno heretofore!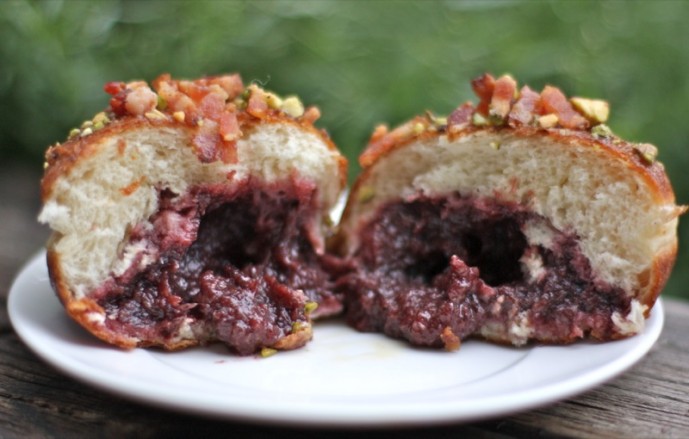 And if any of you think that is a goofy ode, you should have seen the picture I bid for and won at the Silent Auction: Kevin Bacon, Chef Paul Shufelt and Jerry Aulenbach in space suits!
Enjoy this stellar recipe generously provided for our bacon pleasure by Chef Paul!
Chef Paul Shufelt's Bacon Cherry Doughnut
Ingredients for the doughnut:
Makes about 12 donuts
205 g water
19 g fresh yeast (dry active= 9.5 gr., instant dry= 6.5 gr.)
It was 375g Bread Flour
38 g shortening
53 g sugar
7 g salt
1 g mace
19 g skim milk powder
52 g egg (approximately 1 egg)
Use the modified straight dough mixing method, which is: if using fresh or active yeast, soften in part of the liquid, using a separate container. If using instant dry yeast, mix it with the flour
Instructions for the doughnut:
Combine the shortening, sugar, salt, skim milk powder, and mace and mix until well combined, but do not whip until light
Add the eggs gradually, as fast as they are absorbed (for this amount, you will be adding only one egg)
Add the liquid and mix briefly
Add the flour and yeast; mix to a smooth dough
Proceed to mix on medium speed 6-8 minutes (using a Kitchen Aide or similar mixer)
Cover the bowl with a clean damp cloth and allow to proof in a warm environment (80°F) for 90 minutes
Preheat your fryer oil to 360°F; you need the high heat to create light and crispy donuts, rather than dense and greasy ones
Roll out dough on a lightly floured counter to ½ inch thick
Using a round cutter, cut your dough into circles
You can gently combine the scraps and cut a few extra donuts if you so choose, just don't overwork the dough
Place the rounds on a parchment lined baking sheet and proof in a warm environment for 10-15 minutes
Gently place the donuts into the hot fat in batches; fry 2-3 minutes on either side, flipping once, allowing them to brown nicely, but not burn (if done well, there should be a nice white ring around the centre)
Remove from the fat and drain excess fat, place on an absorbent paper and allow to cool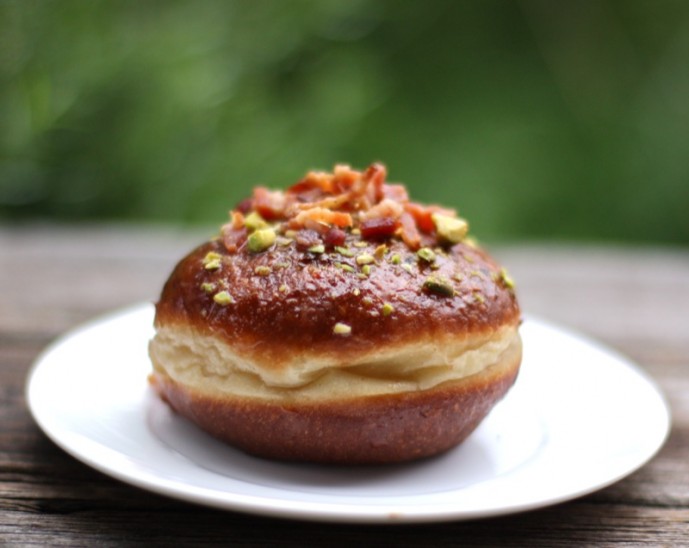 Chef Paul Shufelt's Bacon Cherry Doughnut
Ingredients for the filling (makes about one litre):
3 lbs. fresh sweet B.C. cherries, pitted
1 lb. Irvings Farm Fresh bacon (I prefer to use the slab and cut it myself), julienned finely
1 cup red wine
1 cinnamon stick
1 T brown sugar (or to taste)
Instructions for the filling:
Slowly sweat the bacon, cooking it until lightly browned
Add the remaining ingredients and slowly cook on low until the cherries start to break down and most of the liquid is cooked down; this can take 30-45 minutes, but be careful not to burn it because the red wine and cherries contain a lot of natural sugars
At this point, taste the liquid, (be careful, it will be hot! ); it should be slightly sweet, but not overly, I recommend adding the brown sugar at this stage, to your desired liking because not all cherries are created equally and their natural sugars will vary from batch to batch
Allow the mixture to cool slightly, then puree using a food processor or hand blender; you want it fairly smooth, but a little texture leaves evidence that you used real bacon!
Set aside and allow to cool to room temperature
Place in a piping bag with a long and straight tip; pierce the side of the doughnut and maneuver the tip back and forth, gently filling the donut without letting it blow up, pack as much as you can in there. Repeat with all of the donuts. This can be a little messy, and can be helped in you can track down a donut injector
If you have any jam left over it goes great with a cheese board, and especially loves blue cheeses!
Almost done! Now for the glaze
Ingredients for the glaze:
6 strips Irvings Farm Fresh bacon, julienned
1 tablespoon honey
½ cup pistachios, coarsely chopped
2 g gelatine, sheets
100 g water
75 g honey
3 g vanilla bean paste
350 g icing sugar
Instructions for the glaze:
In a pan, sauté the julienned bacon until nicely browned, but not too crisp
Drain the fat, drizzle the honey over the bacon and set aside
Soften the gelatine sheets in cold water
Heat the water in a pot until the gelatine dissolves
Add the remaining ingredients and whisk thoroughly until smooth
Carefully and quickly dip the donuts into the glaze (watch your fingers because it will be very hot and stick to your fingers easily)
As soon as the doughnut is dipped, sprinkle on the pistachios, followed by the bacon
Finally, the work is done, it's time to enjoy the best dessert you've had made with BACON!
Sure is a lot more work than chocolate cookies, and tastes more like bacon too! J