Release your Inner Cocoanista: Jacqueline Jacek's Chocolate Ganache Recipe Base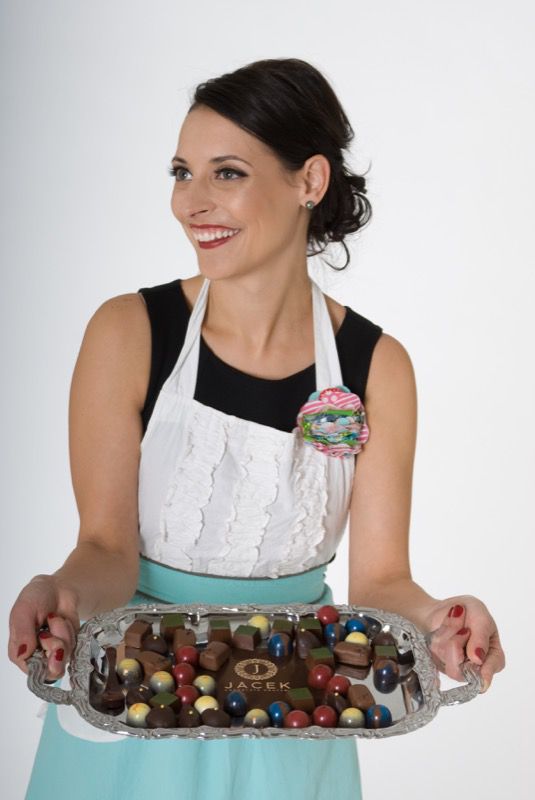 Follow Jacqueline Jacek @jacekchoclate. Then go and meet her. You will love her and her chocolates. Both are completely irresistible. I have known Jacqueline since she first started her company in the basement of her house. I took an interest then as I have made my own chocolates for years and wondered about the Edmonton market. Hers were very special, right from the start. World Class. The sheen. The design. The unique flavour profiles, and that crisp necessary snap all good chocolate must present equaled any I had seen in Brussels. And I made sure I saw and tastes every Chocolatiere there was to offer when I was there. I know Jacqueline will recognize some of these.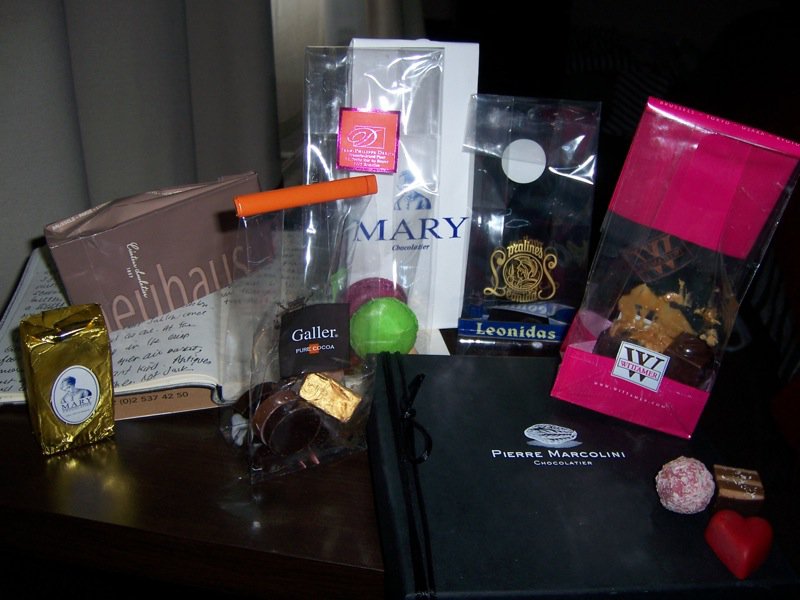 It was at the Christmas in November 2014 launch the beginning of June when I saw her mini-demonstration that I knew her class would be a highlight for me this year. Founder and owner for Jacek Chocolate Couture for 4.5 years, she now has two storefront locations and sells at farmer's markets, as well. "What got her into chocolate" one may ask as she has a bachelors degree in Fashion? Her primary goal was the pursuit of happiness and she wanted to work in the fashion industry with something that would make herself and her customers exceedingly happy. Chocolate. That would be her fabric. Fashion and chocolate magically seemed to be her perfect fit. She has designed her entire company around the fashion calendar and launches her new designs every season. This season she has chosen to focus on 6 countries and has developed 6 different flavour profiles for the season.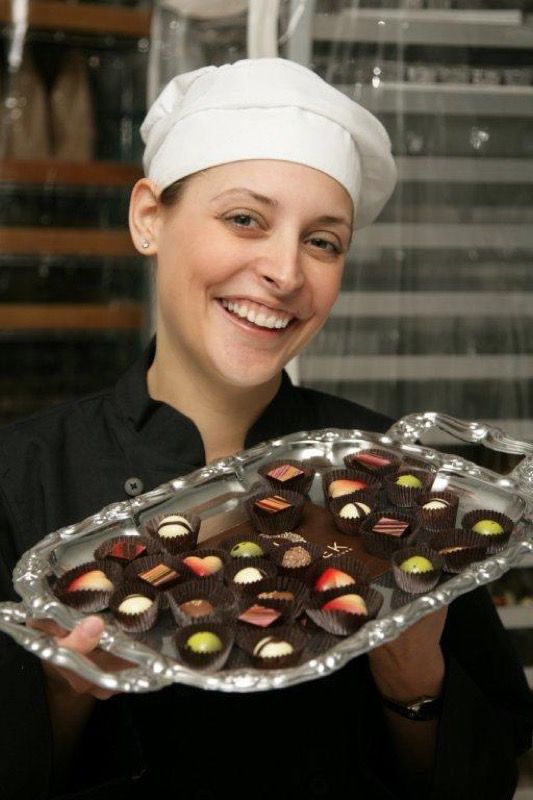 Her Spring 2015 collection is already in the planning phase and will be developed within the theme of Alice in Wonderland's Mad Hatter's Tea Party. I love the way she thinks! Who ever would present chocolate to the world through the purview of design? I get it and love it. Look out runway, here they come! (Below is her Traditional Collection)
She clearly outlined her goal for the class announcing that, "I am working to release your Inner Coconista! The point of this class is to inspire you to make your own Christmas gifts. A base recipe is included to inspire you to build your own flavours!"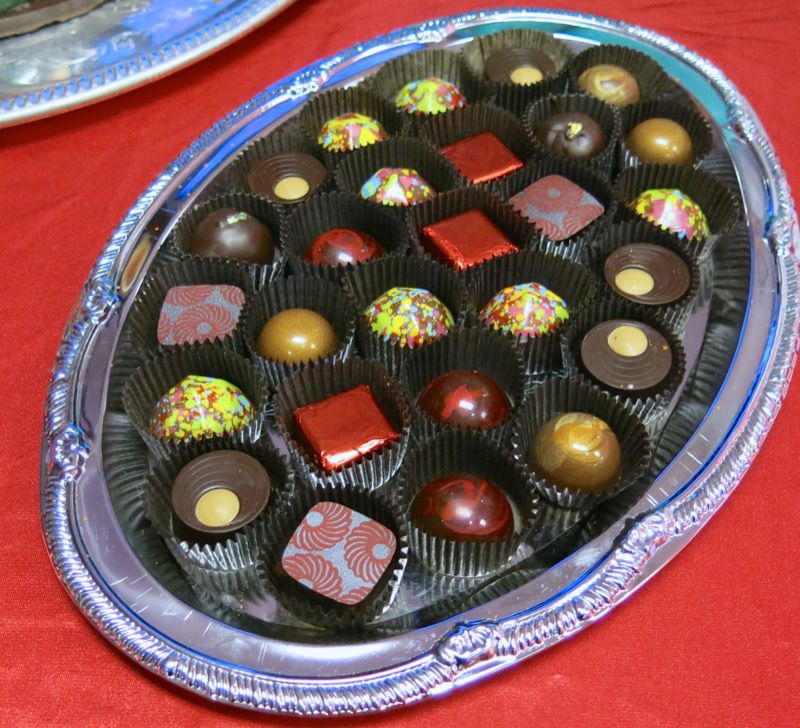 Jacqueline also offers guided tasting classes, but does not teach chocolate making classes or offer demonstrations. This offering is unique to Christmas in November.
JOY!
Her company mission? "We are about chocolate, but joy comes first. Everything we do is about joy. There are quotes of joy at the bottom of our bags. It thread through our entire business."
"I will walk you through the way to taste chocolate, first. Before making chocolates, you need to understand your fabric."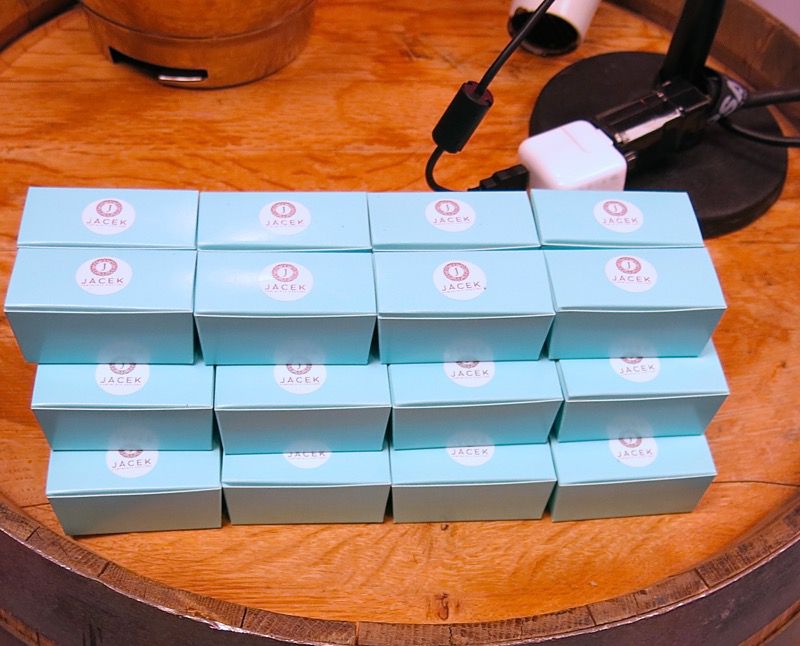 Chocolate Maker vs Chocolatier
The chocolate maker makes chocolate from the cocoa bean (They roast it, conch it, and make chocolate.) and chocolatier makes confections from the chocolate. About 20 pods grow on each tree and one pod has 50 beans. One tree yields only 2 kg of chocolate a year so it is exceptionally important that we honour the work of the cocoa farmers and the chocolate makers.
Jacek chocolate is all ethically sourced. She buys her chocolate or couveture from the chocolate maker and uses it "to make each dress". "I make the bon bons, not the fabric."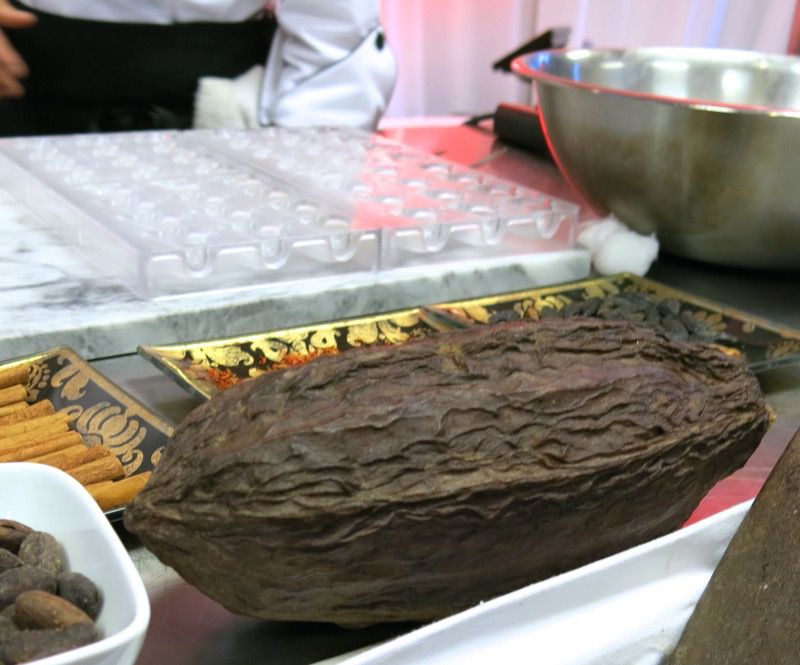 Interesting Chocolate Facts
The raw product, or fabric, has gone up 50% since I have been making chocolate in just 4.5 years.
What is the difference between chocolate candy and real chocolate? "The fat. People who make chocolate in the confection companies replace cocoa butter with hydrogenated fats and make confectionery chocolate that doesn't need to be tempered. It is chocolate flavoured candy, but not real chocolate."
Jacqueline holds up a lump of chocolate that is greyed or bloomed and asks: "Is this chocolate good?" What do you think? I thought not, yet all one has to do is temper it. As long as it hasn't been introduced to water or got hot enough to burn, it can always be tempered and reused. "Fat migrates to the top giving it an unsightly appearance, but with tempering, the crystals are properly suspended and the chocolate will be beautiful and glossy once more."
Many don't care for dark chocolate, and an interesting fact about dark chocolate is "the crappy stuff has burnt beans! The cheaper beans are sometimes burnt as that is a better flavor than the flavor of the beans properly roasted because they are a lower grade of bean."
Inside of the pod, the 20 beans are suspended in a white substance called mucilage which they are removed from, and dried. "Once the beans are dried it can take 2-3 months to get from the farmer to the chocolate maker and like roasting coffee beans, that is where the depth of flavor is developed"
Milk chocolate should read at a minimum of 45% cocoa and sugar and milk at 35 %.
Is white chocolate fine chocolate? "If there is a lot of cocoa butter in it, white chocolate is fine chocolate."
White chocolate is made of dried milk crumb (dehydrated milk), sugar and cocoa butter.
Cocoa liqueur is extracted from the cocoa bean.
Tasting Chocolate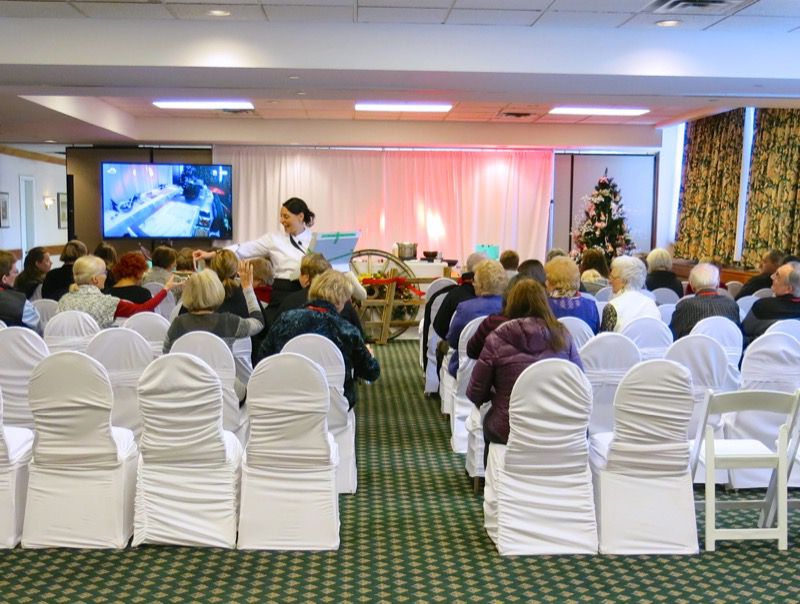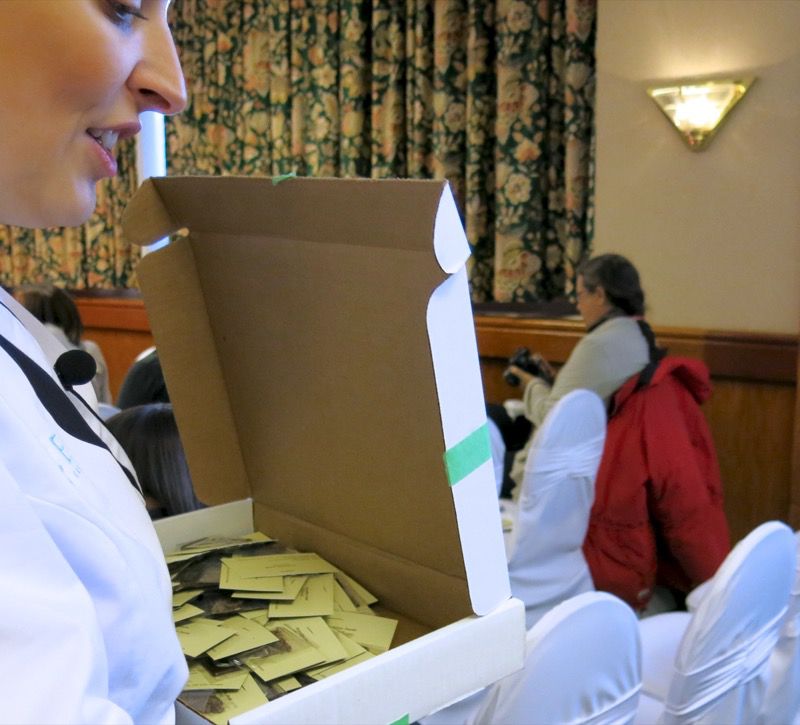 The Cocoa Bean
One has to possess an intimate understanding of the fabric to design a unique dress. Jaqueline provided each of us with three different chocolate samples to taste: "The first package has nuggets of roasted cocoa bean and nothing else. Smell it, chew it, taste it: the afternote will be chocolate." These were cocoa nibs, :the purest chocolate taste you will even have." I noted they were considerably smaller, more fragile and of a much cleaner chocolate flavour than the nibs at home in my cupboard. "Fat veins through each bean and these are naturally crumbled nibs."
Each chocolate bean is 50% cocoa liqueur and 50% cocoa butter, but the fat is veined through the entire bean. That is why the nibs crumble and the quality of the bean will determine the pleasure of the taste experience and mouth feel. That explains the difference between these nibs and the ones in my cupboard at home.
The % of cocoa printed on chocolate means the amount of cocoa bean in the product: 70% means the chocolate is 70% cocoa bean and 30% sugar. "The higher the number, the bolder the flavor."
Where do you buy quality chocolate? "Qzina Chocolate in 5Kg boxes. or you can buy it from Jacek Chocolate."
"Now that you have tasted the bean, let's taste some fabric."
Two 64% Dark Chocolate Samples
Where food is grown greatly affects its flavour. Its terroir (soil, temperature, air, climate) makes all the difference. The first sample is a Mexican chocolate. It was very cigarish in flavour and pungent. The second sample was from Madagascar. It was fruity, milder and had a much smoother mouth feel.
"Within the 64% factor (64% cocoa bean and 36% sugar) the cocoa liqueur and butter can move. There can be more cocoa liqueur and less cocoa butter, or more cocoa butter and less cocoa liqueur. The higher liquidity, the smoother the chocolate.
"Attend to the tone of flavor and your mouth feel. If you have a chalky mouth feel, what is the make up of fat with in this 64%? It would be less.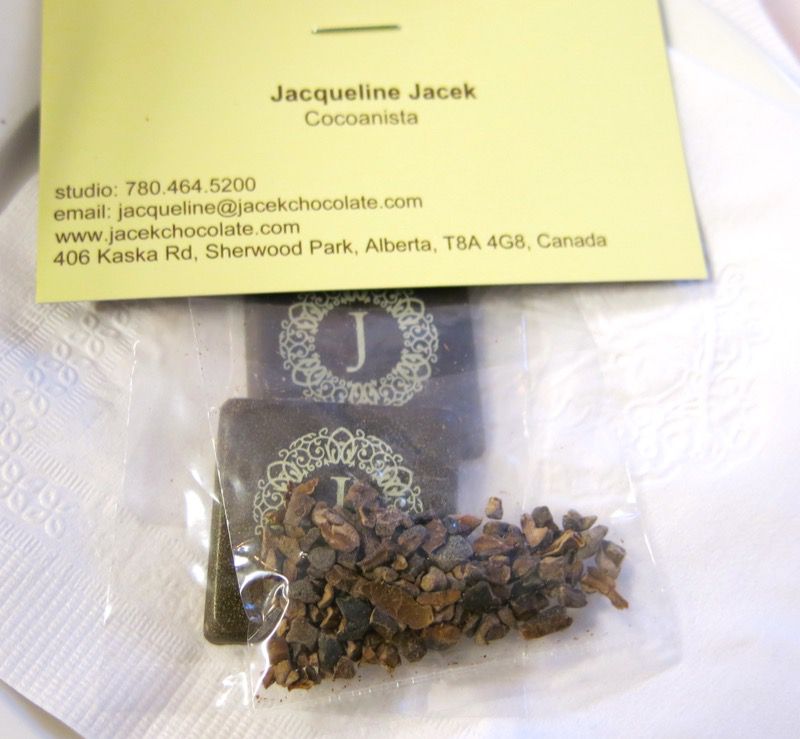 Making Truffles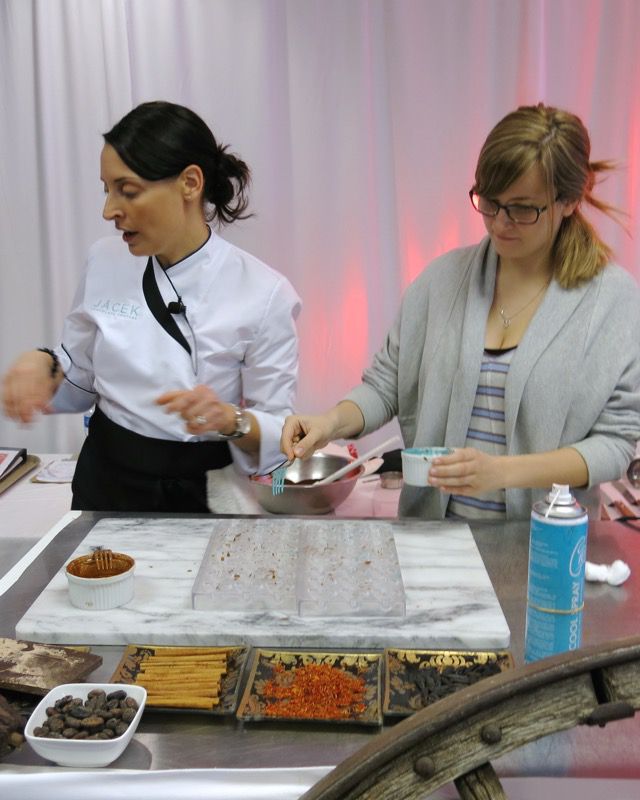 Infusing Flavour
To infuse flavor, add it to the cream: steep and strain. The flavor is infused, and you may need to add more cream to bring back to usual weight after straining.
Decorating the Mould Cavities
Jacek truffles are shiny due to tempering. "Take a cotton ball and polish the inside of each mould, very cavity, after each use."
Melt a coloured cocoa butter to 32 degrees C; it is solid until melted 32 to 34 degrees C
Use coloured melted cocoa butter only to speckle the inside cavity of each mould for design purposes. "I call this "Pollocking" after artist Jackson Pollock
which the helper from the audience is doing in the photo, above. This is how you get beautifully speckled moulds. You can also put a glove on, and swirl the speckled cocoa butter in the mould for a different design."
Clean off the top of the mould so cavities have the colour and top of mould is clean.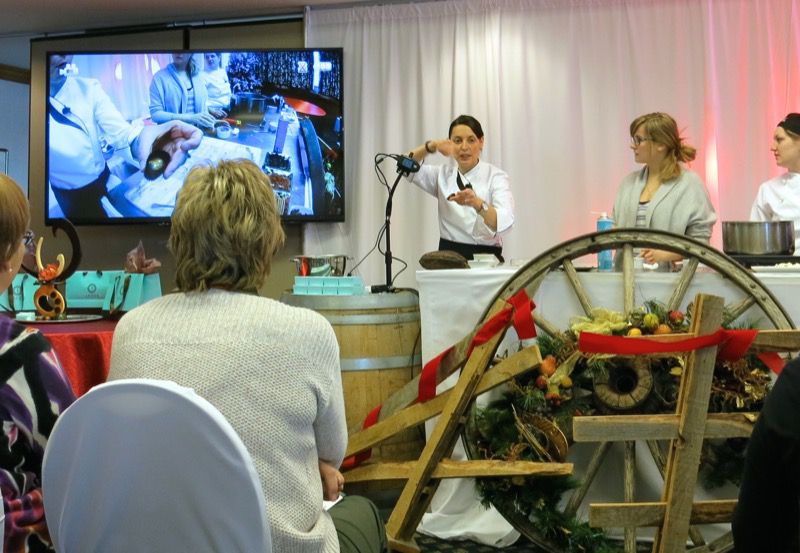 Tempering the Chocolate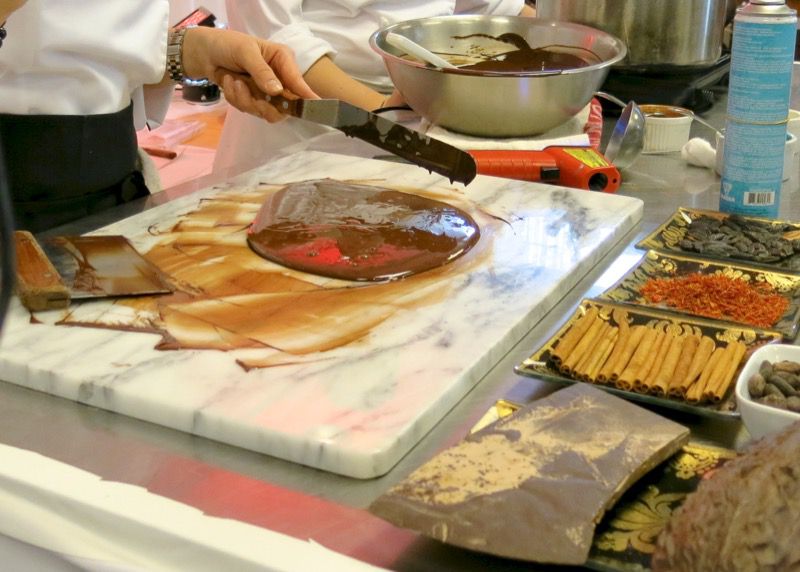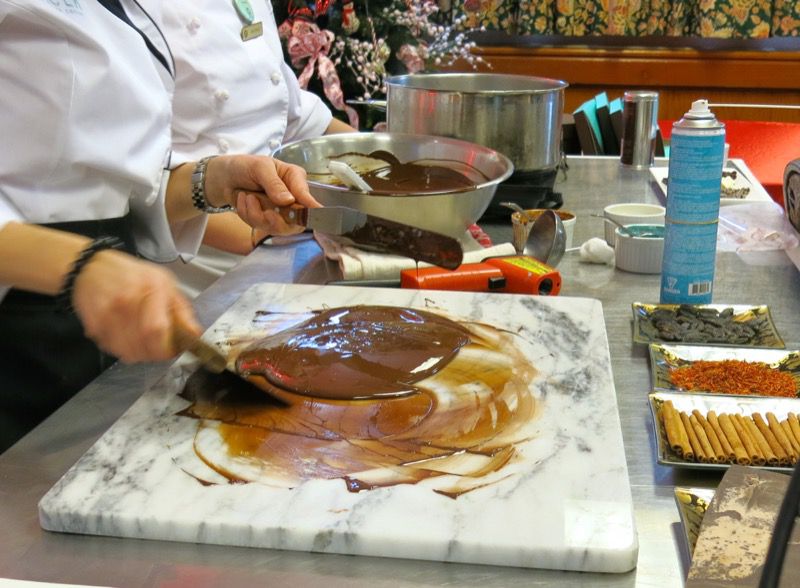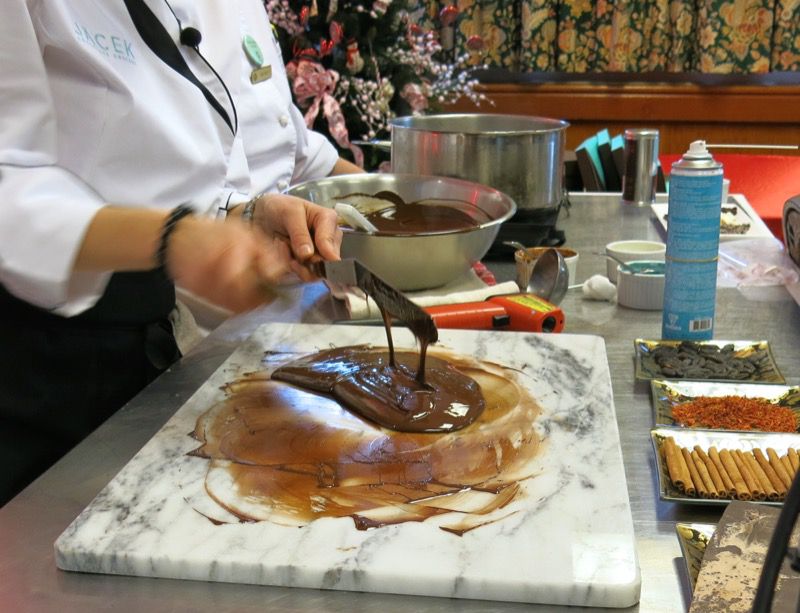 " To form the proper crystal called beta 5 that keeps the chocolate shiny so it solidifies within 5 minutes, you must temper the chocolate properly to suspend the beta 5 crystals properly. Melted the couveture to 45 degrees C so all crystals are melted out and completely docile. As the granite slab is colder than room temperature, pour 1/3 of the mixture onto the slab and use a spatula to mix the chocolate to reform crystals. This takes time and temperature and movement. There is no structure in the liquid mass on the marble now so there are no crystals in the chocolate, yet. As structure begins to form in the liquid mass, the chocolate sits on top of itself (as in the above photograph) and drives the temperature down to 27 or 28 degrees C. Now drive the temperature of the mass of chocolate back up to 32 degrees C by placing the chocolate on the marble slab back into the bowl with the other liquid chocolate."
"What you are doing on your marble slab is creating chaperones. You have a lot of revelers and partiers in the bowl and you are now introducing the chaperones back into the bowl to teach the partiers and revelers how to behave. This is the only analogy that I have that is not fashion based."
Use a hair drier to heat it, if too cool, or put some back on the marble slab."
Now you are ready to make your truffles.
Filling the Moulds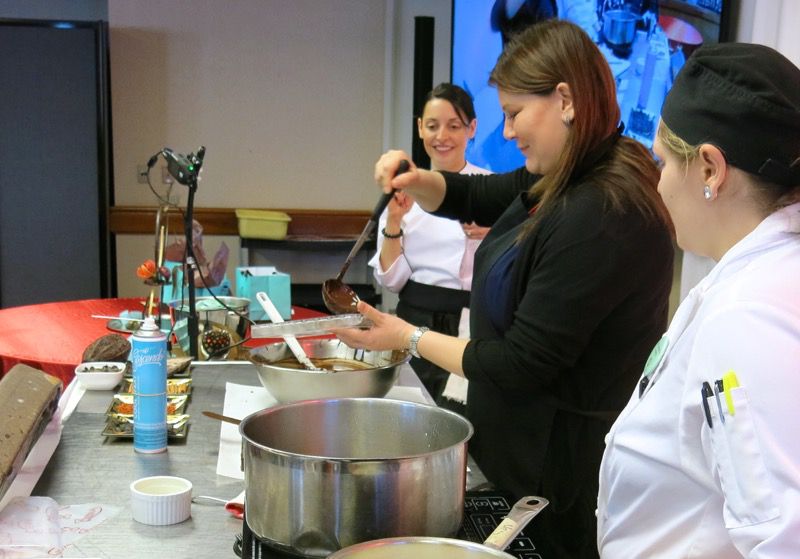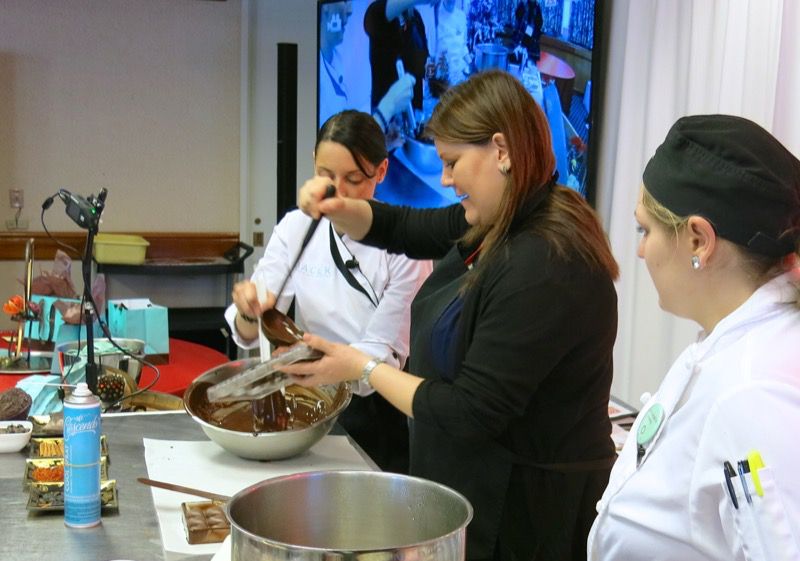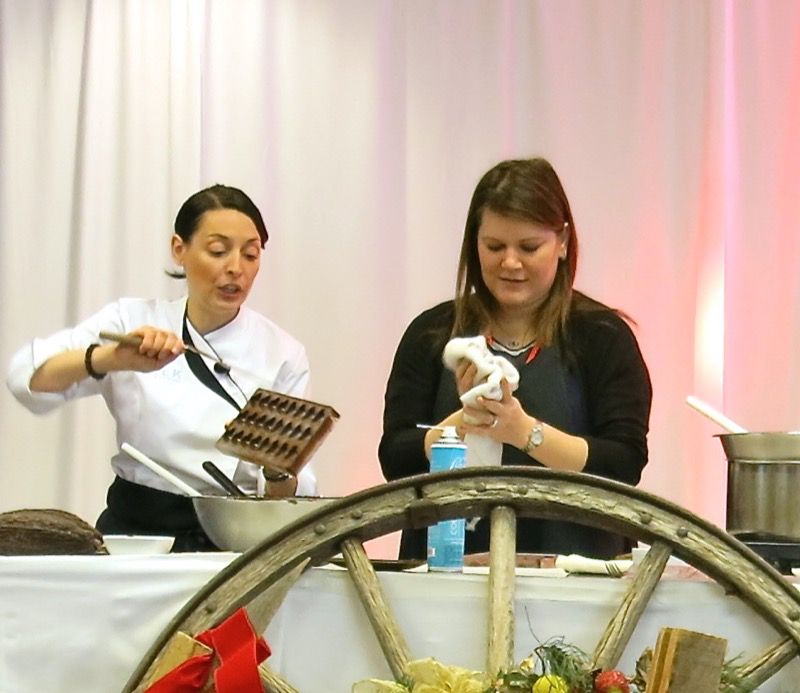 Take a ladle of the tempered chocolate and gently pour the liquid into each mould cavity, filling the mould. "Do a little dance with this! Tap-tap-shake-shake – to get the air bubble out!" Scrape off top of the mould with a flat spatula to clean the surface and create a clean crisp individual mould cavities. Turn the mould over and dump out the excess chocolate for reuse another time (into a different container). Knock out the extra chocolate as you want your shell to be nice and thin. Leave the mould upside down to harden. Placing in the fridge for 5 – 15 minutes helps, but leave them there no longer as condensation will form and chocolate and water are enemies. Chocolate is a fat and the water will seize the chocolate.
Can the chocolate discarded be reused? Yes it can, over and over and over – as long as it is never heated over 55F. We respect our chocolate farmers and makers and always reuse it.
Remember, the top of mould must be scraped off so when turned upside down to harden each will knock out easily; if not smoothed over the top they may stick and not release well.
Making the Ganache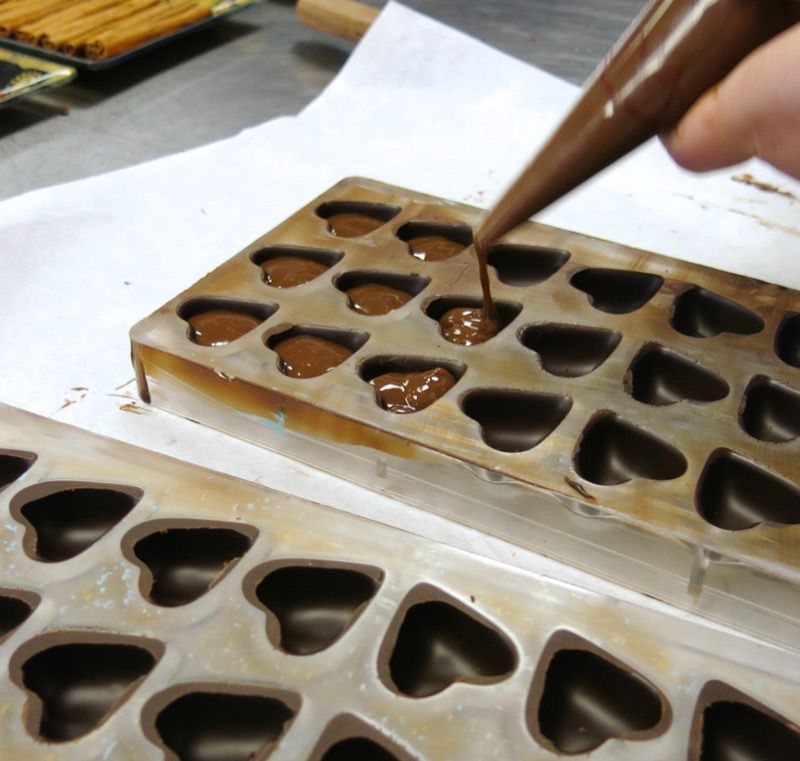 Melt chocolate to 45 C and get it into party mode with no chaperones (no crystals); this will create a great kernel and better elasticity for the end product
Add ¼ of the cream that was just brought to a boil to infuse with flavour
Add one teaspoon of invert sugar (or honey or clean corn syrup)
The mixture will become nasty, not creamy, looking as if it has seized; add another ¼ of the cream
Every time we add more cream, it brings the mixture back together for a nice shiny creamy ganache: we are teaching it how to behave
If it is a little oily and hasn't come back together there is a little too much fat: add cream as cream is water. Chocolate is much fattier than the cream so you add your water (cream) to reduce the oil
Do not use an immersion blender or that will whip the ganache and give it an entirely different texture (unless that is what you want) until it comes together as a nice smooth velvet ganache consistency
When it is a shiny pudding-like texture, you know it is coming together; add butter in solid form and you are done
Fill piping bags with the ganache and pipe into each mould cavity
If using liquid flavouring: use 1/8 cup GM and take out 1/8 cup of cream or infuse the GM flavour
Festive Cheese Board Idea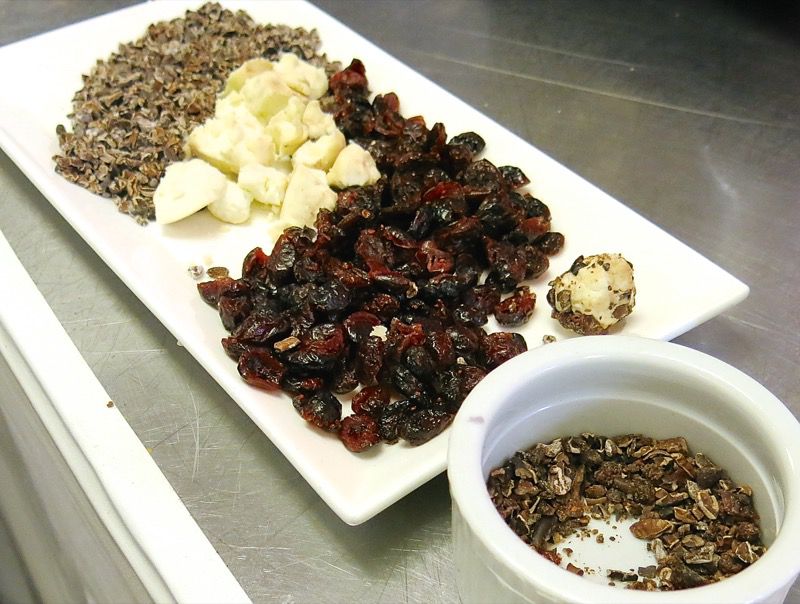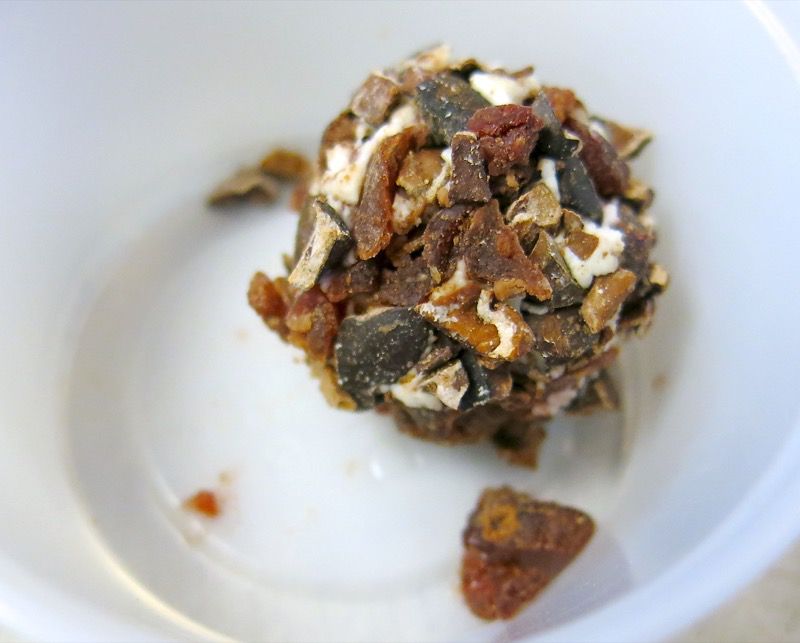 A very tasty confection for a Festive Cheese Board was a ball of chêvre with dried cranberries rolled in cocoa nibs. Absolutely addictive!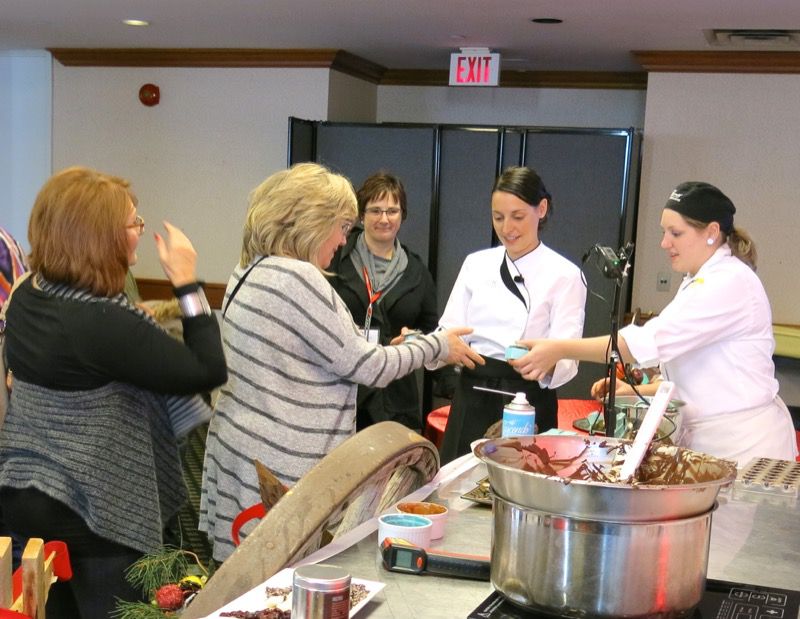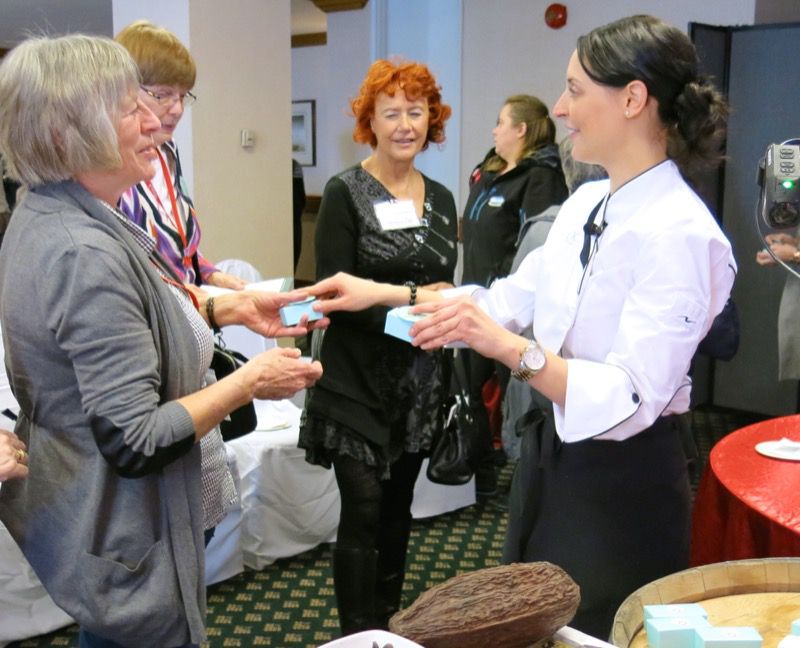 A gift of two ethereal treasures tucked in a dreamy blue Jacek box on the way out, an opportunity for questions and the class was over. I will be back! And this was only one of the three classes I attended on this day at Christmas in November. Three classes, three meals, cocktails. Oh, my!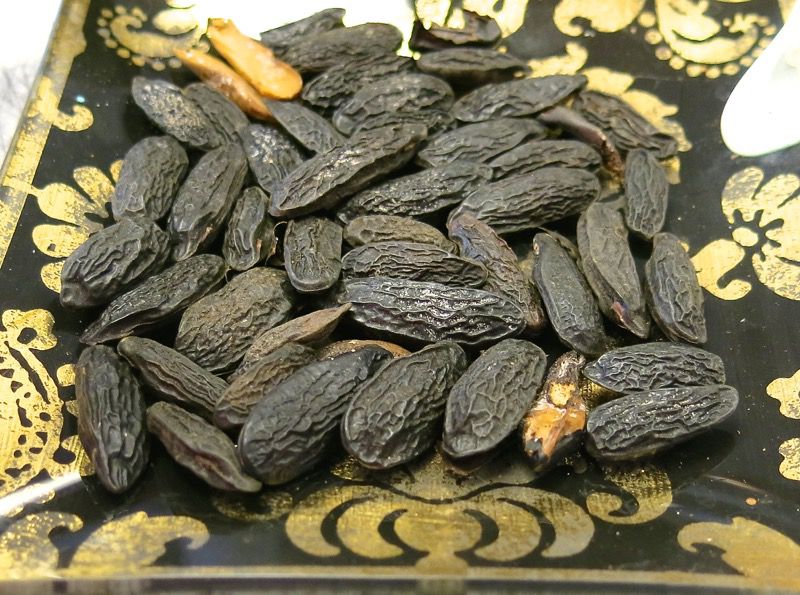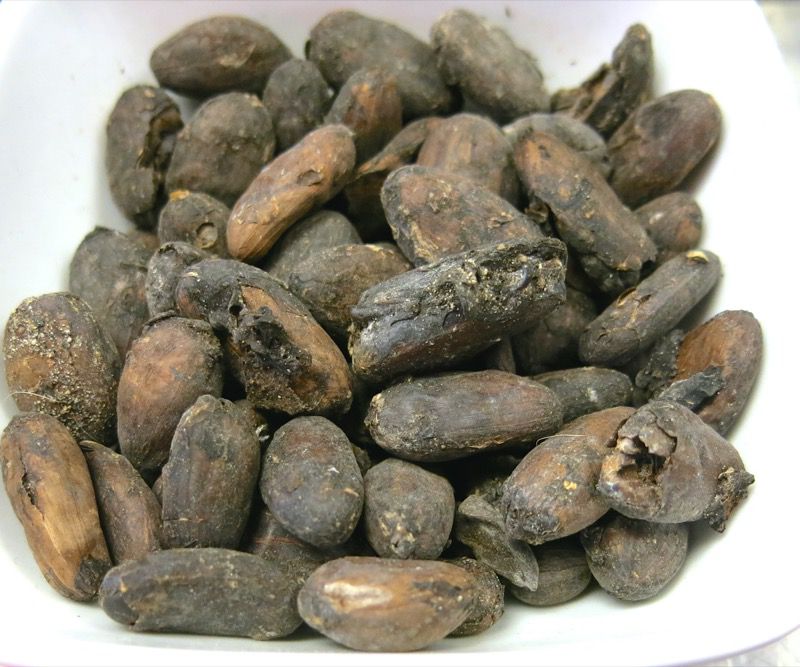 Tonka beans and fermented and roasted whole cocoa beans are photographed above. (Thank you Aude, in the comments section, below! 🙂 )

Buying Ingredients
Chocolate: Qzina Chocolate in 5Kg boxes. or you can buy it from Jacek Chocolate
Marble slab: about 20 dollars at Ikea
Moulds are available on line at Chef Rubber and other places; buy good quality polycarbonate moulds for desired shininess (about 40 dollars)
Cocoa Butter, including coloured Cocoa Butter is available on line at Chef Rubber and other places
Use cows butter from The Cows Creamery; the higher the fat the better which can be found at Duchess Provisions in Edmonton
Same with the cream: 52% Vital Greens Cream is available at Planet Organic Stores in Edmonton
Lazer thermometer for surface temperature only (so stir the chocolate for a fair temperature) at Costco for $24. 99 right now in Alberta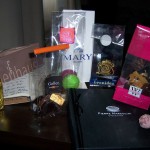 Jacqueline Jacek's Chocolate Ganache Recipe Base
Reveal your Inner Cocoanista and take Jacqueline Jacek's Challenge to create your own line of flavours this season!
Ingredients
1

cup

whipping cream

, 52% if possible

Flavouring: vanilla; orange zest

, liqueur, spices, teas, etc

1

teaspoon

of invert sugar

1 1/4

cup

fine milk chocolate

2

tablespoons

high fat butter
Instructions
Infuse the flavour into the cream by heating the cream to a boil: add the flavourings

Steep for 30 minutes; strain

Remeasure cream and top up to ensure there is one full cup

Melt the chocolate in a bain marie until it reaches 45C and set aside

Bring cream and invert sugar to a boil in a heavy sauce pan

Pour 1/4 of the hot cream over the melted chocolate and stir until the ganache breaks (It should look ugly, like it has seized!)

Use an immersion blender to help you achieve a better result.

Repeat this process three more times until all of the cream has been added; after the last addition of cream the ganache should appear beautifully emulsified (like a thick glossy pudding)

When the ganache reaches 38C add the butter and use an immersion blender to mix the ganache (ensure that the blade remains under the ganache to minimize the amount of air incorporated into the ganache)

Once the ganache reaches 29C; place into a piping bag and pipe into a well tempered chocolate shell