Our Cheesepalooza Partner held a cheese making class!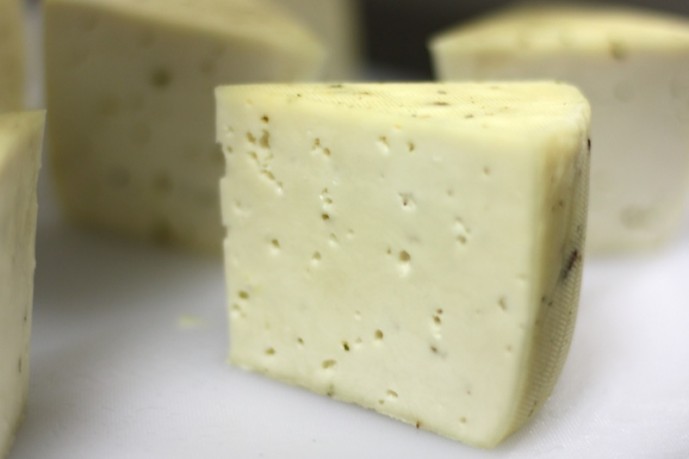 Leslie and Alex from Smoky Valley Goat Cheese, soon to be Smoky Valley Artisan Cheese (you heard it hear first! 🙂 ) had us out to their first ever cheese making workshop last Sunday and it was a great success! They would like to do one or two of these full day cheese making classes a month, so if you are interested, please let Leslie know and get your name on the list!
She must have eight people, no more, and no less, to make this a good business venture for the two of them. Their facility is small, so eight is the limit. It you have your own group, she will book you in immediately. The class is currently a hundred dollars with lunch and you take home the cheeses you make. It was a very hands on experience, which we were all looking for, so a great bit of learning and camaraderie took place out there last weekend! Each of us enjoyed the early morning ride through the countryside as we got to know one another. What a glorious prairie day it was!
I had asked Leslie to do Halloumi and Feta Cheese for us, as our Chèvre challenge was this month, and these cheeses will be coming up soon. Below is the first ever Mint Halloumi they made, following Mary's recipe, after it had been pressed. Now that I have made my own, I would say that their "professional press" may have been a little more than 8 pounds? I will have to ask Alex about that. I am pressing my Halloumi as I write, today, and with 8 pounds of pressure, I will get nothing like this. This Halloumi looked "absolutely gorgeous" as Lydia (one of our Australian participants) would say! But it didn't look like any Halloumi I had ever seen…. yet!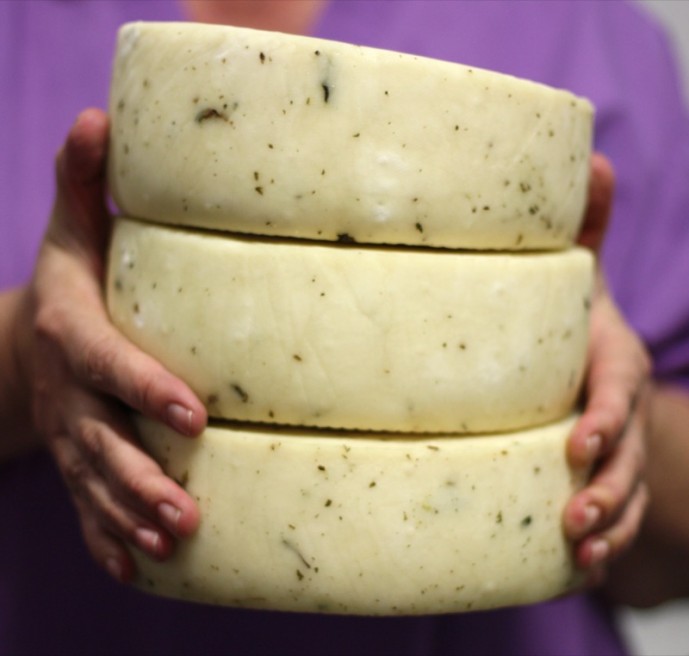 Arriving 30 minutes early, it was minutes before we had the tablecloth spread on the porch table and a picnic breakfast spread for all. Addie had an incredibly delectable loaf of freshly baked carrot bread with toasted cumin seeds on top that paired perfectly with the Potted Little Goat that I brought. I also brought some chèvre and a yummy sandwich type of loaf I had just baked the night prior with my oven dried tomatoes in it. I will make it again and post it, but got the idea from Lisa Michelle, one of our Cheesepalooza participants!
There is nothing like Summer in the country on the prairies. Stunning.
Leslie gave us a tour of the property coupled with the history of the farm and the dairy that used to be there. So sad that Holy Gale, the previous owner and gifted artisanal cheese maker, had to sell all of her goats. But, probably better for Leslie and Alex, new to the art of cheese making.
They have undergone a learning curve that is more like a steep incline since moving to the farm last October. They were thinking of retirement, and have never worked so hard in their lives! Personally, it is worth it. I love their cheeses!
I am also really excited to announce (and maybe you are also hearing this here, first) that they are going to also be cold pressing Northern Alberta pumpkin seeds into oil! This has been the rage in Europe the last few years and apparently Smoky Lake area is the pumpkin capital of Canada. That is not just according to Leslie. And, the important thing is, they will be pressing good, clean local pumpkin seeds and selling this delectable dark brown and robustly flavoured oil at the market very soon! Hopefully in time for Thanksgiving! Below (left, top) you will see the press for that.
We did learn that the process for getting to be a licensed artisanal dairy or cheese maker is lengthy. Every part of the process needs a specific license. Once we were in the cheese making room, I experienced major cheese mould envy. Oh, joy! This is a small dairy and I felt like I was small again and just given my first Barbie Doll house! Oh, how I wanted to be left alone to just play!
Whenever they make cheese, the machine is attached to a clock that has a paper dial on it where all of the data for that specific batch of cheese that day is recorded. There records must be available for visits from inspectors and whenever a cheese is made so if there is a problem or a great success, the record of exactly what was done, when and for how long is all on the paper.
Leslie and Alex trade with vendors at the market, of course, so they were able to get a wide range of all kinds of mint to dry for this recipe. The aroma was tantalizing. In the middle, is their yogurt with the whey on top of it. I have only seen yogurt with whey once before, when I used Mary's recipe. The dairy has several storage rooms, each at varying temperatures for specific purposes. How much did I want to live closer? Soooo much!
Smoky Valley Goat Cheese's strength has always been its fresh and soft goat cheeses. No one anywhere in the area, or the province makes anything like they are making. Others do make hard cheeses, and fetas, but they have the corner on the Chèvre, St. Maure and Vallency recipes, as well as many others. The spectacular; second to none, Chèvre is what first introduced me to their cheeses. It is really lovely and the batch they had just and were showing us this day was the best ever. Just look at that luxurious curd!
One of my pet peeves, as both Leslie and Alex know, is the naming of the cheeses from their specific terrior. Even though they use traditional old French recipes, they taste nothing like them, because they are made here. Their Smoky Valley terrior makes incredible cheeses. They need to name them locally so they can stand at attention and gain notice on the world cheese making stage. No need to over shadow them with the idea that "this will taste like a traditional Valency, when it will not – at all – but it is still a spectacular cheese.
Goats are temperamental, apparently. They like to play and are so easily affected by change. What they eat also affects the flavour of their milk as do the seasons. These factors complicate the process, thus getting a really great consistent product is not an easy feat. That must be why cheese making is an art!
Very important to have everything spotless. Alex preps the room. Each of us put on our clean shoes, hairnets and aprons, then stood in line to wash our hands… many times through the day!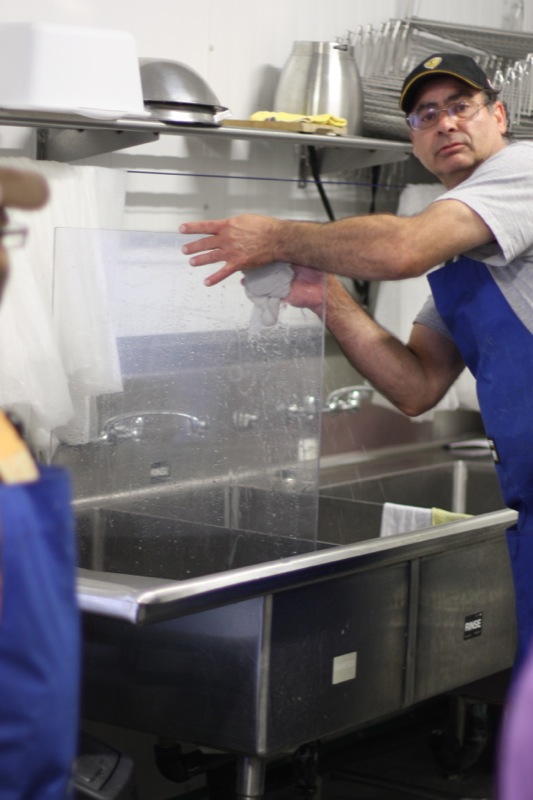 Halloumi
The Halloumi had been pressed, and we were now going to brine it in its own whey. Leslie's whey is much whiter than mine, as well. Mine is the traditional yellow colour, like above, over the yogurt. "It would be delicious to drink with all that mint in it!" I overheard Ian comment to Addie and had to agree. Definitely would be a yummy whey that must be used in something.
Instead of cutting the rounds in to squares, as Mary's recipe suggests, we got busy cutting the cheese into manageable wedges and then heated them in the whey at 190°F until they rose to the top (about 30 minutes). At this point, they would be placed on a mat, and then turned after a few minutes.
Feta
While the Halloumi was underway, the milk for the feta had been heating to temperature, and was now there. The ingredients needed to be added to it. "Oh, I had expected a more professional set up!" Addie teased as Leslie brought our her Tupperware container filled with magic potions: thermophillic and mesophillic cultures etc. "Hey, we are a very small artisanal cheese maker!" Leslie laughed back. It made me feel much more confident! (Most likely with dire consequences to follow!)
While some participants learned the up and down stirring motion required after the coagulant or culture is added during cheese making, others were focusing on the Halloumi which was looking pretty delectable in its melted state. We wanted to pull it and see what would happen if we stretched the curd. It was decided we would do it with the last batch, but we forgot or were too tired by then. Not sure which.
As the feta was resting for an hour, and the Halloumi was being "cooked" there was a little time to do something else, and magically, Leslie had this planned, too. She brought out the grape leaves she had rinsed well from their brine and had soaking in a red wine. Wine and cheese? Buy their Banon!
Out came the little discs of goat cheese that she makes like chèvre, but in a small mould, then adds a white mold and ages for a week or two. She demonstrated how to wrap up the leaves and we had another party for a while!
There is a way to wrap the twine properly which I tried to capture. One leaf works for a small disc, and two leaves for a large one. Of course, we would get to take one home! Like children at school, it would be impossible to enjoy the process without the prize at the end. Each takes about 30 days to age properly once wrapped, Leslie advised. I will definitely be making my own and it sounds like they may be lovely on a Christmas platter. It seems like time to plan for that right now!
Lunch time! The feta would be ready to curd right after lunch. We had just finished the last pot of Halloumi and had yet to brine it for storage. Perfect timing.
We were treated to a lovely healthy fresh and crunchy Greek Salad with Smoky Valley's incredible feta. I kept picking it out of the salad! Chicken Skewers were grilled, Dolmates and homemade cheeses were also served. No one was hungry after lunch!
Test the curd to see if it is ready: Leslie scoops her had in. Ian just presses gently to feel it and ensure his hand comes back only with whey. It is ready. The cheese cutters are screwed into the machine and were fun to watch. Look at those gorgeous curds. I didn't expect the cutters to be turning circles and moving in circles as they did, but it worked and didn't take long.
You can see in the fourth large curd photo below how the curds have fallen to the bottom and there is more whey on the top. That is when to stop.
At this point, the curds are very gelatinous and puffy looking. Addie and Ian then worked the curds for a good twenty minutes, I would say, according to the recipe, breaking them down in the warm bath and the second photo is how they are to look when they are ready to put into a mould. They look much like popcorn.
Ian then told me you can also tell if the curd is ready when you take a bit and gently squeeze it, as I did, below, and it holds its shape.
Moulds were sterilized and ready to fill. Now, the whey must be removed from the tank. Alex sanitized the screen that fits in place in front of the drain, and placed it there. Can you see it, below? Addie is pointing.
Right now, the dumping of the whey is done manually. Look at all that whey! Leslie says their coyotes are the happiest around as they get fed the best waste! This is pretty labour intensive at this point. Alex is filling and emptying buckets and buckets of whey. The machine is then tipped, to release the final amount and all of the curds have been transported to the table with many hands packing them into crottin moulds which Alex finds work perfectly for their feta.
Each filled right to the top and pushed down with the palm of the hand, you can see already how they are shrinking. After fifteen minutes, these must be turned over to make both ends look appealing. They are then turned yet once more, before put into the brine.
The cheese is ready to brine, and Leslie offered a little lesson on getting the brine to the proper density with her fancy dancy tool. I now need one of these, too! Any spares, Leslie?
So, the brine is ready, as she and Alex had actually already made it. We get to cut the Halloumi into cubes which makes sense for the brining process, but I really like the bigger pieces I see served in restaurants. I am curious about what I will come up with to brine mine in, and what shape I will decide upon.
Right now, the Halloumi is being pressed in a 5 inch tome mould. I am really eager to fry some of these up and toss them in a crispy salad, or put a dollop of garlicky ajvar on top of each. Yum! It has been a week, and I still haven't even tasted them. Partly because the brine went milky within three days, but mostly because I have had a crazy busy week.
I would love to hear from any of the participants to hear how they prepared and ate theirs!
Time to turn the feta. So beautiful. Just a little tap on the table and it falls back into place. Look at how many they made the day before! There were three or four buckets like this. Leslie asked us if we would like it cubed or whole… and we chose "whole" which meant half of each of these in a brine solution.
Leslie hadn't used Mary's recipe before, but felt that the feta we made with it on this day was the best batch she had ever had.
Many hands make for fast work… and fun work, too. It sure didn't feel like work to any of us! The time was approaching for us to go home. We "forgot" to do the clean up which is all a part of a day of cheese making. That will be an important last step in the next cheese class, I am sure!
We packed up our "haul" and loaded into the cars….
Three large containers of Halloumi (600 grams of cheese, each!). a small container of chèvre, only because we were the first class and it was their best batch, ever…. a Banon, as we had helped tie them all, and our feta in two containers. Enough raw goat milk cheese for a very long time! Oh, we were dancing like "little kids" on our way through the grasses with our goodies.
Thank you so much, Leslie and Alex!
Hugs and thanks and off back through the vivid wide blue prairie sky to the city. Hope to see all who came at the Cheesepalooza Tasting at the end of the month!