A collection of all Cheesepalooza Participants Basic Chèvre making experiences!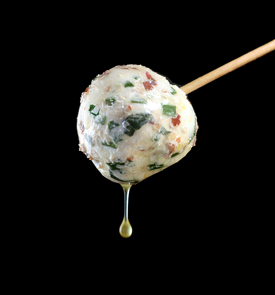 What an incredible cheesepalooza round up this is! Oh my, did people experience problems with this challenge. This challenge was met with such happy enthusiasm, and wonderful to see such incredible successes and learning from so many of you through your participation, and in some cases, perseverance! Many didn't send me their links again, but when you do, I will add them to this round up! Grab a coffee, pull up a chair, and get ready to enjoy some amazing posts about making homemade chèvre!
Lisa at Parsley Sage and Sweet from NYC New York USA
The first photo is a Crushed Red Chili Pepper, Lemon, Garlic, Herb Goat Cheeseball taken from the jar of them Lisa made. Oh my! The last photo is a Crushed Red Chili Pepper, Lemon, Garlic, Herb Goat Cheese filled Turkish Pide (flatbread). Head on over for her recipes and the latest section of her torrid love affair. All true. Yup.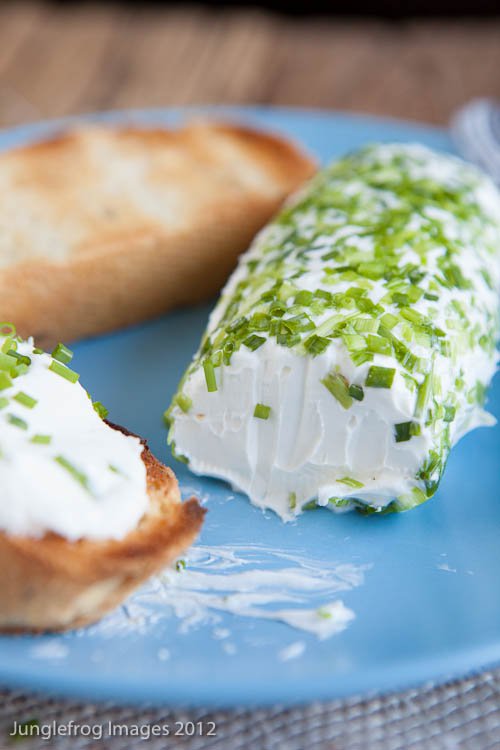 Simone definitely had quite the experience with her chèvre making this round, well worth the read, as it is through our failures that we learn!
Both of us preferred the first chèvre that we made together to the second ones we made using Mary's recipe. Mine was a little bitter. Too much rennet? And his a little dry.
Diane is new this month and has a farm with some lovely animals that are clearly members of her family! Her post is from the cow to the cheese. Check it out!The bottom cheese has fresh cracked black pepper corns, cayenne pepper, red pepper seeds; the middle cheese has dill, garlic & chives and the top cheese is rolled in parsley, marjoram, tarragon.
That is a lot of gorgeous looking chèvre!
Larry did make the ricotta, but hasn't posted it yet. He makes his cheeses with his young son, J, and has shared the insight of cheesemaking through J's heartwarming comments and palate!
Heather has just moved to Canada from Europe 10 weeks ago and has plenty of authentic cheese making under her belt. She is headed back over in a couple of weeks for more Cheese making learning. She has engaged several people in Nova Scotia and there are three in her group making the challenge cheeses with her, and 15 currently on their own localized NS Cheesepalooza FB page. You must stop by! You can see she made one of the alternate recipes with half of her batch of chèvre.
This mom and daughter team had a difficult time succeeding with their first batch of chèvre as it appears many have, but persevered to this success! I am sure if I didn't make it with Addie the first time, I would have not enjoyed the tremendous success I did. However, we are discovering that PERSEVERENCE is becoming a mantra for we Cheesepalooza Participants as so many struggled with this challenge, yet forged on to the finish, creating a yummy artican chèvre at home!
Simona does everything homemade. Breads, pastas, cheeses… she is the ultimate Jane of all trades and master of most!
Jane had a very interesting experience making her chèvre this round. Interestingly, many struggle with this cheese. Getting the milk was an issue, and then getting the curd big enough to not have to hang it for days was the second issue. Fortunately, most persevered through to success… unless there wasn't any good goat milk….