Our second local Edmonton, Alberta tasting was a huge success!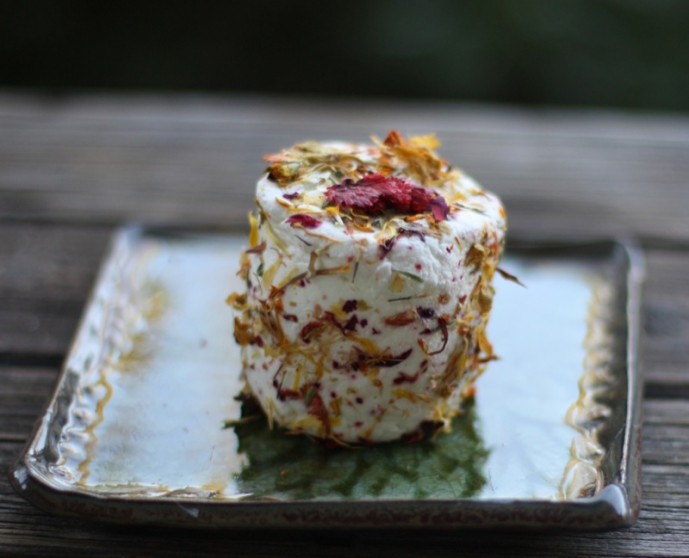 Every group photo of the participants was completely black, as fate would have it, instead, you are greeted with a titillating image of the amazing home made artisan cheeses we sampled last night brought by @Sailor_Rick!
"Twas an hour 'ere the Tasting, on the kitchen isle, homemade cheese stood at attention, in single file.
Wringing her hands with anticipation and glee, she could not wait for Cheesepalooza Tasting spree!"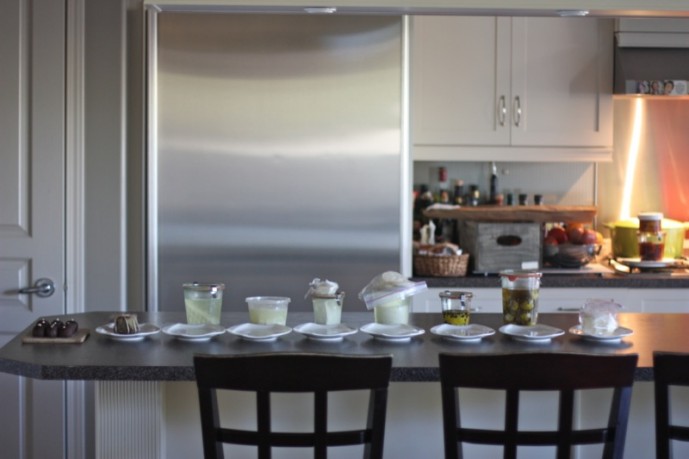 Ian came first and was followed by @BigAddie,
Soon all peeps were there, and Valerie was Glad-ee!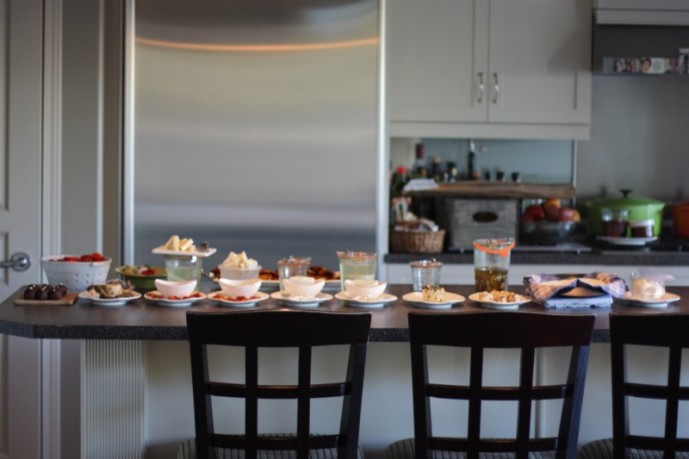 From left: Chèvre and Wild Flower Honey Truffles, Smoky Valley Banon, Valerie's Halloumi, Smoky Valley Halloumi, Valerie's Feta, Smoky Valley Feta, Cabècou, Yogurt Cheese Balls, Yogurt, Cultured Butter were my contributions for this tasting. I paired both Halloumi's with my Preserved Oven Dried Tomatoes and the Fetas with fresh cherry tomatoes from my garden, as both were so salty.
Reaction to the comparison cheeses varied. I was very pleased with the texture of my Halloumi as it was lovely and melty in the centre as I was hoping it would be. I fried both with no oil. Big surprise, however, as I opened a second container of Smoky Valley's Halloumi; this one was very melty, and lovely! It was considerably saltier than mine, but Halloumi is supposed to be very salty and I really enjoyed this batch while the earlier SV container I had eaten when writing my Halloumi post was very hard and dry. So, I believe the cooking of the Halloumi in its whey makes the difference to the texture of the final product after this experience.
Some didn't like either Halloumi. They just don't like Halloumi. @Carolineyeg liked the flavour of mine and the texture of SV's. It was a toss up for me. Both were quite different. I certainly preferred the shape of mine, cut into triangles. As there were people attending we had not met before, everyone wasn't opening commenting at this point. The crowd warmed up through the evening!
My feta was much saltier than Smoky Valley's. It was far too salty. I would have to wash it to enjoy it, yet a thin slice was delicious on a cherry tomato half as the salt worked with that bite. As @Carolineyeg said, "It would depend upon the purpose of use for each cheese. Both are good, they are different."
Mine was intentionally softer than SV's. To me, that was huge. I had set out to make it much softer, and did it! Theirs is too firm for my liking, but their flavour is in credible, and it is perfect for a Greek Salad or marinated cubes. I do like to be able to crumble a feta, and that one would not crumble. Addie didn't think mine had a feta flavour, so that just proves how personal one's palate is.
I do believe the truffles were a hit. The crowd tasted them after Ian's surprise, so their palate was already on sweet mode. If the truffles had been tasted first, there may have been more of an impact. I got the impression they were well received.
The toasts were made, crackers were out. Yogurt was strained and ready to make into Cheese Balls. I needed to make a new batch. We were having new participants attend, so I gave the little two second tutorial again on how to make the yogurt cheese balls.
This Cabècou is the last disc from the first four I made with Addie! This was made on the 25th of August, so was a little over a month old and was still yummy. Mary says it keeps for three weeks. I will have to make two batches and compare a "ready" one with an aged one to understand the difference, but, hey, it was still really yummy and well received.
This was @Sailor_Rick's first Tasting with us and his contributions were really creative! He brought four chèvres for the tasting all made from the same batch. The first, below, was a show stopper! It was formed in a mould and rolled in dried edible flowers that he bought from Dauphine's. The flavour was a clean, very subtle goat chèvre and the texture was smooth and creamy. It was significantly different than the bowl of loose chevre curds he brought. That was also subtle, smooth, creamy and very fresh and bright, equally as delicious as the first, but different. The two grape leaf wrapped chèvres were equally surprising. The grape leaves came from his garden and were soaked in Sauvignon Blanc and then seared on his grill. One disc was covered in Herbs de Provence and the other with Lavender. Both tasted amazingly similar. It could have been because the grape leaf flavour took over, or because Herbs de Provence also has lavender in it, and there was less lavender on that cheese. Regardless, the flavour was not subtle. It was more tangy and complex. I didn't care for the flavour of either, but appreciated the concept, loved the smoky leaf and the soft moist texture of these wrapped banons.
Smoky Valley's Banon was shocking. It was very hard, with a creamy melt and a strong blueish flavour, but lacked salt. With a little finishing salt, I really enjoyed it, but most didn't care for it at all.
Addie brought an Herbs de Provence covered chèvre that was tasty, but his air dried disc was really exotic and a happy success. He dried it similar to how we did the Cabècou, and then soaked it in a very hoppy beer for three hours and air-dried it for 12 more hours, repeating that process three times. I had a very positive reaction to his cheese, but could taste nothing but the hoppy beer. That, in itself is phenomenal as I do not drink, or like beer. Mypalate was destroyed for a good 5 minutes plus after tasting this cheese.
Ian brought three cheeses. He had never frozen a chèvre before and wanted to see how it changed the flavour and texture of that cheese. We were all amazed as the flavour and texture was delicious and very similar to the other chèvre's au natural. He brought another Crescenza (he had brought one to our first Tasting) and had worked to get a rind on this one. The curd didn't shatter on this one, like it did on his first, yet, the flavour was very similar to the first one. I preferred it without the rind, but I was in the minority. The star of the evening, at least to me, flavour-wise, was Ian's Faux-ca. It is the orange cheese below. The texture was similar to a Parmesan, but it was slice-able and so lip-smacking yummy! Sharp and complex and a very addictive kind of stinky!
And that is not all Ian brought. But first, Caroline's concoction. It was a very complex goat ricotta. She didn't use a recipe, she said, but used lemon juice and buttermilk to make her cheese. She hopes to post about it, soon, but she mixed Herbs de Provence completely through the curd and it was really delicious. I could have ate the entire bowl. Well, it was rich!
You will see Ian's extra special creation below Caroline's. We finished our lovely evening off, chatting and savoring Ian's Chèvre Honey Ice cream. We expect him to post it.
It truly hit the spot and rescued each of us from the delirium we were immersed unknowingly in. The refreshing icy goodness of the milky honey chèvre broke the fever of the cheese coma we were suspended in.
We are having another Tasting at the end of November. If you are interested in coming, leave a comment below. We will have a draw for two lucky people to join the fun! We would love to share this experience with so many more. We will invite two others through twitter as well, so we will have four special guests, we hope, at the next tasting!
We are already dreaming of the cheeses we will be making the next two months for that!