My First Authentic Canadian Food Experience aka My mom's is better 'n your mom's

The first potato salad of the season said it all: Summer had arrived. Concocted with the Spring harvest of radishes, farm fresh eggs, chives from the garden and a luscious batch of lustrous homemade mayo, the Melmac robins egg blue bowl crowned our little chrome kitchen table in all its homemade glory and heralded in the onset of Summer. That is just how it was. Simple. Delicious. Woven so tightly into the fabric of my Canadian prairie identity and so intertwined with the melodies of my childhood memories that my mom's potato salad and the celebration of Summer and sun are folded into my taste memory, literally seasoning the flavours in the bowl.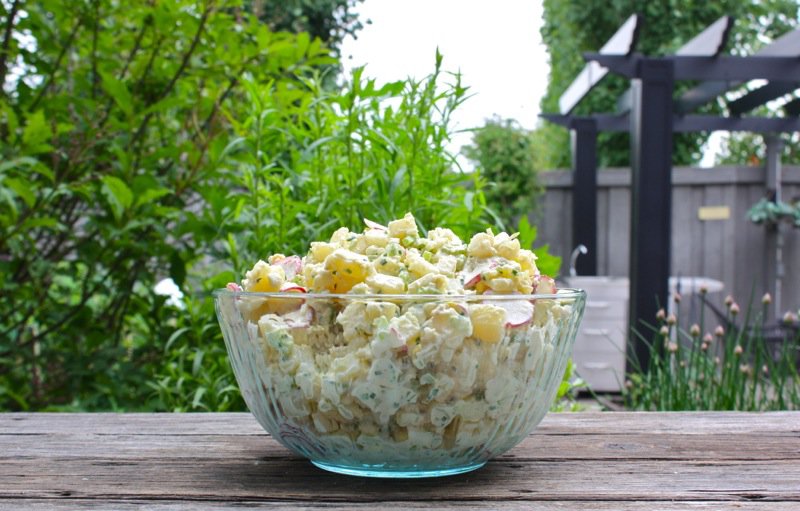 Mom's ancestors landed on Plymouth rock in 1729: both sides at almost the same time. Nebraska farmers immigrated North to Canada in the 1800's, settling in the Central Alberta Prairies near Lacombe. She rode her horse to school, uphill both ways, cooked for Thrashers, finished high school in Red Deer and went into banking. Kept an immaculate urban home, cooked from scratch every evening, and took exceptional pride in her mid-century modern married life. Dad was a first generation Canadian from Irish parents who emigrated to Canada just before the dirty thirties and settled in the then barren, dust filled and wide skied Saskatchewan prairies, near Bengough. He was pulled out of school to work on the farm at 13, left home at 17 in search of a better life, leaving barrels of salt pork and cans chewing tobacco behind. They met in Red Deer and fell in love. He looked like Jimmy Dean; she a brunette Marilyn Monroe. They had the incredible Canadian farm work ethic in common, settled and etched out a life together motivated by all the promise the world offered at that time: if one works hard, you can achieve it all.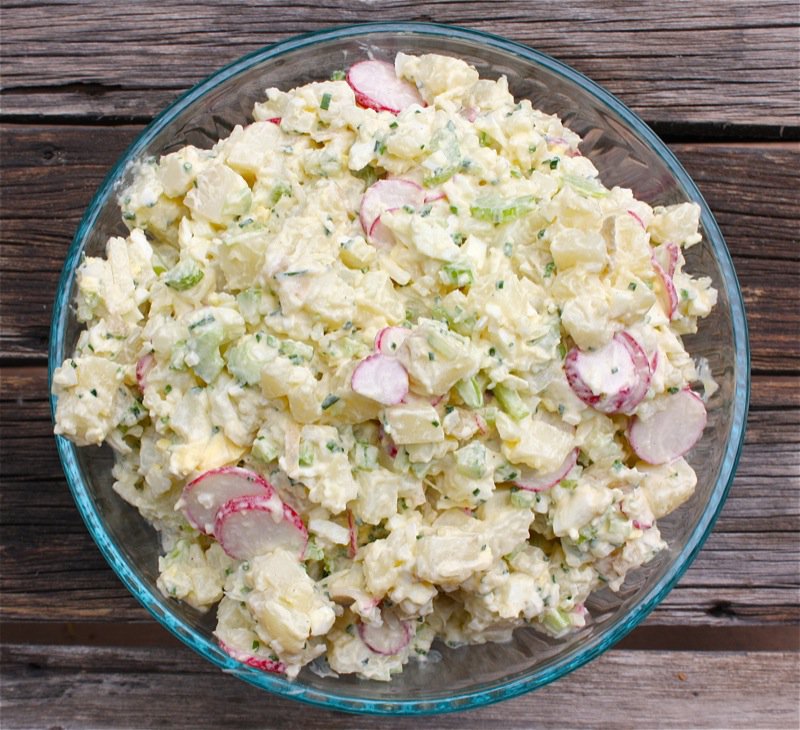 Potatoes were on the dinner table every evening: meat, potatoes, a vegetable and a salad. I swear that my Mom wrote the Canada Food Guide. The only season that pattern changed, was Summer. Ah, Summer! There was an adventure on the table every evening. Mealtimes were not predictable as the bounty of the season was laden high upon our plate: vegetables harvested from my grandmother's garden. But first, and always first, was the potato salad.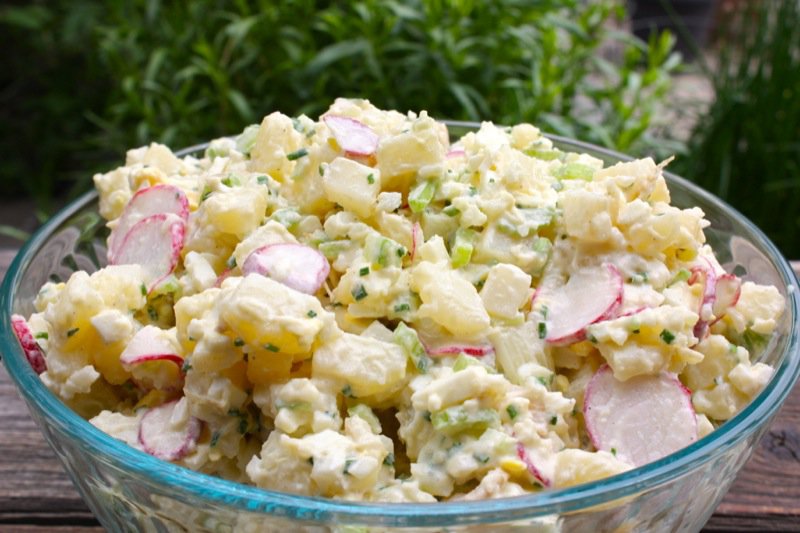 It wasn't until a large extended family potluck picnic that I realized that all potato salads were not equal. Those family potlucks were feasts that medieval kings would have envied. Most relatives still farmed. We would get together at least once a year, toting culinary triumphs in coolers or cooking them up on Coleman stoves on site. Picnic tables were pulled from all corners of the park, lined with all pattens of cloths. I am sure that picnic tables are now cemented in because of our extended family outings. Children would play hide-and-go-seek, tag, and swing for hours. The adult men would play horse shoes, visit and smoke too much. The women? Finished the onsite food preparations and laugh a lot. There was always fried chicken, potato salad, chocolate cake and apple pie. Too young to know better, I asked: "What is that?" pointing to other potato salads that would obviously be a potato salad to a more experienced eye. Mom placed some of each on my plate so that I could sample them all. One was so yellow it looked like a lemon salad. Another had hardly any mayo and was very dry and crumbly. One just tasted so terrible that I had to turn my head and spit it into my napkin when no one was looking. Of course, my mom was looking. One thing they all had in common were potatoes, eggs, radishes, onions, celery and mayonnaise. It was remarkable to me, even then, that with so few ingredients, each salad could taste so different. My mom's was better 'n all the others. No question.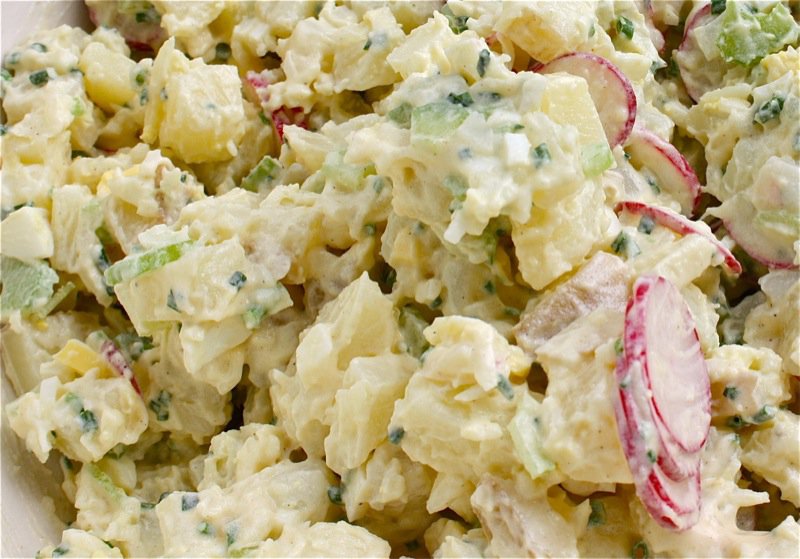 Over the years, I have enjoyed creating all kinds of flavourful potato salad concoctions from hot to cold, oil and vinegar to mayo with all kinds of herby flavourings. Yet, the quintessential Canadian prairie potato salad that is the first one to hit our table at the onset of the new season is still my mom's, though I have altered it by not peeling the potatoes. Can you see me duck? Unpeeled cooked potatoes were a sign of uncleanliness in the days of my childhood.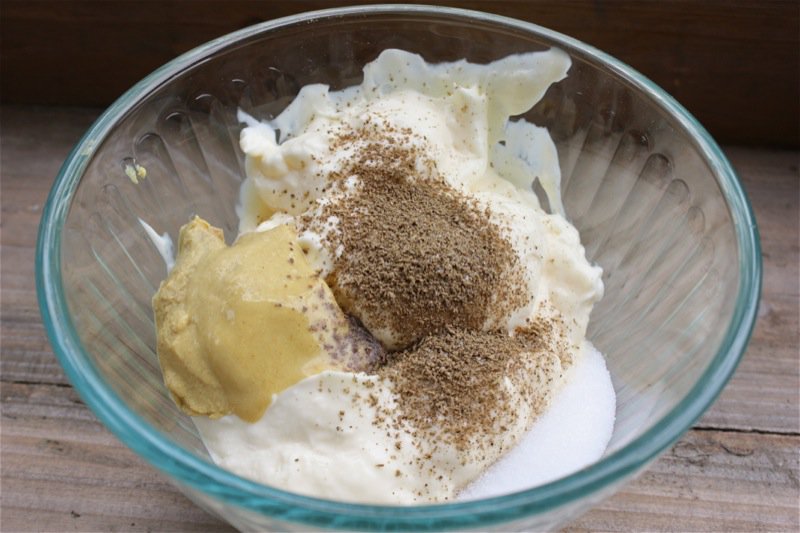 The Canadian Food Experience Project began June 7 2013. As participants share stories across the vastness of our Canadian landscape through our regional food experiences, we hope to bring global clarity to our Canadian culinary identity through the cadence of our collective Canadian voice. The first topic for this, our first challenge was: My First Authentic Canadian Food Experience. Though this is not my first, it is most definitely the first of this season and vastly more useful than my tirade about the rapid decline in breast feeding that commenced in 1955 when I was introduced to Carnation Evaporated Baby Formula in a sterilized jar, with a hard rubber nipple. My mother was most certainly the leader of that trend, as well.
Now my question for each of you. How does the potato salad in your Canadian region differ from mine? Please chime into the conversation in the comments section. I realize that potato salad is not a Canadian "invention", yet, it is definitely a significant dish within Canadian prairie food culture and a profoundly personal seasonal food memory of mine.
Canadian Prairie Potato Salad
Ingredients:
4 eggs, hard "boiled"
5 pounds of potatoes, or so (2.3K)
one bunch of small radishes, and if you pick them from your garden, one bunch
one small bunch of chives
2-3 stalks of celery
1 small onion
Ingredients for the Dressing:
200g homemade mayonnaise
20g Dijon mustard
10g salt, or to taste
5g pepper, or to taste (I like lots)
Instructions:
Clean potatoes well, ensuring similar in size for even cooking
Simmer at a very low temperature in a heavy pan, covered with water until pierced with a fork; do not overcook
Meanwhile, cover eggs with water in heavy pan; bring to an "almost simmer" (do not let the water boil)
Let eggs "cook" in hot water for 20 minutes; shock with ice cold water, peeling immediately: do not boil!
At the same time, prepare the dressing: place all ingredients into one bowl; combine
Wash radishes well, slice thinly, maintaining their round shape
Clean and slice celery lengthwise; chop thinly
Clean and slice onion; chop thinly
Mince chives into a confetti
Once potatoes are cooked; shock in an ice bath until completely cool
Dry potatoes; chop into small bite-size cubes
Combine all salad ingredients, toss
Add the dressing: half at first, and season to taste; adding more, to taste
Chill salad a couple of hours to meld flavours and serve with fried chicken and apple pie, of course!
Note:
Choose a waxy potato to boil for this salad; as russet, or a mashing or baking potato will not do.