Edmonton is sorely in need of a new (late) breakfast destination: Earls is the best!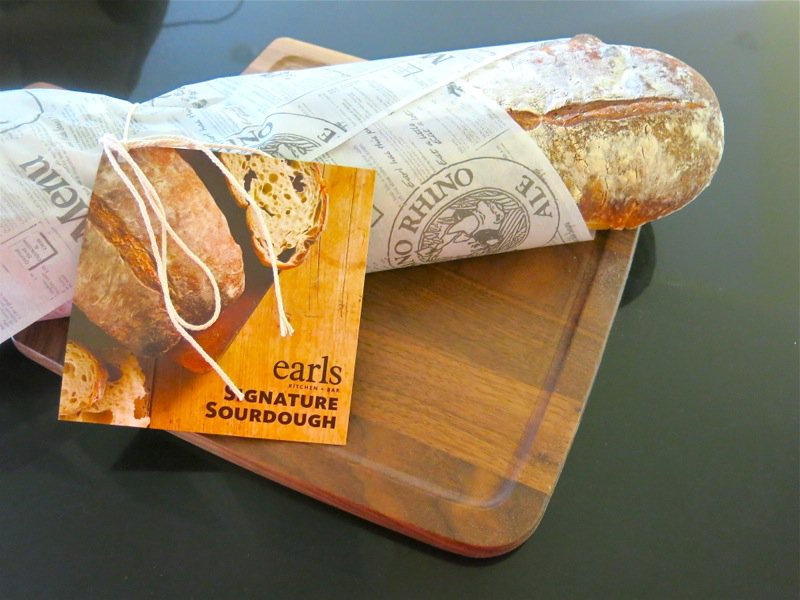 Earls is the new brunch destination for Edmonton folk sorely in need of a breakfast destination alternative on weekends and holiday Mondays starting Saturday, September 14th. It opens at 11:30 and brunch is served until 2 pm alongside the regular menu; every brunch menu item taking a lead position. I have tasted them all and can attest to this. Whatever you are in the mood for, is the only consideration for your choice on this stellar and affordable menu.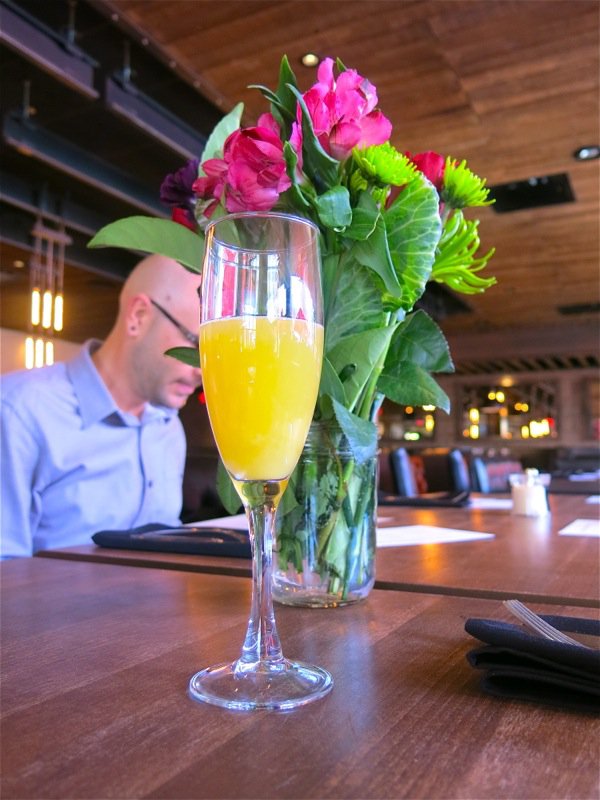 A brief reprieve last Sunday, with mom and Ragan, (from taking care of dad at the hospital) for Brunch at my one favourite local "it started here in Edmonton" chain restaurant, Earls at the old Tin Palace location on 119th Street and Jasper Avenue, the Mimosas hit the spot. The "always fresh and fragrant Earls floral bouquets" juxtapose the rustic upscale setting with a stately splendor that I really appreciate when going out for brunch on a Sunday morning.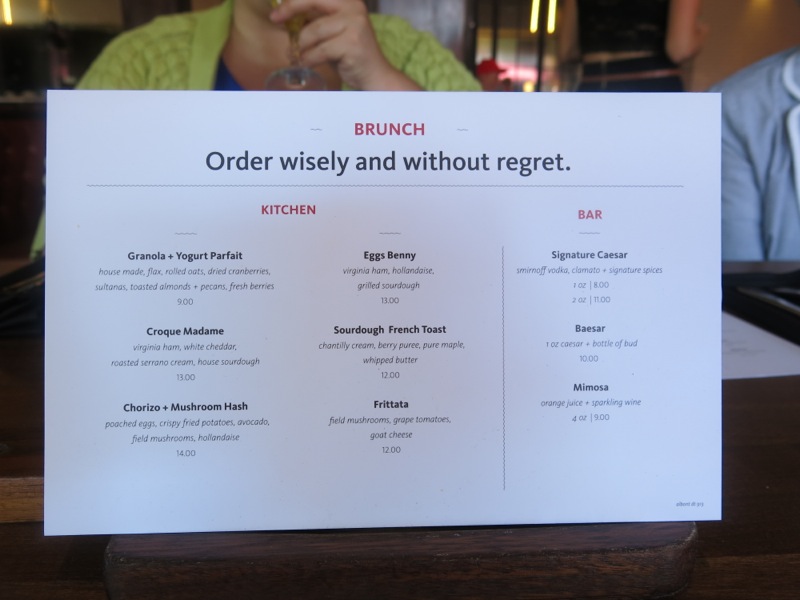 "Good food. Good people. Great Service." Wasn't that their slogan in the 80's? The food and service is second to none. Period. I am a fan of Earls, particularly the Edmonton "Tin Palace" location. Always have been. I remember the first Earls in 1982. I remember the first Fullers. This restaurant is a local success story and as I was one of thousands of the "good people" that spent many a Friday night after work on the patio in the summer and in the lounge throughout the year, there is something about this place that is home. It just is.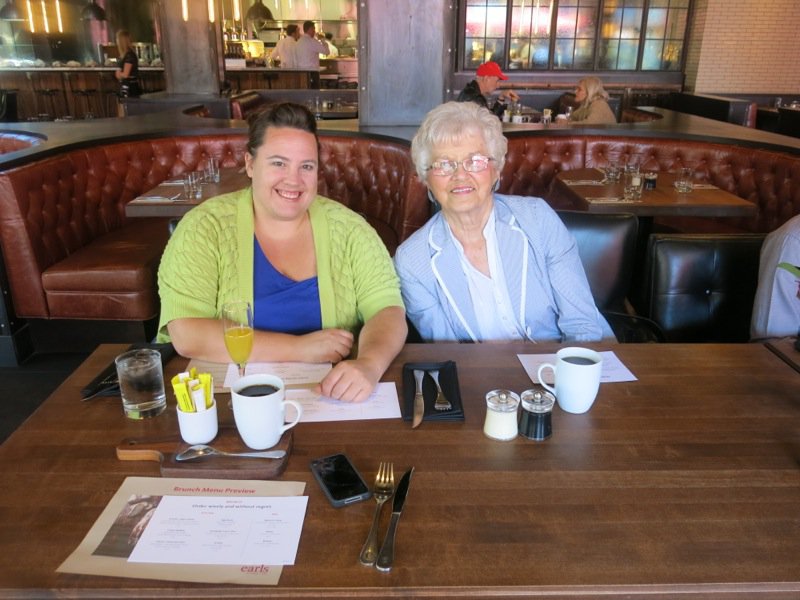 From the bold paper mache primary coloured parrots to the bold bronze pig with an attitude, the building and the business has seamlessly rolled with the times and often set the standard for the times: fresh food, bold flavours, cutting edge cuisine. Always be a location destination for the "who's who" crowd or the "who cares" crowd. Certainly, there is room for this business to grow and go in the purchasing of local food. That is difficult with any chain, but not impossible and Earls is moving in that direction.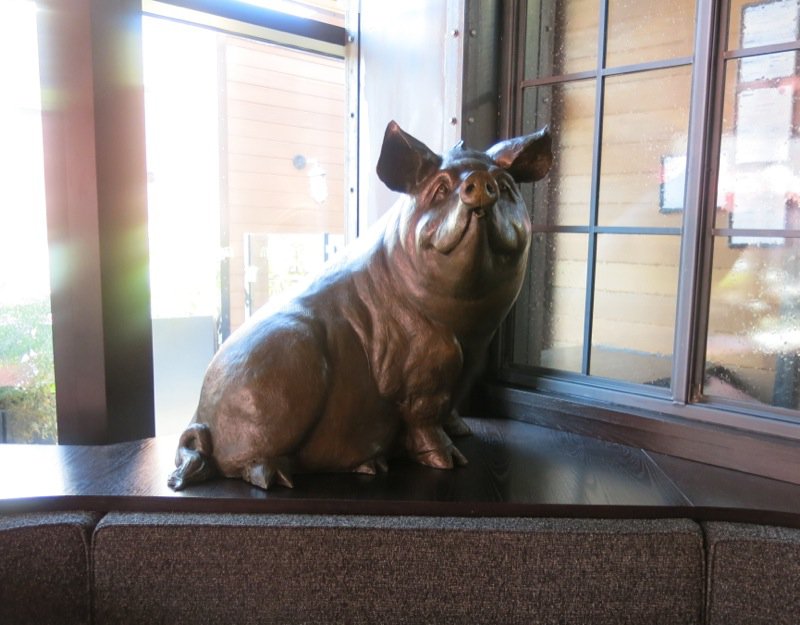 Starting with their signature sourdough bread making its début with this new brunch menu. This is not purchased locally, but made in-house. That is a rare find in any restaurant, let alone a "chain". Some of the starters are up to three years old in some of the restaurants. The move from fresh food to "we can make it and bake it" is a bold brave step that I support and admire. First, I am crazy over bread making and sourdough bread. Second, I am deeply impressed that the young apprentice chefs at Earls have the opportunity to learn how to work with dough and make bread. "Earls' sourdough rises slowly and naturally from an in-house grown sourdough starter that has taken over two years of recipe development to perfect." The dense, chewy, deeply complex flavoured bread is a new Earls tradition in the making and a great homage to its Alberta prairie roots.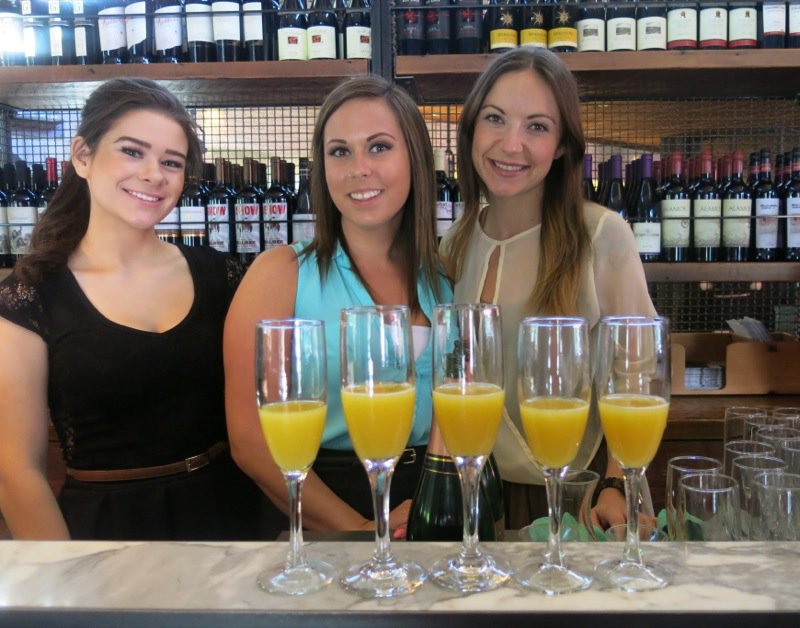 The signature cinnamon bun is served warm to every brunch customer shortly after arrival to enjoy while perusing the menu. What a palate tease. It is the bakers take on a kind of brioche bun and a really lovely fragrant warm good morning welcome.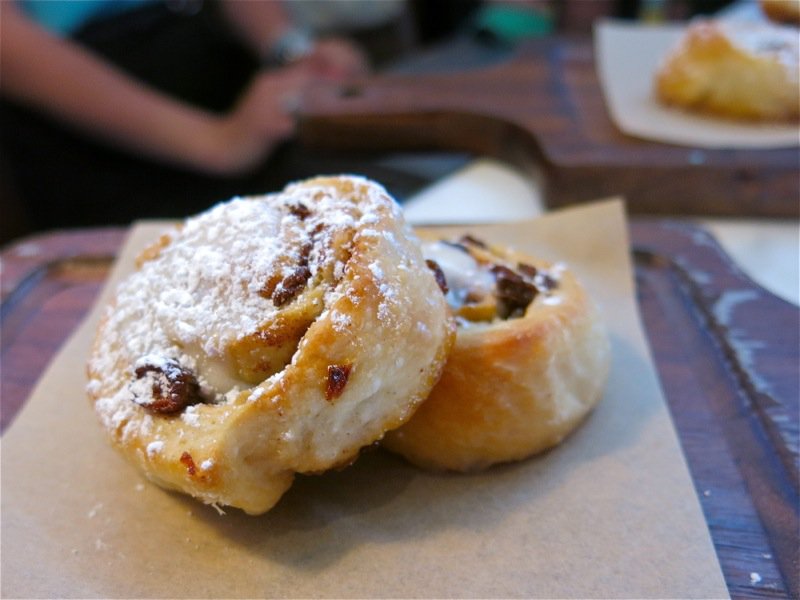 Rui Carvalho, Head Chef, Earls Downtown Edmonton (Tin Palace) is thirty years old and has been with the restaurant for 15 years. Now that is longevity. Yup. He started as a dishwasher and worked his way up, clearly impressed with the business model and motivated by his peers.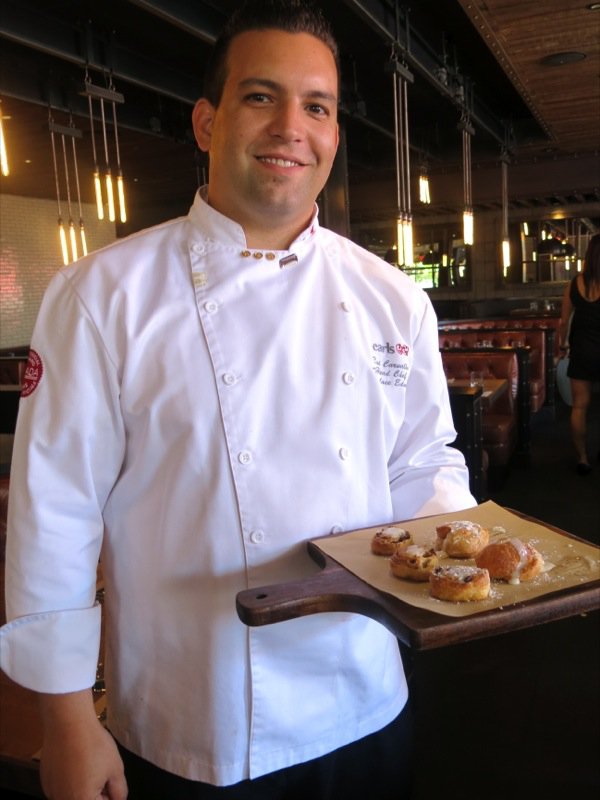 Cate Simpson, the effervescent and welcoming Communications person and Gareth Smith, General Manager, Earls Downtown Edmonton (Tin Palace) were the most welcoming hosts one could wish for, as was Michael Gange-Harris, Regional Director, Edmonton (overseeing the city's 7 restaurants in Edmonton). Earls does it right. No doubt about it. This was an exquisite event which directly relates to the brunch experience one would have at Earls.
And if boards aren't back. Yes, they are. I was just a young sweet thing in the 70's when boards were the rage: steak boards, olive wood for salad bowls, and on. I find the coffee service board utterly charming.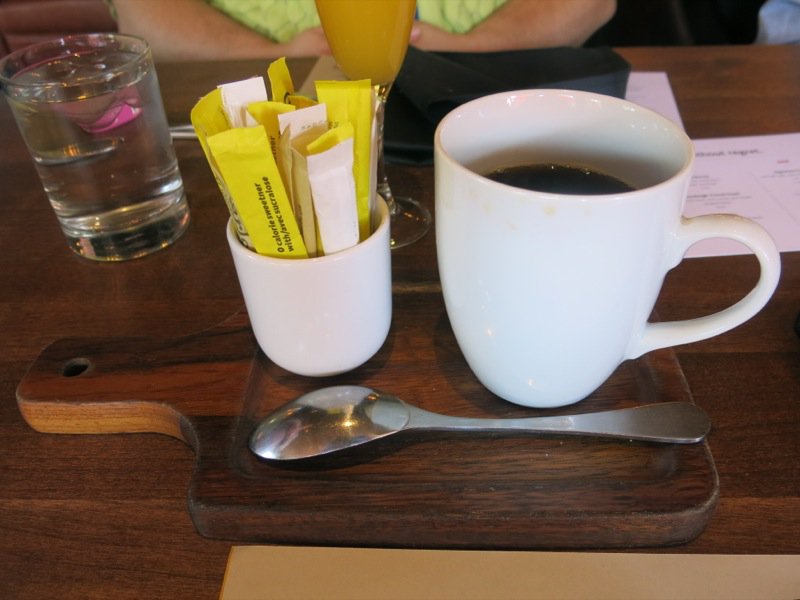 First up, their signature Sourdough French Toast. How can one resist? Fresh berries. Cream. Pots of syrup and butter on the side. Sourdough bread soaked for hours in eggs and cream with the scent of orange zest tickling your fancy at first bite.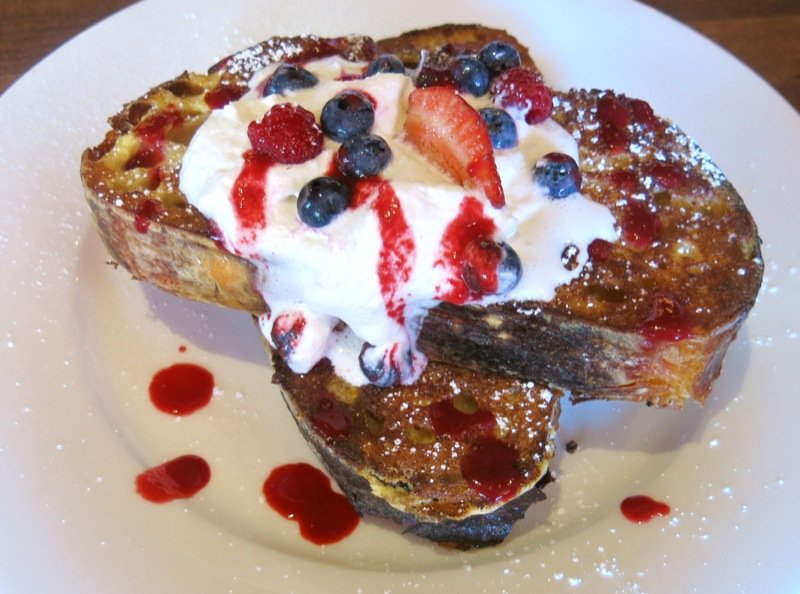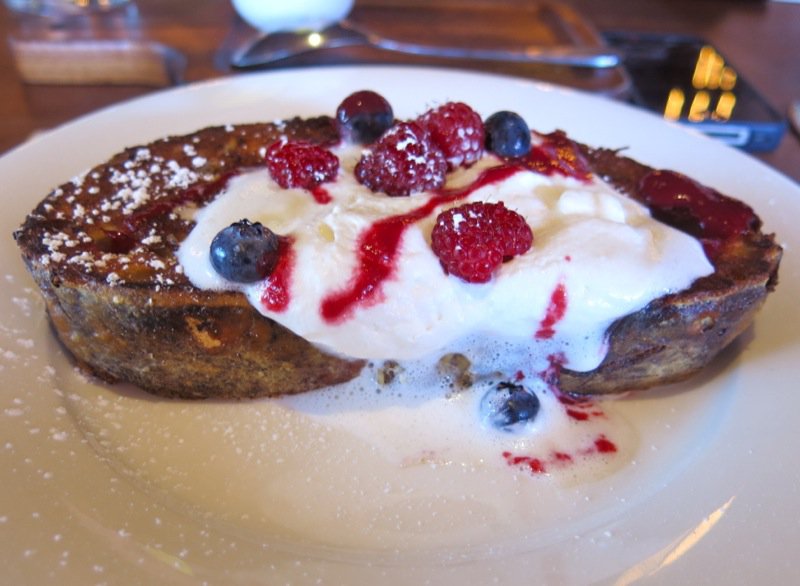 This is a bread you can sink your teeth into and chew. It doesn't dissolve on your tongue. This is a bread that pushes back and plays with you a little which is an unexpected pleasure that one usually only experiences when eating homemade french toast – at home. This is a satisfying, not sweet, very healthy tasting dish that is definitely that one item on the menu sure to please all.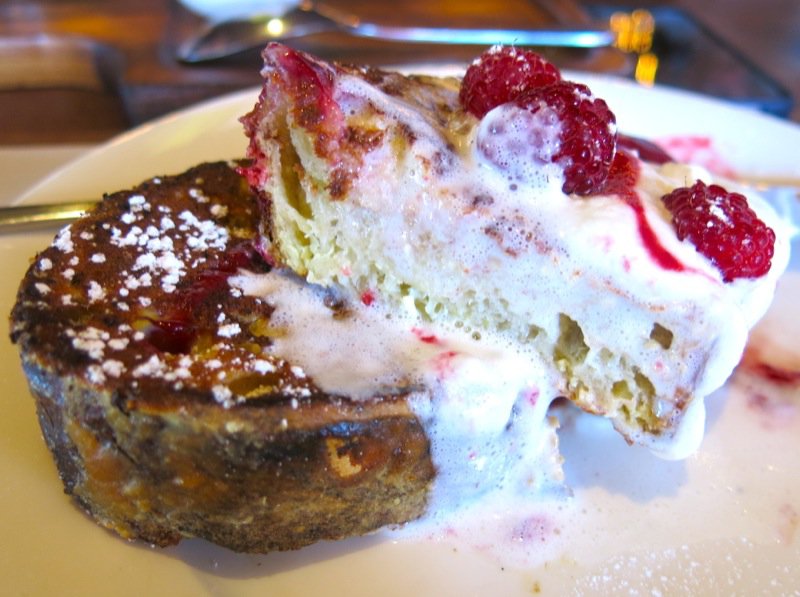 The mushroom, goat cheese and grape tomato frittata was my favourite. I adore tomatoes and this sizzling eggy concoction was complimented with intensely flavoured roasted tomatoes amid oozing pockets of salty chevre and earthy little mushroom tidbits. Mmmm. Every bite was novel and kept me digging for the next taste experience. This is a "good for you" vegetarian choice. Did I say… mmmmm?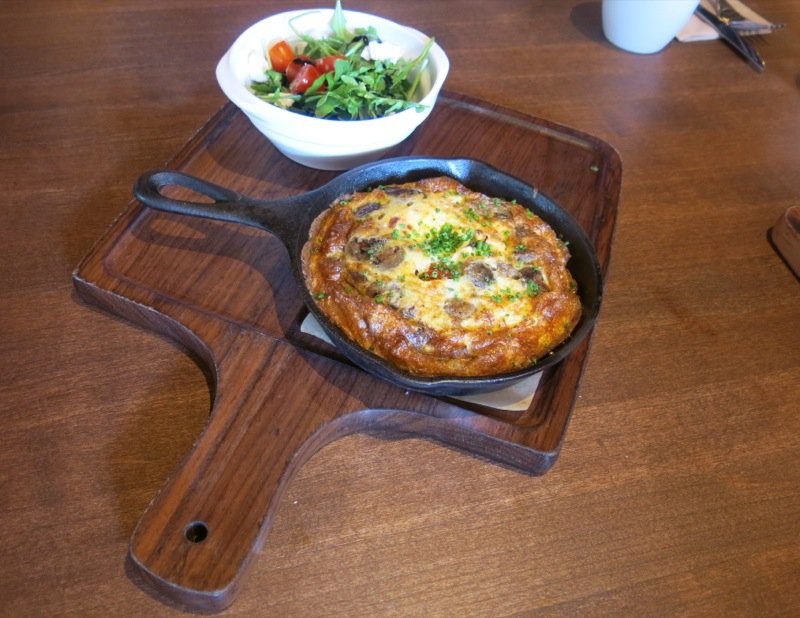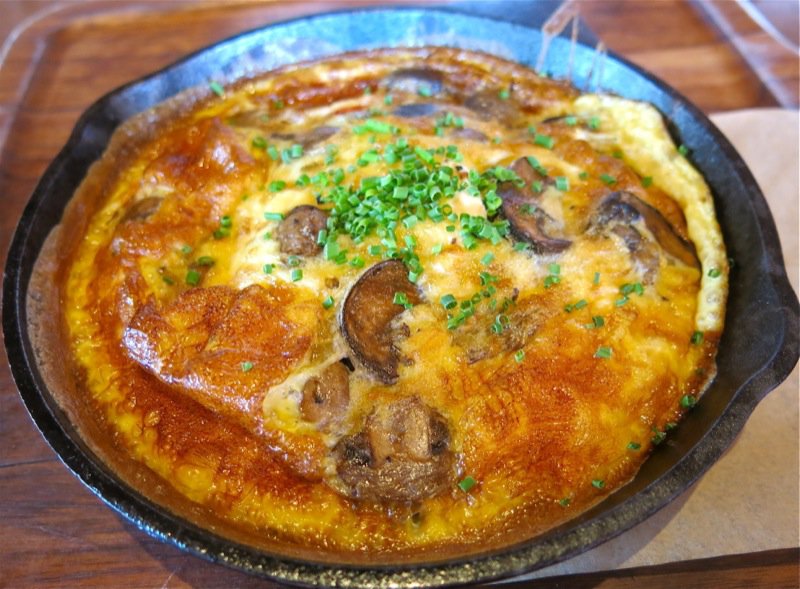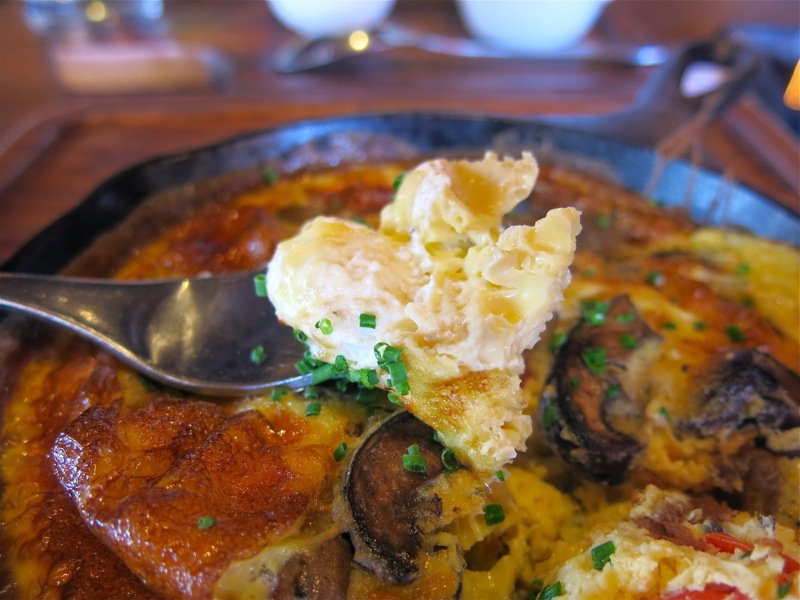 It is also served on another board. The table I was seated at was pulled together communal style, which is always one of my favourite ways to enjoy good food. With a smaller crowd, the ample leather covered u-shaped booths invite a lingering stay.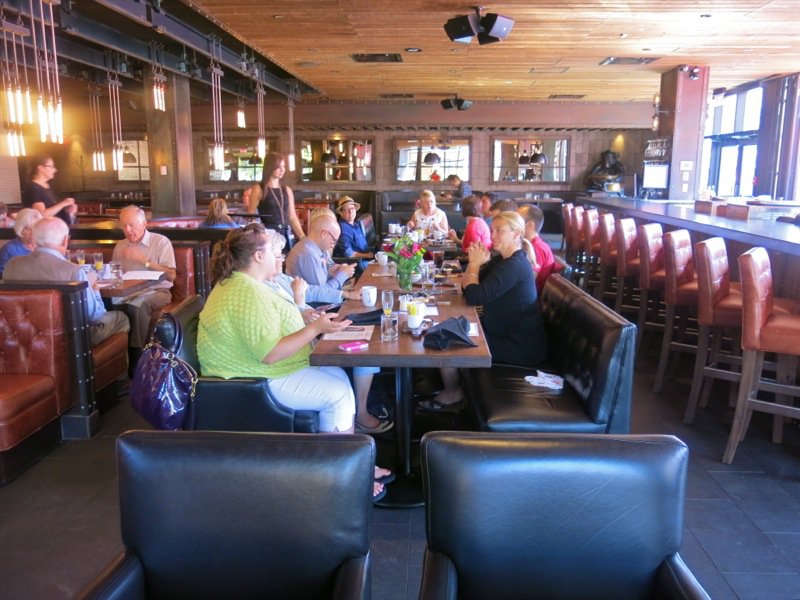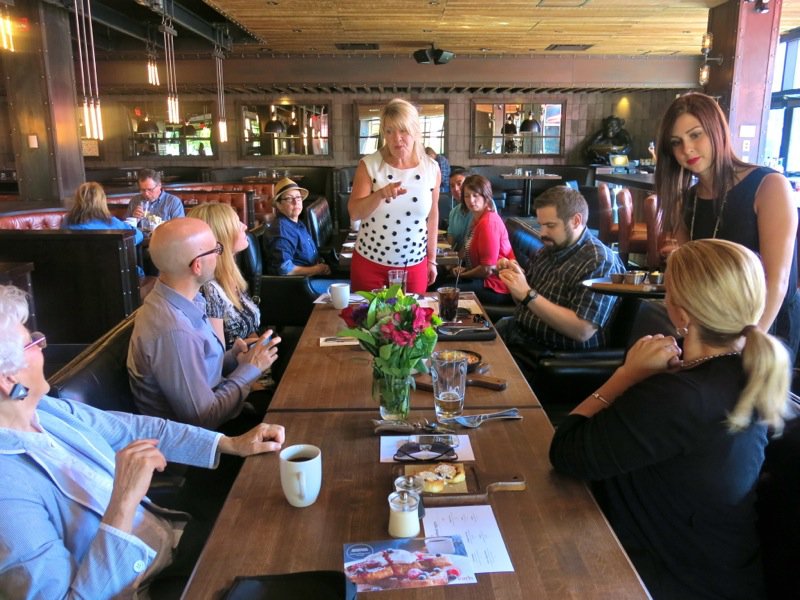 The Croque Madame is Earls' take on the French Classic again featuring Earls' signature sourdough bread soaked in egg, fried and sandwiching a thick bed of sweet, salty and savoury shaved Virginia Ham, topped with a perfectly poached egg and swathed in a white cheddar and roasted serrano pepper cream sauce. Delectable. The addition of the rich yolk to the cream sauce invited chasing each bite around the plate with the fork to ensure every bit of the sauce was sopped up.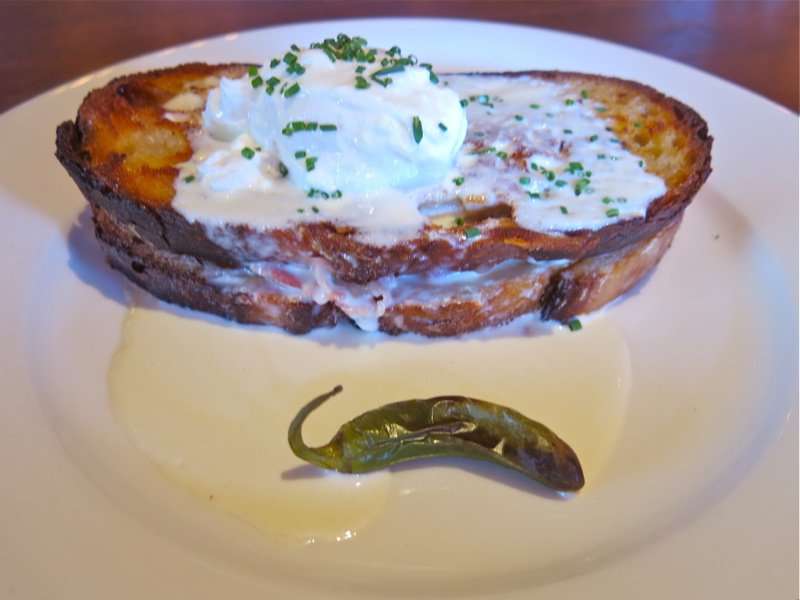 Is there a name for a roasted Serrano pepper? I know a roasted Jalapino is called a Chipotle pepper and a roasted Pablano is called an Anchou pepper, but what is a roasted Serrano pepper called? Chris dove right in. Actually ate two. Without wincing. So, I took a tiny end piece off of mine. Yes, I knew a Serrano is a hot pepper for my palate, but was thinking the roasting must have tempered the heat a bit as he downed them. Big mistake. Big. The roasted peppers are still hot. However, the sauce just carried a gentle warm glow and the heat of the peppers added to it was perfect.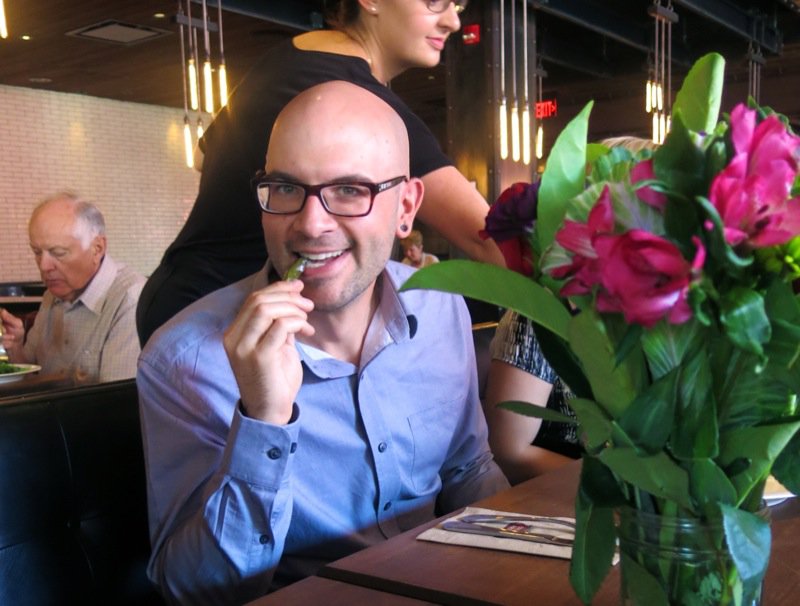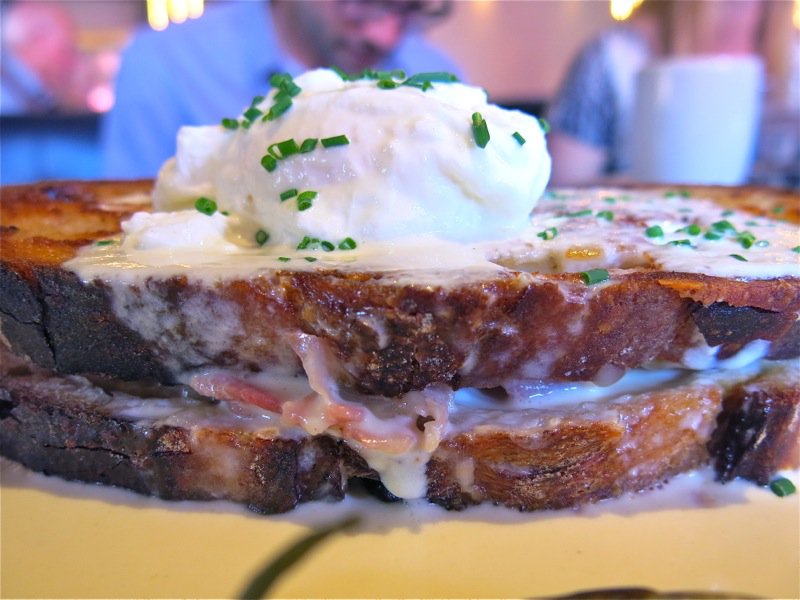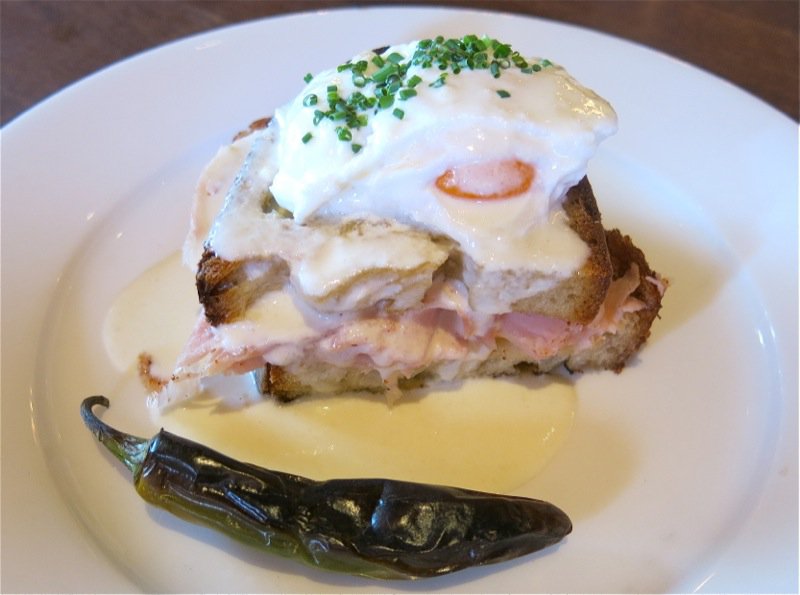 As I child, I could not palate eggs. I adore them now: the crowning glory of this breakfast sammie.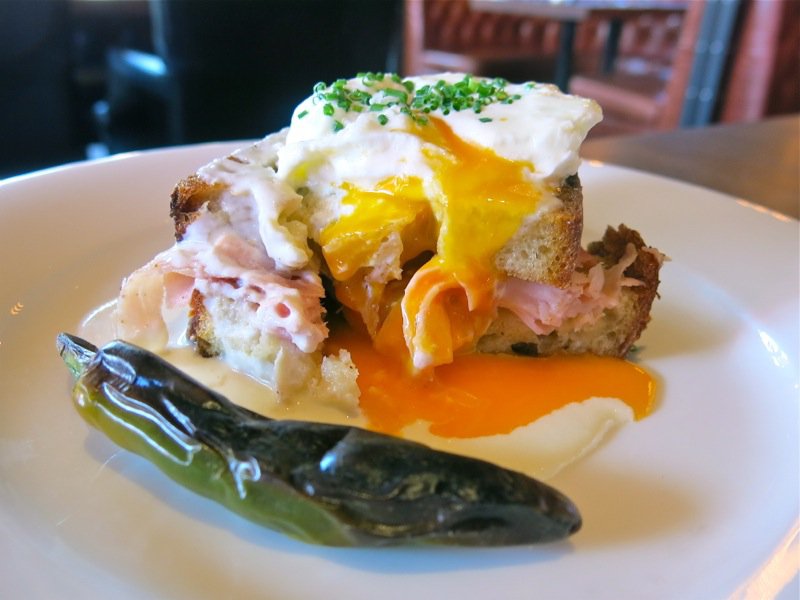 The fourth, and last dish I sampled was the richest of the morning: the Chorizo and Mushroom Hash. The chorizo was delicious, but not house made. Let this be the new goal for Earls Restaurants: housemade charcuterie. Certainly, that can be done, would be another nod to the restaurant's prairie roots, and would set it apart in another area that has been trending on the food scene for quite some time. The poached eggs provide a sauce that combines well with the creamy avocados for the crispy smashed and fried potatoes and field mushrooms. However, the bed of potatoes is also slathered in hollandaise, so this over-the-top splurge is your brunch go to if you are in the mood for the most decadent dish on the menu.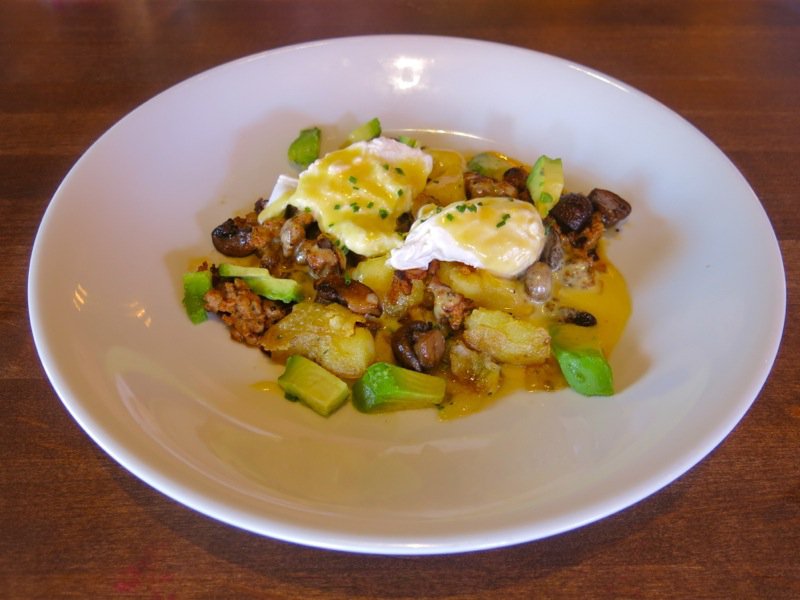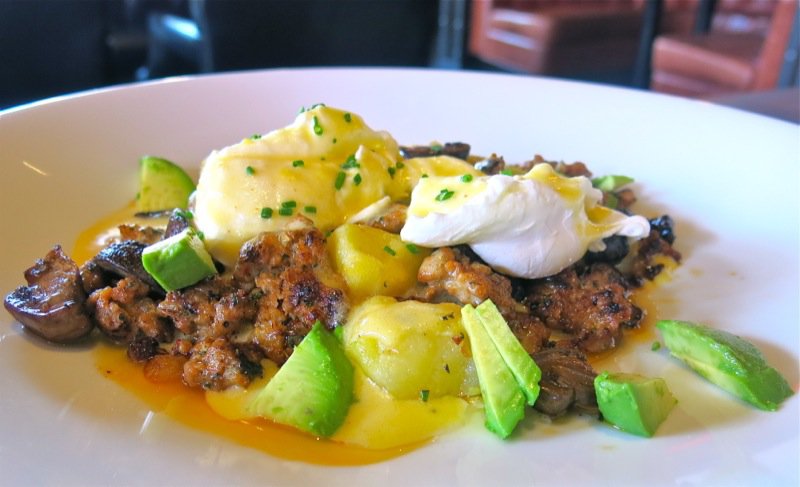 I had to run. I left mom and Ragan lingering over their Mimosas and the others over their coffee or Earls signature Caesar (beer and clamato) that seemed to be a favourite of many of the guests. There is no place like Earls on 19th Street and Jasper Avenue in Edmonton. It has the best patio in town. Everyone knows that. Yet, all of the Earls have inviting decor with an acute attention to the patio detail.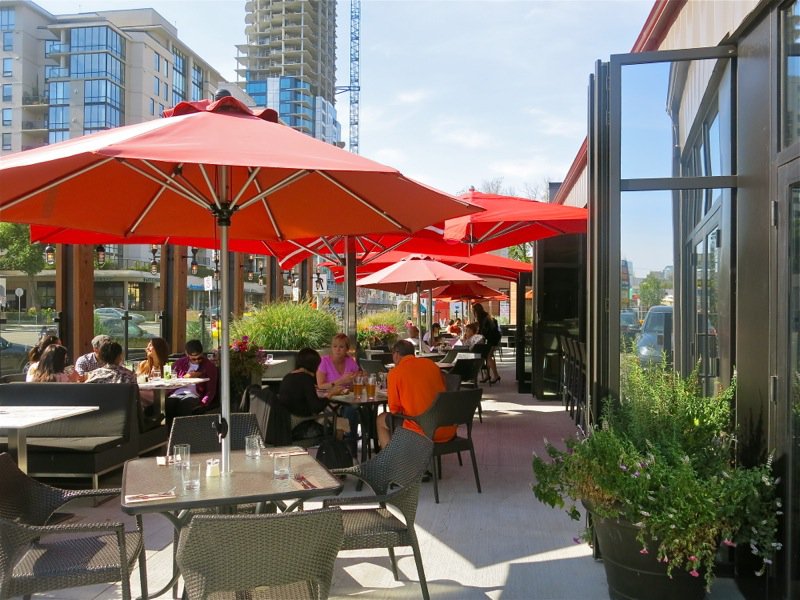 Good Food. Good People. Great Service. It all still works for me. I don't care how "80's" that slogan is. And, though Earls is a chain, now, and I am an avid supporter of small independent restaurants, I was there then. When Earls was a small, independent Edmonton restaurant. And, what a great local success story.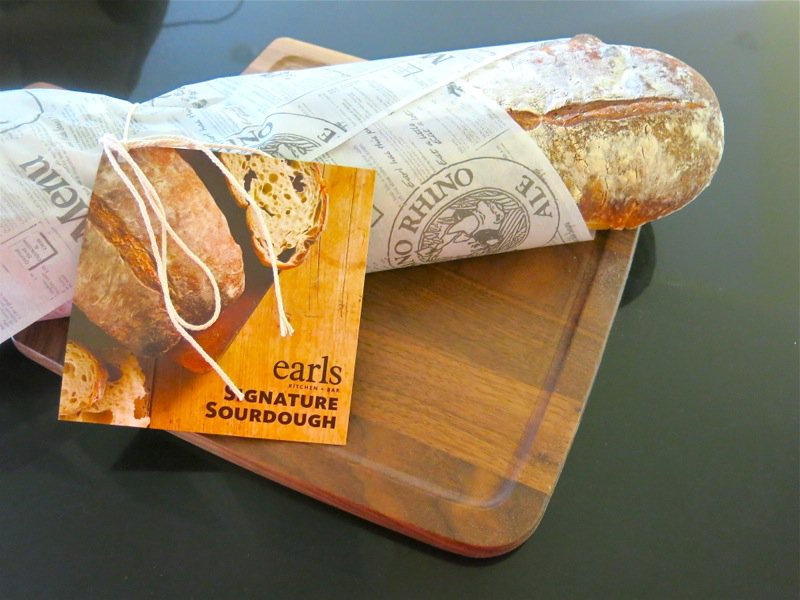 I will definitely be back for brunch with my family or some friends and when you go, I want to hear about it! What is your favourite dish on the menu…. make sure you go with a crowd, so you can taste them all! (Head over to Chris's post to see a photo of the last 2 dishes, the granola and fruit with yogurt (Earls house-made granola combines flax, rolled oats, dried cranberries, sultanas, toasted almonds and pecans with yoghurt and fresh berries ) and the eggs benny: we didn't sample those, but they were brought out for a photo opp after I left.) The full menu is also available for those who might want a big New York steak with a side of eggs to start their weekend!
Disclosure: I was not paid to write this post Announcing Earls Brunch Menu Fall 2013, though I was invited to this media event to sample the wares. The opinions here are my own without any obligation on my part to please the extenders of this invitation. That was my pleasure.