This spectacular recipe takes 3 minutes to make in a Thermomix Machine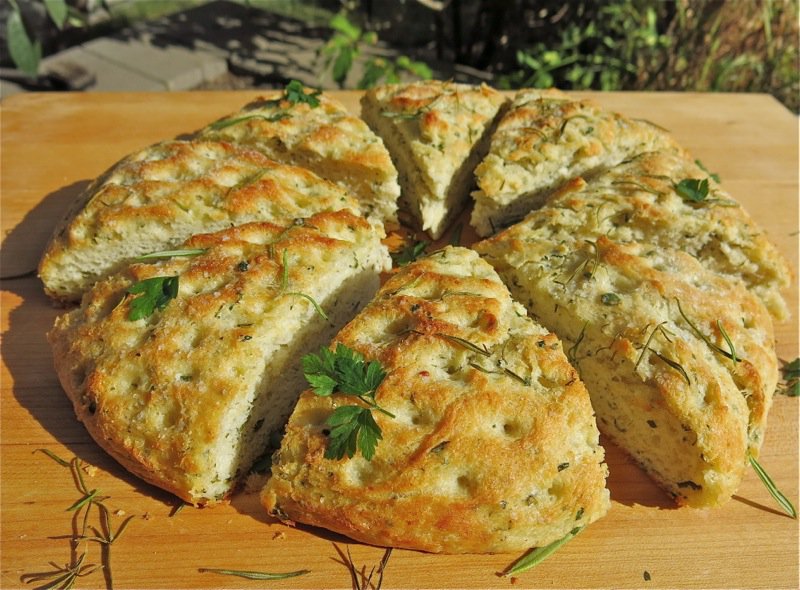 It has been a while since I have raved about my Thermomix machine. This is another recipe that I make all the time in the machine and it takes literally 3 minutes to make, mix, and knead. I have included the recipe for those of you without a machine, too. But, for all my clients, and the Thermomix owners throughout the world, this is a recipe you will want to make over and over.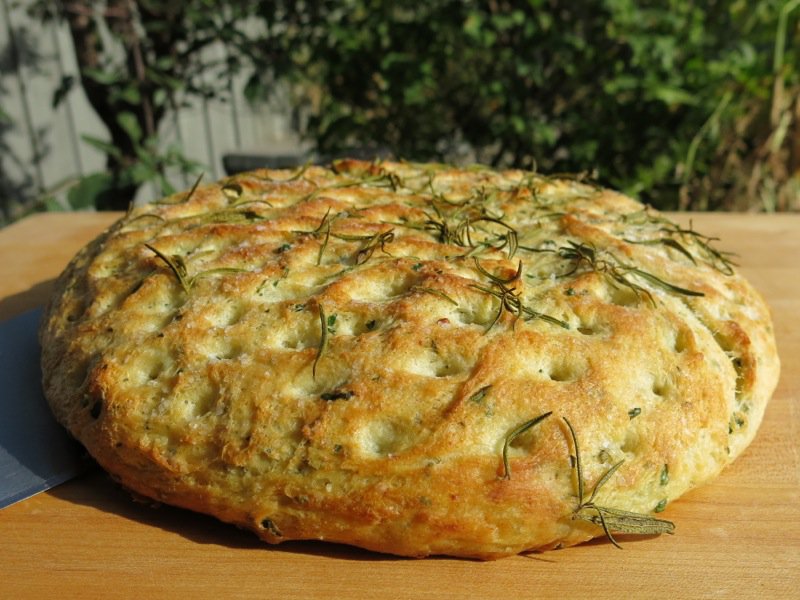 I think I grown my sage just for this bread. I have the most lovely sage growing in my herb garden just outside of my kitchen door every summer. The fuzzy velvet silvery leaves are lush and fragrant, but I don't use them for many things… some meat dishes, deep-frying for garnish, and this bread. I use a good amount. About two of the bunches you see on the stem in the foreground, below.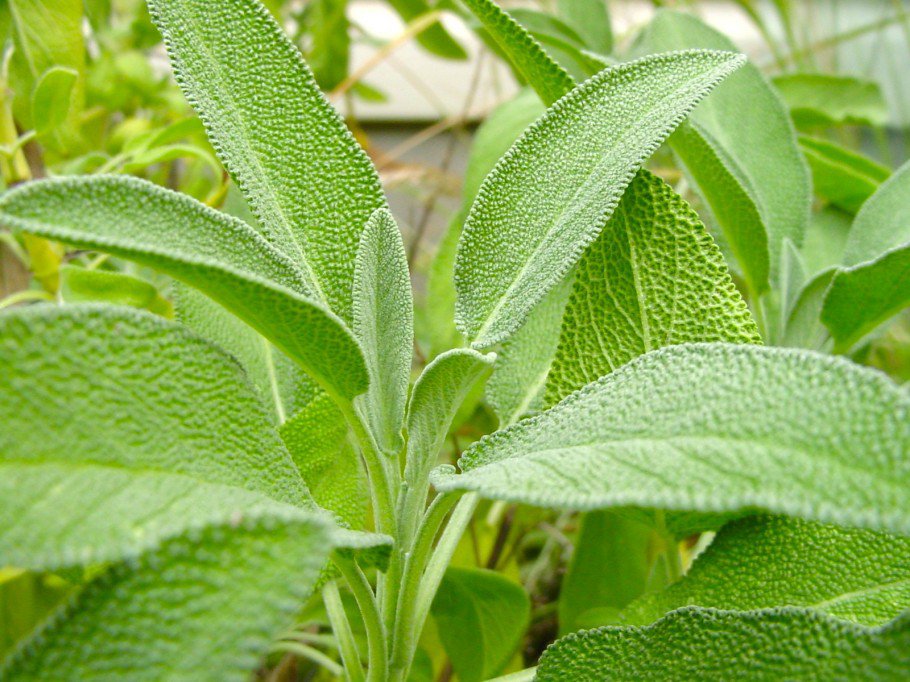 I add an equal amount of flat leafed parsley because it grows prolifically in my garden and is delicious. I think the reason I use the last herb is part of the reason I use the first two: Are you goin' to Scarborough Fair? Parsley, Sage, Rosemary and Thyme… I grow fragrant and lively little leafy thyme, too… but, stopped with the rosemary. I use less of it, as it is stronger in flavour, but still a good amount. About 3 strong long sprigs, minced and the fourth for the garnish on the top. I hum the song every time I make the bread, unless I am making it for a demonstration. Then, I am just too busy talking. This round was made for a demonstration very early last Saturday morning.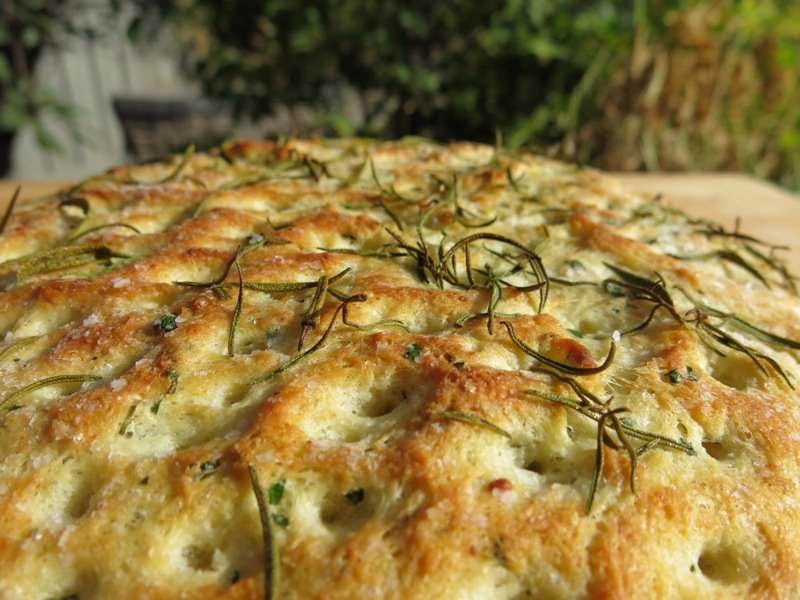 Early because dad's still fighting the good fight in the hospital and my client was kind. I also love mornings and bread in the oven on a Saturday morning is kind of a celebration of life, isn't it?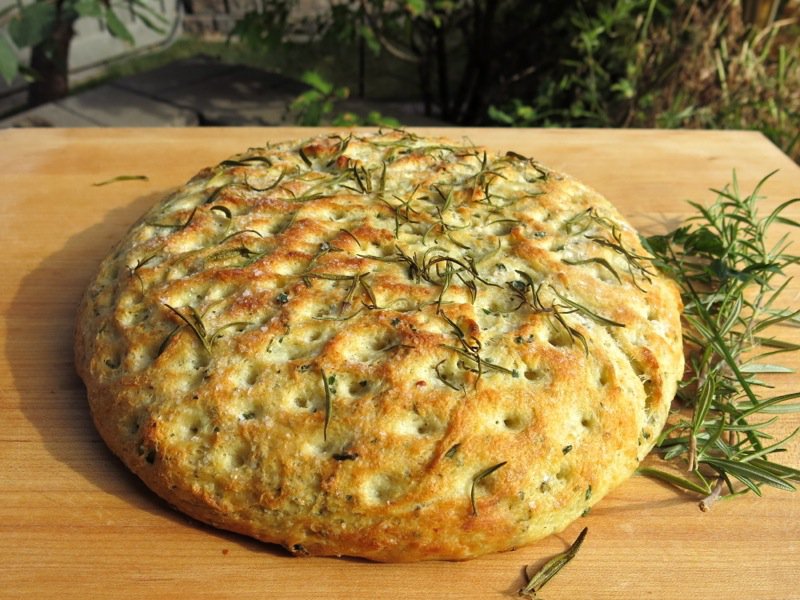 It felt perfect.I used about twice the amount of rosemary above inside of the bread, and about that same amount on top of it, for garnish. I grow a variety of kinds. Some are dense and thick, and others, like the one in the photo, are more relaxed.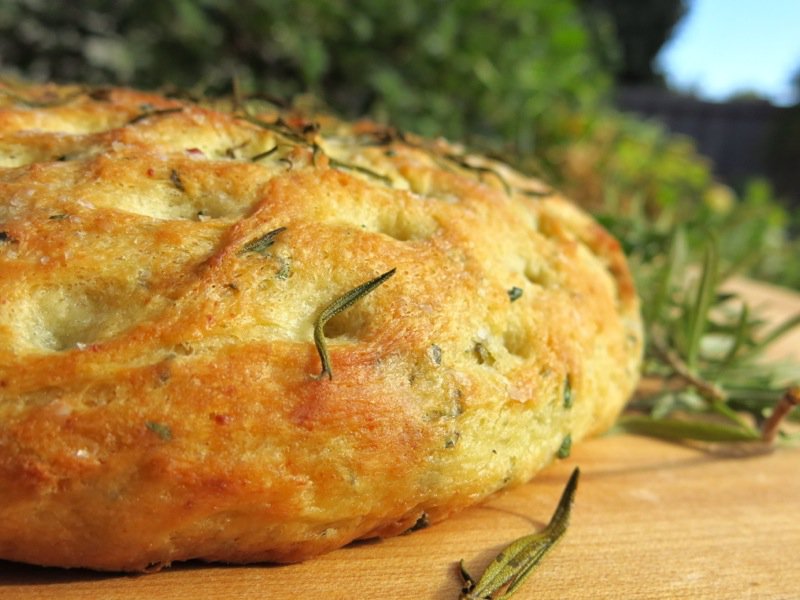 The dough is docked before baking. That can be done with a docker, as I did (the reason there are holes pierced in the surface), or with ones fingers. Either way, it must be docked, gorgeous fruity olive oil poured over the surface and captured by the docking, salted with chunky sea salt and garnished with whatever is inside: olives, herbs, sun-dried tomatoes… it is up to you. The salty crunch of the crust is part of the allure when eating this focaccia.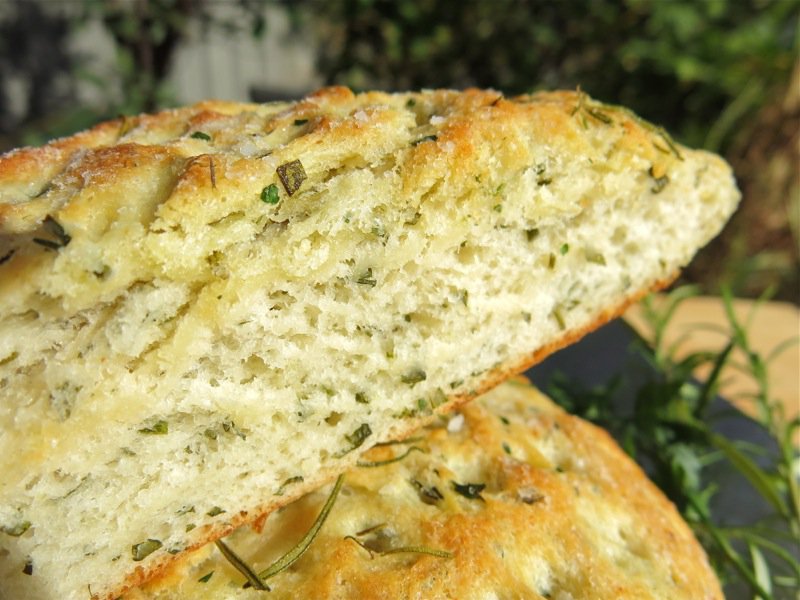 The light, moist and cheesy herb-scented interior provides the perfect foil to that crisp crunchy salty crust. It has to sit for a bit to cool, as do all breads, if one can resist… otherwise, the interior is gummy and appears undercooked.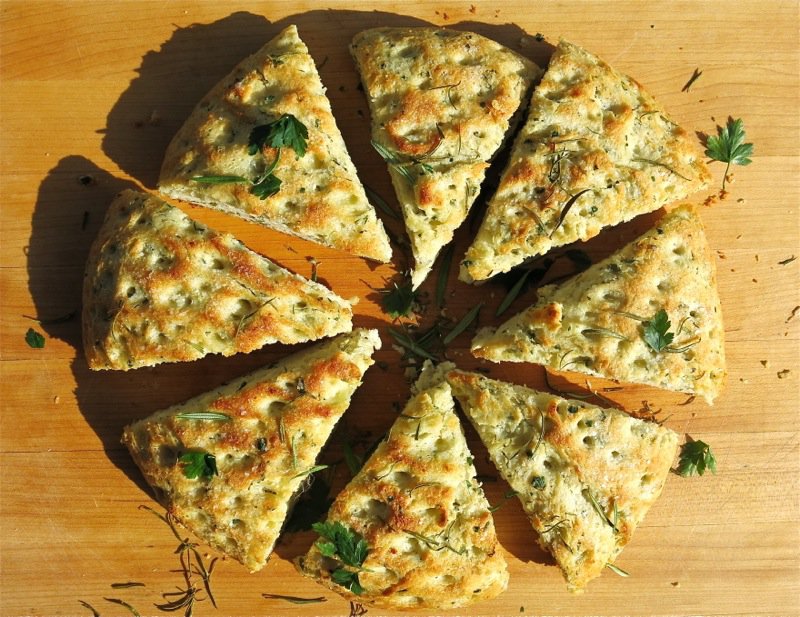 Have your eye on the slice you want? Though it is only a North American thing, I do love dipping this into a balsamic-olive oil splash to add a little kick to the mix.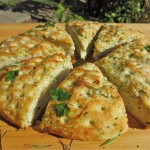 Homemade Focaccia


Thermomix instructions for this recipe are included as well as how to make it sans Thermomix. This is a very versatile recipe that lends itself to a variety of concoctions added to it.
Ingredients
50

g

Parmesan cheese

230

g

water

20

g

yeast

, fresh or non-instant

5

g

salt

(but I usually leave this out due to the Parmesan and the salt on top)

350

g

flour

20

g

olive oil

Fresh herbs: 3 generous tablespoons flat leafed parsley

, finely chopped, tender stems included; 2 generous tablespoons sage leaves, finely chopped, stems removed; 1 generous tablespoon rosemary needles, finely chopped, stems removed

Garnish: 1 tablespoon course sea salt; 2 tablespoons extra virgin olive oil; 1-2 sprigs of fresh rosemary needles

, stems removed
Instructions
Instructions for the Thermomix:
Prepare herbs; set aside

Weigh Parmesan cheese in TM bowl; grate for 1 second on Turbo 3 times

Weigh flour and yeast into TM bowl on top of cheese; mix to combine for 10 seconds, speed 3-4

Weigh salt into TM bowl; mix to combine for 5 seconds, speed 3-4 (can leave it out as cheese is salty and there is salt on the crust, too)

Weigh olive oil and tepid water into TM bowl; mix to combine for 15 seconds, speed 3-4 until ingredients clump together into a ball

Set time to 2 1/2 minutes; speed on Knead

After two minutes, put minced herbs into TM bowl through the hole in lid while still kneading

Prepare 2.2 litre ThermoServer just before placing dough into it to proof by pouring boiling or hot water into its cavity, sit for 15 seconds, remove, dry completely and coat lightly with olive oil OR lightly oil a bowl


Dust hand lightly, but completely, with flour; remove dough from TM bowl with that hand (prevents sticking; so little flour is needed to prevent sticking) and place dough inside ThermoServer to proof OR

Place place full glass of water into microwave on high for one minute; remove and place dough in prepared bowl covered with damp cloth quickly into the warm humid environment to proof


Proof dough 45 minutes or until double in size

Pre-heat the oven to 350 F; cover baking sheet with parchment paper

Once dough has doubled in size; gently loosen sides of dough working to not deflate any of the air

Turn bowl of dough completely upside down in the middle of parchment paper on baking sheet (Plop!)

Dock the surface of the dough with a docker or dimple it with your fingers (only about ¾ of the way into the dough with your docker or finger tips)

Fill dimples with the 2 tablespoons of olive oil (approximately - drizzle over surface of dough)

Sprinkle a generous amount of crystal sea salt (larger crystals) over surface (a touch more than you think would be needed as this is to be a salty crust)

Add rosemary needles randomly over top in a rustic fashion, to garnish

Bake 25 minutes; turn off oven; leave for 10 minutes

If top is not golden, turn on grill for one minute, watching closely, and turning pan once during this time, to ensure even browning on the surface of the crust

Rest crusty bread 20 minutes before slicing; serve with dipping oil or a mixture of oil and balsamic vinegar

Get ready to hear a lot of lip smacking groans of pleasure
Instructions for the Dough without the Thermomix:
Shred the Parmesan cheese: freshly grated cheese makes a big difference to the flavour of this bread

Measure all other dry ingredients into a large bowl; sift through fingers to combine

Measure liquid ingredients in another small pouring vessel and pour into the dry ingredient bowl along the sides; work to combine the moisture into the dry ingredients with your hands and fingers until the mixture begins to form a ball

Add the herbs; continue to combine the ingredients into a ball

When the dough comes together, begin to knead it, using only a lightly (lightly) floured surface and a bakers scraping spatula to assist with the kneading and counter cleaning (back into the dough) as you knead

When you have kneaded the dough until elastic, coat a medium bowl with a little olive oil

Place the dough into the olive oil bowl to proof (45 minutes to one hour); covered

Pre-heat the oven to 350 F

Cover baking sheet with parchment paper

Carefully turn bowl of dough upside down on the baking sheet covered with the paper; do not deflate the dough

Dock the surface of the dough

Pour a good 2 tablespoons of olive oil over the surface of the dough, ensuring that lots stays inside of the little holes made by docking it with your fingers, or a docker

Sprinkle a generous amount of crystal or large chunky sea salt over the surface (a touch more than you think would be needed)

Add garnish: rosemary, sliced olives, sun-dried tomato chunks (whatever you like and whatever is in the bread)

Bake for 25 minutes; turn off the oven and leave for 10 more minutes

Rest crusty bread 20 minutes before slicing and serve with dipping oil or a mixture of oil and balsamic vinegar (get ready to hear a lot of lip smacking groans)
Recipe Notes
Parmesan cheese must be at room or refrigerator temperature as a blade may become engorged in frozen cheese and damage the Thermomix machine
The only time yeast needs to proof with water and sugar is if it might be old; if it is recently purchase, or used regularly, it can be very effectively and simply worked into the flour as done here
Tepid water is room temperature: it should feel neither warm, nor cool. If necessary, err on the side or ever so slightly warm.
Alternatives:
The possibilities are endless with this recipe. Make it your own. Add:

• ½ cup of sliced olives, removing the pits
• ½ cup of finely chopped sundried tomatoes
• ½ cup chopped roasted garlic
• or any combination of the above or whatever else you think you may enjoy
Always garnish the top of the loaf with what is in the loaf, so if you have:
• olives and herbs in it; garnish with sliced olives and herbs
• sundried tomatoes and herbs in it; garnish with sundried tomato slivers and herbs
• roasted garlic and herbs in it; garnish with roasted garlic chunks and herbs
After rising, do not punch the air out of the dough that you just took the time to rise within it. Carefully release the dough from the proofing bowl onto a parchment lined baking tray with a bread spatula. Dock the focaccia with your fingers, or with a docker as the indents will hold the fruity gorgeous olive oil necessary for the legendary focaccia crust. This may look like a lot of oil, but you can measure 2 tablespoons and drizzle it over your focaccia. It is no more than that. The large salt crystals do make a difference. A good tablespoon or more are sprinkled over the oil, then garnish with whatever you have inside: herbs, olives, sun-dried tomatoes… and bake in the oven for a mere 25 minutes.
  Turn off the oven and let the bread rest in the warm oven for 10 more minutes before removing. Rest for another 15 before slicing into the cheesy herby goodness of this gorgeous loaf.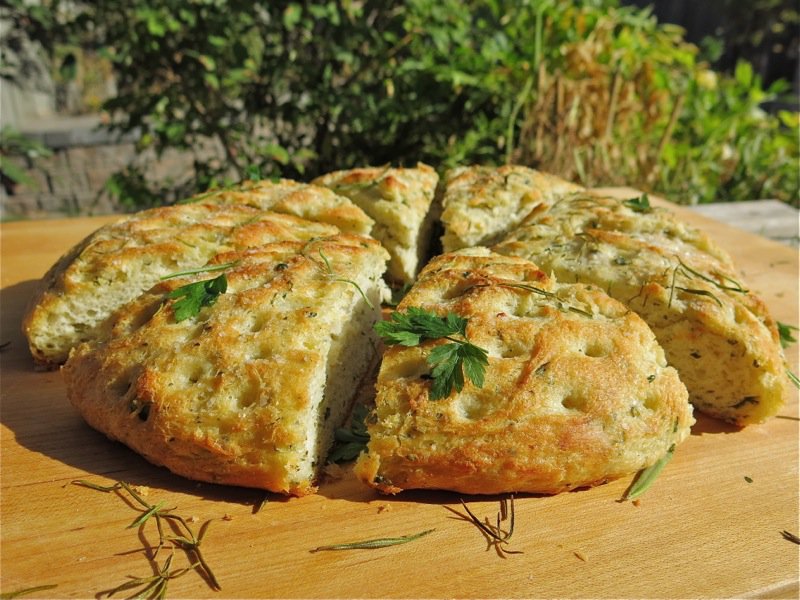 By the way, I sell the Thermomix. You can find lots of information about it here... (black menu bar on top of this page). If you want to learn more about the machine, just leave a comment. The machine costs 1599 Canadian dollars plus 5% gst and is worth every penny!