My Quest: To find a recipe for The Famous Chocolate Haupia Pie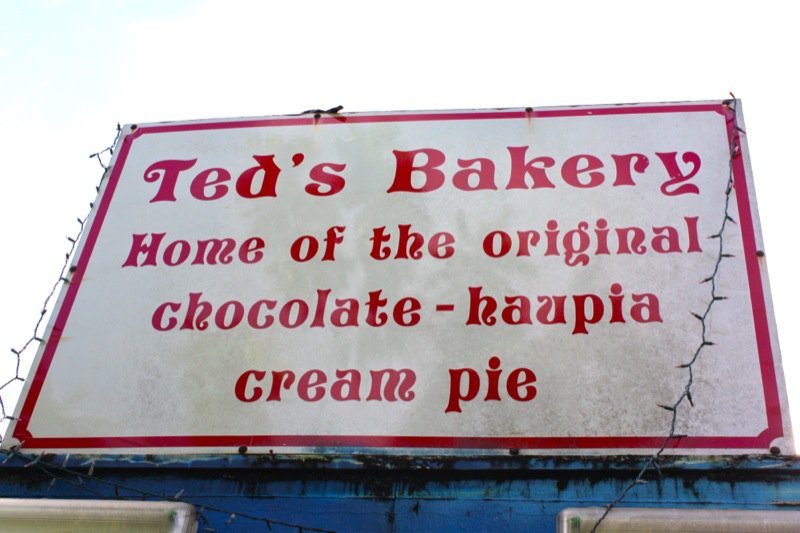 Do you remember Gidget: Frankie Avalon, Sandra Dee and James Darren? That film was in Malibu 1959, but brought on a host of beach and surfer movies in the early 1960's when I was just a babe, but they were played a long while on the TV. Those movies were "the bomb" at the time, and Sunset Beach surfing became famous the world over and a dream location that few could ever dream of visiting.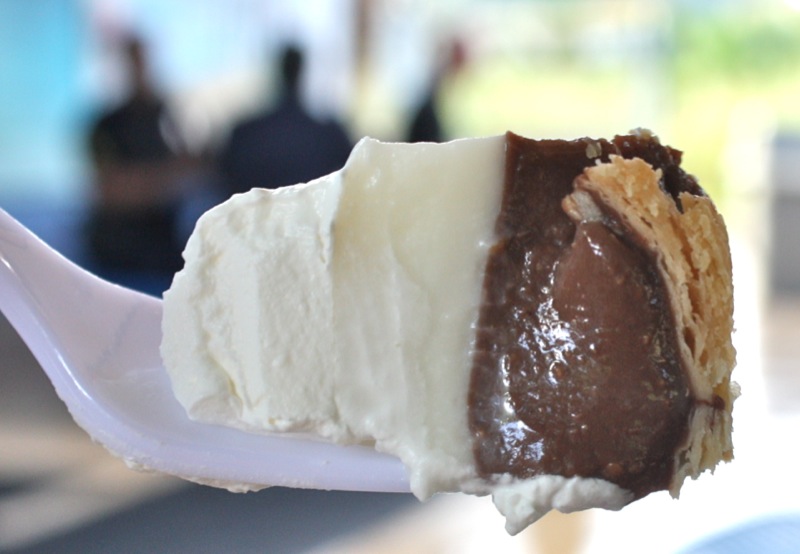 Well, I finally got there. Oh, about 50 years later. The waves and water Vanja will never forget. His day swimming on the North Shore of Oahu is his number one event during our two weeks on the island last January (2013). Of course, I was also scouting out the famous food stops, and Ted's Bakery was on "the list". We drove by it more than twice. Missed it completely the first day around the North Shore. And we were looking. In 1950 Torojiro Nakamura, a former sugar plantation worker, and his son Takemitsu (Ted), had the opportunity to buy land in Sunset Beach, and from 1956 to 1987 ran a small grocery store and surf spot. Ted integrated a full on bakery and restaurant into the store in 1987. Their garlic shrimp is to be one of the best on the North Shore, as well… but, one could never keep up with that race. We tried.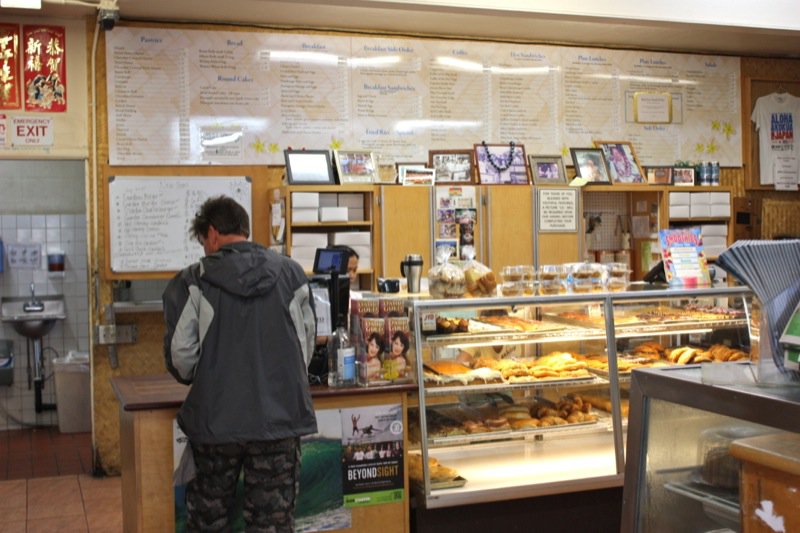 I really had no idea what to expect, but we headed there for coffee on our second day out with a car rental. We came from the Turtle Beach side and found it this time… but not without stopping to ask some locals. The sign is huge, but not visible from the road, and the place is really, right on the road. Talk about nondescript. We pulled in, parked, glanced at each other, and in we went. We have discovered the most incredible treasures in the oddest places, and the oddest places on the "must visit" lists.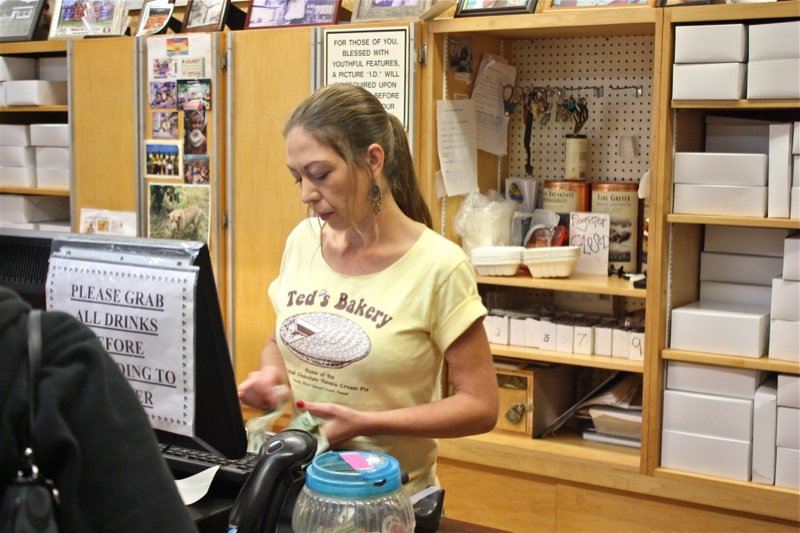 I really did not know what to expect. This was a trip I had not researched. Mom had been diagnosed with colon cancer at 82 last August. Dad had 4 serious COPD exacerbations from September through to November. Mom's surgery was in October. It was an exhausting fall where I was consumed with care giving. Thankful that I could and grateful for the relationships that developed with both mom and dad through the process… and both recovered triumphantly. This was a holiday for rest.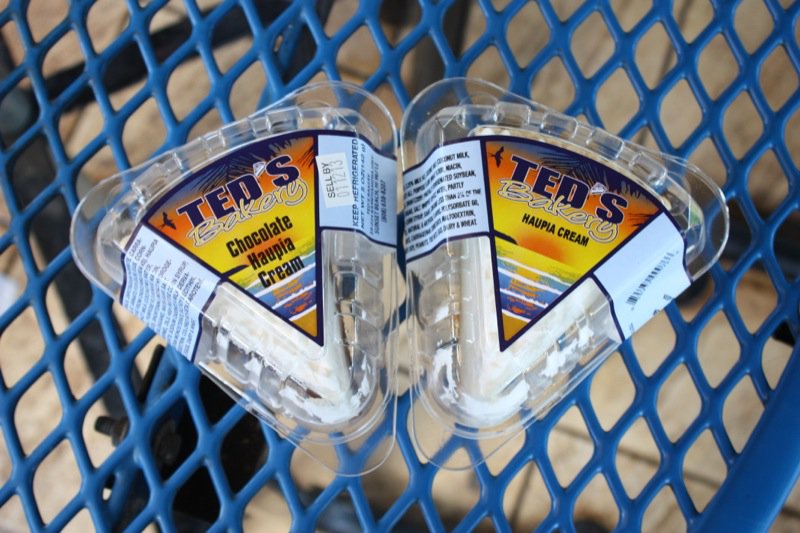 We had our coffee our on the blue powder coated metal table, joining another young couple there for a little early morning visit. Both were surfers, tattooed up the ying-yang, vibrant, healthy and oozing enthusiasm and vitality. "You have to try the Chocolate Haupia Pie." The young fellow told me. That's what Ted's is famous for. You don't come this far without trying his pie. So, we did. One haupia (coconut) and one chocolate haupia, as above. Apparently, these were made here, in a homemade fashion for years, until the tourism crowd (and there was no crowd on this day) made it impossible for them to keep up with the demand, and Ted's had a company come it and develop the recipe to be made en mass.
Really, this is very "funny" as it depicted the food experience we had had all over the island, for the most part. Read the ingredients. Convenience food that is industrially made with a host of ingredients one can barely pronounce derived from a famous, house made pie from this iconic Sunset Beach surfer's spot. What a shame. And, yup. It was good. But it didn't feel good eating it, knowing what was in it. Why cater to the masses? Why not just make what you can bake and keep the original integrity of the place? In many ways, that is still there. Take a closer look at the inside photos, above. The casual honor system with the coffee is still there. It is still a little unpretentious spot with a whole lotta history that has taken place inside of its walls and across the street on the beach.
Anyone have a homemade recipe for either of these pies? I would love to see one and give them a try!
We are glad we spent our morning coffee there – and had pie for breakfast. I would say I was about 40 years too late to experience that old Gidget – Malibu Beach – Sandra Dee – Frankie Avalon surfer vibe… that was captured in those old movies. This is an interesting article on the history of the surfing in the area. Yet, Vanja caught a few great waves and we both breathed in the humid warm Sunset Beach air, visited with a couple of colourful strangers over coffee and stood on that same ground, marking our own moment in this space and place in time.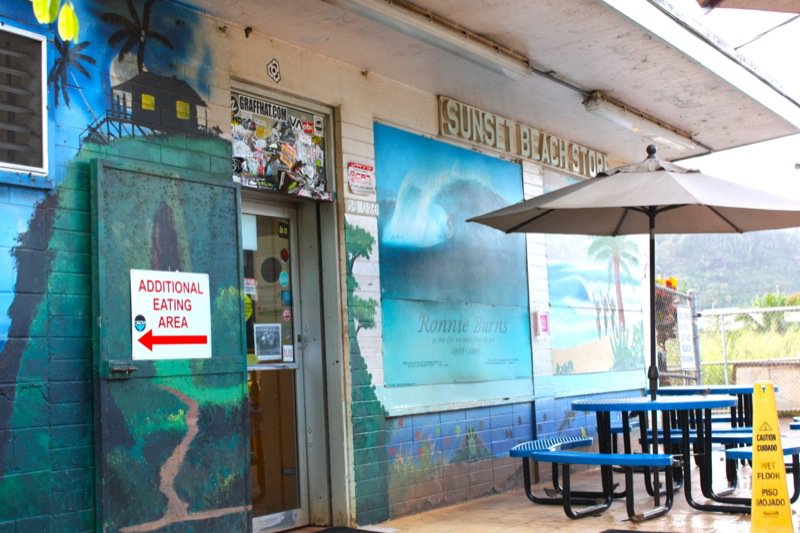 Which now has me on the quest for a homemade recipe for Chocolate Haupia Pie. Help me?
February 6, 2017: Today, I thank Jan – read the recipe she has shared in the comments below. I cannot wait to try it! Thank you, Jan!