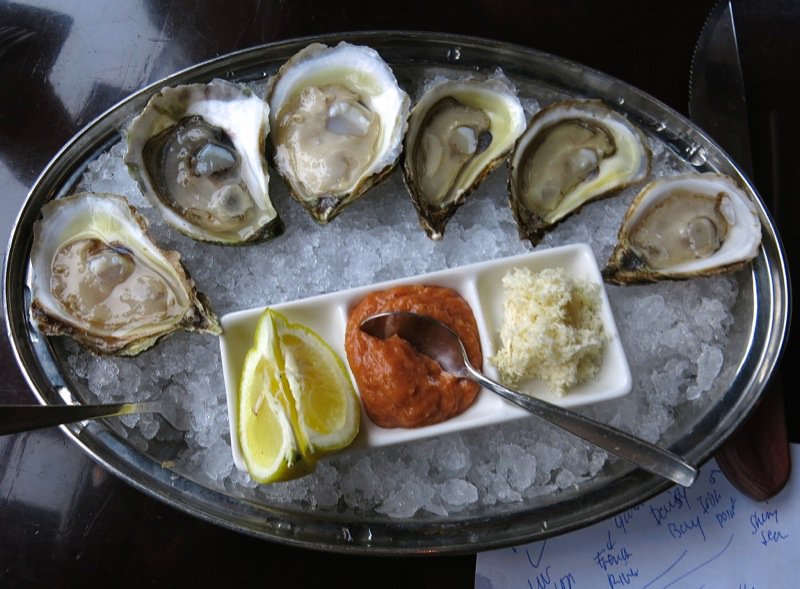 Malpeque Oysters from Prince Edward Island, Canada, are famous for their flavour and texture. They are, hands down, my favourite oyster variety – for now. When I knew were were headed to PEI, I knew I wanted to participate in an Oyster Tasting – even if it had to be one of my own making. And so, it was. Everyone I reached out to planning this trip came back with "and you must stop at Sim's for oysters". So, we did!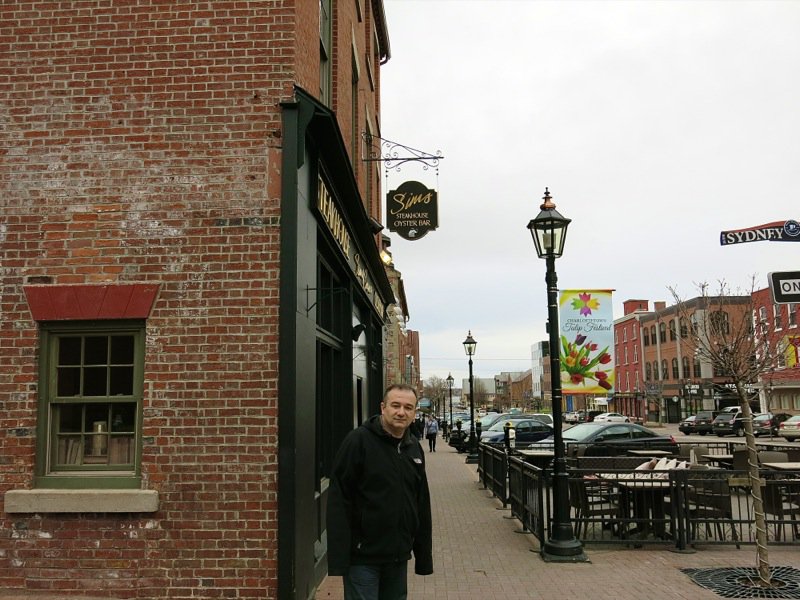 Leaving Cape Breton was easy to do after three gloomy days of rain. Being their in "shoulder season" was definitely a mistake. After a short ferry ride over to PEI, we were completely charmed by the quaint, well kept "Anne of Green Gables" style of homes that dotted the red earthed iron rich landscape. We had a 5pm appointment with Jeff at Glasgow Glen Farm which I was so looking forward to. Not sure if we got to the right place, but no one was there. Called the cel phone as pre-arranged in case we did get lost. No answer. Waited 30 minutes. No answer. I was mighty unhappy. This tour was booked far in advance. Jeff was absolutely wonderful via e-mail. we planned our trip around it, and then, he wasn't there. Nor did he respond until two weeks later. Everyone raves about his cheese, but all I can say is: two thumbs down after that experience. Regular readers know that "A Canadian Foodie" is a happy place with rarely a negative word. All know I am a very forgiving sort, but to have no response from my phone and e-mail messages for two weeks, and then no apology… still has steam fuming out of my ears, just thinking about it. Thank goodness, we just decided to appear for our dinner reservation at Sim's much earlier than expected! What a grand building it is, with so much history.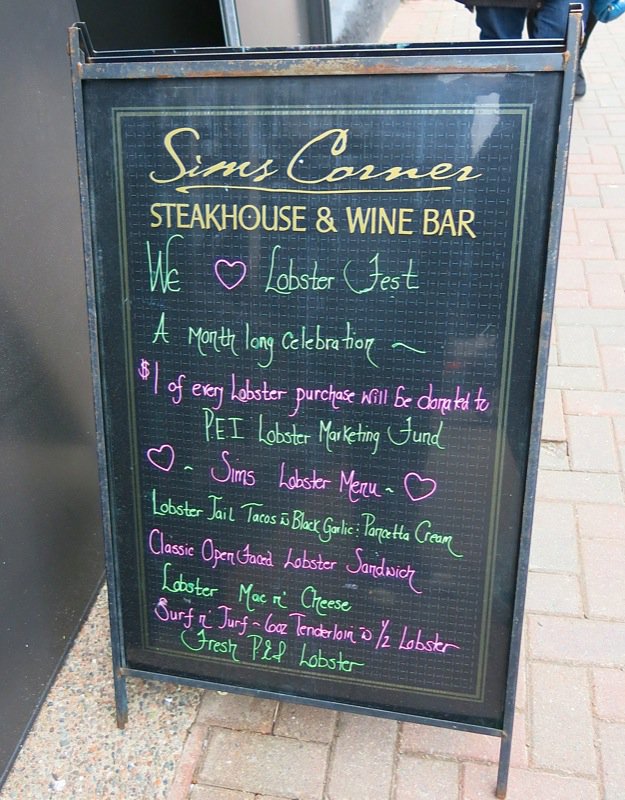 Lobster fest! We did have plans to follow the lobster to PEI and were going to be feasting on it the following night, but didn't know we had arrived during Lobster Fest!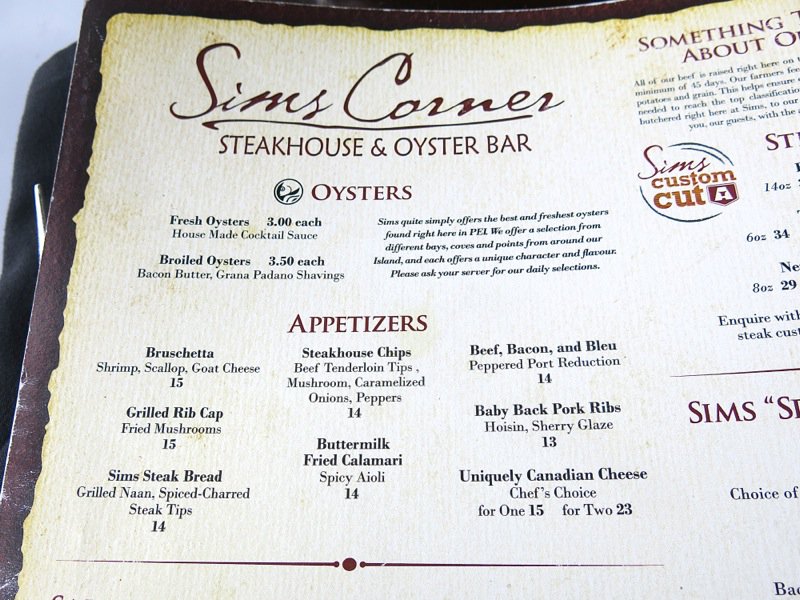 Service was excellent at Sims Corner Steakhouse and Oyster Bar. I should have sat at the oyster bar, but didn't know where that was – or even if the "oyster expert" was in the house. The waitress was definitely well informed and I learned a lot through my tasting which I will share with you in a bit.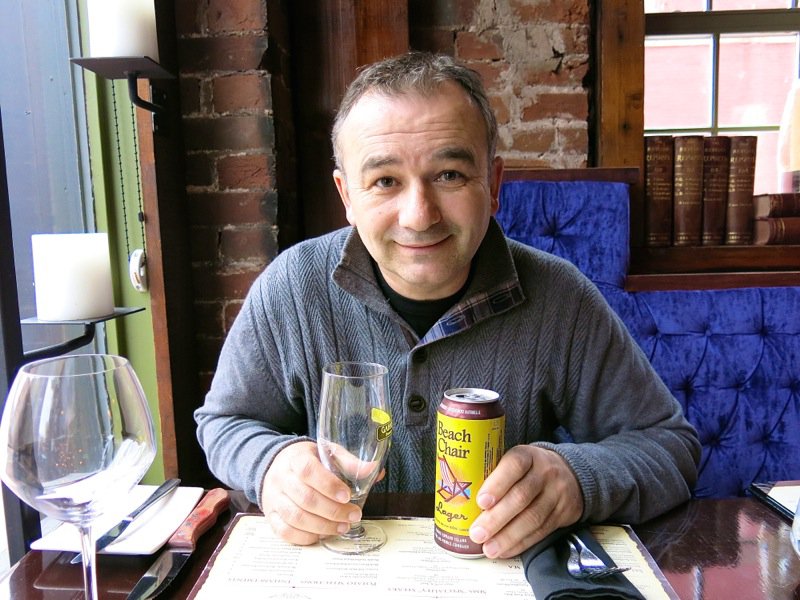 One of Vanja's favourite traditions while traveling: drink the local beer!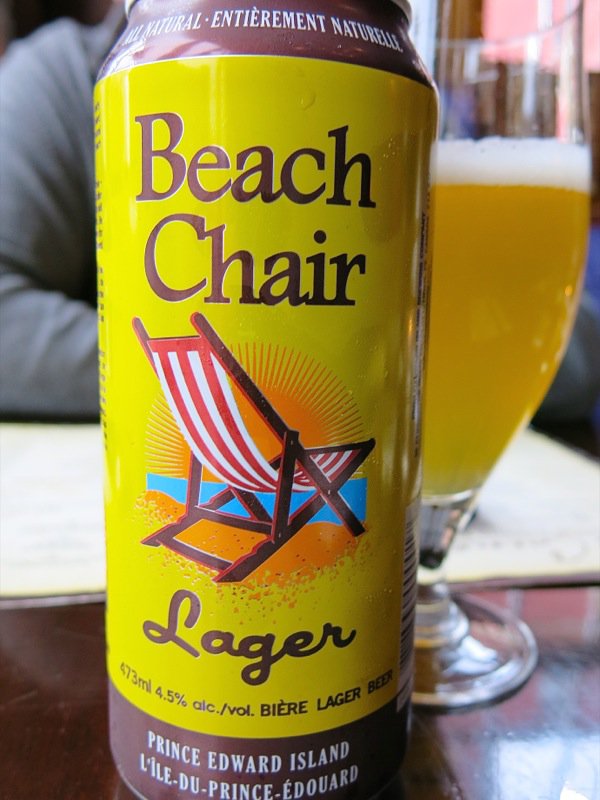 He likes a lighter beer, and really enjoyed this one.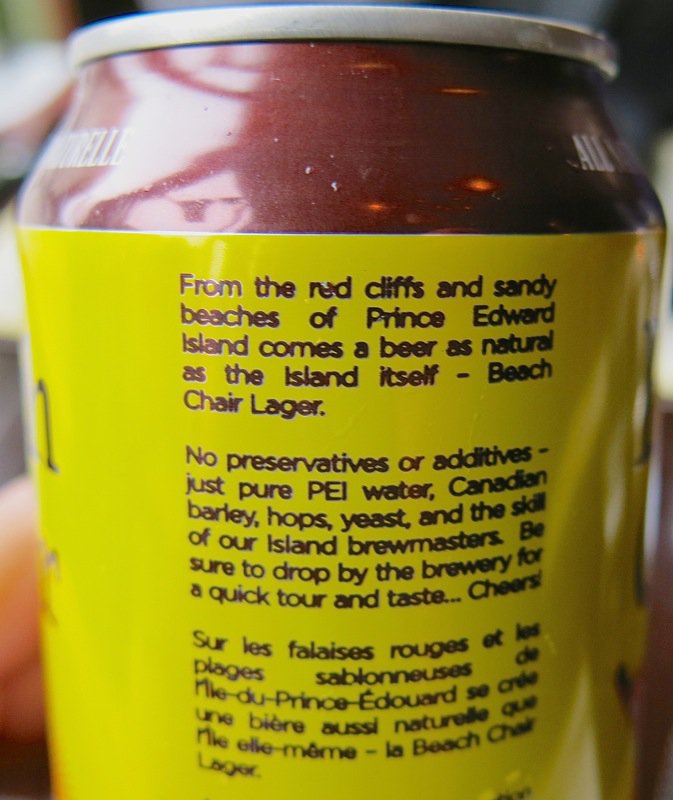 The Sims Corner Steakhouse and Oyster Bar menu was extensive and very expensive, for the most part. I would say definitely a drinks and oyster bar stop, or a fine dining stop. The rustic interior with refined dining accessories was a hit with me.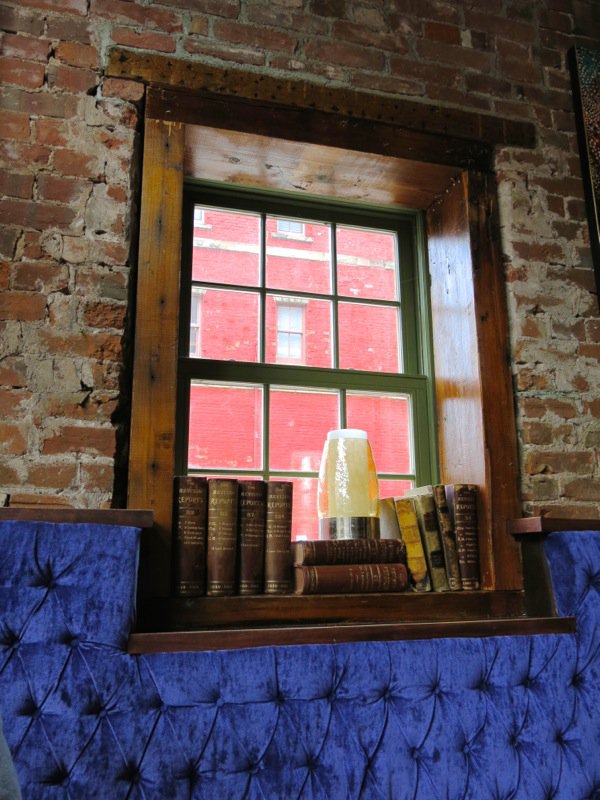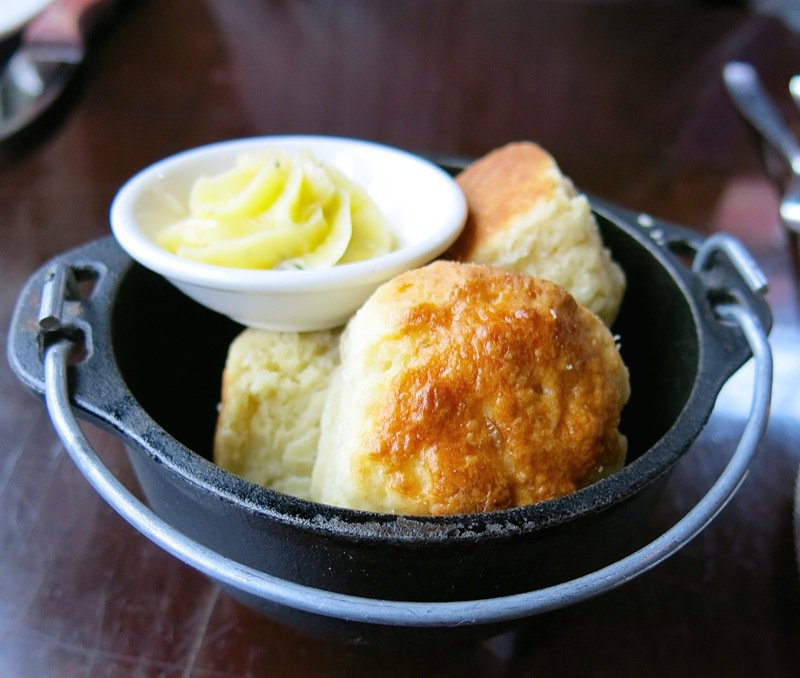 Throughout Nova Scotia, we noticed biscuits everywhere with our meal. Never buns. And I mean, never. I was surprised to see the same here, in PEI, but no complaints. Absolutely delicious and charming presentation!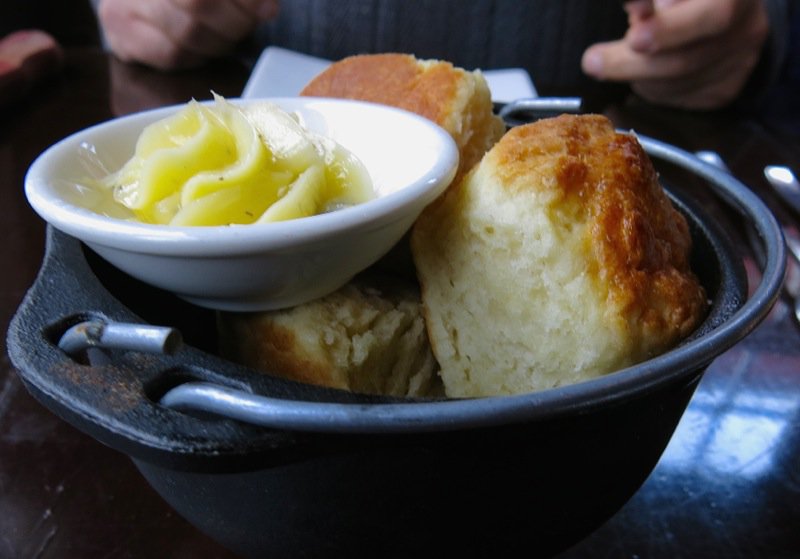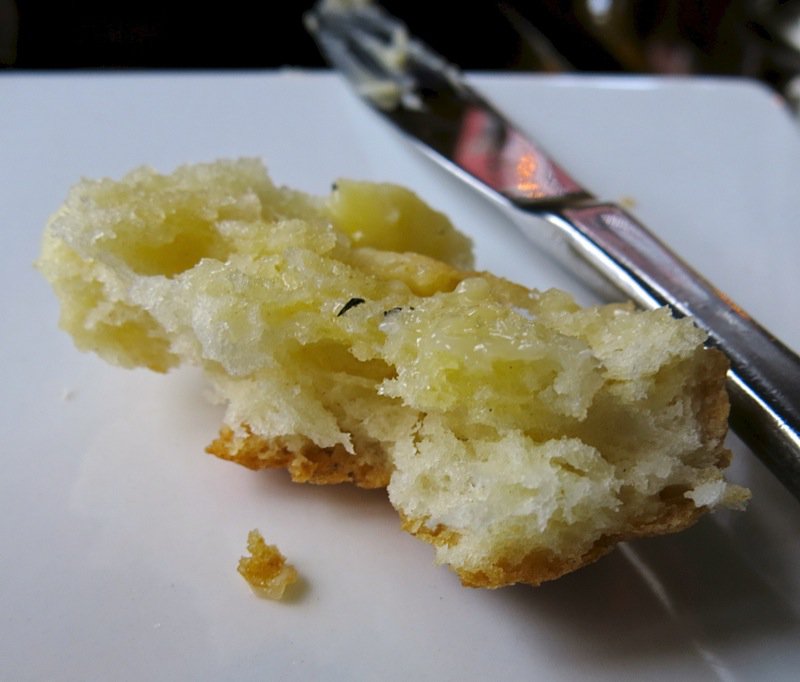 Vanja is a bread guy. I like them all. Hot biscuits with butter???? MMMMM!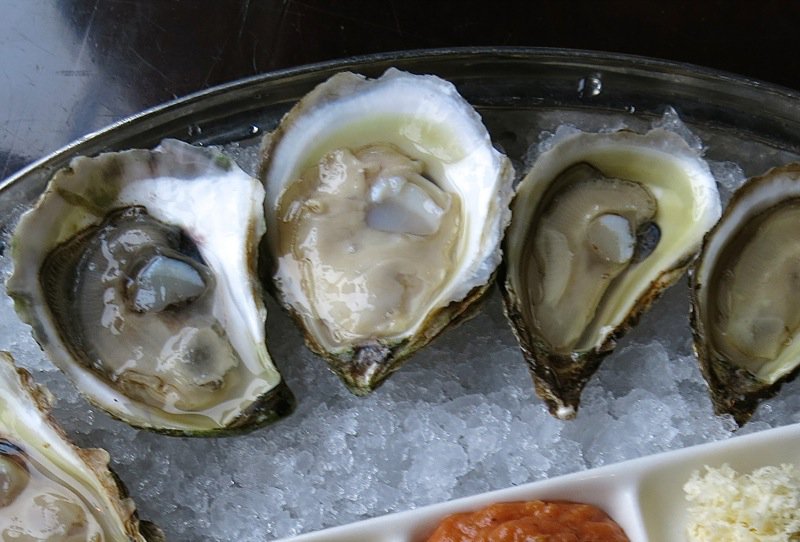 Now, to the oysters. First, I decided to taste one of each of the six kinds they had on hand this evening. Mistake. Three would have been a better tasting – or 4 – and two of each one. A tasting of six with only one of each – and nothing left to go back to for a comparison of flavours was just silly. I certainly knew better, but could not resist. I think I did expect the flavours to be markedly different from one another. These are all Malpeque oysters, and the flavour and texture differences between each was definitely more subtle than their visual differences – which were significant.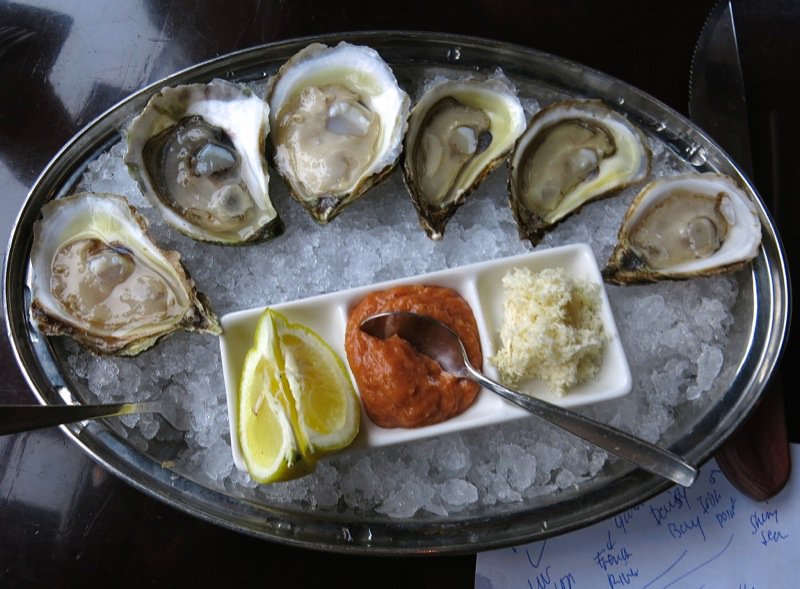 From left to right and least salty to most salty: Tickle Point, Raspberry Point, Green Gable, Daisy Bay, Irish Point and Shiny Sea. All Malpeque oysters farmed at different depths, with differing tides (terroir) in different bays. I made myself a little tasting chart on a borrowed piece of note paper from the waitress to include Look, Nose, Taste, Texture, Overall Appeal. You can see how they each look, yourself.
Tickle Point: light, subtle, buttery and creamy
Raspberry Point: darkest flesh of the six served, no nose, clean ocean-like flavour, spongy, off putting texture
Green Gable: light, oyster with greatest bulk, creamy, thick and chewy texture, but not fatty, light and lively
Daisy Bay: thin, very little flesh, salty, rubbery and resistant when chewing, strong "oystery" flavour
Irish Point: small, nutty, rubbery, strong bold "oystery" flavour
Shiny Sea: shards of shell in the bite, hard and pasty, off putting texture: possibly a "spoiled" oyster?
In all fairness, it was really difficult to discern a standout for texture and flavour, or a favourite on this evening. Certainly, Shiny Sea was not good. And possibly Tickle Point was the best, but I can't really say. I could have eaten a lot more of these, but not at 3 dollars a pop. So, would really enjoy a guided tasting another time, with other varieties of oysters in the mix, as well!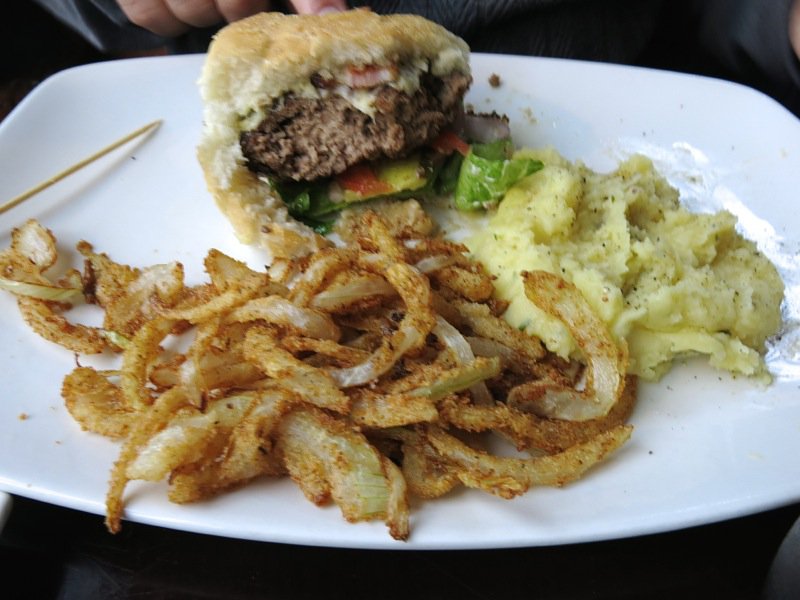 The hamburger looked divine on the menu. Apparently it was. We weren't in the mood for any "fine dining" after a day of driving, time in Pictou, the ferry ride, and waiting for the Cheeseman who never came. With still an hour ahead of us to take us to our Bed and Breakfast is Summerside for the night, we were looking forward to some fatty comfort food and boy, were we comforted.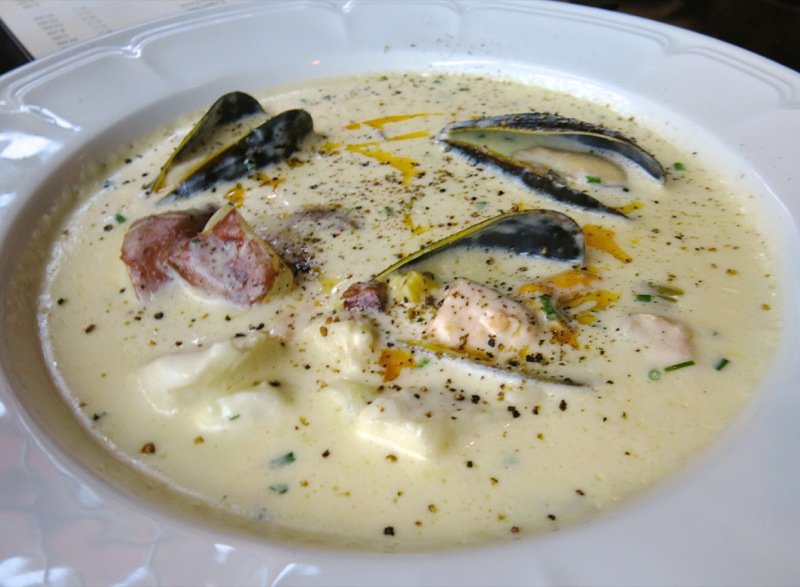 My Seafood Chowder was delectable. I would have liked the bowl! Vanja was ready for a nap after his tasty hamburger. We were eager to get back and explore Charlottetown, but for now, we were just eager to go to bed!.
Sims Corner Steakhouse and Oyster Bar is a must stop dining experience for anyone visiting Charlottetown. An institution there, I believe. And below, you will see a photo of the most charming Bed and Breadfast in Summerside, PEI, that we snuggled into for the next three nights. Wonderful hosts, gorgeous rooms, gourmet breakfasts: all just a fantasy that came to life.