The Elusive Cloudberry and Cloudberry Jam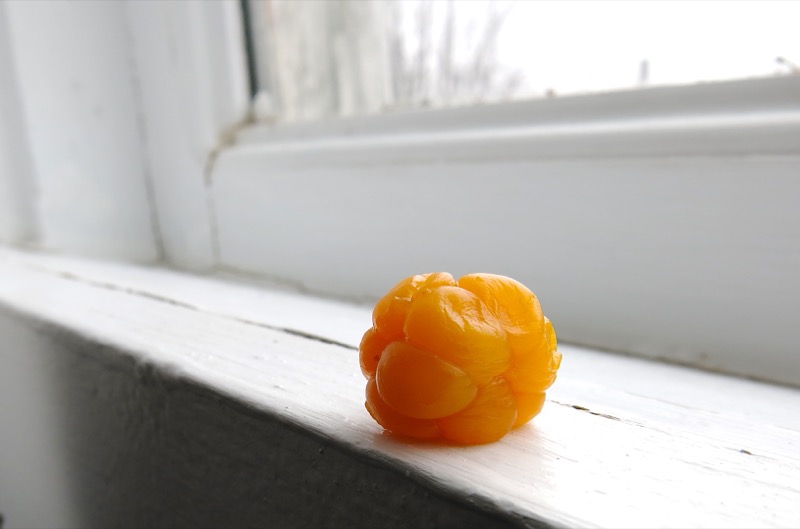 There it is. An aggregate fruit, raspberry-like (a fruit that develops from the merger of several ovaries that were separate in one single flower), They occur naturally throughout Northern regions, mainly in mountainous areas. Cloudberries grow wild across most of northern Canada, but are somewhat synonymous with Newfoundland where there is a long history of the plant being used by aboriginal peoples before European settlement, over 500 years ago. And, where they are known as Bakeapples. Besides the popular modern day cheesecake topping use in Newfoundland and Labrador, they are also treasured in "Bakeapple Pie" or jam. Ohhh. Tasting a homemade bakeapple pie is definitely on my bucketlist. The aboriginal "Arctic Yup'ik mix the berries with seal oil, reindeer or caribou fat (which is diced and made fluffy with seal oil) and sugar to make an ice cream-like treat called Akutaq". The berries remain an important traditional food resource for the Yup'ik.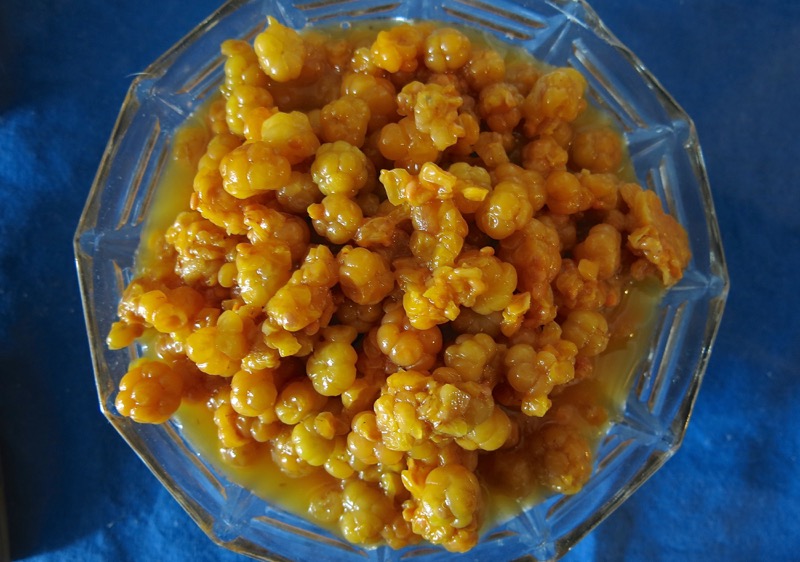 The berry can withstand cold temperatures down to well below −40 °C, but is sensitive to salt and dry conditions. Therefore, it grows in bogs, marshes and wet meadows and requires sunny exposures in acidic ground. Such conditions are about as rare as this berry.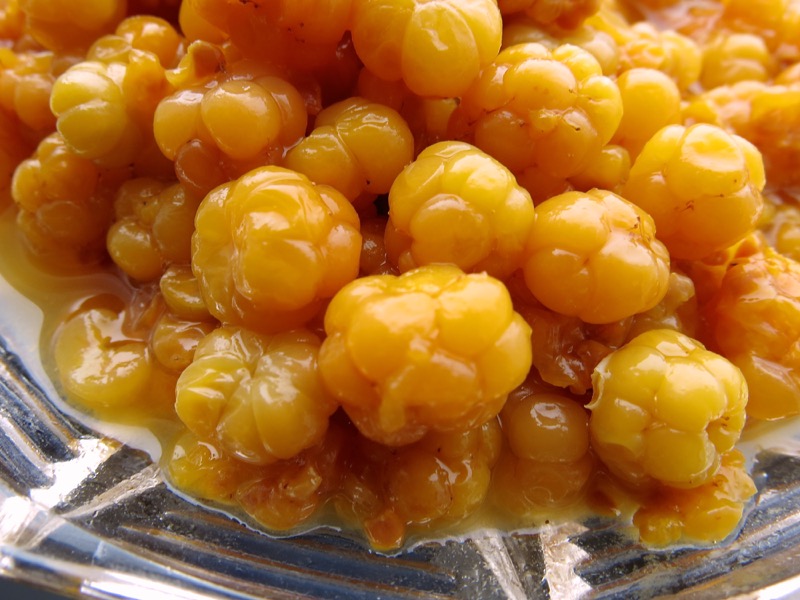 I was watching some kind of documentary on TV a few years back where the host was taken on a very long trek through some of Newfoundland's rocky marshy terrain. He said they walked for what seemed like miles and was definitely almost 2 hours before anyone spotted a berry. When they did, his hosts fell to the ground, and began the tender and tedious plucking process, arising about 45 minutes later, with little under 2 litres of berries and were tickled pink. He thought they were crazy. "We walked 2 hours for such a tiny harvest?" He just did not get it, and neither did I. But, I sure did want to! Since, I have had Cloudberry Tea, and though tasty, nondescript. I could not determine any particular flavour that might be "cloudberry-like" from that tea.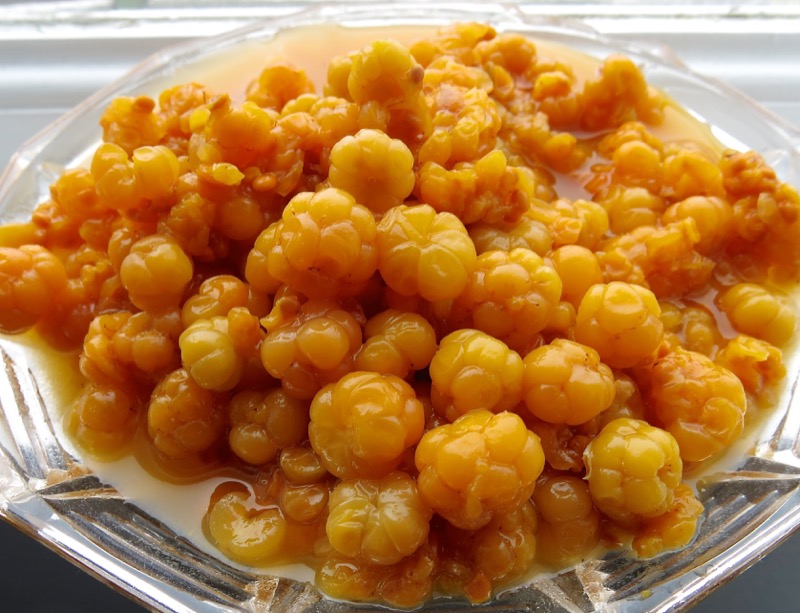 As we were in Newfoundland in May of 2014, I did not expect to find any fresh berries. Usually harvested in July, depending upon the weather, in "soggy bakeapple bogs" (some along Newfoundland's East Coast Trail). They are rare wherever they grow as they don't grow in huge clusters, so most locals won't tell you were to find them. You are on your own in that department.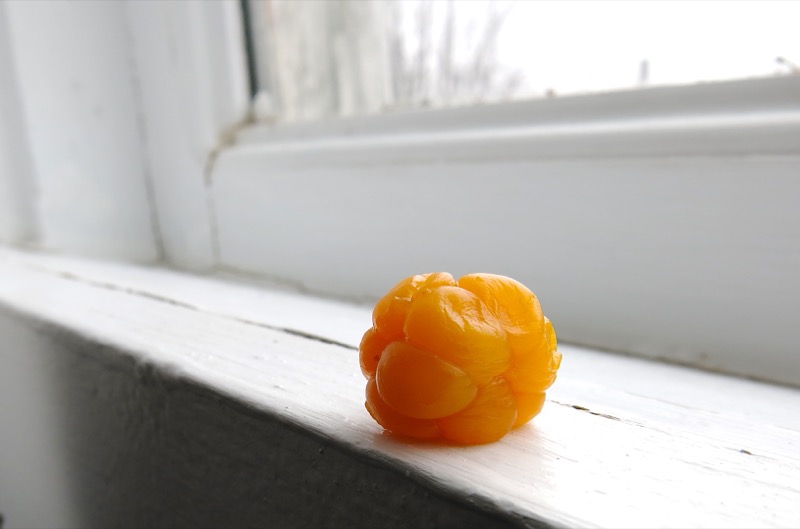 Finding local food in St. John's is almost as difficult. While visiting in 2014, there were no food tours, no open markets, nothing that I could find using my usual travel research strategies. We stayed at the Bed and Breakfast owned by famous Canadian Newfoundland Chef, Todd Perrin, run by his parents, called "The Chef's Inn". Bill was convalescing from recent surgery, so we didn't see much of him, but Wanda was the most gracious host one could ask for. She told us about Bidgoods. Bidgoods is a must stop shop; any like-minded lover of local culture and food when in the St. John's area should go. No research preparing for this trip revealed this grocery store, but I am so glad we tumbled upon the conversation that guided us there. Newfoundland is jaw dropping. Our travel experience there, incredibly profound.
The first lone berry sits on the sill of our bedroom at "The Chef's Inn" bed and breakfast, and these photos are all taken there inside of a bowl filled with welcoming candies that I emptied to capture the excitement of my first bakeapple experience! I was quivering. Look through the window above to see a little of our "out the window" view of St. John's colourful picturesque architecture.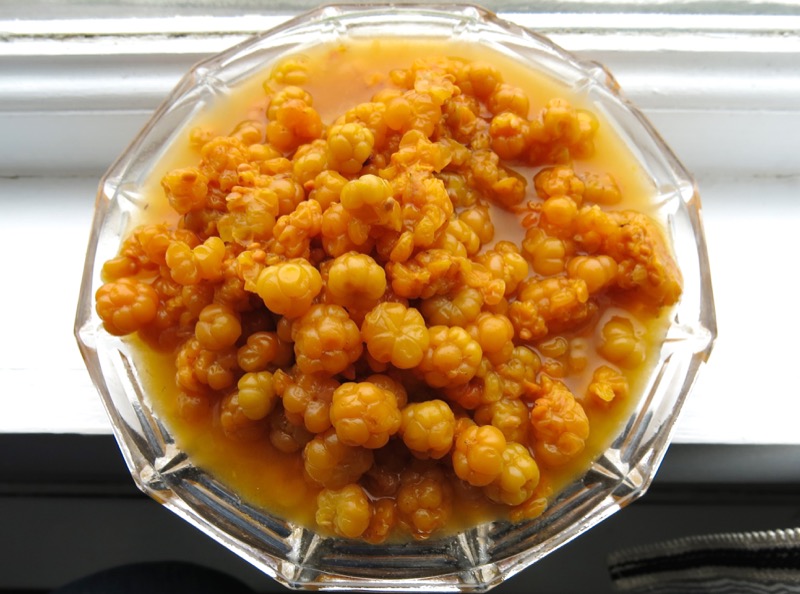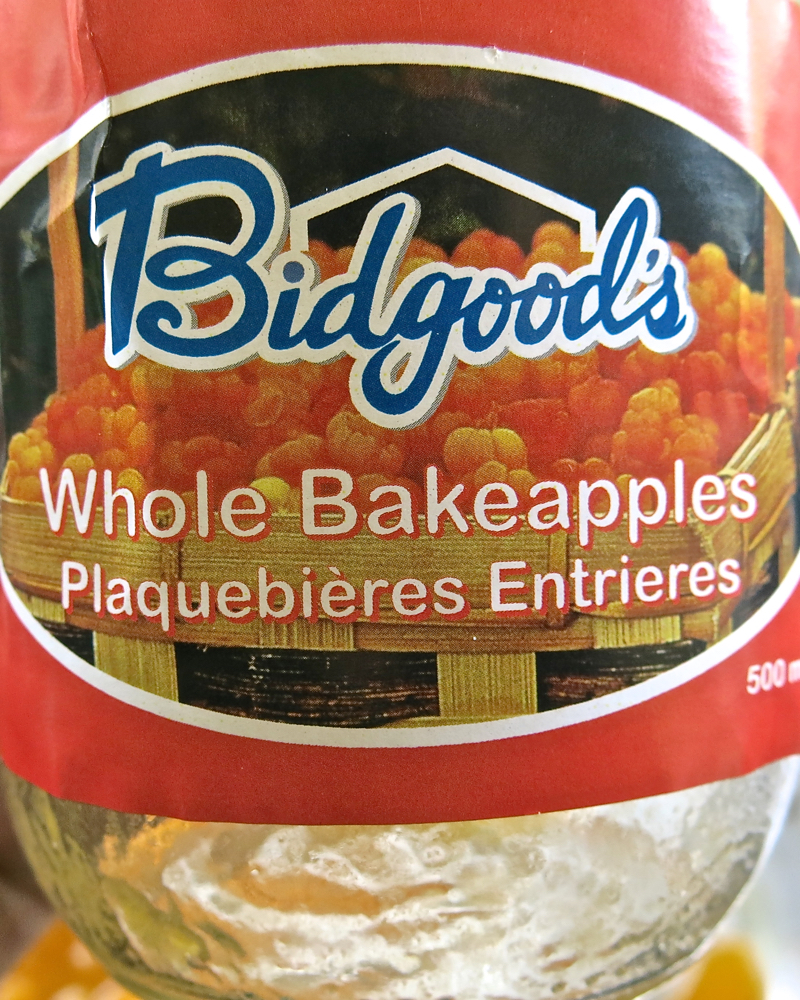 Bought the bottle at Bidgoods just to have a taste. It cost $9.99. The same jams found in all touristy shops for $15.00 dollars sell here for $5.00.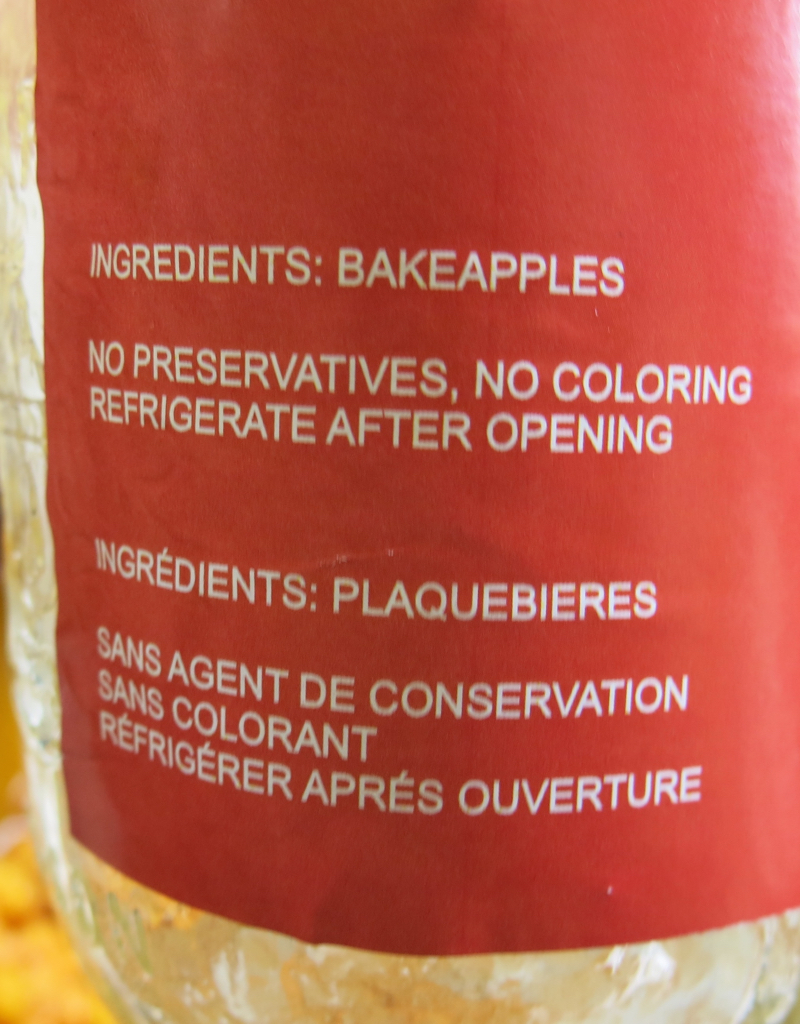 And the taste? Let's start with the smell. I thought they had gone bad when I hung my eager nose over the freshly opened jar. The scent was musty, musky and "off". "Ewww!" Not really terrible at all, but not pleasant and not expected The colour was a darker orange and I thought, "Hmmm, maybe they should be brighter? Are they spoiled? I gingerly plopped one on my tongue. "Is that all she wrote?" Not even close to tasty. Somewhat convincingly "off", but not overly "bad". Very odd. To be safe, I threw them out and satisfied myself with the thrill of seeing them so close and experiencing this much of the berry and of the Newfoundland food culture.
Of course we went for dinner to the Mallard Cottage one night while there. Unforgettable. Very exciting, and just a couple of months after the grand opening. Maybe a couple of weeks? It was small plates menu night and I do believe we tried every small plate. No bakeapples on the menu that night, or at any of our St John's outings. However, when we arrived at The Artisan Inn (best place to stay in Canada) in Trinity (oh, my) they were sold everywhere, and definitely on menus when in season. Asking Tineke Gow, our host, where a great little lunch spot might be, bakeapples not even on my mind, she suggested The Dock Marina, a grand spot on the water. The end of April and first three weeks of May is most definitely shoulder season. Most high season shops and restaurants are closed. A rather chilly day and a bowl of soup was on my mind, but when I saw the menu listing cheese cake with bakeapple topping, I bounced off of my chair and hovered there – likely a good few minutes! "Cheesecake, please!" Now, this is not about The Dock Marina, it is about the bakeapple, so don't let the styrofoam put you off. The cheesecake was as a scrumptious cheesecake should be and the topping?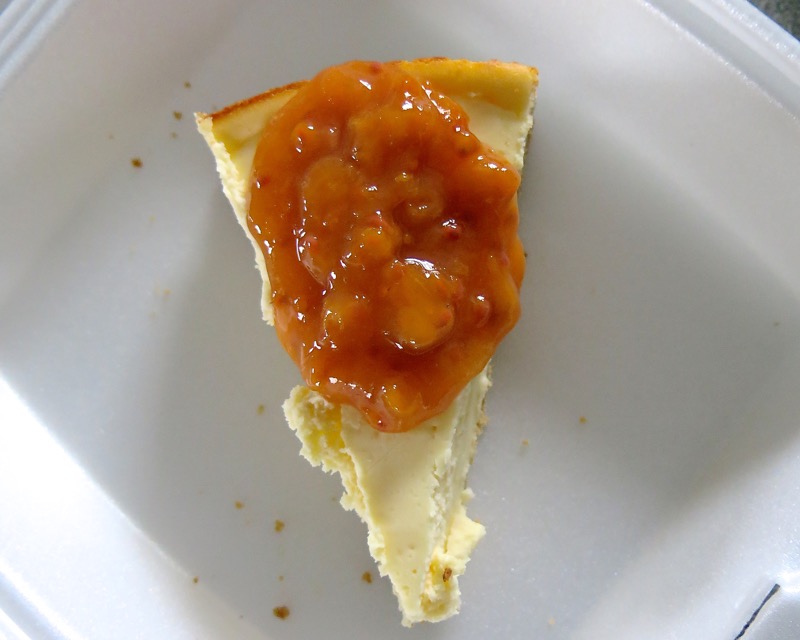 Addictive. Addictive because the flavour was completely new to me. Not strong. Not profound. Not, "Oh, My (with the eyeball rollback)!!", but, subtle, very tasty. Compelling. And with the cheesecake, deadly delicious. The combination is unusual and almost an "Oh, My (with the eyeball rollback)!!"!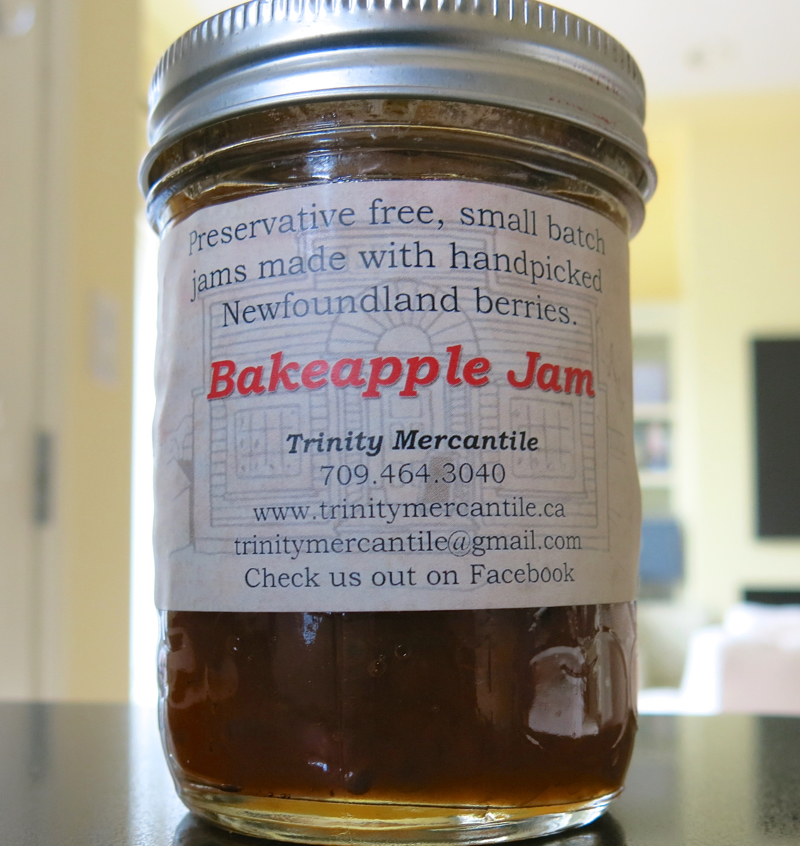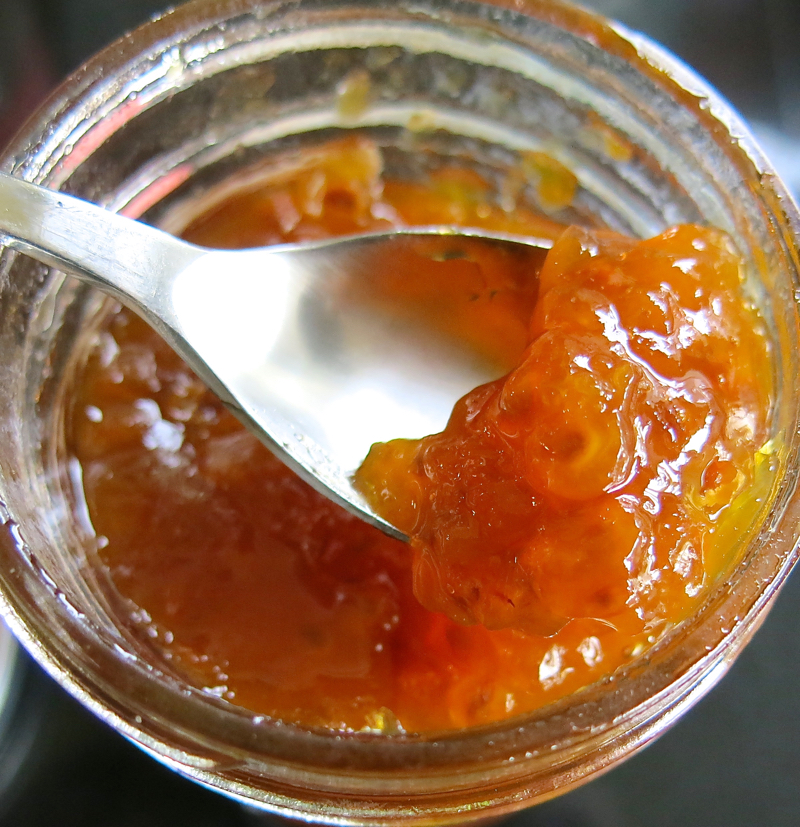 To that point, I had resisted purchasing any bakeapple jam anywhere. Now, the game was on! One of every kind I could lay my hands on!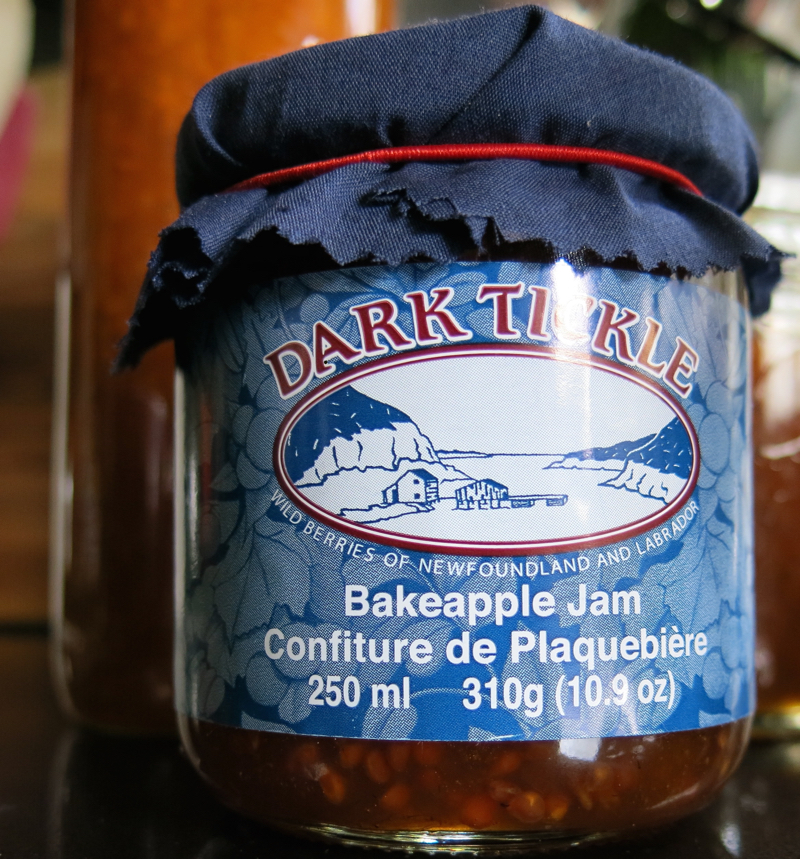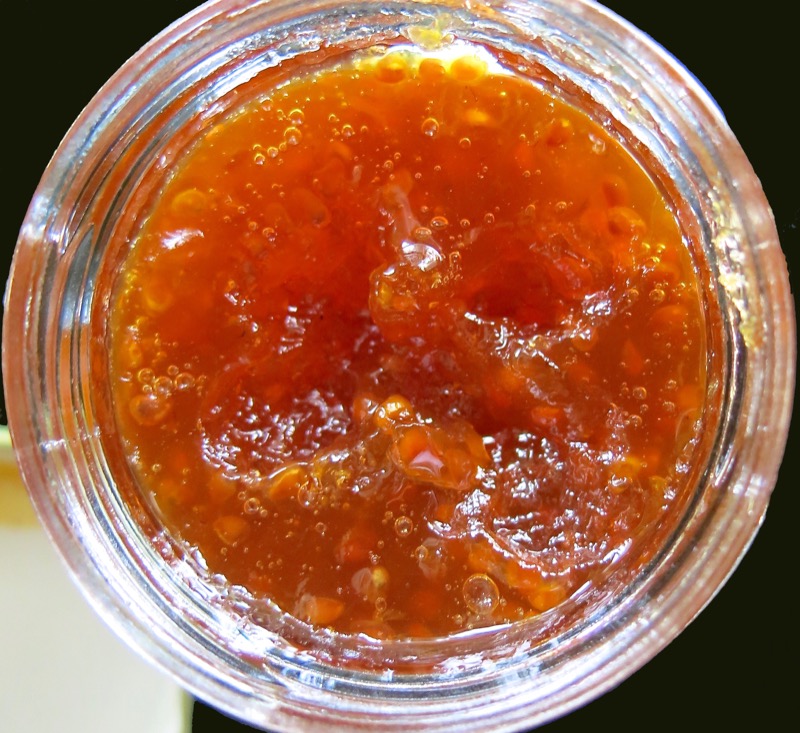 Upon our return to St. John's for another couple of days, a trip back out to Bidgood's was top of the list. Actually, we had a "foodie tour" booked for our last day with our own guide as there isn't such a thing offered there at that time. She took us and another jar was purchased to take home to make jam with. Both jars did look the same. Apparently, the berries are rosy and firm when they first appear, and not ripe until they are soft, juicy and the orange in the photo below. I've since learned the aroma can be off putting, and as my first taste was a "canned berry" without any sugar, it may have been an accurate taste. I have confidence the fresh berry would be brighter and livelier in taste.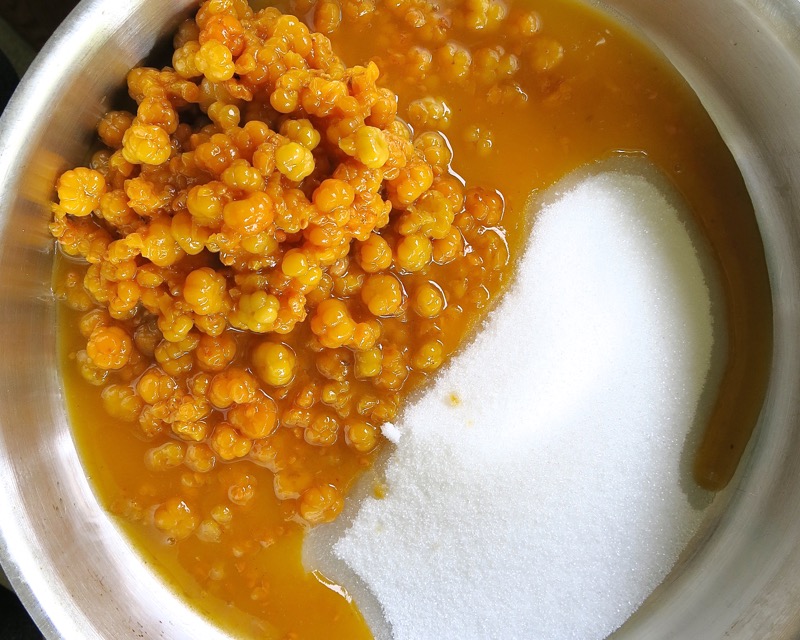 Before the suitcases were unpacked it was a toss up. Fry the cod tongues first, or make the bakeapple jam? As the cod tongues were frozen, and thawing, I confess, they were fried first. So many stories to tell! Opening the jar, the tasting was similar to my first experience, and different. This time, I had a frame of reference and a taste memory from the preserves in Trinity. I could taste the flavour of the berry and the promise of its transformation with the smallest amount of sugar. That "musty, musky, off sense" was more in the scent than the flavour. I cannot describe the flavour as it isn't like any thing I have tasted, yet it isn't bold.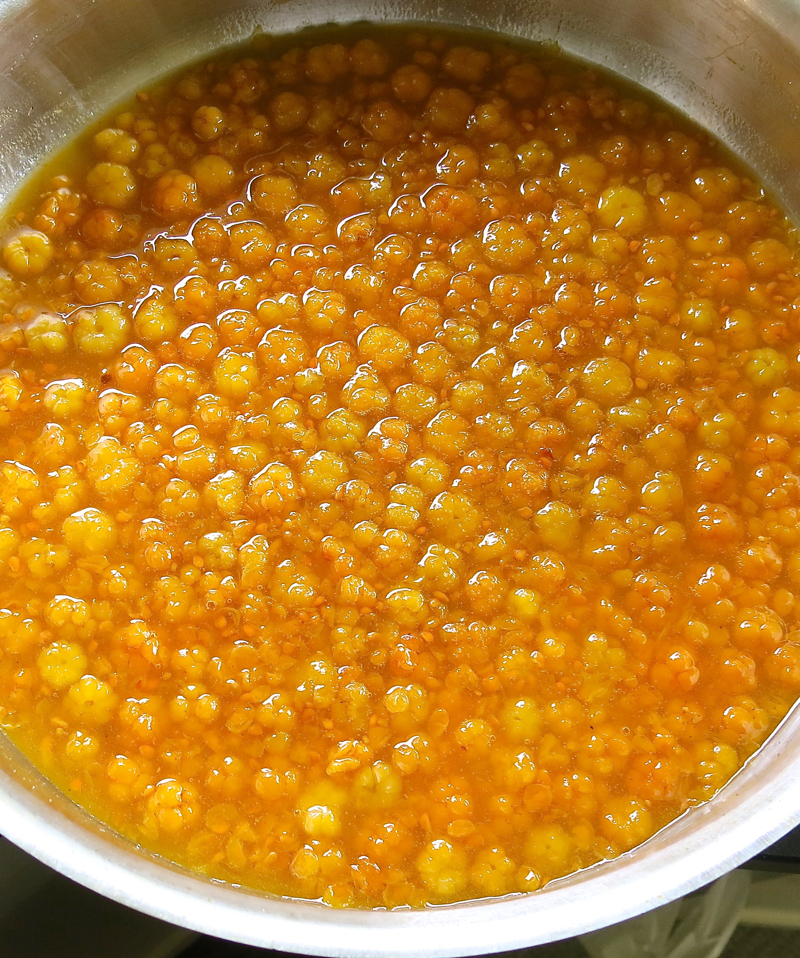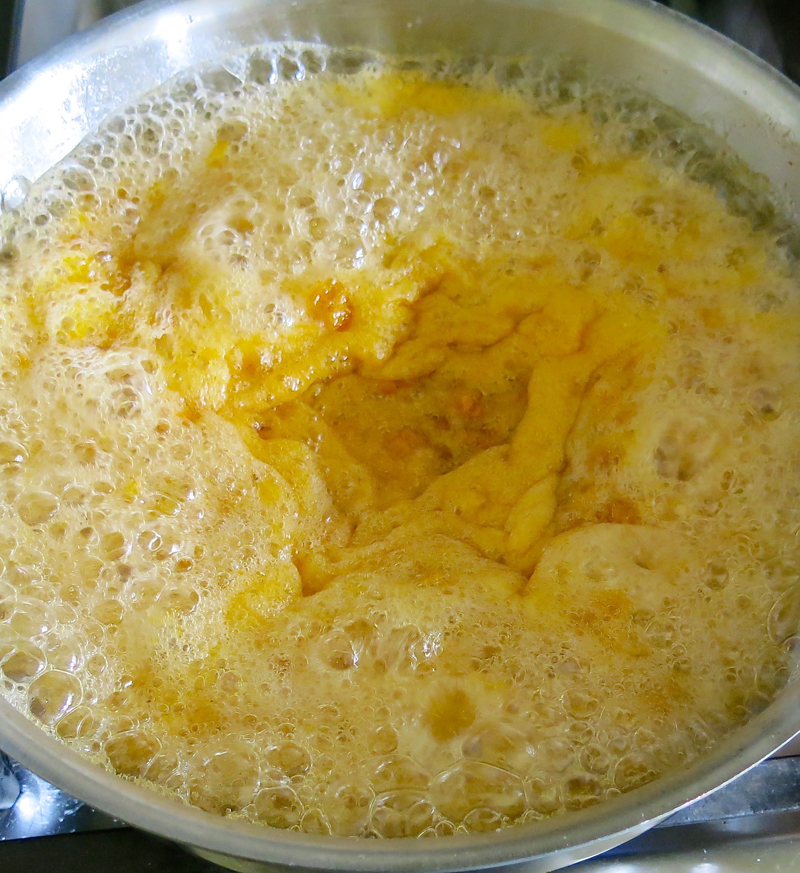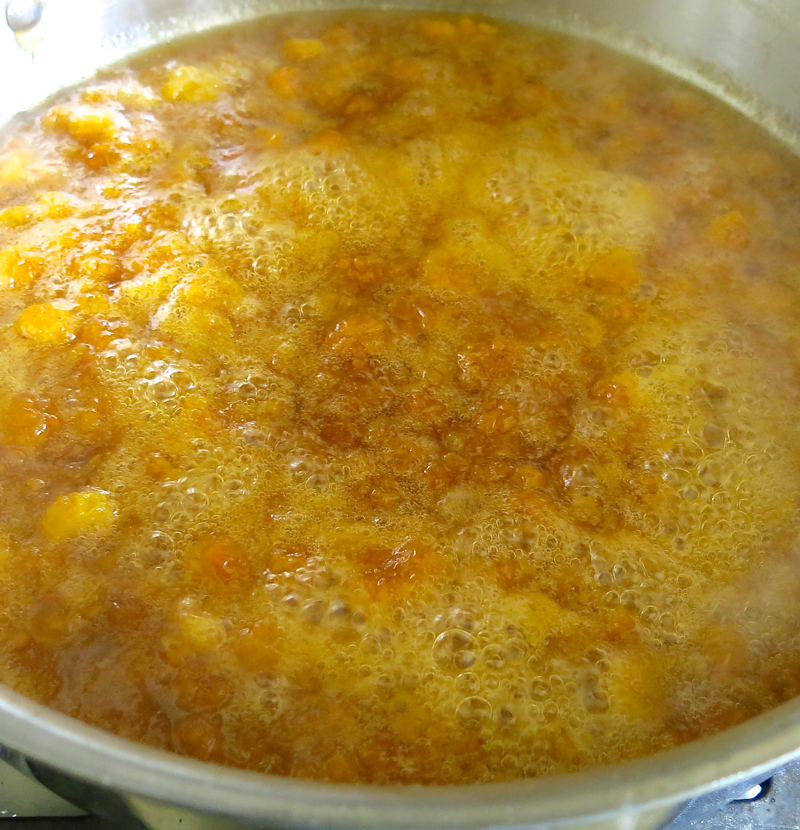 I made a rather loose jam on purpose. I love the bigger berries in it. The experience was one of the Canadian Food Experiences I have had on my list for quite some time and I am so pleased to now know this berry quite well. Not intimately: that would involve growing it and picking it. But I know it.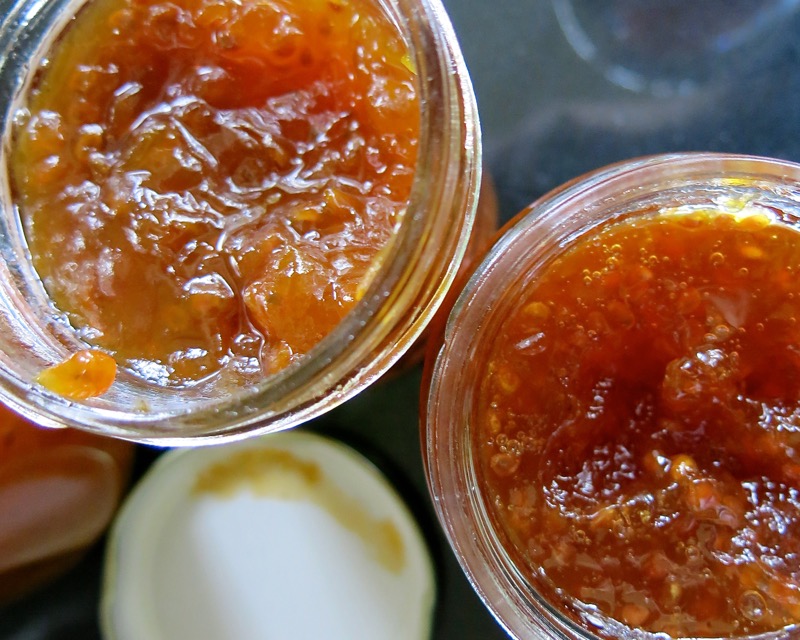 Tineke's comment when discussing where to find the bakeapple in Trinity has stayed with me: "Personally, Valerie, I believe this berry is highly over rated. We have many delicious berries that grow here tastier than the bakeapple." Though I would not trade my bakeapple experience for anything, the partridge berry jam served every morning for breakfast at the Artisan Inn in Trinity was definitely an "Oh, my!" experience.
Tineke packed me a large bottle to bring home and I think I sat and ate the entire jar with a spoon within a week. Not too sweet at all. Light. Bright. Bold and bursting with excitement as colourful as our Northern Newfoundland landscape. Yet, I will be back to Newfoundland. Once you go, it calls your name. I want to find my way through a boggy marsh for 2 hours to find under 2 litres of berries to make a pie with. Oh, joy. To picking them and taste a fresh one? Another Canadian Food Experience that is still on my list.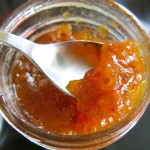 Homemade Cloudberry Jam or Homemade Bakeapple Jam


A simple, delectable, two ingredient recipe that is a Northern Canadian specialty, particularly in Newfoundland. Almost impossible to find the fruit anywhere else but the regions it grows in.
Ingredients
500

g

fresh or canned Cloudberries or Bakeapples

125

g

sugar

¼

cup

(50g ) water if berries are fresh
Instructions
Place berries into a heavy pan; heat gently until juice starts to flow

Add sugar and water (if necessary – canned berries will have enough juice); bring to a boil, stirring constantly

Cook, stirring frequently until thickened (8-10) minutes

Pour into hot sterilized jars, leaving ¼ inch (6 mm) head space; wipe jar rims thoroughly

Seal and process in a boiling water bath for 10 minutes or store in refrigerator for up to 3 months
Recipe Notes
Stir very gently to preserve some whole berries in the jam.
My Homemade Cloudberry Jam or Homemade Bakeapple Jam was delicious topping my Homemade Quark Cake or Käsekuchen Mit Quark a couple of days ago. Please, share your Canadian berry pick and tasting experiences! I am a berry fanatic!